December 18, 2019
Update on next year's scarf choices: I ordered an Aspinal of London scarf, to see how the quality is. That will be pretty key! I'm sort of thinking, right now, that I might work with a combination of brands. My goal is, as always, to do a wardrobe in each of 6 neutrals: black, navy, grey, beige/tan/camel, brown, and olive. I will keep you posted!
Next up, 2 wardrobe that are both quite good, but feel like they could benefit from better color choices. Or maybe not; it IS possible to over-analyze things to the point of being too critical, and finding flaws that don't exist. This isn't the most important thing in the world, we must remember!
First up, this color palette that worried me, but that is really quite beautiful!
I'm quite happy with these four outfits; the February handbag might be a bit off the beaten path, but the colors are so perfect that it was NOT to be resisted…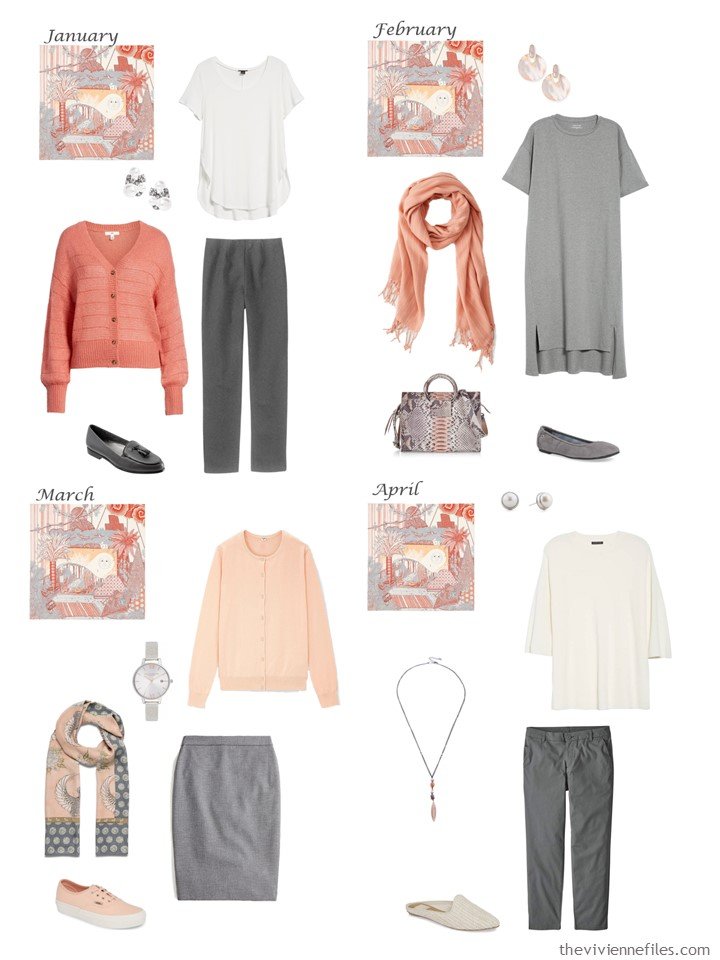 If I were doing this again, I might not choose that top in May… but then again! And 2 months of sandals in multi-colors might have been a bit "out there." Still, this all is practical, and versatile. Heroine does not live by basics alone!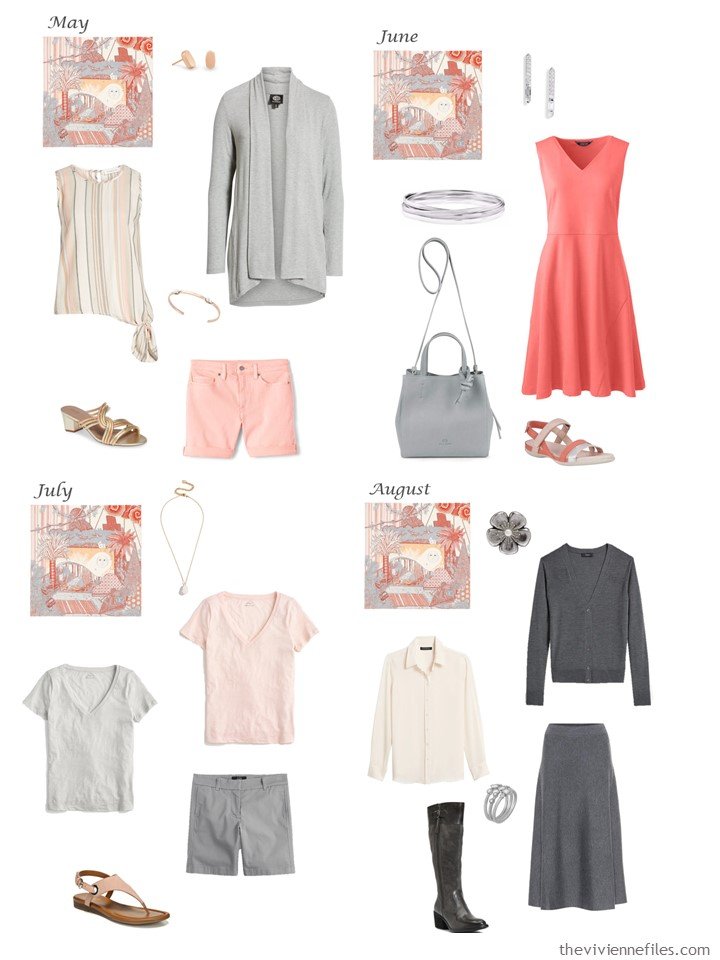 Again, I'm quite happy with all of this. Two print shirts in 2 months (September and October) might be too much for some heroines, but they both are in such ideal colors that I couldn't refuse them.
Lesson?
If you're working with a color palette that you don't see absolutely everywhere (like black and white) you might have to strike while the iron is hot, so to speak. Colors go through trends, and some companies will focus on a particular palette for a month or two. You can benefit from this if you're prepared to make some choices!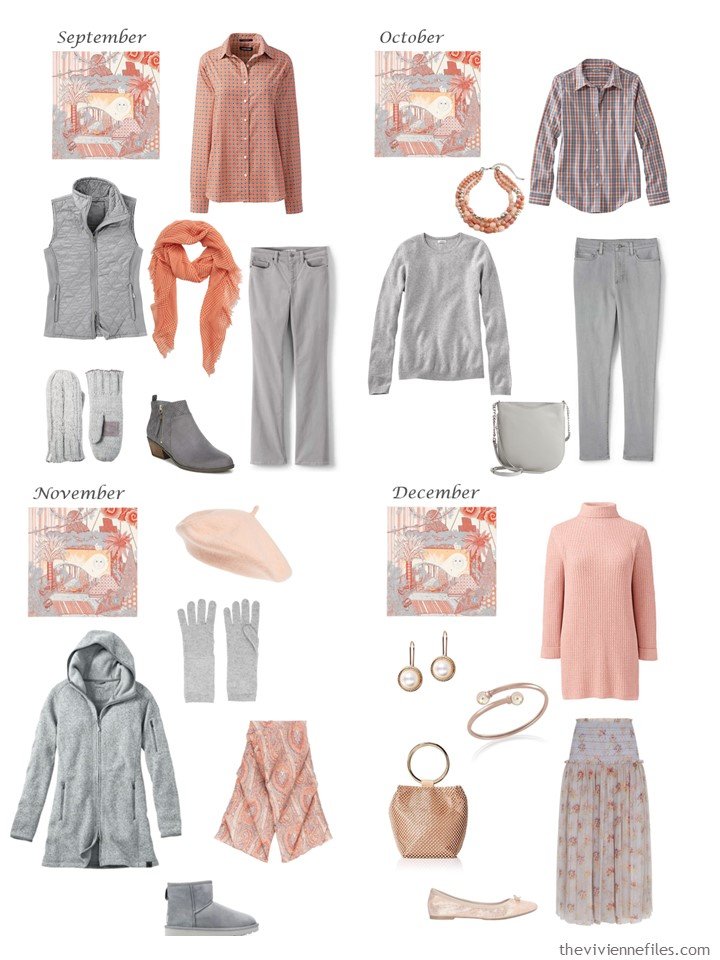 Overall, I wouldn't change much here. The peach dress is a bit bright, but still is perfect with the Hermes scarf, and the grey sweaters. Other than that… hmm…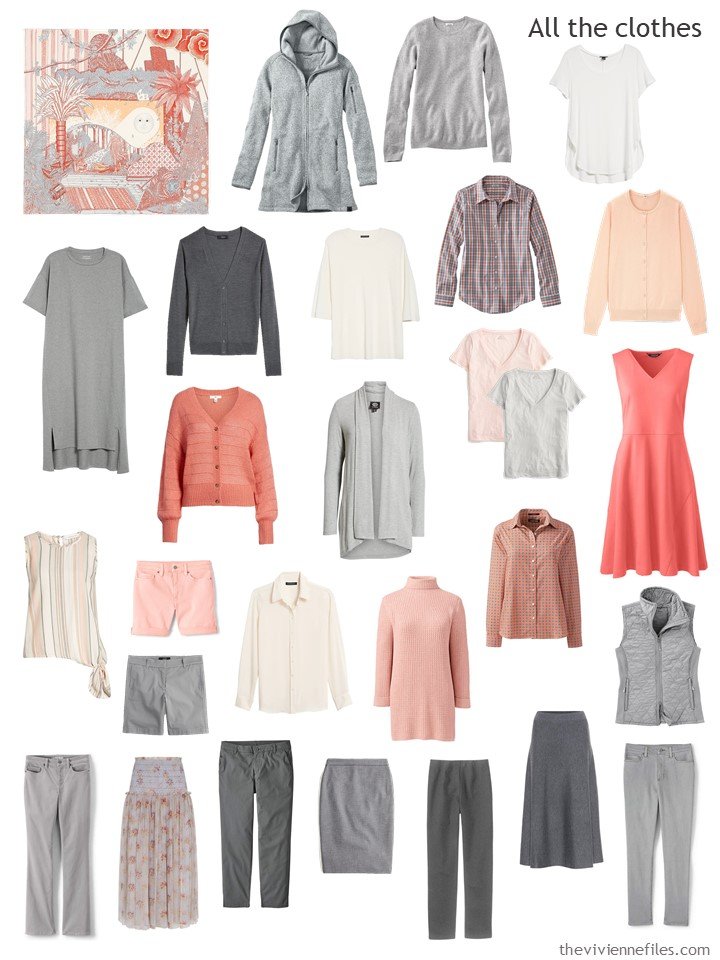 As always, the overall ratio of garments is good. Maybe too many ivory tops? But it IS the light neutral for this wardrobe…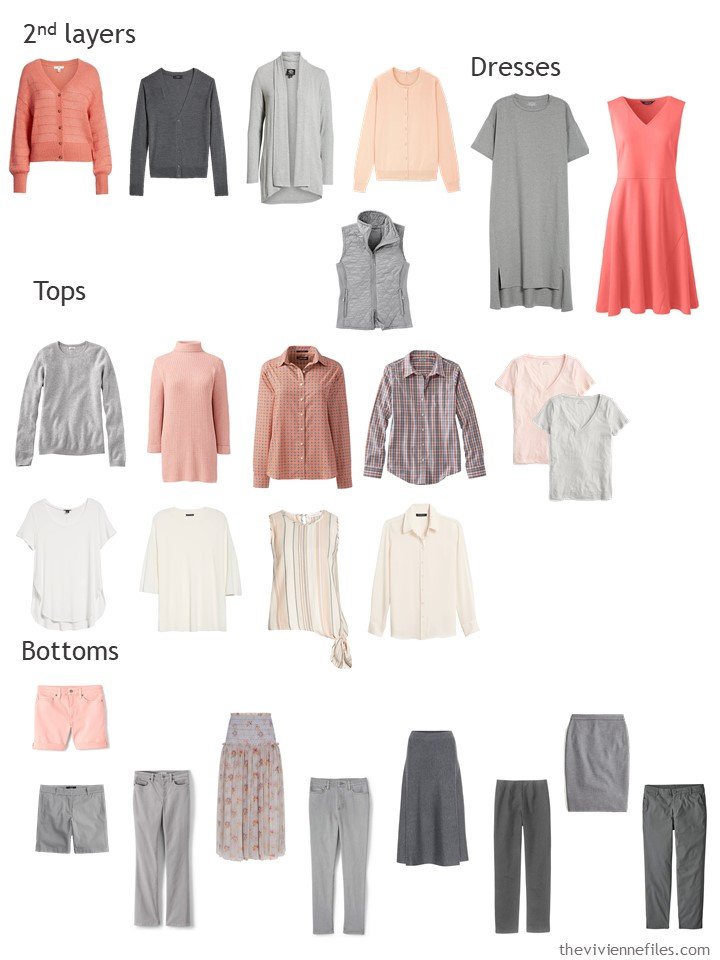 After much pondering, these are the pieces that I've chosen to add to this wardrobe. My reasoning is:
A light linen shirt that combines the light neutral and accent color of this wardrobe can be worn all year – under a sweater in cooler weather, as a shirt on its own in moderate weather, and over a tee or tank in air-conditioning;
A warm dress – possibly not necessary for everyone, but useful for many of us! The darker grey is a color to consider for a summer-weight dress, if a sweater dress isn't in your plan;
An ivory tee shirt – you might prefer v-neck, or shorter sleeves, but this is a basic that can be worn dozens of ways;
For the heroine who wants to tone down her various printed shirts, this ivory sweater is a perfect option! If can, of course, also be worn on its own. Cotton sweaters are good for all but the very hottest days of summer… and
A tank top. I'm beginning to see the merits of having a few sleeveless tops for the entire year. They're a nice touch of color under a sweater in cool weather, without leaving your too bundled up. (yes, you'll have to be alert to keeping your sweaters laundered…)
Now where were we for accessories for this wardrobe?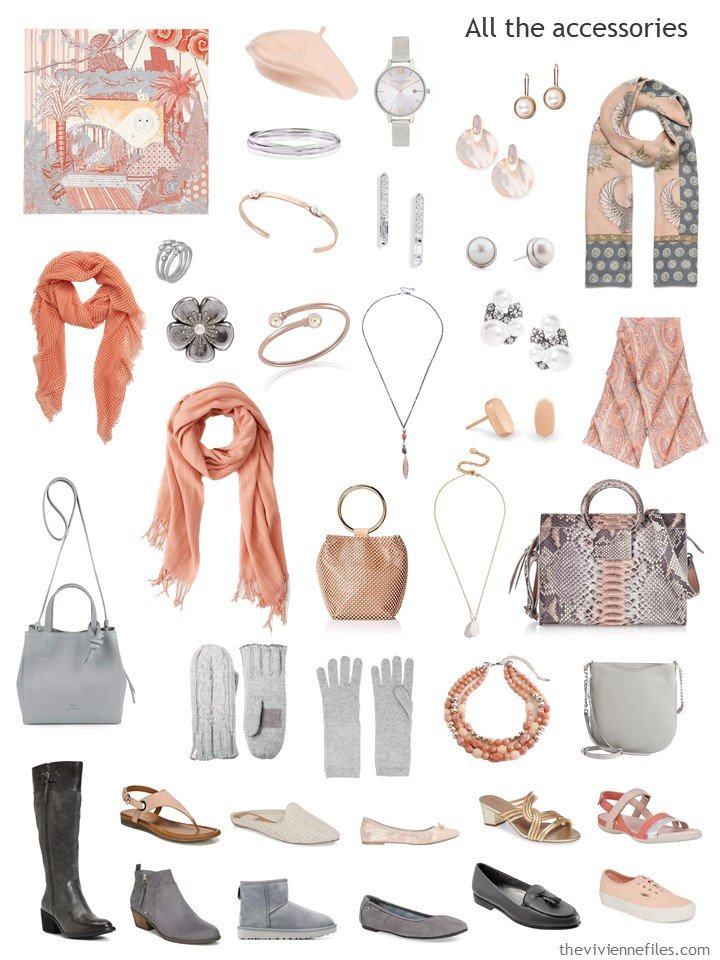 I personally thought that some of these accessories were brilliant – the watch was the most perfect thing for this wardrobe I could have imagined. The paisley scarf is glorious; the rose-gold mesh evening bag is lovely…. It's a pity that this isn't a flattering color palette for me; I could love this wardrobe…
But there are always possible additions!
Sunglasses! I might quit preaching at everyone about this, some day…
A warm hat. As much fun as a beret is, you sometimes need to cover your ears! And the touch of grey in the pom-pom on top is perfect.
The brooch is completely superfluous, but too pretty to pass up. It's not terribly big, so it won't be as overwhelming as one might fear.
Accent socks. You can live forever without them, but you might grow to love them!
A sold scarf in your dark neutral can be surprisingly handy to have. Invest in a nice one and keep it for years…
As always, in a well-planned wardrobe, new additions (especially timeless classic pieces) will give you tons of new outfits! Not a bad investment, eh?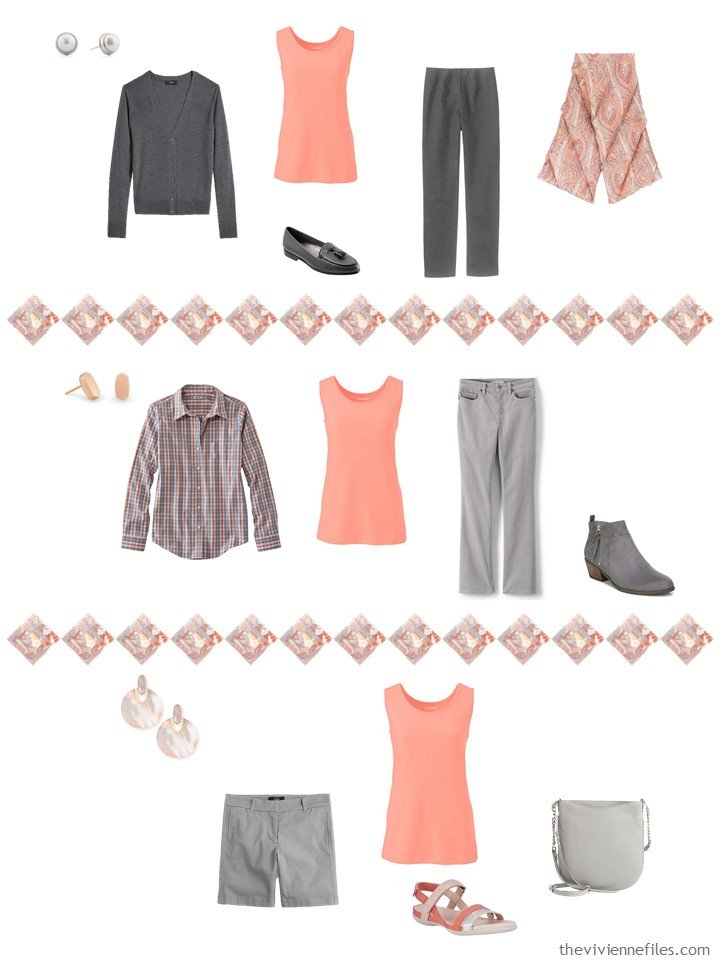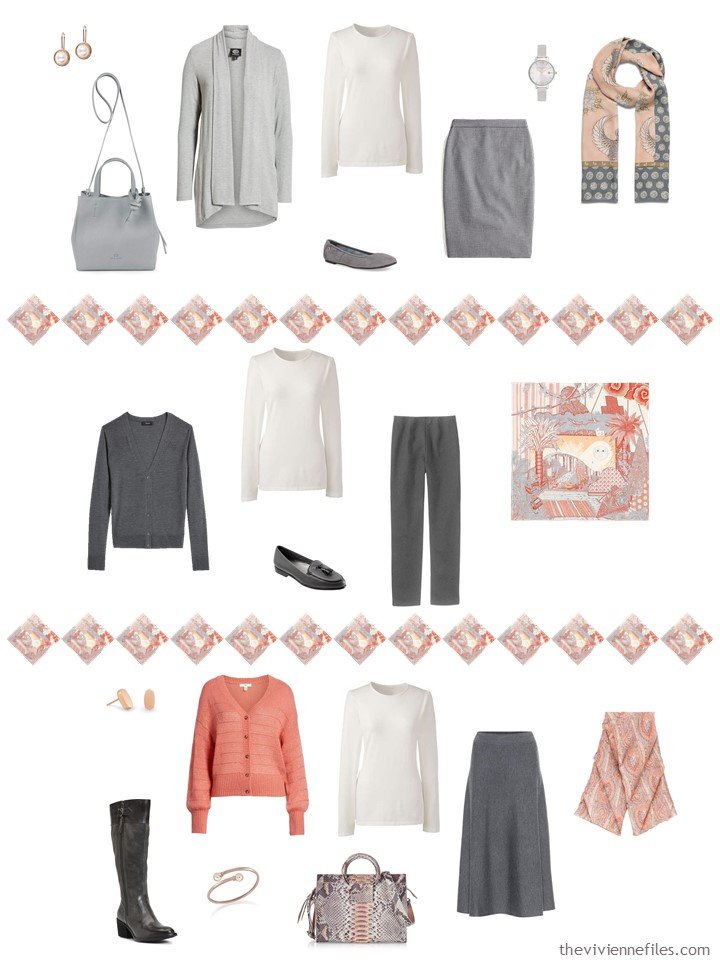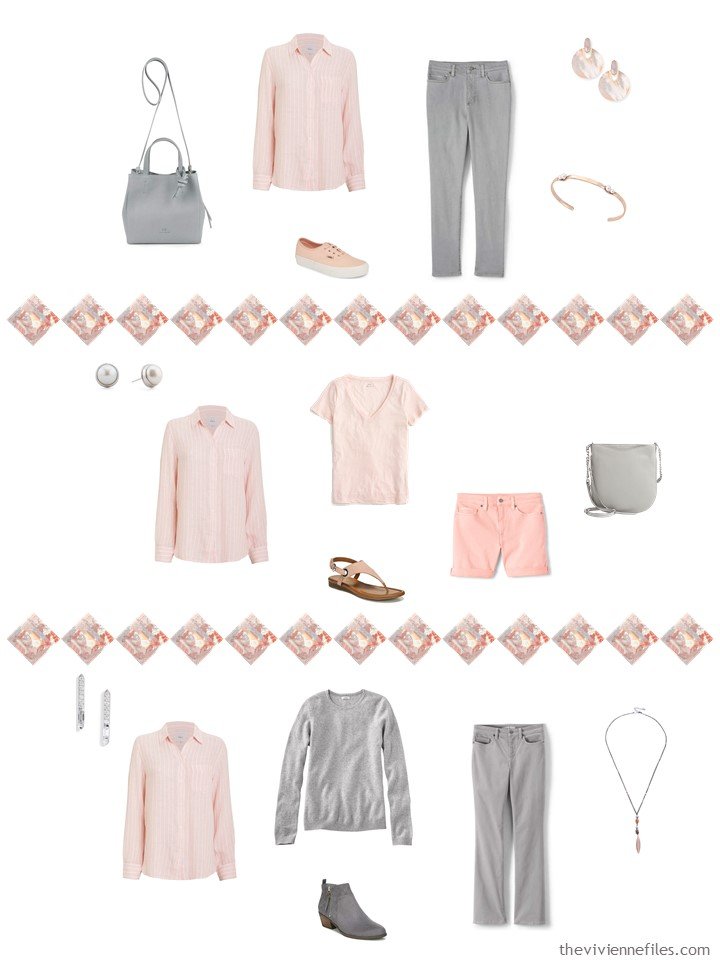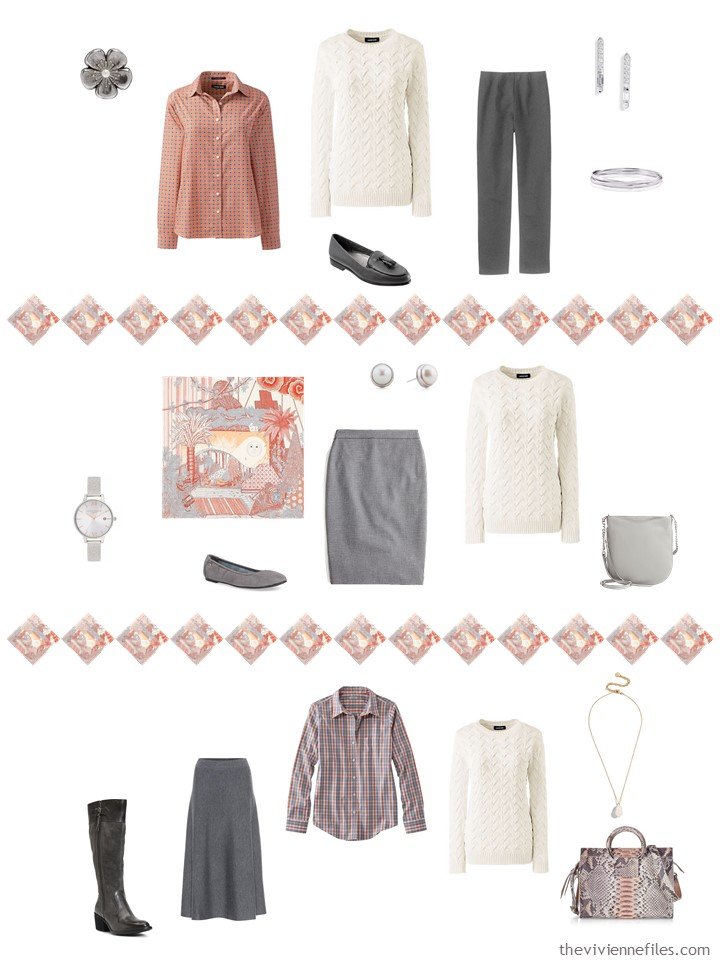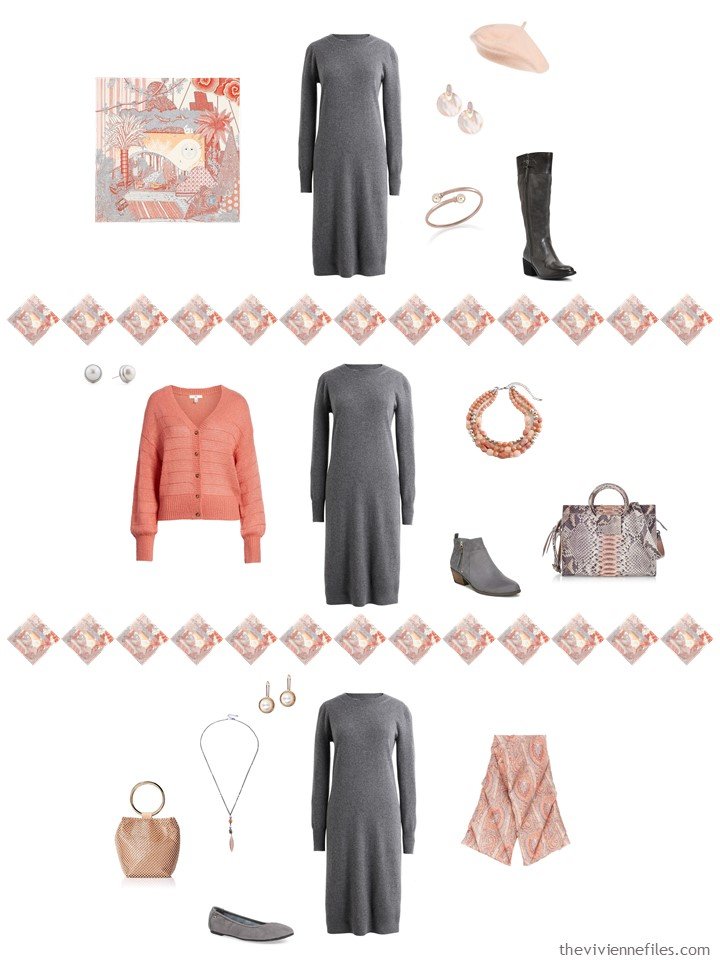 More and more, I'm drawn to garments that can be worn for most of the year. While we all will need things specifically for bitterly cold weather (or scorching hot), more versatile garments will help us all buy less, but better, and look nicer.
Now, on to the most classic color palette from this year's scarves:
I think that I took this wardrobe too much for granted; these colors are all pretty easy to find in the shopping world, and they all go together nicely. In retrospect, I think I should have done 3 things better!
Lessons:
I should have used both navy and beige as "co-neutrals," rather than try to depend so thoroughly on the beige. Even if I built a wardrobe entirely for warmer climates, this would have worked better.
I should have committed to a color for leather accessories! Early! And stuck to it! This is an easy mistake to make; there are such luscious handbags and shoes in the world, one can be easily led astray… and
I should have chosen 1 shade of red and been more faithful to it. It could have been true blood red, or a darker scarlet, but mixing red shades diminishes versatility.
These first 4 months look great; as free-standing outfits, they're all something I would wear in a heartbeat!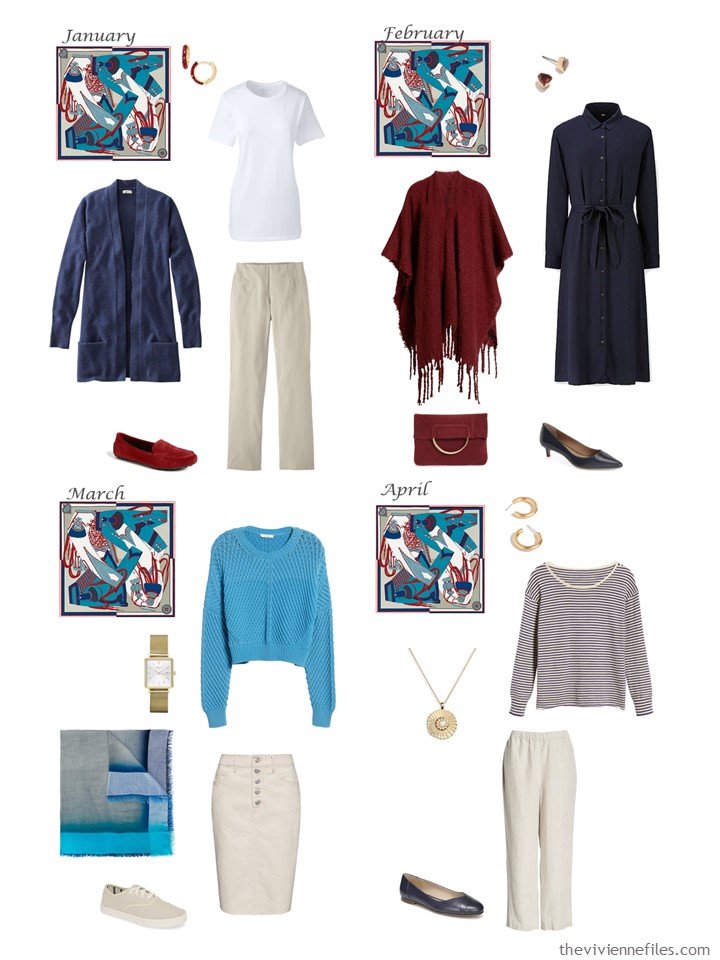 I might have gone a bit off the rails here with 2 pairs of red sandals… And as much as I love the August outfit, I should have tried harder to match the color of the May cardigan in the blouse. It's boring to buy matching things, maybe, but it can pay off.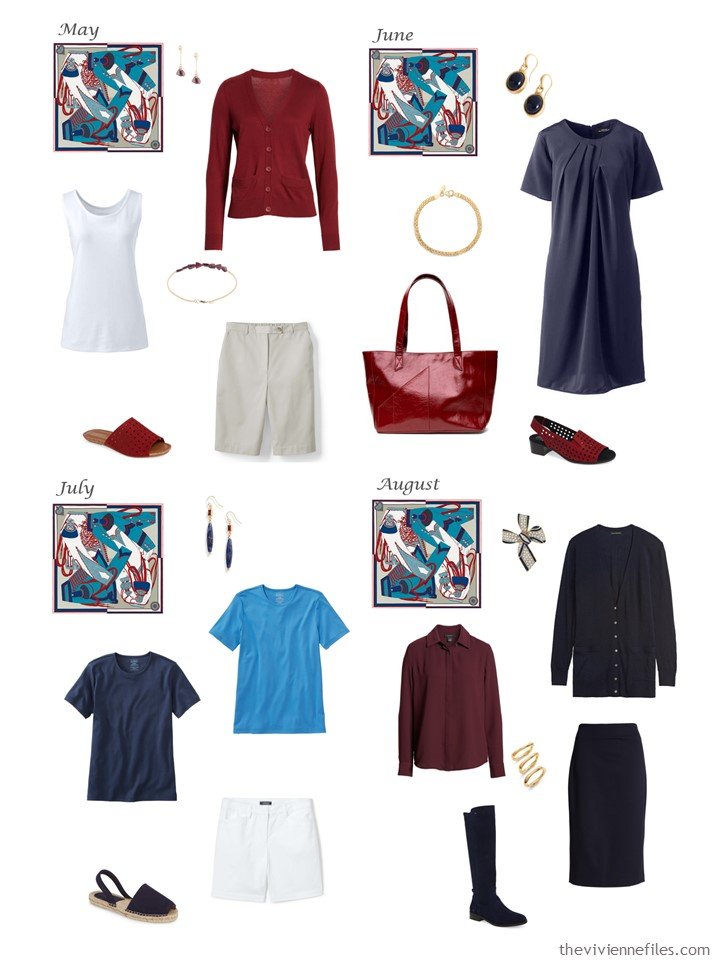 The December outfit is pretty far from the rest of the wardrobe, but I still really like it! Sometimes, you just have to indulge… But WHAT was I thinking with that dark October handbag? In cooler weather, the shades of red (and red leather) that are available will of course be darker and more muted; I should have resisted, and held out for brighter red.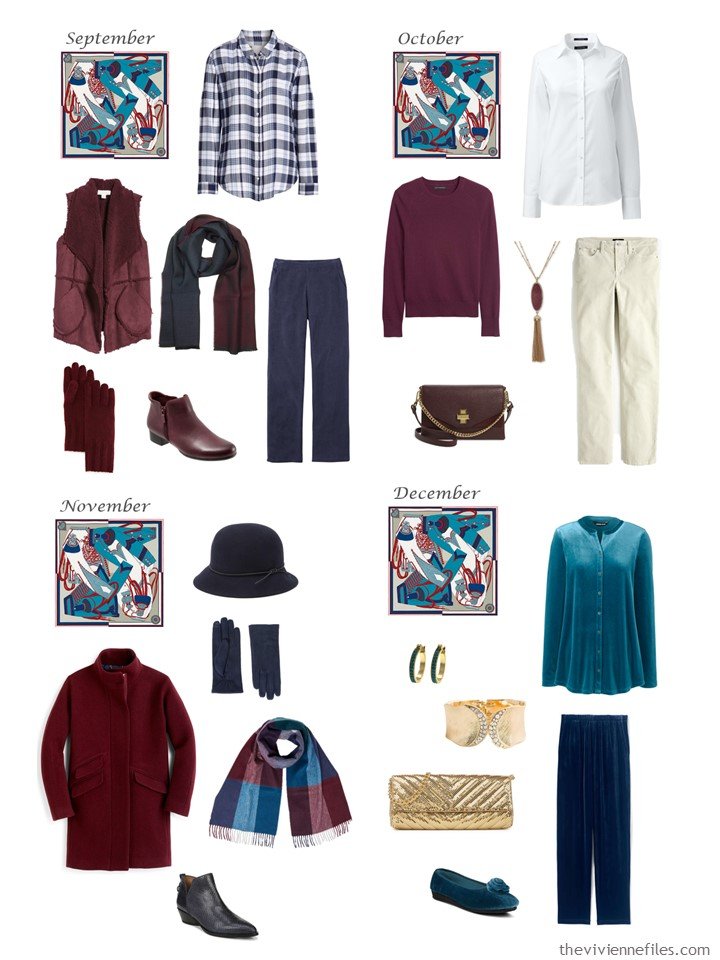 Even with all of my criticisms, this is a very versatile and timeless wardrobe. My only hesitation if I were offered this for a long-term trip? Too many beige bottoms! I'm not that graceful; some of these would be schmutzed to death in a few days…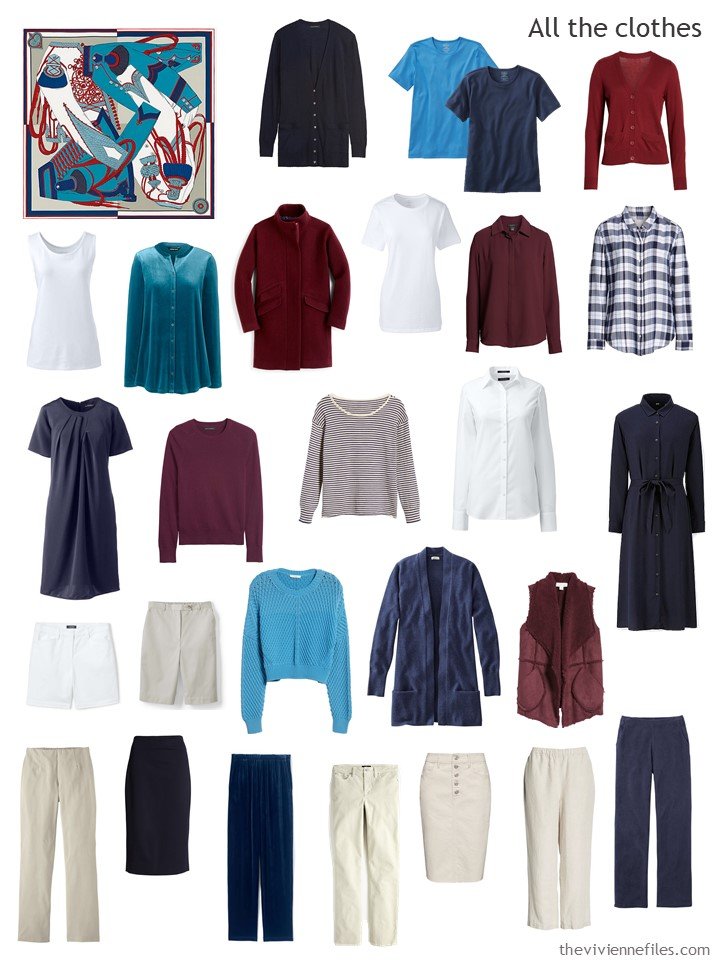 Sorting this wardrobe brings that "beige bottom" issue into clear focus…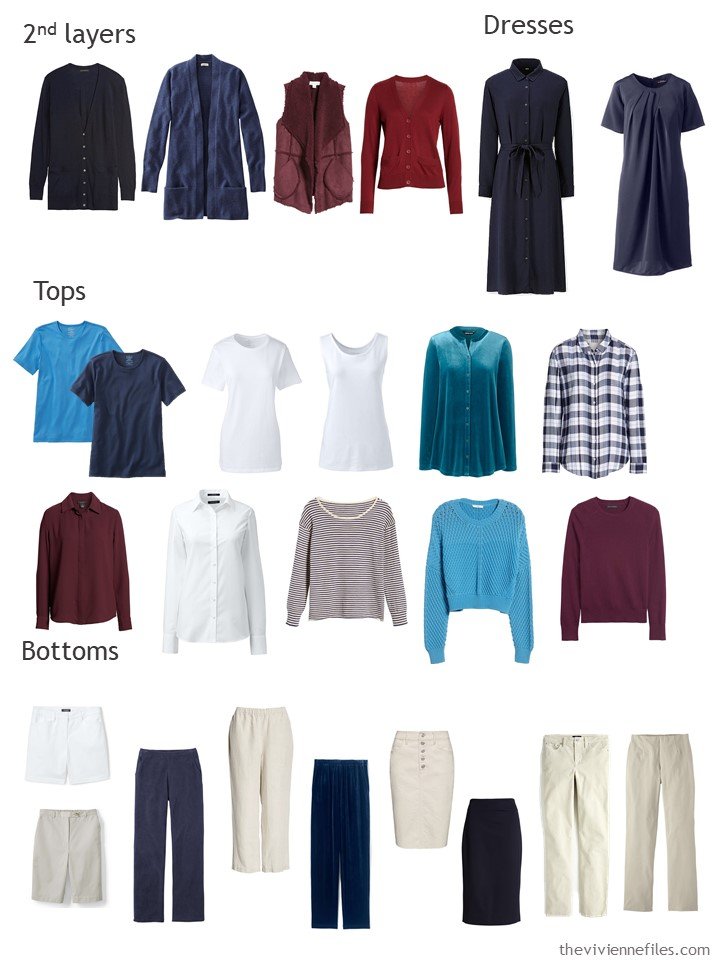 So I wrestled a bit with myself, and chose the following additions. Here's my thinking….
All of these wardrobes can benefit from an additional summer top or 2, and this wardrobe could use an injection of print and pattern – thus a striped tee shirt in a classic color combination was easy!
The navy striped shirt is one of those tops that can be worn under a sweater (yes, it's a tunic – your hem will stick out – roll with it!), or over a tee shirt. It's another classic combination that should be snapped up when you see it!
This heroine could certainly use a dress that's not navy (assuming that she's a dress woman…) This dress can be worn during all but the hottest summer months, and is simple enough to be accessorized a ton of ways.
Navy cotton pants. Heck yeah! She SO needs these….
And the Fair Isle sweater is just plain pretty. Sometimes, pretty is all I require… (plus, it's a cotton/cashmere blend, which minimizes the scratchy!)
This shoe assortment bugs me, I admit it. Failing to plan for the choices of leather accessories can leave you in a pickle…
So what did I choose to add?
Sunglasses. You're shocked, I know!
Simple stud earrings. She has 2 pair of pretty "color" hoops, as well as gold hoops, but sometimes you just want plain, timeless studs to get you dressed and out the door.
Another scarf. Assuming that this is a scarf-wearing heroine, she comes into the end of the year with one 1 silk scarf…
Accent socks. Just trust me here…
And navy loafers. HOW was shoe going to make it through the autumn and winter without nice loafers?
All of our heroine's wardrobe additions incorporate beautifully, with just 1 little hesitation in my mind…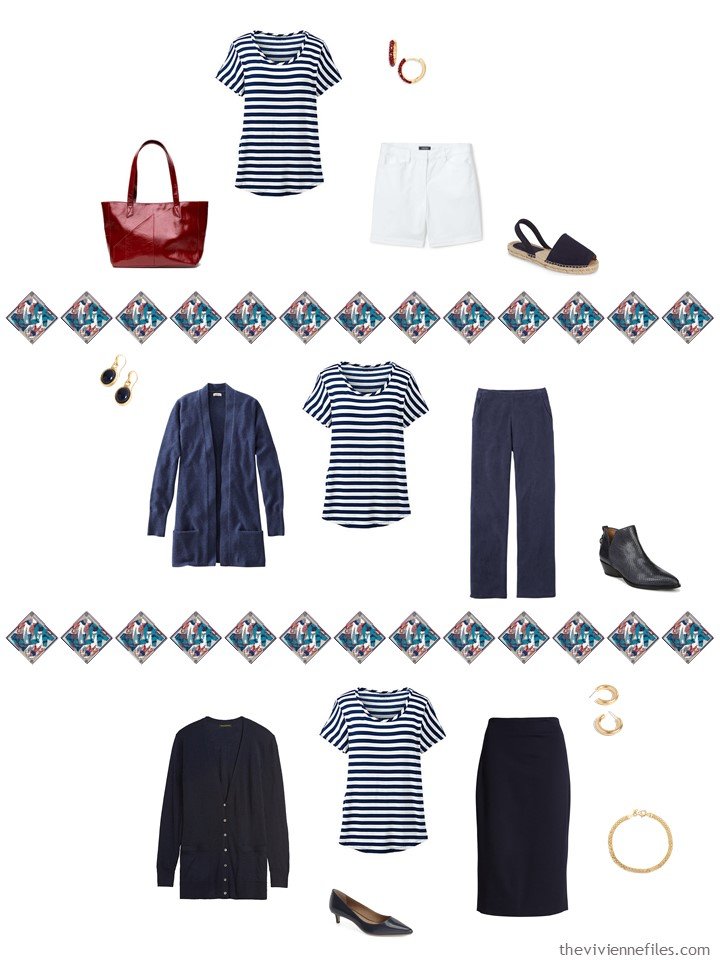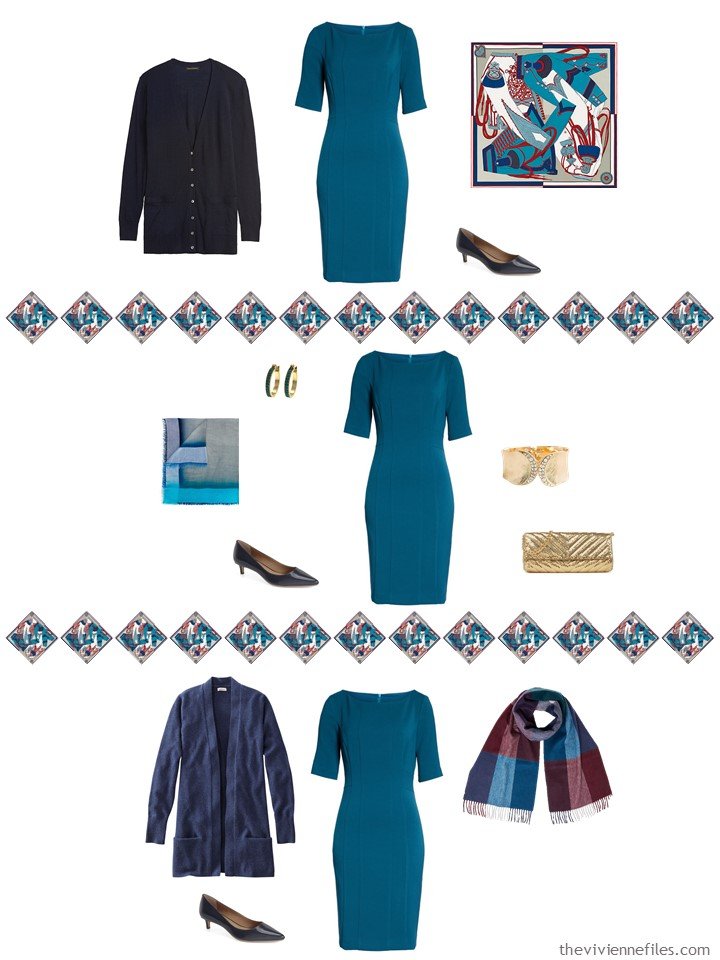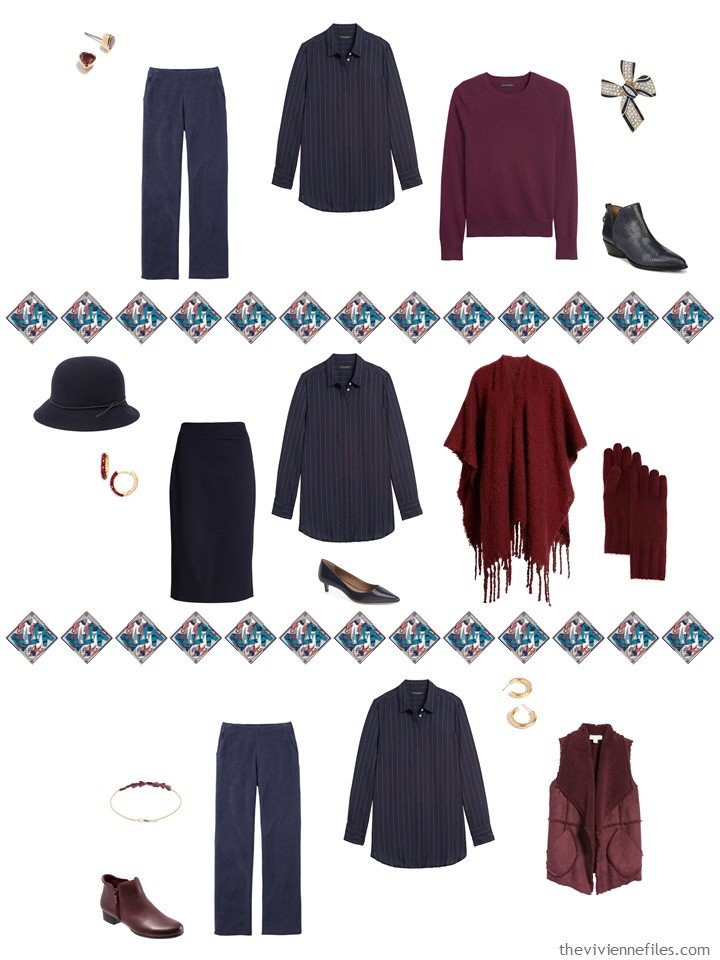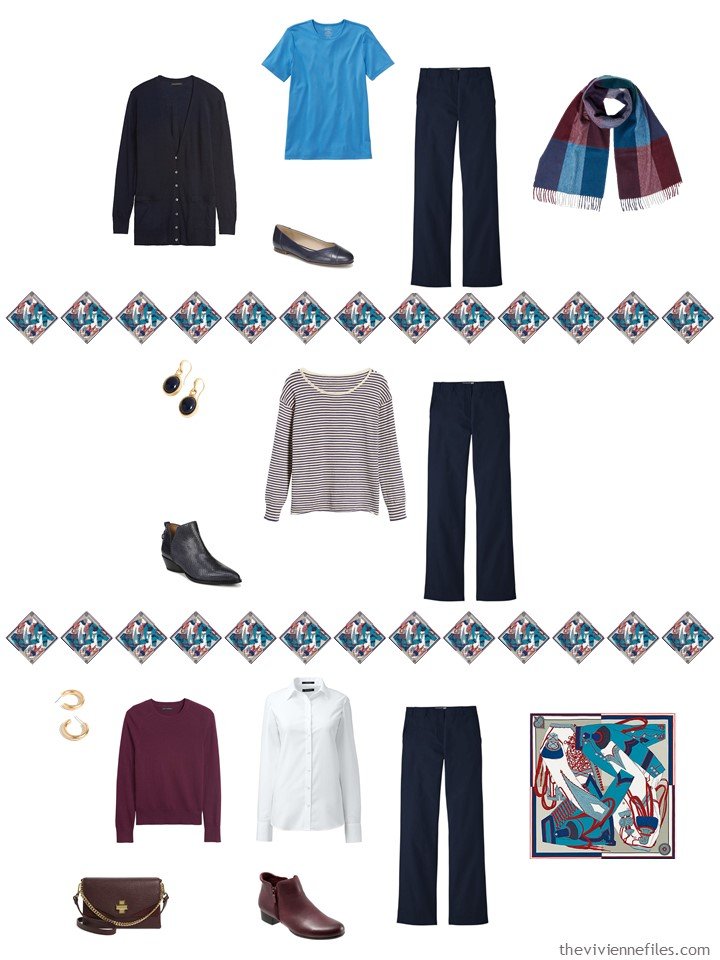 My only hesitation? I'm not sure about this sweater with the beige pants. I also suspect that I'm being WAAAAAY too critical…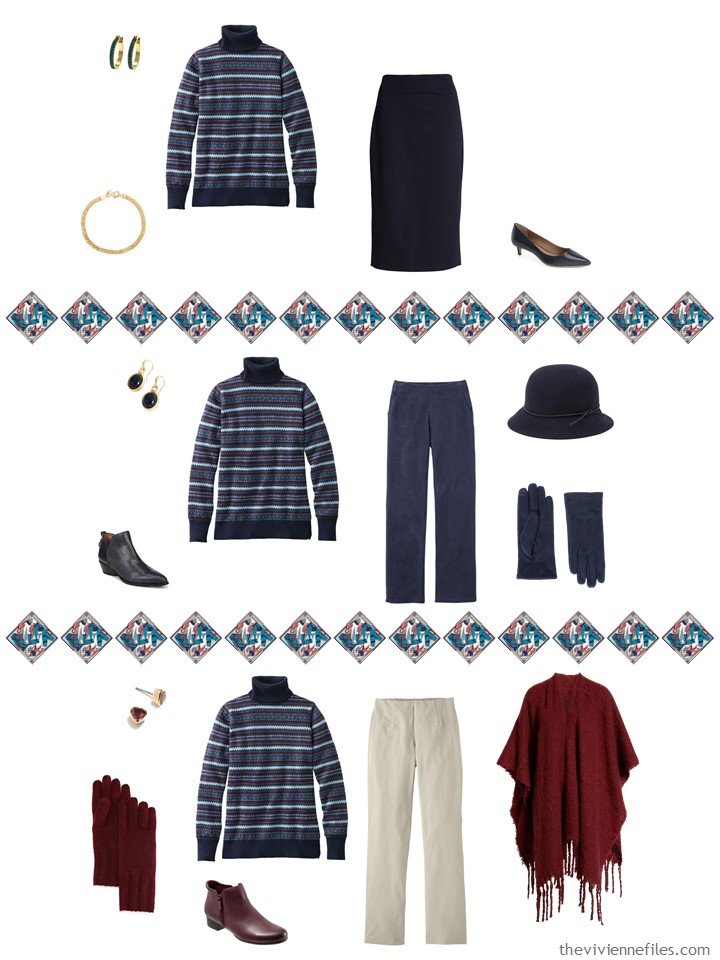 Friday, I'm going to tackle the last 2 wardrobes! Then Monday, we will finish the winter "Weekly Timeless Wardrobe," and then on Christmas Day I'm tackling a story, and some fantasy shopping with 1 of our favorite heroines…
love,
Janice
p.s. 2 years ago, I was analyzing a different group of Hermes scarf-based wardrobes. It's an entirely different kind of analysis than this…
p.p.s. The previous posts where each of these outfits can be found here: January, February, March, April, May, June, July, August, September, October, November, December