September 4, 2019
My favorite post of the month! Although I love everything I give you, I must admit…
For new readers, the thesis is this: in January I choose 6 Hermes scarves from the new season, and then, for a year, I add a new outfit each month to six gradually growing and developing wardrobes. It's fascinating to see how the wardrobes evolve…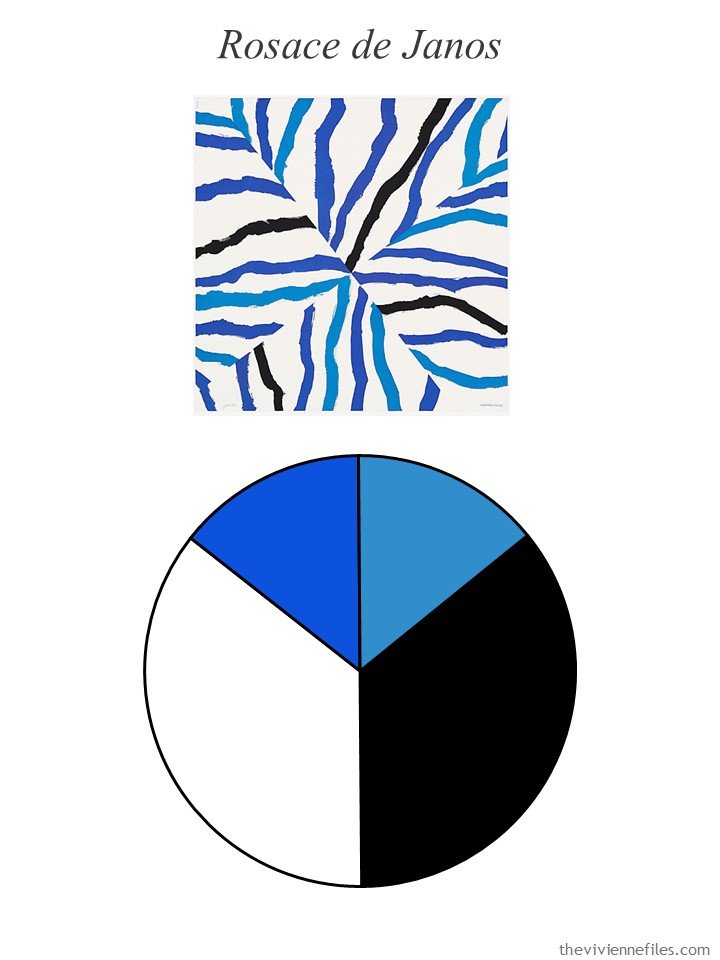 Even though the weather is still quite warm (in the Northern Hemisphere, that is!), this is honestly the time to start getting your fall and winter outfits together. The selection is best now, both for styles and sizes. And having these outfits ready for that first cold day gives you both a sense of security AND something to anticipate! (it's good to have something wonderful to enjoy when the weather turns, right?)
As always, these pieces look great with the rest of each heroine's wardrobe:
These pages, with all of the garments, are tough to put together, but I think they're a lovely way to really SEE a wardrobe. Visibility is important; can you find a way to see more of your clothes?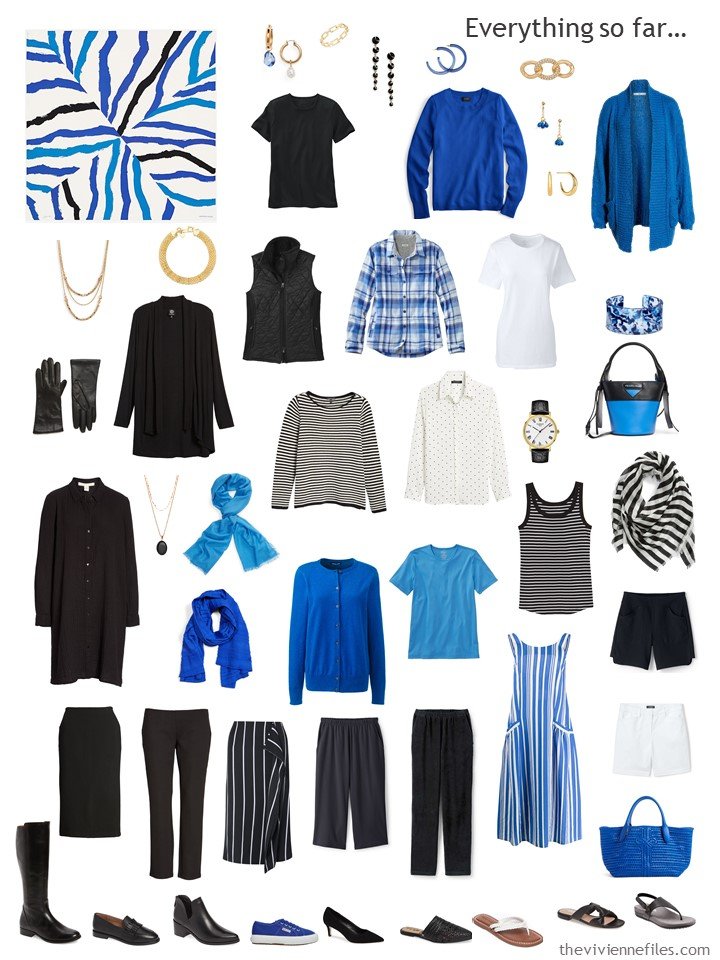 These outfits came together very easily!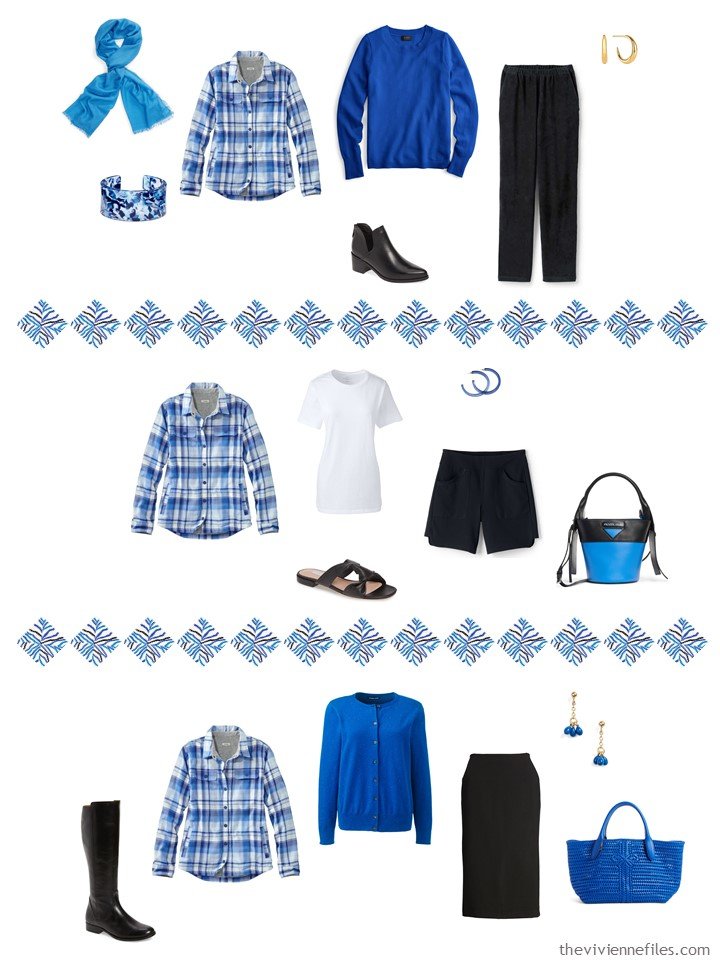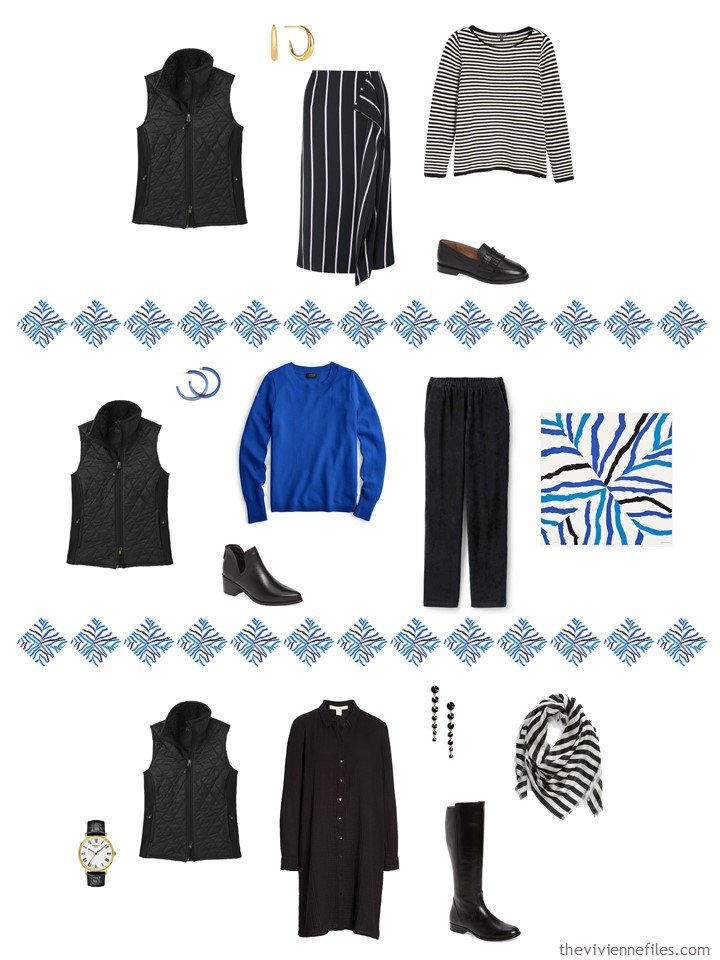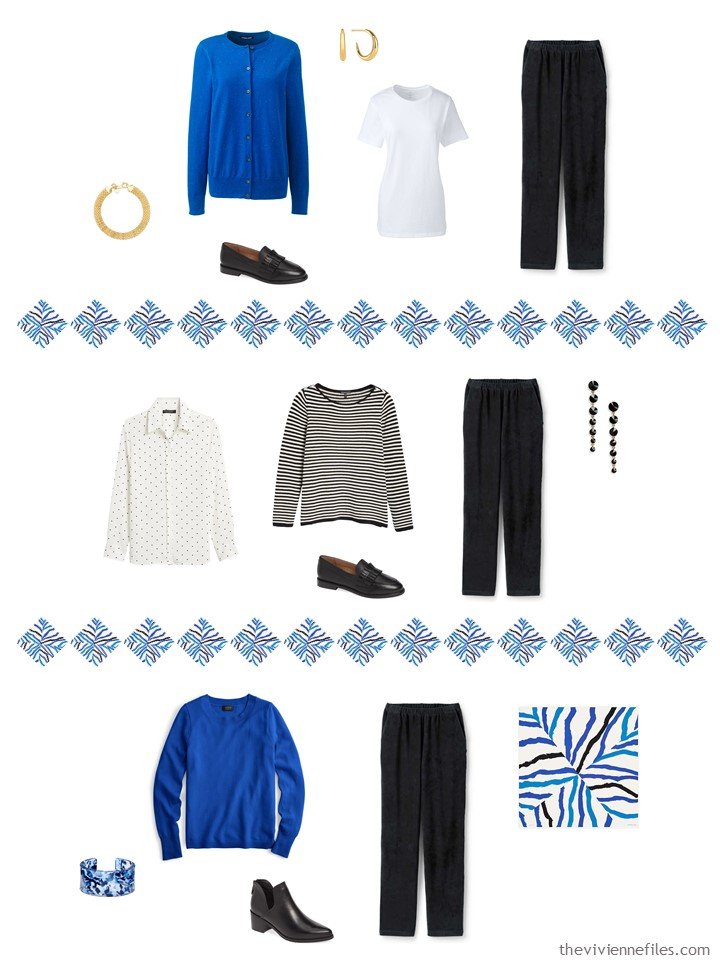 Are you in the mood for some shades of purple?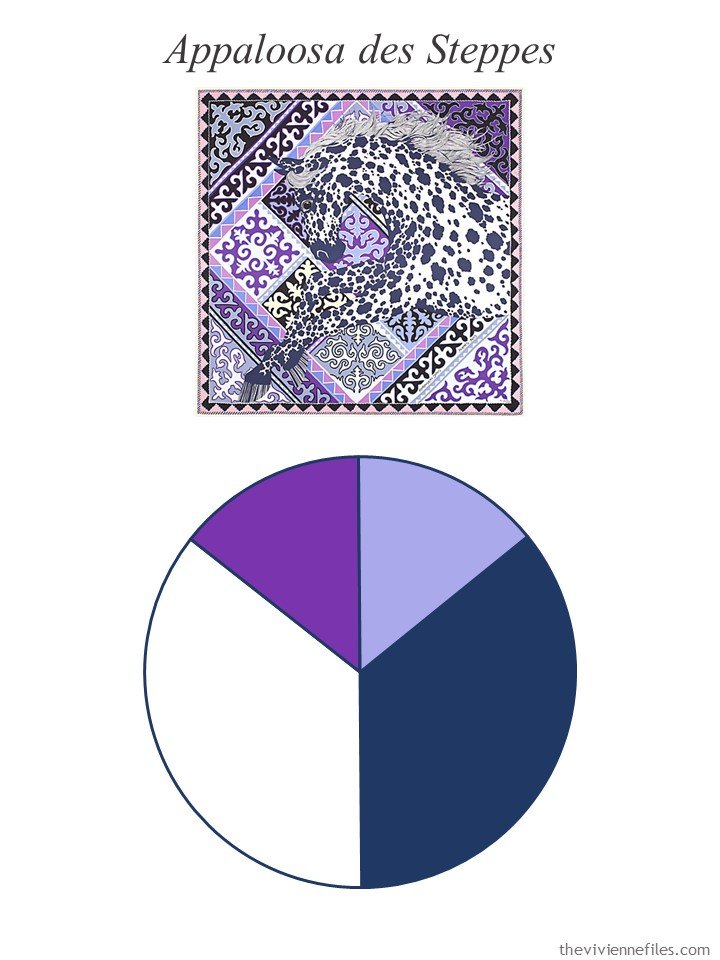 I love this plaid shirt, so I made it work! This uses the very darkest shade of purple that is present in our scarf…
You will note that this year, I didn't use down vests for each outfit. There are so many other options that I thought I should spread the love around a little bit… How nice would a fleece vest feel on a cool, damp day?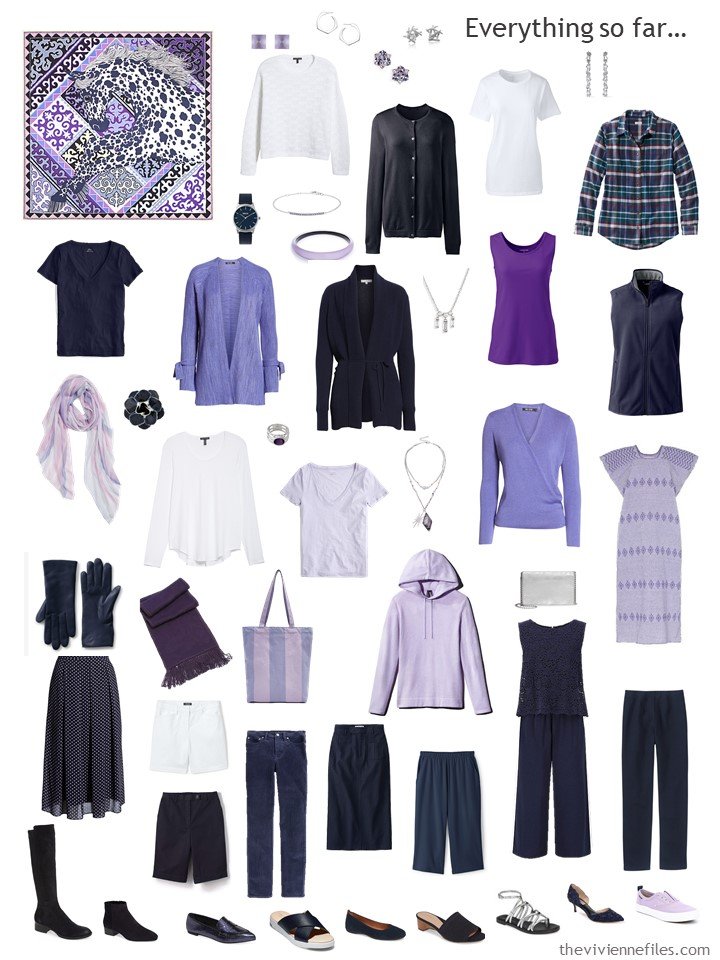 These outfits weren't quite as easy to pull together; my detour into darker purple was a little bit limiting. But no wardrobe has to be perfectly interchangeable; you aren't under contract for perfect versatility! Stick with neutrals for more expensive core pieces, and your shirts and sweaters can encompass the full range of colors that you're using…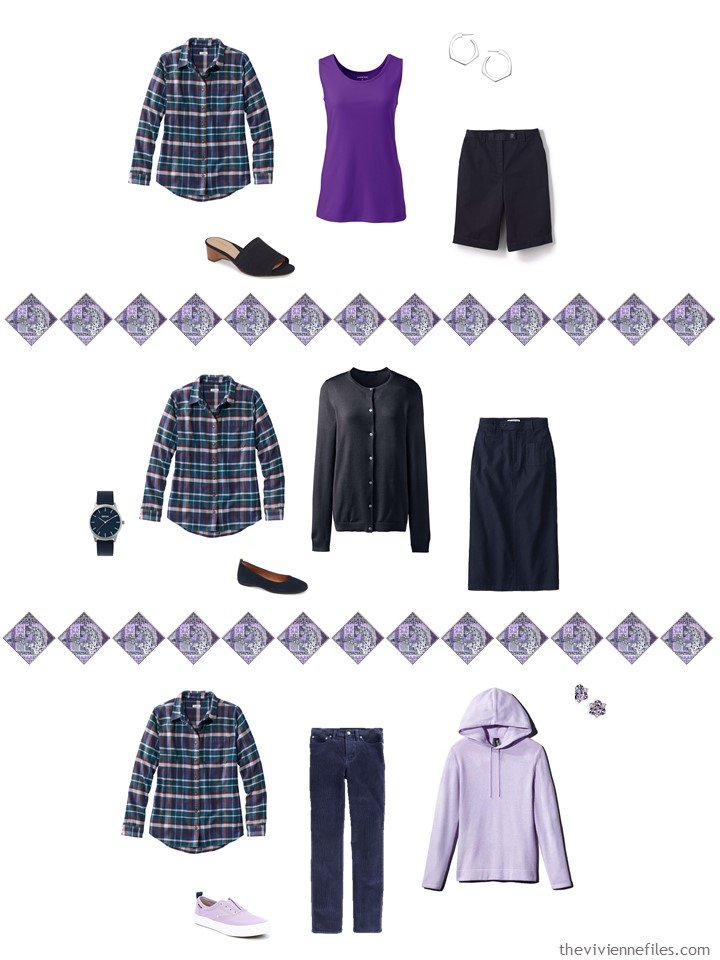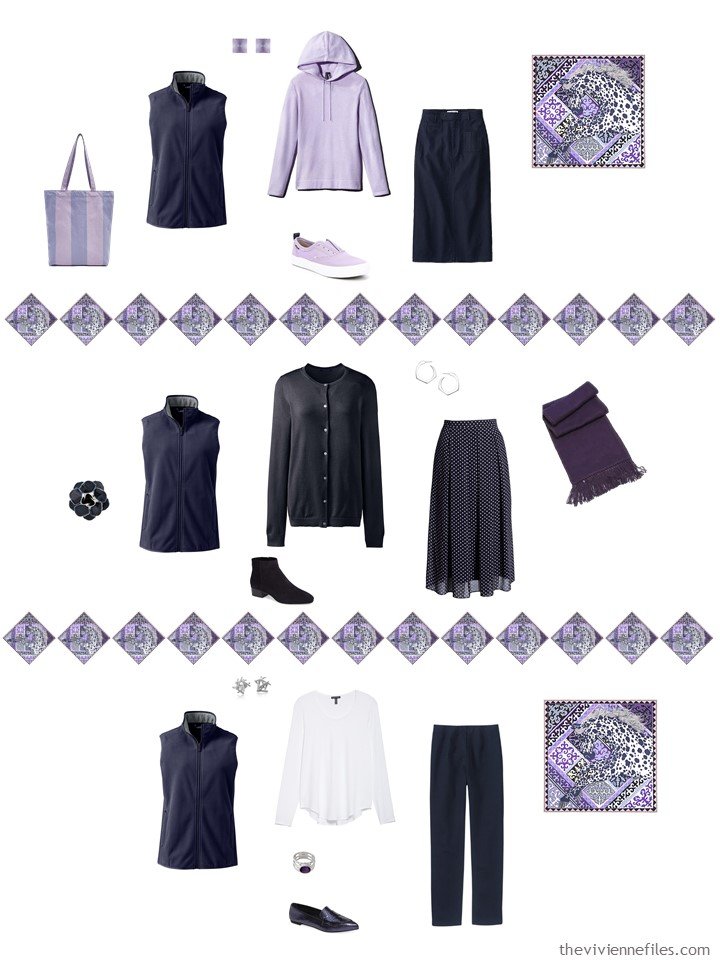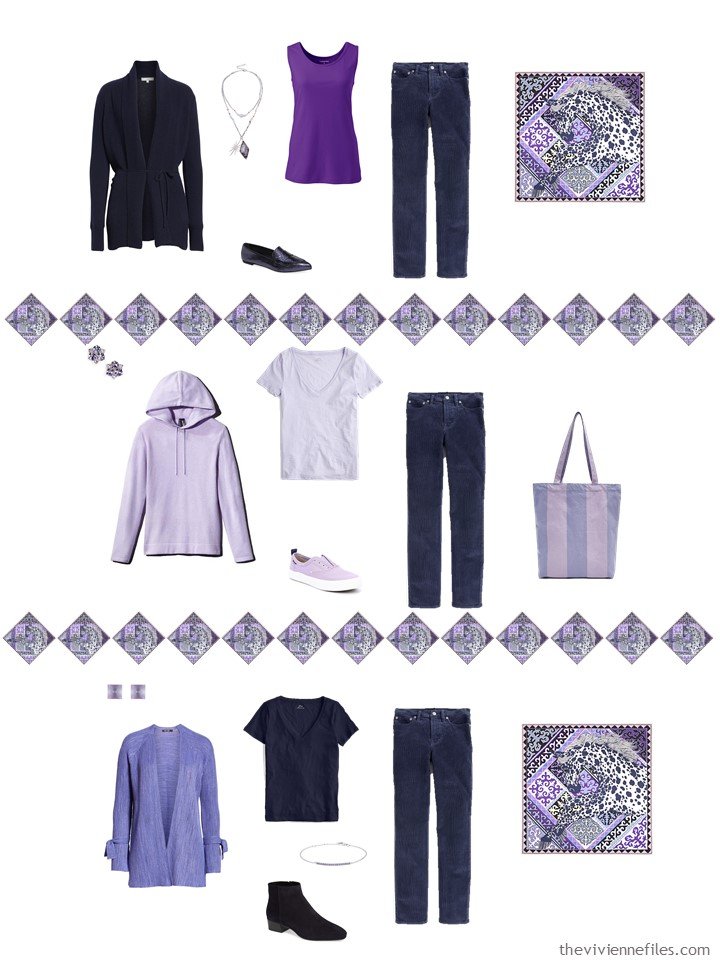 I'm always a bit excited to revisit this color palette…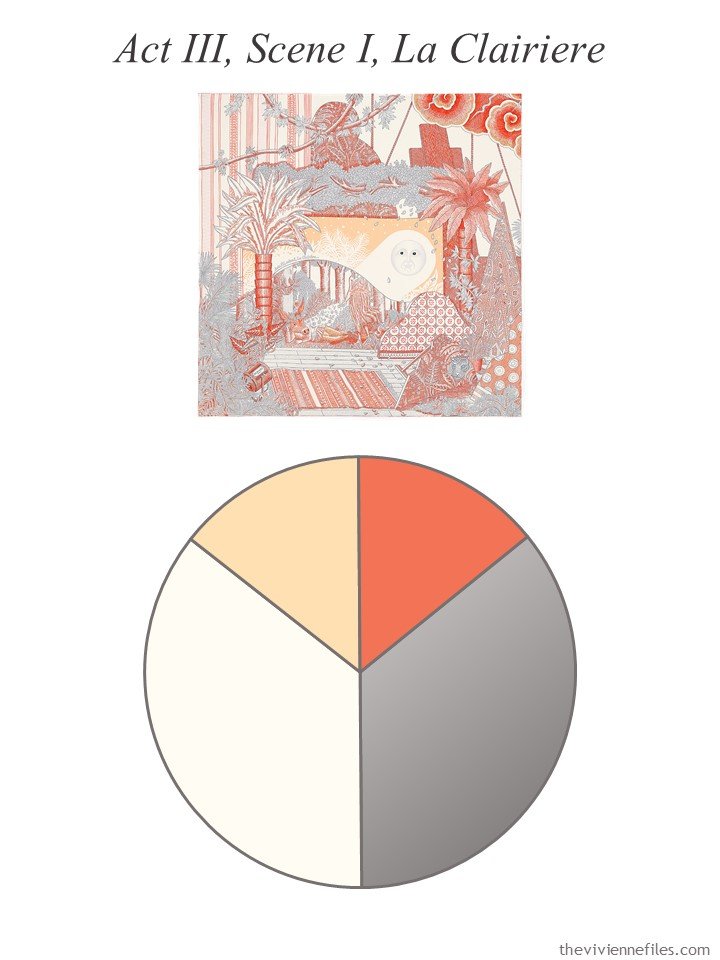 Could this shirt be more perfect? And yes, I would wear the scarf and shirt together in a heartbeat, since the vest breaks up that large chunk of printed shirt. Otherwise, the 2 prints might be a bit busy for some of us…
These colors are just great together….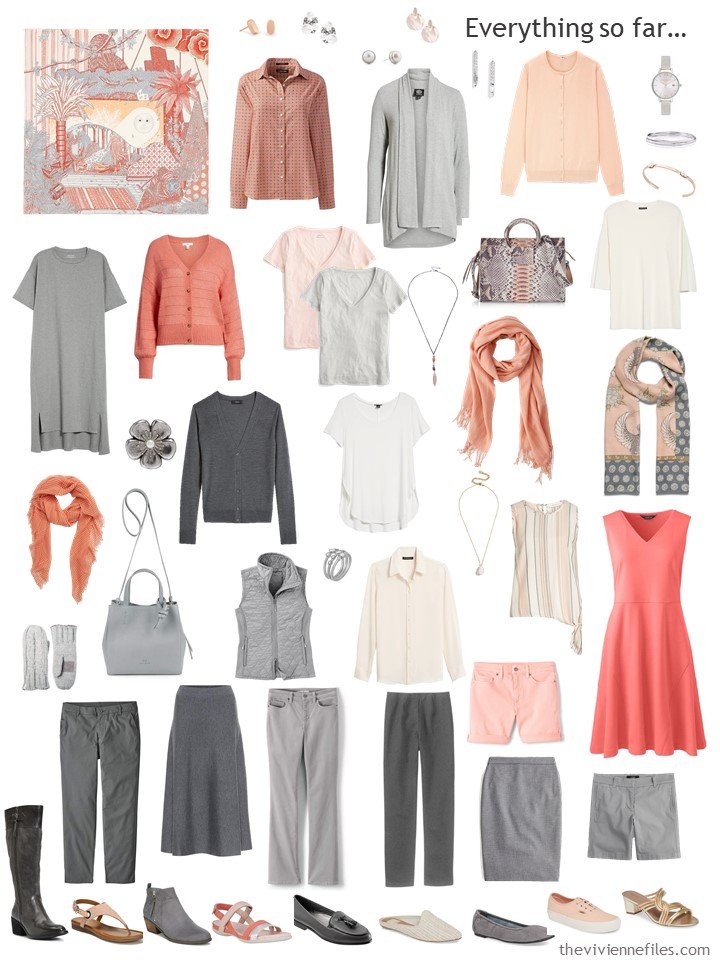 I'm a one-woman crusade for mixing more casual clothes in with skirts and dresses… French women do it!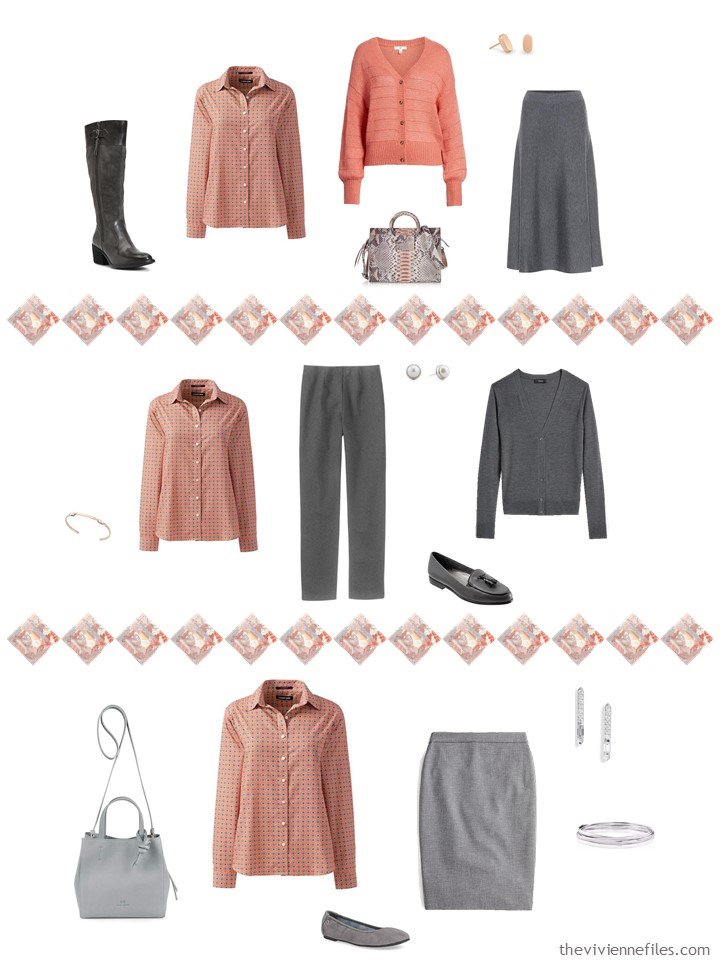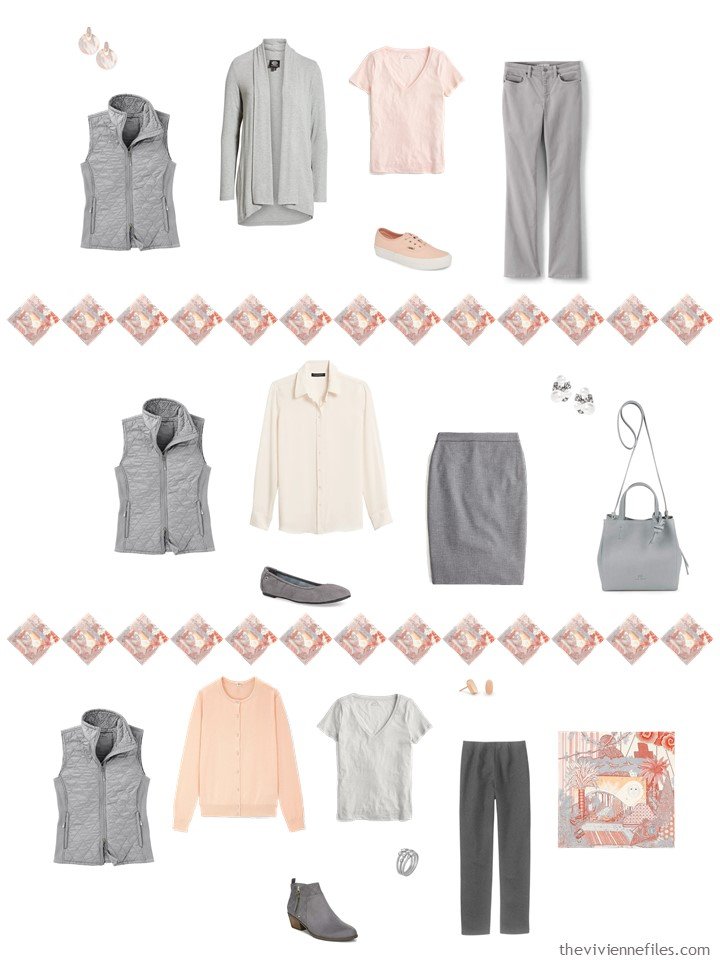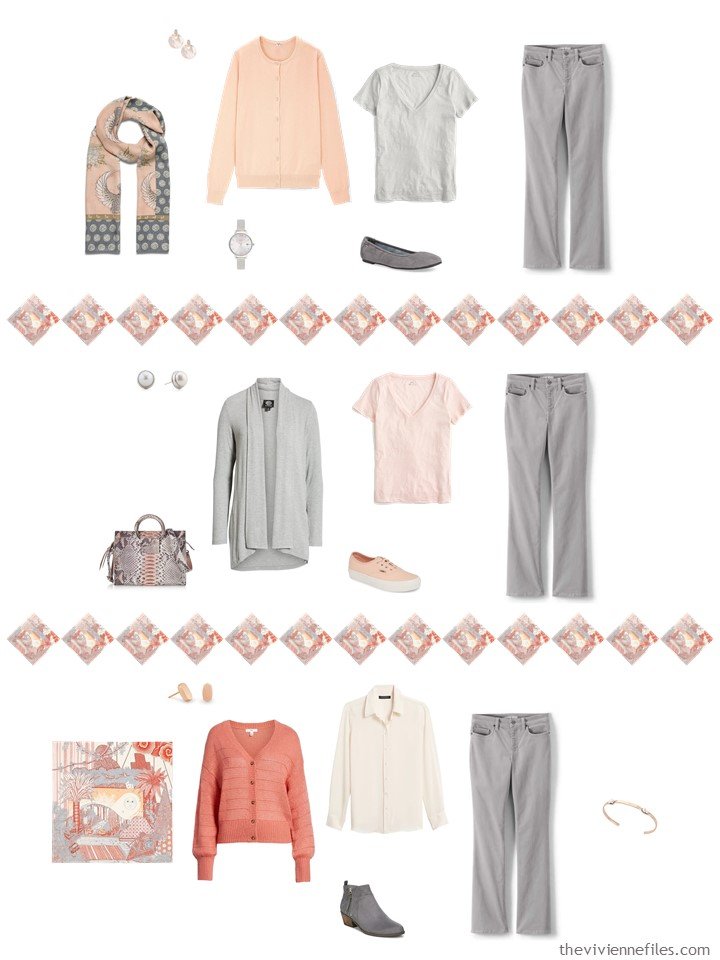 A very modern scarf with a very classic color palette: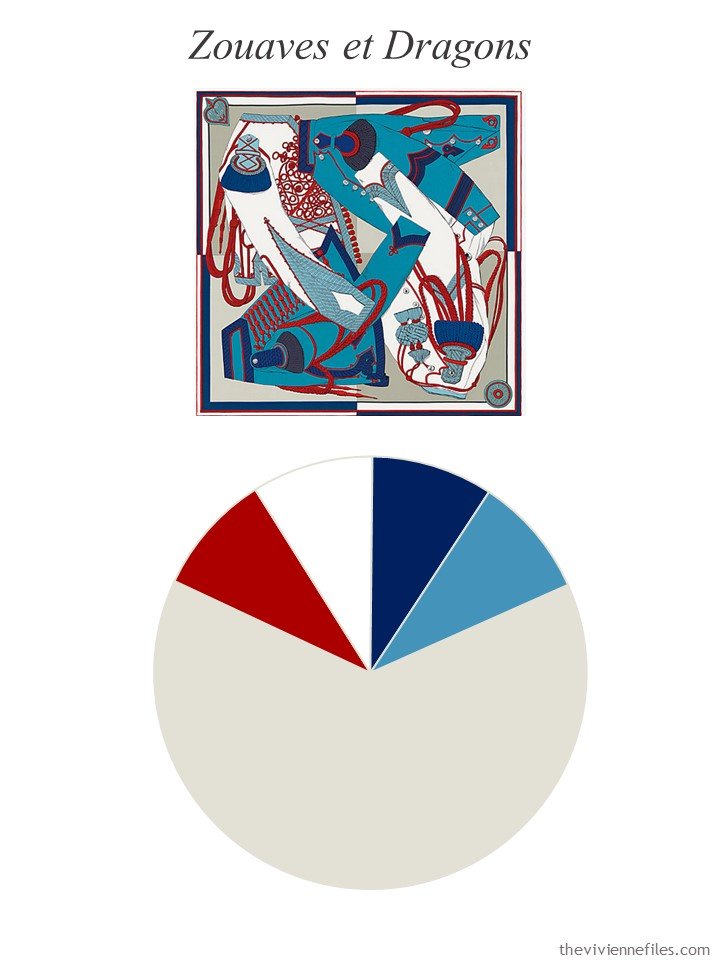 I was SO tempted to find a different vest, but I kept coming back to this one. It's a statement, without being outrageous in any way…
I'm not sure about the balance of navy and beige in this wardrobe; time will tell!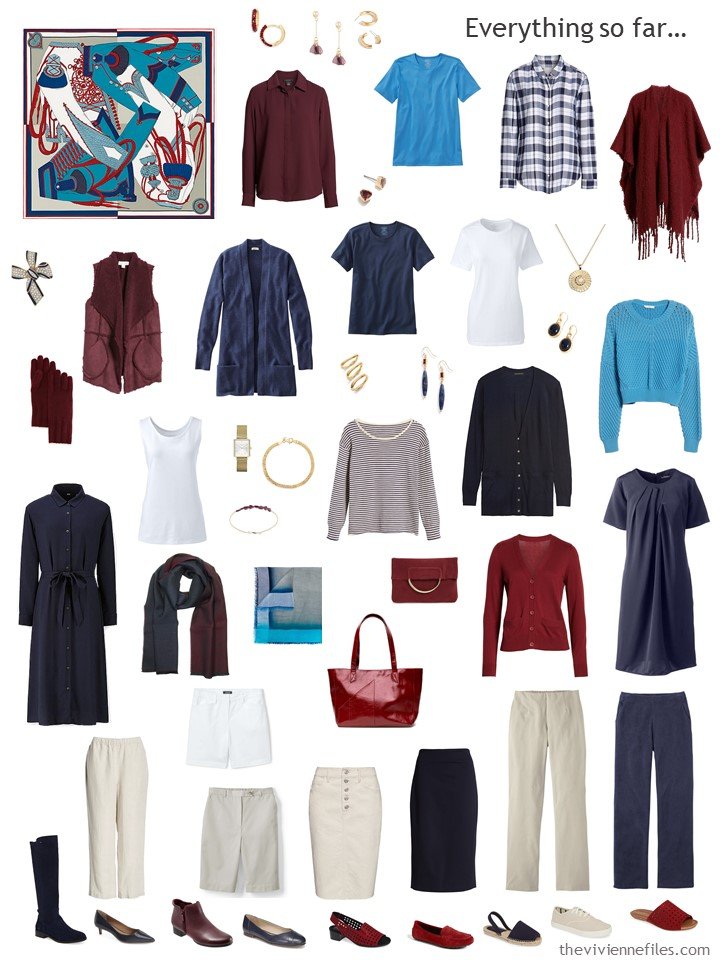 When you're headed out in hot weather, but you know that you're going to need a 2nd layer to stave off the ravages of air conditioning, don't forget your button-front shirts!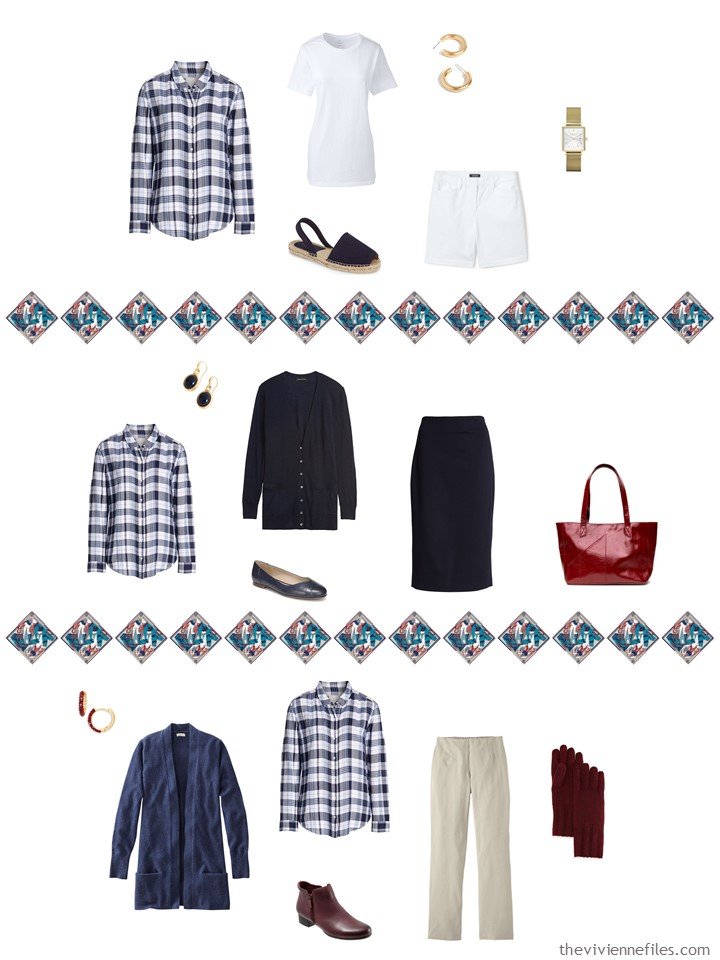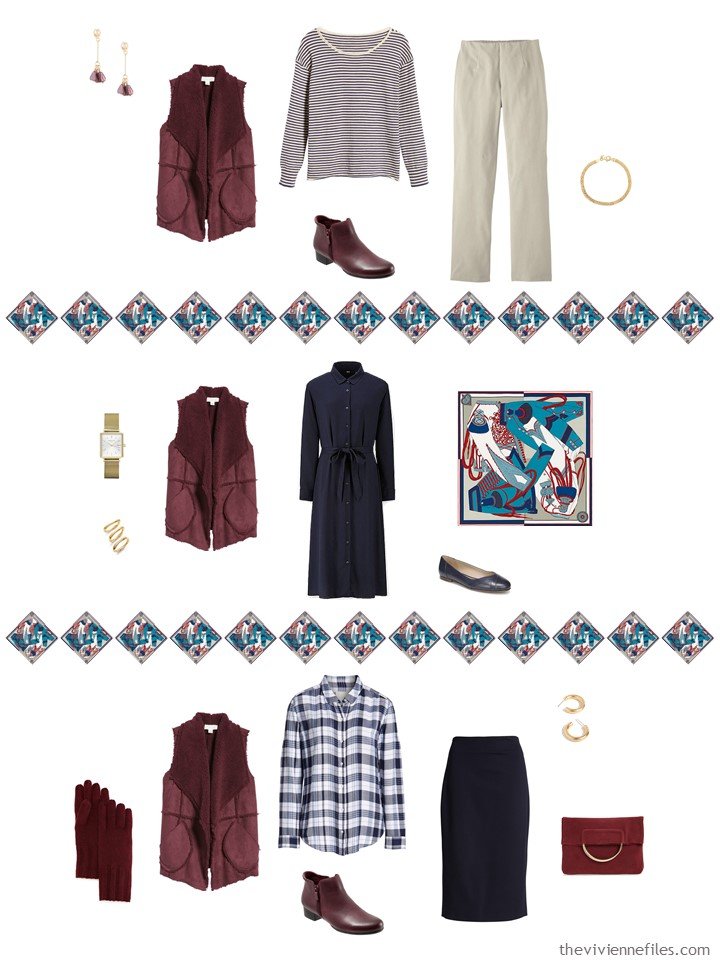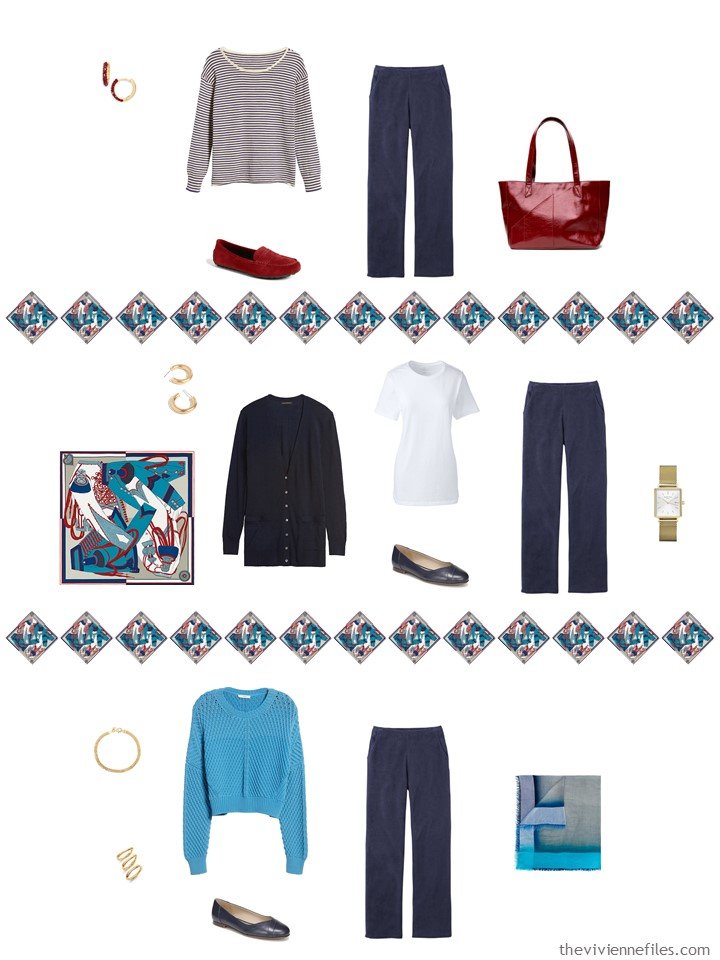 I'll let you in on a badly-kept secret: I think I included 1 too many accent colors for this upcoming wardrobe…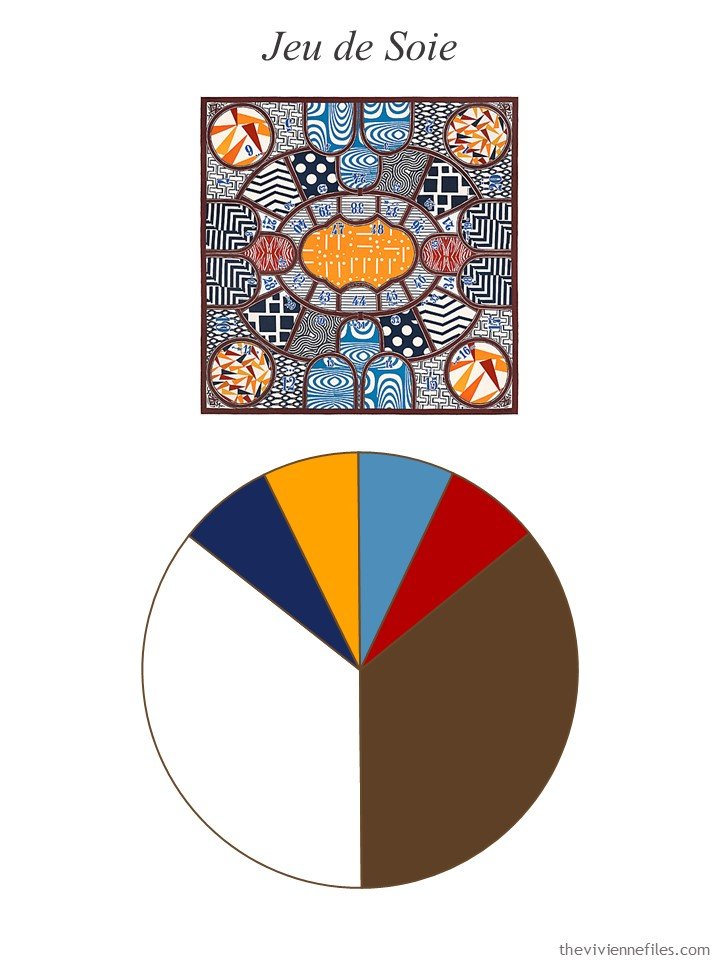 But I like all of these accents…. sigh…
In December, I would like to analyze the completed wardrobes; I can already see something here that I might have done differently! But this is the normal way with wardrobes – they're NEVER going to be perfect, and we can't beat ourselves up because what's hanging in our closet doesn't look exactly like something on the internet. That kind of pressure serves nobody…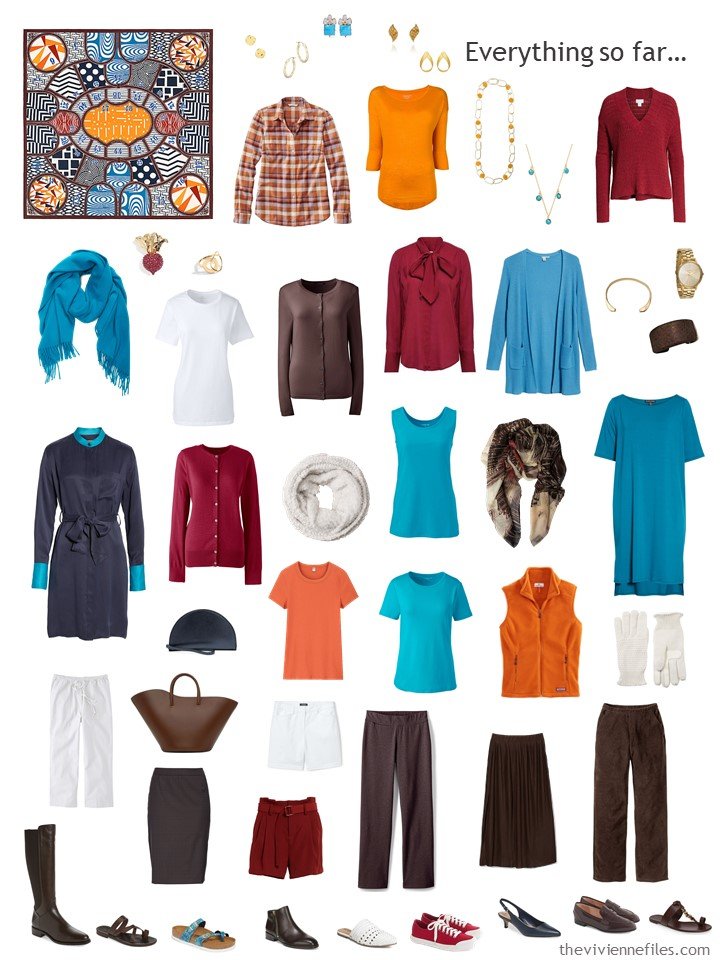 For a heroine who's comfortable wearing red and orange together, this is no problem. But these outfits weren't easy to find…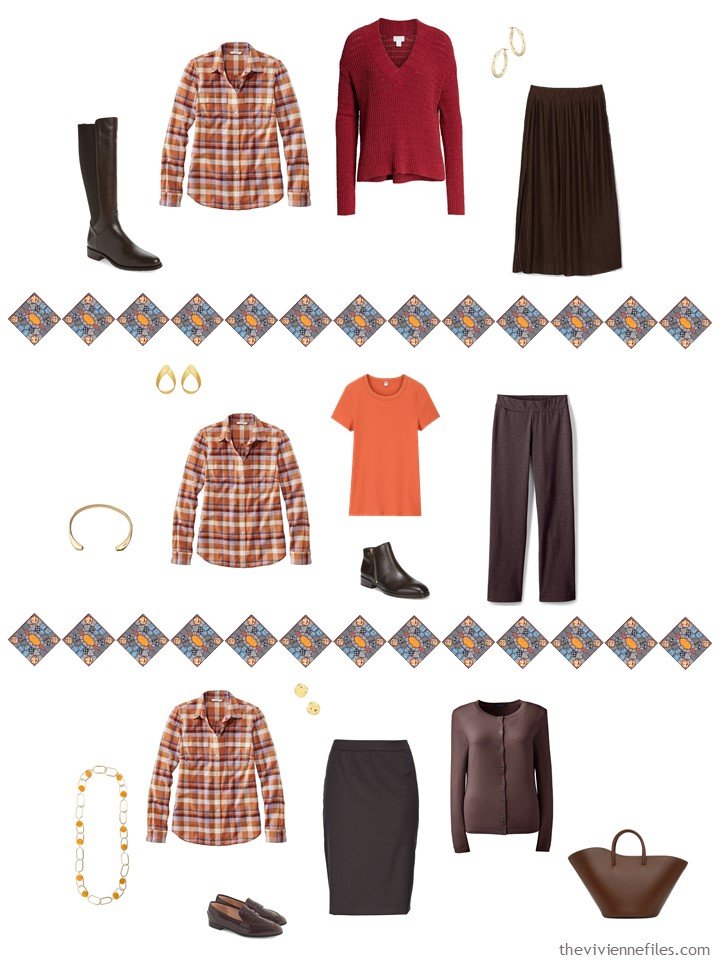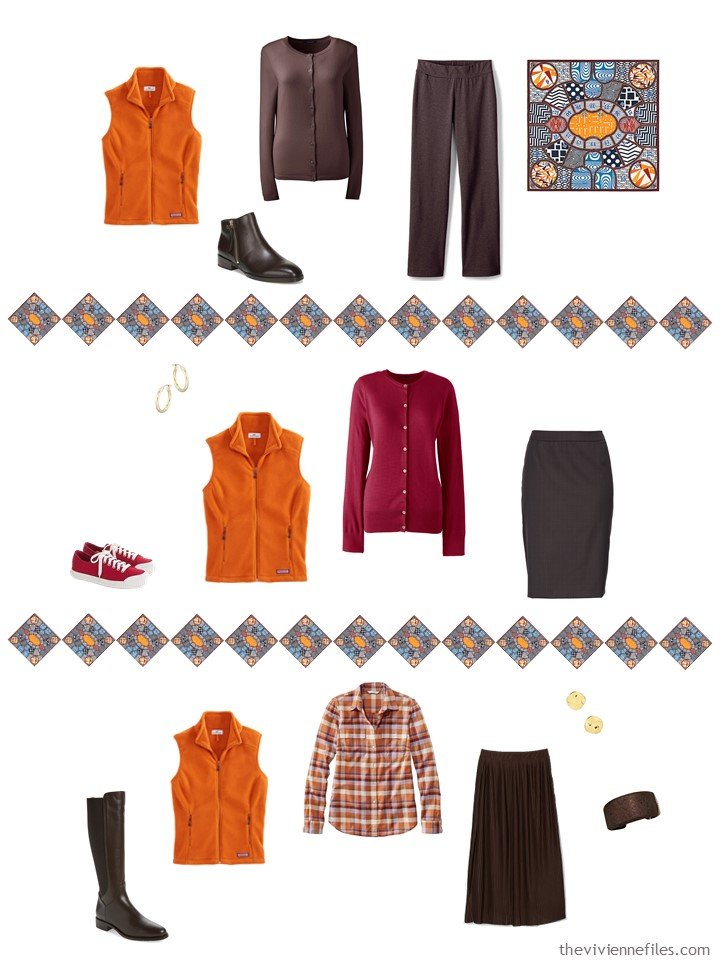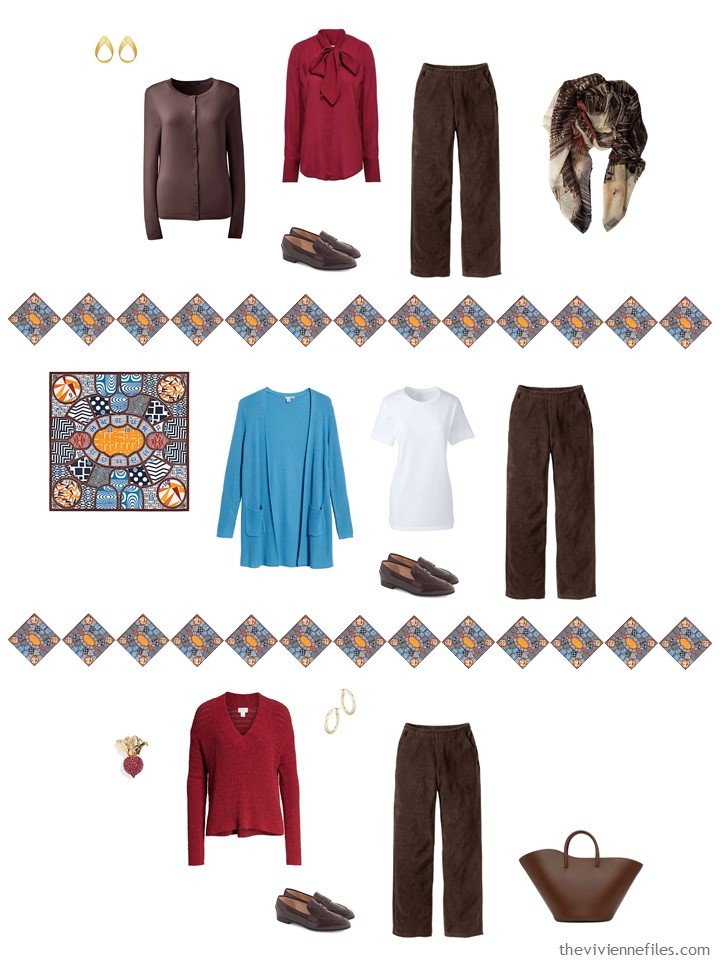 To our final scarf – I love this design (and Belovedest gave me this scarf in the black and white color combination!) The addition of green to this palette may prove to be wise, or not…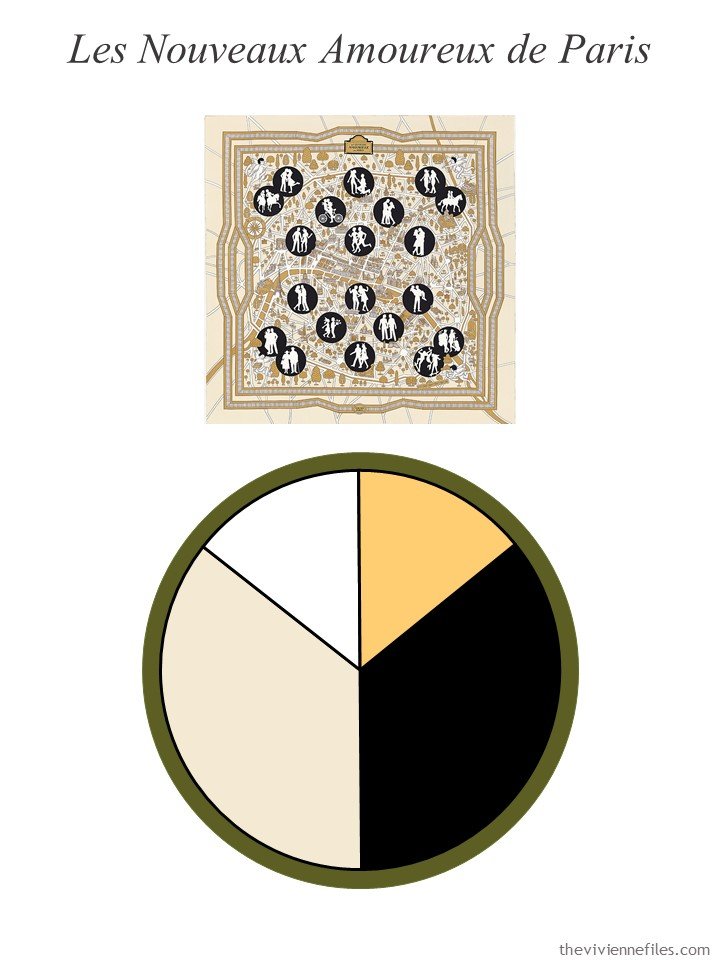 Yes, I have this shirt on order; I need a new flannel shirt and this ticks ALL my boxes! (it comes in Petite, which makes button-front shirt possible for my sturdy torso and short arms!)
Olive green is annoying… This wardrobe might suffer from a range of greens that aren't happy dancing together…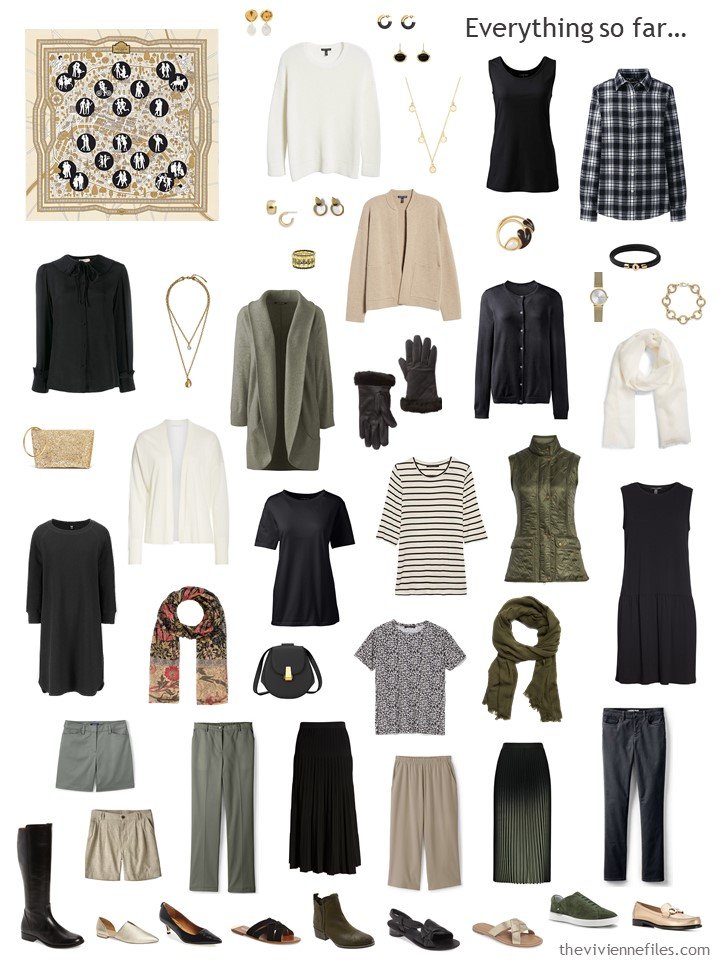 The scarves are essential to tie these outfits together into coherent ensembles…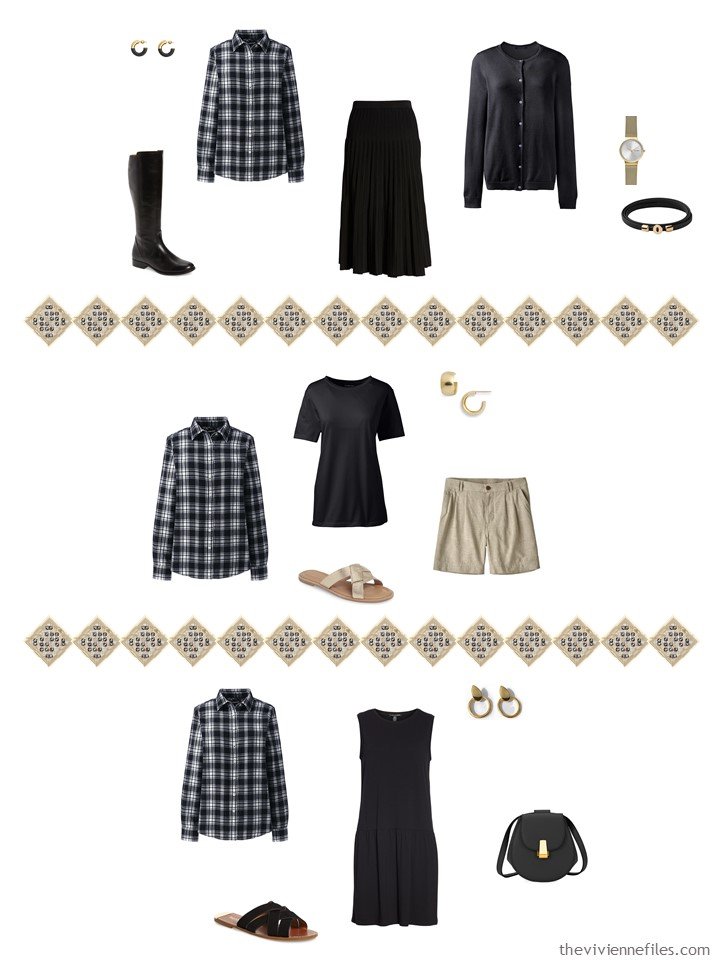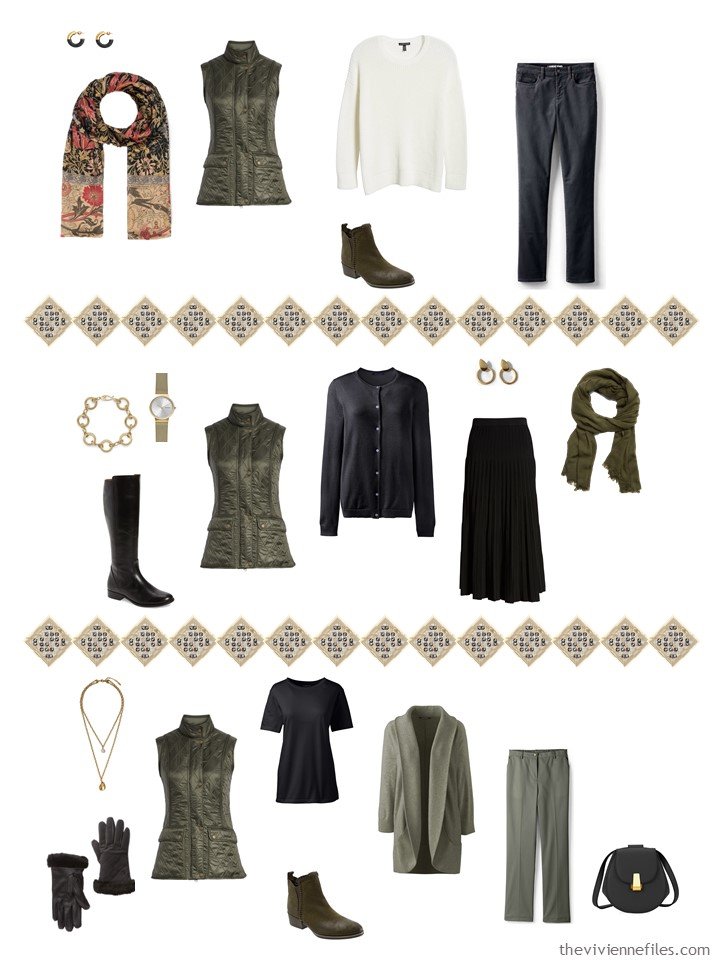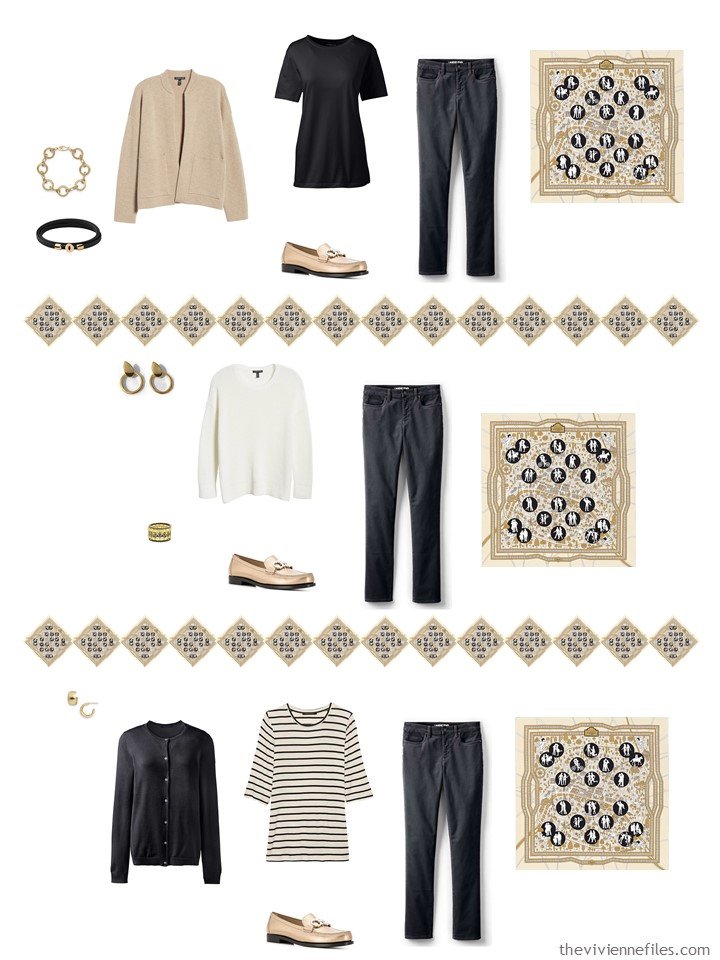 This month I'm really loving the grey and shades of orange wardrobe. I know that I look like a 3-day corpse in orange, but the overall harmony, and variety, of that wardrobe appeals. This month!
What's your favorite? Do you wobble back and forth between a couple of them?
I'm going to try REALLY HARD to figure out what appeals to me in these wardrobes, and try to apply that learning to my own happy closet…
love,
Janice
p.s. Glance back to 2 years ago, when I was doing this same post with 6 different scarves! The wardrobes are so similar, yet SO different…