September 2, 2019
I'm in Pittsburgh… I'd be a true ingrate if I didn't give a hearty shout-out to the lovely people at Crazy Mocha who let me sit in their store while I finished this post. If you see a Crazy Mocha location, patronize them!
What differentiates this top from the one you added to your wardrobe last Monday is the degree of print. I see this top as being something that makes a little bit more of a statement – a more visible stripe, or a more pronounced floral. You could stick with something subtle, if that's what you like!
This first top would be lovely for someone who wears jeans frequently…
There aren't a ton of guidelines for this purchase: stay in your color palette and your chosen silhouettes and you should be great!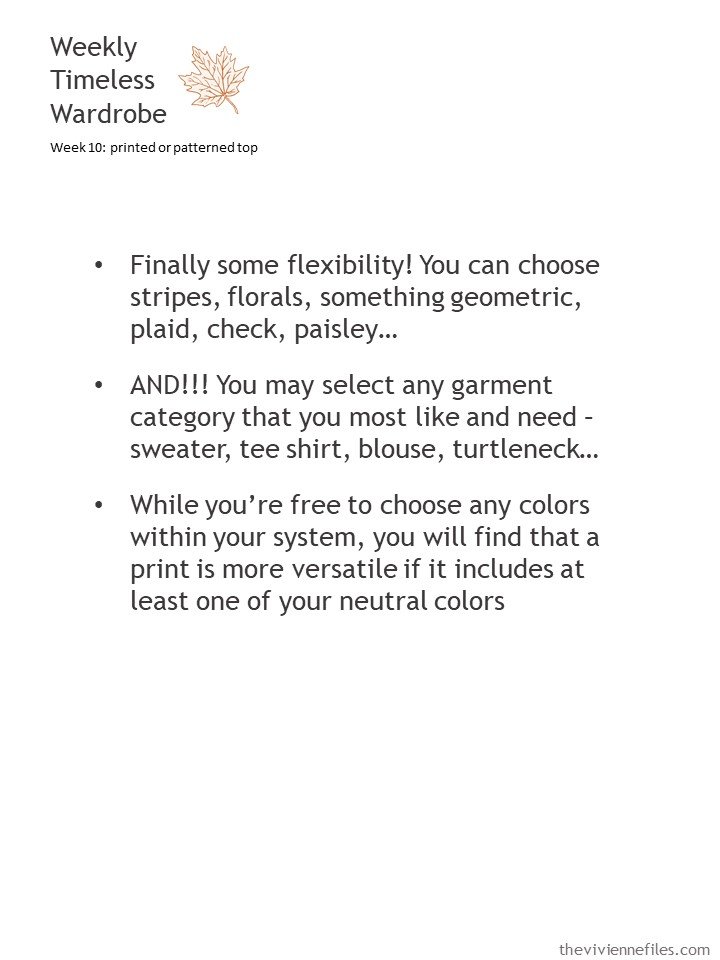 For example, if you love navy, and you see a really GREAT sweater that prominently features navy, and has accents of your favorite colors, you're in luck! Notice how your neutral pants and shirt take on a whole new look with this addition (and some snazzy socks!).
If you like black and white, this is your chance to mix patterns! I personally would wear this outfit in a heartbeat…
If florals are your thing, this is the time to add a pretty blouse to your wardrobe. You could wear it with anything in your wardrobe, but it brings a feminine touch to an otherwise serious, work-worthy outfit:
But you can apply this idea to casual clothes too! The joy of finding a patterned sweatshirt is that you can easily wear a dark top under your sweatshirt and it won't show through… And a garment with a couple of different accent colors gives you even more options – this sweatshirt with faded jeans, or khaki pants, would look equally great!
A printed tee shirt (that isn't faded!) can be dressed up more than you might expect! And the boldness of the tee shirt print doesn't conflict at all with the subtle pinstriped skirt…
This idea is particularly nice when you're dressing casually and want to bring a little bit of visual interest to your outfit. I love the idea of the tweed scarf with the striped turtleneck and windowpane pants…
And take a closer look at this sweatshirt – it has detailing at the waistline that makes it a break from the ordinary!
Once you've decided to focus your wardrobe on a core of favorite colors, mixing garments (and prints/patterns) becomes easier and easier!
What's your favorite print? Mine would have to be stripes; I can find a striped tee shirt in an absolute OCEAN of other garments….
love,
Janice
p.s. Four years ago, I was exploring the possible variations of a wardrobe based on a Georgette Agutte painting…