August 26, 2019
This week's addition to our Weekly Timeless Wardrobe could be either a shirt, blouse or sweater, depending on what you feel will be most useful for you. What I envision being included in your wardrobe will be something with some texture or pattern to it – a striped tee in your neutral colors, or a cabled sweater. Maybe a neutral shirt with a small, discreet print….
These guidelines provide a reminder of what to consider when you make this purchase (or choose something from your existing wardrobe!):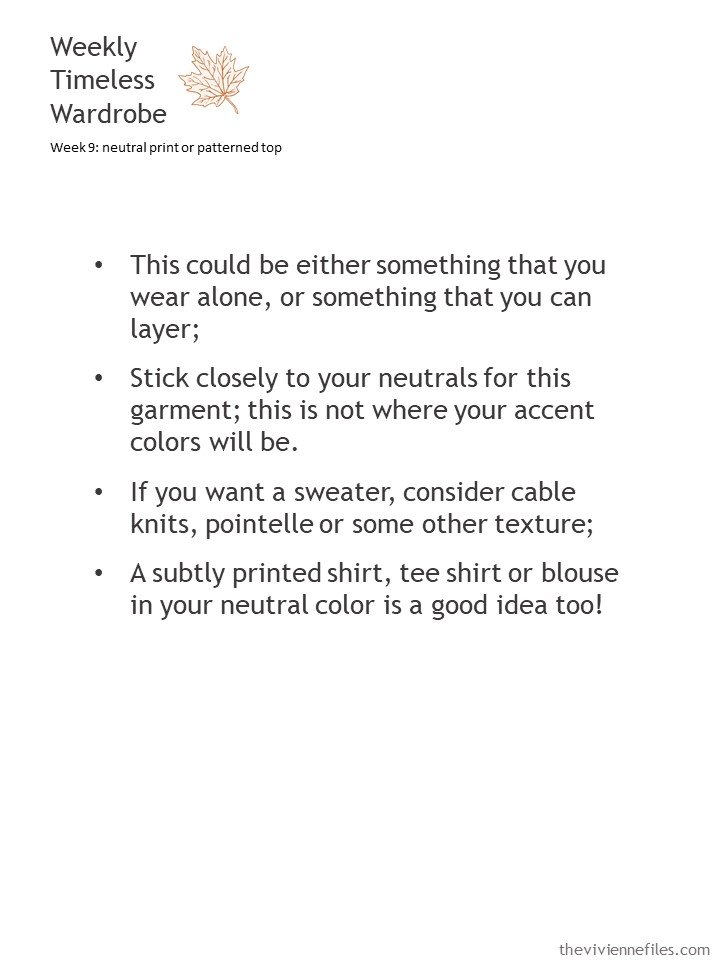 A subtly patterned shirt with a background in your dark neutral is really versatile:
A sweater with a bit of depth or texture gives you something with a little bit of interest to wear with printed skirts or pants:
You can easily wear a shirt with a tiny pattern along with a sweater with cables or other knit textures…
A striped tee shirt that includes your dark and light neutrals might prove to be incredibly useful!
Some sweaters have a bit of metallic thread in them, which can bring some life to a classic:
A sweater that has 2 neutral colors "marled" together worn with a dressy skirt give you a less formal ensemble…
I think texture is an underappreciated way to bring interest to your wardrobe; what do you think?
love,
Janice
p.s. 4 years ago, I explored a bunch of ways to wear a dark grey dress…