August 26, 2016
I could wear this dress a lot…
At its most basic, you can approach this dress with simple metallic silver accessories, or you can combine silver and shades of grey:
I love the contrast between the deep, cool color of this dress and the equally strong, but warm shades of camel or caramel. Mixing warm and cool colors isn't off-limits, if you balance the strength or intensity of the colors.
Truly, I don't think there's a color in the world that doesn't look good with navy. I particularly like the subtle contrast between these 2 dark colors…
Back in the '80s, there was an approach to dressing that encouraged you to find your best lipstick and blush colors, and the to find clothes that matched those colors. Not bad advice…
Shades of green are terribly hard to find, so when you get your hands on your "accessory family" in green, make sure to try them out with everything you own. I think this worked well:
Sometimes, there's nothing easier than just wearing a simple column of one color. I'm particularly smitten with this print cardigan – it has just enough interest to it, without making the ensemble at all difficult to wear.
And dark grey is an excellent base upon which to work some magic with really strong secondary colors. I love this mustard yellow… (and yes, this is the SAME cardigan, just in 2 different colors…) Oh, and I feel like BOTH scarves would look good with the mustard cardigan; what do you think?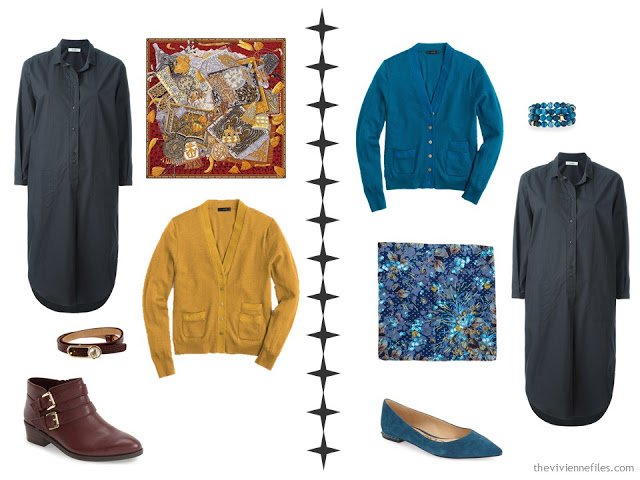 Dress – Humanoid;  scarf – Hermès Cavaliers du Caucase; cardigan – J. Crew;  bracelet – Dsquared2; boots – Bella Vita;  cardigan – J. Crew; bracelets – Nest; scarf – Mantero; flats – Sam Edelman
I'm also daydreaming about a lighter grey dress, with muted pastel accessories…
love,
Janice