August 25, 2016
As of 6 pm Chicago time on Wednesday, I have no news about the town that I was going to visit next week. It is about 50 miles from the epicenter of the earthquakes, so I suspect that it avoided much damage. Nonetheless, we are considering the possibility of just staying in Rome for a week, and avoiding the region entirely. No decisions have been made yet, though… Of course, let's keep the earthquake victims, (and all victims, everywhere) in our hearts.
Let's jump right in! I've known for weeks what my travel outfit is, including shoes, so let's start building around that:
For what it's worth, I'd buy the same Munro oxfords again when these wear out; they're comfortable, they straddle the sporty/dressy gap pretty well, and they're light to pack, if that's necessary.
Okay – EARRINGS. I only wear small earrings, so it's easy to bring a stack of them… but there's no way I'm going to be without my pearl earrings for any length of time – they're unquestionably my favorites, and they go with everything I wear!
Now to choose a scarf – it's always so handy to have a scarf on an airplane. Such weird, annoying (germ-filled) drafts! I've had this scarf for a couple of years, and it's as gorgeous as ever…
(note that the two alternatives that I show, for all of these accessories, are items that I would cheerfully own and wear, if my "real" item were to unhappily vanish!)
I've got a kind of serious bracelet… fondness, let's call it, okay? It's a tad excessive, but on any given day, I might wear a simple black dress and black sandals with an outrageously ornate bracelet. Why not? But when I picture this cool, simple outfit, I see a bit sparkly cuff bracelet with it!
(yes, you've seen that 2nd bracelet recently, but I REALLY like it…) In reality, when it comes time to pack, I will almost certainly take EVERY pair of earrings that I own with me. Seriously. They're all attached to an oversized postcard, and it's easier to just put the entire card into the pouch with my headbands and other pieces of jewelry.
But for purposes of this exercise, let's assume that I'm not quite that nutty, and that I have to make a choice. Stars are almost as necessary to my life as pearls! (those 2 things, plus my Maltese Cross bracelet, and I'm a happy accessorized lady…)
(still, those bows are terribly cute, aren't they?)
Yes, for me, more bracelets are critical! I've owned this first one – the braided cord and pearls – for a few months, and I really like it. It's sturdier than a lot of cord bracelets, which I really like; many of the string bracelets look like they'll snap the first time you catch them on something. This one is MUCH tougher than that, and very pretty, too!
As much as I love my Munro oxfords, I'm going to need something a bit more lightweight. I have really good luck walking moderate distances (anything less than 7 or 8 miles!) in ballet flats, and I love the way they look with an outfit like this, so they're DEFINITELY going with me…
Even though I may not have a ton of opportunities to wear them, I'm going to take my sandals. They don't take up much space, and if we have a chance to enjoy one of those late summer days… sigh…(anybody have any good ideas for breaking in a pair of sandals in a hurry? I love these Birkenstocks, but my feet are made of marshmallow fluff, kitten fur, and unicorn tears…)
Yes, you MUST have sunglasses. No exceptions, and no excuses…
Somewhere in with all of my black clothes, a pair of small black earrings are a nice touch… I like earrings that have an interesting touch of "design" without being outrageous. Timeless, elegant, classic…
Although we're going to be driving to most of our sightseeing, (and thus will be able to stash things we need in the boot/trunk of the car) I will definitely want my wristlet for those occasional forays into the retail world… (how cool is that first bag? it has a turn-key latch!)
I'm going to pack at least 1 necklace, and see how it goes keeping it from tangling in my hair… sometimes, a necklace is just the right touch. (yes, I found a necklace with a moon and star; of COURSE I did…)
Looking at this – assembled from my wardrobe – makes me want to run into the bedroom and pack NOW!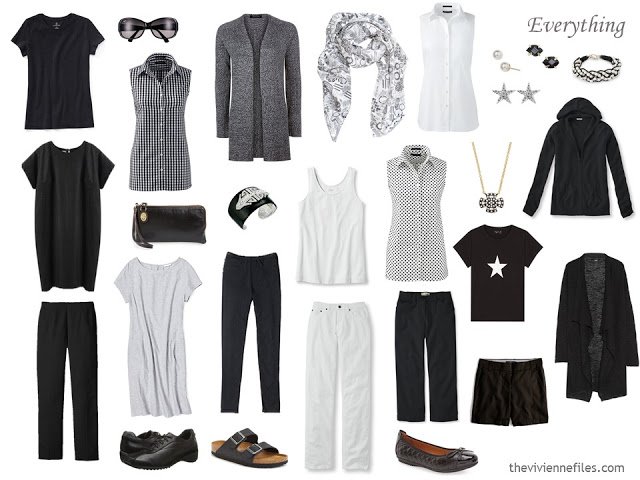 What's your accessory obsession? Do you even have one? Should I seek professional help for my bracelet… issue….?
love,
Janice