August 24, 2016
I hope these ladies don't have to sprint too far to escape the storm; they're not dressed for the 100 yard dash…
But it's a beautiful painting, and it so vividly evokes that feeling when the weather is about to turn. I was particularly drawn to the simple, neutral color scheme: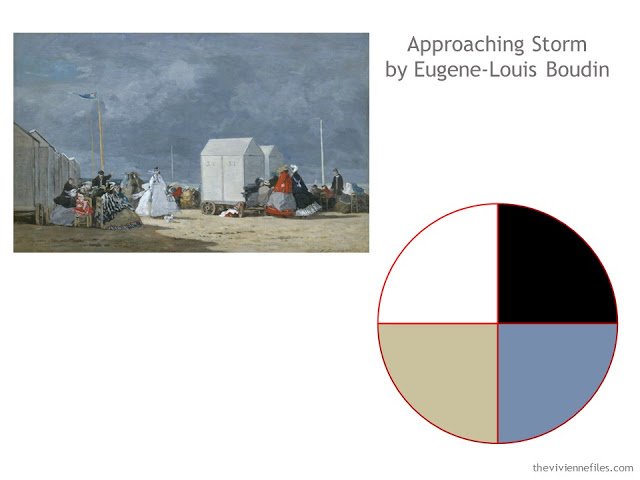 Other Things on Her Mind
She travels with a lot of gear…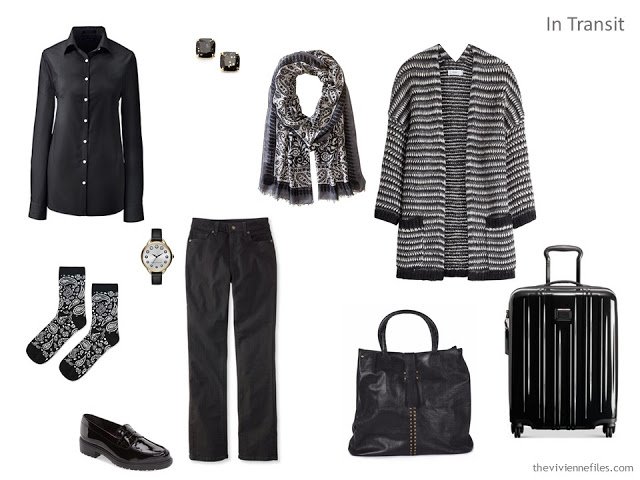 shirt –
Lands' End
; watch – Marc Jacobs; socks – Topshop; loafers – Munro; earrings – Kate Spade; scarf – Bindya; jeans –
L.L.Bean
; cardigan – Closed; tote – Bohemia; suitcase – Tumi
Actually, she's ALWAYS carrying bags and bags of photography equipment, even if she's not traveling. Photography is what she does, and she does it well.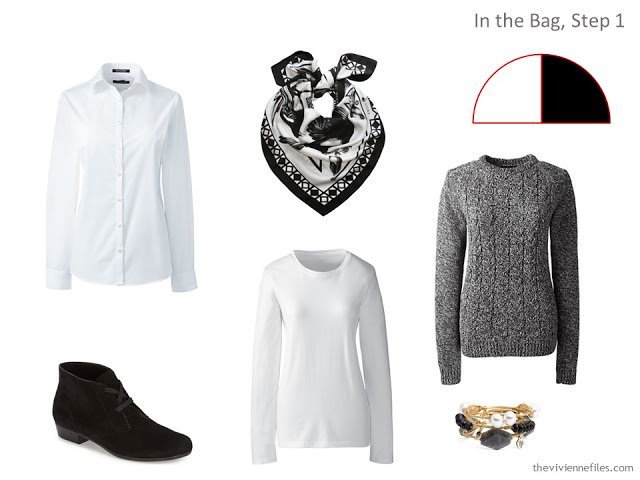 Shirt –
Lands' End
; boots – Munro; scarf – Emily Carter; tee –
Lands' End
; sweater – Lands' End; bracelets – Bourbon and Boweties
So she decided ages ago that she was going to be very disciplined in her wardrobe. Not drab. Not boring. Just in control. For example, she wears jeans. Only jeans. If someone thinks she needs something else to wear, they're welcome to buy it for her!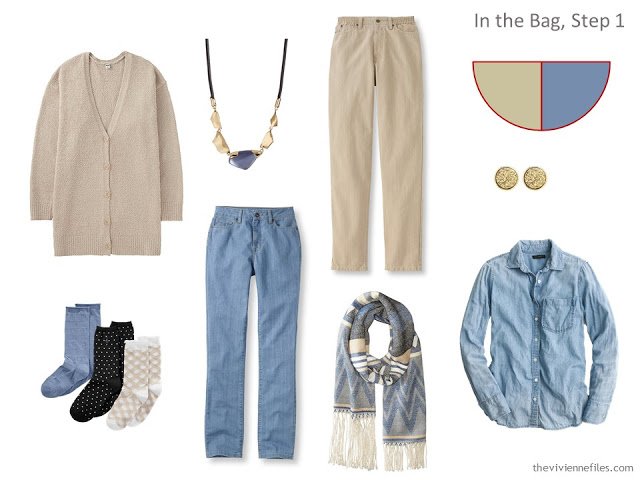 Cardigan – Uniqlo; blue socks – Hue; dot socks – Polo Ralph Lauren; beige & white socks – Hue; necklace – Alexis Bittar; blue jeans –
L.L.Bean
; tan jeans – L.L.Bean; scarf – Bindya; earrings – Gemma Collection; chambray shirt – J. Crew
And she buys clothes in 4 colors. They're plenty for her – she can always find what she needs, and she never has any trouble finding things that are interesting to wear. Interesting, and often very beautiful…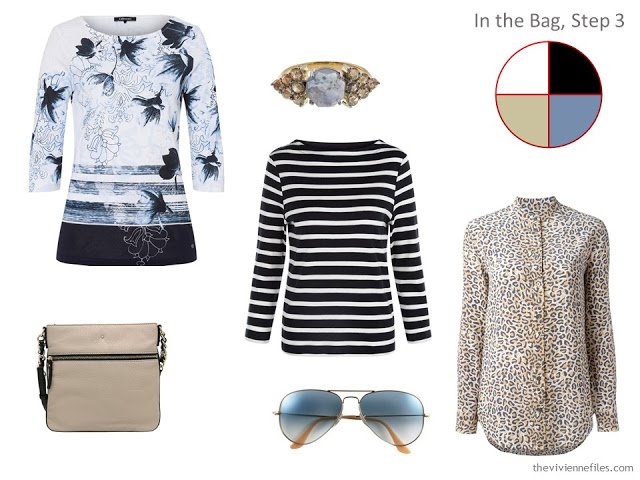 Floral tee – Olsen; bag – Kate Spade; ring – Oona Collections; striped top – Hobbs; sunglasses – Ray-Ban; blouse – Equipment
When she gets to her hotel and unpacks, she's always delighted with what she sees arrayed in the armoire: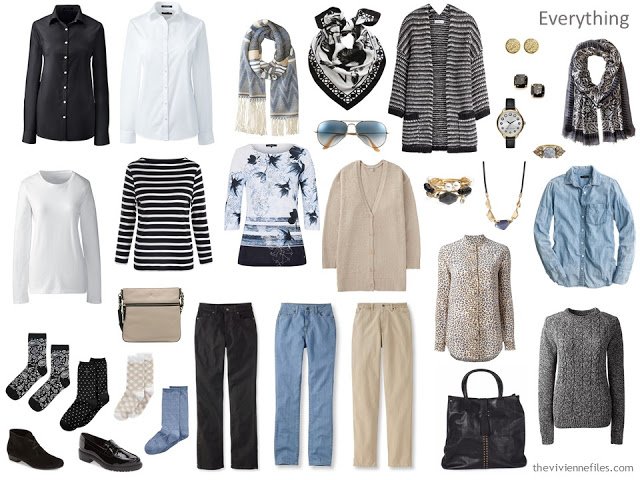 Plenty of options, and a range of different moods, based on the colors she chooses for the day: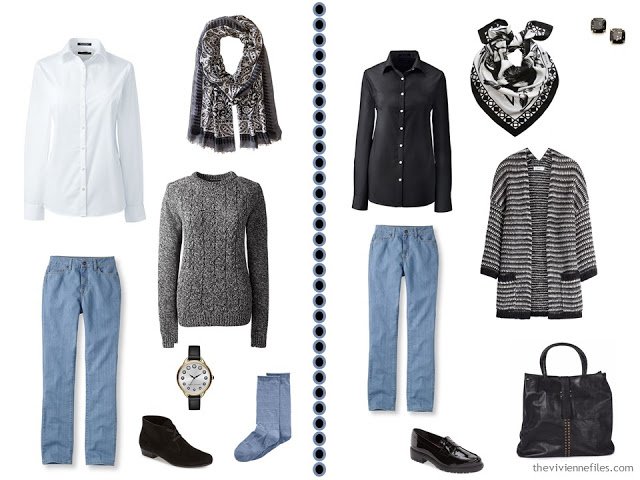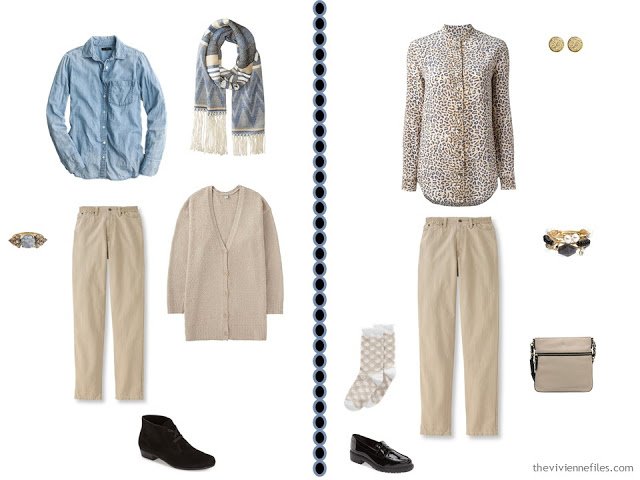 Do you remember how Ansel Adams dressed? Galen Rowell? Eliot Porter? Nope, she didn't think so…
love,
Janice