August 23, 2016
We're leaving for Italy in less than 2 weeks, which means I need to get this travel capsule wardrobe sorted! I'm notorious for having my suitcase out a month ahead of time…
But seriously, I should start setting things aside so that (a) I don't forget anything, and (b) I don't carelessly wear something that I want to pack, 2 days before we leave, and find that I have to do laundry at the last minute. There'll be quite enough laundry the last morning, because we like to return home to clean sheets, clean towels, and as little in the laundry bags as possible!
As always, I start with what I'm going to wear on the flight. I'm still undecided about accessories (probably an upcoming blog post?) but I know that I'm going to wear comfortable but very neat pants, a simple tee, and a gorgeous cardigan:
Please note that I link to the actual garments if they are still available, or I link to similar items if I can find them; my clothes are NOT all brand spanking new…
(brand spanking is SUCH a weird phrase, isn't it?)
We are landing in Rome and then immediately getting our rental car and driving up into the mountains. It could be warm, it could be cool – September isn't easy to predict anywhere! But I'm keeping my option open to change out of my tee and into a sleeveless top as soon as possible, maybe even before we leave the airport:
If I find that it's legitimately hot when we arrive, I might also swap out long pants for cropped ones, and ditch my oxfords for ballet flats…
It's at this point that I have to start thinking strategically. If I don't, I could easily just start flinging all of my warm-weather clothes into my bag… One would assume that I would know better, but one would be WRONG! I've had below-average packing experiences within the past year, so discipline and structure are key.
And a note right up front, before we get too far into this process: my wardrobe is WOEFULLY, MONOTONOUSLY MONOCHROMATIC. Yes, it's all black and white. I get absolutely bored with clothes, after looking at thousands of pieces all day…
Plus, it's not like I look boring wearing these clothes. I have a head full of uncontrollably curly hair, so I wear a headband all of the time. I always wear earrings, and glasses, too. There's a lot going on above the neckline for me, so simple clothes are sort of calming…
I will sneak a few bracelets into this mix too… maybe a necklace? Heck, a scarf might even make the trip…
But I understand that this wardrobe would be really difficult for most women. I show it partly to clarify for myself what I'm doing, and partly to show the process in the simplest terms possible.
SO! Next step is another top – this would normally be a great place for a black and white stripe, or print. I'm opting for simple white, but almost any solid color would work well here. A red tank top, or a bright blue tee shirt?
My understanding of the climate in the mountains of the Abruzzo is warm days with very cool evenings – no air conditioning! But this does mean that dinner (and gelato) will be eaten while wearing a 2nd layer, so a black cardigan will get a workout on this vacation.
Although we're staying in a friend's house, we're not planning on laundry, so sufficient "tops" are going to be important. Maybe this is cheating at the packing plan, but I love both of these blouses, and have always intended to bring them both with me:
Many women would find highs in the 60's or 70's Fahrenheit too cool to want a pair of shorts, but those are the temperatures that make me happiest – plus I sort of lack the gene that makes normal people feel too cold! But I understand that these may not make it out of my suitcase; we'll monitor the weather forecasts the last few days before we leave, and if the forecasts drop, these could be left behind in preference to a pair of jeans:
Another tee – I'll probably have at least 1 top too many. That will comfortably accommodate any moments of flying food/drink to which I might be prone. Surprisingly, I'm foregoing a solid black tee in this step!
Here's where the whole thing might go to pieces of the weather turns cold – 2 linen dresses. I'll bring leggings – at least 1 pair – to layer under my dresses if it's cool. (leggings are never, EVER, worn as trousers. if the… tops of your thighs?… are visible, you're showing TOO much…)
Of course I have, at this stage, 2 cardigans with me. But if we start seeing forecasts for highs in the 60's or lower, these dresses might have to be replaced with…. hmm…. a long-sleeved shirt, a long-sleeved tee, and a pair of jeans.
It's clear that I might have to re-do at the last minute if the weather turns. Oh bother…
A normal person would take black or blue jeans. But I have this romantic vacation image in my mind, walking hand-in-hand with Belovedest, somewhere on an Adriatic beach, wearing rolled-up white jeans and a sleeveless top. Sunset over the mountains…
At this point, I'm in pretty good shape, but in the interests of packing a tidy Four by Four, (or jinxing things by having 13 pieces of clothing in my luggage), I'm going to add a 3rd cardigan. This is styled like a sweatshirt, but it's cashmere, so it straddles the casual/dressy possibilities beautifully. I bought it last year, and can't imagine why I waited so long…
This looks very tidy, sort of fool-proof, and quite a bit like me. Having this down in "writing" is tremendously helpful to me to help avoid that mindless overpacking to which even I am prone…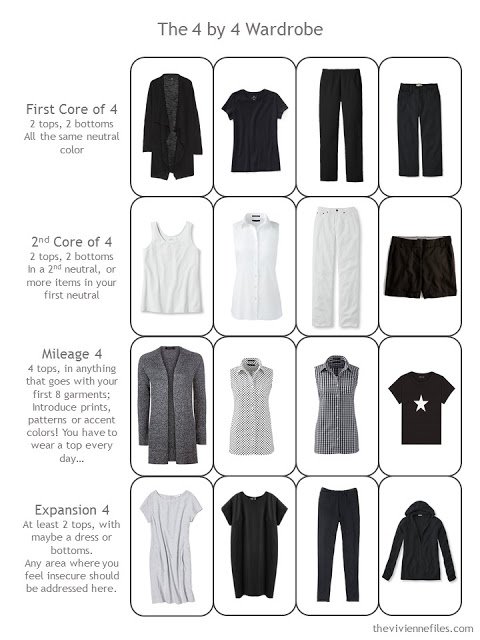 Do you want to see accessories? And have you had difficult packing experience(s) like my current one?
love,
Janice