August 22, 2016
I love doing these… and this dress just calls my name. How can I NOT own this in black? This dress also comes in yellow (r
emember last week's post about a yellow dress
?), black, and raspberry, which is a gorgeous rich hot pink… sigh…
It probably doesn't amaze you to learn that when I do similar blog posts, I reuse the original template, and just make the appropriate changes. So after I went into this template and changed the dividers in the middle from red to yellow, I removed the yellow dress from every page, and just plunked the red dress in…And didn't have to change ONE THING, for these two options! How many different colors could work here? Certainly the black dress would be perfect here, if even a bit drab, and the raspberry dress would work with these accessories, too. We are continually reminded of the merits of an "accessory family," eh?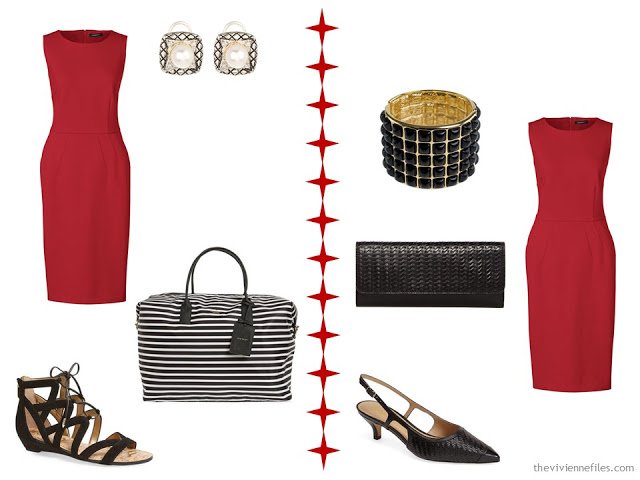 Dress – Lands' End; earrings – Savvy Cie; tote – Kate Spade; sandals – Sam Edelman; bracelet – Kenneth Jay Lane; wallet – Hobo; sling-backs – Trotters
Here, I kept the cardigans and shoes (I'm starting to really love those grey wedges), but changed the scarves for some that did the magic of tying the red and the different greys together.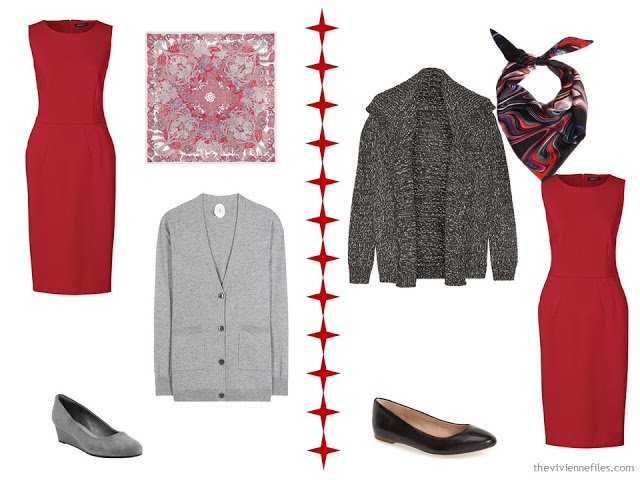 Dress – Lands' End; cardigan – Jardin des Orangers; scarf – Hermès Maîtres de la Forêt; wedges – Clarks; cardigan – Theory; scarf – Kathkath; flats – Dr. Scholl's
In the first example here, I changed the scarf for a nice cuddly one, but I kept the original scarf in the second example. If you know what your accent colors are, and you're fortunate enough to find a scarf the includes more than one of them, you can splurge a little bit; the additional versatility makes it pay off…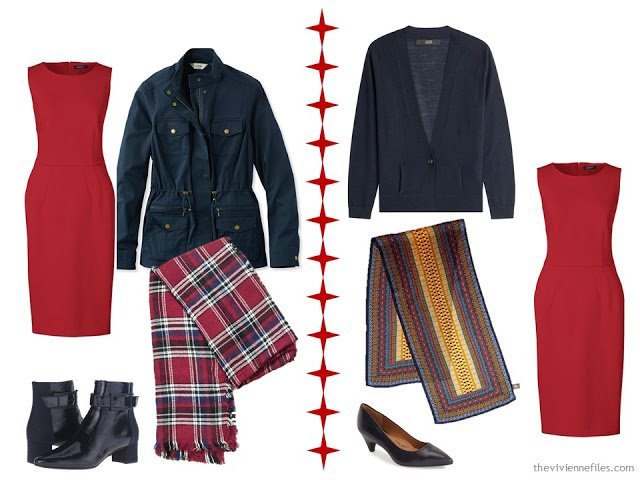 Dress – Lands' End; field jacket – L.L.Bean; boots – Aquatalia; scarf – Look by M; cardigan – Steffen Schraut; silk scarf – Vince Camuto; pumps – Sőfft
Here's an interesting thing – when I showed the yellow dress with these white pieces, I was perfectly find with white jewelry. When I put the red dress in here, I really felt that another touch of red would look better. Maybe red nails and/or lips would work, too…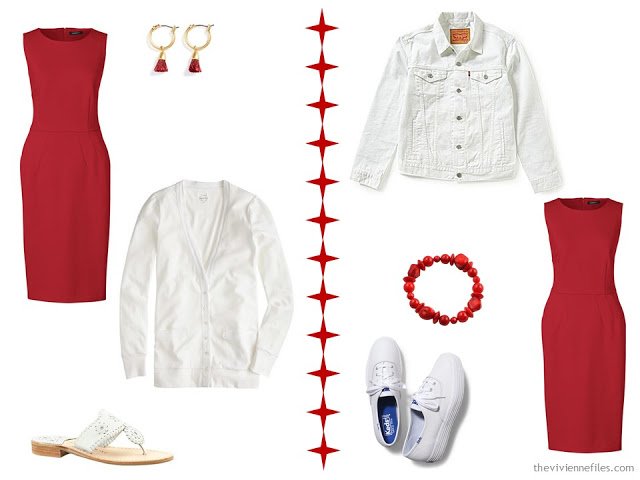 Dress – Lands' End; earrings – Madewell; cardigan – J. Crew; sandals – Jack Rogers; denim jacket – Levi's; bracelet – Barse; canvas shoes – Keds
Of course, the original floral jacket and cardigan from last week didn't have a chance with a red dress! But in the second outfit, I was able to just change the cardigan, while keeping the rest of the accessories the same.The first example here was chosen to give a more summery, casual feel to the dress. I think canvas shoes and a tote bag go a long way toward conveying a relaxed image…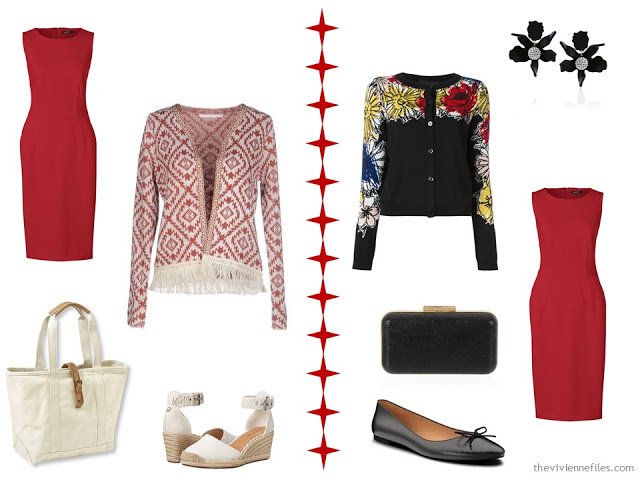 Dress – Lands' End; tote – L.L.Bean; cardigan – Only; espadrilles – Sperry Top-Sider; cardigan – Boutique Moschino; earrings – Lele Sadoughi; bag – Henri Bendel; flats – Shoes of Prey
And here is yet another pair of ensembles in which I had nothing really to do after I changed the yellow dresses for the new red one. It's becoming clear that these two cardigans and accessory sets would work well with almost any bright color… and they could be mixed with each other, too!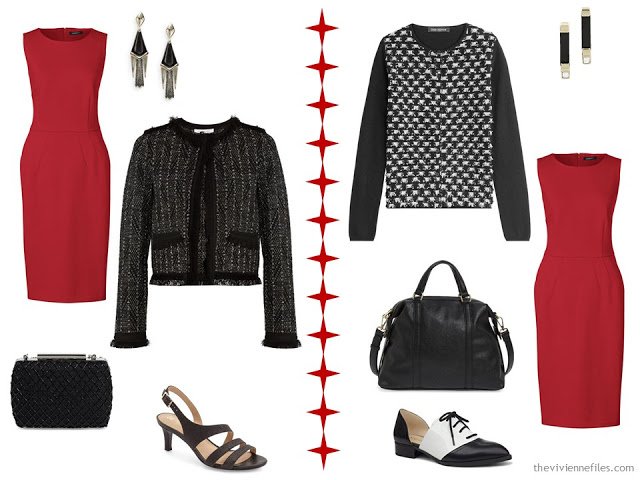 Dress – Lands' End; earrings – Alexis Bittar; jacket – Diane von Furstenberg; bag – Glint; sandals – Naturalizer; cardigan – Iris von Arnim; earrings – White House Black Market; satchel – Sole Society; oxfords – Nine West
The red cardigan from last week's post about the yellow dress matches this red dress perfectly, and I was REALLY tempted to keep it… but I decided to plunge headfirst into some really bold color combinations. These aren't necessarily for the faint of heart, but they could be just the ticket for a grey day when everybody is in a foul mood…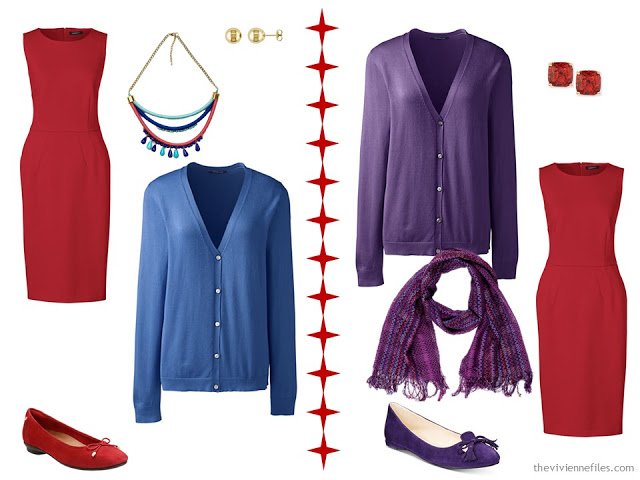 Dress – Lands' End; earrings – Nordstrom Rack; necklace – Bunai; blue cardigan – Lands' End; red flats – Clarks; purple cardigan – Lands' End; earrings – Kate Spade; scarf – Missoni; purple flats – Nine West
Next, to find a great grey dress…. And what other colors?love,
Janice