August 19, 2016
A couple of weeks ago, Belovedest and I were wandering around Chicago when we happened upon a store called The Shudio. Yes, it's a "hybrid of a retail shop full of eco conscious goods… combined with a metalsmith jewelry studio." And yes, this is some fun…I could have purchased a lot of things, but I'm trying very hard to avoid that kind of reckless madness (especially with THREE big vacations coming up in the next year!), but I did buy a lovely little black leather wristlet, from a company called CHC. They donate 10% of their revenue to a local organization for homeless women, and all of their materials are local. Pretty nice; I was happy.
But when I got home and dug out my bag for our upcoming trip to Italy, I realized that my current assortment of bags is pretty much perfect. Seriously!
This is my current "bag wardrobe."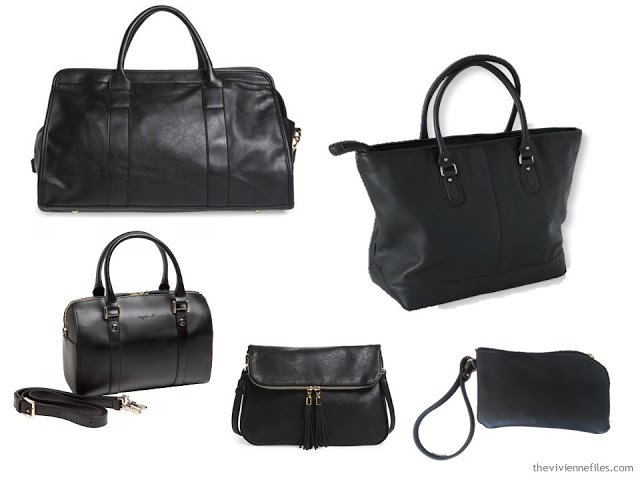 Overnight bag – Nu-G; tote – L.L.Bean; satchel – Agnes B.; cross body – BP.; wristlet –
CHC
This isn't EXACTLY what I own, but it's pretty close, and it was assembled in a pretty haphazard manner. The overnight bag was bought (late one evening!) in Paris, when I realized that I had "outshopped" my luggage. The tote bag was just plain whappage at L.L.Bean, as was the satchel from Agnes B. My cross body bag was given to me by my mother-in-law…. Clearly, there wasn't a lot of meticulous planning here!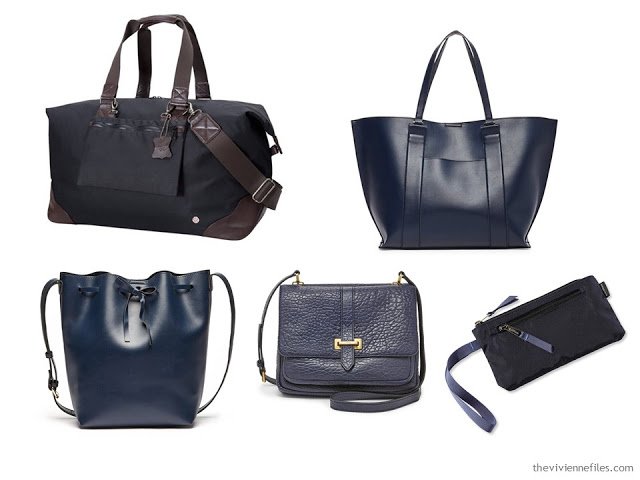 Overnight bag – Token; tote – Sole Society; bucket bag – Sole Society; cross body – Fossil; wristlet – L.L.Bean
What makes this "wardrobe" perfect for me, right now, is that it accommodates a range of "what do I need to haul around?" without a lot of redundancy. If I'm really, truly going away for a few days, but not to the point that I need a real suitcase, the overnight bag is perfect…. For just 1 night, or to someplace where I just want to bring swimwear, or a clean tee shirt, my tote bag is great. It's also the go-to carry-on bag for all flights…
Overnight bag – Sole Society; tote – Street Level; saddle bag – Sole Society; cross body bag – BP.; wristlet – Fossil
For those times when a real honest to goodness handbag is called for, I have my Agnes B. bag. I've somehow managed to scratch the bottom of it REALLY SEVERELY, but my shoe repair guy polished the scratches, and it just qualifies as patina…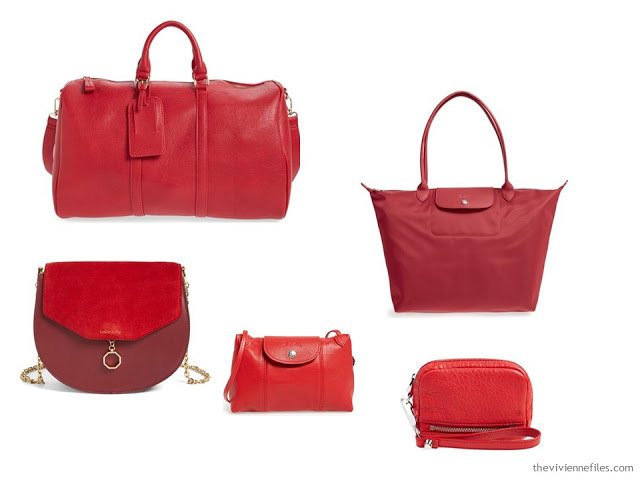 Overnight bag – Sole Society; tote – Longchamp; shoulder bag – Louise et Cie; cross body bag – Longchamp; wristlet – Alexander Wang
My life includes lots of occasions where I want to carry my wallet and my phone, but keep my hands free – and the crossbody bag is ideal in that situation. Mine is just big enough to fit my house keys and a lipstick, too.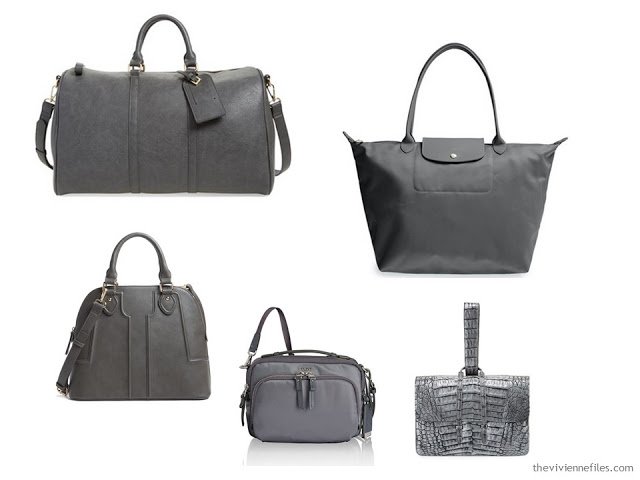 Duffel bag – Sole Society; tote – Longchamp; satchel – Sole Society; cross body bag – Tumi; wristlet – Nancy Gonzalez
Finally, I do, often, want to have my stuff IN MY HAND. My wristlet holds just about the exactly same things as my crossbody bag, but it feels more secure, and easier to access. Many people could be very happy with just 1 of the 2 of these, though.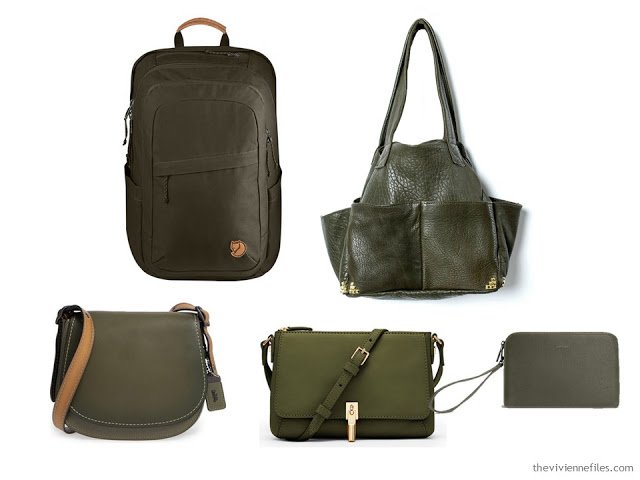 Backpack – Fjällräven; tote – Kimder Beans; shoulder bag – Coach 1941; cross body – Elizabeth and James; wristlet – Matt & Nat
(don't forget that a nice sleek backpack is a great overnight bag…)There's really no hard and fast rule to follow to get the right bags for your life; I think it just requires a little bit of self-analysis, and some thought. Sort of like building a wardrobe of clothes, or shoes, or jewelry….
What's the most useful bag you own? Did you plan for it, or find it by accident?
love,
Janice