August 18, 2016
An upcoming "trailing spouse" trip for one of you… and some amazing colors, inspired by ceramic tile! As if we needed a reminder that capsule wardrobe color palette inspirations can be found literally anywhere…
I'm going to assume that the little dot of red is going to be nails and lips…
Our trip is to a destination that will be cool-ish (Oslo!), so sweaters are going to be important! While I'm working with navy as the core of this wardrobe, I chose to use this cardigan, although it's a more "marled" blue. It blends well with all of the colors, and it's cozy cashmere, which could be helpful for this trip.And flying in a skirt? Well, it has a "hidden comfort waist," and it can't be as binding as a pair of jeans would be… I've flown in skirts and dresses, and they can be very comfortable.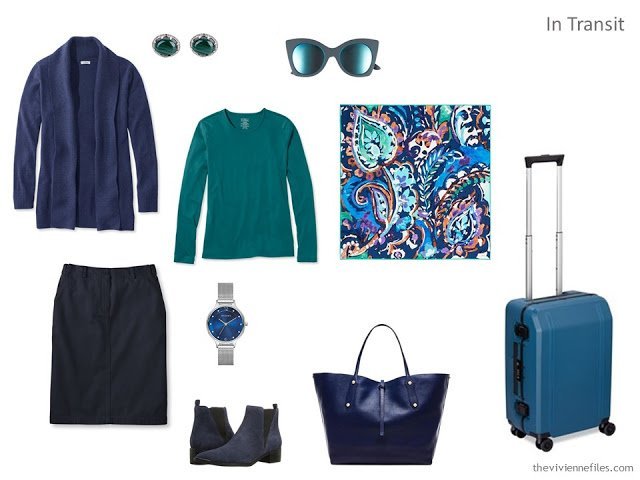 Cardigan – L.L.Bean; earrings – Shanker; tee – L.L.Bean; watch – Skagen; skirt – L.L.Bean; boots – Marc Fisher; sunglasses – Le Specs; scarf – Echo; tote – Annabel Ingall; suitcase – Zero Halliburton
I'm packing in stages for this trip – starting with the core of navy pieces. The lucky reader who's actually going on this trip has specified a preference for skirts and dresses, but I think 1 pair of pants might be useful for an outdoor sightseeing adventure in the countryside.This year, I don't expect to buy ANY fall and winter clothes, but this dress (in black, of course) tempts me to distraction…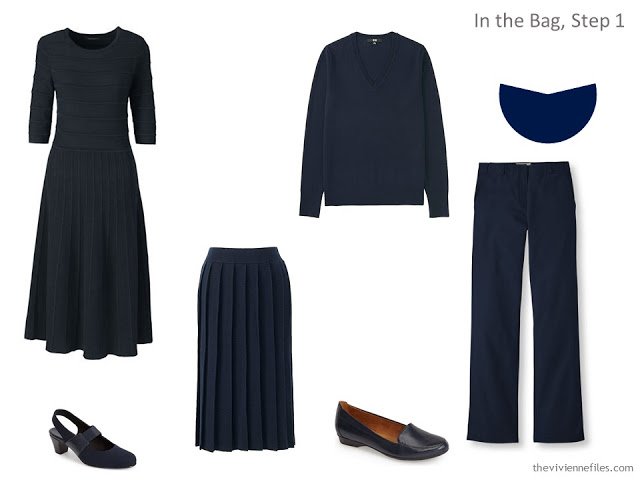 Dress – Lands' End; sling back shoes – Munro; skirt – Uniqlo; v-neck sweater – Uniqlo; loafers – Naturalizer; pants – L.L.Bean
This is the accent color portion of our packing – I've played sort of fast and loose with shades of green and teal, because the various tops won't be worn together. (if you can get that cardigan on over the striped jersey, you're more talented than I am!) If you want a more rigorously "whatever's clean" wardrobe, just match the shades of green, and make sure that your cardigans are always roomy enough to wear over your various tops.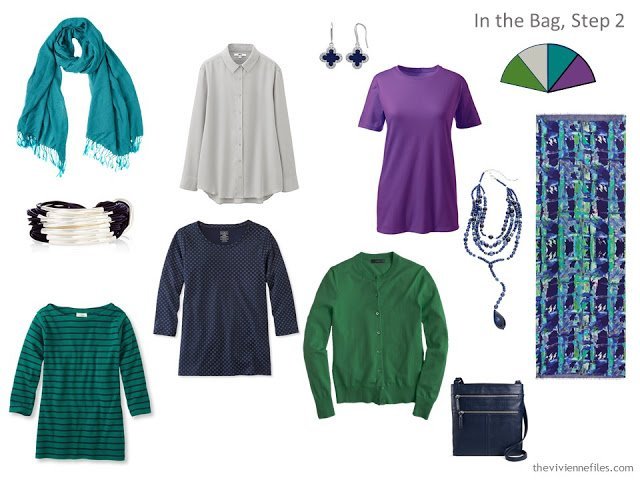 Teal wrap – Johanna Howard; bracelet – Gillian Julius; striped tee – L.L.Bean; grey shirt – Uniqlo; navy print tee – L.L.Bean; navy earrings – Marie Claire; purple tee – Lands' End; cardigan – J. Crew; necklace – Chico's; bag – Merona; trellis scarf – Echo
If you need a few more pieces in order to feel comfortable, a purple blouse would be a nice addition. A grey tee shirt is always useful for layering, and a turtleneck in green, teal, or purple would be beautiful…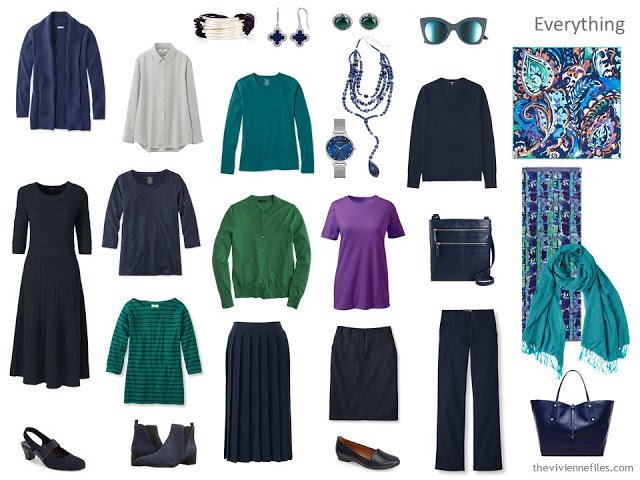 For a one-week trip, this wardrobe has plenty of possibilities: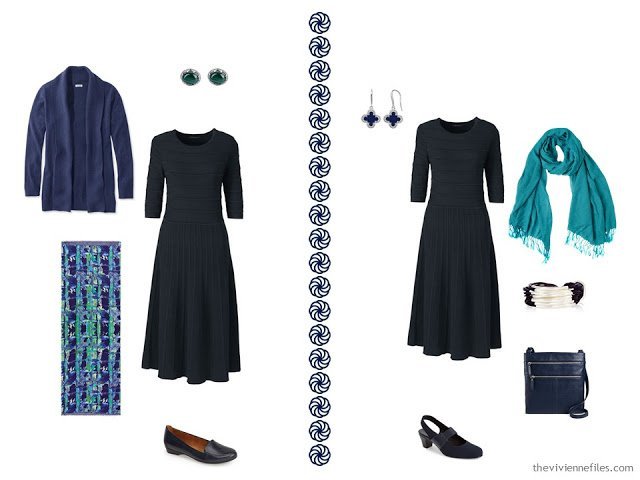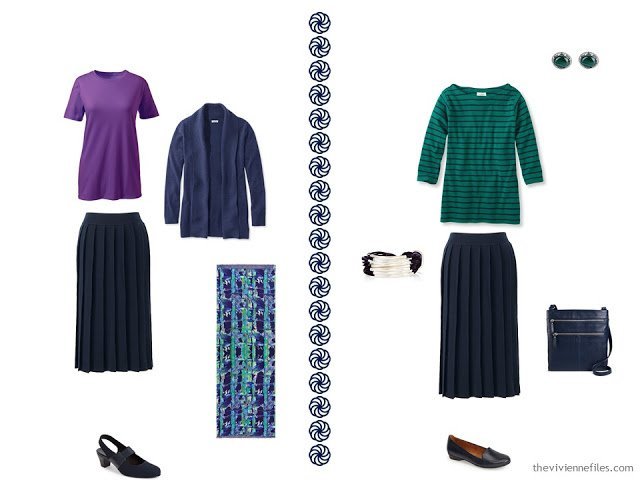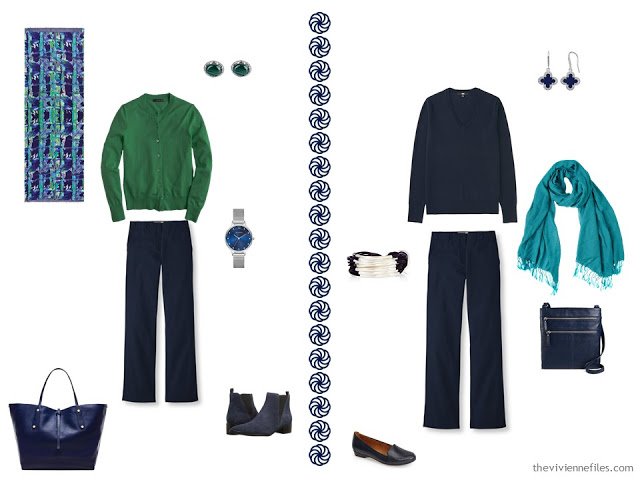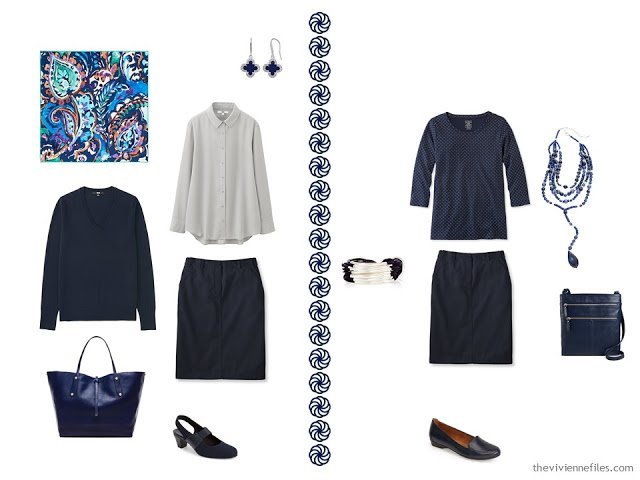 I've never had the chance to be the trailing spouse, although Belovedest got to go with me on a couple of business trips. Is there anything better than someone else paying for the hotel?
love,
Janice