August 17, 2016
One of you recently bought a yellow dress… It wasn't this one, but it was an equally simple, beautiful dress…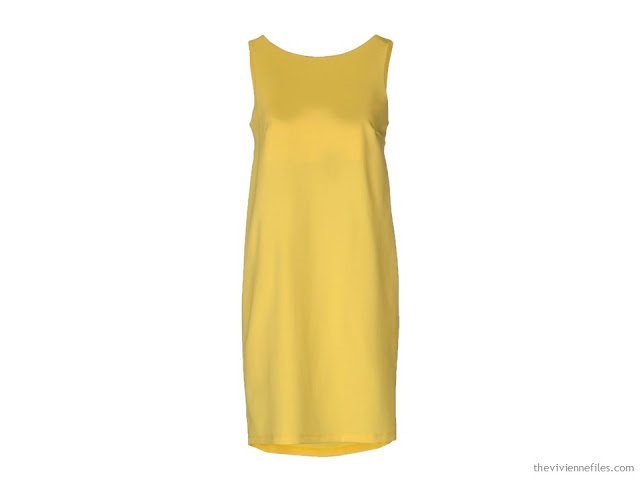 Dress – Who's Who
What to do with such a nice dress, in such a statement color? Work your way through every color in the rainbow, and test them in your mind (in a PowerPoint presentation, or on Pinterest?) to see how they'll work…First up, knowing that the purchaser is a woman who wears "cool" colors and accessories, I thought I'd take a look at putting some black with it. Some people might feel that this is too much bumblebee, or University of Iowa, or Pittsburgh Pirates, but I think that it's a striking option.
In the first example, I used a bit of white (or of skin, showing through the sandals) to unify the accessories. And the 2nd set is all about woven and grid textures: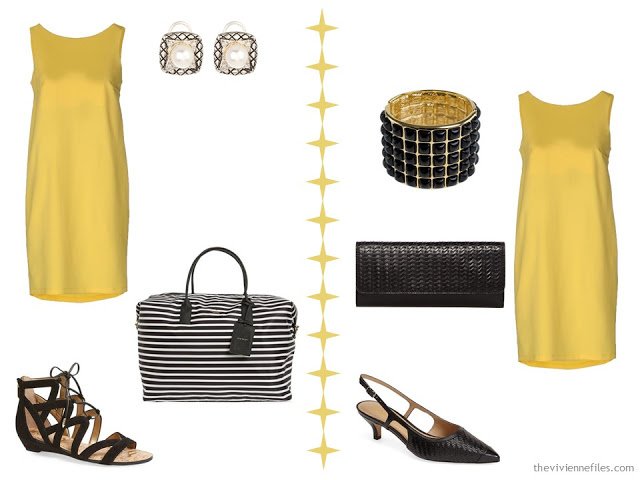 Dress – Who's Who; earrings – Savvy Cie; tote – Kate Spade; sandals – Sam Edelman; bracelet – Kenneth Jay Lane; wallet – Hobo; sling-backs – Trotters
Generally speaking, if a color can be worn with black, you should definitely consider trying it with grey, too. In both of these cases, the shoes and the cardigans are in the same color family, and then the scarf sort of "ties" everything together, colorwise.Note that all of the colors don't have to be dye-lot matched; it should just look as if you meant to wear what you're wearing, and not like "I got dressed in the dark and didn't meant to wear grey suede wedgies…"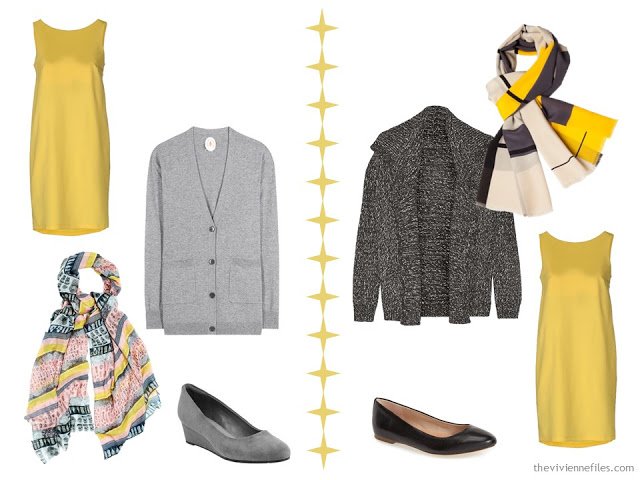 Dress – Who's Who; cardigan – Jardin des Orangers; scarf – Kekkai; wedges – Clarks; cardigan – Theory; scarf – Infinity; flats – Dr. Scholl's
Navy is ALWAYS a color to consider when looking for a companion – it plays well with pretty much everything. And it can be very dressy, or very relaxed… No wonder menswear uses so much navy!In the first example, navy tights would be best, I think…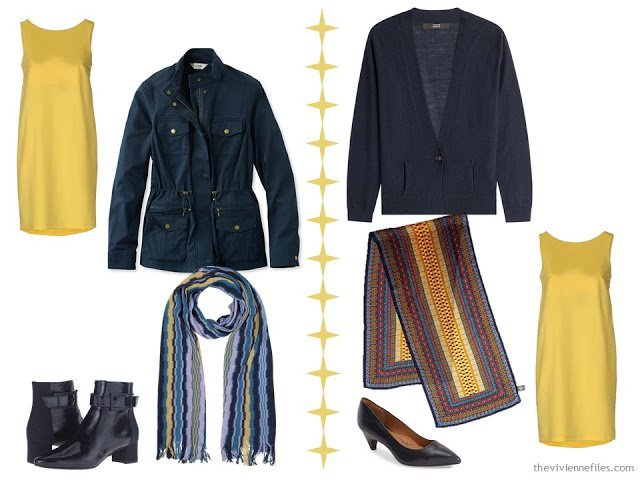 Dress – Who's Who; field jacket – L.L.Bean; boots – Aquatalia; scarf – Missoni; cardigan – Steffen Schraut; silk scarf – Vince Camuto; pumps – Sőfft
Virtually anything can be worn with white, and in the hot hot hot weather, it's a nice way to make anything look cooler and fresher.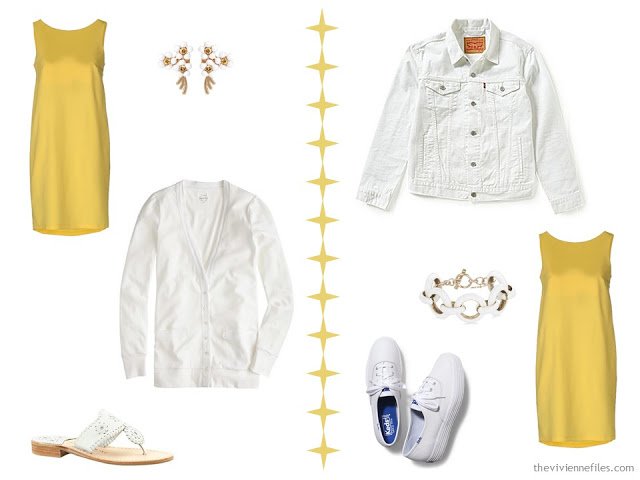 Dress – Who's Who; earrings – Alison Lou; cardigan – J. Crew; sandals – Jack Rogers; denim jacket – Levi's; bracelet – Brahmin; canvas shoes – Keds
Any print or pattern that includes your dress color is a candidate for being included in an outfit. You have to be careful not to let things get too busy – I'm still not sure how much I love the pink ballet flats, except that they're just so perfectly pink… But in the first outfit, a pink bag, or earrings, would have been a bit too much.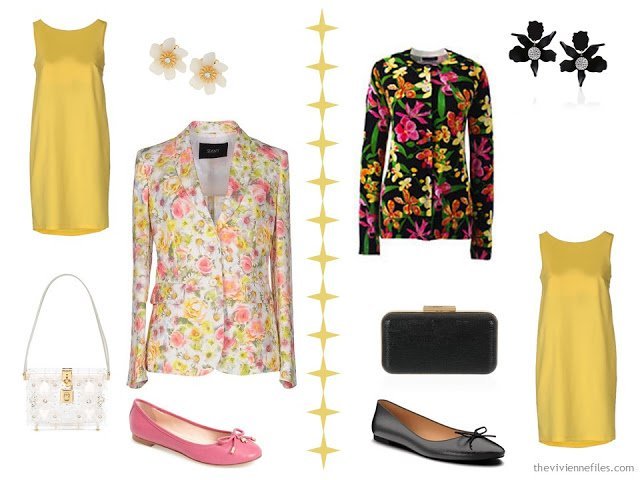 Dress – Who's Who; earrings – Lydell NYC; bag – Dolce & Gabbana; blazer – Seventy by Sergio Tegon; pink flats – Kate Spade; cardigan – Lands' End; black earrings – Lele Sadoughi; black bag – Henri Bendel; black flats – Shoes of Prey
I love black… But I particularly like the way this dress can be worn for quite dressy events, or to things that are much more relaxed. A good dress gives you options…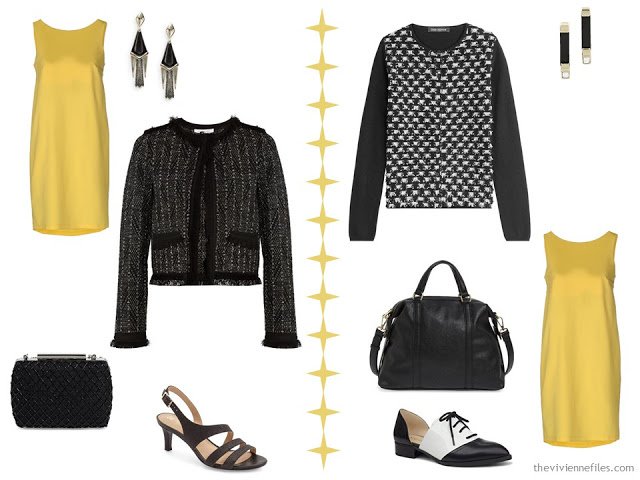 Dress – Who's Who; earrings – Alexis Bittar; jacket – Diane von Furstenberg; bag – Glint; sandals – Naturalizer; cardigan – Iris von Arnim; earrings – White House Black Market; satchel – Sole Society; oxfords – Nine West
Since the dress is such a pure, intense shade of yellow, it can easily stand up to a bit of "bright mixing." When you're not sure about what shoes to wear with something like this, look for a pair of shoes that is as close in color as possible to the color of your lower legs and to the tops of your feet. This makes the shoe nearly imperceptible as a part of your outfit.And while conventional wisdom tells us to match the color of our hemline, for hosiery, I can't in good conscience tell you to EVER own a pair of yellow tights. Bare legs, nude hosiery, or the neutral from your outfit will all be MUCH better options!
Dress – Who's Who; earrings – Oscar de la Renta; cardigans – Lands' End; floral scarf – Matthew Williamson; nude sandals – Corso Como; earrings – Kate Spade; paisley scarf – Etro; red flats – Shoes of Prey
This kind of experimenting will work with any color of dress, blouse, shirt, sweater etc. The key to keep in mind is to try for similar color intensity – brights with brights, muted with muted, pastel with pastel etc. Try ALL of the neutral colors, including the more off-beat ones like brown, olive or taupe, too.Any other colors you'd like to see?
love,
Janice