April 1, 2019
It's time again to revisit our six growing wardrobe based on Hermes scarves – always one of my favorite posts!
Since the weather is somewhat warmer, I'm including cropped or capri pants for all of our heroines. And since it's still cool, I'm pairing their pants with lighter weight sweaters in linen or cotton. Some shoes and a couple of pieces of jewelry finish off these simple, timeless outfits…
It's possible that this heroine is going to have too many striped things. Or is it possible?
Her wardrobe is really starting to take on a coherent feeling: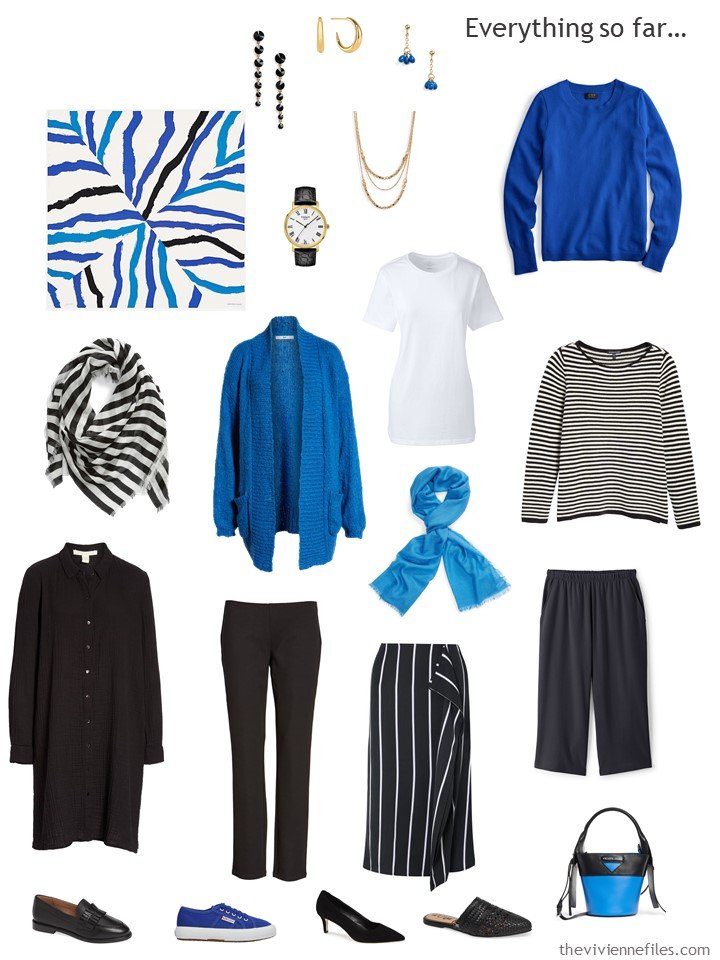 And we're finally at a point at which we can pull together a few new outfits using our new garments with pieces already in this wardrobe. THIS is when you start seeing the effectiveness of having a wardrobe plan!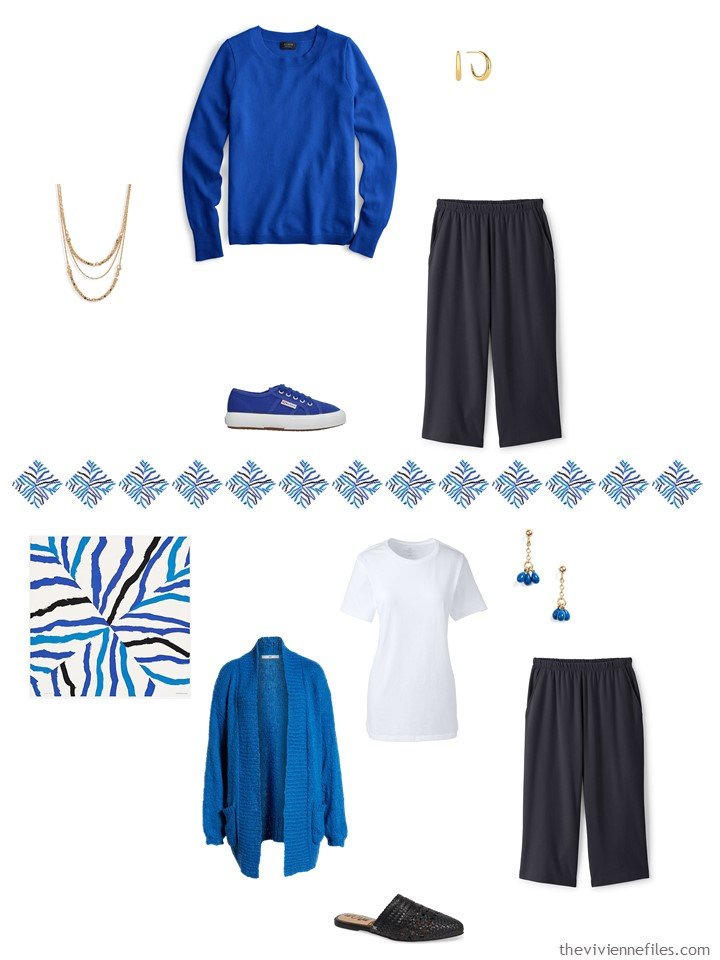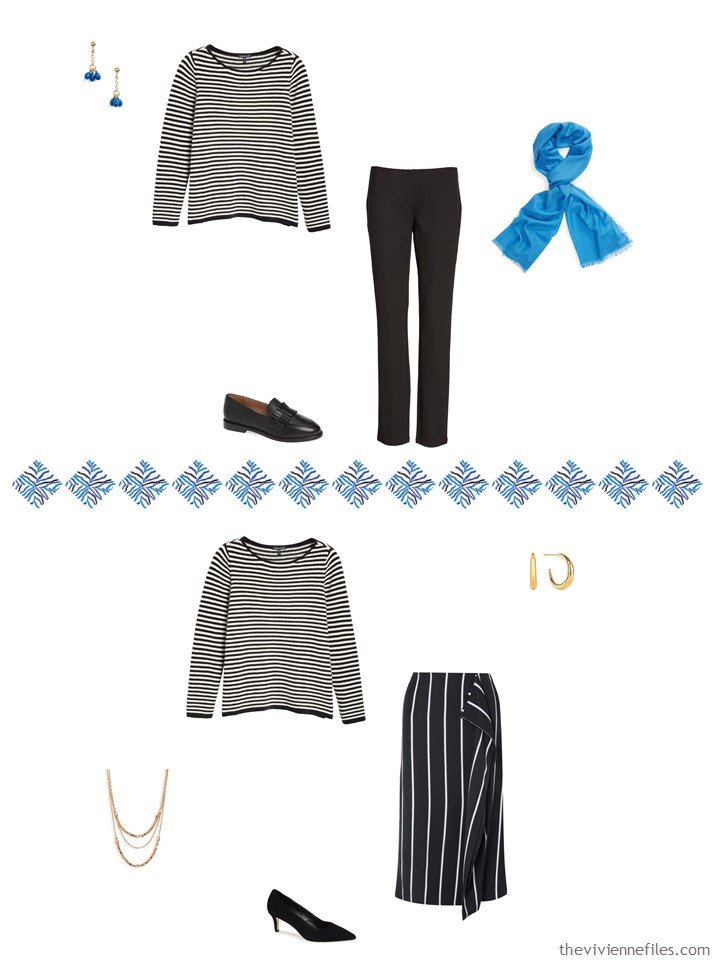 It feels as if this next heroine has enough purple, so far…
So I'm choosing an outfit for her in her neutrals!
This wardrobe feels so right for spring, doesn't it?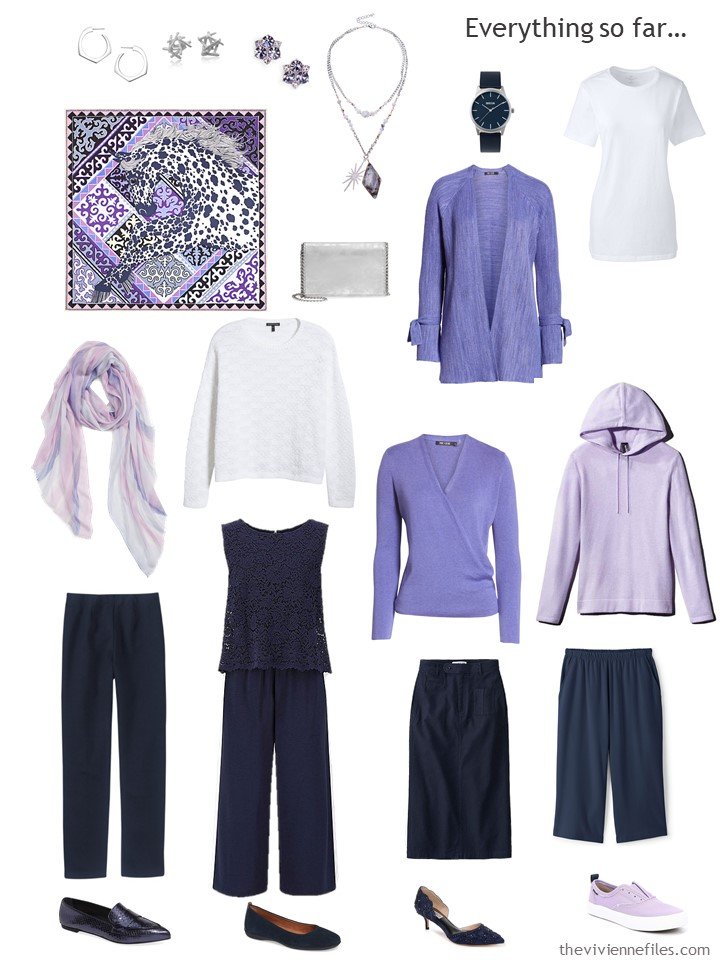 And her new additions give her some fresh outfit options: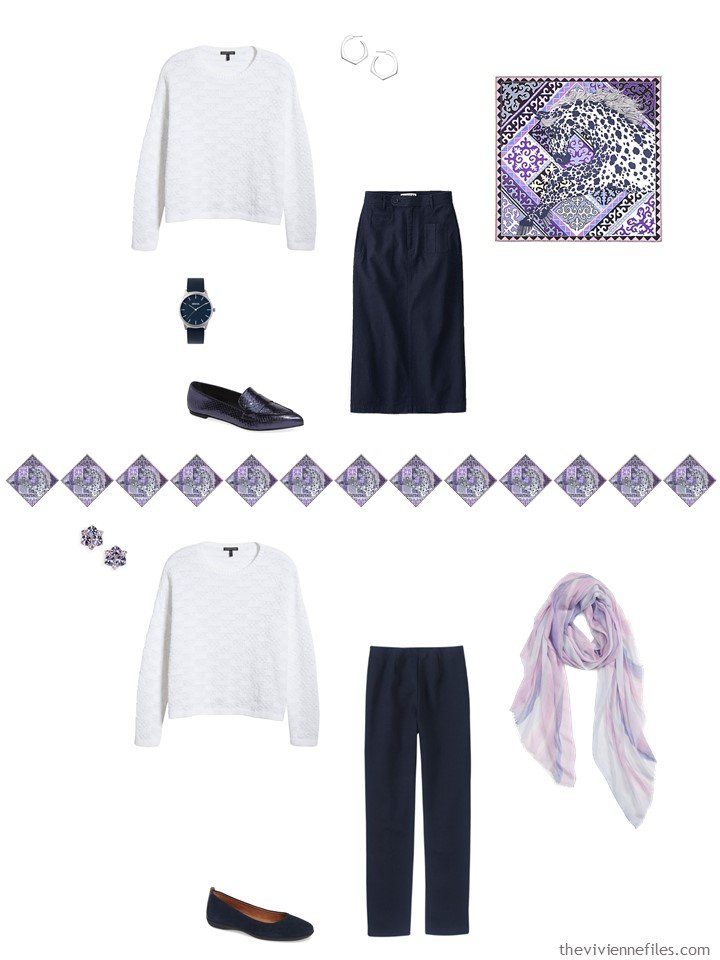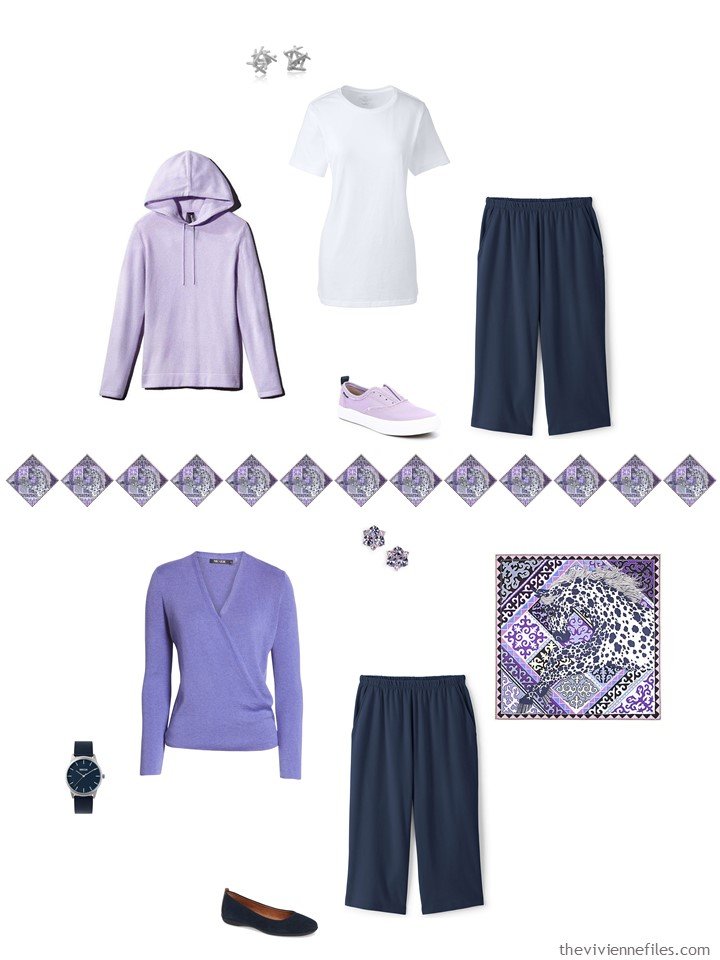 Similarly, I think that this bold heroine is ready for a muted outfit:
The jewelry makes a lot of difference, lifting this from just plain clothes to a real ensemble…
This is really appealing; while grey can be difficult in the spring and summer, the shades of peach and orange change everything.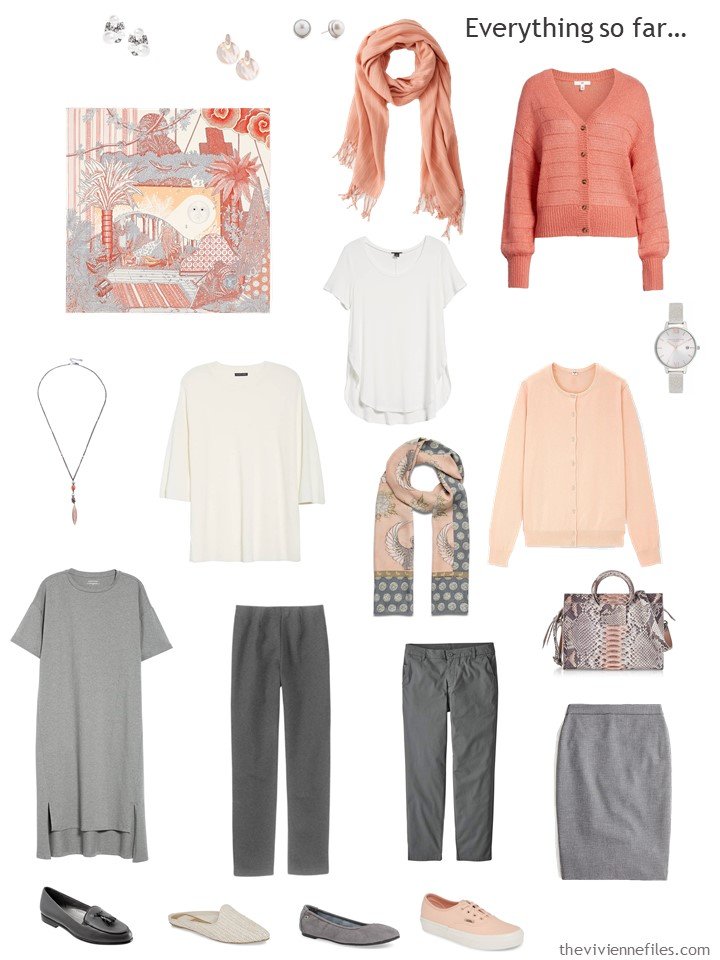 The new pieces integrate with no effort: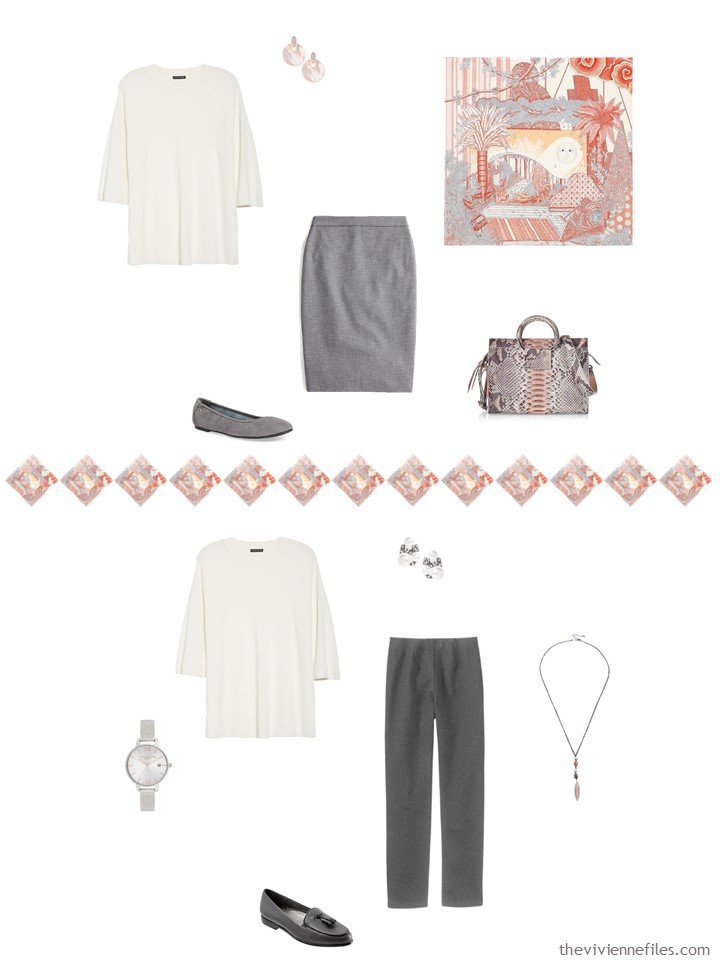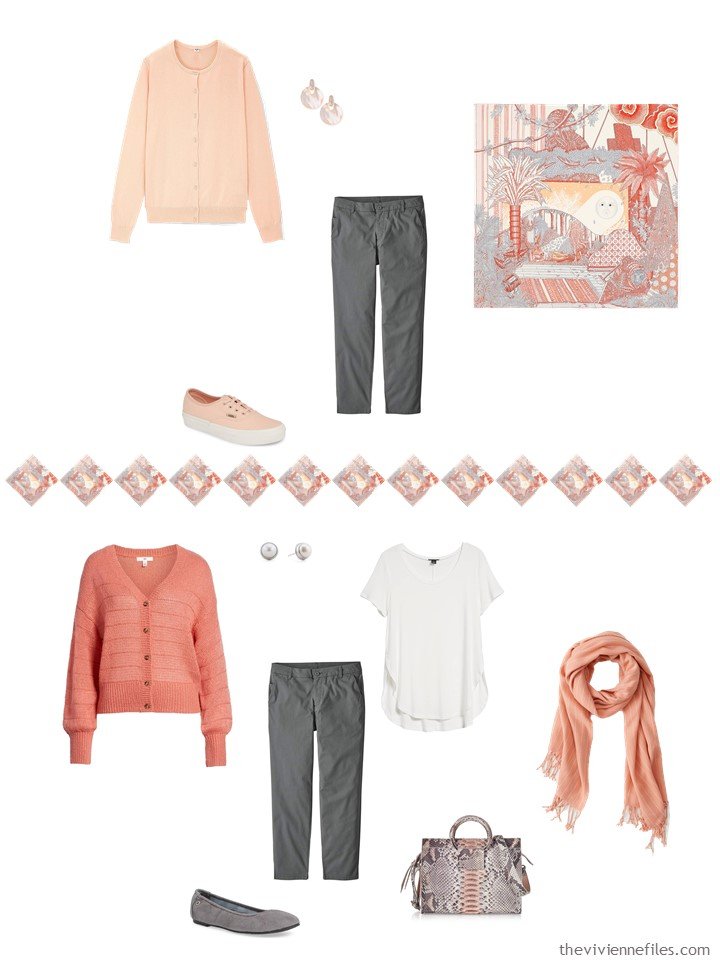 I love using beige as a basis for so many outfits here – it's such a simple way to build a wardrobe!
I'm such a fan of stripes – especially as the weather gets warmer!
I'm finding this wardrobe more and more interesting as it grows…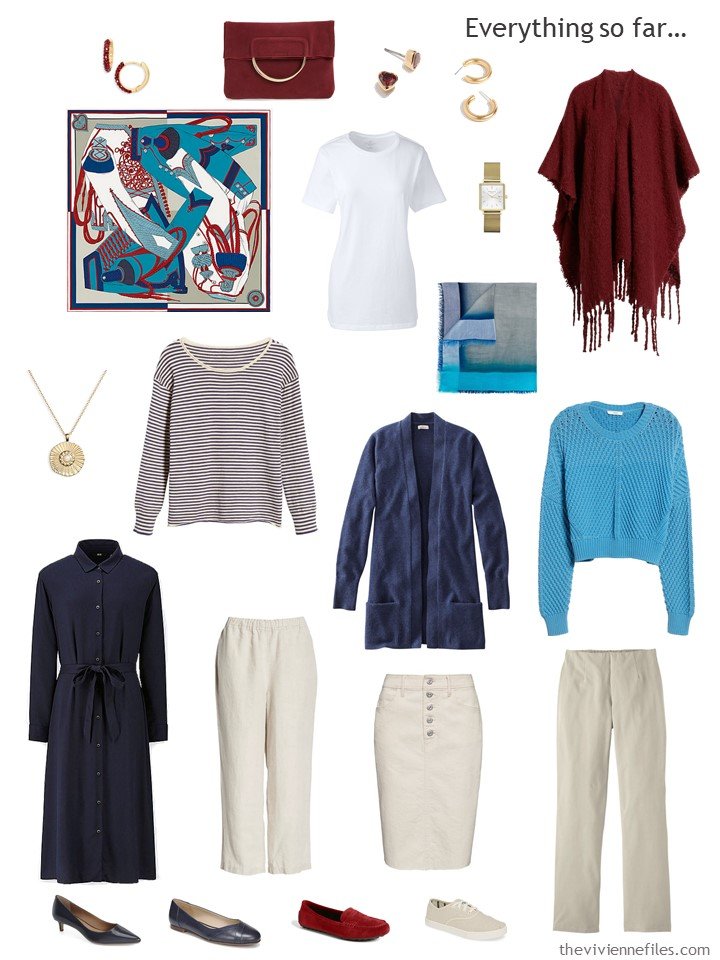 This wardrobe (with the addition of another tee shirt or 2) might make a great travel capsule wardrobe.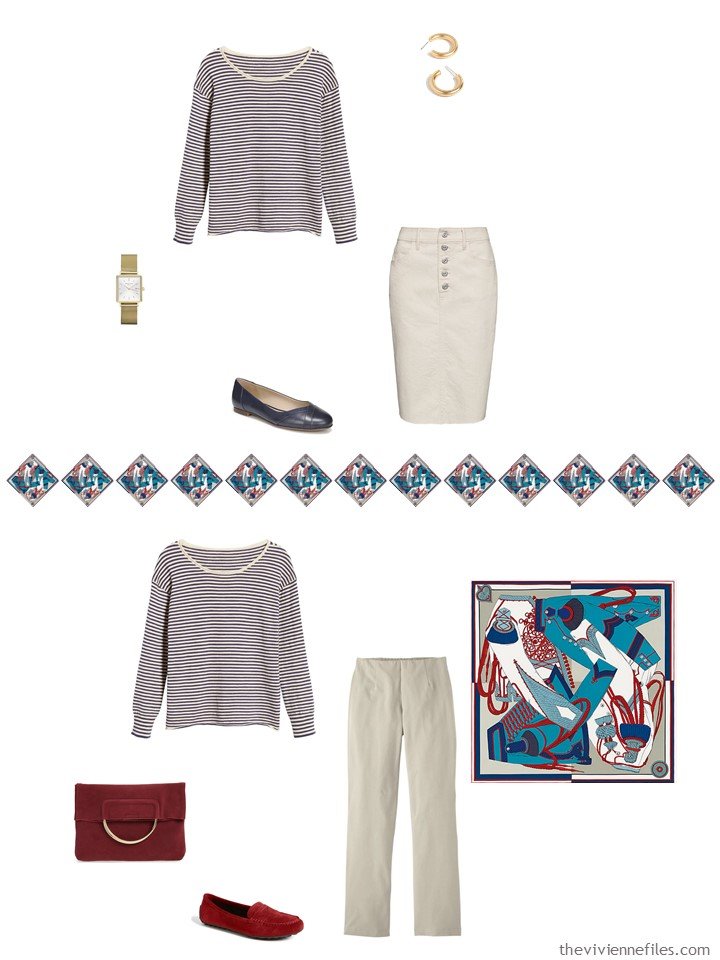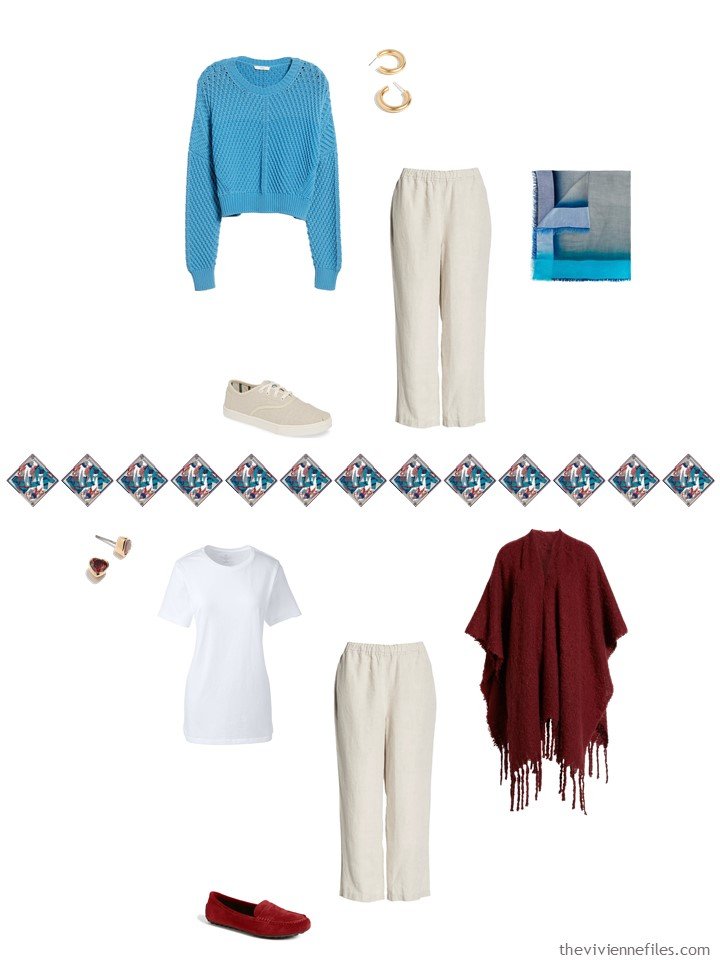 This next heroine is brave – I'm finding this wardrobe a bit worrying… (did I go overboard too early with navy?)
At least I can assume that she'll get lots of mileage out of white capris in the hot weather!
This all looks good together – especially when the Hermes scarf is present – but I'm still having doubts…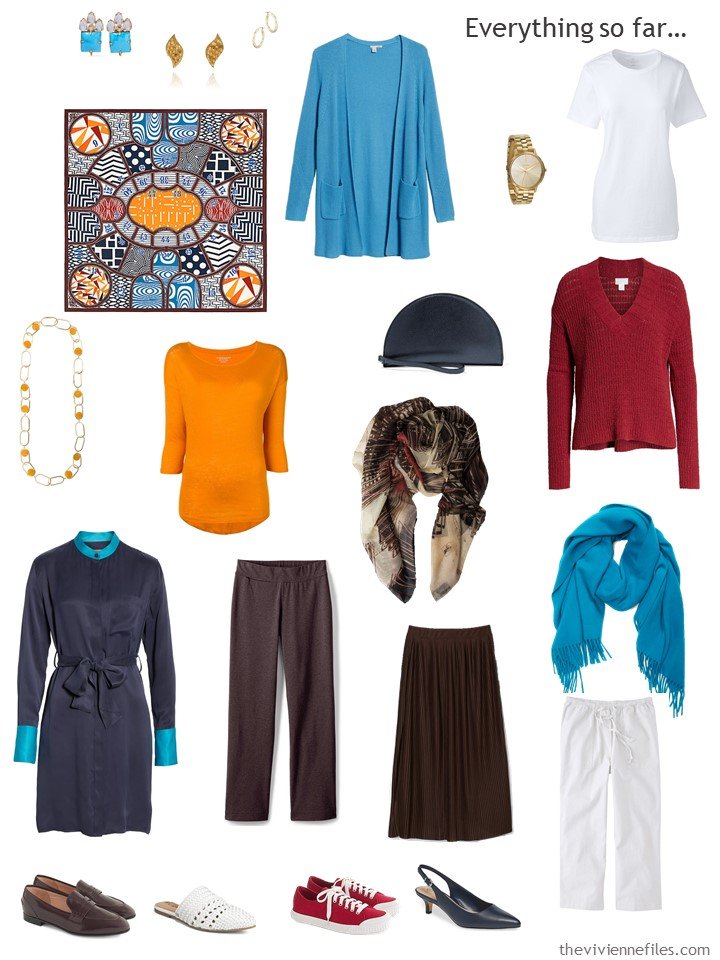 Maybe it's all starting to come together, eh?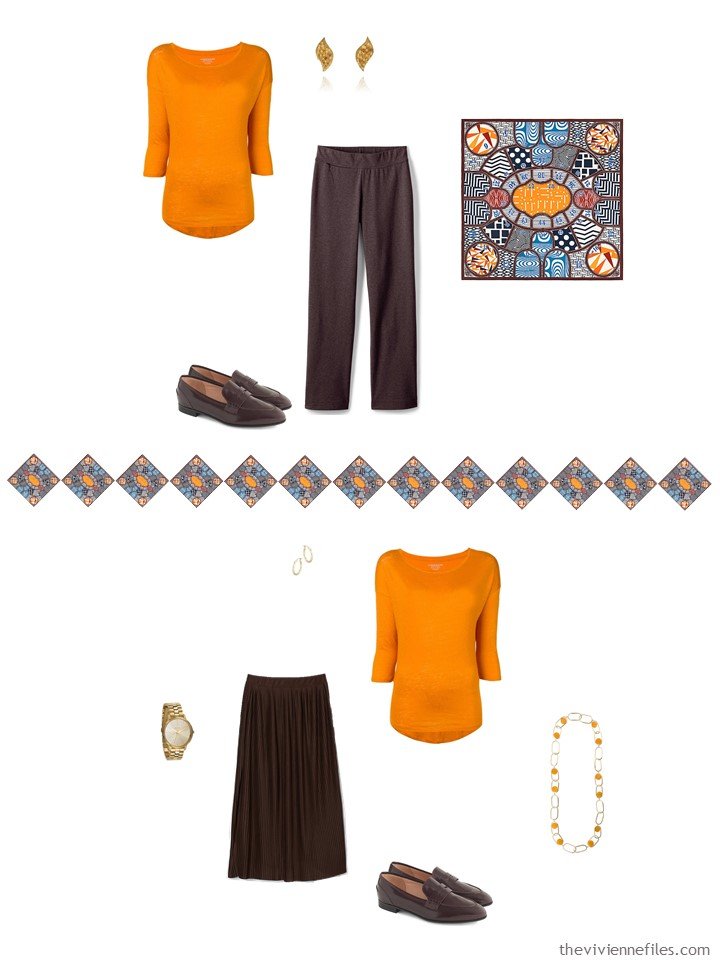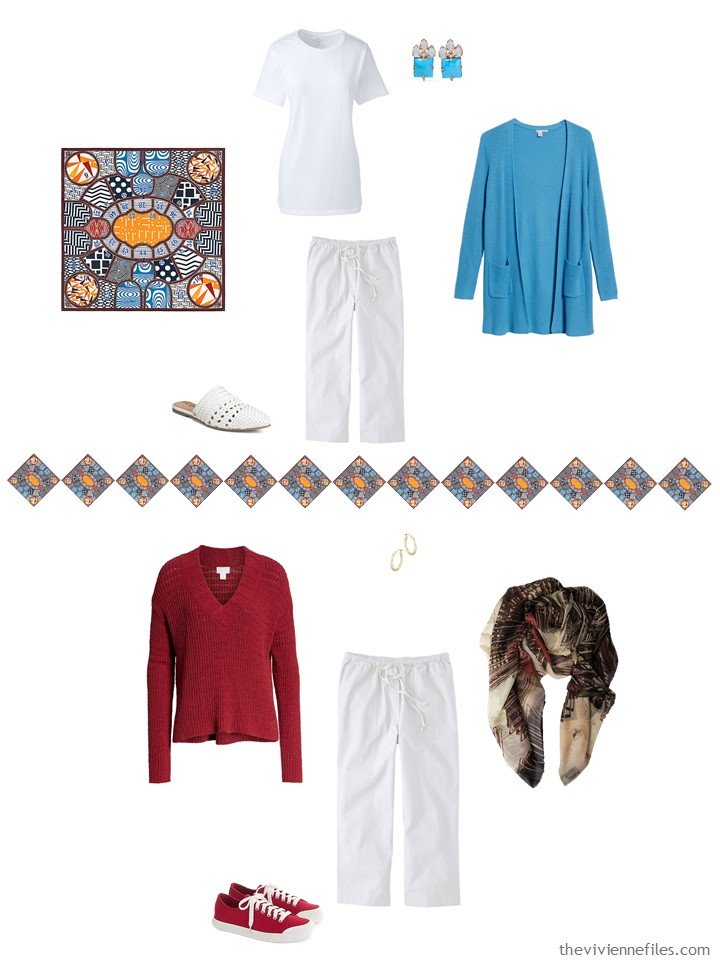 This last wardrobe is really getting better every month!
I like the simplicity of this outfit…
Doesn't this have a feeling of calm elegance?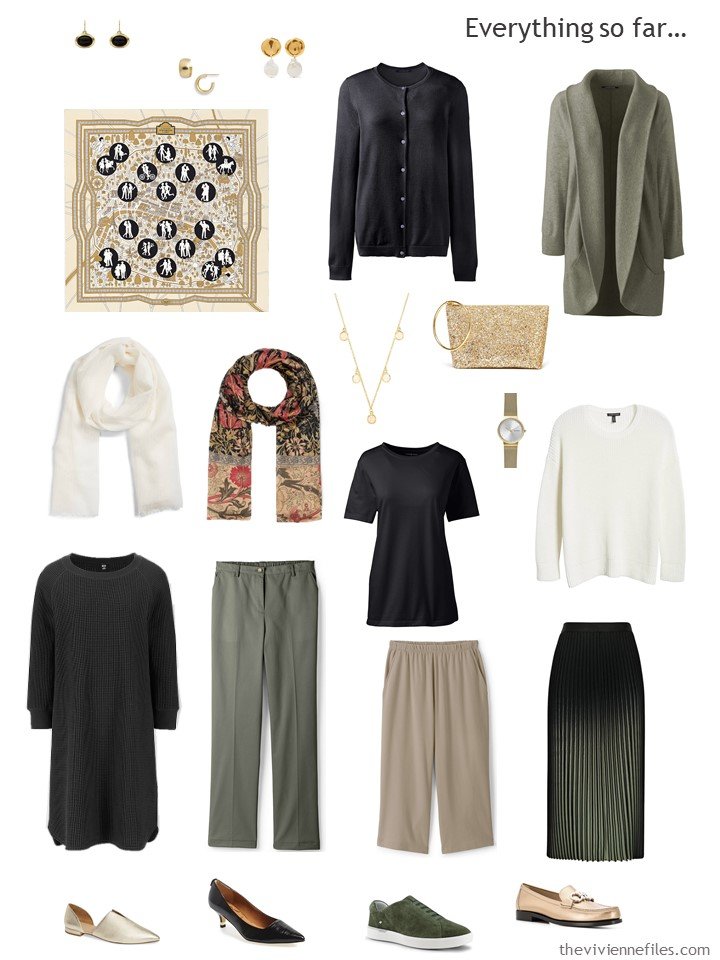 And her new garments blend in so easily…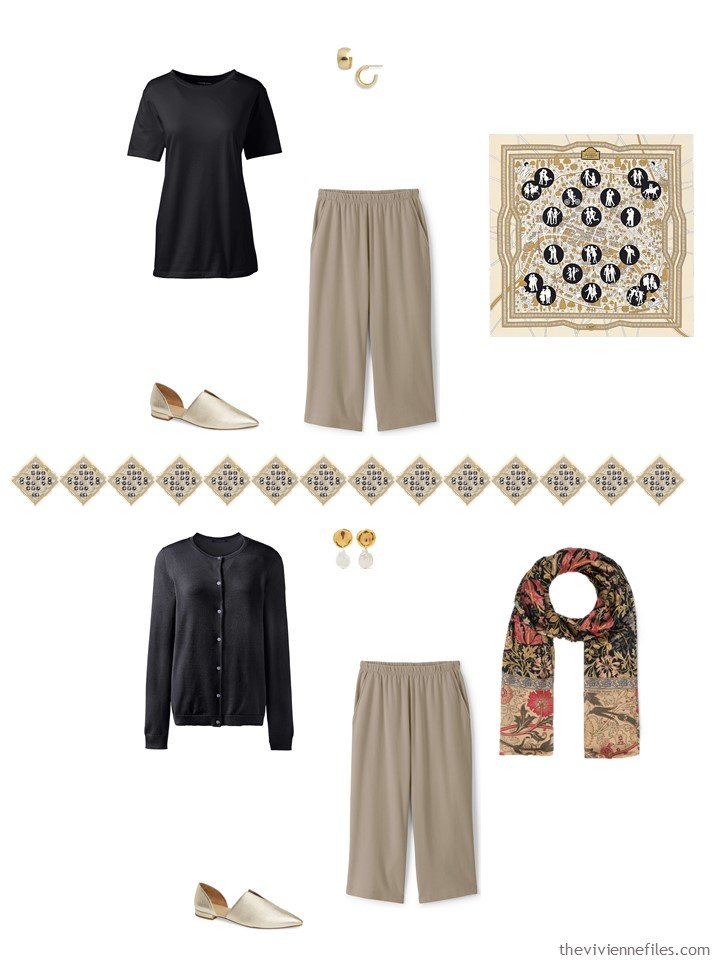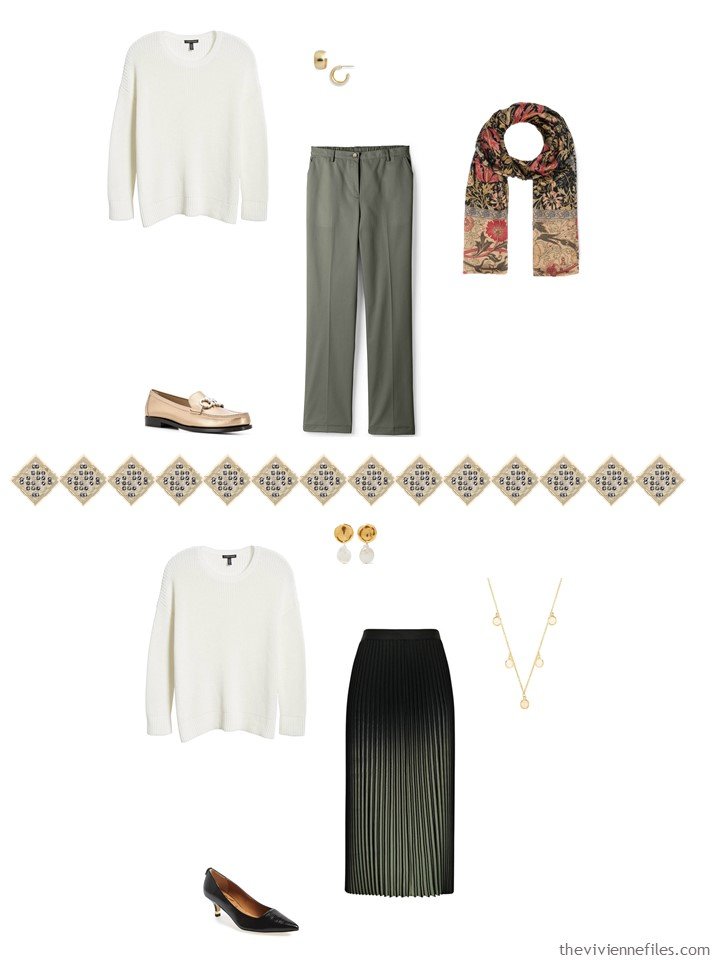 Favorite? I think the last one, this month…
love,
Janice
p.s. I struggled to find a couple of these scarves still available online, but if you're passionate about one of them, don't hesitate to call any Hermes store and ask them for help finding what you want. They're very nice!