December 18, 2017
Friday we looked at the first three of the "12 Months, 12 Outfits" final wardrobes, and found some interesting "holes" in the wardrobes… I'm interested to see how the second 3 wardrobes look, when evaluated through a series of arbitrary, but not worthless, criteria.
This was the 4th wardrobe – a pretty challenging one to assemble, because olive green isn't the most common color in the world, and orange is every bit as difficult to find!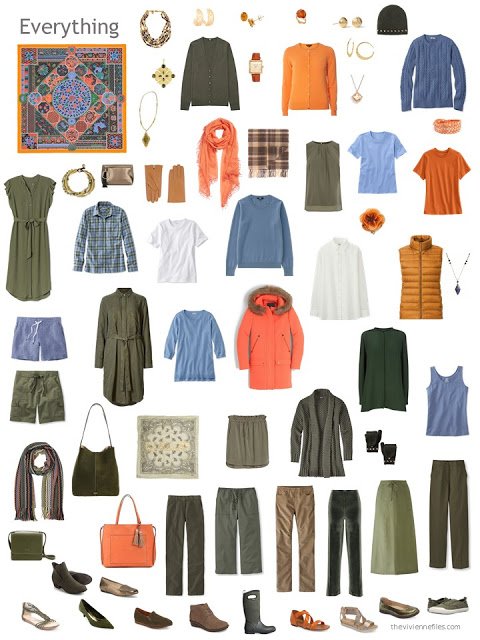 As has been true for all of the wardrobes, this wardrobe has a LOT of bottoms – an issue inherent in building a wardrobe through outfits. The learning here might be that a few more tops, and maybe another 2nd layer, would be useful additions…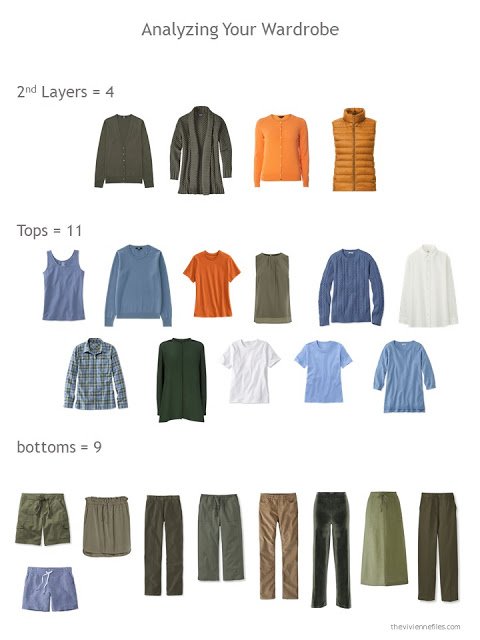 This ratio looks a bit strange to me – some women really prefer solid-color clothes, but I suspect that an average person might want 3 or 4 printed or patterned garments in a wardrobe of this size. However, given the struggle to find these colors, finding appropriate prints might be tough!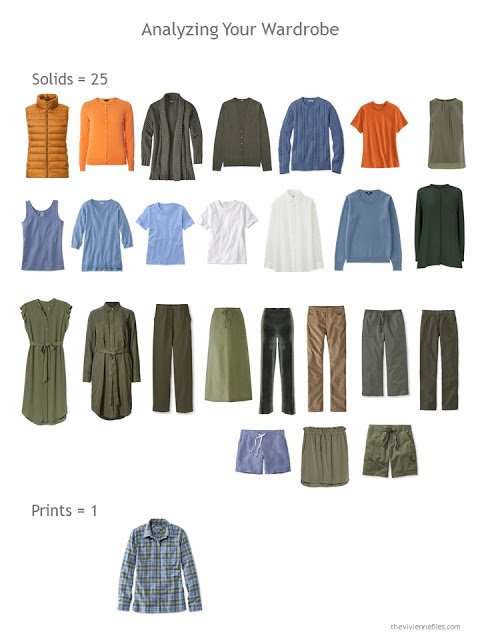 Dear oh dear. This is really not sufficient, to me. Clearly the owner of this wardrobe might benefit mightily from a couple of simple green shirts or sweaters to wear with her abundant assortment of green pants, skirts and shorts.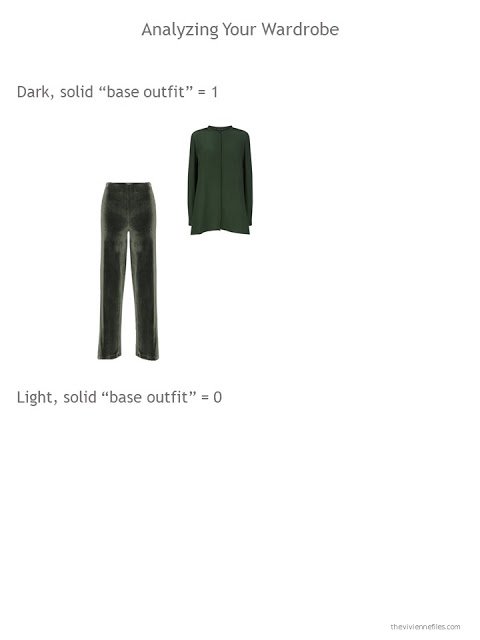 These don't look terribly bad, but a couple of green tops to wear with these cardigan might give this heroine quite a bit more versatility.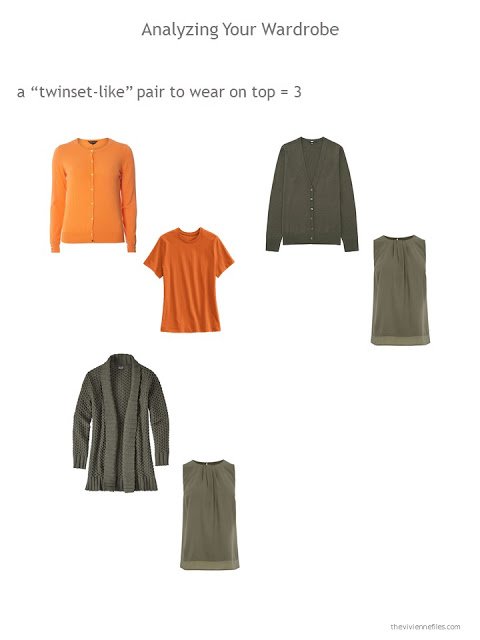 This is really the same lesson – lots of green "bottoms" but not enough "tops."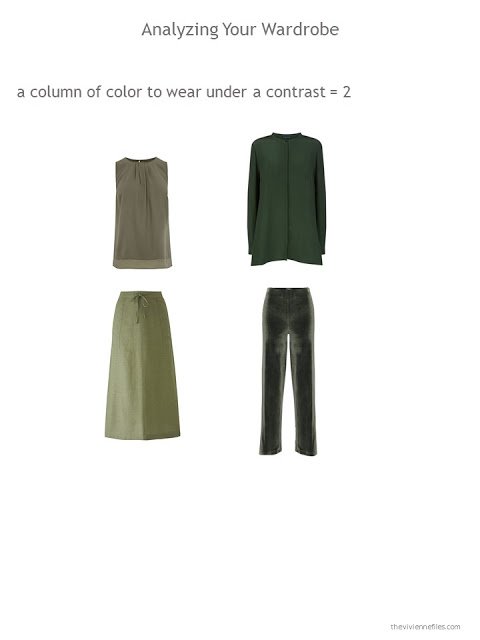 This is an area in which this wardrobe is sufficient; the addition of green tee shirts, shirts, blouses or sweater would give this heroine a number of really easy, one-color outfits.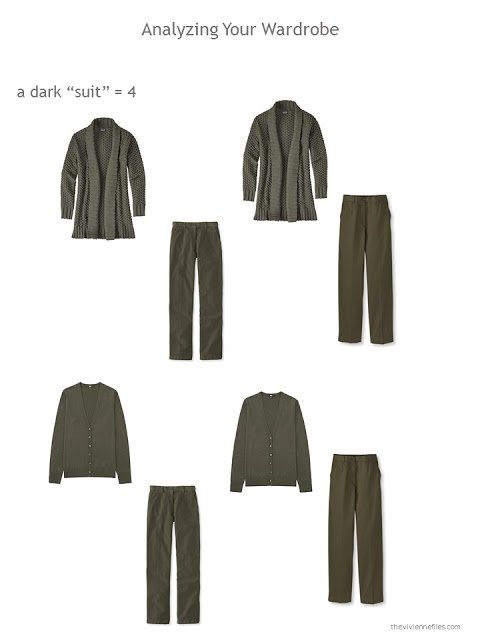 Ah, these are going to help A LOT! From warm weather to very cool, these pieces will add a lot more easy outfits to this wardrobe. And the blouse just brightens things up, and will give the orange cardigan a bit more mileage!
This next wardrobe is just plain and simple pretty…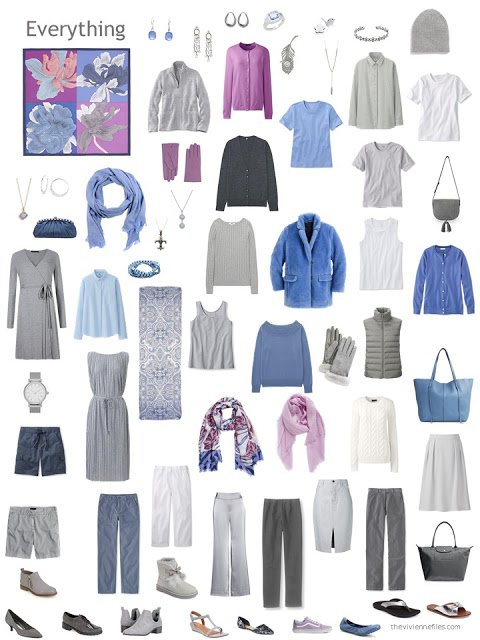 Proof that all rules are meant to be broken – back in April, the outfit for this wardrobe used a cardigan as the sweater (so never forget that a buttoned cardigan = a sweater…)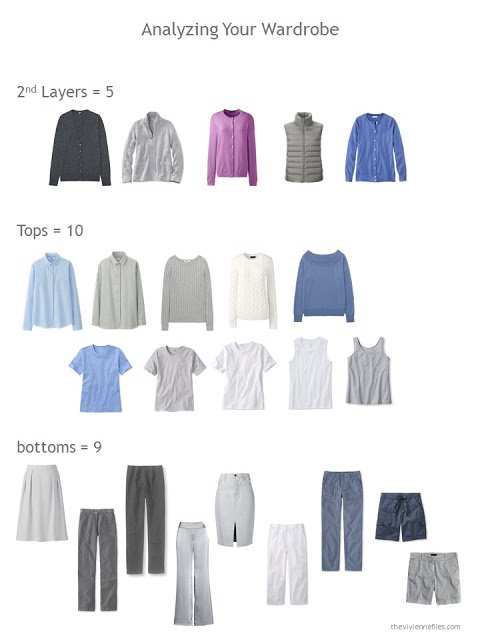 No prints! This might be the way she prefers to dress, but it also might be an opportunity for some variety to be introduced…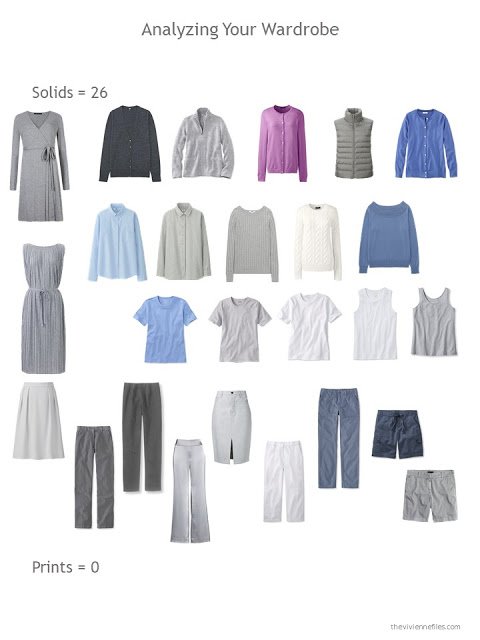 This heroine is missing an easy opportunity to get dressed when she's half asleep, if she just added a darker grey blouse or shirt…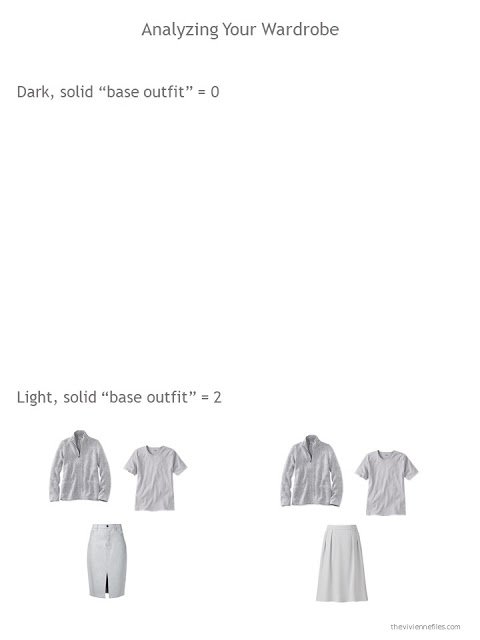 Nothing to worry about here…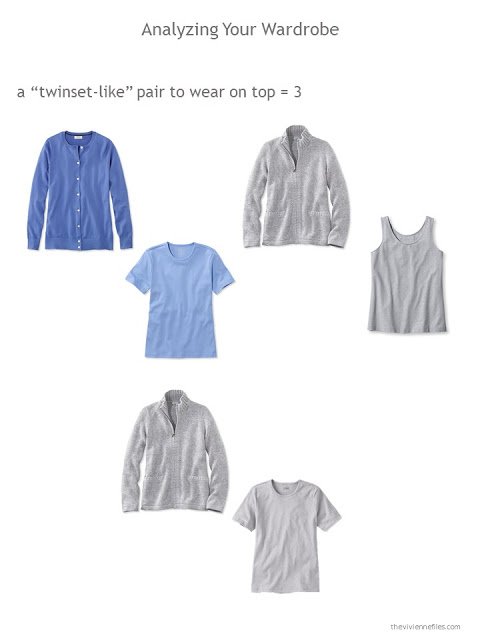 These "columns" are all fine, but it might be very handy to have that dark grey tee shirt, shirt or sweater to wear with matching pants – especially in cooler weather.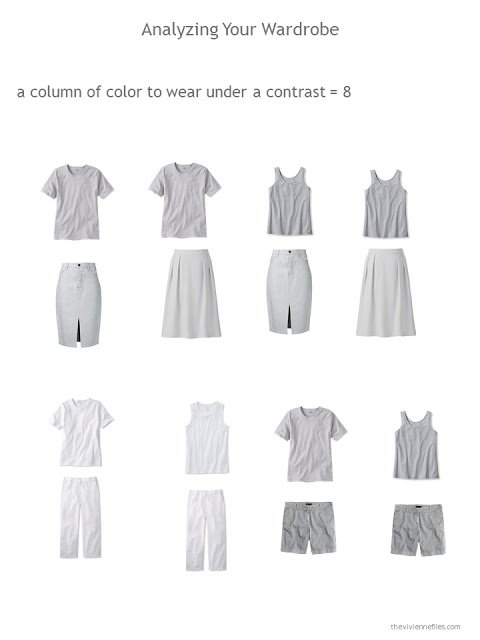 Well-supplied here, but this again suggests to me that just 1 charcoal top could get worn A LOT…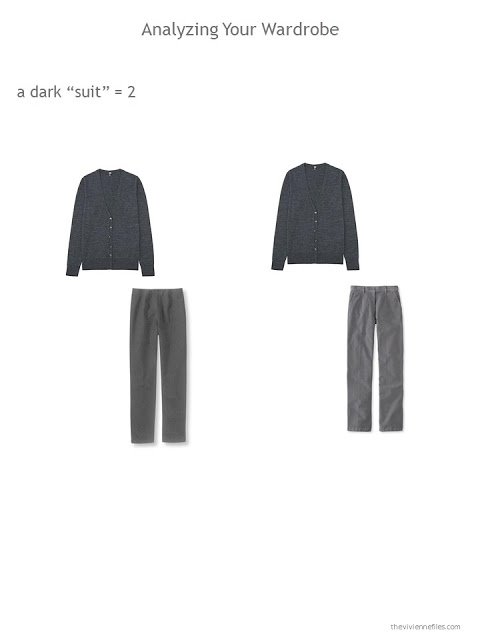 So these are my suggestions – finding pieces in charcoal grey isn't easy… A couple of printed tops add some variety (and a tee shirt that will be perfect with the dark grey "suits" is a fun find!). The plaid shirt helps pull the orchid cardigan more into the wardrobe, and since that orchid shade is terribly under-represented in this wardrobe, another sweater seems to help with balance.
The final wardrobe… Maybe it's because I have brown eyes, but I've been drawn to this one from the very beginning!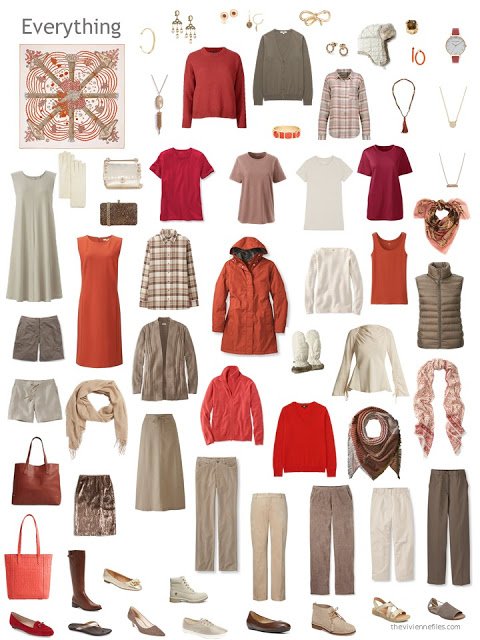 The need for tops is consistent through all of these wardrobes: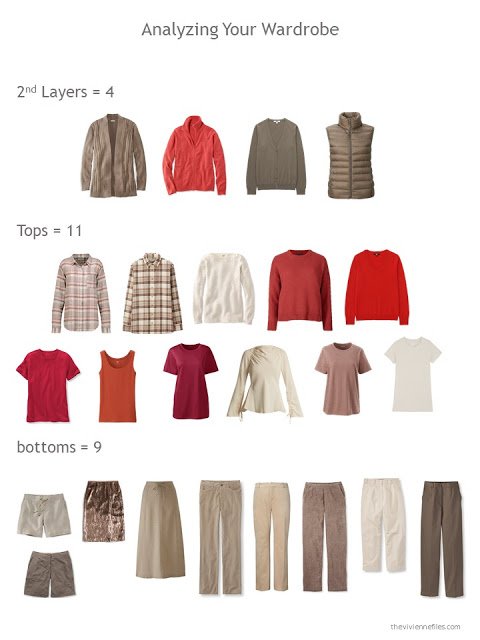 Not a bad number of prints, but something other than a plaid shirt might be a welcome addition?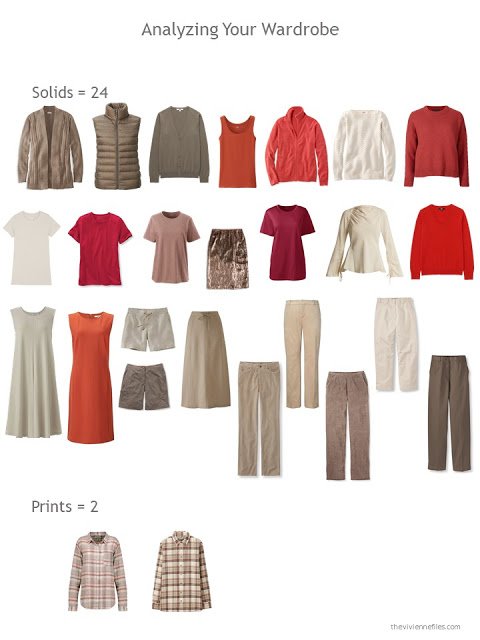 This seems to be a common theme – the absence of a simple, dark neutral top that would be wearable in a variety of ways…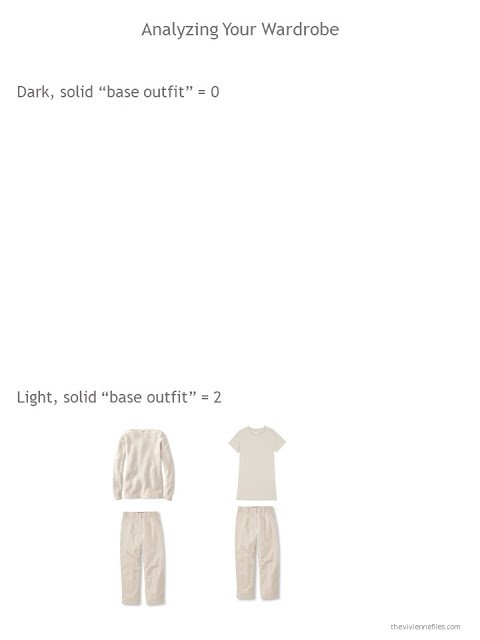 This seems a bit skimpy – the only "twinset" here is in an accent color. Maybe this heroine absolutely detests the look of a twinset, but if that's not why this has happened, she might want to find a top to match 1 or 2 of her cardigans.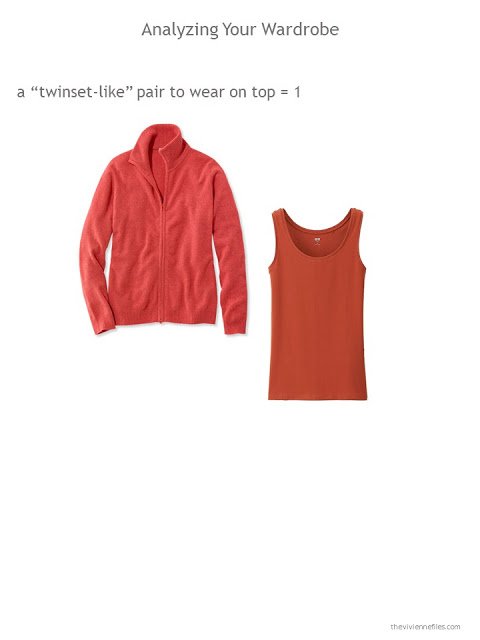 That missing brown top has left a pretty big hold in the wardrobe, to my eyes…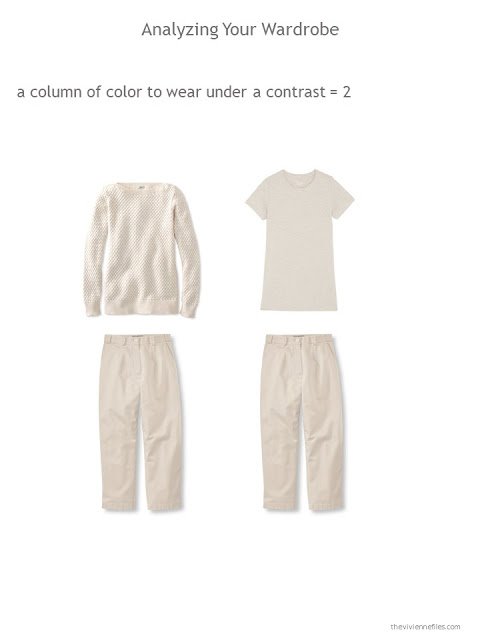 She's in a good way if she needs to wear something suit-like… This might never be a consideration for you, but if it feels that it might be helpful, finding these 2 pieces can open up a world of outfit possibilities…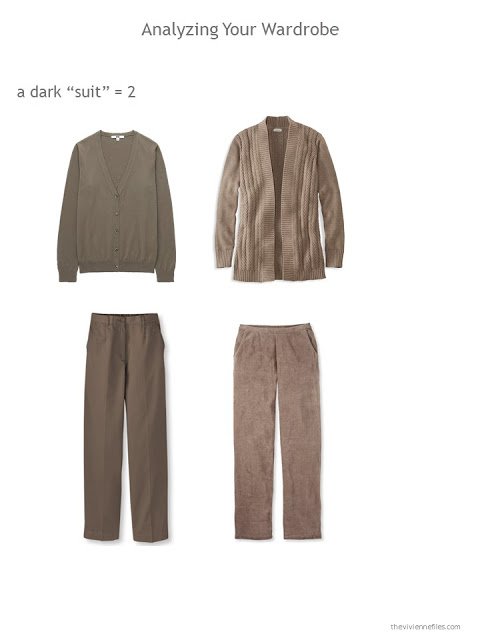 A twinset! That will change the number of potential outfits tremendously!
But I could NOT find a good brown tee shirt, nor blouse. That's something that would have to be a positive obsession for this heroine…
And just to break up the relentless solids garments, I liked the subtle color-blocked sweater.
I have to admit, I've never looked at my own wardrobe in this way! But I might – I'm finding that there are interesting possibilities made evident by this analysis.
I'm hopeful that this might be useful, or at least interesting, for you all!
love,
Janice
For the complete 2017 "Build a Capsule Wardrobe – 12 months, 12 outfits" series, check out the following articles: