December 15, 2017
What makes a wardrobe work? And how can you tell if a wardrobe is going to be functional and versatile? Not the headiest questions in life, but still important, if you like to get dressed and enjoy the process (as well as the results!).
Ultimately, your wardrobe works if you can get dressed every day with ease and pleasure. It doesn't matter what's in there, how tidy or messy it is, or how many different colors and/or styles of things you own. It's the most subjective thing in the world…
That said, if you're struggling, I have a few ideas that you might want to consider!
First up, let's start with the black, white, grey and rust wardrobe that I finished up on December 1st: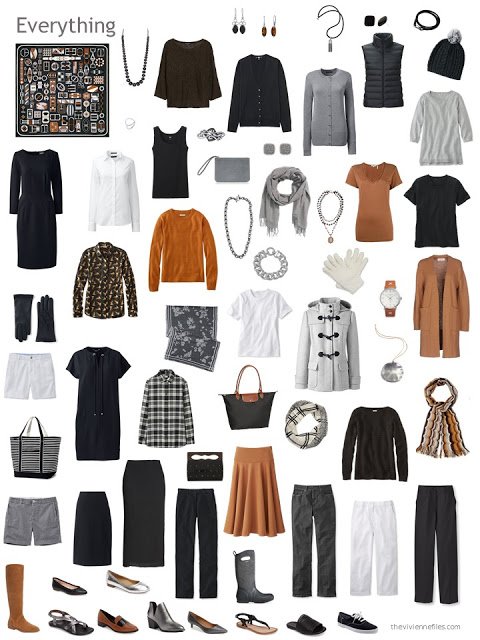 Since I built more or less identical outfits each month for each of the 6 wardrobes, they all have 4 "2nd layers", 11 tops and 9 bottoms. It's probably not an ideal ratio – I would probably want a couple more 2nd layers, and certain more tops. One of the things about building a wardrobe "outfit by outfit" is that you end up with a really close number of tops and bottoms. While this makes a lot of sense, if you really want to be able to wear EVERYTHING on a regular basis, having more tops is logical. Bottoms are usually more basic, and less memorable, so they can be repeated easily and thus can be outnumbered considerably by the tops! (tops are also more fun to buy…)
Of course, each of these wardrobes also has 2 dresses – since dresses can stand alone, I don't include them in this part of the analysis.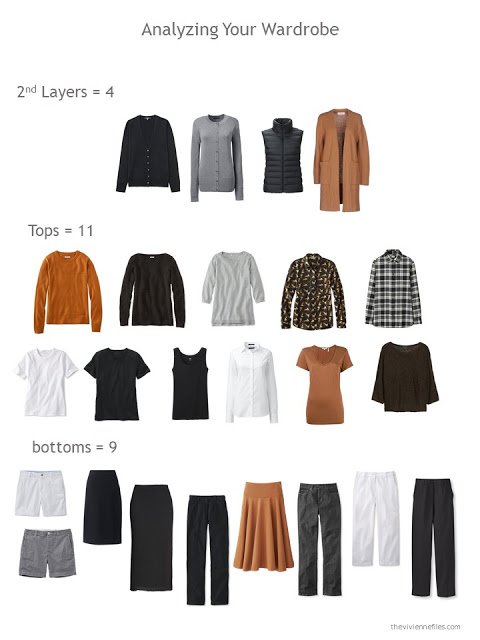 Next up, does your wardrobe have "enough" printed garments? Some people might not want ANY AT ALL UNDER ANY CIRCUMSTANCES, while other women might really enjoy having a half-dozen (at least!) floral, plaid, striped, starred, and paisley things. This is entirely up to the wearer of the wardrobe, but as a generalization, I think at least 3 to 6 garments in a wardrobe this size add a bit of visual interest and variety.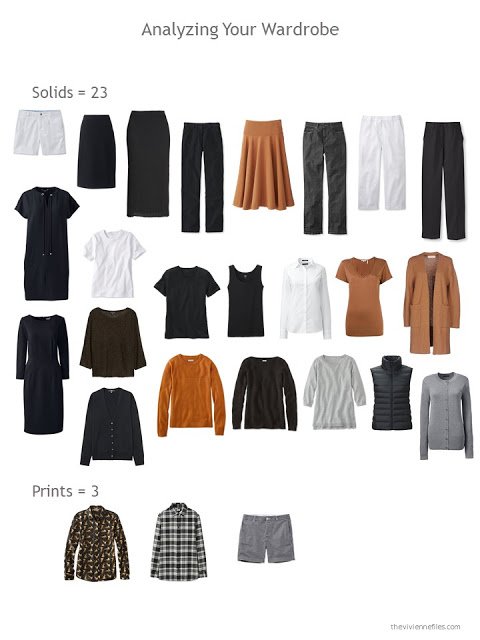 Now I start looking at how pieces function together. First up, can you pull together a really plain, simple, solid-colored outfit when you absolutely CAN'T think about clothing? I think that at least a couple of possibilities in 2 different colors are helpful (although I personally can only do this with black – but OH I can do a LOT of black outfits…).
You can really tell that I did this wardrobe – my heroine has plenty of black, but not enough grey…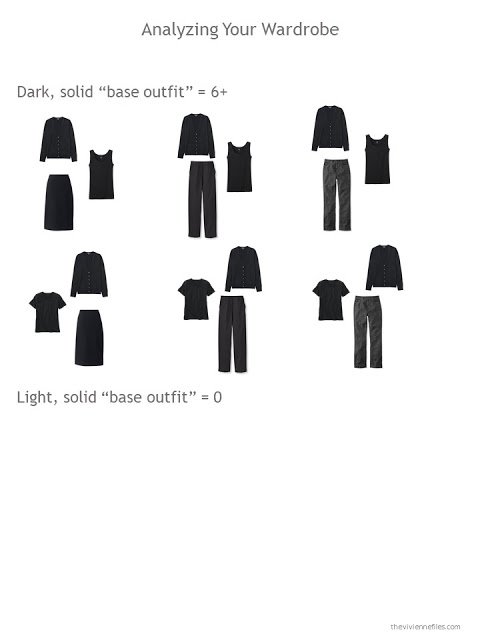 Another thing that I suggest, if you struggle getting it together some days, is to have something kind of like a twinset (if not a legitimate set!) to rely on. This wardrobe does just fine on this criteria…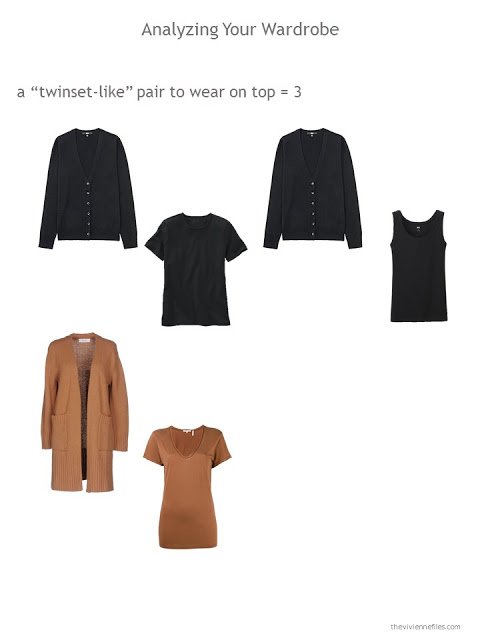 Yet another way that I look at things is to try to find a neutral core upon which you can toss ANY 2nd layer, or just jewelry or a scarf. Of course any wardrobe that I build that's based on black is going to excel in this area!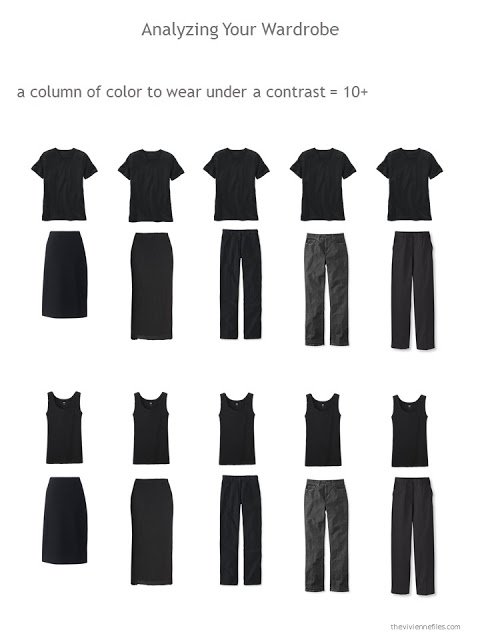 And lastly, sometimes you need a suit. Or something sort of kind of a little bit like a suit! Okay, a 2nd layer and a bottom in the same color? Again, if it's black, I'll have this one covered…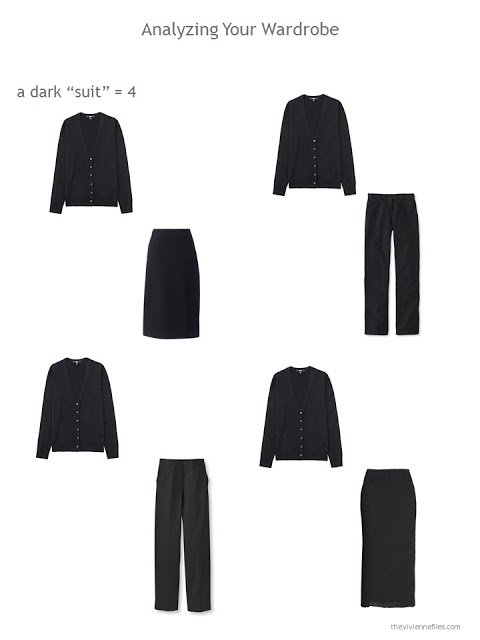 So if I were to add a few garments to this wardrobe, what would I suggest? Probably, to do a better job of representing the second neutral – grey – in this wardrobe. These 3 pieces give us a complete grey outfit, a suit, a twinset, and a solid column of color – a lot of work from just a few pieces!
Make sense? Let's look at this beautiful wardrobe…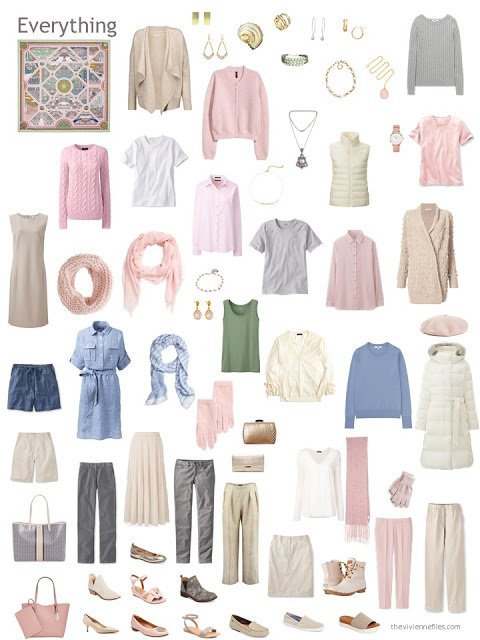 Just as it should be, there are 4 2nd layers, 11 tops and 9 bottoms, as well as 2 dresses: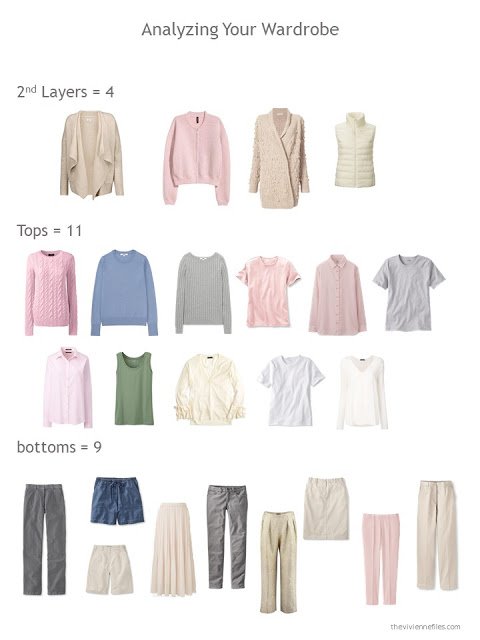 WOW. All solid garments….
Of course, this might be exactly what this particular heroine prefers – there aren't rules here!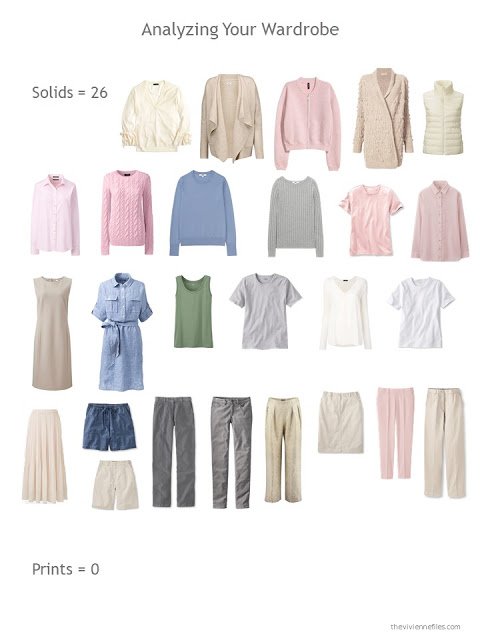 I really couldn't put together a beige 3-piece outfit, nor a grey 3-piece outfit! Again, this isn't a deal-breaker if the heroine loves her wardrobe and this isn't a problem for her. But if you find yourself struggling to pull it all together sometimes, this might be something to consider.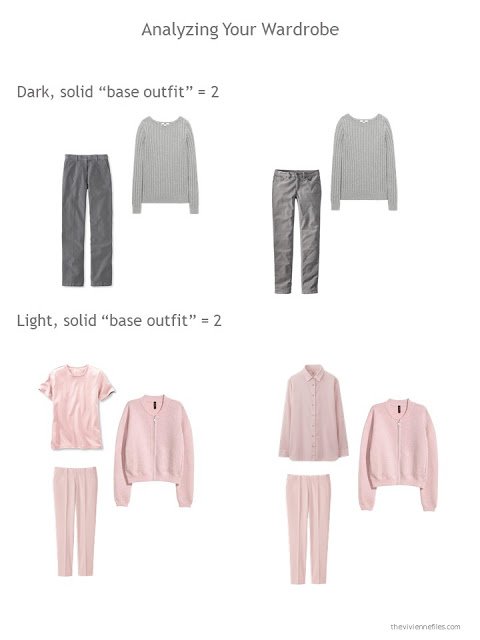 Again, even though this heroine owns 4 cardigans, only 1 of them has a matching tee shirt, shirt, or blouse. If you don't like monochromatic ensembles near your face, this isn't a problem, but if you'd find this possibility handy, this is something to notice.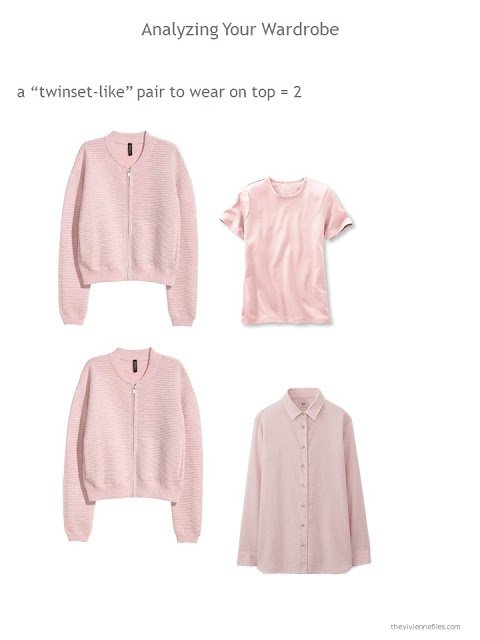 All those beige pants and shorts, and NO beige shirts? This could be deliberate – maybe she doesn't like beige near her face. But if it's just an oversight (buying a beige shirt or tee shirt isn't the most thrilling shopping you can do!) it's an easy omission to correct.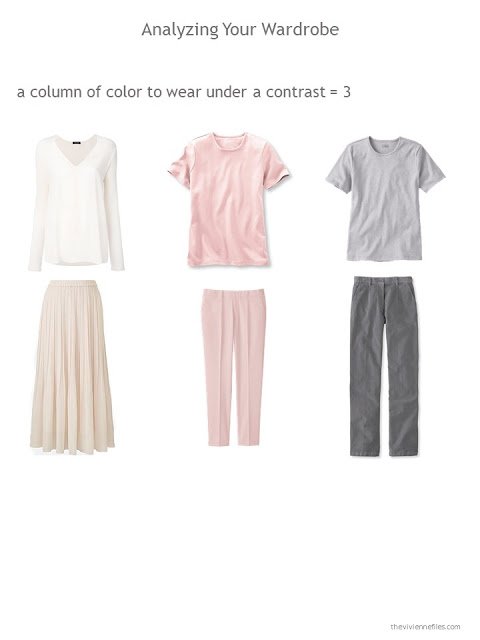 She does have a couple of suits – and the beige is especially handy because almost any top could be put under the beige cardigan and she could be out the door looking just fine….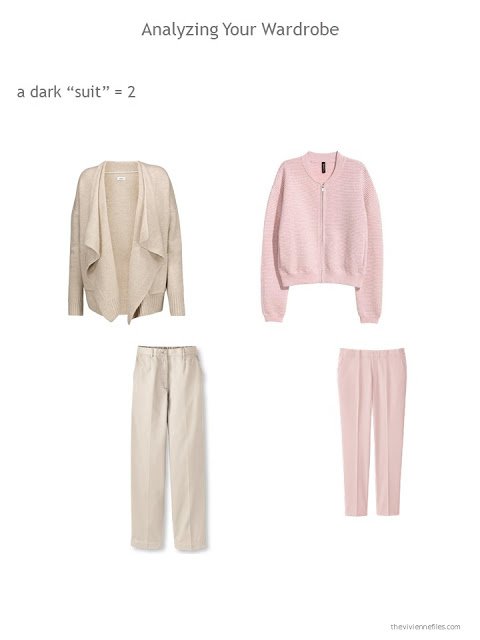 After thinking about it for a while, I of course had to give this heroine a beige-ish top – she simply has too many other tan/khaki/beige garments to not own at least a tee shirt in that color! (this one's a gentler, more ivory color…)
Maybe she's happy without any prints or patterns, but a tee shirt like this can bridge between almost any 2 other pieces in her wardrobe, and give her lots of possibilities.
And a grey twinset helps her get more wear from her grey pants, as well as giving her a cardigan that will look great with the pink and blue pieces she has.
Let's wrap up today's analysis with this wonderful navy and red wardrobe…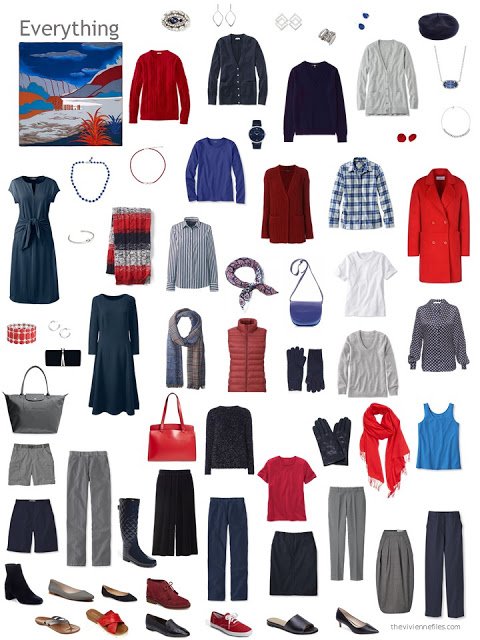 Of course the garment balance is sort of "long on bottoms, short on tops," as are all of these wardrobes…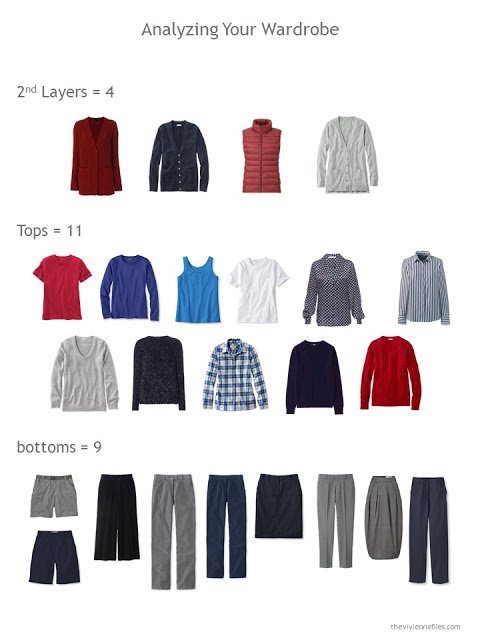 I'm pretty happy with the number of printed pieces here…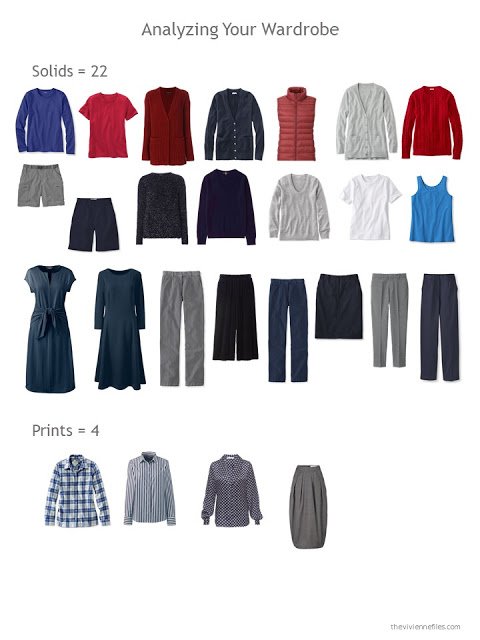 I also think our heroine has a pretty good balance of her 2 neutrals, although the absence of navy and grey shirts is sort of obvious….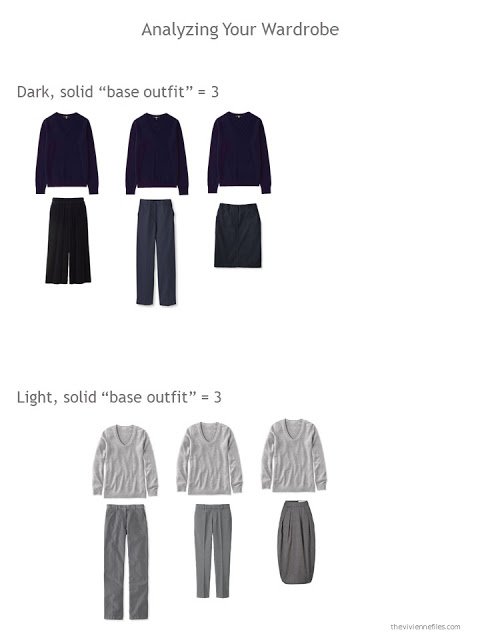 DEAR OH DEAR… Not 1 twinset that I can spot… The reds don't match, there's no navy top, and there's no grey…
Maybe she likes it this way!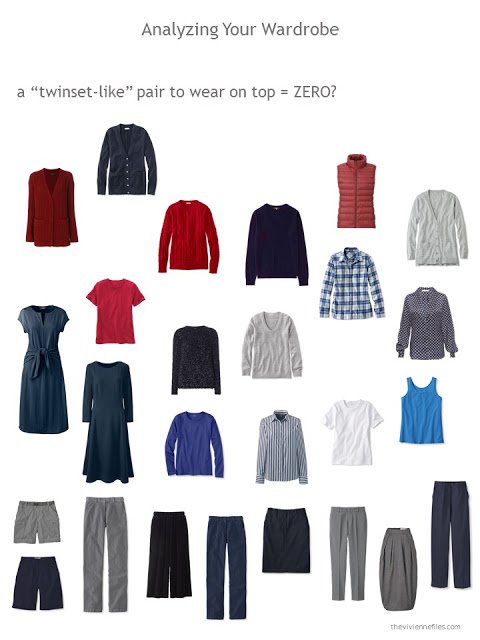 Well, this doesn't get any better – no solid column of color EITHER! Of course, this could be because this particular heroine likes to have a contrasting top under her 2nd layer – the absence of these kinds of "constructs" could be a deliberate choice…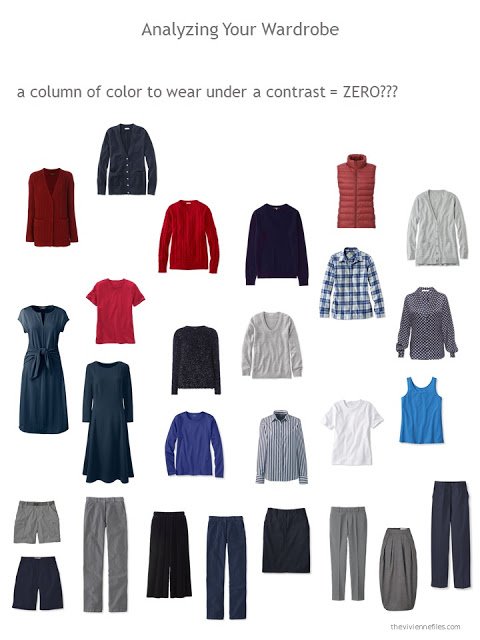 Of course she has suits…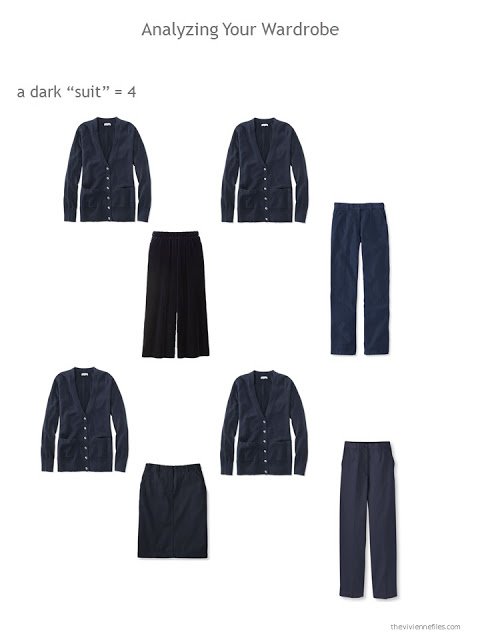 Assuming that this heroine felt the need to add some pieces because she was struggling to really wear her clothes in a variety of ways, these are what I would suggest for her to purchase – a navy top will give her both a navy "twinset" and a navy "solid column" over which to wear 2nd layers. The grey tee shirt does the same thing. And I chose the plaid shirt just to give her another option to pull her red cardigan more into circulation. (a grey cardigan wouldn't hurt here…)
I don't think I can emphasize enough how much these suggestions are ONLY for those seeking some different points of view on their wardrobe. The only legitimate measure of a wardrobe's "success" (inanimate objects can't really be successful, can they?) is the happiness of the owner. Don't let anybody tell you otherwise!
I hope like heck that you liked this analysis, because I'm going to tackle the other 3 wardrobes on Monday…
love,
Janice
For more in the 2017 "Build a Capsule Wardrobe – 12 months, 12 outfits" series, check out the following articles:
Looking for more ideas? Follow along as we build a new capsule wardrobe in 2018.