December 4, 2019
I can't believe that this is the last month of these outfits! It seems like yesterday that I was trying to decide if I would continue to use the Appaloosa des Steppes scarf, because of the concerns about cultural appropriation…
Let me say right upfront – not one of these wardrobes is perfect! So for the next 3 Wednesdays, I'm going to take a look at all of them (2 per week) and see what we can learn from my mistakes, over-enthusiasms, and general lack of a good plan. Thus I'm not going to bury you in analysis today…
That said, any of these wardrobes could take you a long way, for a long time. If this was the core of a wardrobe for someone who wears uniforms during the day, she would need never fear having nothing to wear!
Let's go! This month is dressy – mostly skirts, with one outfit that was specifically requested…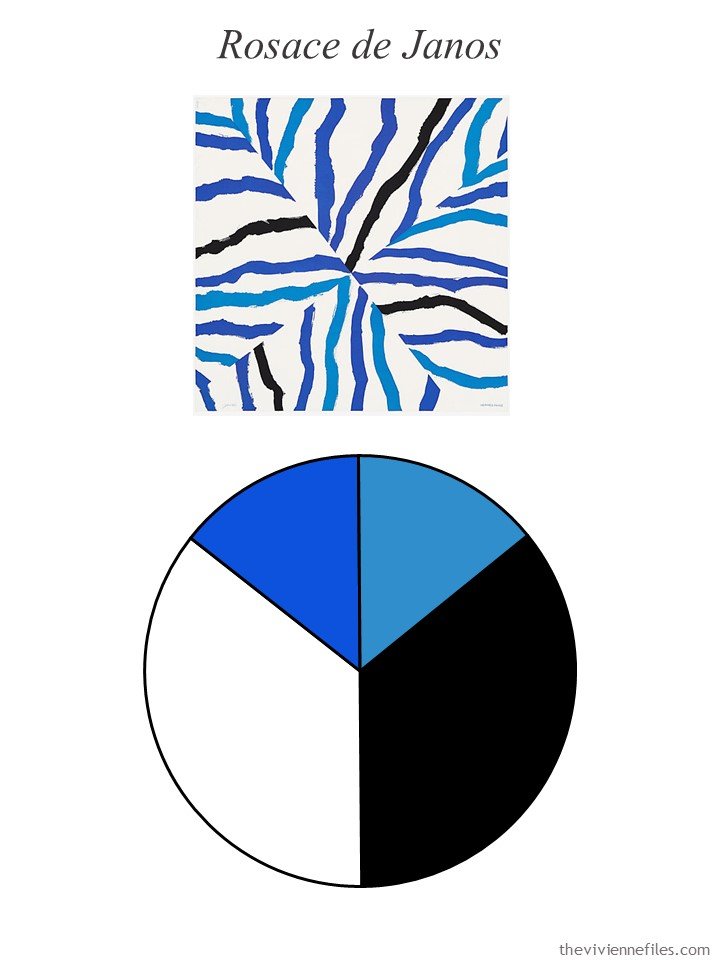 I'm a sucker for a striped sweater; this is perfect for those occasions when you're not sure how dressy things will be!
I'm still loving this one…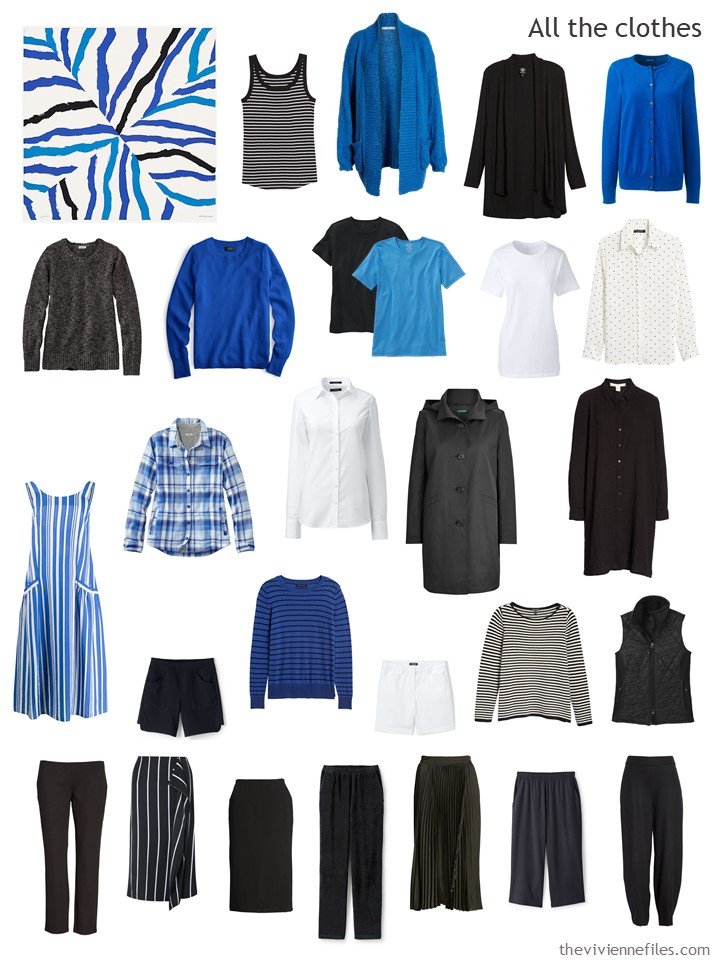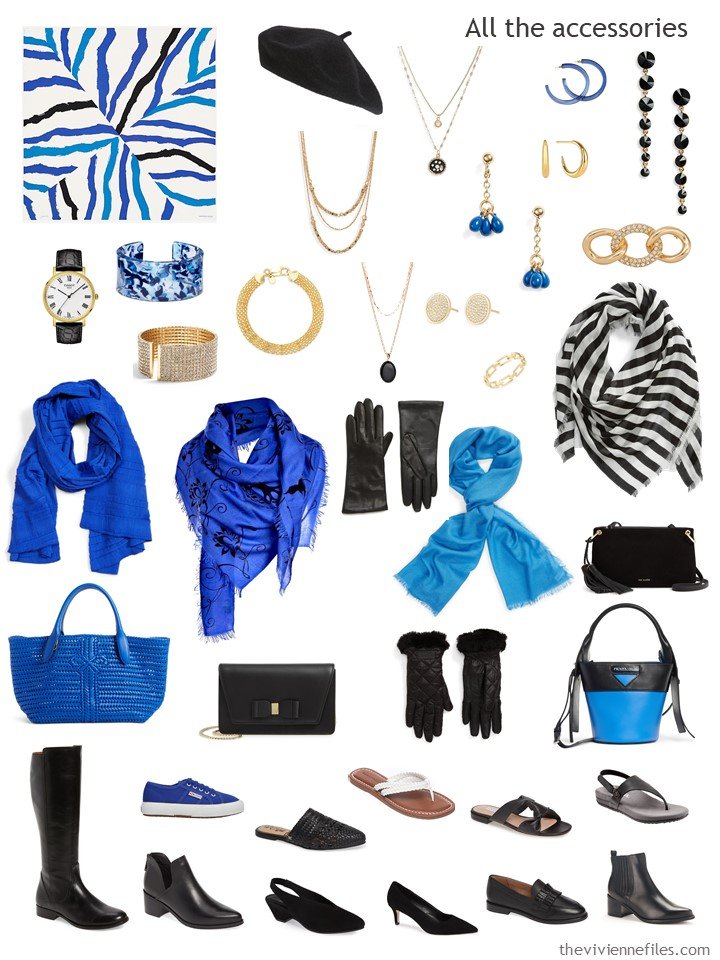 As always, you should be able to find at least a couple of ways to wear new purchases, unless you're buying something for a very special occasion!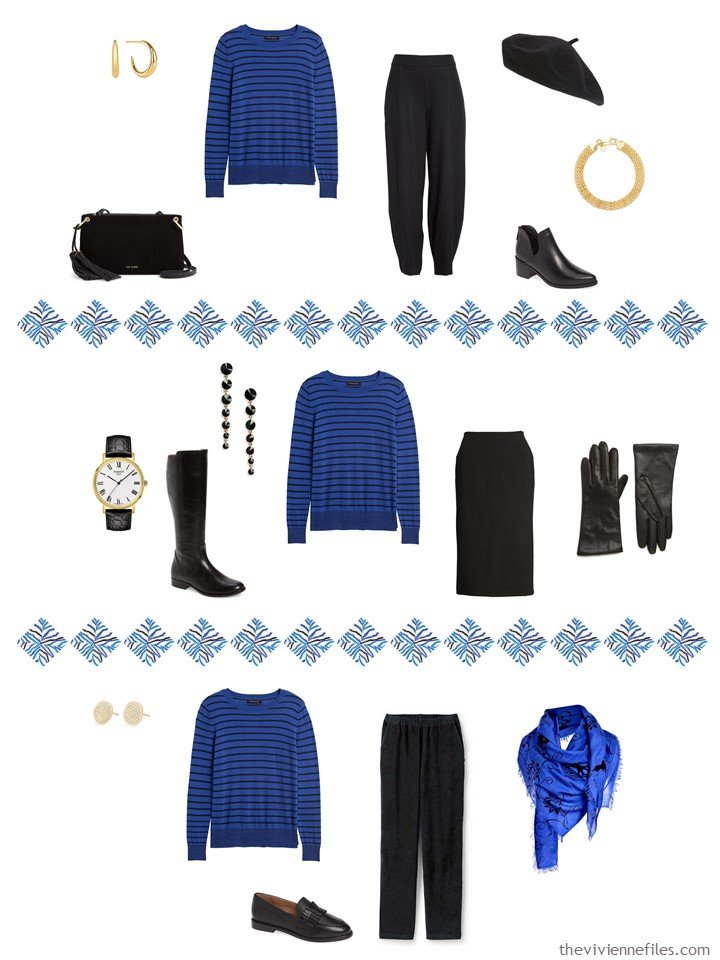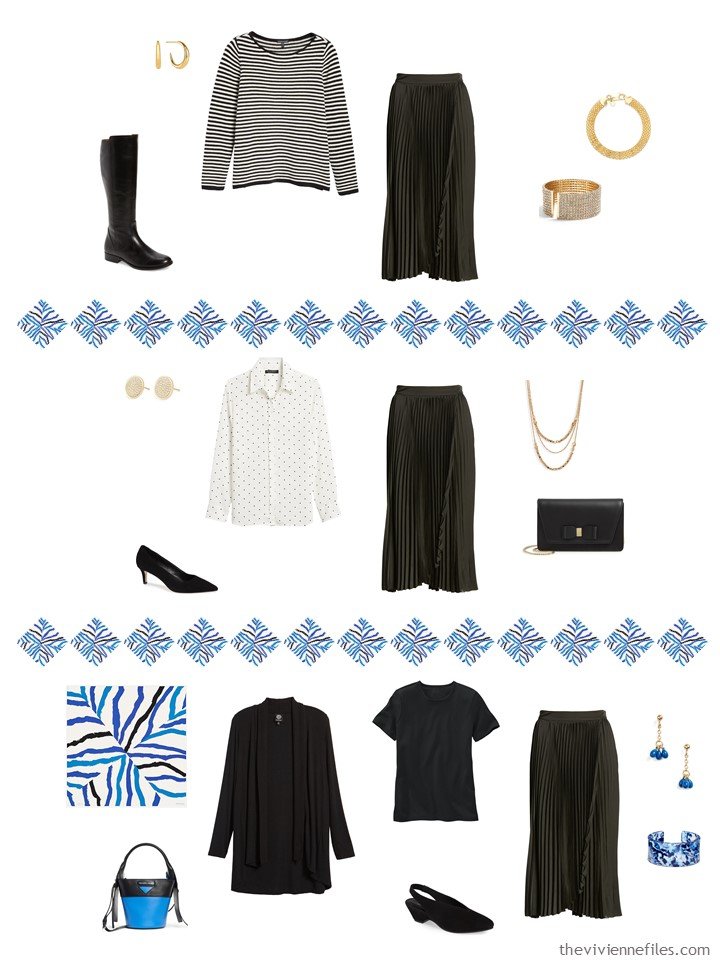 I still love these colors. I have an abiding weakness for purple!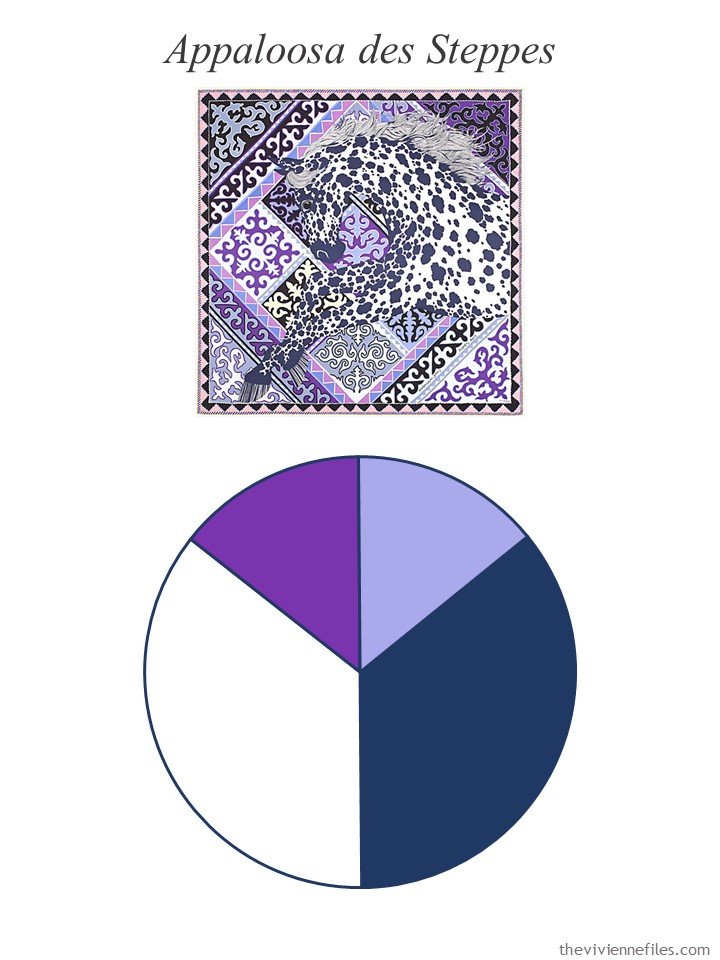 Don't discount the idea of finding a soft, seasonless, pretty skirt for the upcoming festive season. This can be worn all year, in all kinds of different ways!
This came together okay, I think…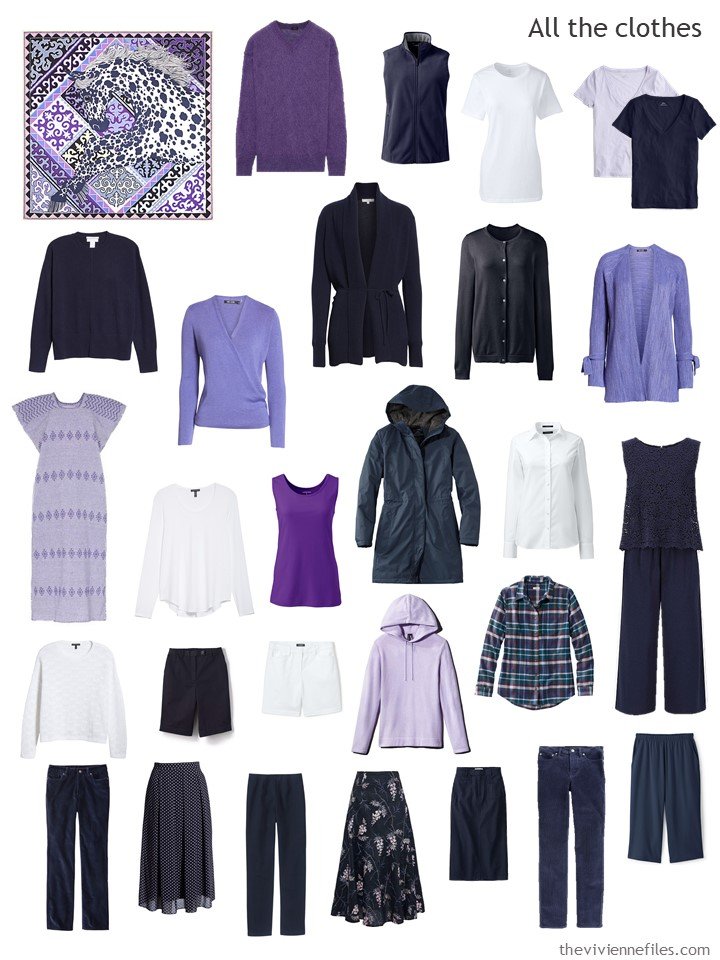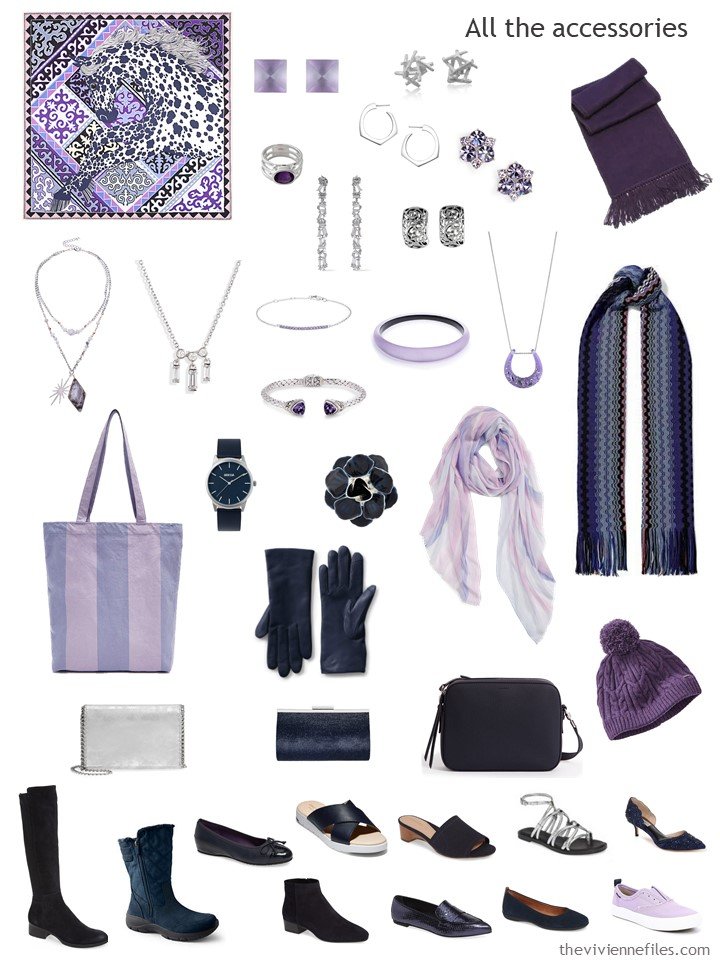 The 2 new garments are nice additions to this wardrobe…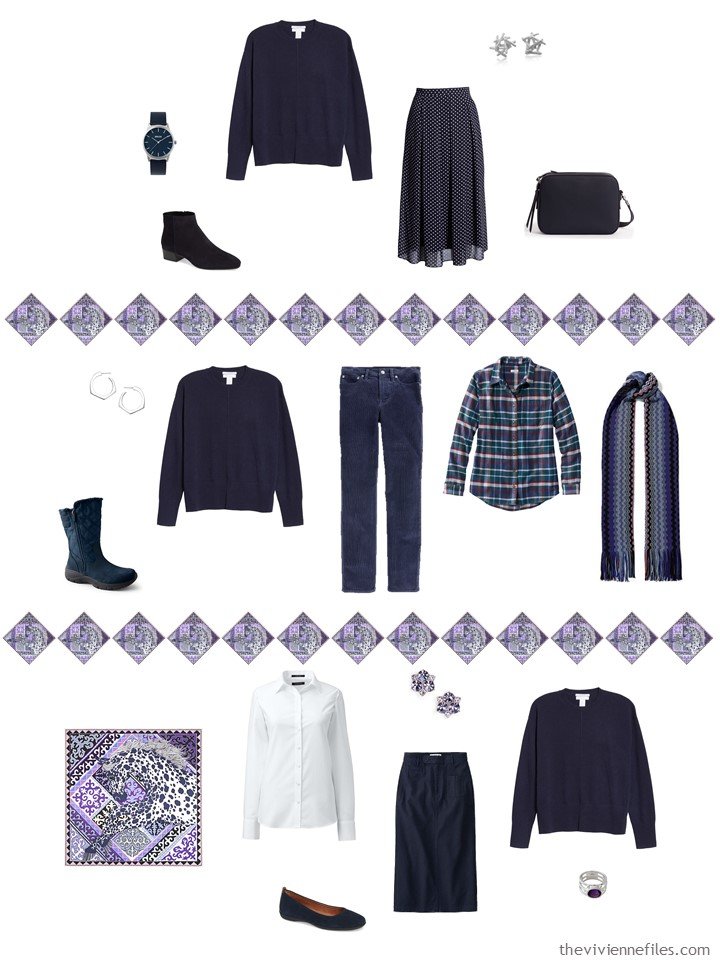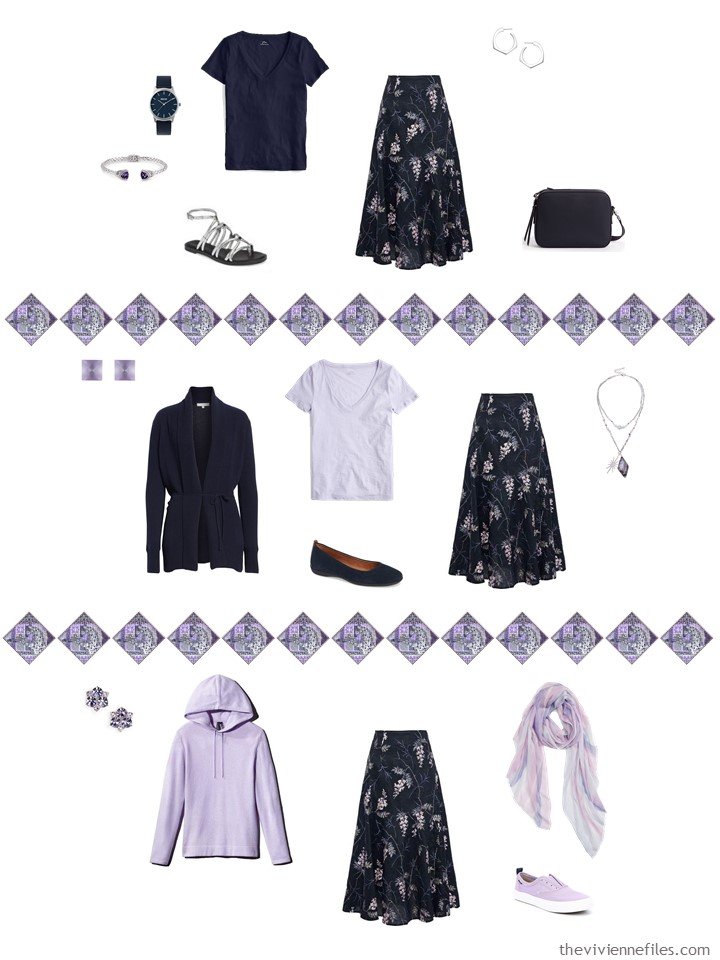 What a wonderful inspiration this scarf has proven to be! If you're the kind of woman who will brave an "off the beaten path" color palette, you could do worse than this!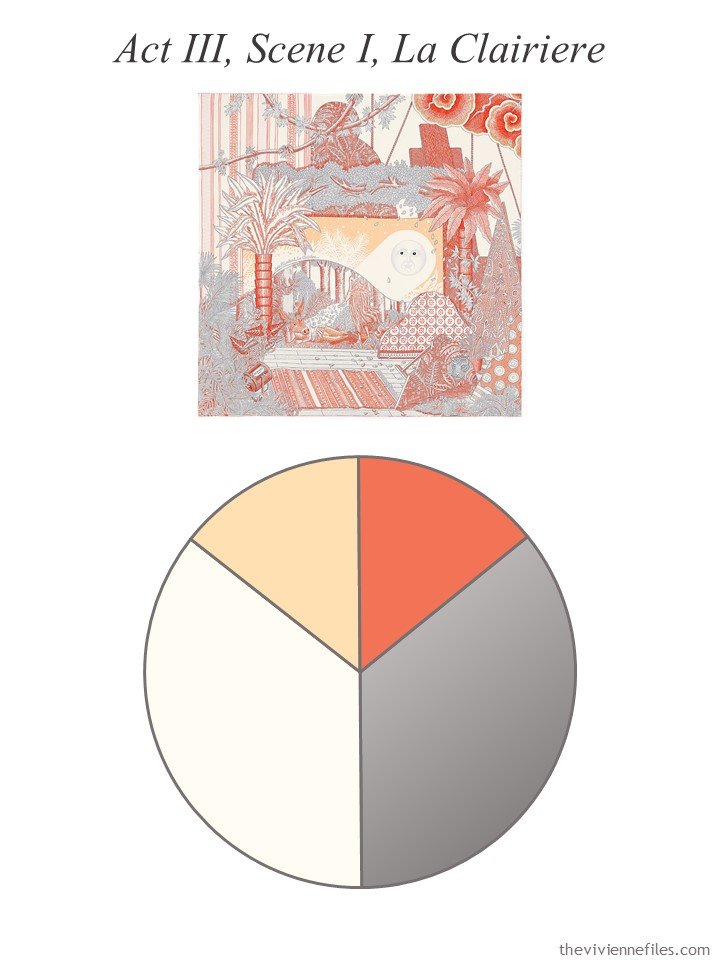 Yes, you can wear "long over long;" I think that the softness of this skirt makes it feel less heavy and visually substantial than if it were wool. Part of it is just your own personal comfort; if you like it, it will work!
This is just plain fun…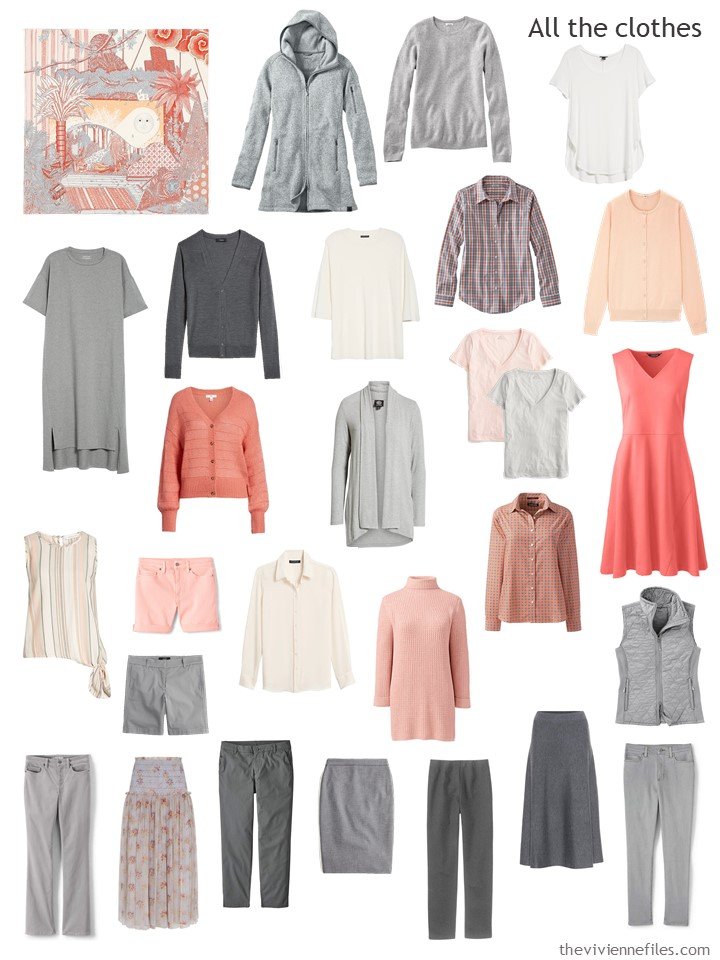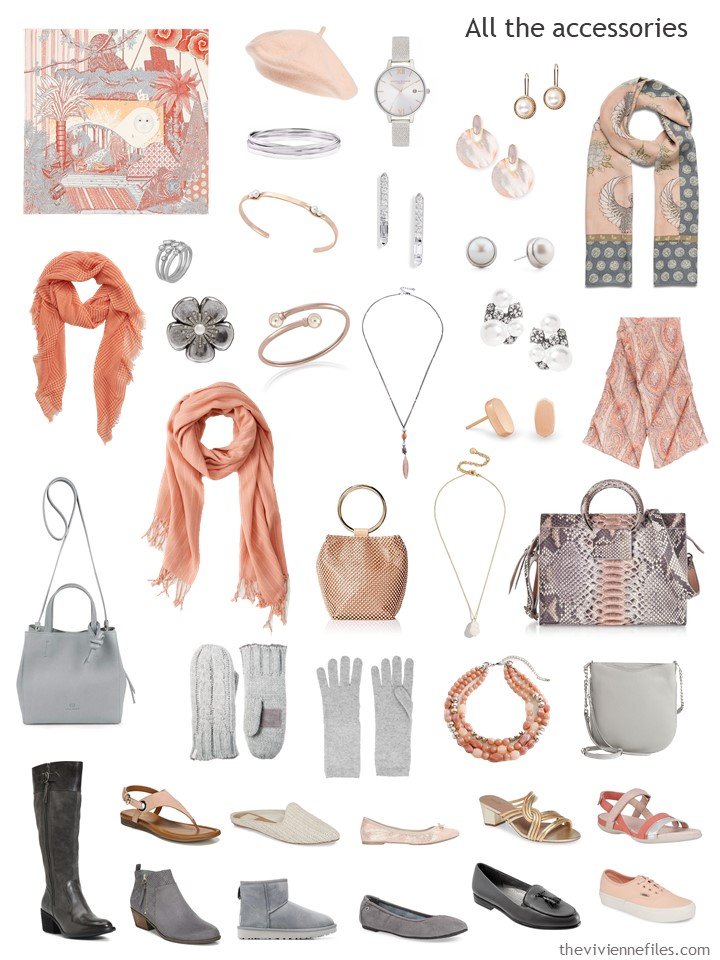 Both the sweater and the skirt blend into this wardrobe easily…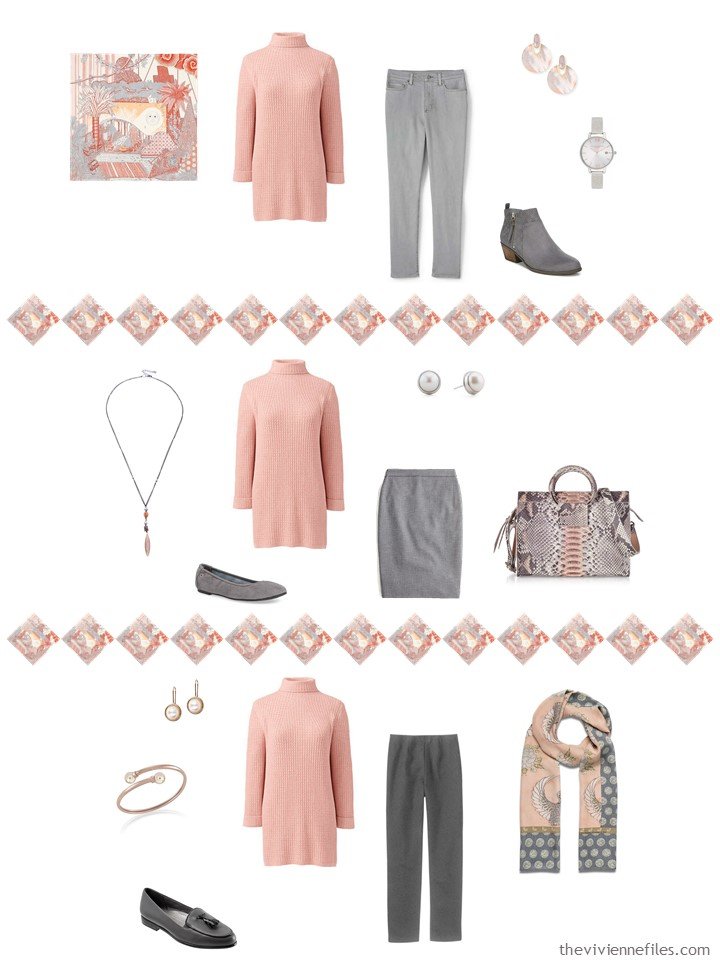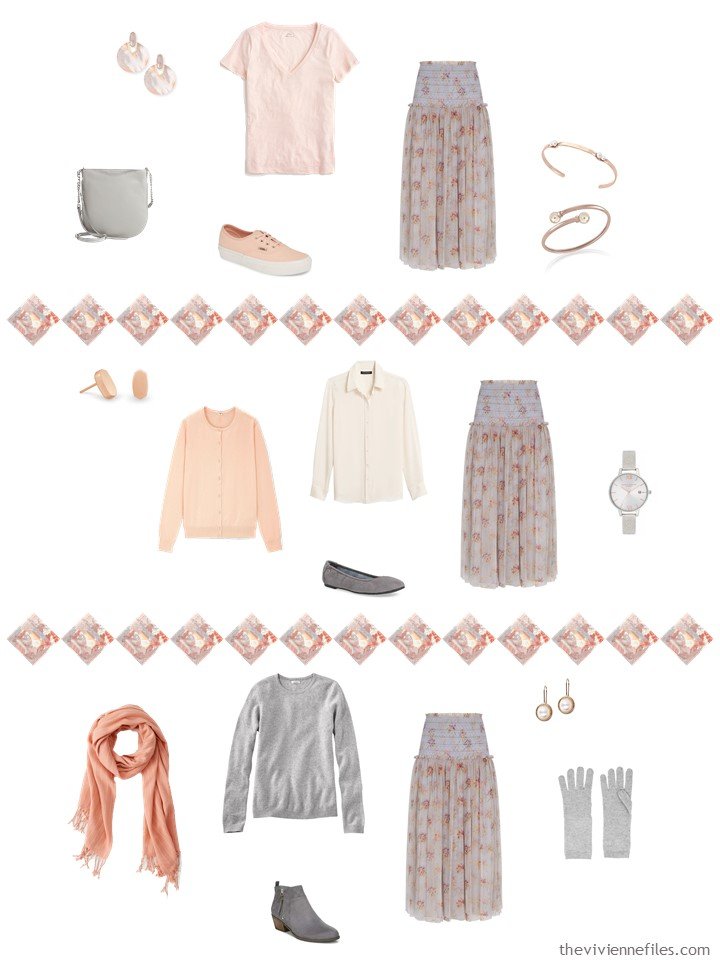 This palette will never grow old…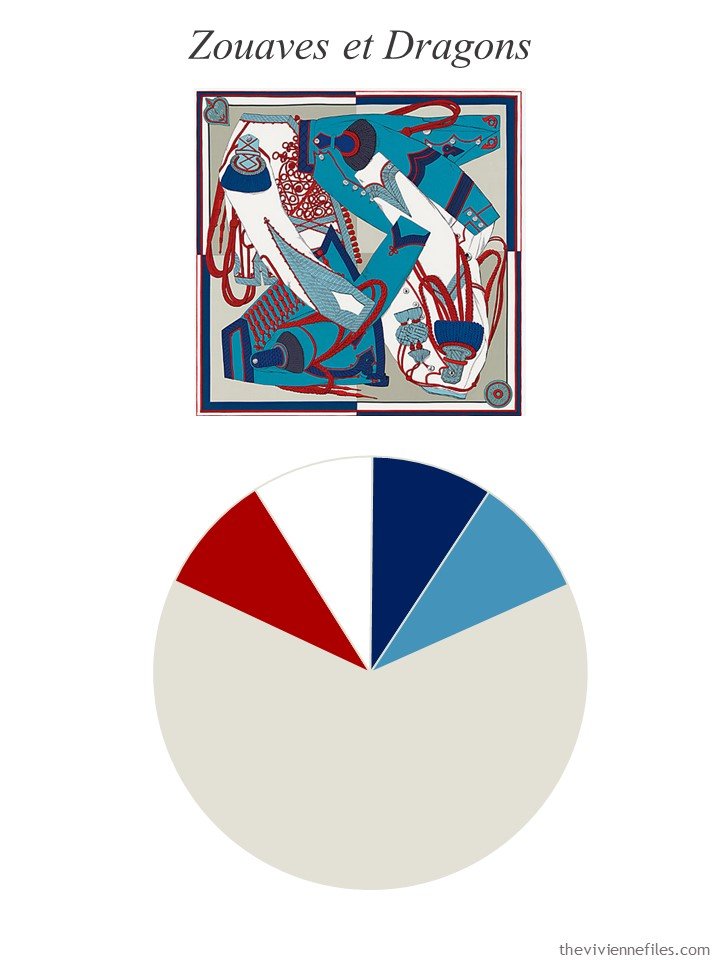 Someone asked me if you could wear both a velvet tunic and velvet pants. Well…. you could wear a velvet jumpsuit, right? A long velvet dress? So long as the tunic doesn't "grab" onto the pants and feel weird, this is perfect fine, and the shoes are just too much fun to resist!
The tunic is a new-ish color here, but still blends in well. And the pants are perfect!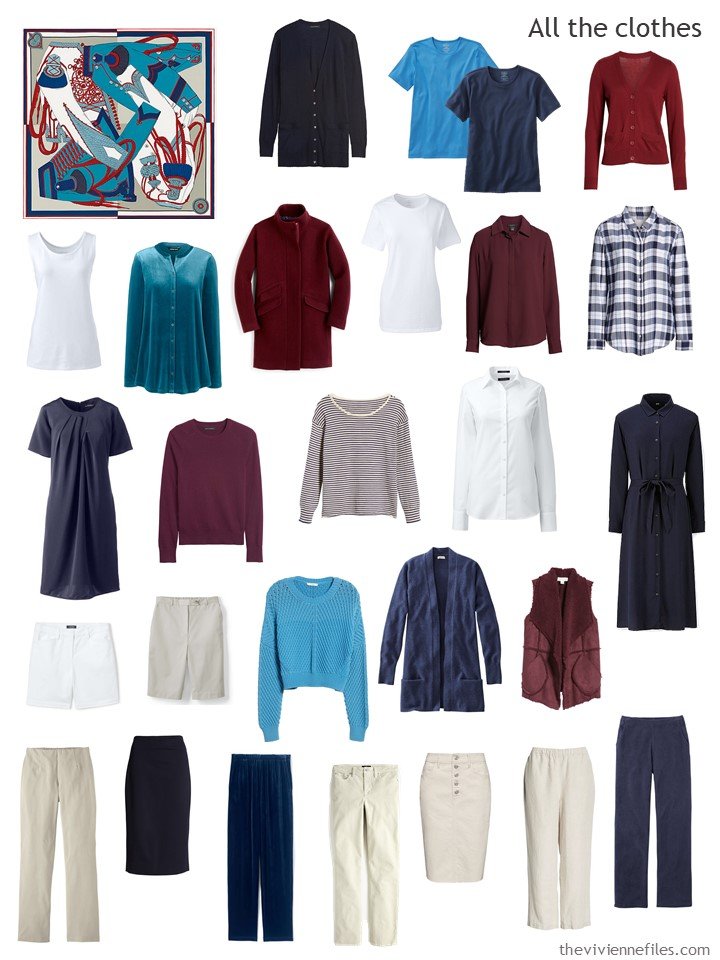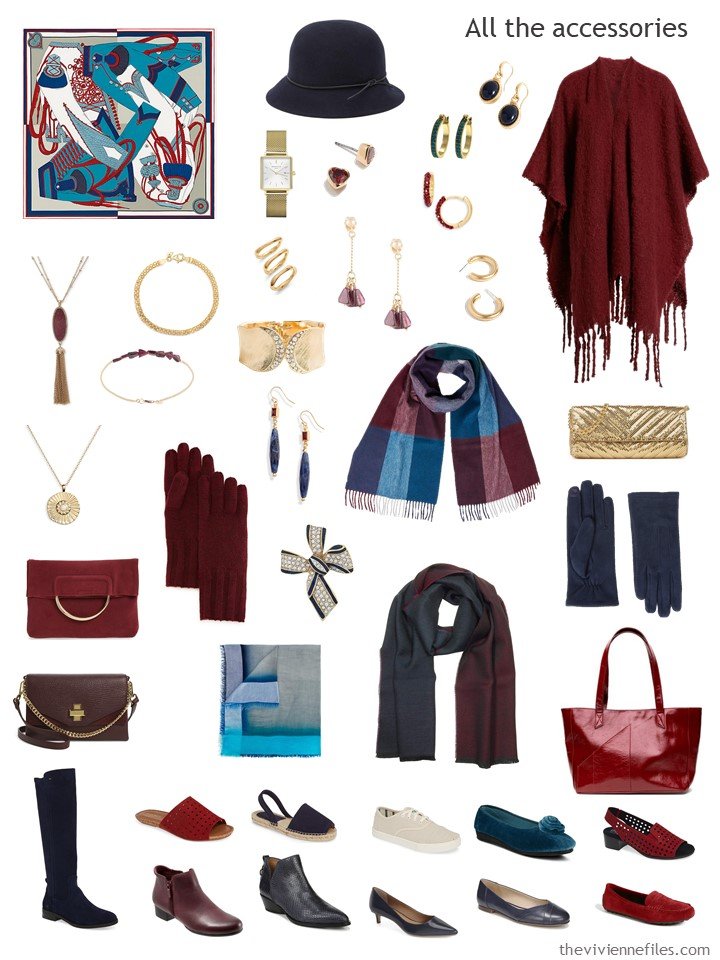 Even though the tunic is a new color, there are plenty of "bottoms" to wear with it. And of course neutral pants will always find a home…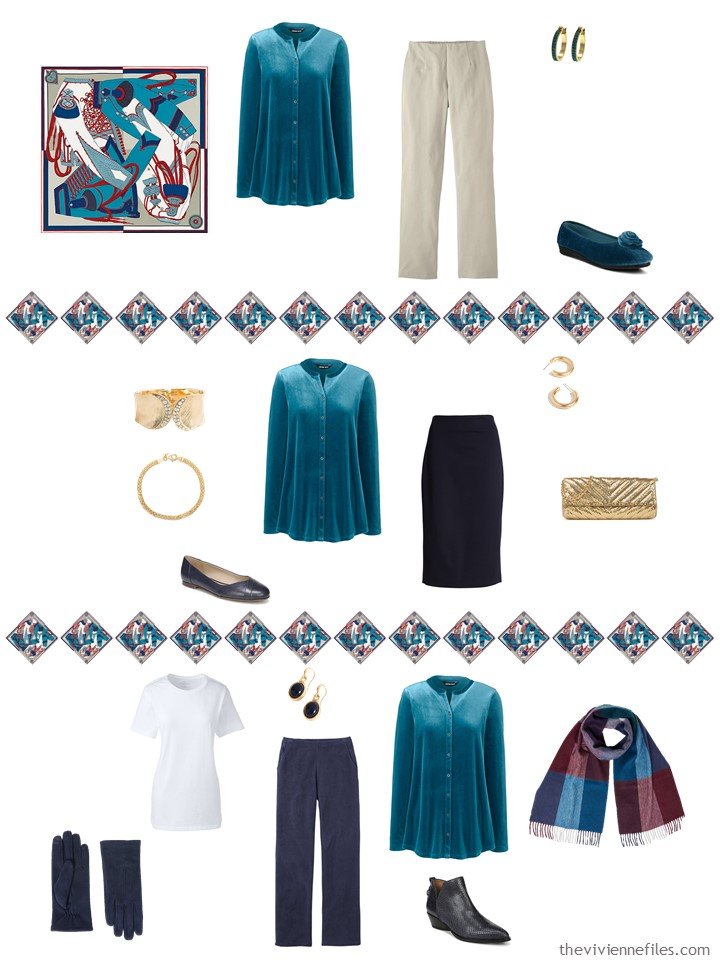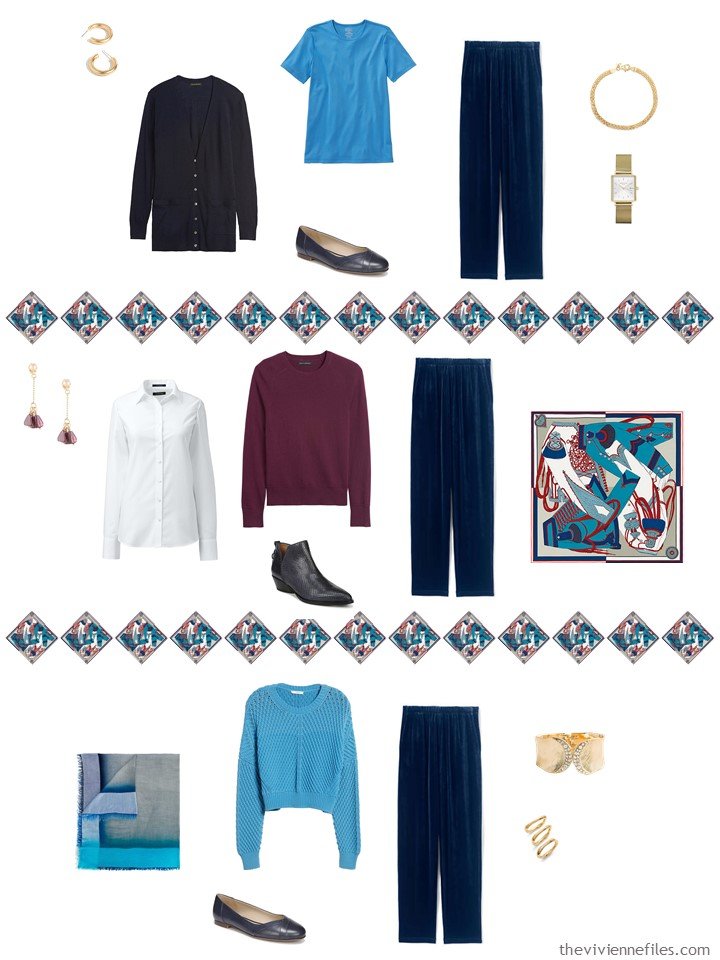 Oh, I have SO MANY things to say about this whole effort! But the scarf is still timelessly lovely.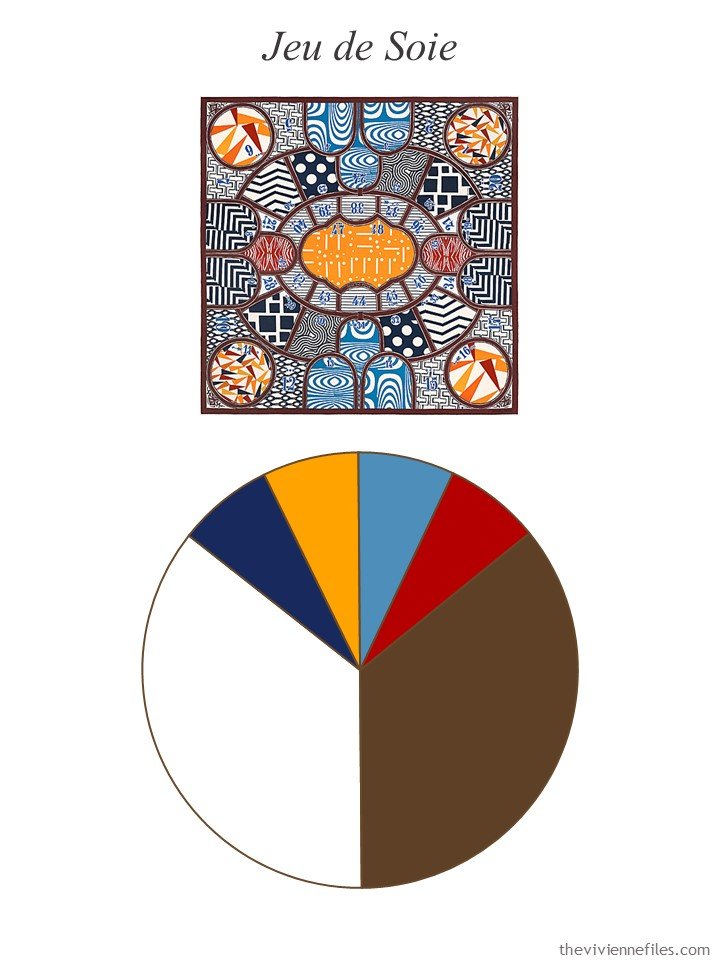 I couldn't resist this skirt, although I suspect it's not the best possible choice. That happens sometimes; wardrobes aren't perfect, and you have to give some room in your mind and heart to indulge yourself with things that you really find appealing!
Hmm….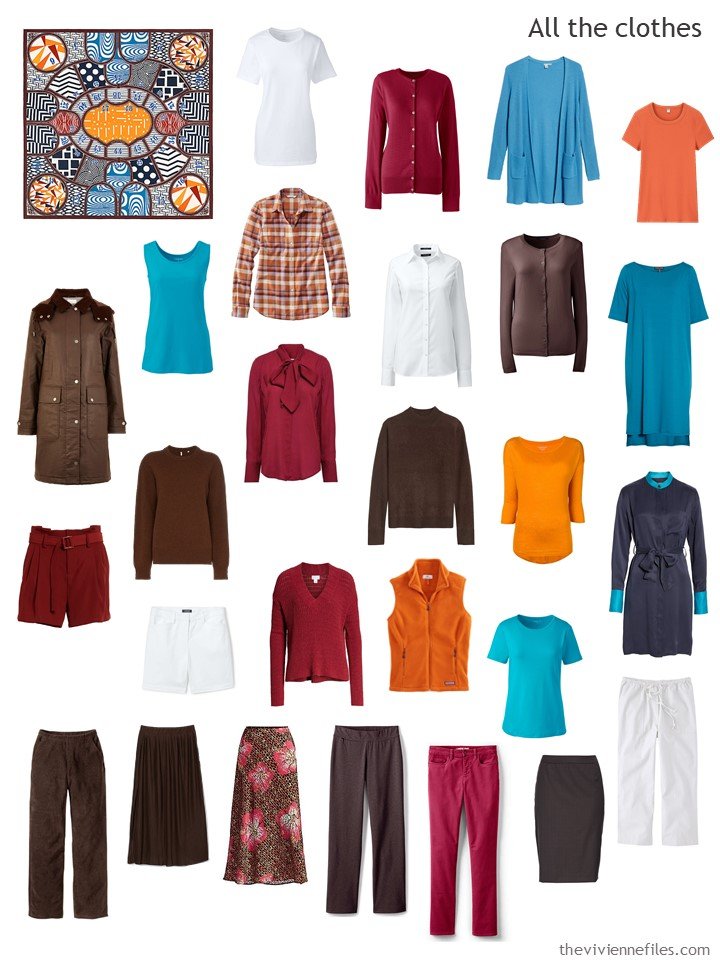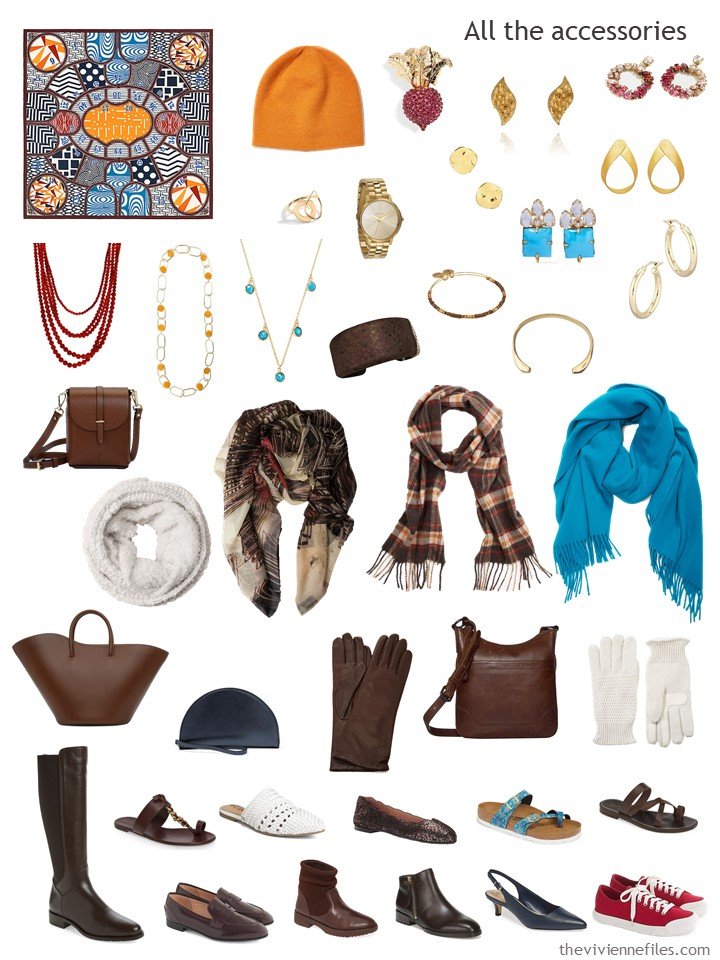 The brown sweater is so easy to integrate; the skirt is a bit more challenging. So be it!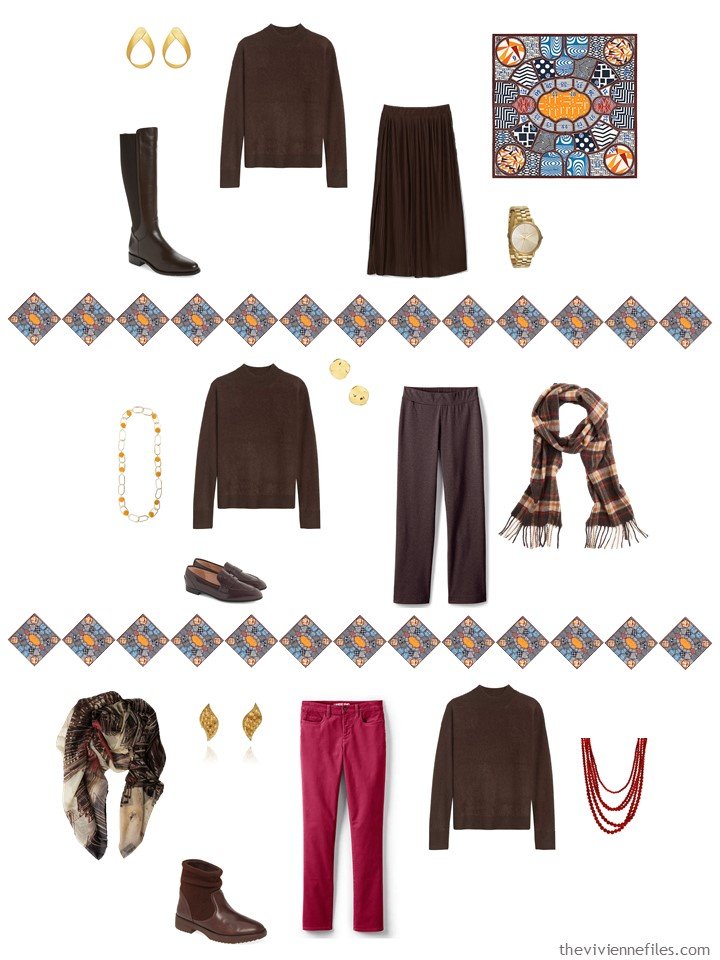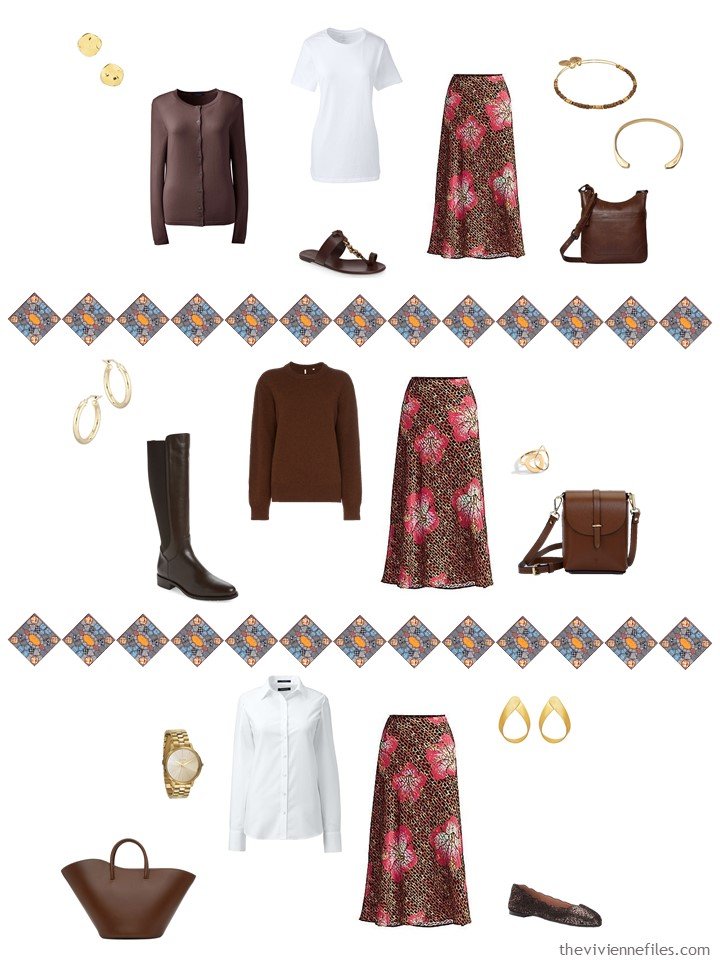 This is another project about which I still have reservations; analyzing this wardrobe will help me learn a thing or two!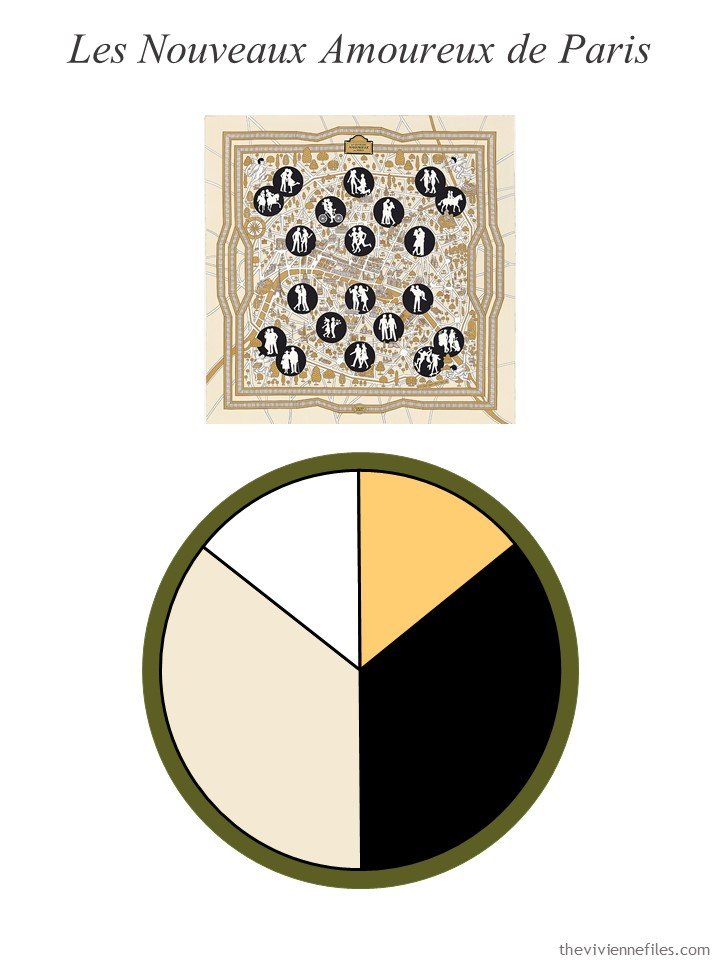 I absolutely can't recommend enough having a button-front velvet tunic! I have one of these from a few years ago (mine has a shirt collar), and I wear it a ton. It's a tunic, it's a jacket, it's amazing!
And silk pants are wonderful – truly something that you can wear almost all year. They don't have to be dressy, just because they're silk…
This wardrobe is very versatile – not perhaps statistically the most versatile possible, but this isn't a math test. No wardrobe will be without at least a few outliers!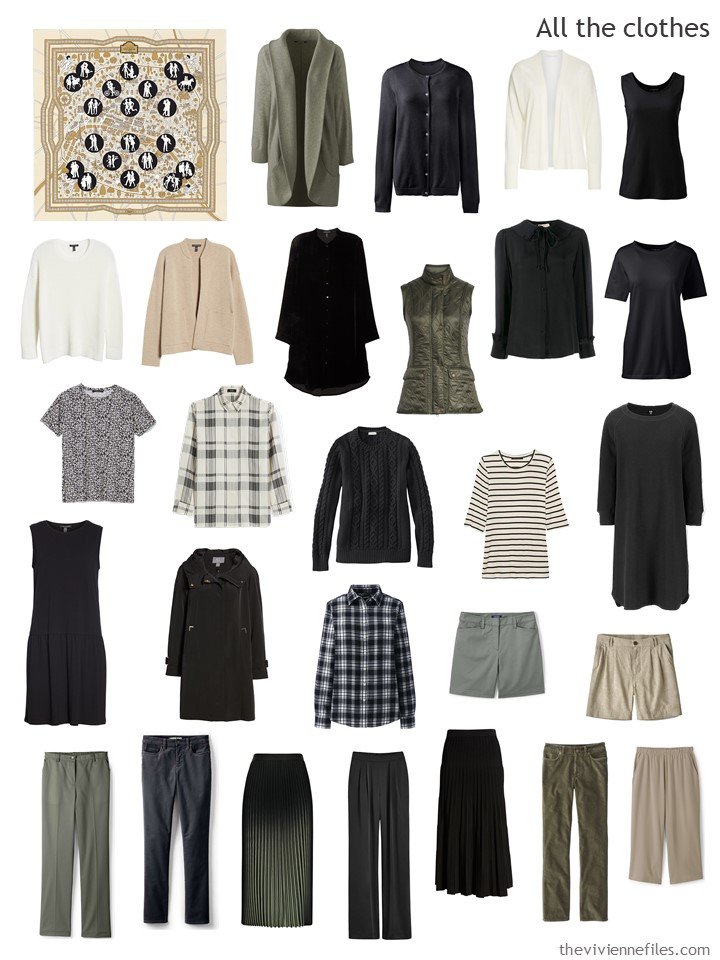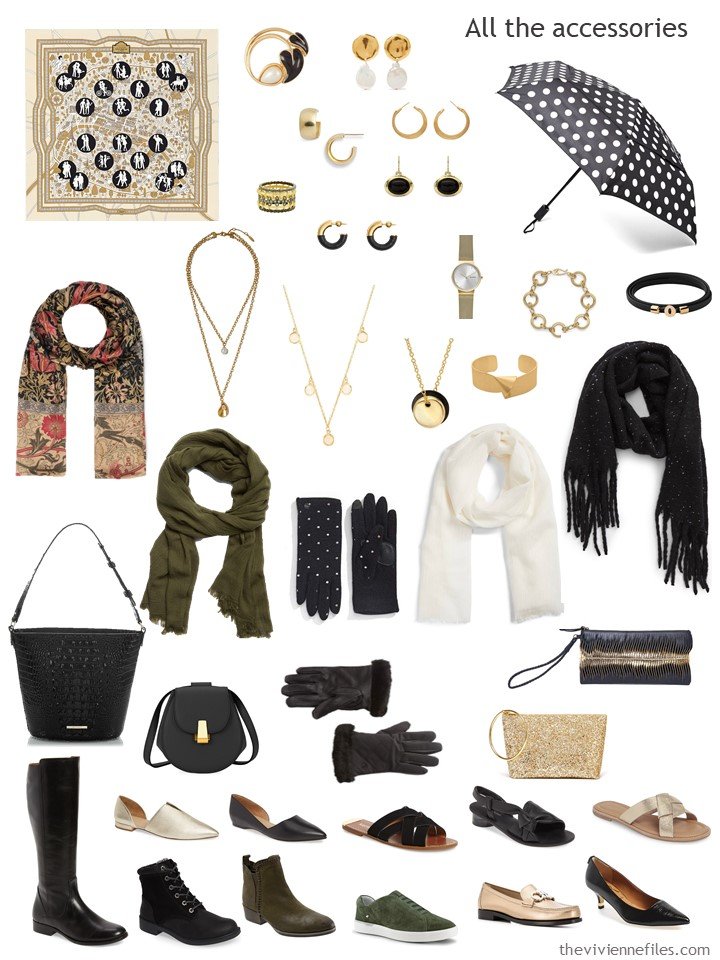 I didn't even include any outfits here using the tunic as a jacket – I could have really gone crazy with that possibility!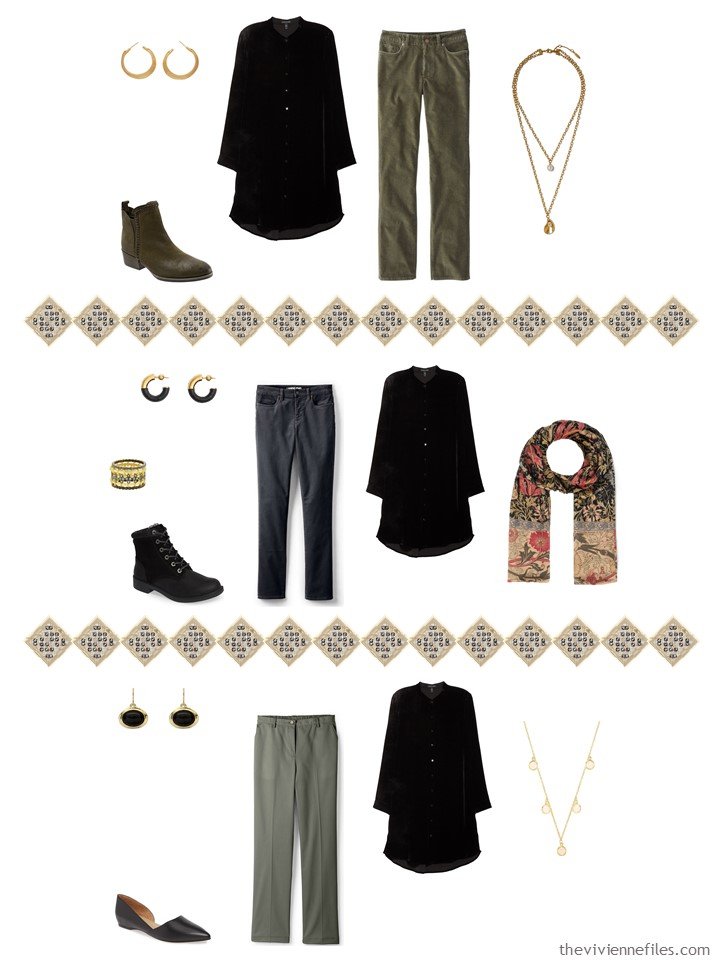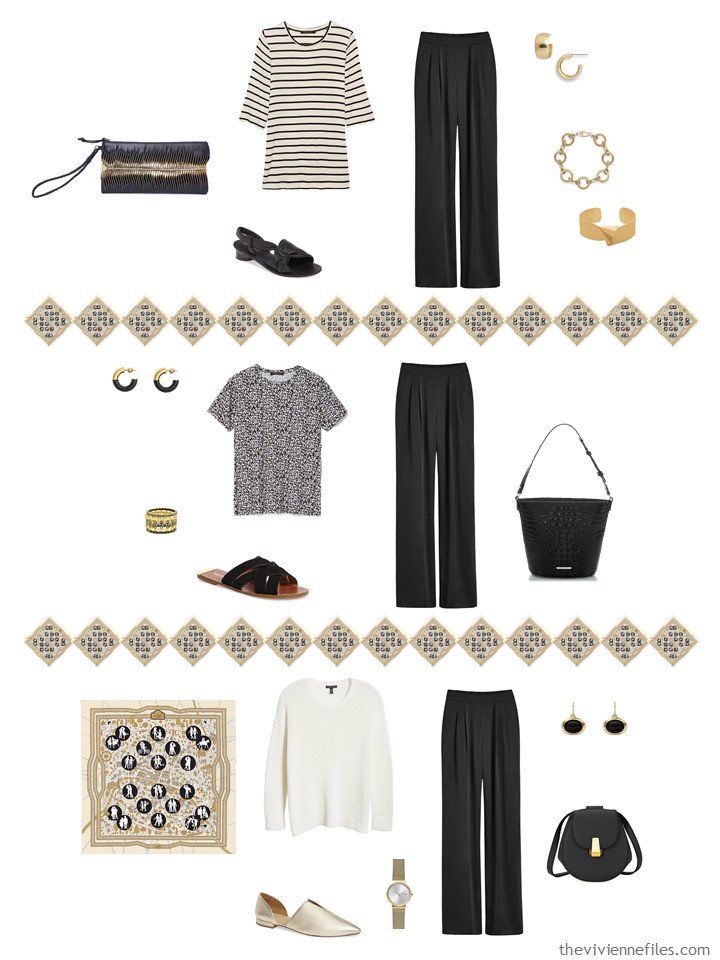 Hmmm… at the end of all of this, I still can't choose a favorite! I own more of the garments from the last wardrobe than any of the others, but since it has black as a neutral, that was to be expected. If I had to travel for the next 6 months with 1 of these wardrobes (and some appropriate undergarments…), I think I might opt for the first. Or the navy, teal and burgundy… If I was blond, I would choose the grey and apricot…
And for you?
love,
Janice
p.s. 3 years ago (well, give or take a day!) I was already evaluating a full capsule wardrobe (brown, beige and orange) based on an Hermes scarf! I used a different evaluation method than I'm going to use this year, so it's worth a look!