December 16, 2019
Yes, it was just about zero degrees Fahrenheit, and I had a job interview. Back in the day when YOU WORE A SKIRT – preferably a suit – to an interview.
Mid-calf wool for the win! The skirt was lined, the tights were wool, the socks were silk, the boots were too dressy to be really warm, but they worked…
So now, for me, it's a staple. On normal winter days, this can be a fun way to be dressy without being "dressy." If you can follow that bit of linguistic gymnastics!
Everybody is going to go about this in their own way, as should always be the case when assembling your wardrobe! But patience is the biggest thing that I can counsel; these skirts aren't easy to find. Unless, of course, you can work with a silk skirt; they're usually abundant this time of year.
Oh, for those lovely tweed skirts from the '80s…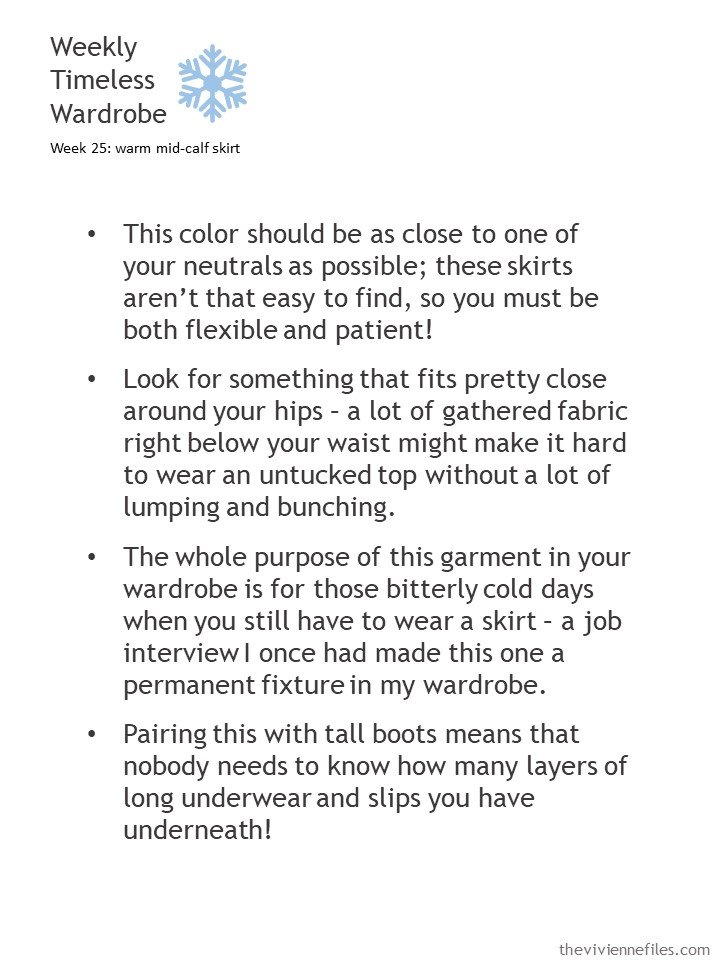 Yes, I've kept the lovely cashmere cardigans from last week, because I feel like it illustrates how this process is cumulative: a turtleneck from a few months ago + last week's cardigan + a new skirt = new, warm outfit!
If you struggle to find brown tights, as I did, I think you could get away with black ones here; it all depends on how long your skirt is, and if any of your leg is revealed when you sit.
Also, finding the exact same brown shade of boots will drive you nuts – the scarf includes the warmer brown of these boots, so it all blends together!
when will we be able to find lots of really nice brown clothes? come on companies!
If you run into a day when grey feels like it won't look good on you, enjoy how much different the turtleneck and skirt look when you pop a peach cardigan on! And that scarf couldn't be lovelier…
Velvet skirts abound this time of year, although there's no law I've ever seen that limits the wearing of velvet to the holiday season! And I enjoy the whimsy of wearing unicorn horn earrings with a unicorn scarf…
On those days when you struggle to get dressed, a simple white (cream, ivory, light grey) shirt can make all the difference!
Here's another case of NOT finding boots in the same color as the skirt. I'm sure they exist, but I'm equally sure that they haven't cropped up in my searching! Hallelujah for that little rust scarf border, eh?
Matchy-matchy stuff isn't always a favorite for me, but if you treat yourself to a lovely cardigan, searching for a matching turtleneck or tee shirt would just be smart. Some days, you don't need to over-think getting dressed!
This wardrobe looks pretty cozy… I could travel for the rest of the winter with this! (who are we kidding, I could travel the rest of the winter with my handbag, if I were to give up blogging…)
Not gonna happen…
Holy handbags! Next week is the last week of the winter wardrobe cycle! I'm going to start the spring additions in January, so for the next 2 weeks at the end of year, I'm going to show some example Weekly Timeless Wardrobes, based on art! Talk about mixing up my themes and inspirations…
love,
Janice
p.s. 3 years ago, I was wistfully looking back at a recent trip to Paris… I'm going in January with Belovedest, so you will get an update on what Parisiennes do in the dead of winter!