December 13, 2019
Let's jump in and see the good, the bad, and the just plain misjudged from this year's wardrobes!
First up – I'm really happy that I chose this scarf. The color palette is delectable, and the clothes were reasonably easy to find. When tied, this scarf would probably look really interesting. All in all, I'm giving myself a pat on the back for this choice!
2 concerns from the first 4 months:
multiple shades of blue aren't the best possible option – for example, the February scarf can't be worn with the January, nor the March sweaters. It's not a huge issue, but if you're really working toward the smallest possible wardrobe, looking for a consistent accent color in the early stages would be helpful.
That February handbag is SO GREAT. It's also the only bag this heroine has, so far. Maybe I could have started with something a bit more versatile.
SO! First lessons:
Decide how much you want everything to match among your accent colors, and
Don't go nuts with fun accessories until you have a solid core of the essentials.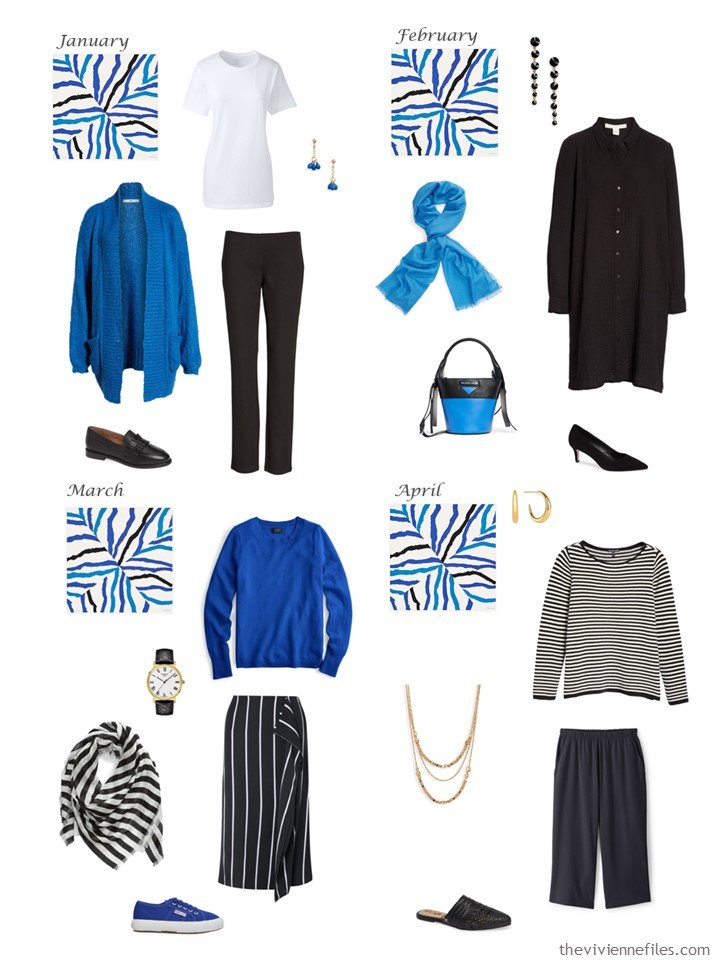 The outfit for June is great, but also nuts! This is NOT the most versatile dress possible; maybe you don't need a versatile dress? And your only tote bag shouldn't be bright blue, unless you're completely comfortable with that!
Lessons?
Choose a color for your leather goods (and bags that might be made of something else) and be faithful to that color until your core wardrobe of accessories is solid, and
If you're not going to have a lot of dresses in your wardrobe, buy a neutral, versatile dress. UNLESS you have whappage for something that's off the beaten track; if you'll wear it to pieces for months, indulge.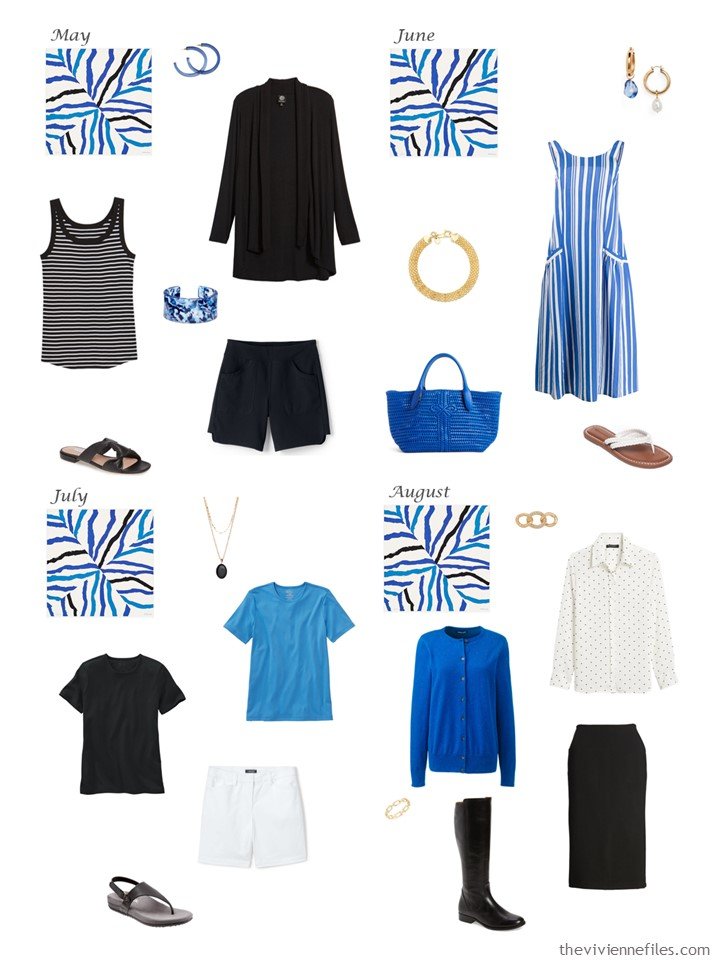 The only thing I would reconsider from these 4 months is September's flannel shirt – I hadn't realized at the time that it's fleece lined! This shirt would be wonderfully warm, but isn't something that you can layer under a sweater. Reading the fine print when buying something online is always good…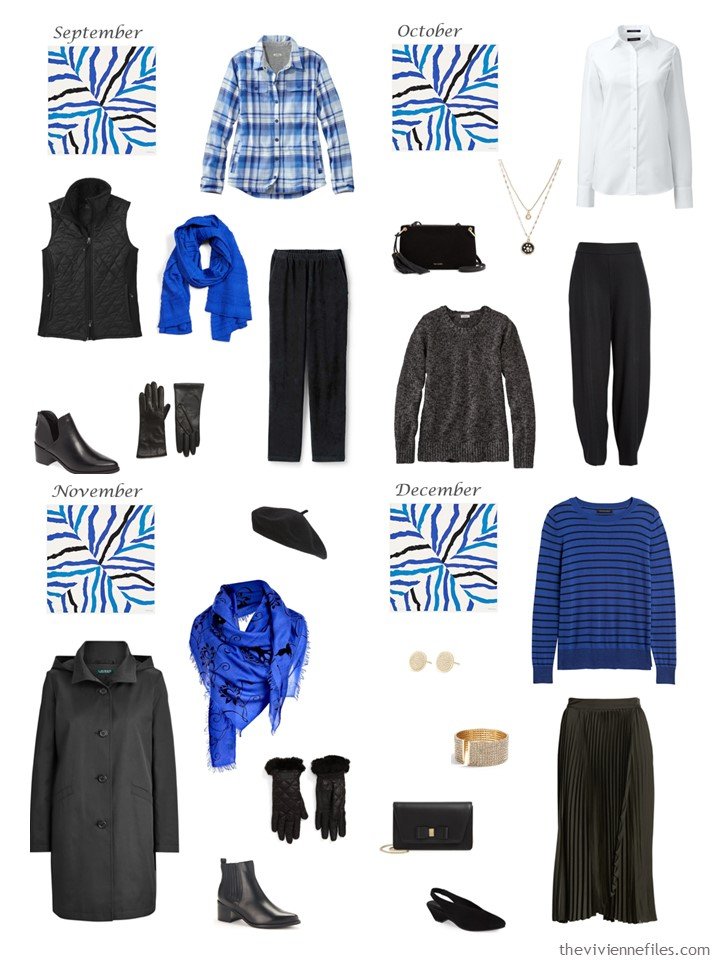 Overall, I think this looks great! The varying shades of blue are echoed in the scarf, but unless you'd be willing to wear aqua and cobalt together, it's still a "versatility-limiting" choice.
That said, no wardrobe has to be 100% perfectly versatile! This isn't a science project – it's real life, and sometimes you'll have clothes that clash. There ARE NO fashion police…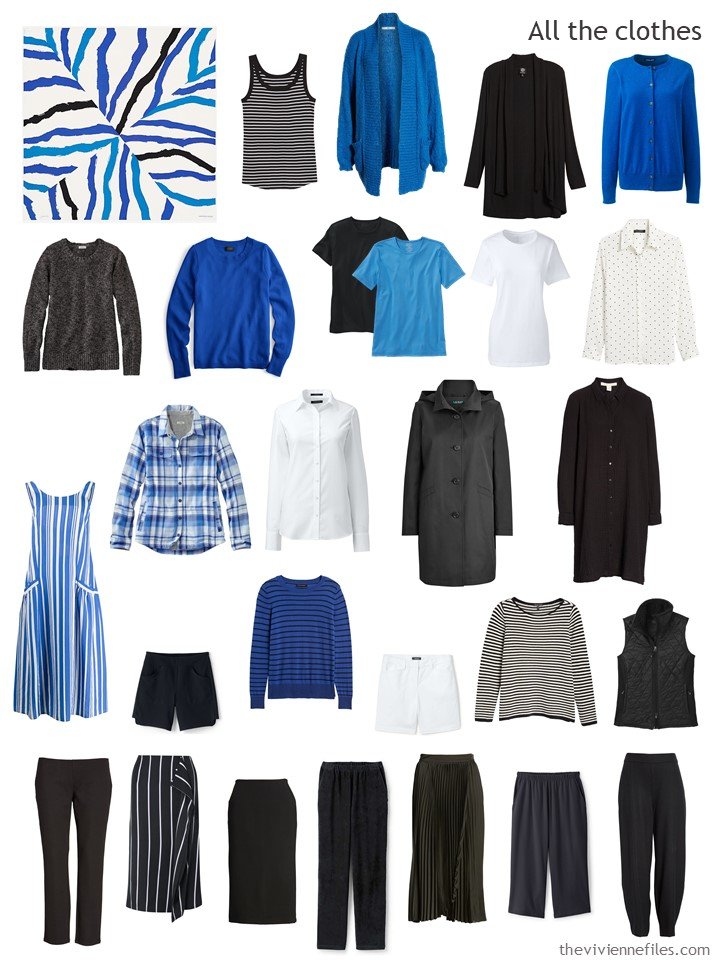 When you assemble a wardrobe outfit-by-outfit, it's almost impossible to end up with a bad ration of garments! Unlike those of us who tend to buy lots of sweaters, and never have enough pairs of pants…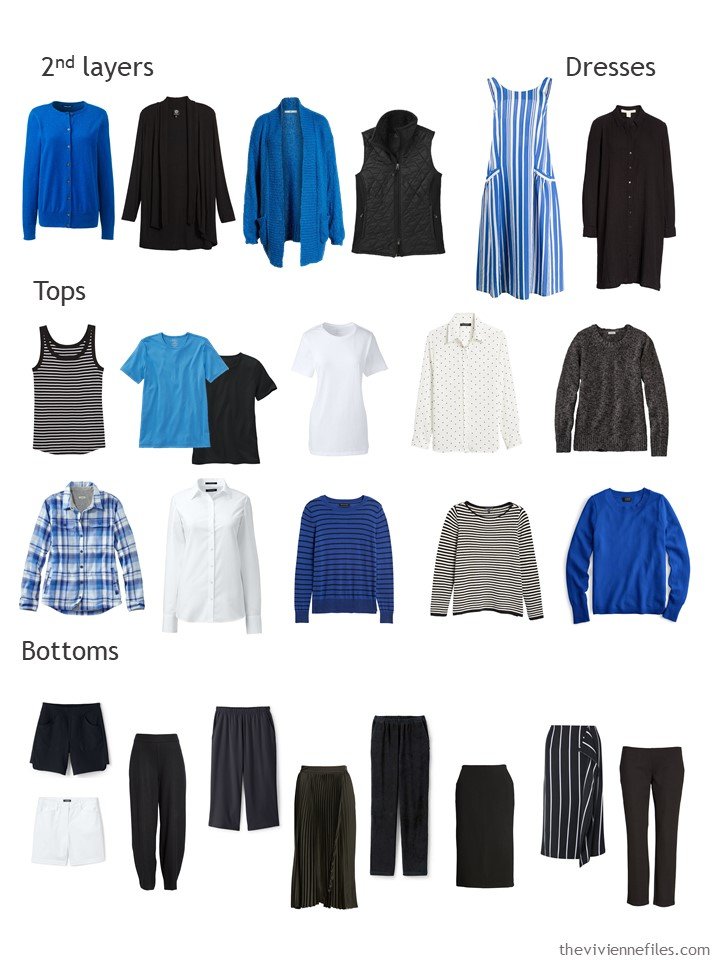 Why these 5 pieces?
This heroine's only black cardigan is summer-weight, and doesn't fasten. This cashmere cardigan covers her – literally – on both of those bases;
The hoodie? I think most of us can have one of these hanging near the front door and pull it on pretty often; I know literally ONE woman who would never wear one! Plus it's a nice dash of cobalt to accent black and white outfits!
This heroine had no jeans! Have to fix that, right?
The white turtleneck came to mind because it's bitterly cold here right now, and I was offering it to our heroine to layer under sweaters. A warm neck is nice!
The black dress solves that "the only summer dress I have is STRIPED!" question. With something over it, this is a 12 month dress, perfect for anything serious, or fun, depending on accessories.
I love ALL OF THIS. I would run for the hills with this stash and be happy as a clam… (clams in the hills – what a mixed metaphor THAT is…)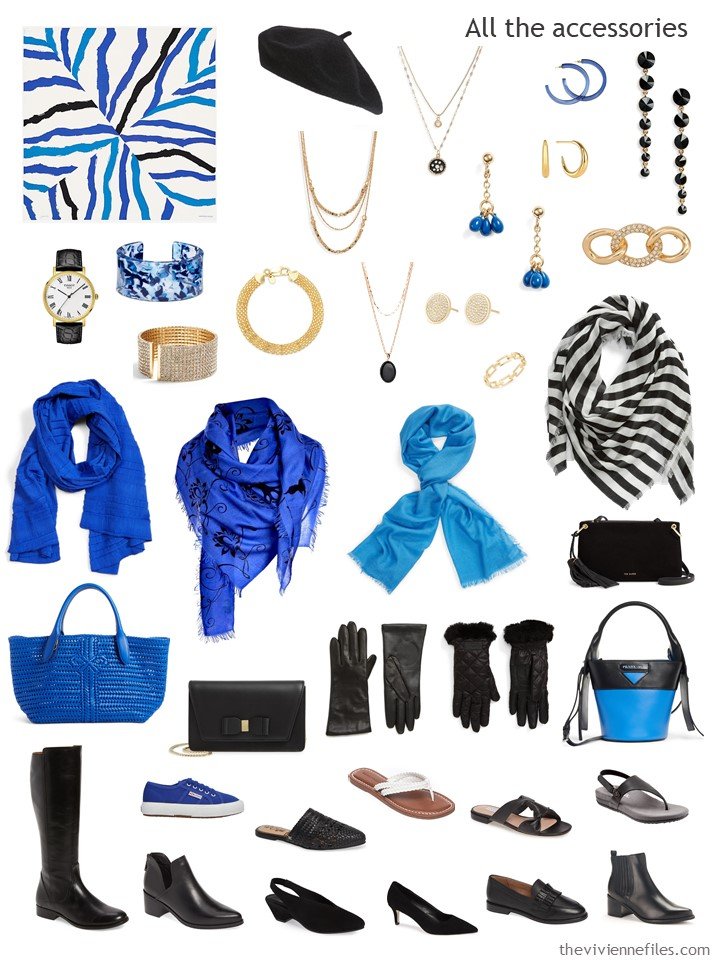 That said, I have ideas…
A warm headband, for those days when a beret is just TOO much. Plus, the beret doesn't cover your ears…
Simple stud earrings; the only pair that our heroine currently has have rhinestones. Maybe something a touch more timeless and relaxed is in order.
Sunglasses! EVERYBODY needs sunglasses. It's as much self-care as fashion.
A neutral tote bag. You might think that you're not a tote-bag person, but for those days when you have to carry books, or lunch, or a pair of shoes, this looks so much nicer than a grocery bag.
ACCENT SOCKS. Don't buy painfully cheap ones, but do keep your eyes open for them. They're a small, cheerful indulgence…
Adding in 5 new garments to this wardrobe really ramps up our heroine's options – everything from the strictest office to a relaxed day with family.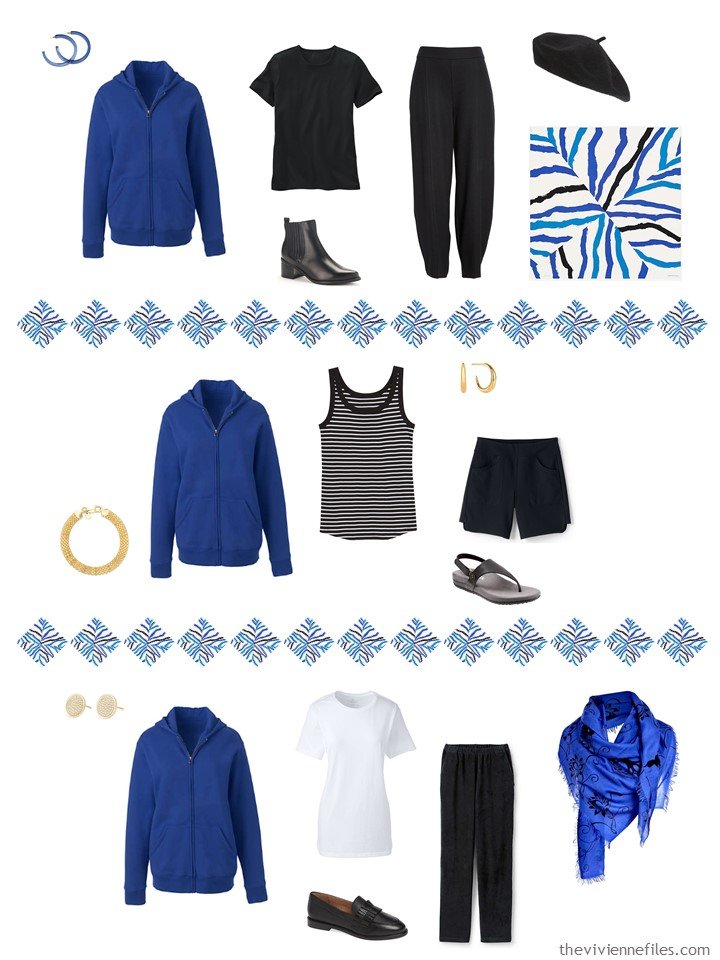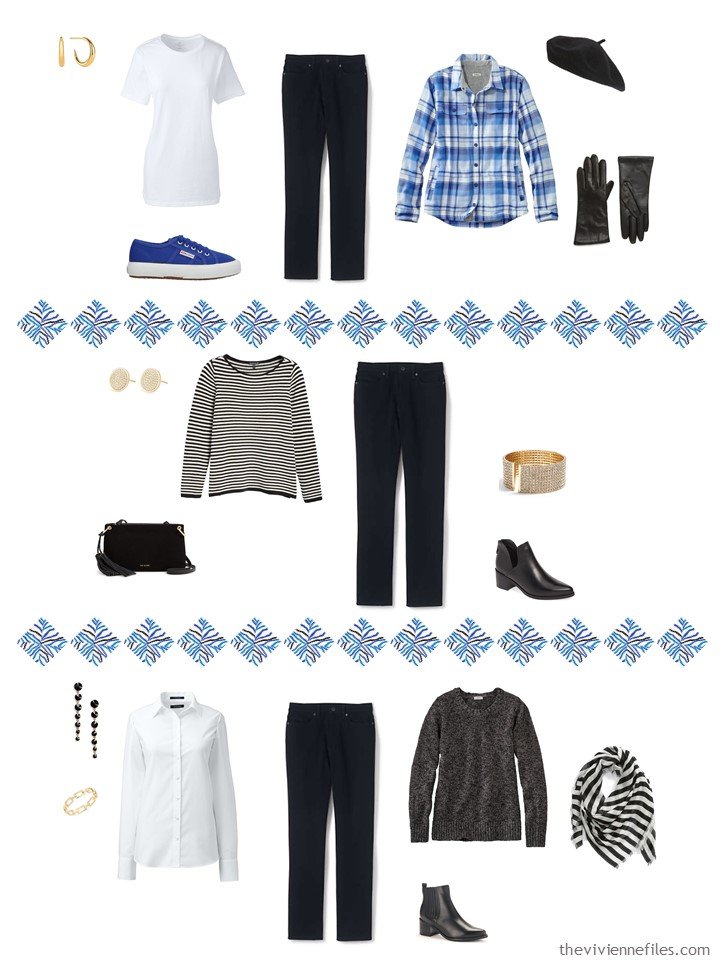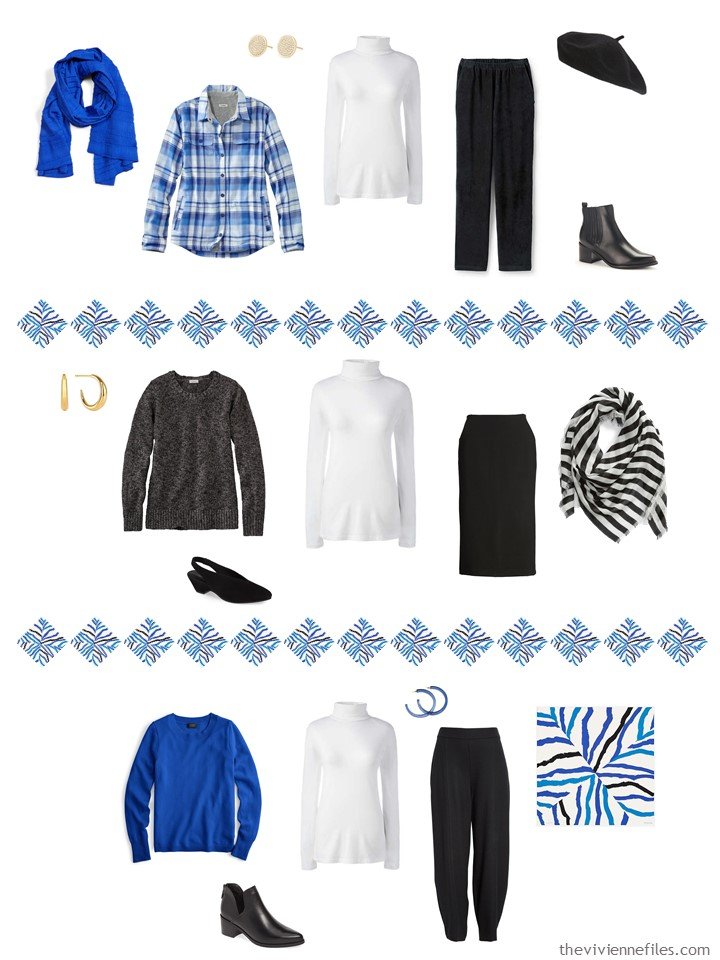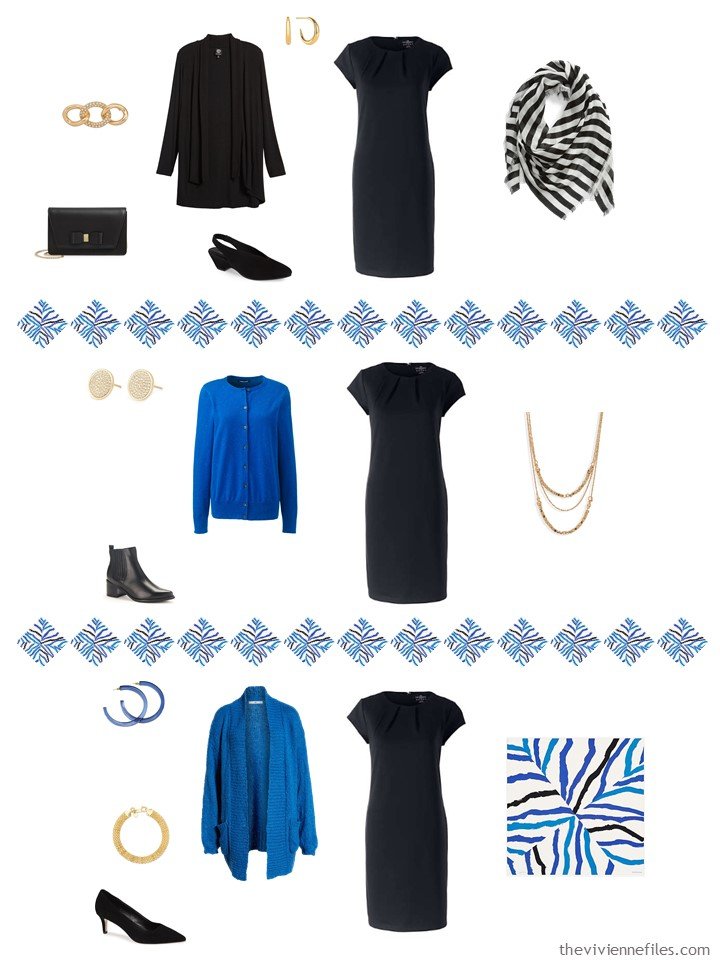 Ahhh…. This lovely scarf. I am really happy with this choice too!
I do want to take time to thank everybody who participated in the discussion about if this scarf culturally appropriated tribal motifs. It's a fine line to walk, and I am happy that we could all discuss the subject without rancor and bitterness.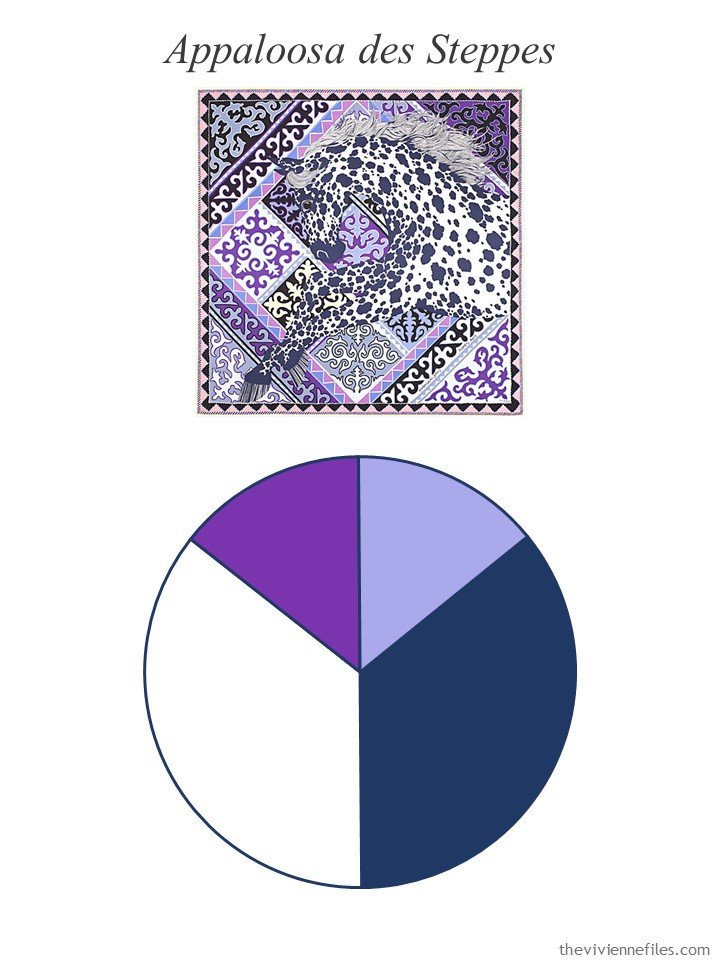 WHAT COLORS! I love these…
Big big big lesson here –
Don't buy a jumpsuit, no matter HOW cool, unless you're prepared to wear it often. This one worked out well, but it could have been a different story with a different garment.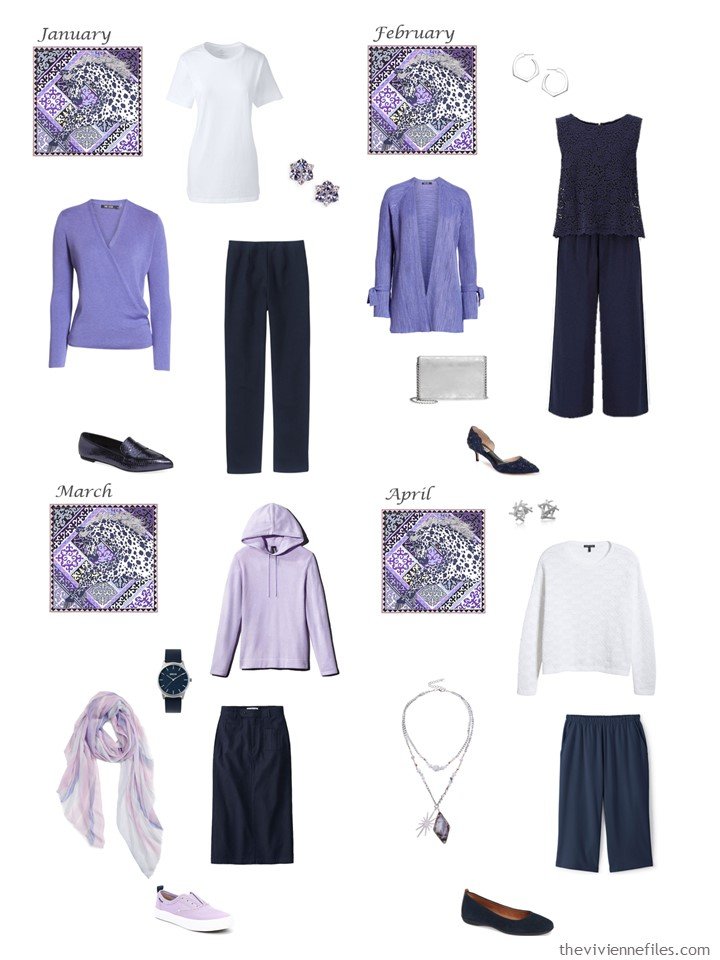 Here again, I went a little bit crazy in June! Both the dress and the tote are delectable, but far from versatile… If that's your choice, run with it, but if you're really trying to limit purchases and wear what you buy as much as possible, a more simple navy dress (and bag!) would have been a better choice.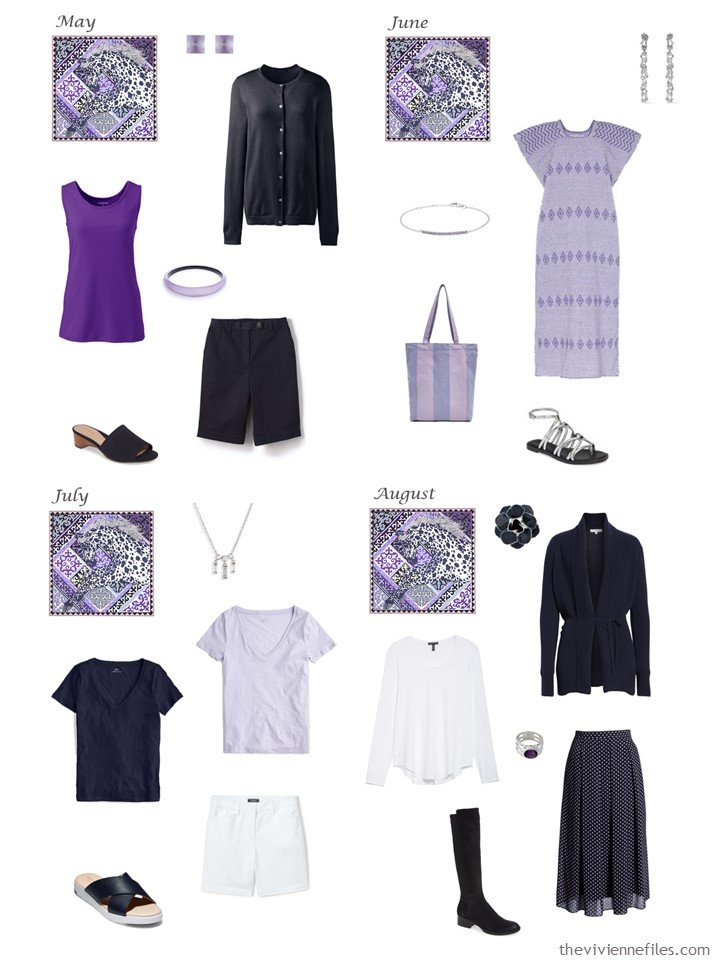 I can't believe it. I don't think I would change a thing here!
I haven't worn navy since the '80s, but I could grab a suitcase with this in it (okay, a really big suitcase!) and travel for a long, long time…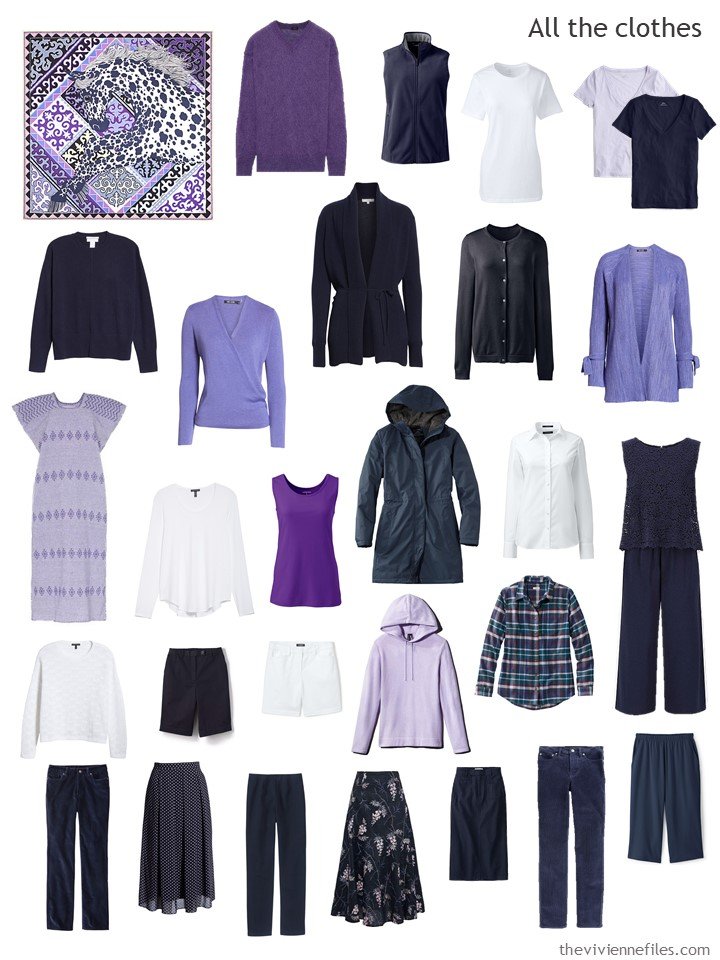 Here's where that jumpsuit feels odd; this heroine just simply doesn't have a simple dress to wear for memorial services, meetings with her attorney, etc. Some women would be fine without – you have to decide what you need for your own mental and physical comfort, and plan accordingly!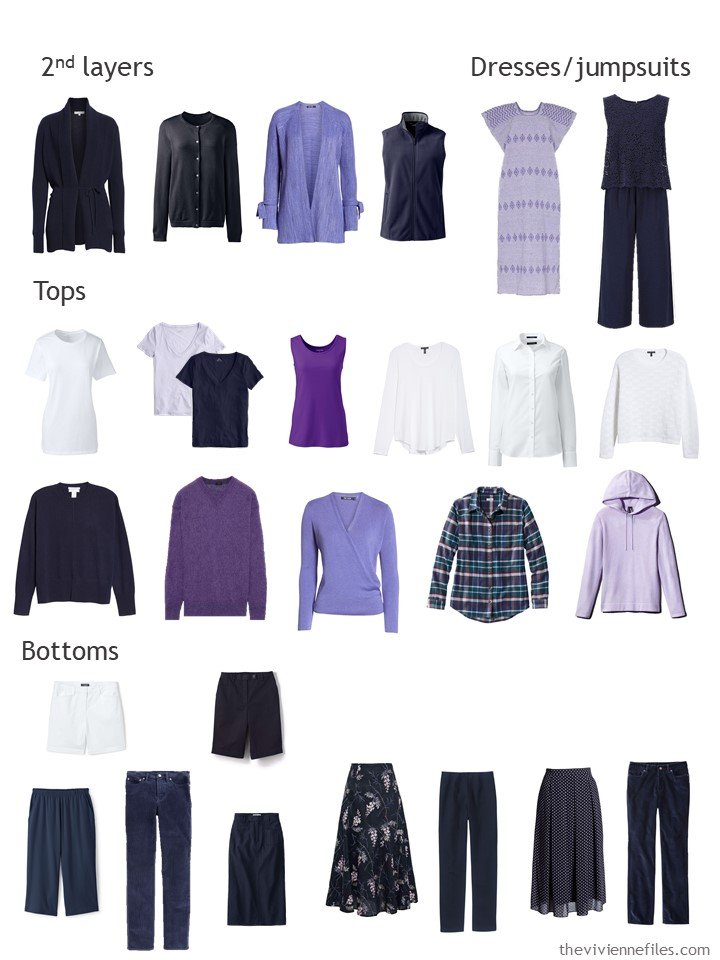 So why these additions?
The shirtdress, because I thought it was cool. It is solid navy, but has a texture stitched into it. A classic design with just a little bit of interest is always going to catch my eye!
The striped shirt, and the striped tee shirt, I chose because I thought that this wardrobe could use some pattern or print to jazz up the solid navy. Note that both of these, and the dotted sweater, are all from the same place; if you see something that appeals, it is worth your time to look around a bit to see if it's a "thing" with them. Right now, Banana Republic is really working with the idea of navy prints and patterns!
The dotted sweater appealed because of both the pattern and the versatility of it. I would wear this with the dotted skirt in a heartbeat…
And the last dress will answer that "perfectly neutral dress" issue through until spring. (at which time you pull your your cool shirtdress…)
I love accessories… These, again, look so appealing to me…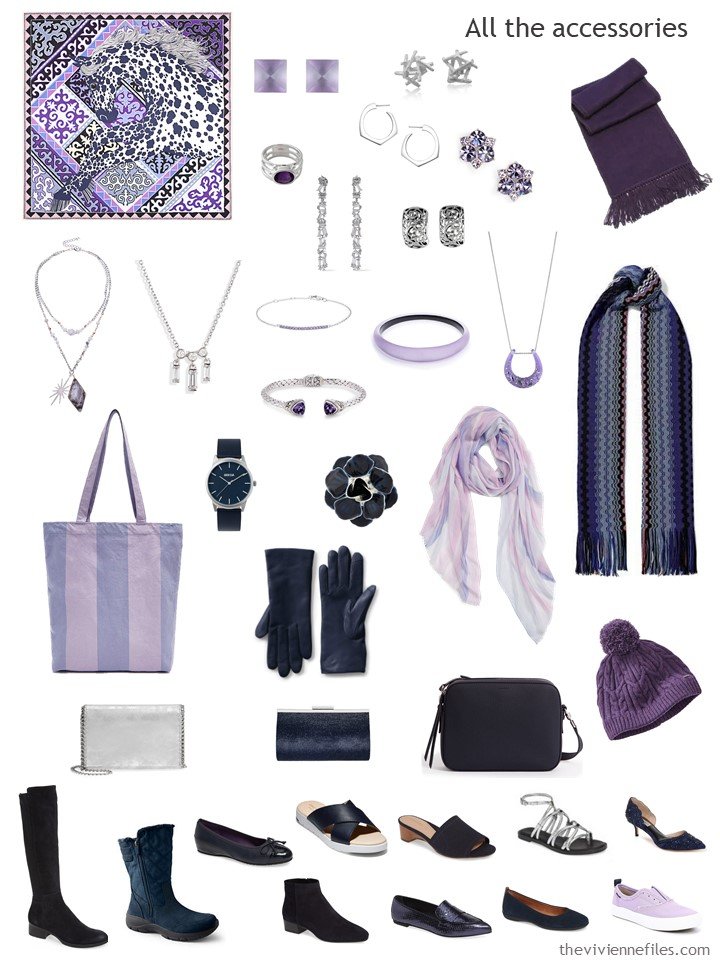 But I thought of a few things that might be useful!
Sunglasses! I can't emphasizes this one enough…
Accent socks – ditto!
A purple brooch. This serves no practical purpose, but it's terribly cool, and it's purple.
The tote bag – these Longchamp bags are light, sturdy, and classic. Highly recommended; I have 1 that is at least 15 years old…
Another scarf, because I thought that this wardrobe didn't seem to have as many scarves as I expected to see. This could just be me! But imagine how this scarf will brighten up a simple navy and white outfit.
As before, the new garments open up lots of doors… I didn't accessorize these, because I'm leaving that to your imagination…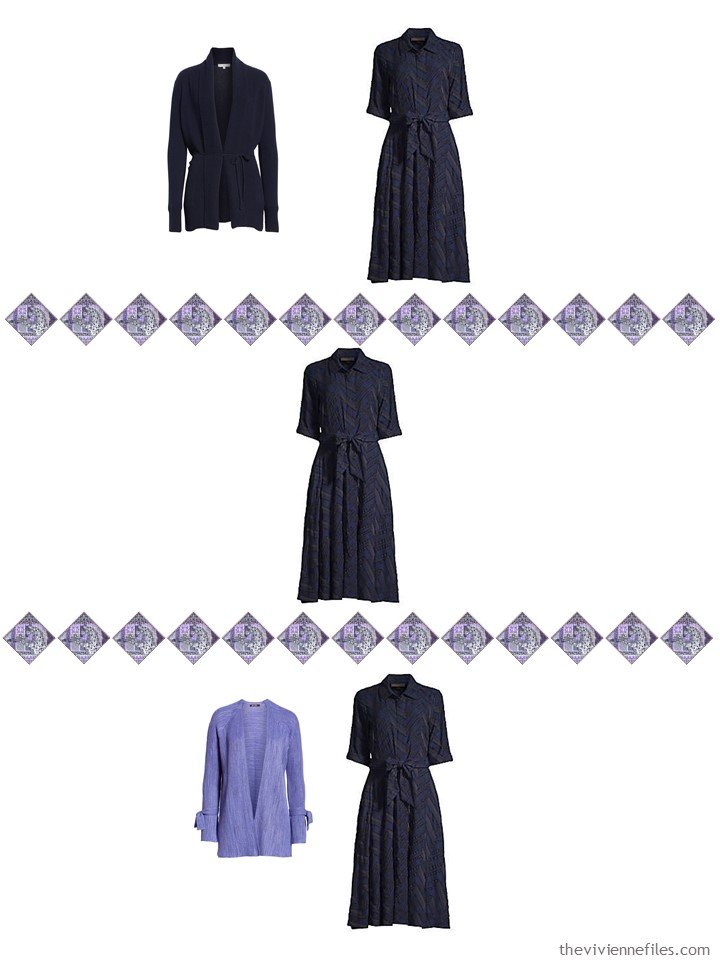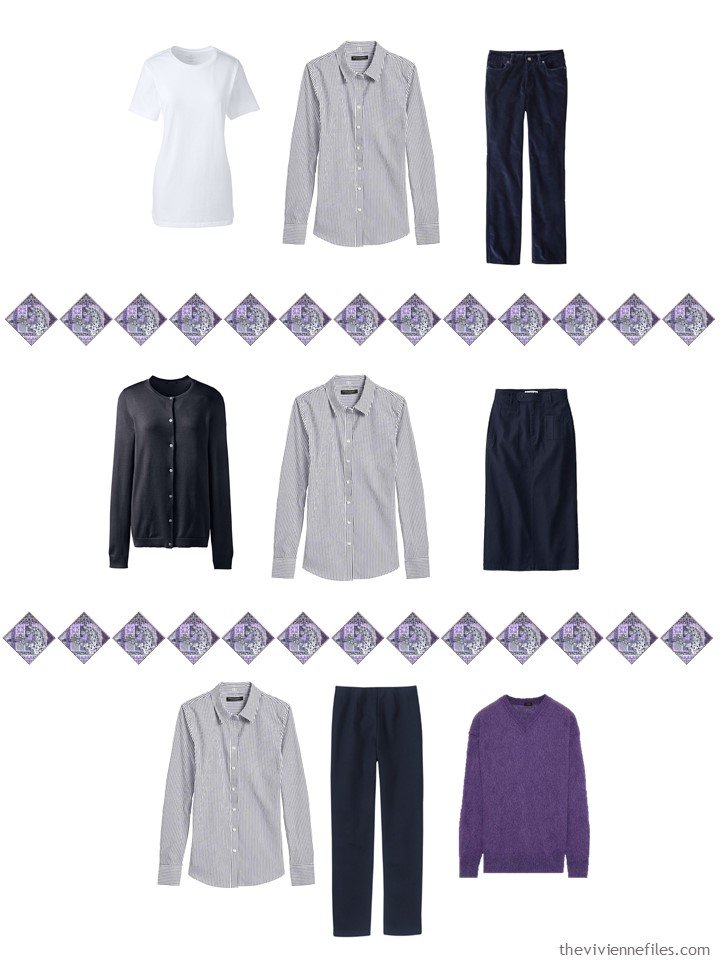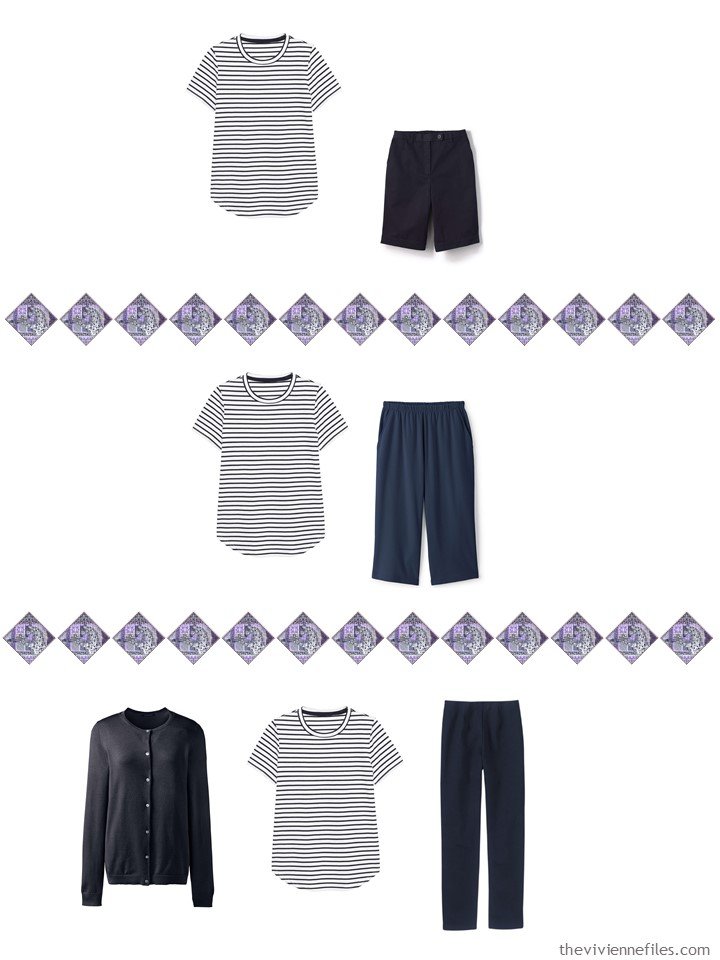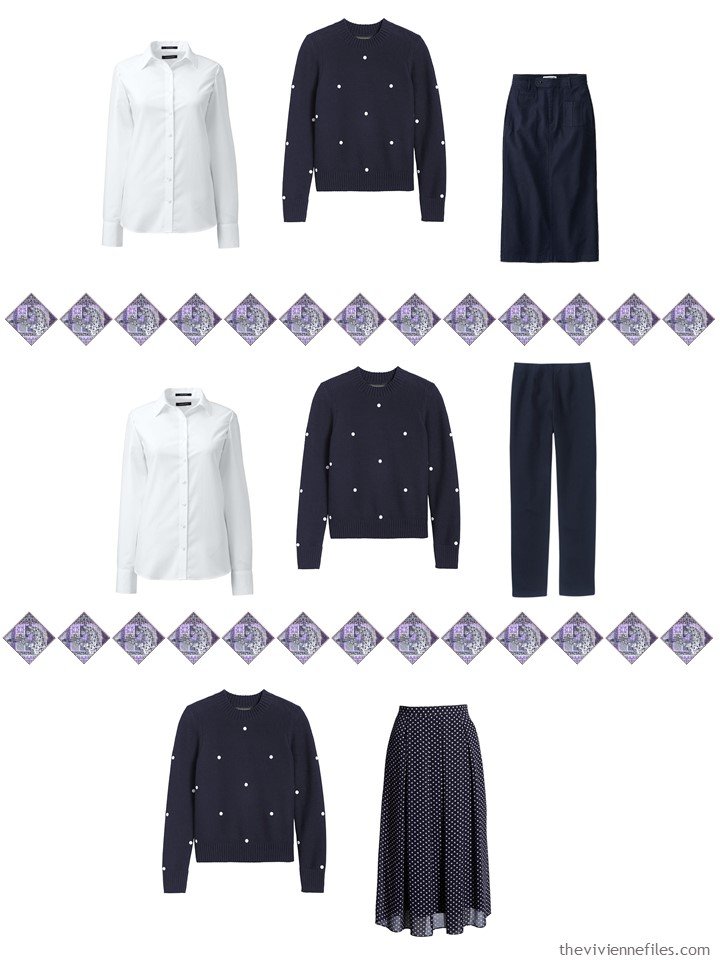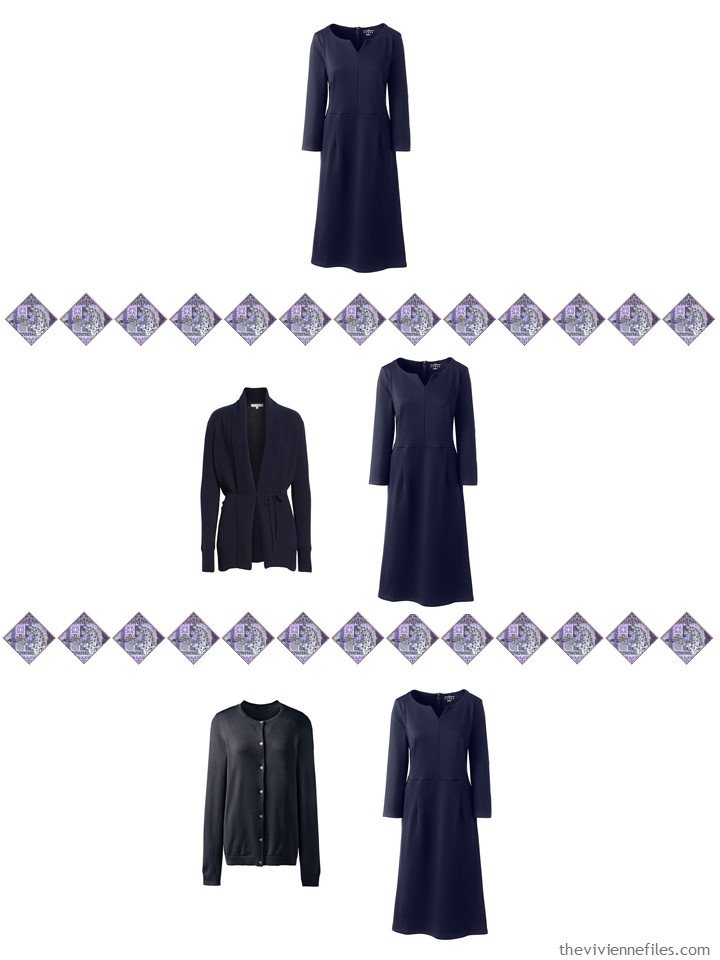 Whew! I'm going to do all six of the original wardrobes, over the next couple of weeks. I've learned a couple of things already, and I can see a few things I will do differently next year.
Speaking of which, I need your opinion. What if, instead of Hermes scarves, I use scarves from Aspinal of London for next year's wardrobes? Let me know what you think, so that I can start wrestling with my choices for next year!
love,
Janice
p.s. The previous posts where each of these outfits can be found here: January, February, March, April, May, June, July, August, September, October, November, December