November 1, 2019
OH my! It's the first of the month AGAIN? It seems like this happens every 30 days or so… (Did we pay the rent????)
Let's get right to some beautiful colors, and some outerwear. Those of us in the Northern Hemisphere are finally starting to really need these things!
I wanted to find this heroine a great blue coat, but I didn't see anything that came down over her hips enough to merit inclusion. It can be pretty important to have a coat that covers your longer sweaters…
But this scarf consoled me A LOT…
And yes, MORE Blondo boots. I'm so smitten with them that I want to make sure everybody sees them about a million times. Seriously, I can walk for miles in them, and they're legitimately water-resistant, i.e. your feet don't get wet on a rainy day unless you start wading in puddles!
Our "wardrobe" pages are now sufficiently packed tightly – I've broken them into the Clothing, and the Accessories. It's easier to see what's what this way, I think!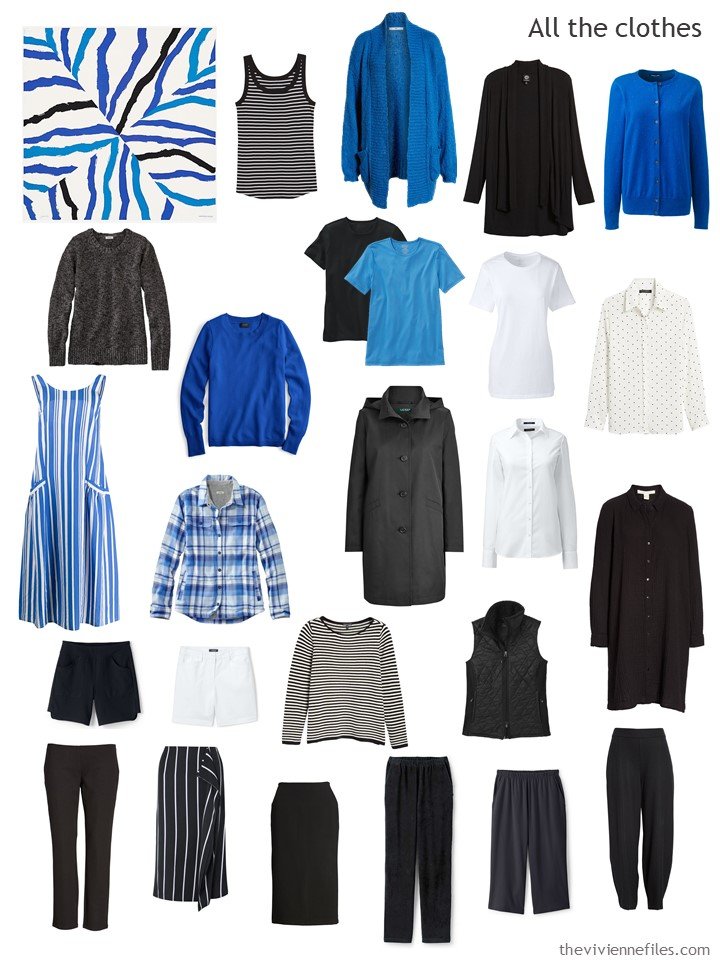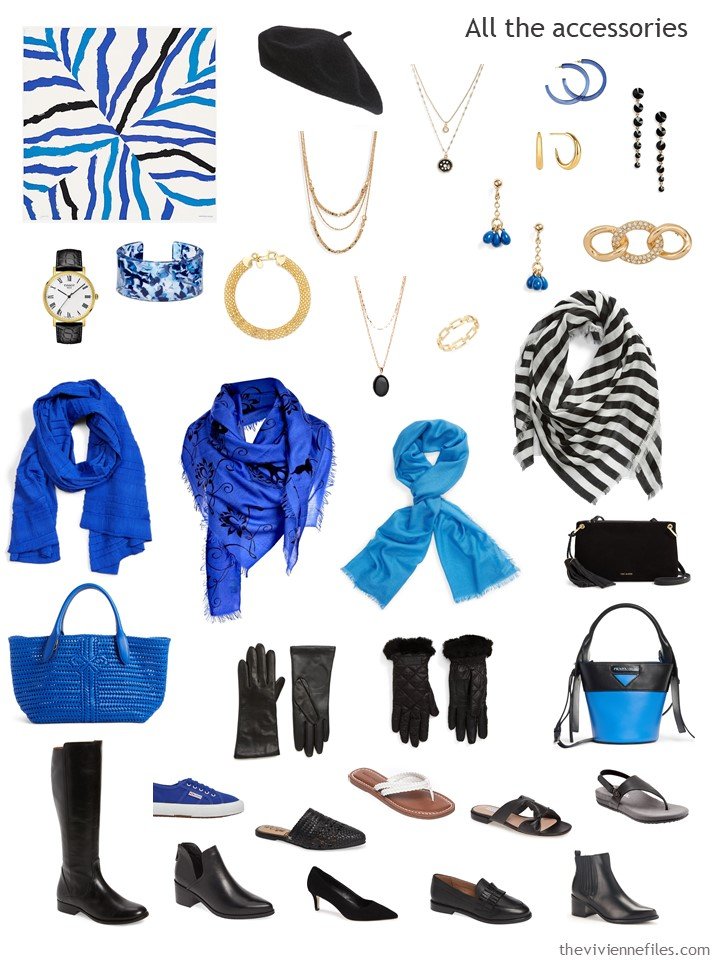 A new coat doesn't really give you "new" outfits, but you can always wear your new accessories with your existing wardrobe, to bring some variety and freshness to your look: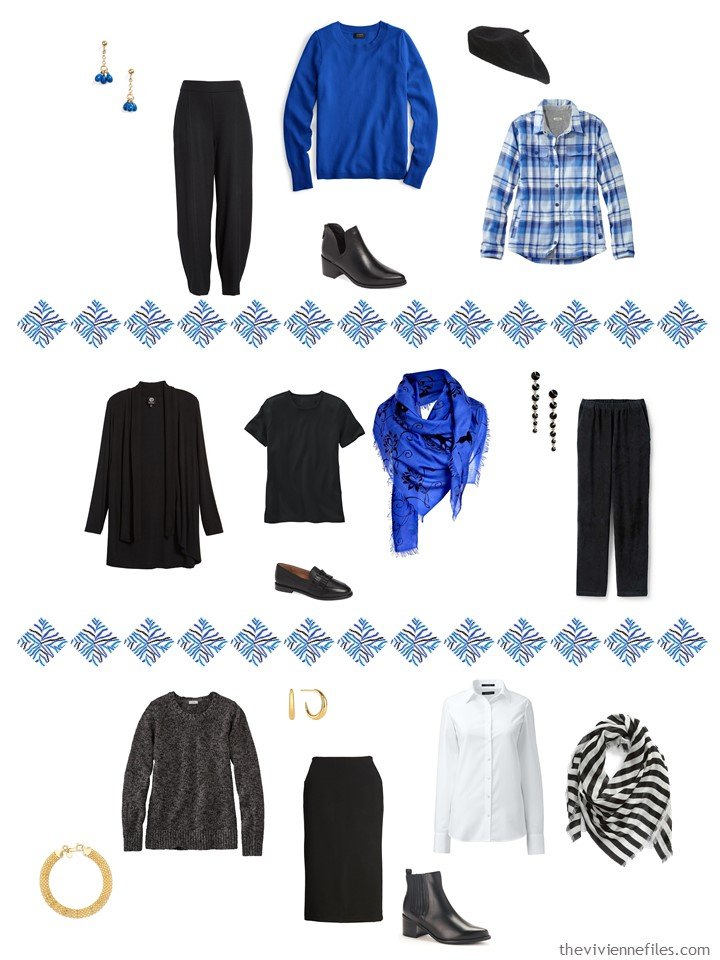 Some purple for you?
Here's another case where a really perfect purple coat would have been grand! But it's more important to be smart, rather than trendy, when we're talking wind chill…
I like seeing these wardrobes this way…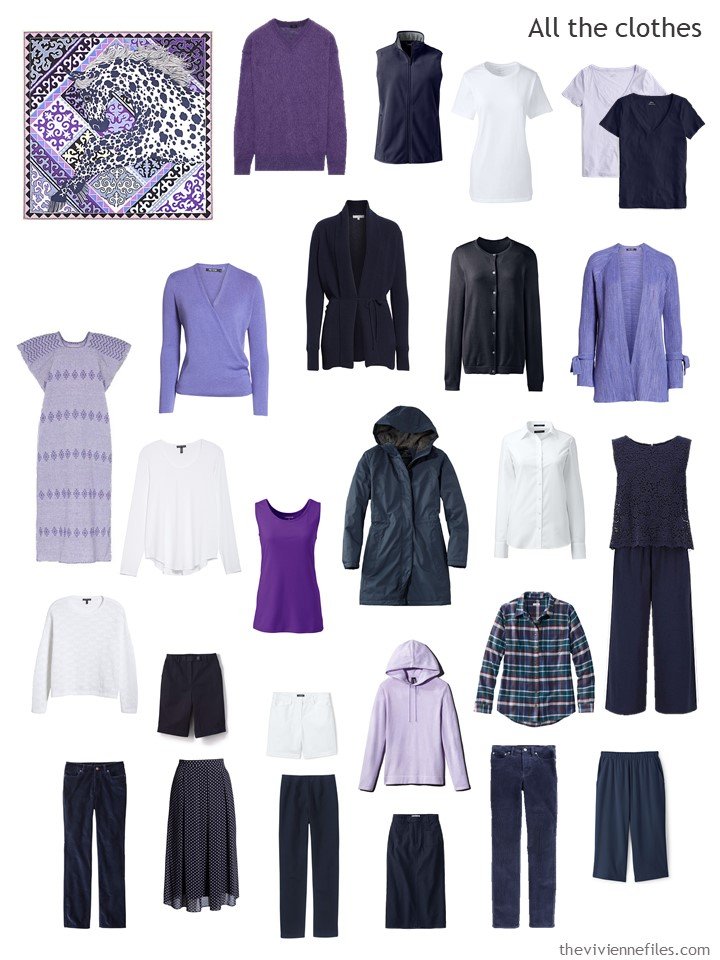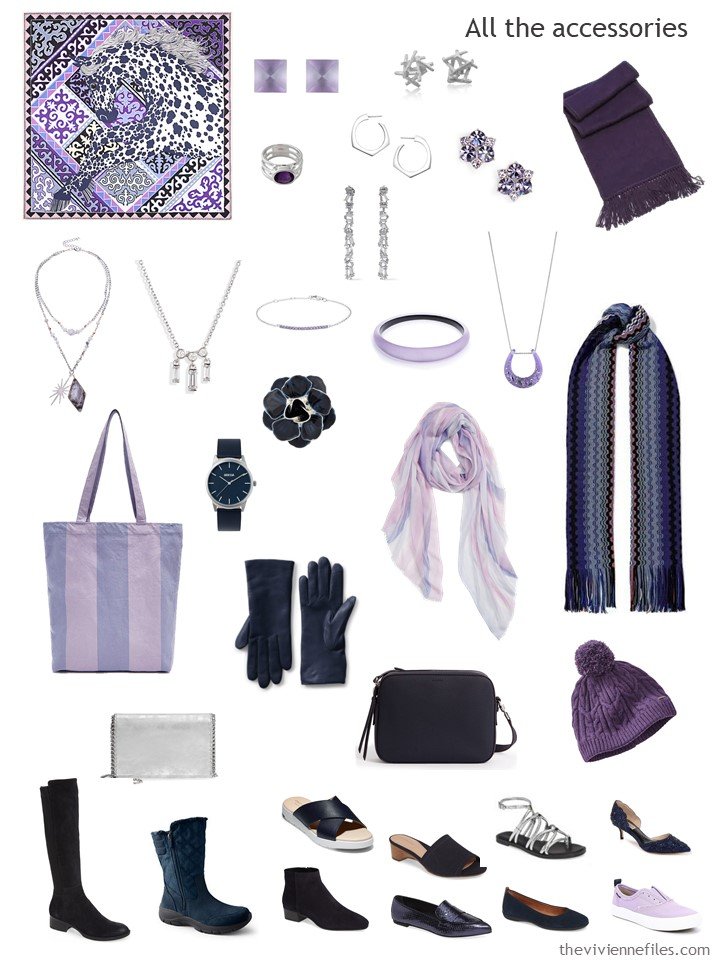 New accessories are as good as new clothes, to my mind…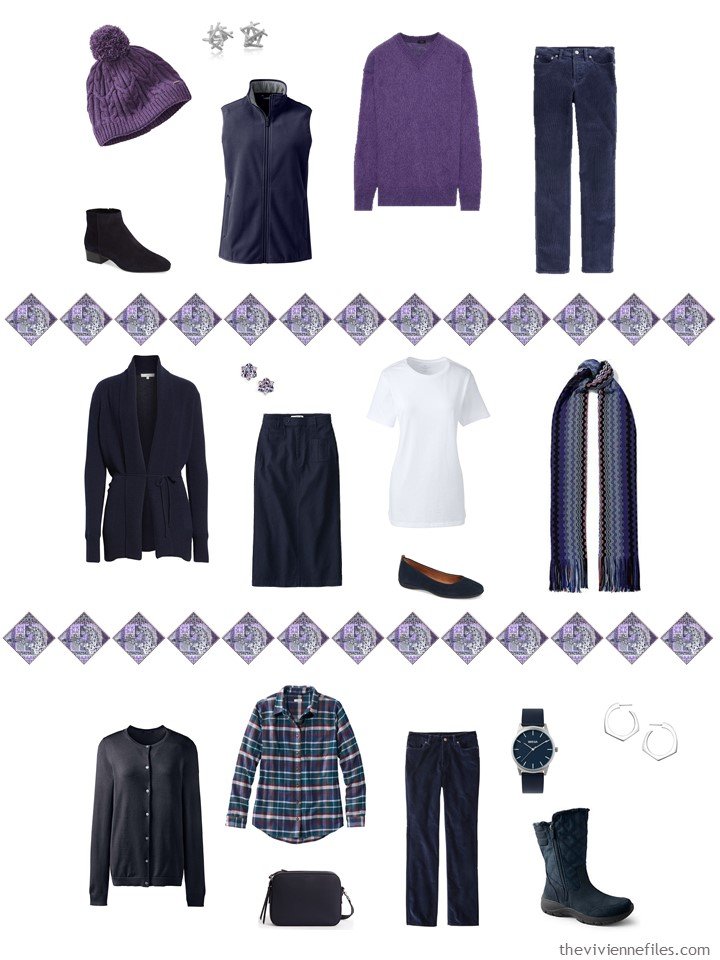 Next is this most unusual, but very effective, color combination:
I'm envisioning this coat for the "less than bitterly cold" days… And the scarf is a major investment, but as a partner to the Hermes scarf, it's perfect!
And let me remind you – UGG'S ARE NOT WATERPROOF!!!! It's a constant refrain on the streets in Chicago, all winter – women squealing when they step into ankle-deep slush in UGG'S, and suddenly have soggy, heavy, freezing cold boots… These boots have their place in the freezing cold, but it is NOT in anything that might be wet. (and always assume that puddles are ankle-deep…)
I still love this combination of cool neutrals and a full range of blush, peach and orange accents: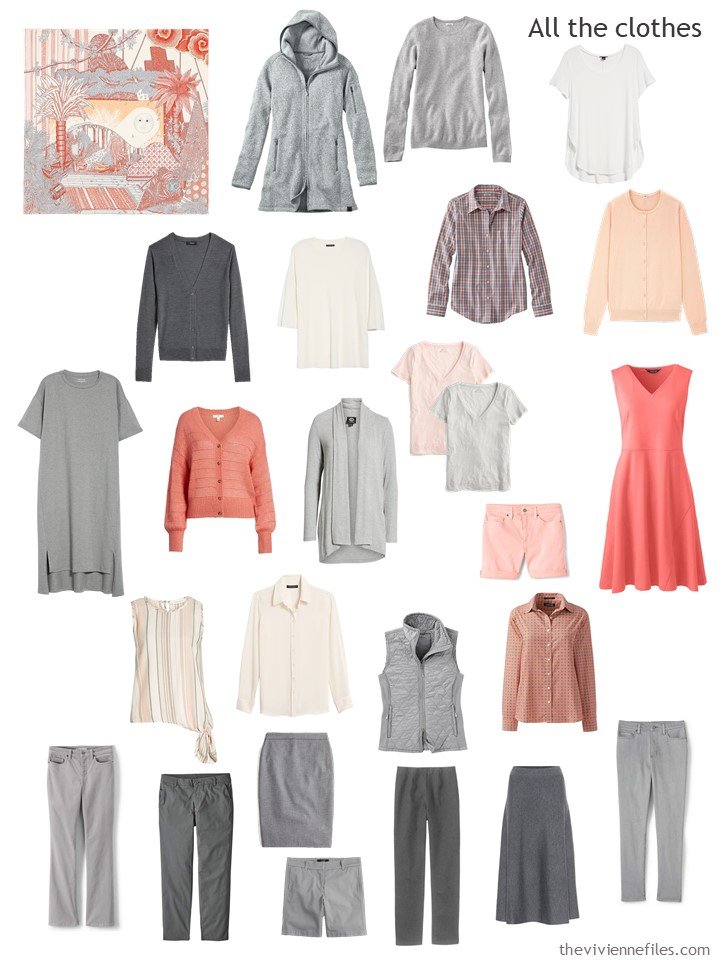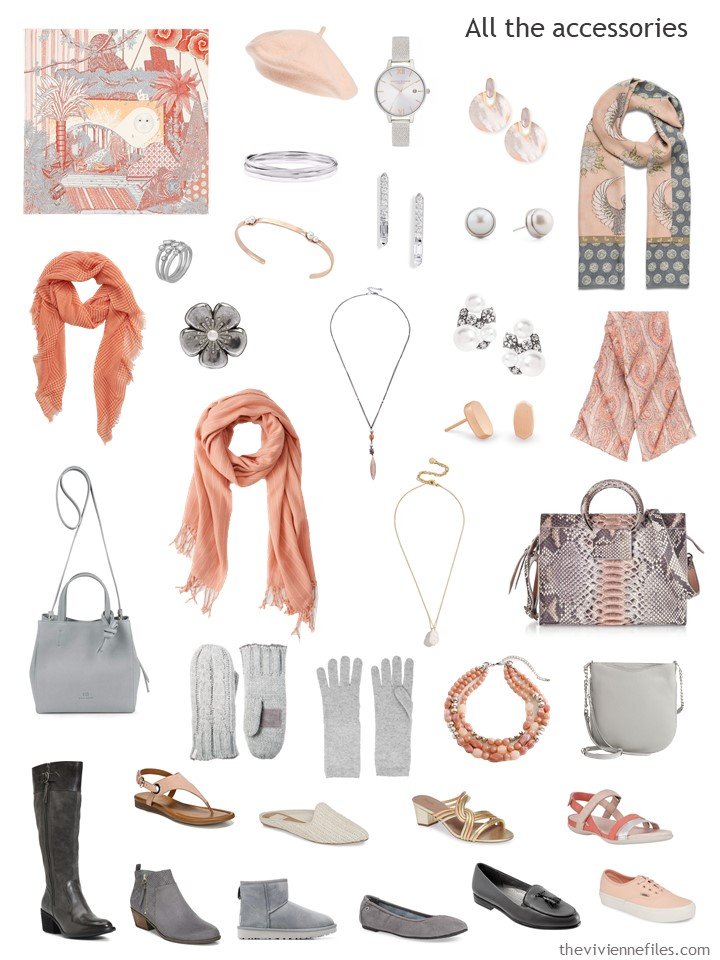 You never know, but your new scarf for winter might be the perfect update for your summer dress!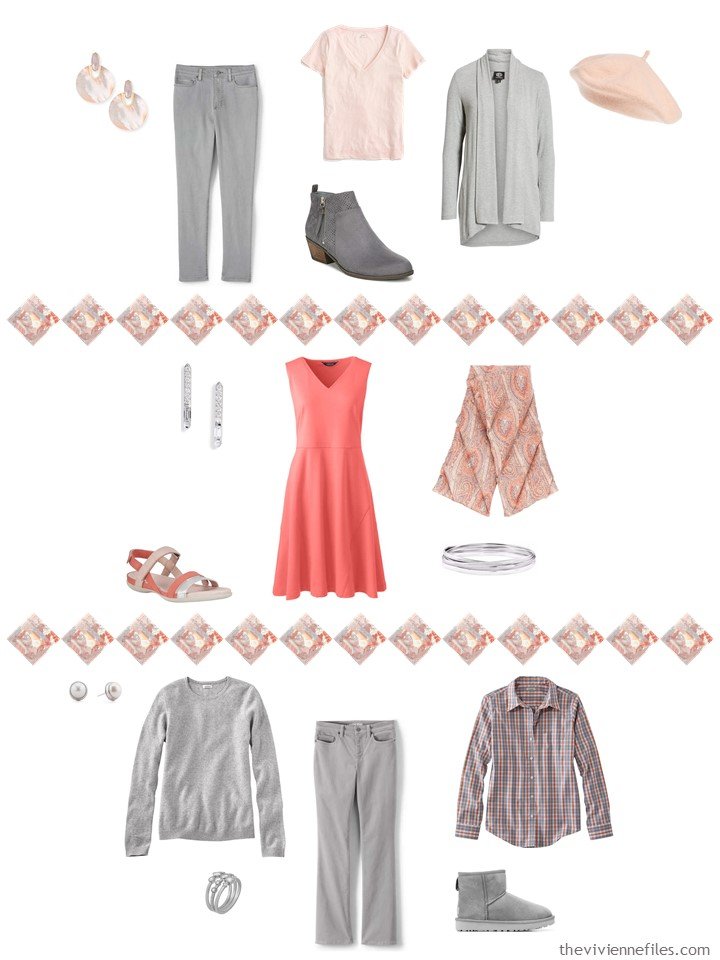 I'm still coming to grips with this color palette; I suspect I made a major miscalculation with this wardrobe, somewhere…
Which is not to say that a beautiful winter coat and scarf can't be found! And an annual reminder – check the Men's Department EVERYWHERE for scarves. I don't quite understand how scarves have gender, but the men tend to have some lovely ones, at great prices…
I still think I could travel for a really long time with these clothes: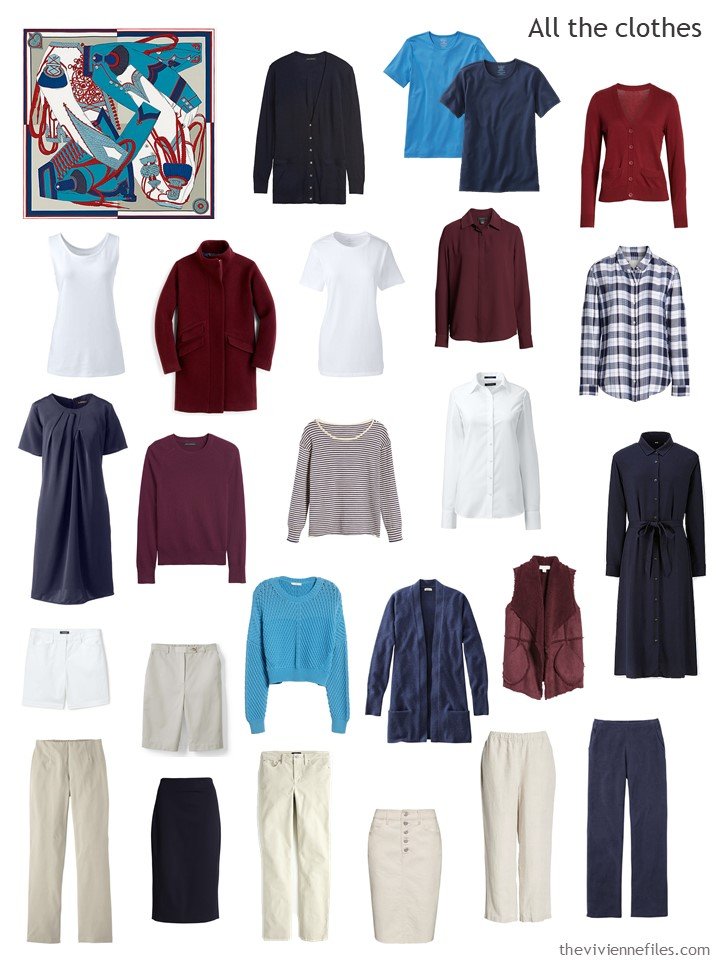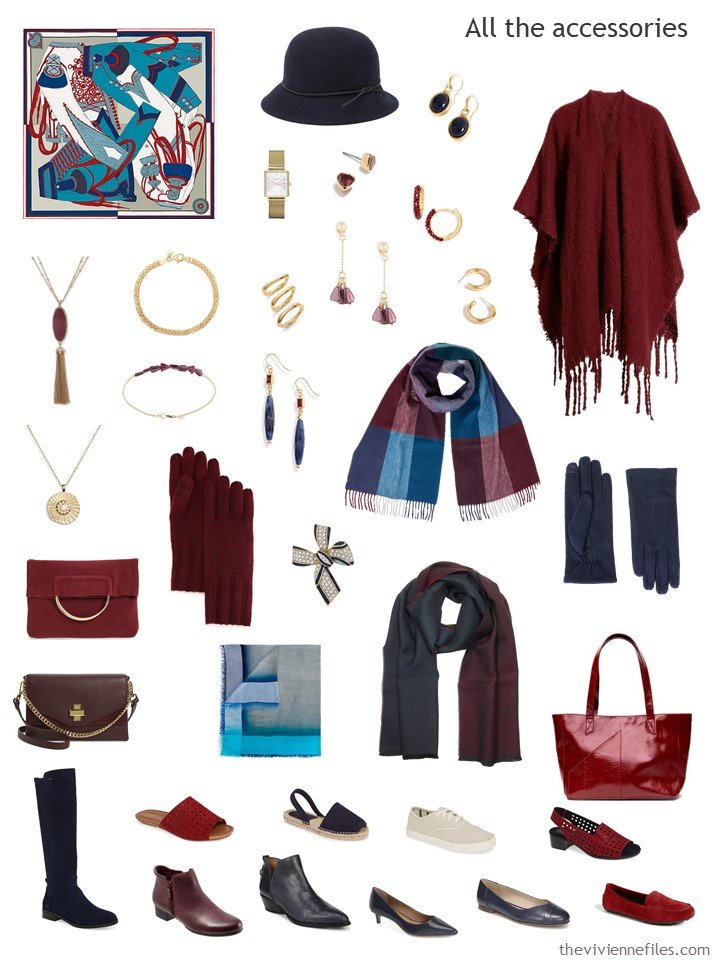 Just wear a hat some day, with your normal clothes. Watch heads turn!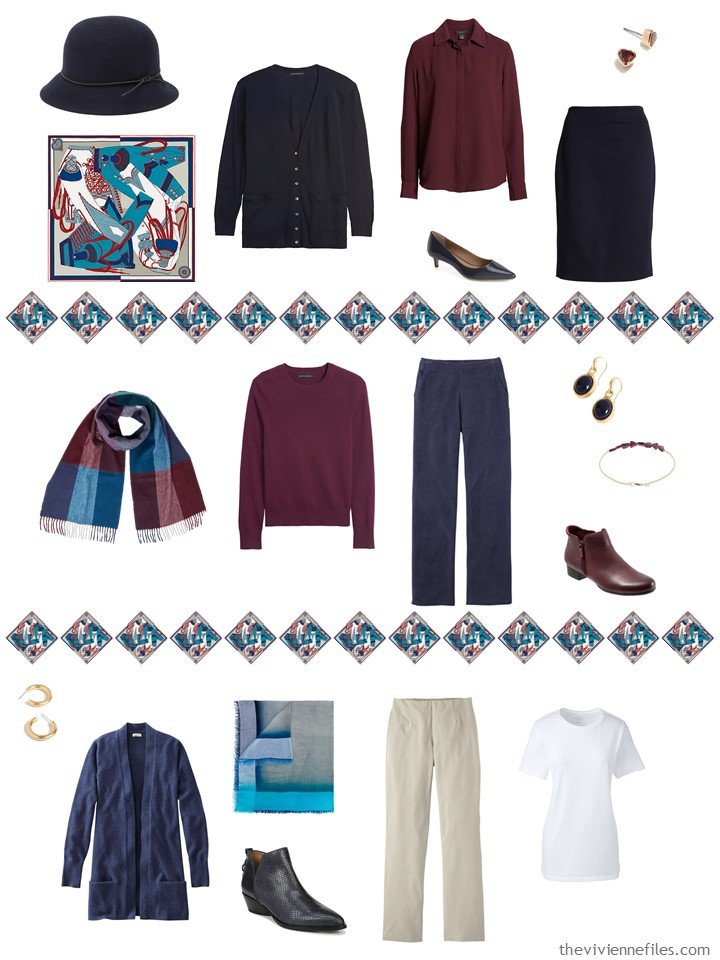 Remember this scarf? What a… challenging… color palette!
Again, if you run into a great orange coat, or red, for that matter, it would be gorgeous here. But I love the idea of this great mid-weight coat for those of us who don't live in the "death by frostbite" climate:
This wardrobe is all over the map, color-wise, but it still has a great deal of versatility!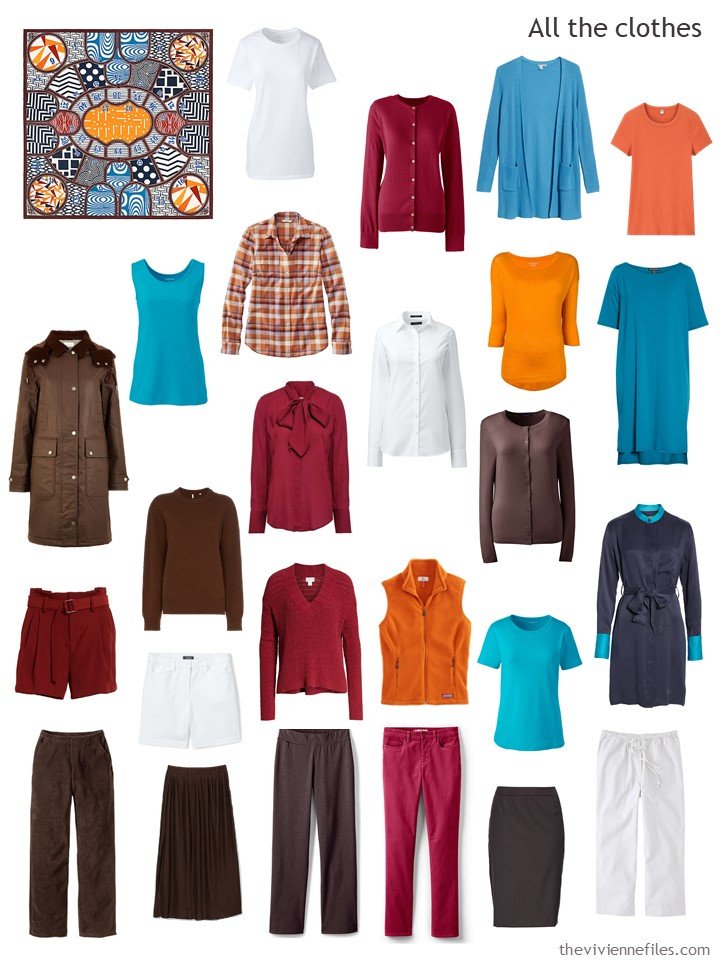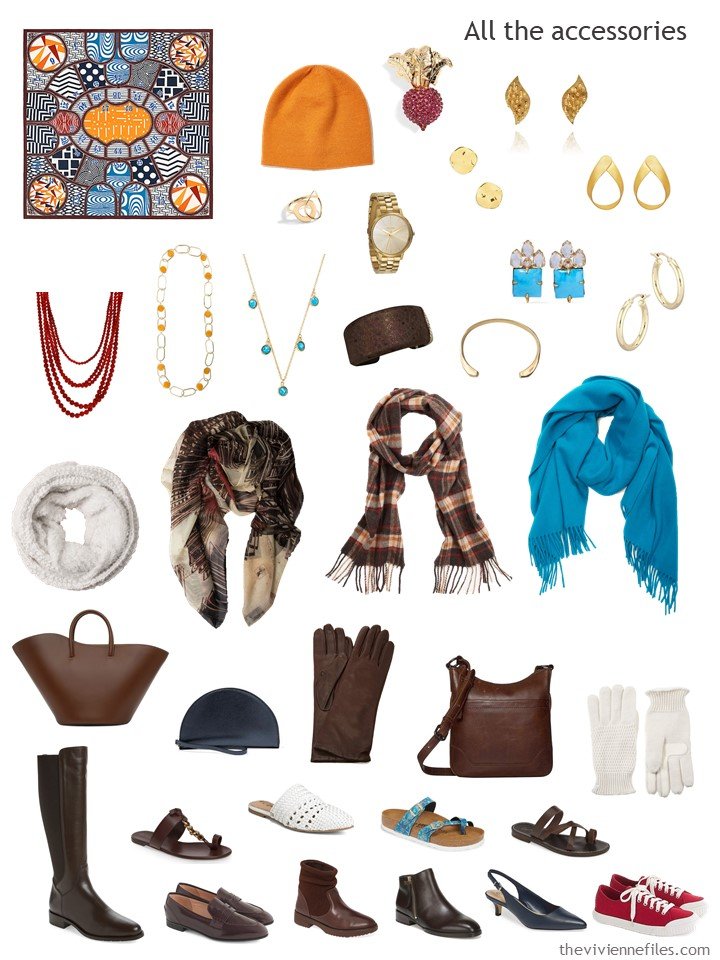 If you love a wide range of accent colors, accessories can make a lot of difference to tie together your things into coherent and attractive outfits: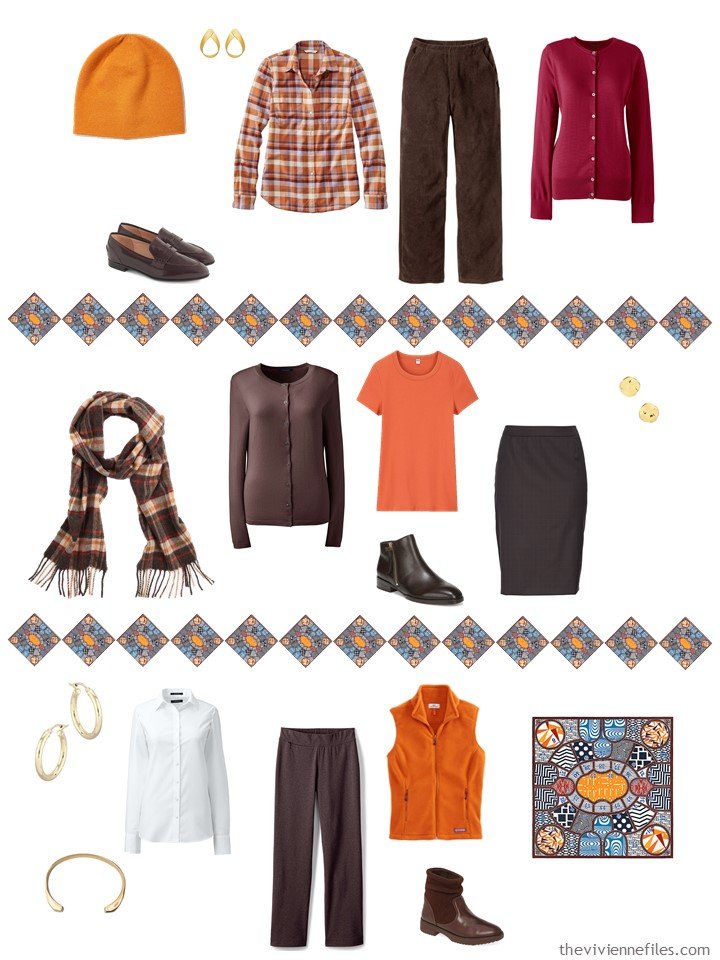 And finally, the scarf design that I like the most. I wonder if I should have skipped the green "addition" that I made? Next month I'm going to critically evaluate all of these wardrobes…
Another coat that's more for rain than snow…
It's startling how many of these garments I own!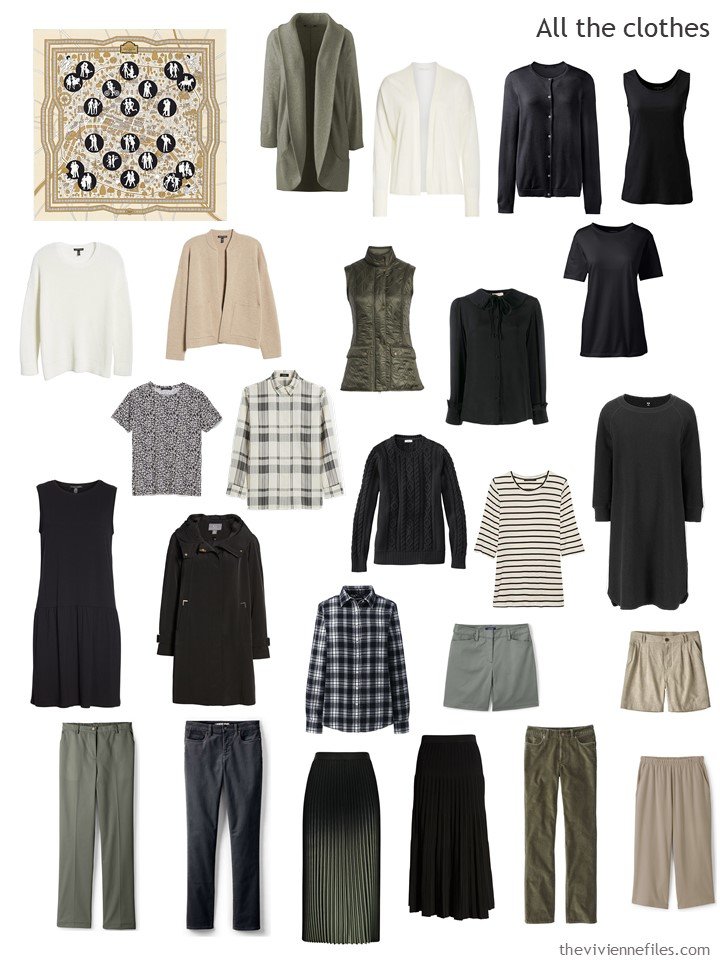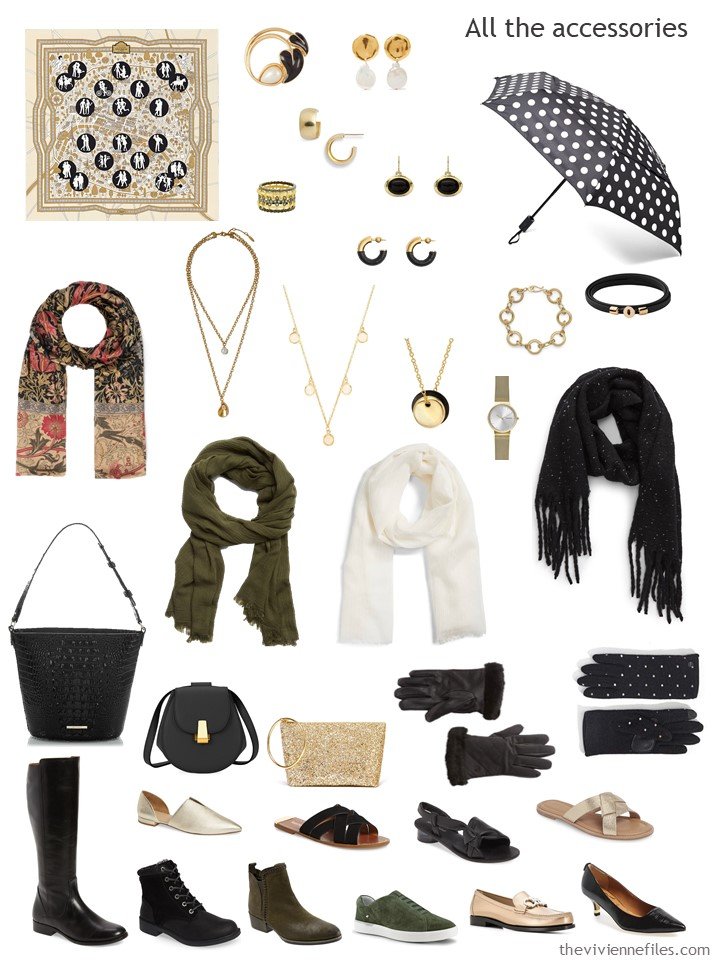 It's not wrong to have a fun umbrella, is it?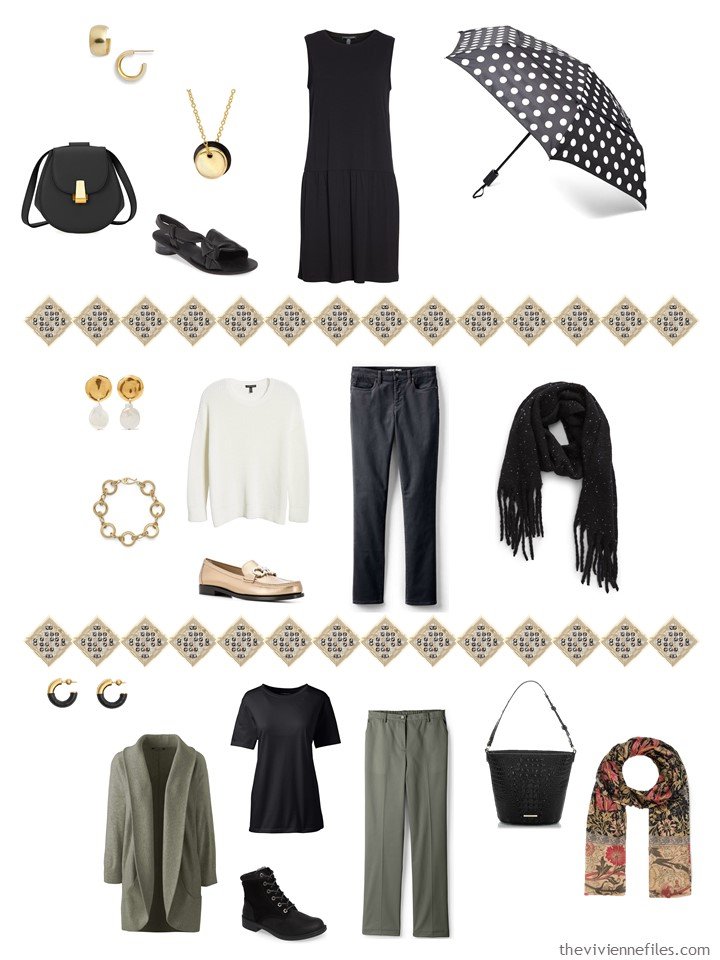 As I look over these wardrobes, I'm thinking that I would want a hybrid of the 1st and the last, with a few red things just for the heck of it!
If you could combine 2 of these to come up with something you love, which 2 would you choose?
love,
Janice
p.s. 4 years ago, our heroine was going to be home alone for Thanksgiving; she made some travel plans…