November 4, 2019
First off, can ANYBODY explain ankle pants to me? I understand them in warmer weather, but with snow on the ground (I'm writing this on November 1, in Chicago, where we have had snow…) are bare ankles logical?
Do other people have really warm ankles that need to be exposed during the winter?
Are we willing to be uncomfortable, if it means that we're "on trend"? (I hate that phrase, for what it's worth…)
I will never understand!
So when you're shopping for pants, be VERY aware of the length that you're buying. You could be rudely surprised! But if you've spent your entire adult life having pants shortened, this could work in your favor…
And yes, this shade of honey isn't a really dark neutral, but it's uncommon and very pretty, so I wanted to be sure that you saw it!
When you choose these pants, consider the possibility that you will want to wear them for winter holidays; a nice pair of wool pants (or velvet…) can easily be dressed up quite a bit!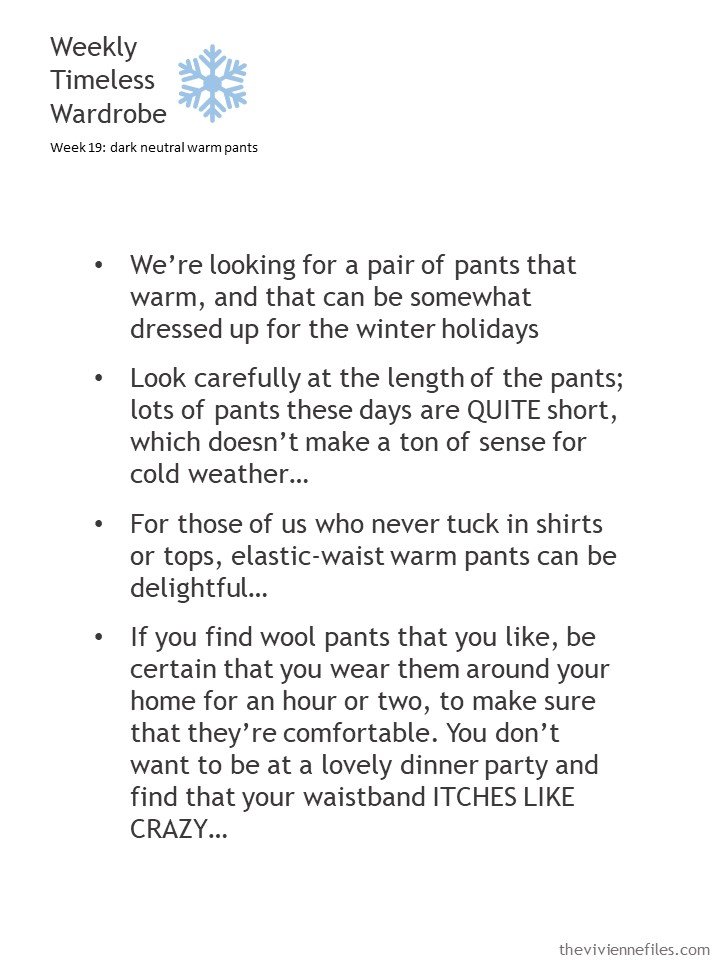 For some of these outfits I've kept some of the garments, or accessories, from last week. I do this deliberately, to show you the versatility of carefully-chosen pieces!
Never discount this fun of having a couple of pairs of socks in accent colors! They don't show a lot, but they add a certain little something to outfits…
I hear that there is more yellow available than there has been in past years. This is great, because it's a beautiful color and, for women who wear it well, it really makes a warm and cheerful statement.
If you're fortunate enough to have chosen an accent color that matches a semi-precious stone, there's no reason NOT to collect earrings…
Another outfit option to remember: You can ALWAYS mix your 2 neutrals in an outfit. It's fast, simple, and foolproof…
Regarding semi-precious stones… a ring is always nice, too!
Yet again, the change in this wardrobe doesn't really make a big statement. Swapping black pants for OTHER black pants is more useful for the wearer than the viewer. This doesn't mean that it's not smart, and important!
Here in Chicago and much of the country, we've had to accelerate our wardrobe switch – the weather gave us little choice!
love,
Janice
p.s. In 2016, I added some "floral painting inspired" accent colors to a neutral 9-piece wardrobe, that could have been completely lifted from a Weekly Timeless Wardrobe! Timeless indeed…