August 2, 2019
This file is getting insanely big! I live in terror of having it becoming corrupted; I've got it backed up EVERYWHERE…
Now that the stores are beginning to look legitimately autumn-ish, it might be a good time to check the condition of your boots. If you're picky, of if you wear a difficult size, don't hesitate to start looking now, even though it might feel insanely early…
A plain white shirt or blouse would certainly work well here, but I love these dots…
As always, if we choose a new outfit based on the same scarf, the garments will pretty much by definition work with the rest of the wardrobe: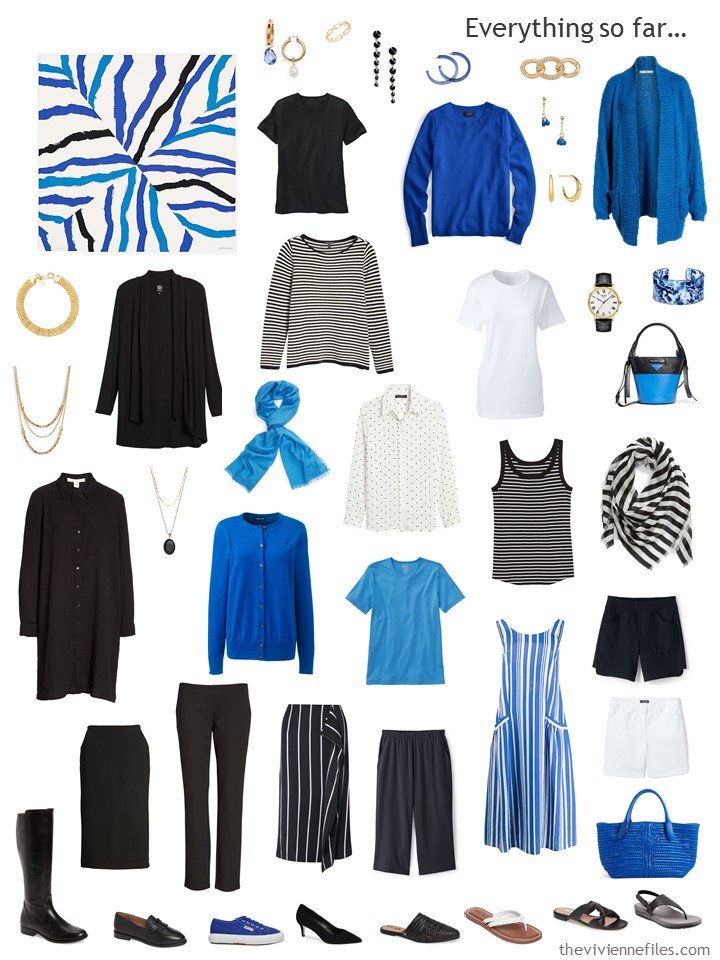 And as always, these new pieces add a lot of new possible outfits to your small wardrobe!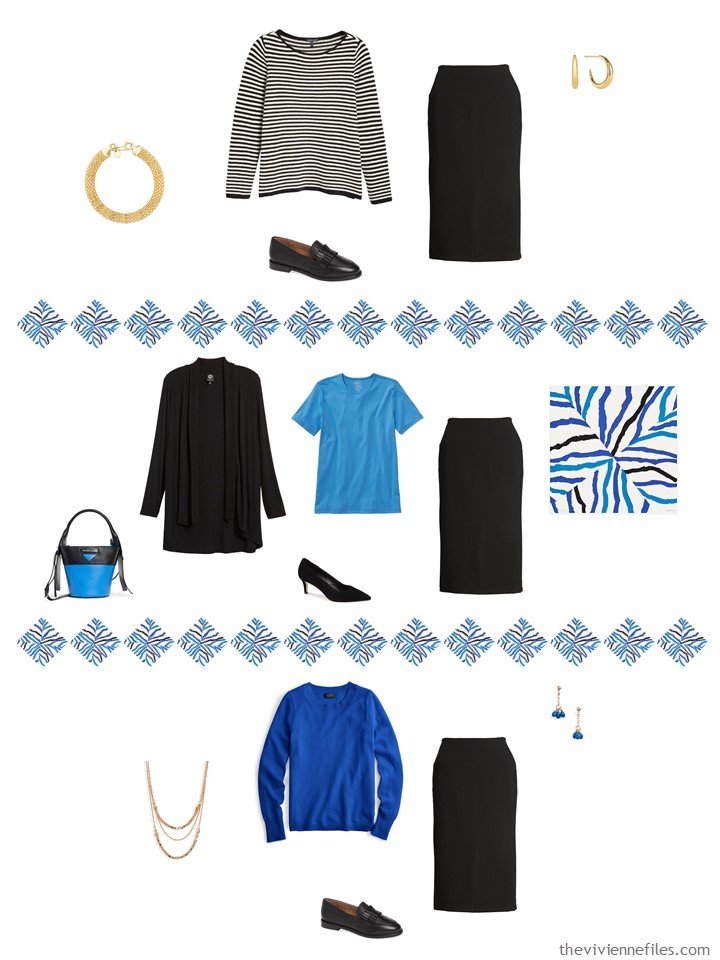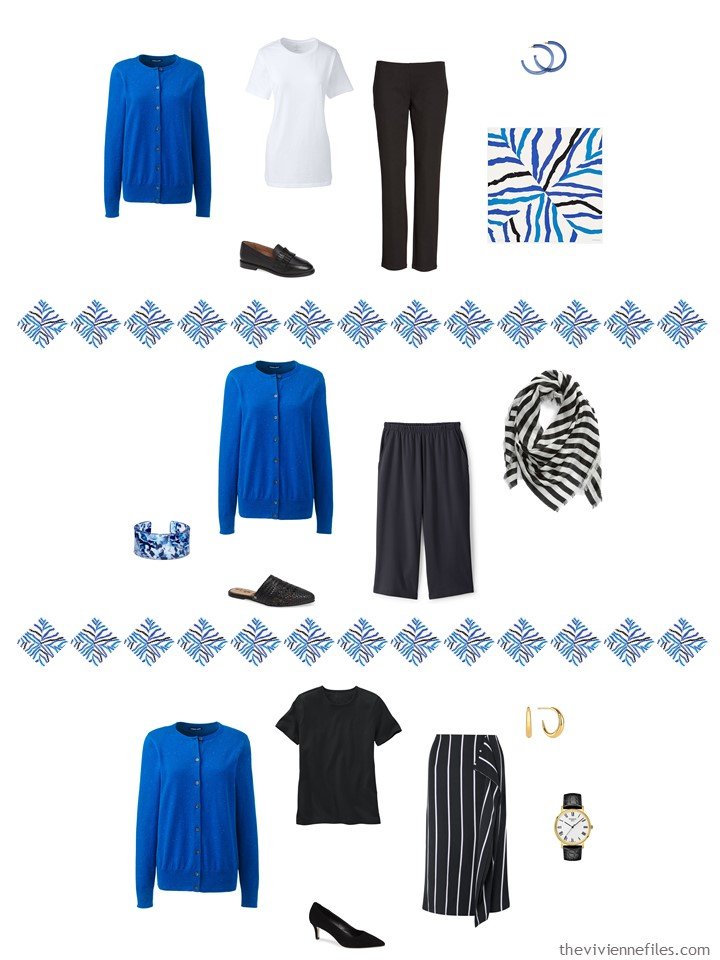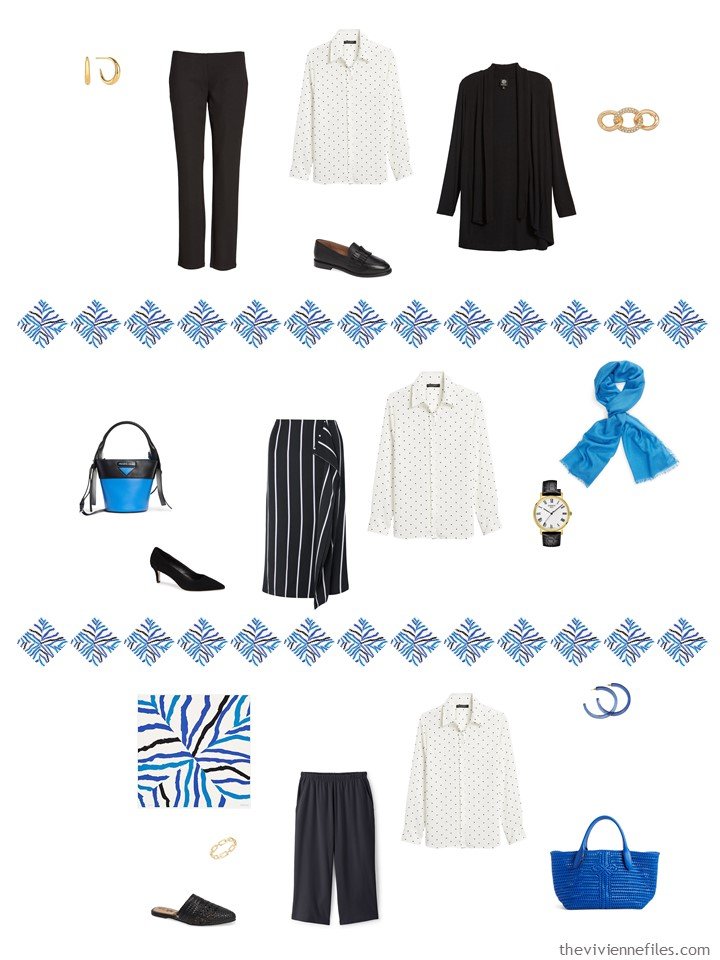 Purple!
Why yes, more dots! It was strictly coincidence, but it does bear mention that dots are a classic, easy-to-wear print that is worth considering…
The range of shades of purple in this wardrobe delight me! Maybe it would be more versatile, strictly speaking, if they were all the perfectly matching shade, but sometimes it doesn't work out that way…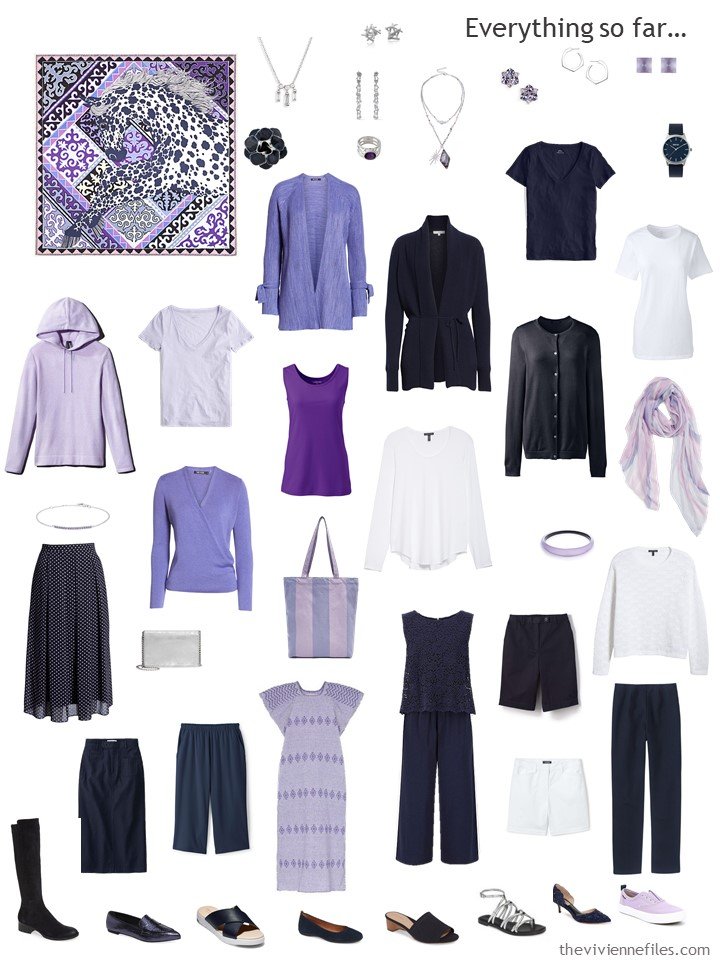 This wardrobe would take you just about anywhere! Frankly, all of these wardrobes are now large enough, and versatile enough, that they would be excellent long-term travel wardrobes…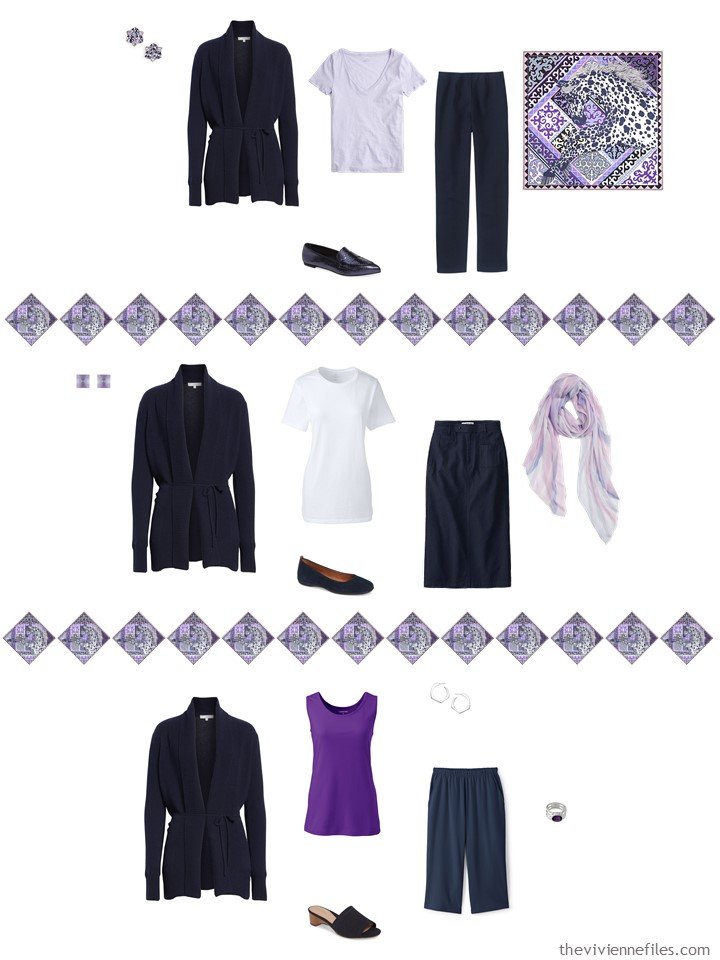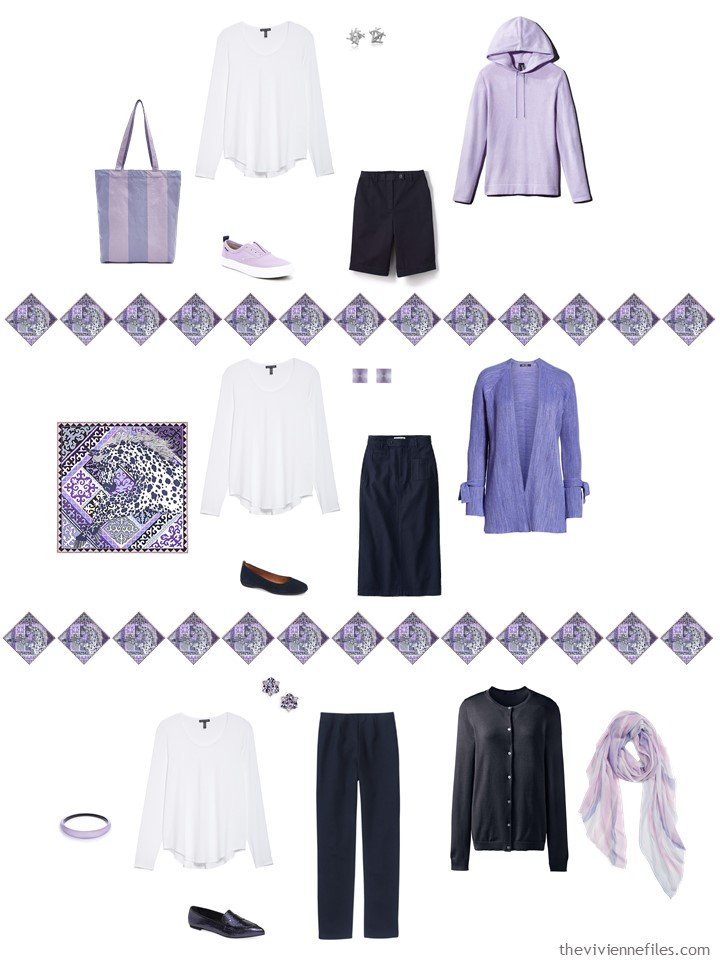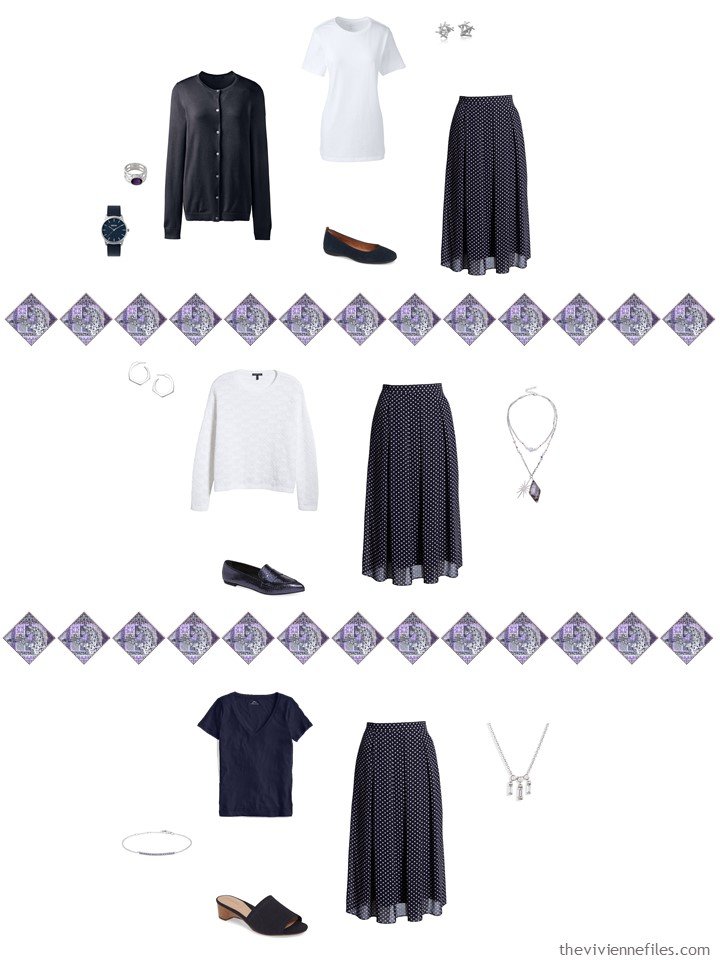 It's not a traditional color palette, but this next scheme is working out nicely!
This is a quite muted outfit, but if you tie the scarf at your neck…
While the charcoal garments I just added are darker than most of what is already in this wardrobe, they will prove to be useful, I'm sure!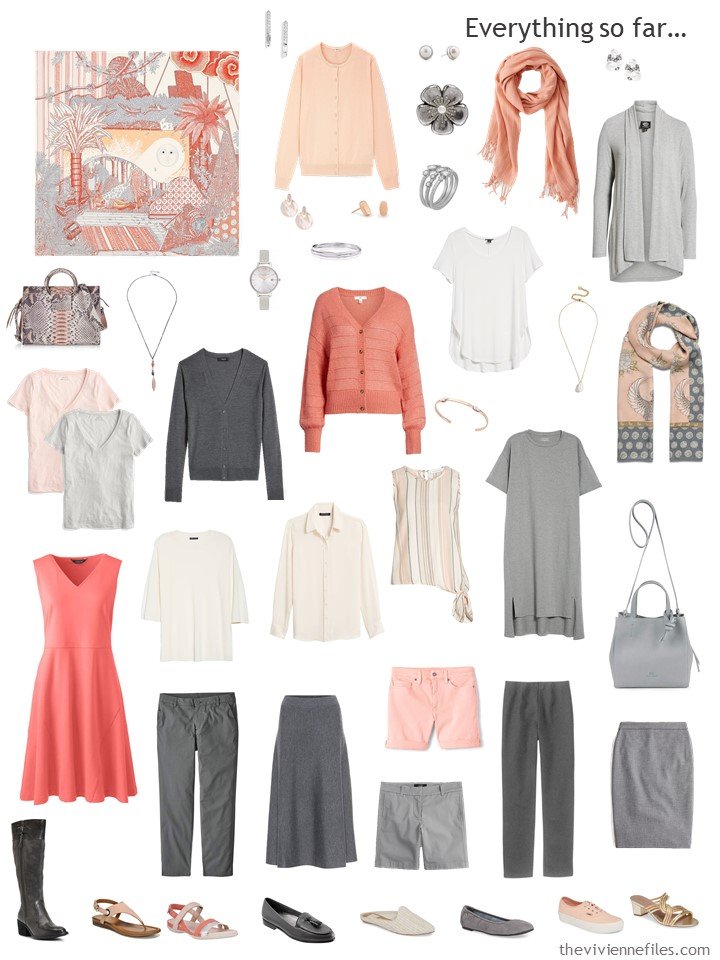 Would you be comfortable wearing these colors? I think I would…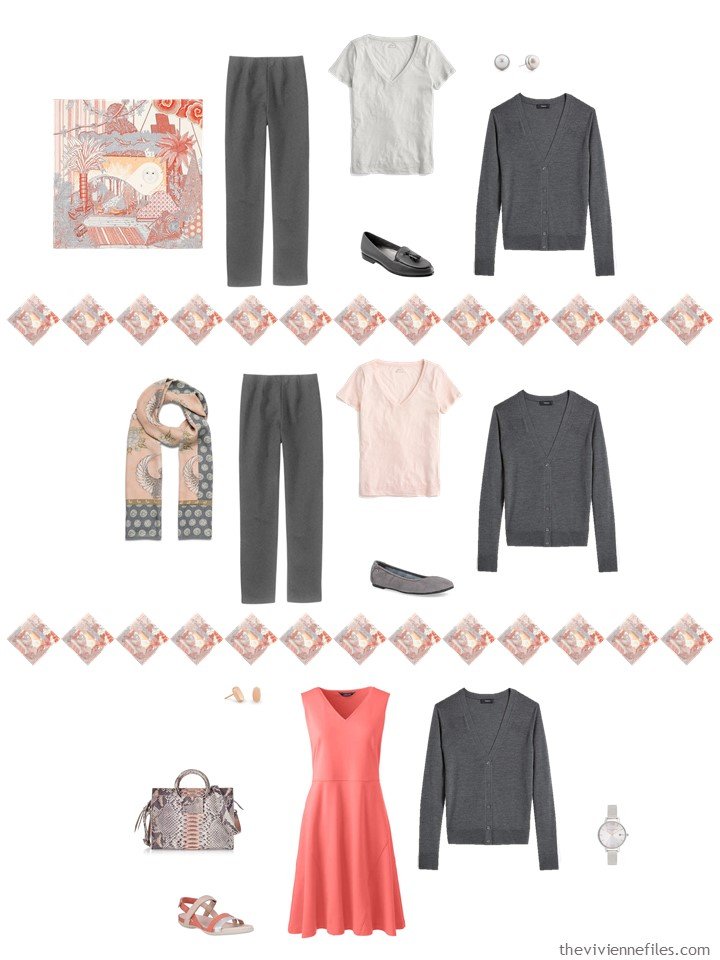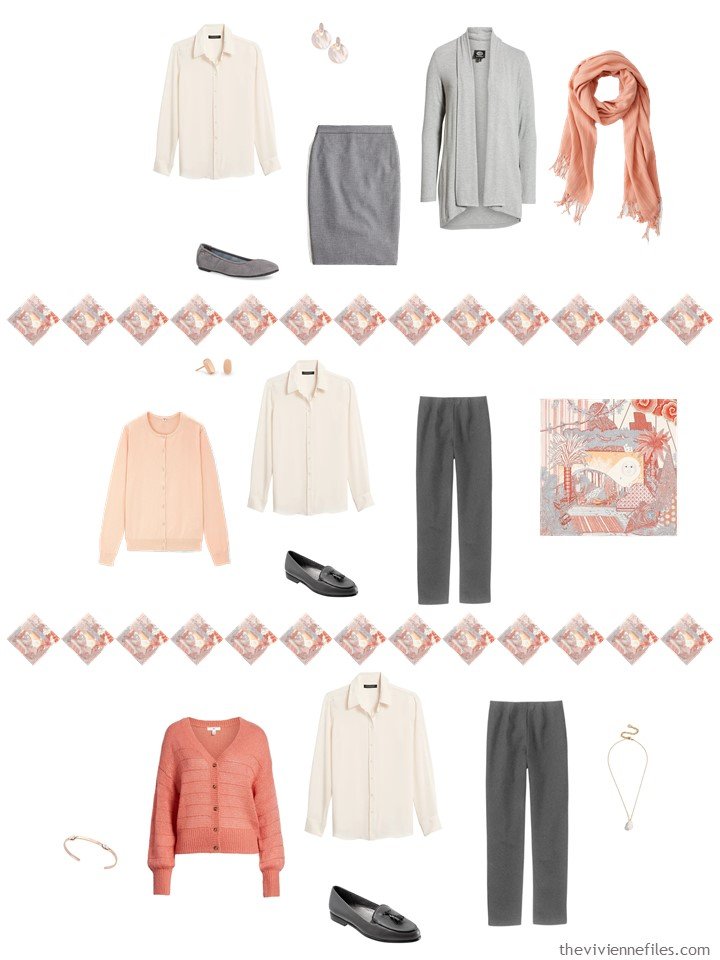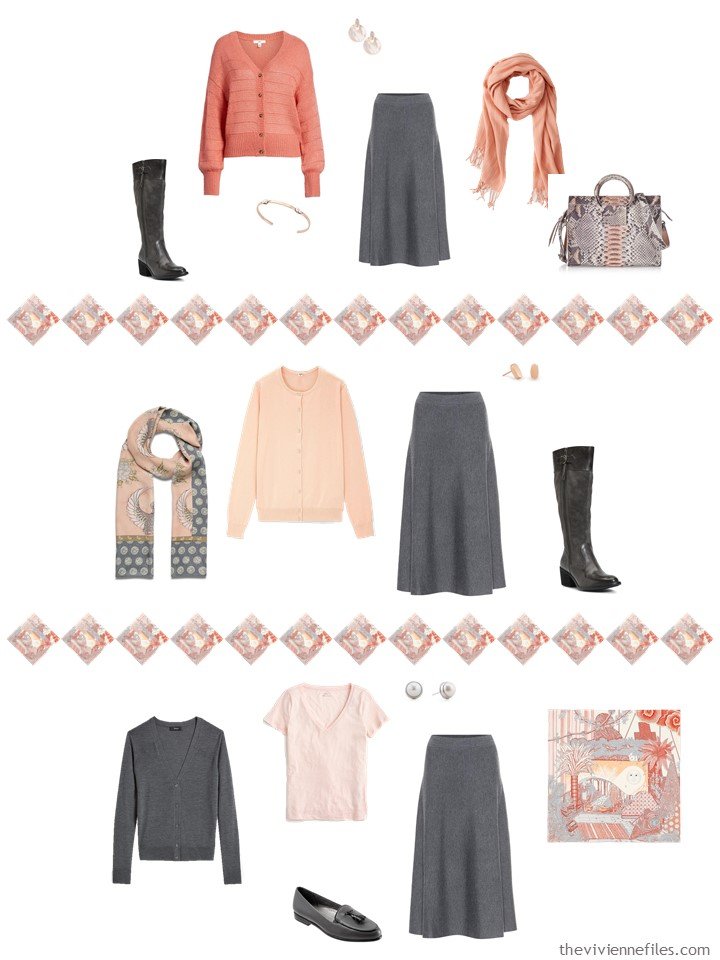 This next color palette is pretty classic, but still has a range of moods…
I had to go to some lengths to find brooches that I liked; many of these are vintage… If you love to wear pins, looking for them 2nd hand is smart – there are lots available, and some are very reasonably priced!
I could travel forever with this… but a pair of dark pants or jeans might be an important addition!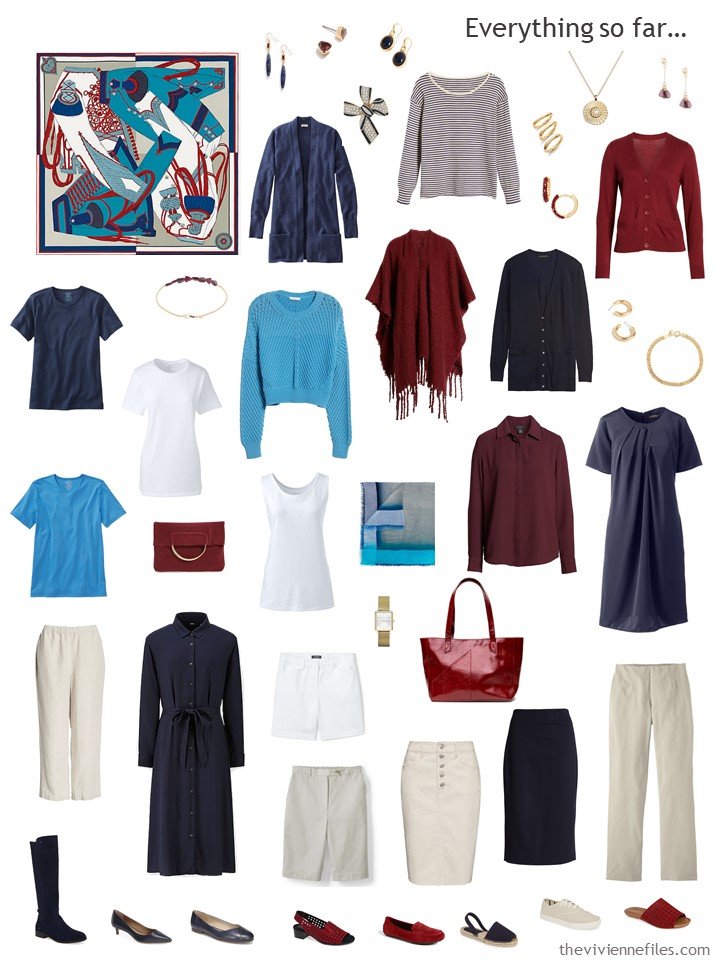 I feel that adding navy to this wardrobe helps bring it into the cooler weather; nothing is more doomed in the dead of winter than a pair of light pants! (slush splash NEVER comes clean…)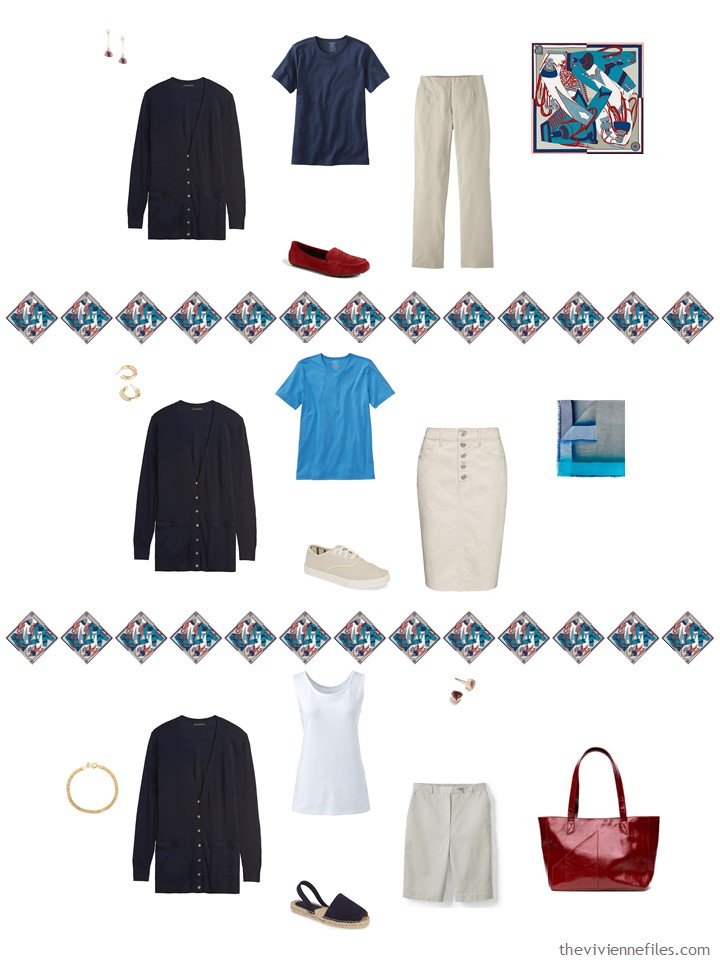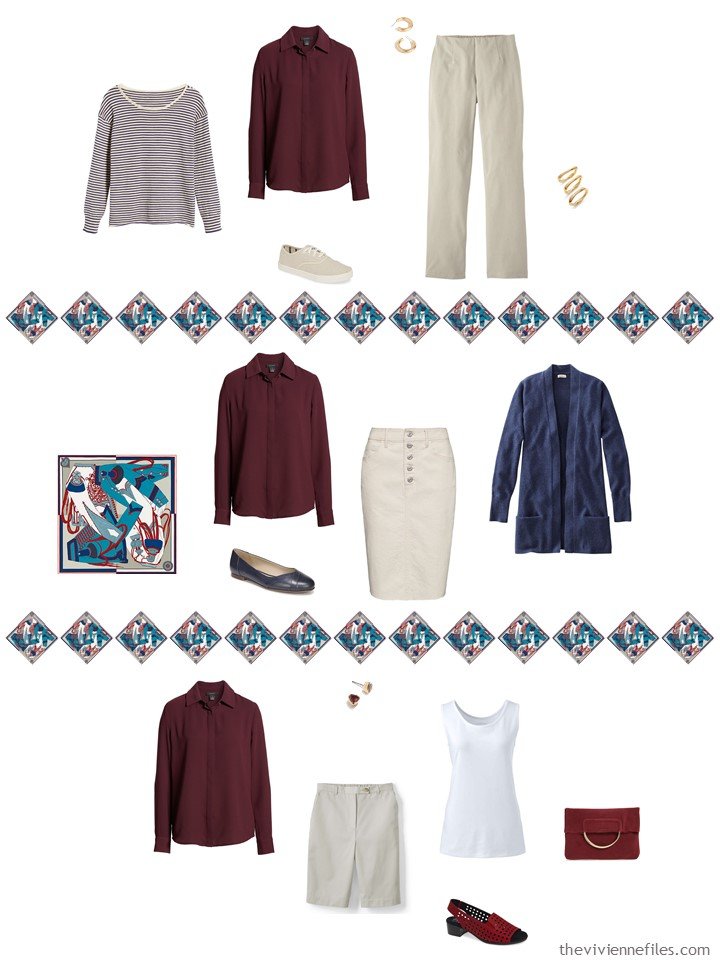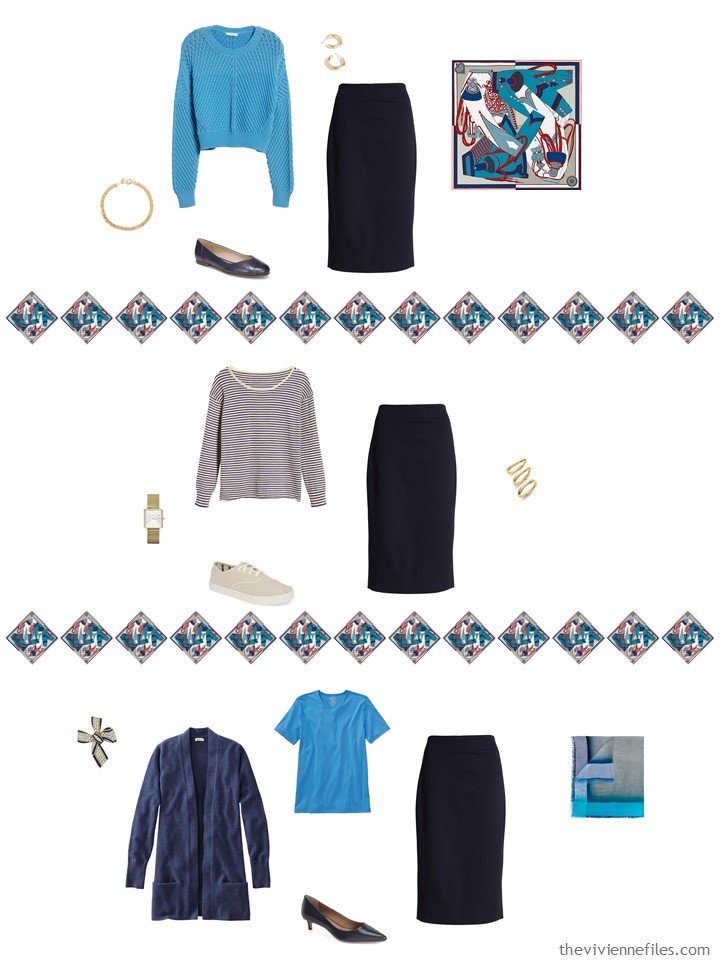 Every year, when I work with a scarf that has brown as the neutral, I struggle, and often write myself into a wardrobe corner… So far, this wardrobe seems to be holding together well; we shall see…
This blouse and sweater are from 2 different companies, but I think they go well together. This kind of shopping may not always work out, but it can be worth ordering pieces and getting them into your home to evaluate their suitability at your leisure…
The range of accent colors here is delightful…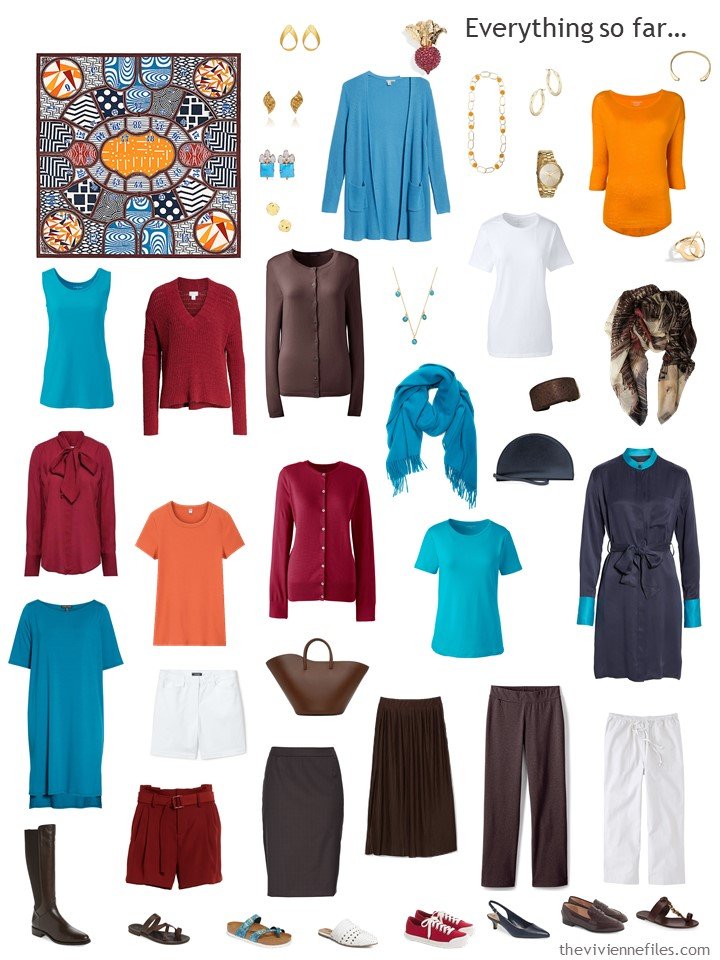 As the wardrobes get larger, the number of possible outfits should increase exponentially…. I don't think most of us think in those terms, though!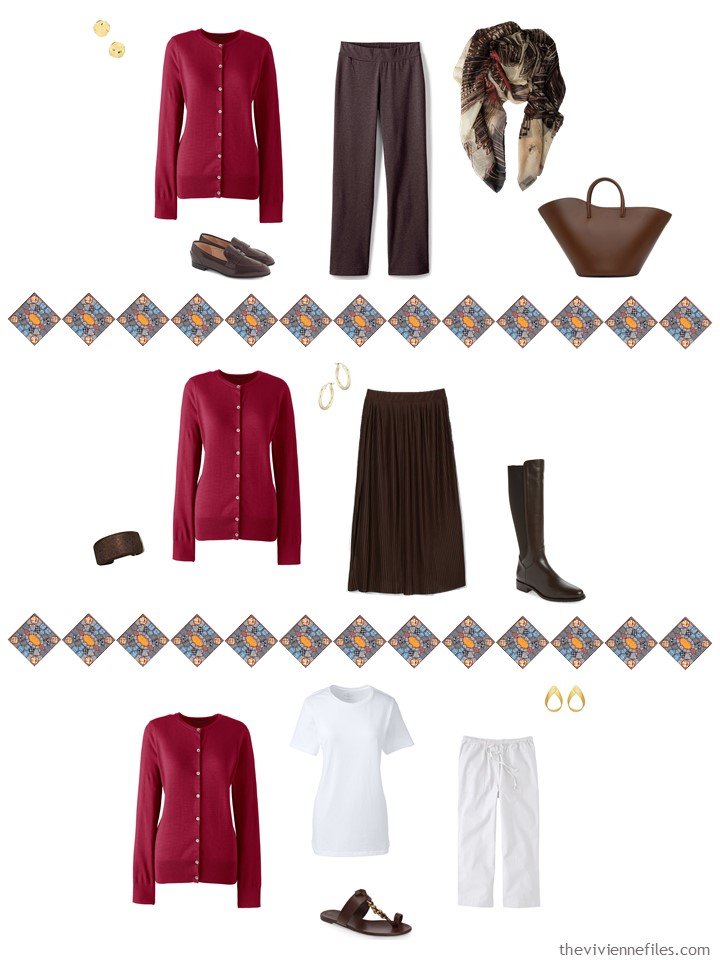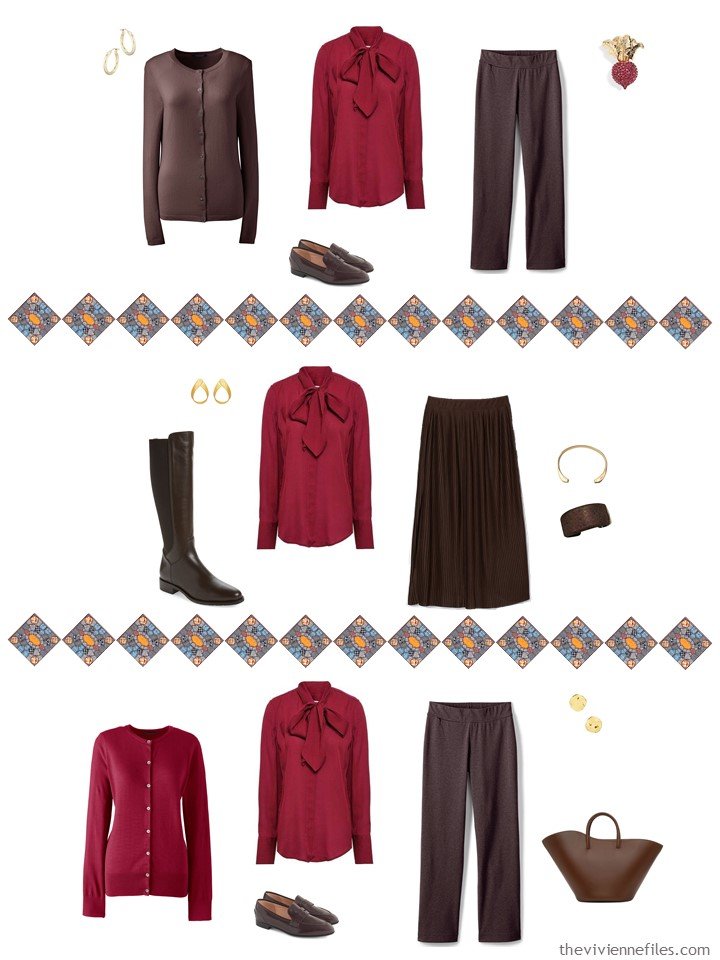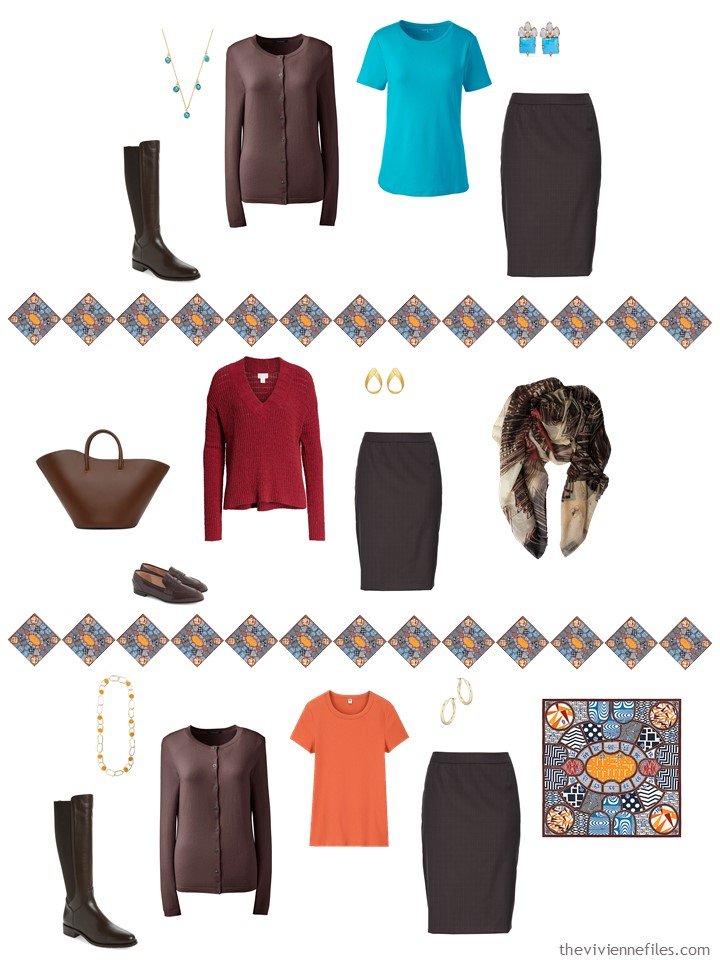 I still love this scarf…
I think it's long past due that I bring some of the darker beige into this wardrobe! As a contrast with the lovely black blouse and skirt, it brings some light to the overall look.
I'm finding the idea of stacked rings interesting; I don't think that I can wear them, with my hand problems, but I'm VERY tempted by these rings shown below…
And the brooch…. sigh….
I made at least 1 tactical mistake in this wardrobe (I'll tell you what when I review these wardrobes in January!) but I still think that this wardrobe has a LOT of potential: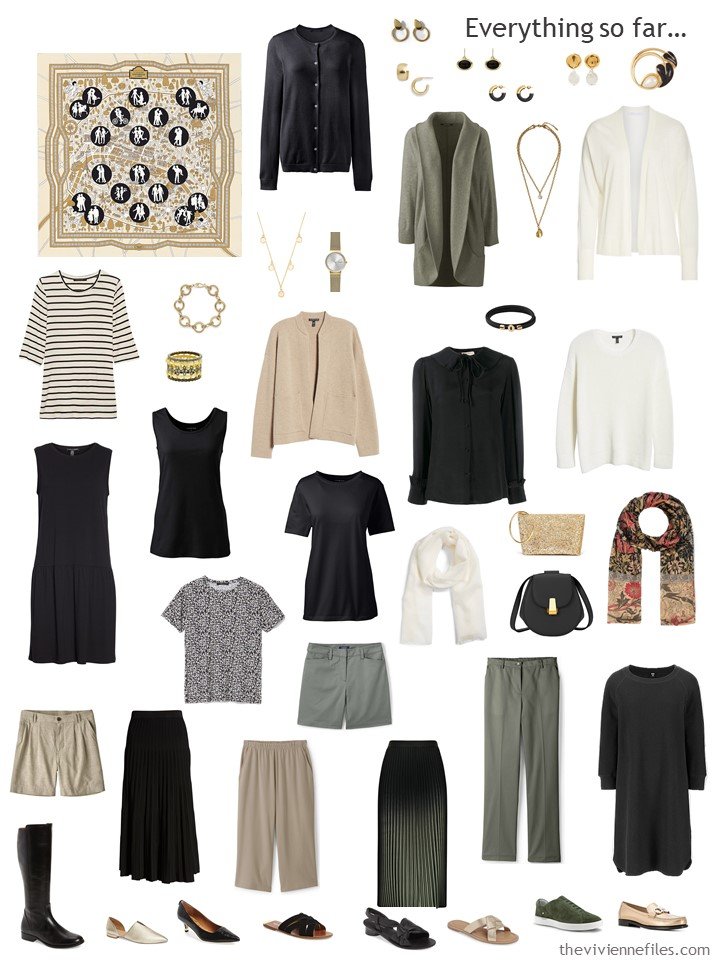 Everything still comes together well…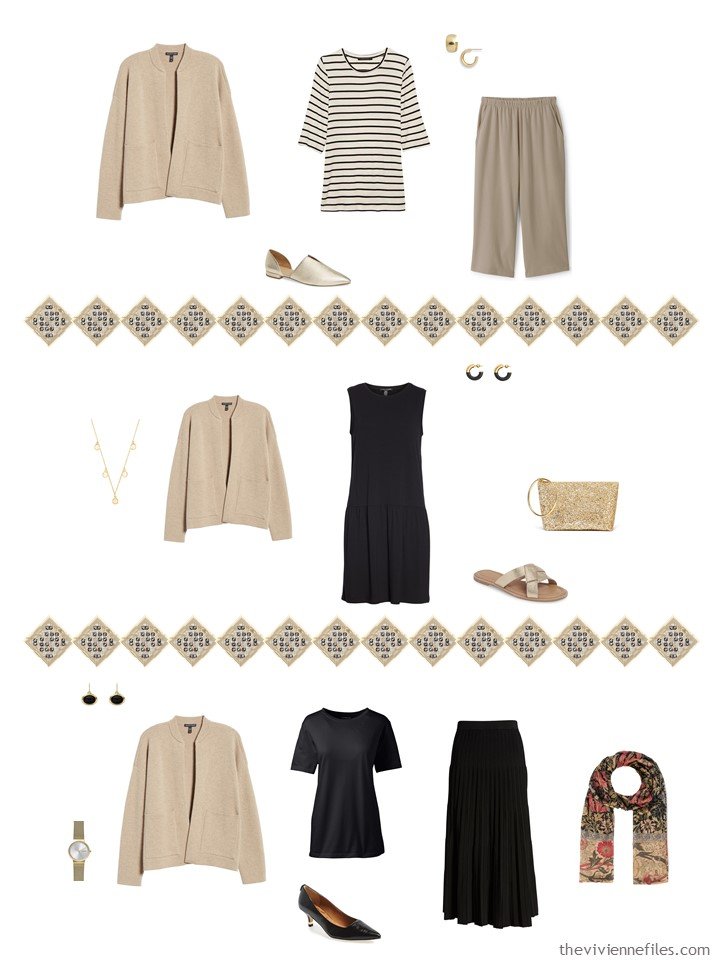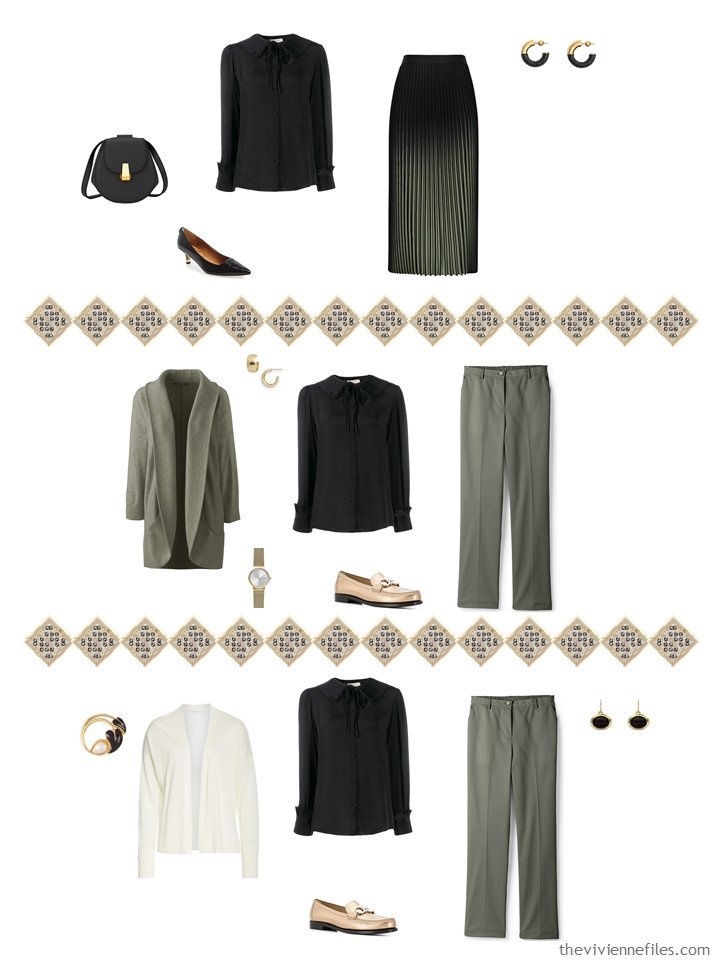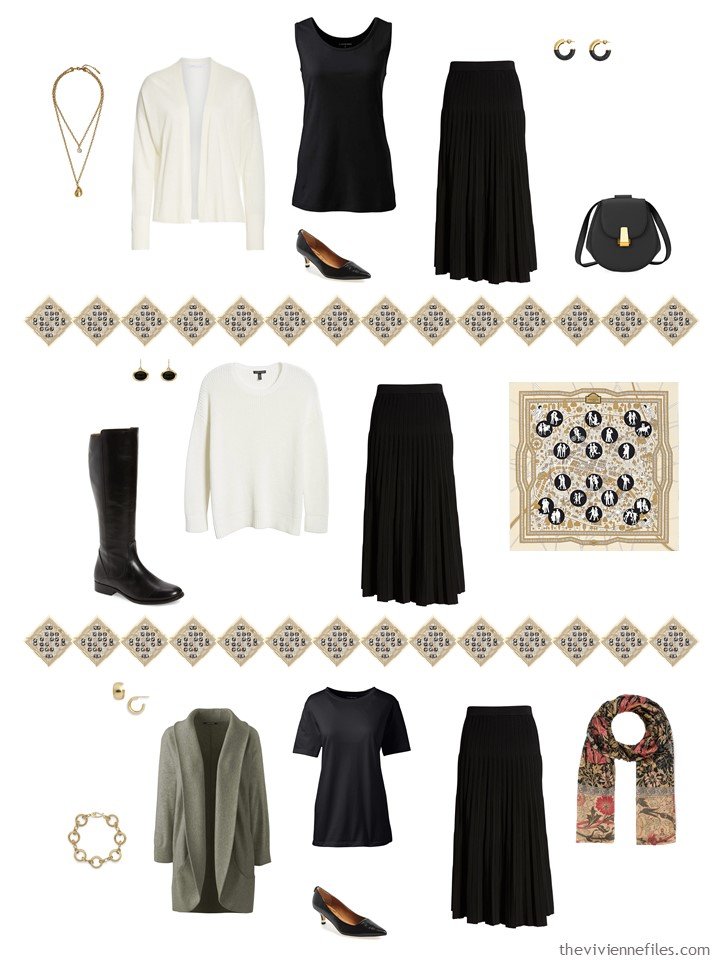 This month, I'm definitely most smitten with the last wardrobe, but that can always change!
Which is your favorite? And what would you change to make it perfect for you?
love,
Janice