July 3, 2019
Ah, finally we have warm weather in Chicago, which makes these choices look logical!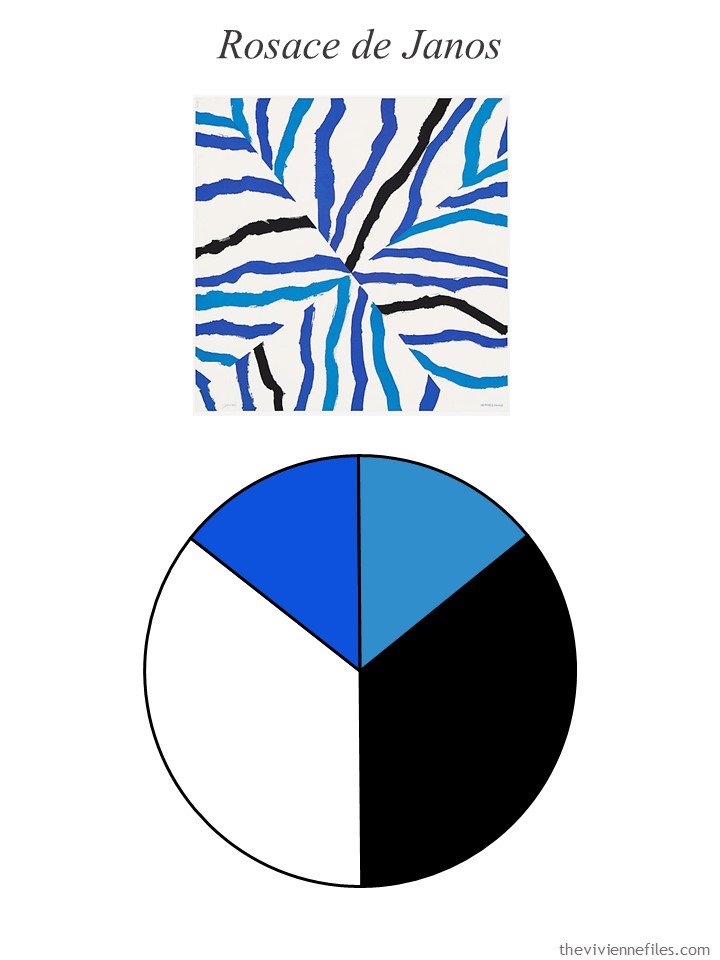 This month, I fell warmly into the wonder of white shorts. I do not EVER get a tan, but I find that my legs tend to look reasonably good in white shorts. Don't ask me how that works – I'm not complaining! If shorts aren't your thing, anything that helps keep your legs cool will work: capris, or a swishy mid-calf skirt…
How did this wardrobe get this far without a black tee shirt????
This wardrobe has a range of shades of blue, but the core of black makes everything work pretty well…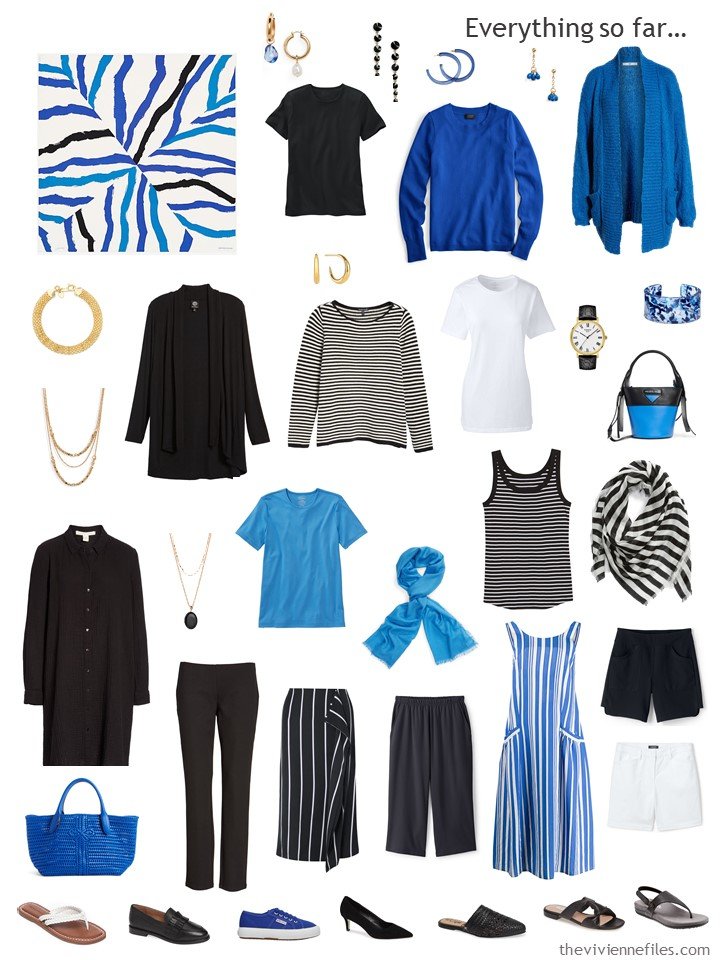 As always, new additions to the wardrobe offer more than just 1 option. This should almost always be a rule when you buy something; if you can only think of 1 way to wear a new garment, you'd better really LOVE that 1 outfit!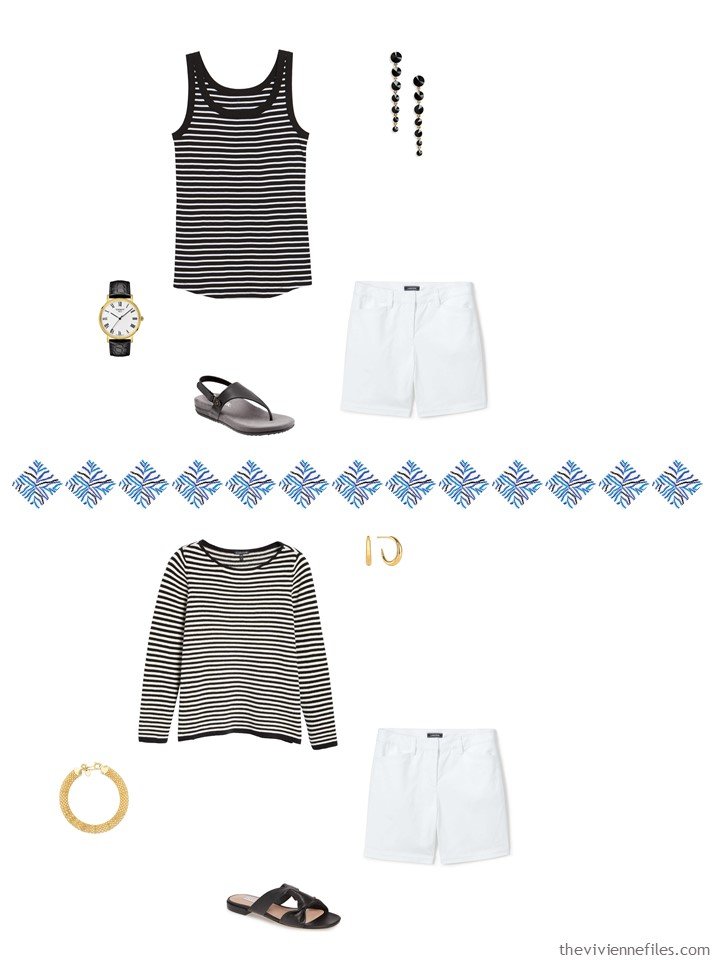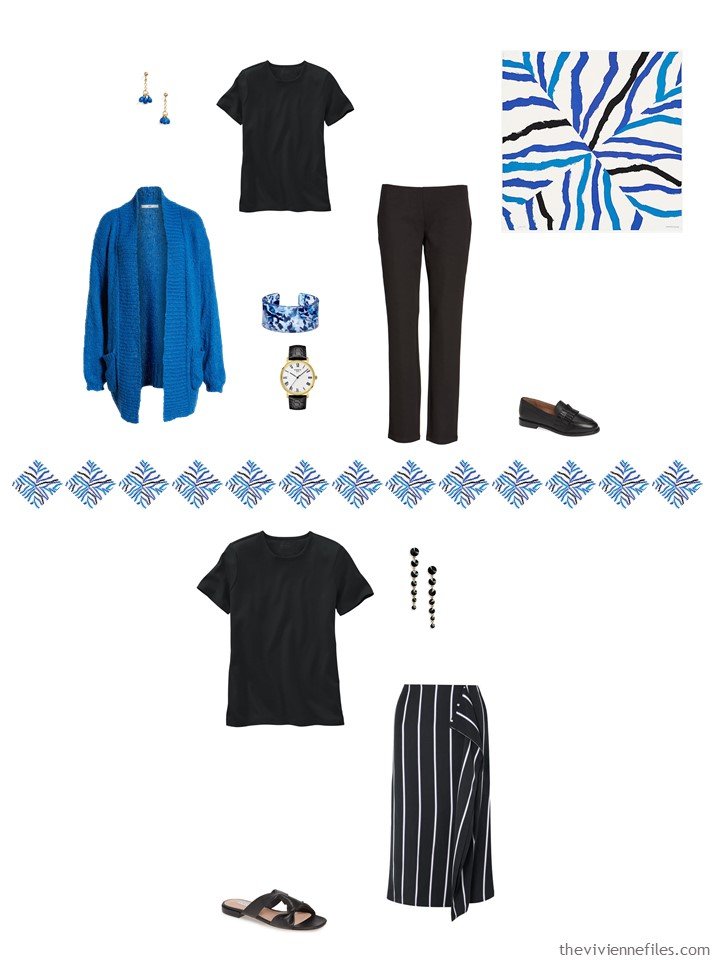 Ah, purple….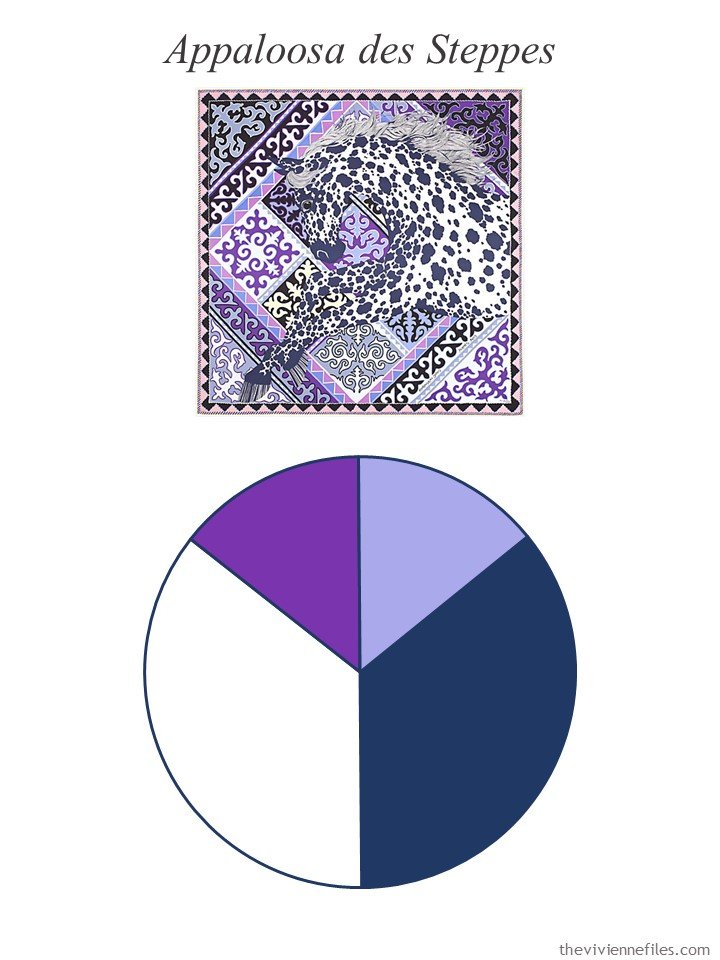 This wardrobe managed to avoid a simple navy tee shirt! I'm shocked…
I love all of these shades of purple! For some reason, I don't ever seem to want to wear these colors, but I think they're lovely…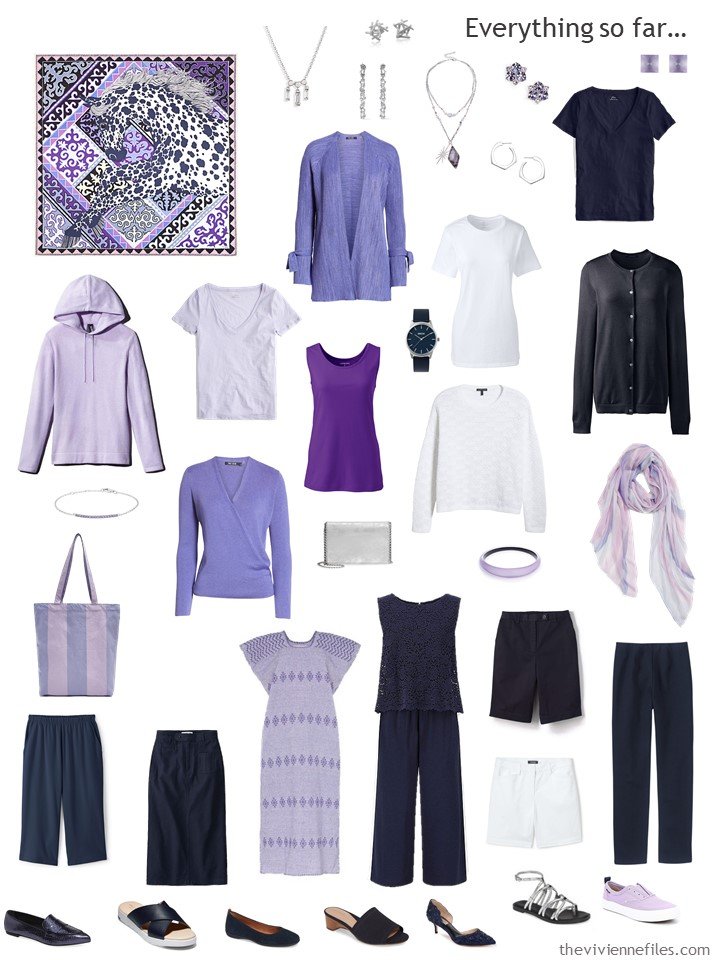 Lots of possibilities here: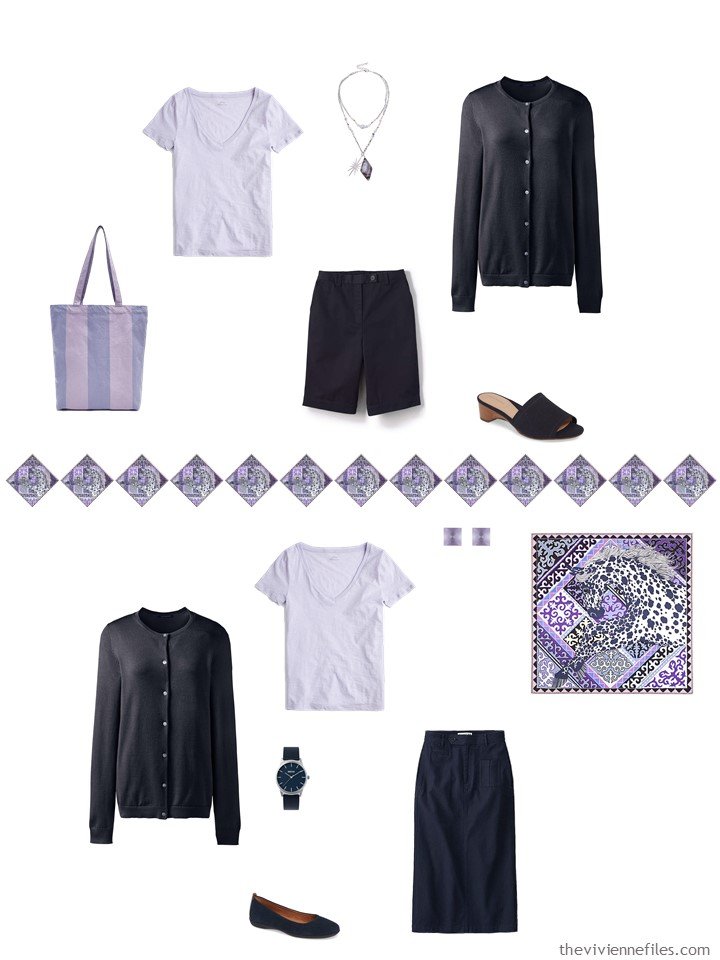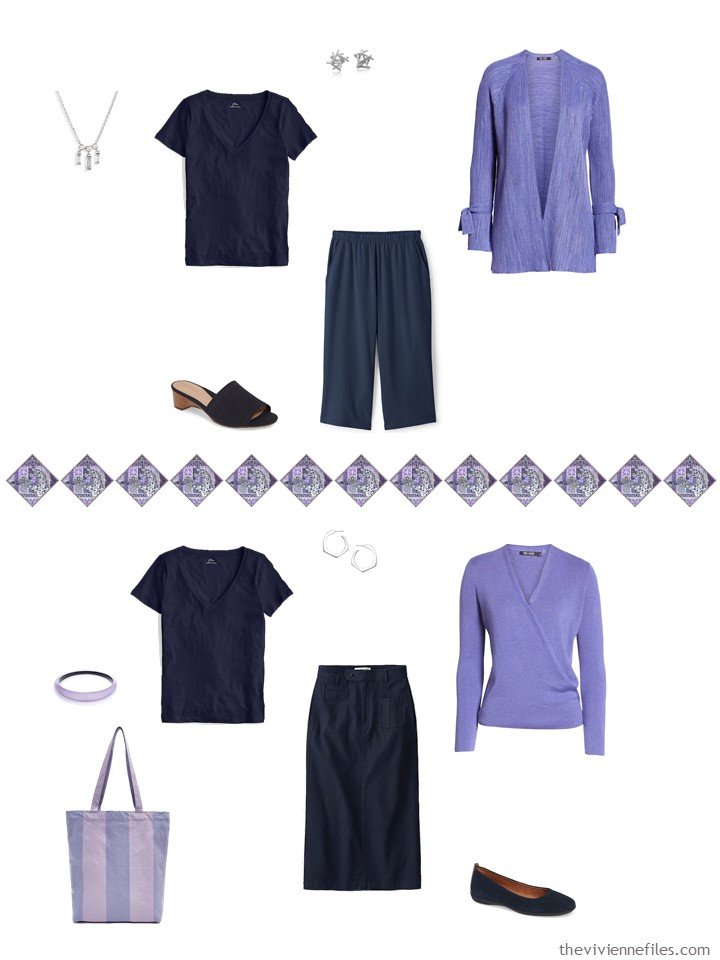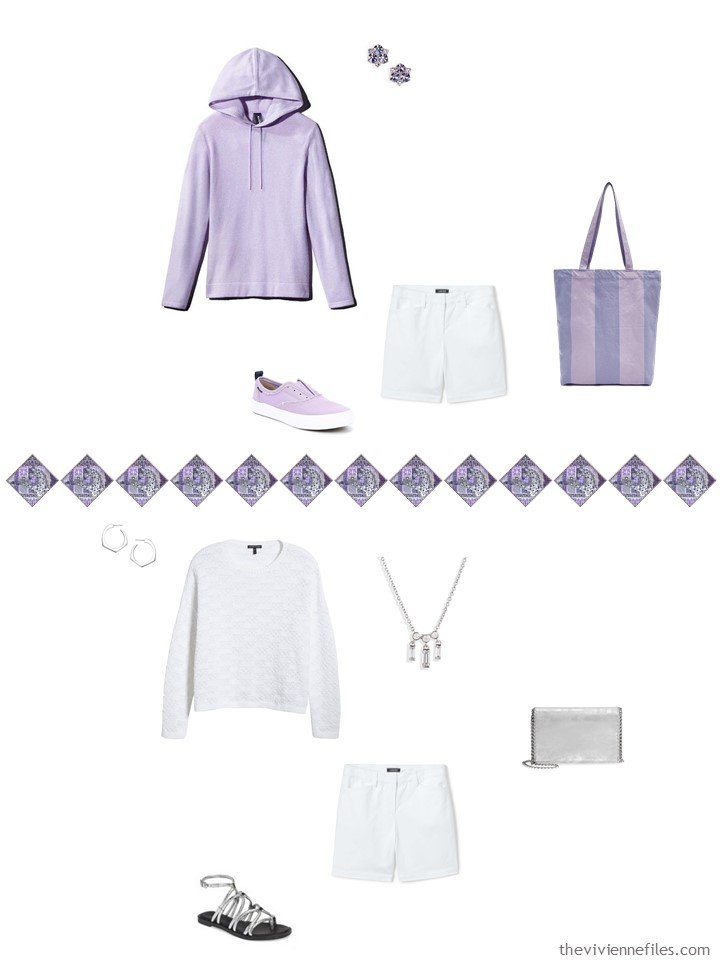 It's good to remember that simple tee shirts (or some other style of top) can really change the look of a solid cardigan and matching skirt or pants…
This next color palette is still working out nicely. I love how unexpected it is!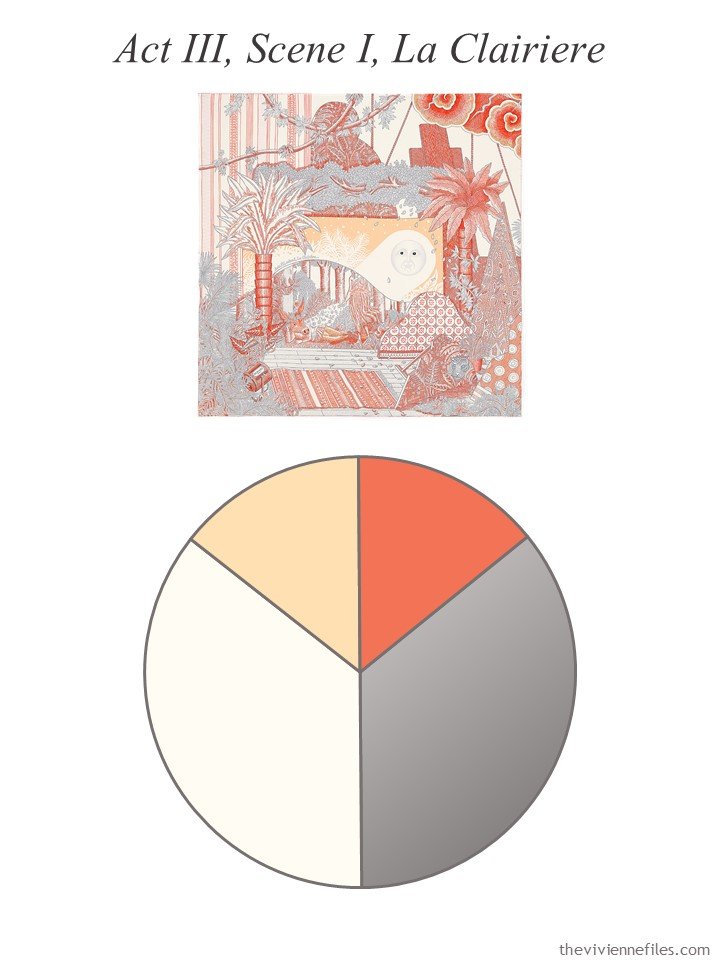 I think the color name for the blush tee shirt is pink, but at least in the photographs it looks more like the world's softest peach!
All of these wardrobes are now at a point where they would make great travel wardrobes! I think that they could be great fun to see hanging in a hotel closet, don't you?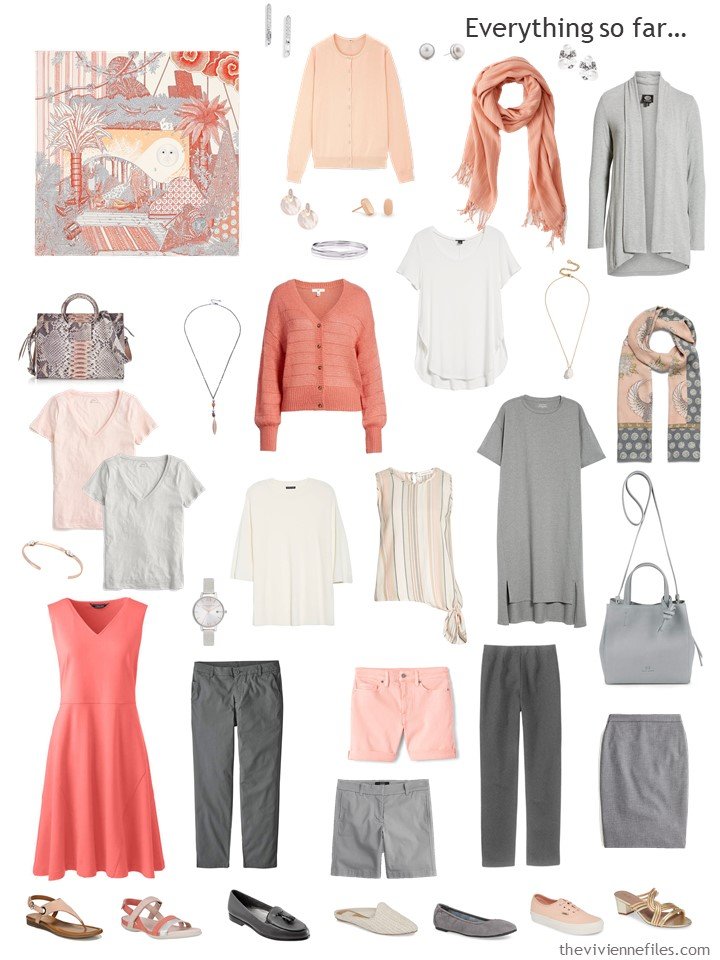 The new pieces blend in well: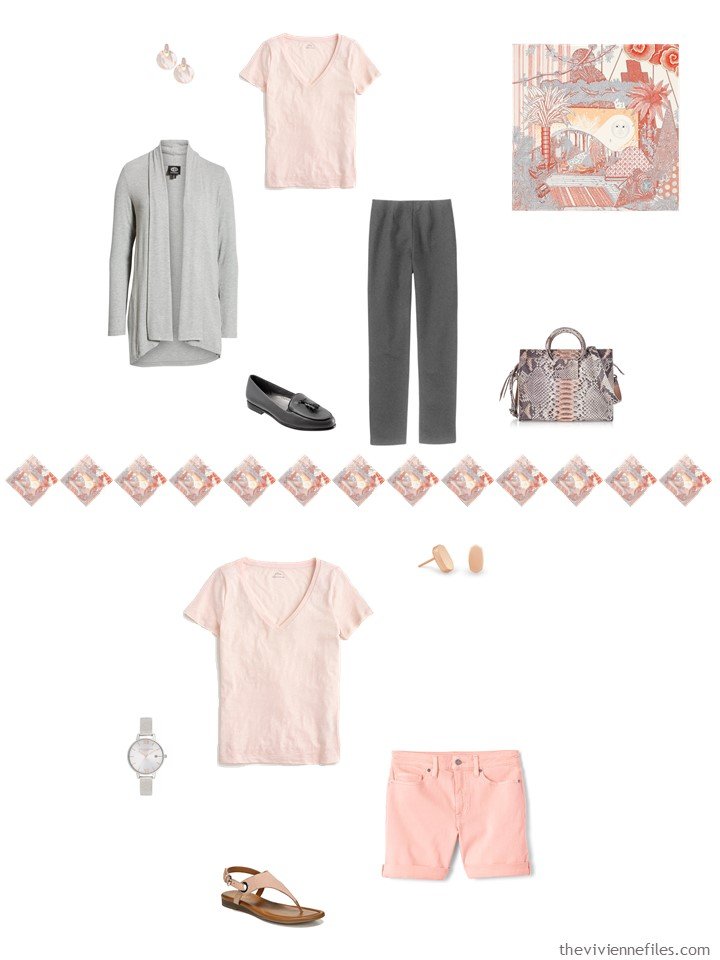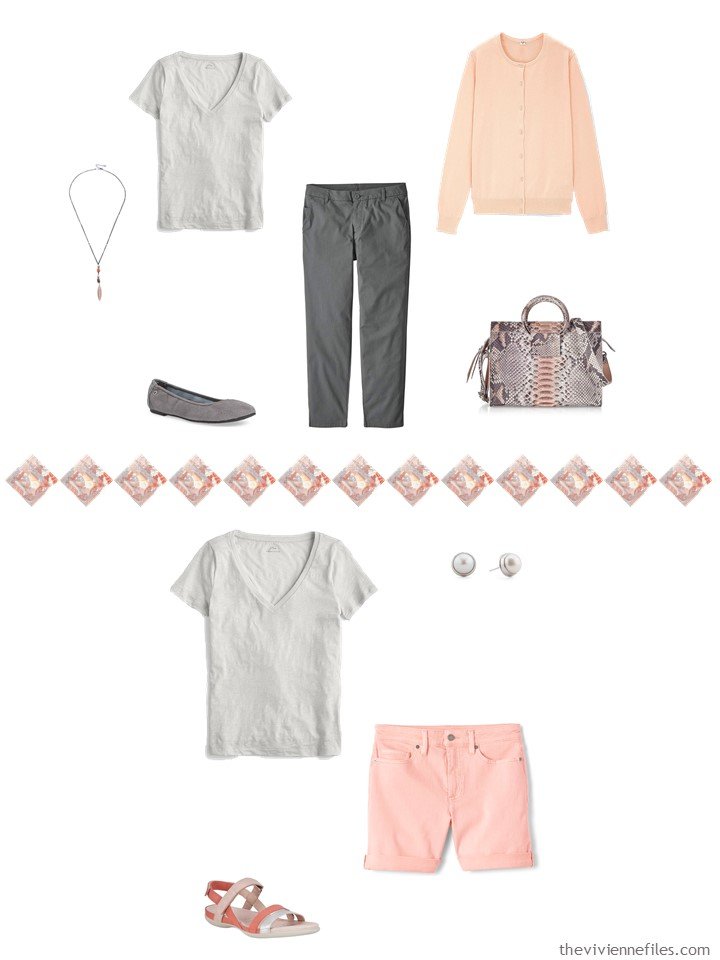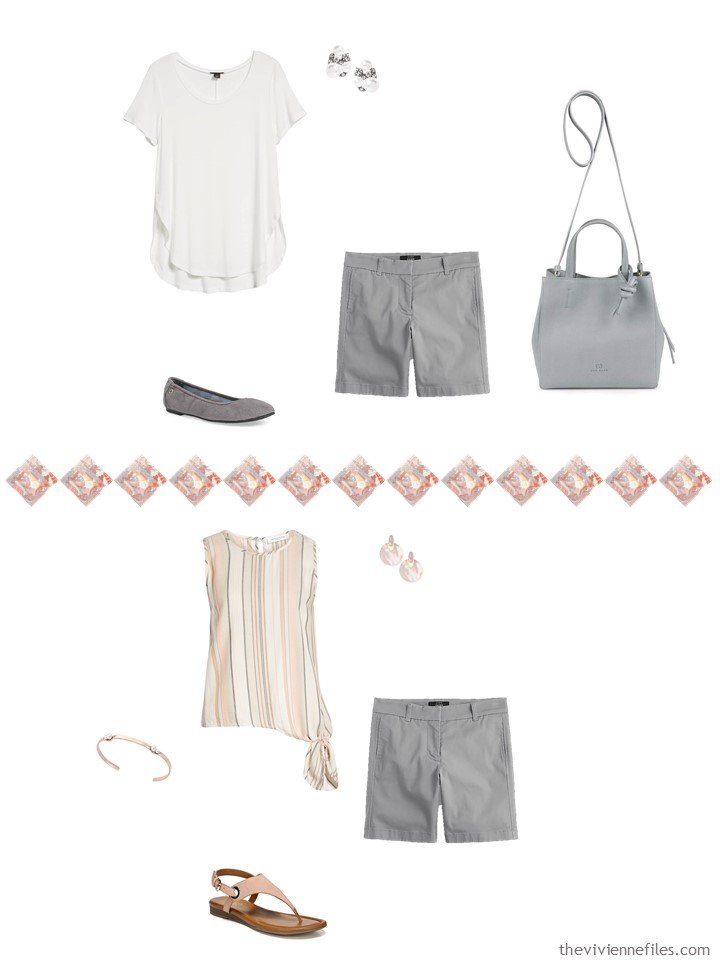 Classic colors!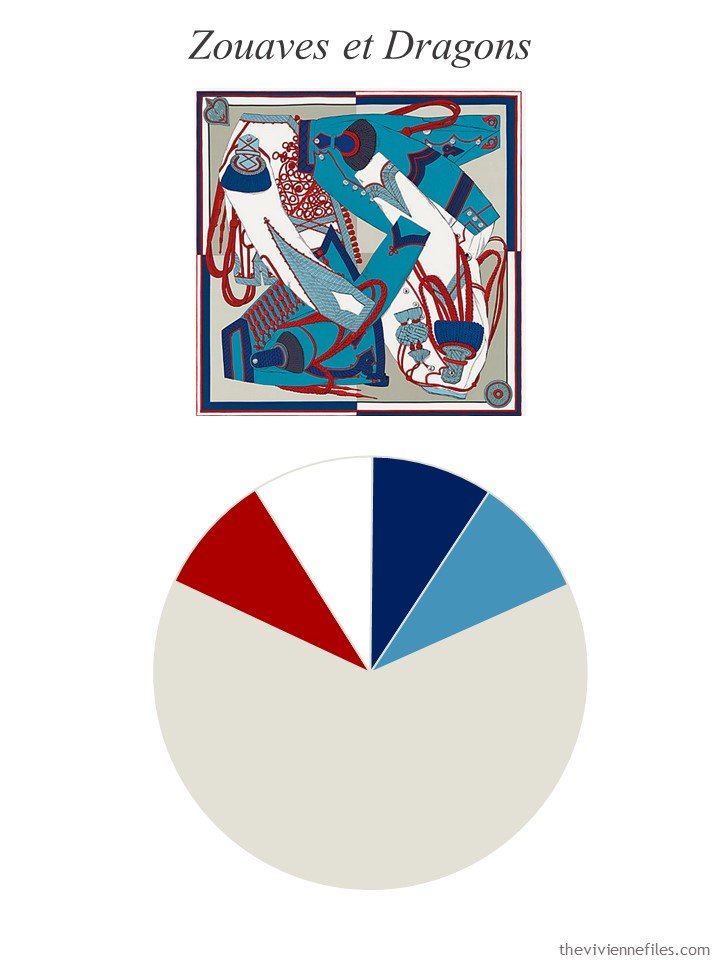 For every other new outfit this month, I added a necklace. But I could NOT resist these earrings…
I could live (or travel!) quite well with this wardrobe: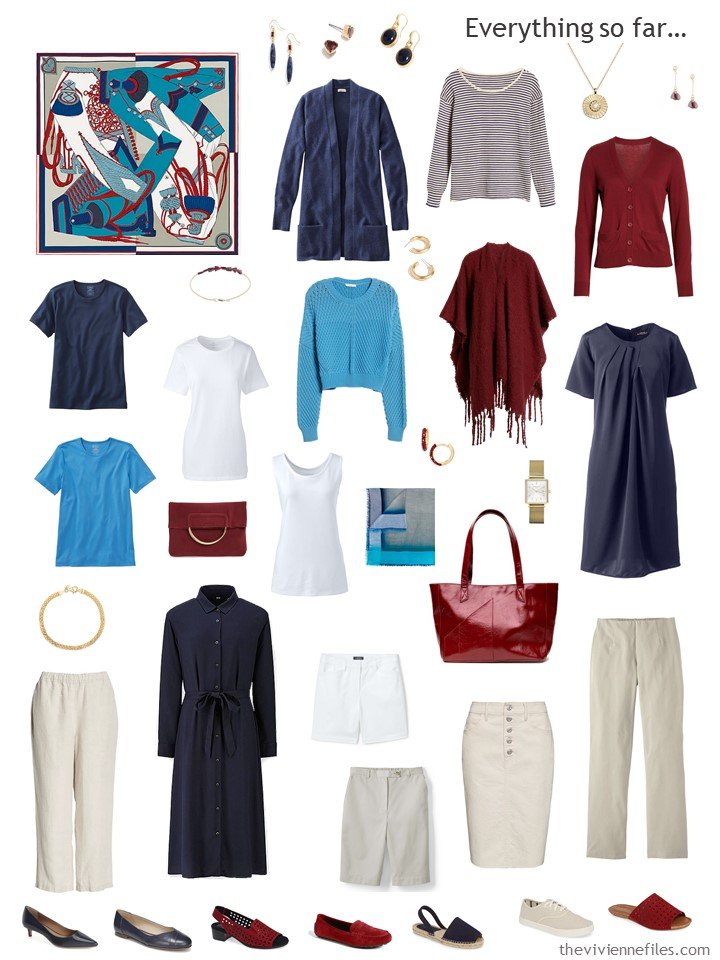 I love all of these possibilities: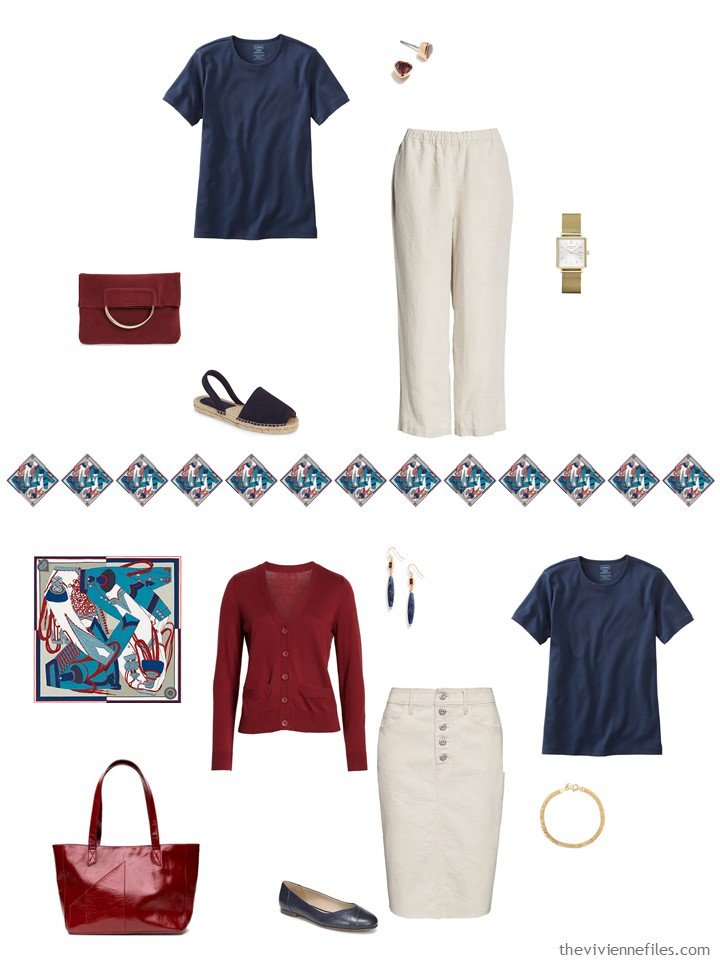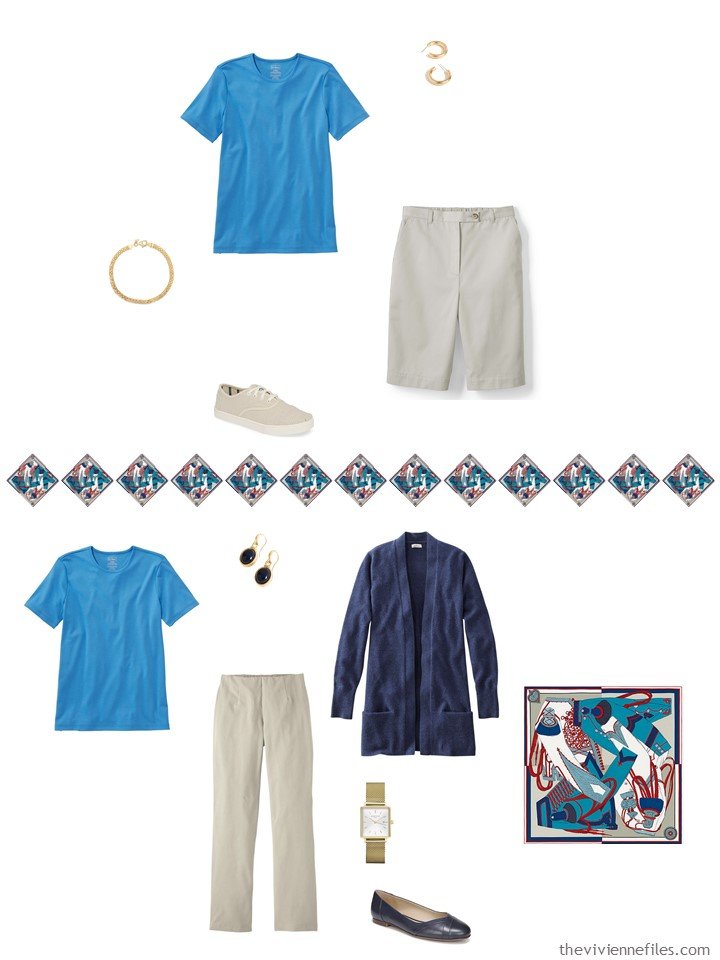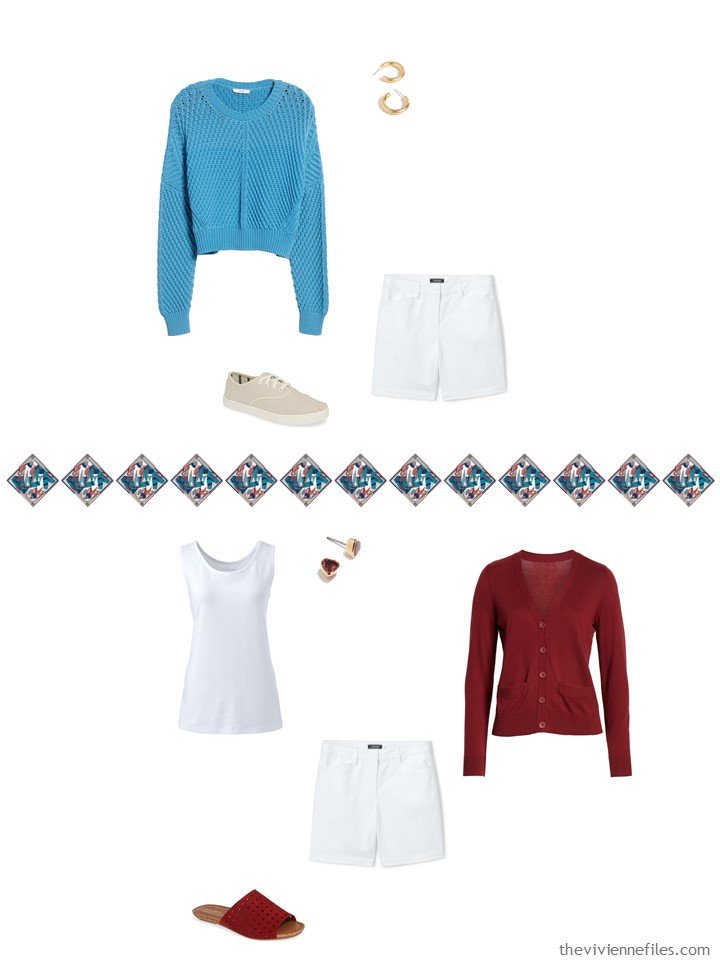 These colors are so great together, but maddening to try to buy! A smarter woman than I would have chosen navy and white as the core colors, but I'm always determined to try to include brown…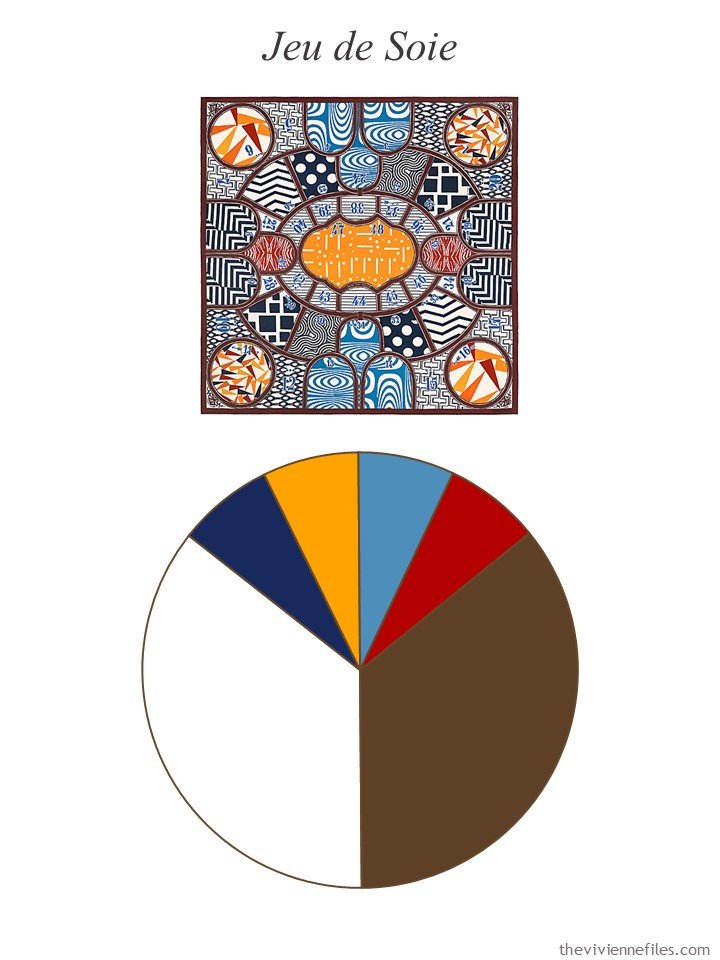 I looked – oh HOW I looked – for brown shorts, and could NOT find anything suitable. Either the shorts themselves were oddly short, or long, or freaky in some other way, or they were photographed so that you could only see about 2/3 of the garment under the top, and the artfully placed hand of the model.
This happens when you're shopping for real – your size is gone. They fit is terrifyingly uncomfortable and unflattering. Your favorite colors don't exist…
So? Sometimes, you have to work with what you can get! I don't know that I would wear either of these tee shirts with the shorts, but as individual garments, all 3 of them work into the overall wardrobe really well. Hallelujah for that!
What an interesting wardrobe we're building here…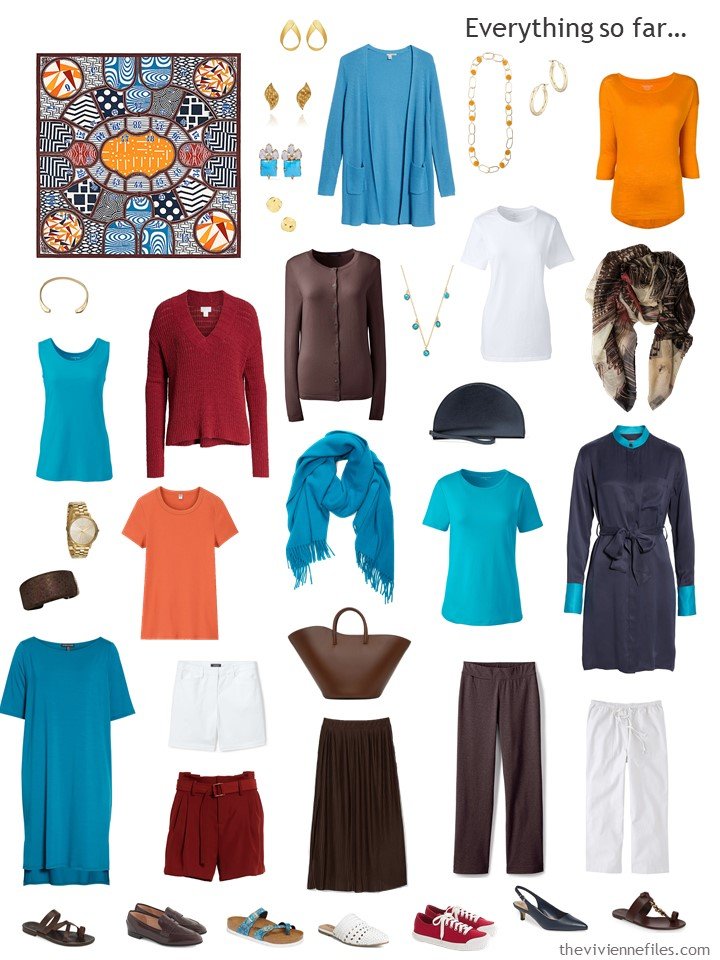 Even though there's no "new" outfit here, the new garments all can be quite useful.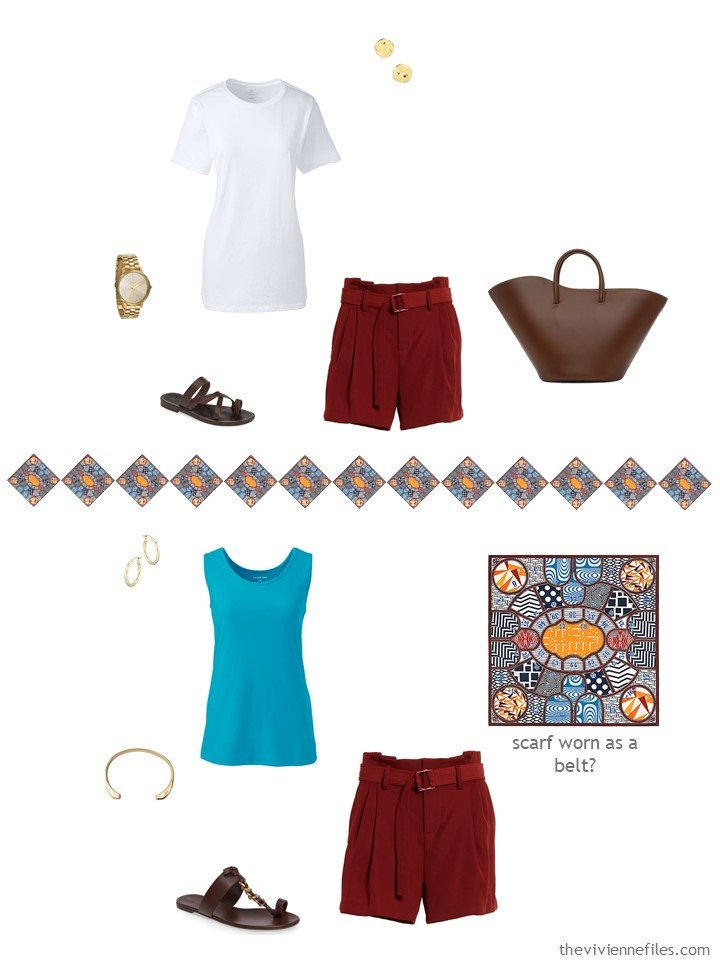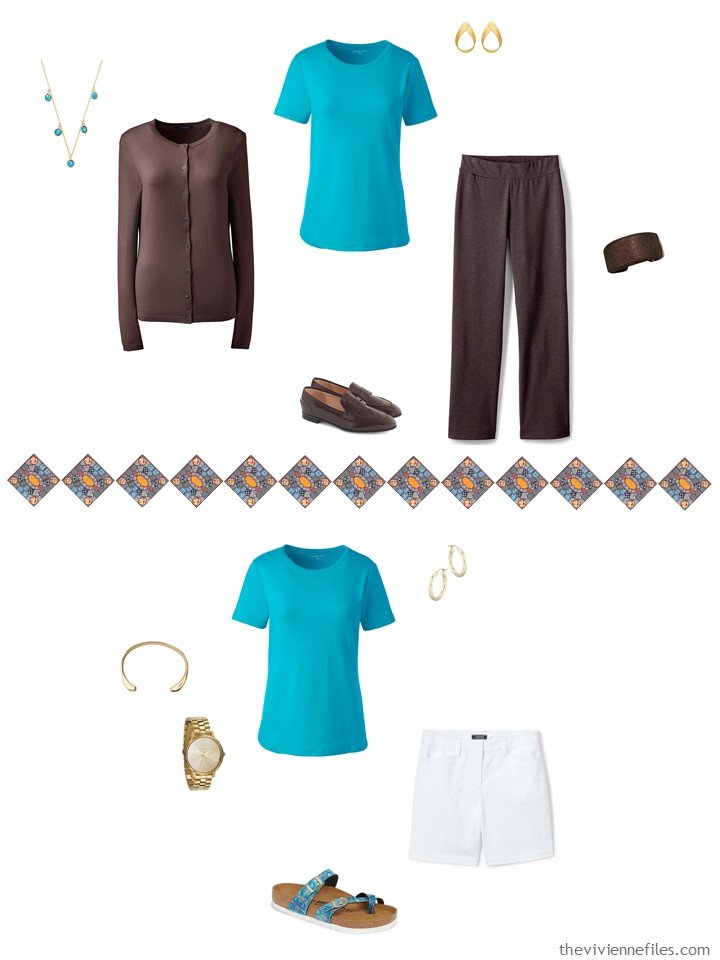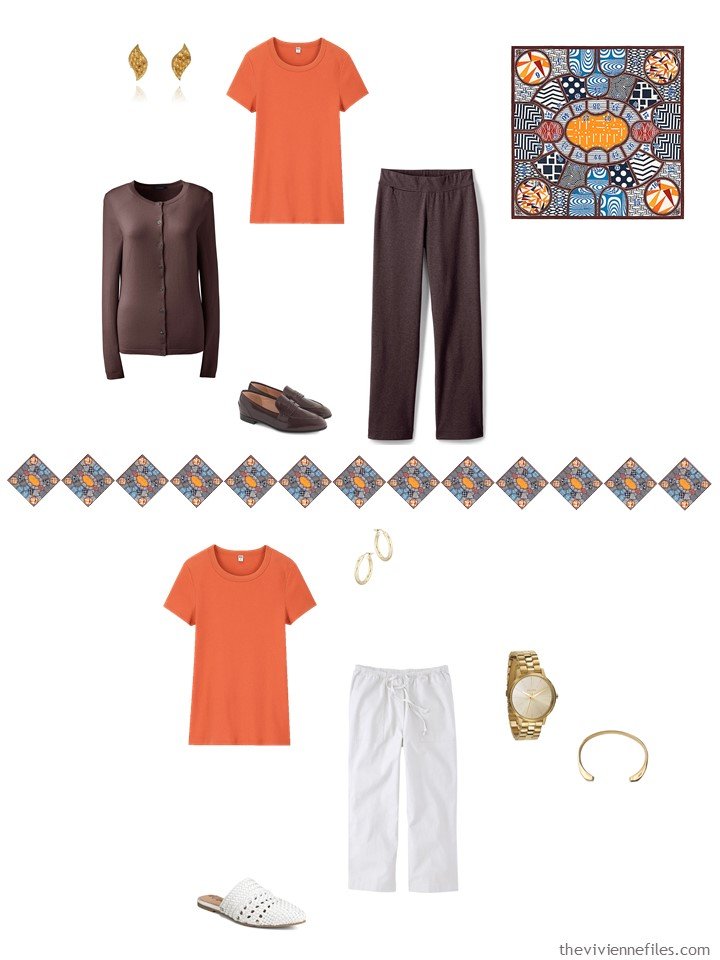 Ah, now this color palette that I augmented…. You'll get to see a miscalculation on my part here!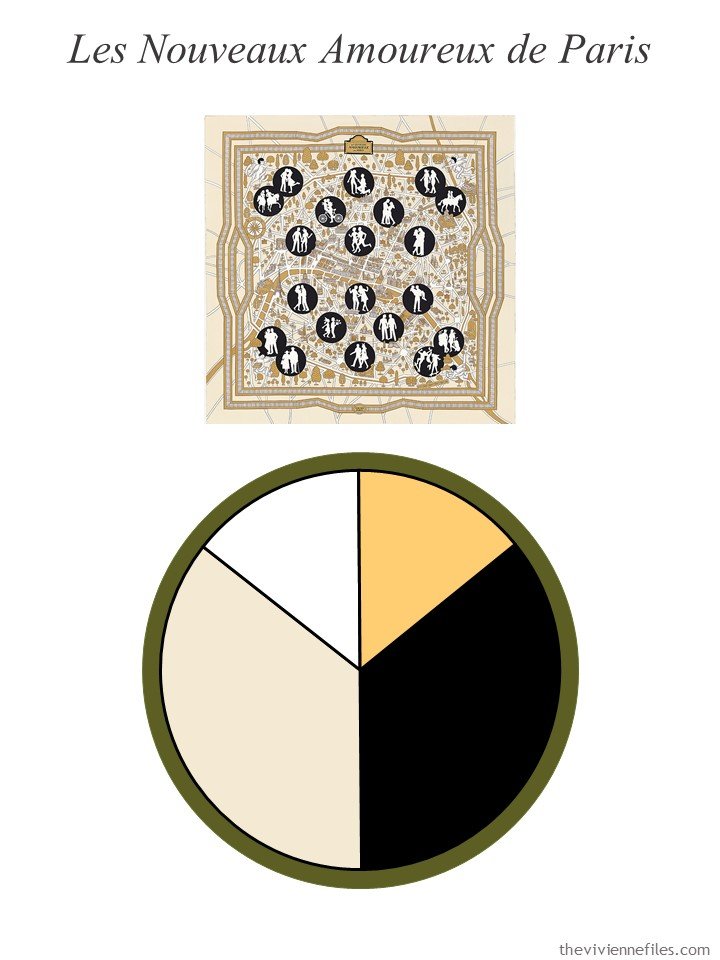 At the end of last month, EVERY garment in this wardrobe was solid, and neutral. So I got this bright idea that a couple of print tee shirts would be perfect…
But this woman doesn't have any black shorts!!!!! And as much as the beige shorts are great, black would have been a smarter choice. In the interest of being completely honest about what I do, I thought I'd show you this…
It's a great wardrobe, but I got so excited about finding green garments that I didn't really build a sufficient core in black. Yet!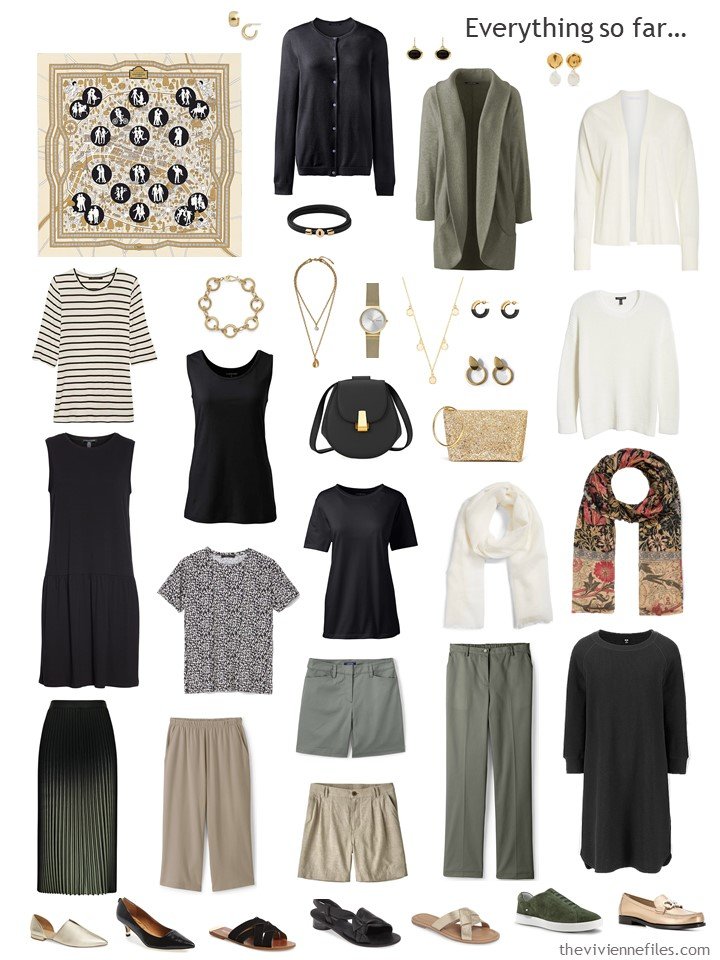 So integrating these print tee shirts into the wardrobe isn't as easy as it would be if our heroine here had a black skirt, or pants, or shorts. A learning experience, even for me!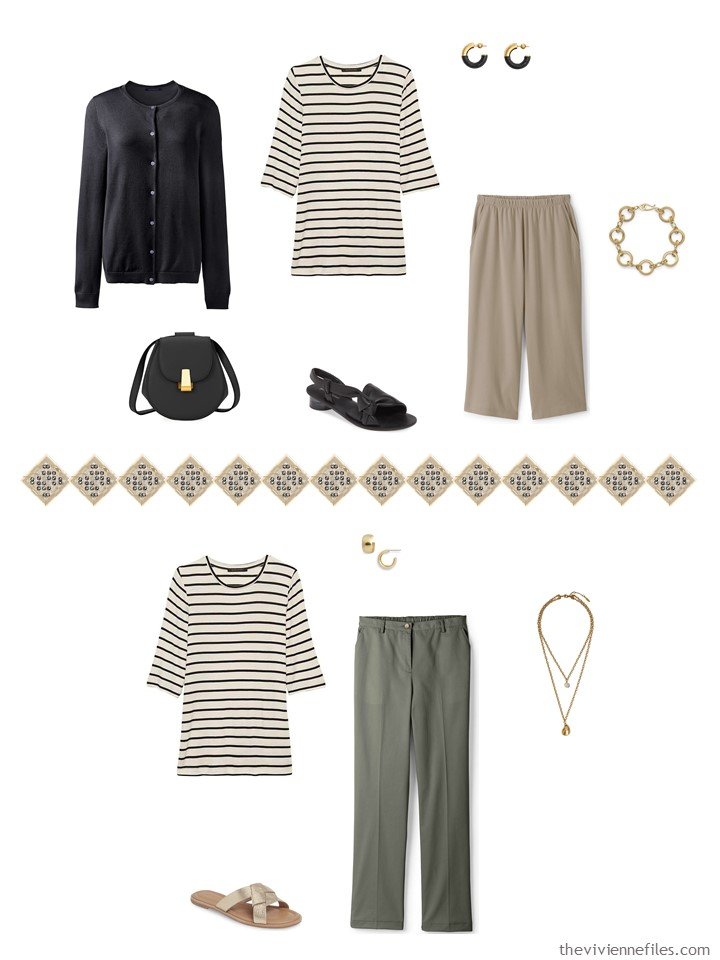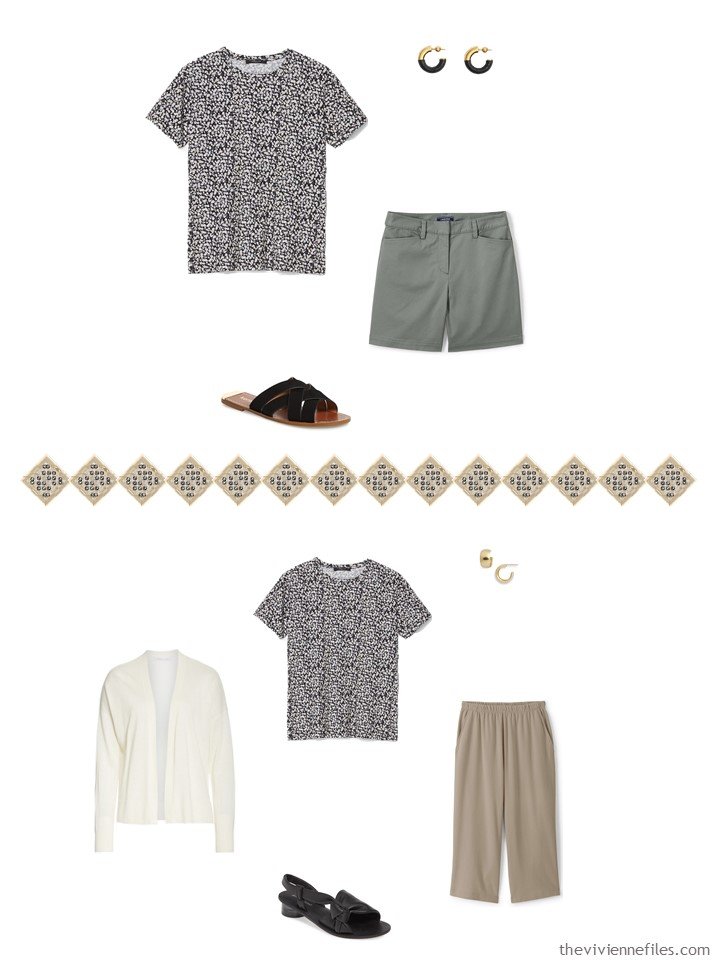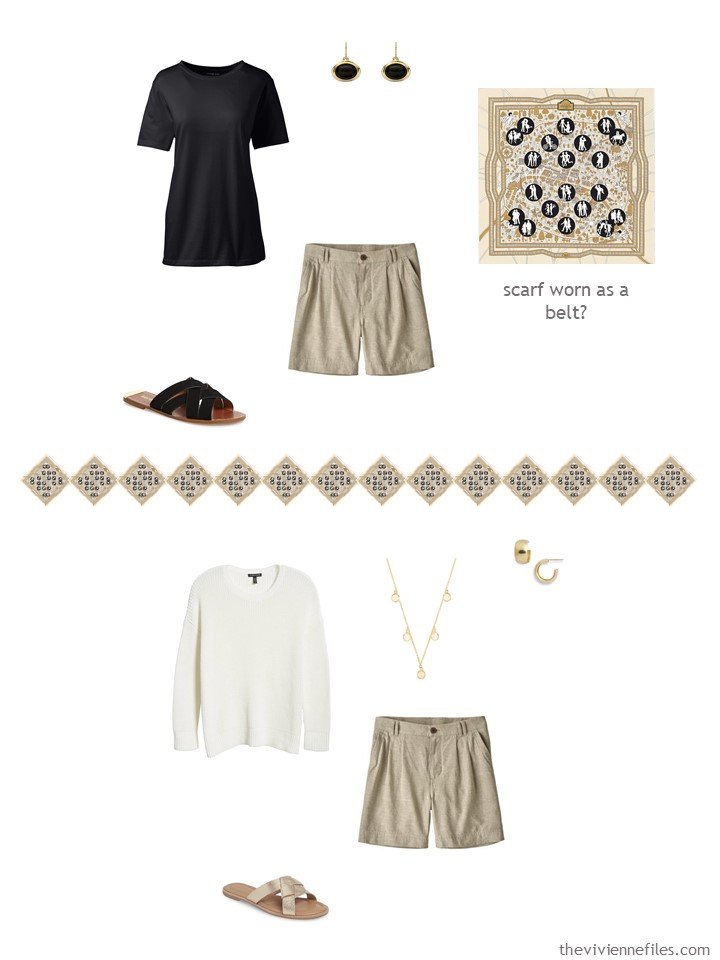 For me, I'm leaning toward the navy, beige and deep red wardrobe right now. And you? (happily, we can enjoy all six of them!)
love,
Janice
p.s. 2 years ago, I was doing the SAME THING, with 6 different scarves! I love to look back at these wardrobes….