July 1, 2019
We could talk all day about why I'm starting with this particular garment, but I finally determined that I had to start somewhere, so this makes as much sense as any other!
If you're interested in buying a tee shirt like this, consider getting one in your dark neutral, as well as your accent color(s) at the same time. Lots of retailers have discounts on multiple purchases, or will have some sort of site-wide discount in the next few weeks. Get on the mailing list of your favorite tee shirt source, and strike while the price-cut iron is hot!
I want to make this really clear, right from the start: I'm NOT telling everybody to rush out and buy this particular tee shirt! I'm suggesting, rather, that you figure out what the lightest-colored top might be that you would want to have in your wardrobe. Particularly, think about what you want to layer under sweaters or jackets in cooler weather…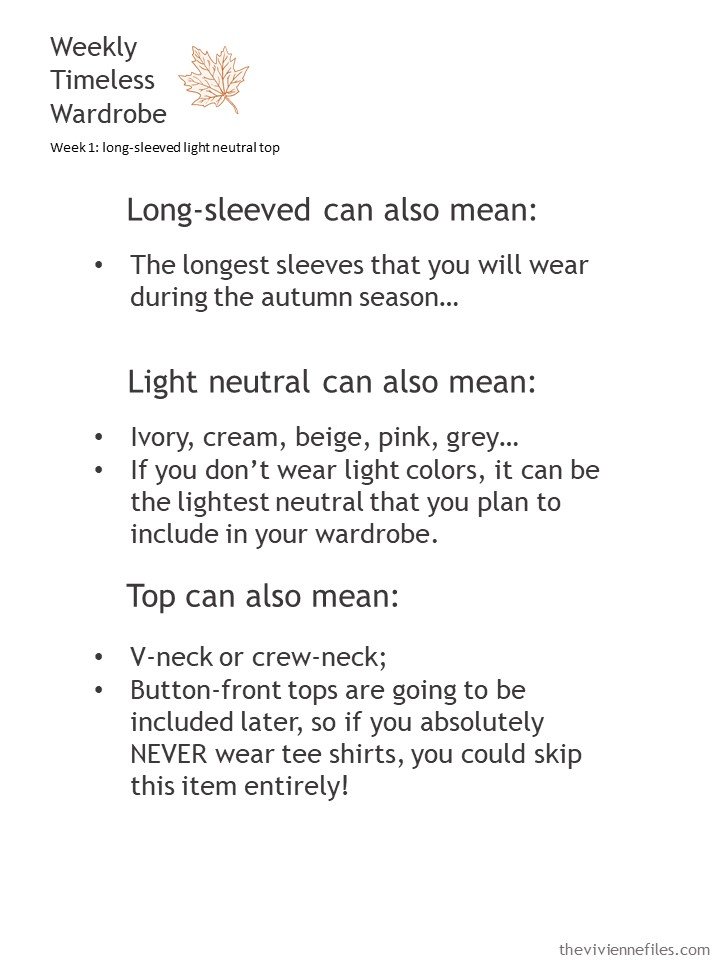 The Weekly Timeless wardrobe is a guideline, NOT rules…
When you have your top in hand, you have lots of options for how to wear it:
Even if you don't think that you wear light colors very often, it might be worth considering just so you can have something fresh and bright near your face from time to time…
Of course, this kind of top is perfect for casual hiking and outdoor activities. For really serious stuff you might want really serious gear, but for more relaxed activities it's worthwhile to have a few tee shirts in hand…
Of course, you could wear these shirts every day for work!
You can ever temper the dressiness of an outfit if you're not sure how posh your event might be….
In the next 3 weeks, the Weekly Timeless Wardrobe will include a dark neutral long-sleeved tee shirt, and then 2 accent-colored long-sleeved tee shirts. If you have those in hand, getting dressed for the week will be a lot easier!
love,
Janice
p.s. 3 years ago I was in the 7th month of building six Hermes-based wardrobes…
p.p.s. Our current batch of Hermes wardrobes will be updated here on Wednesday!