When I take pictures in Paris, I'm a little bit… reckless? Carried away? It's hard to avoid – between the excitement of being on vacation, and the EXCITEMENT of being in Paris… well, there's a lot of beauty that I feel that I want to capture. And much of it doesn't fall into any nice thematic sort of plan, so I'm just going to show you things!First – PASTRIES!!! The holidays are when chestnuts come into their own, and my favorite dessert – Mont Blanc – is topped with a TON of candied chestnuts that have been forced through a ricer. I can eat these until I am absolutely ill…
But if chestnuts don't appeal, every pastry shop window has a ton of possibilities!
Cold weather also brings the need to drink a great deal of "chocolat chaud!" You can order it "a la viennoise" which brings mounds of whipped cream, or "a l'ancienne," at which point you are presented with a mug with a smear of tarry dark chocolate in the bottom, and then a pitcher of warm milk, and some sugar! You can sit an experiment for HOURS to figure out just the right combination…
And of course winter wouldn't be winter without a pile of "choucroute garnie," – sauerkraut with all sorts of… pig parts. And some boiled potatoes, and a dab of mustard. You've got to walk for MILES the next day to work off this meal!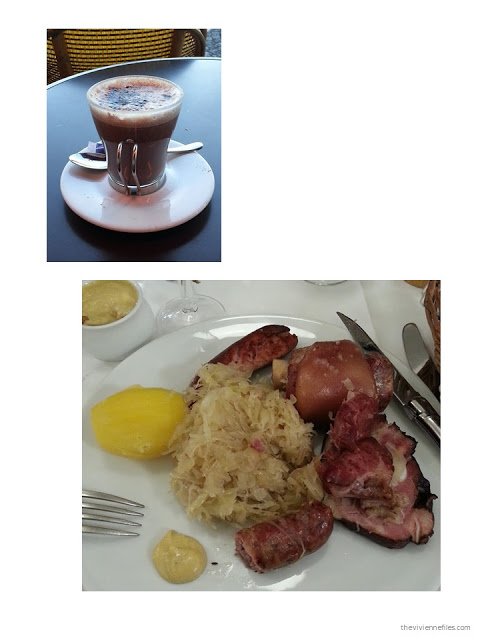 For me, one of the biggest delights of window-shopping in Paris it just the sheer variety of shops available. No matter how far I walk in Chicago, I'd be hard-pressed to find an entire shop dedicated to toy soldiers (I'm assuming tin, but I'm not sure?). In fact, I think I can remember THREE such places in Paris. Truly, Paris is a city that encourages and indulges the individualist, and doesn't pay nearly as much attention to the idea of conformity.
The bottom photograph is tough to see, but it's a wooden box, balanced on the "legs" of 5 metal "runners." Their 5 heads are the handles of the box. Creative doesn't even begin to describe this…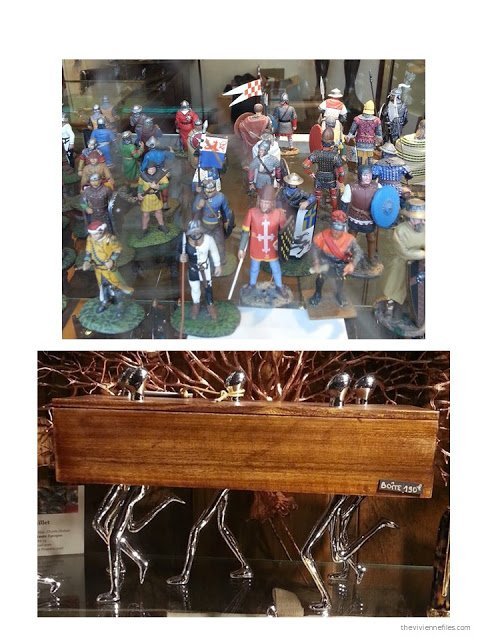 Probably the hardest thing about writing The Vivienne Files is trying to find just the right color for garments; I don't find a wide range of colors available online, and when I DO find something close to being right, it's poorly photographed… Contrast that to these subtle shades, just hanging in a shop window looking irresistible…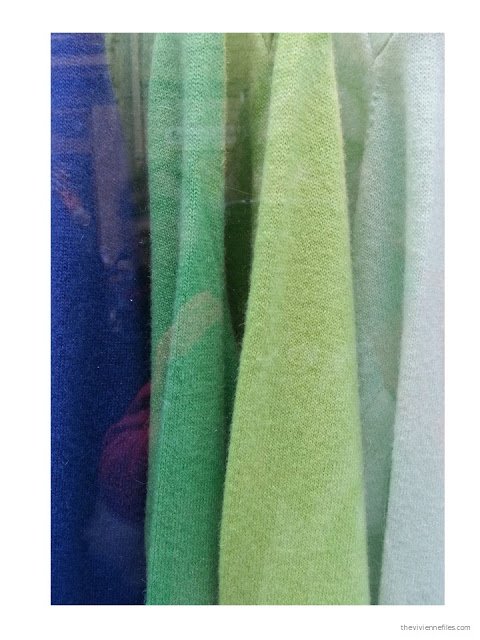 I told you that Paris has a really wide assortment of shoes available, and I believe that we all concluded that this would probably include some really silly things. The shoes at the top are both ugly AND impractical – a winning combination! And the boots at the bottom? Yes, they look like they're broken, but they're MADE THAT WAY…. I couldn't get a better picture, because we were waiting to go into Sainte-Chapelle for a concert, and the room was quite dim. But I couldn't pass these up. Could you imagine going down the street wearing boots that looked as if the heels were in the process of snapping off? I don't get it….
This window wasn't specifically holiday, but it was just so pretty that I wanted you to see it. The white pattern is painted on the interior, and you were able to glimpse the display (maybe antiques?) through the paint. Just lovely…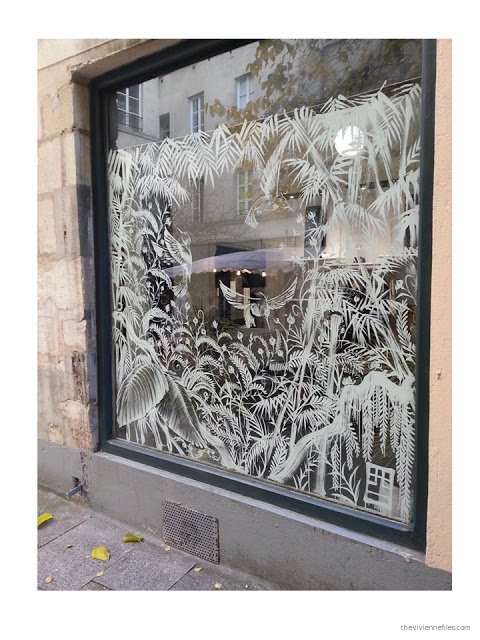 Speaking of color combinations, and window displays, and festivities – these were all just stacked in a store window. Couldn't you just dream of walking in and buying a whole stack of these sweaters? The color combinations are particularly creative – the tops of the stacks are somewhat predictable, but then as you get nearer the bottom, some interesting choices are made!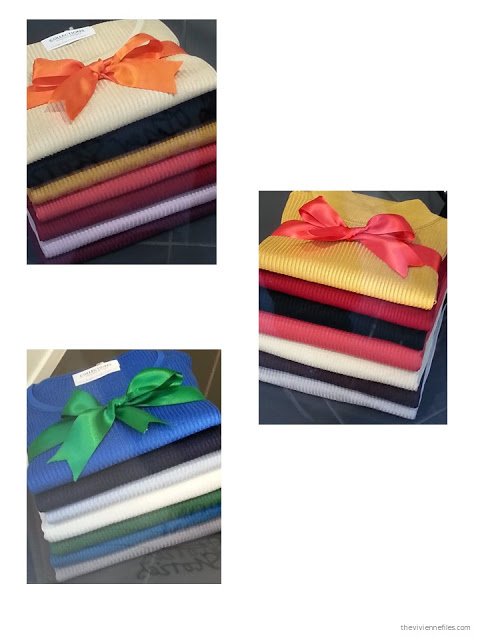 We went to the Hermes on the Left Bank, because it's close to the grocery store at Bon Marche (which was a delight…). The Hermes was a madhouse, and their windows weren't particularly Christmassy. But creative, always! I couldn't imagine weaving silk through this woven bent wood, but someone did it, and brilliantly, too.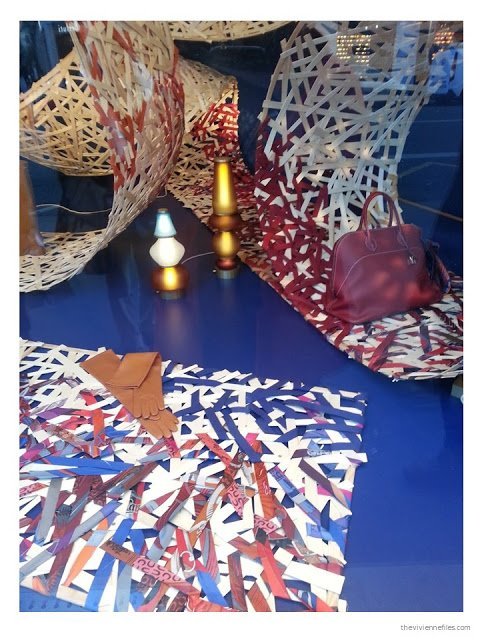 However, I didn't really feel the lack of the festive winter season – most store windows were beautifully decorated, and a delight to study at length: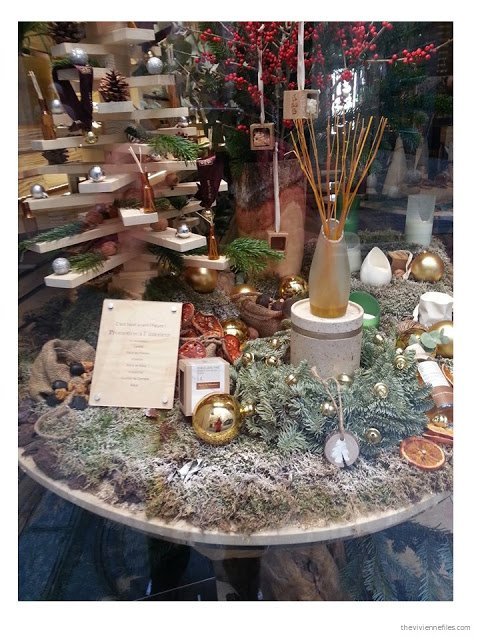 In the mood for a chocolate snowman – large or small? I can hook you up…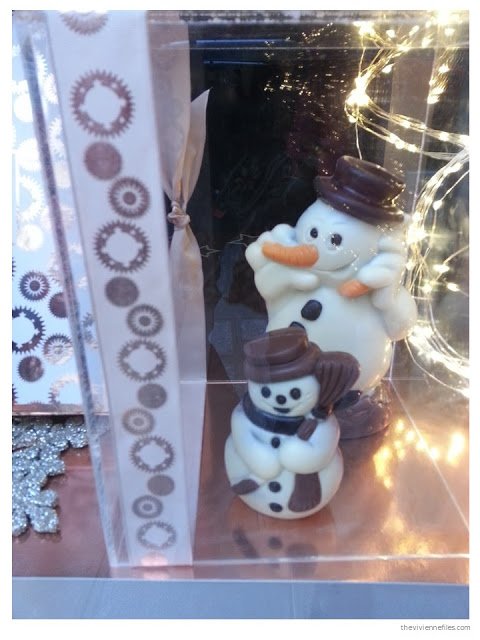 For those people who have EVERYTHING – who can't use the most elegantly packaged box of chocolates in the world?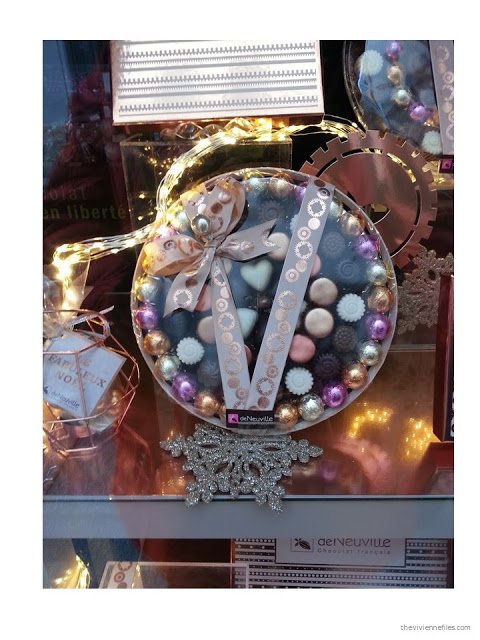 I love me a moose or two, in a hat with ear flaps, of course.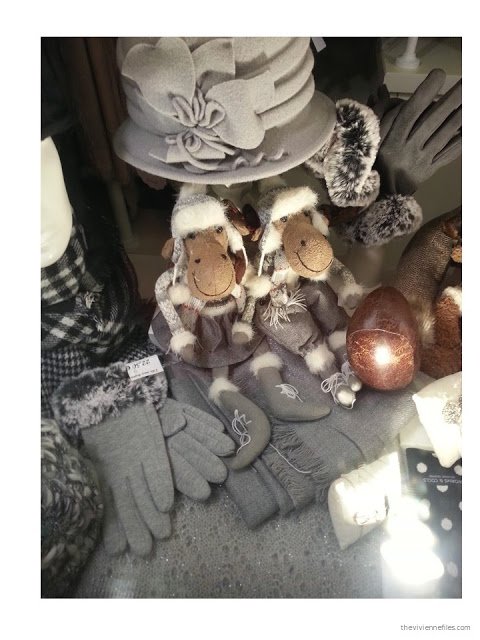 Wooden reindeer MUST have snow in their (very large) antlers: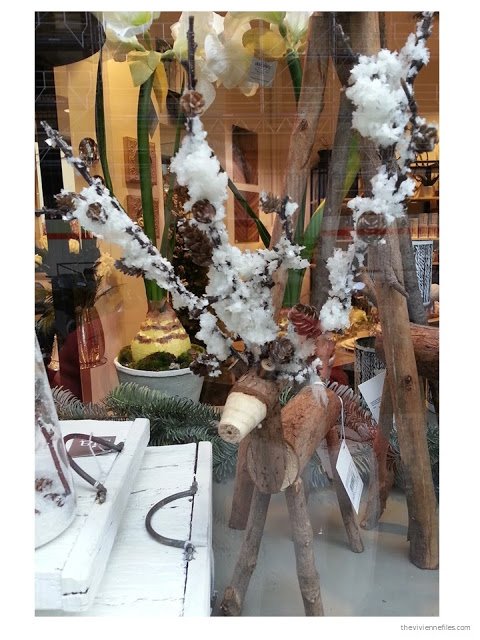 I will leave you, as we leave Paris, with the most winsome and graceful of Christmas fairies…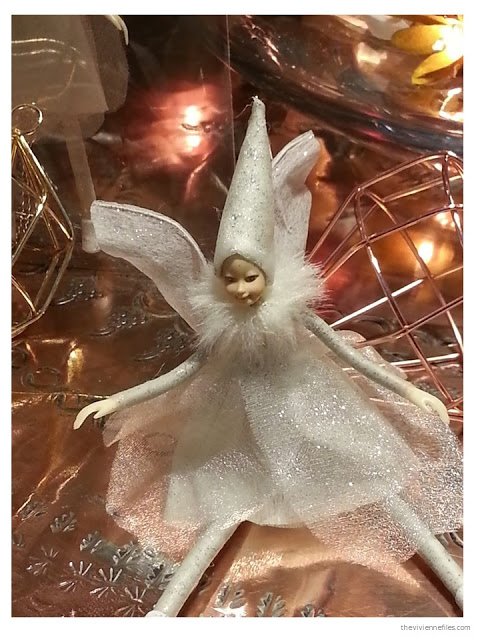 and love,
Janice