December 15, 2016
Why yes, I did a bit of people watching, and window shopping, when I was in Paris! What did I see?
Sigh… lots of amazing things! One particular phenomenon that I saw on students (well, mostly students) was the plaid coat with unmatching plaid scarf outfit. The first time I saw it, I thought it was just a madly creative young man, but then I saw it again, and AGAIN…
I think it's rather cool, albeit bold. I could see myself wearing this black, white and red ensemble… For the less brazen, a plaid scarf worn with a solid or tweed coat would be a nod to this look, without going over the top!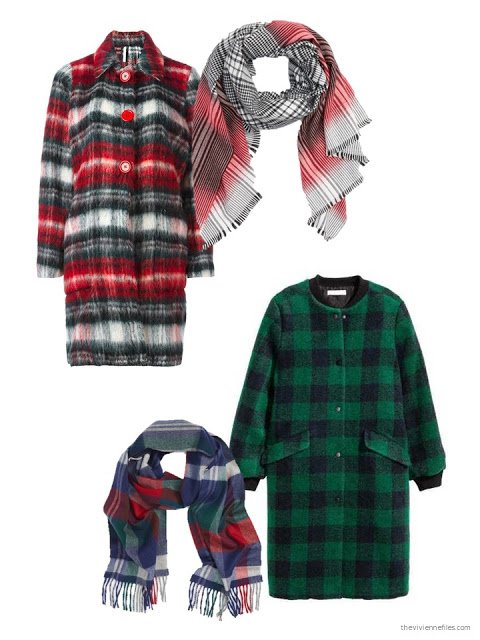 Red plaid coat – Alcoolique; red plaid scarf – Halogen;
Bluegreen & red plaid scarf – Nordstrom; green coat – H&M
Maybe it's because it's the winter holiday season, but I felt like I saw a LOT of lace in the windows of Paris shops this visit. I've been to Paris in December before – I was there last year, in fact! – and don't recall the ubiquity of lace that was evident this year. Any kind of fiber, any place on a garment, any color you can imagine: lace, lace, all OVER the place! (I'm going to write a children's song in my head, now…)
This was the single trend that I saw that I thought would translate most easily to almost any wardrobe – especially this time of year! You don't have to pile on lots of tatty Miss Havisham-style togs to get the desired effect; just a touch of lace on a garment, or a lace-printed accessory, will do the trick…
And how much do I love this dark blue top with the the swingy bottom and the touch of trim…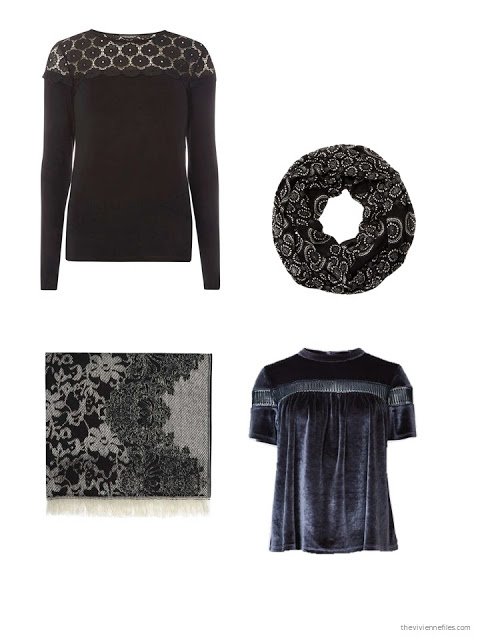 Top – Dorothy Perkins; infinity scarf – LOFT;
Blanket scarf – Dorothy Perkins; navy top – Marks and Spencer
I took this photograph at night, so the quality is even MORE horrid than my usual shop-window pictures, but I wanted to capture the combination of the metallic skirt (lots of metallics for the holidays…) with athletic shoes. I'm not kidding when I tell you that people in Paris wear athletic shoes much more than you could have ever imagined 10, or even 5, years ago! Those of us with bad knees are so happy!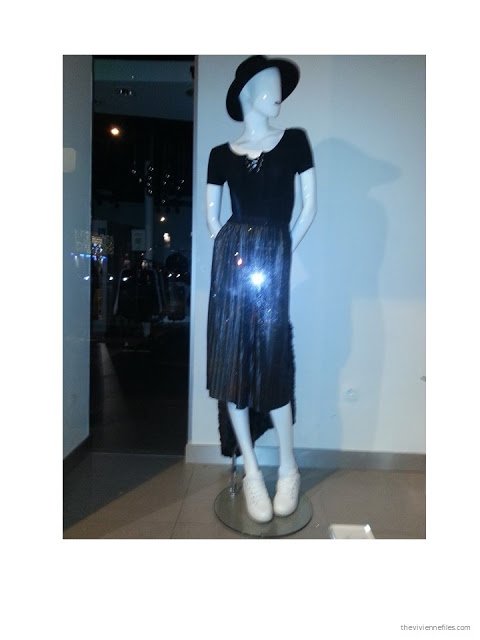 Color combinations in Paris are all over the map – there's literally no combination that you couldn't find if you looked long enough. I saw a surprising amount of mustard yellow as a prominent accent color (i.e. as a garment, rather than just a bag or scarf).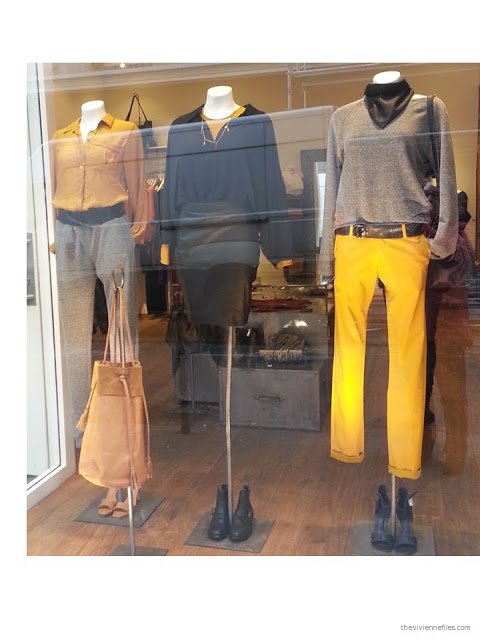 Accessories? Seriously, these photographs just didn't go with anything else, but I loved them enough to want to keep them. Lots of athletic shoes, a handbag about "my favorite song," and a rose brooch that one could wear every day, as a personal signature: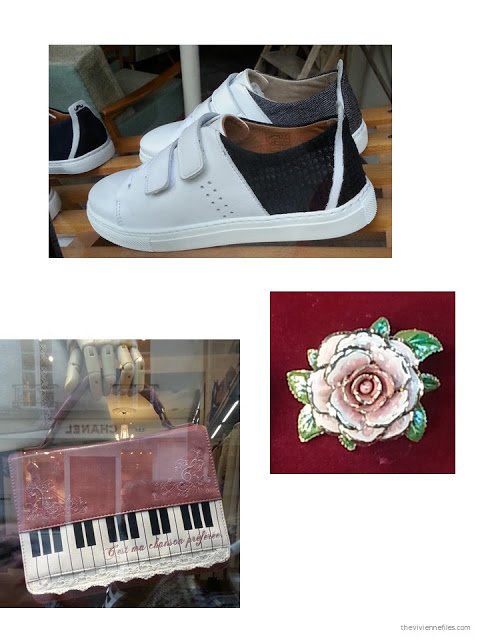 Metallics for the holidays? Or just forever? These shoes were striking; I see MORE shoes in Paris, of more different styles, than I see in Chicago, or in all of my internet browsing. You truly can have a particular idea in mind and hold out until you find it…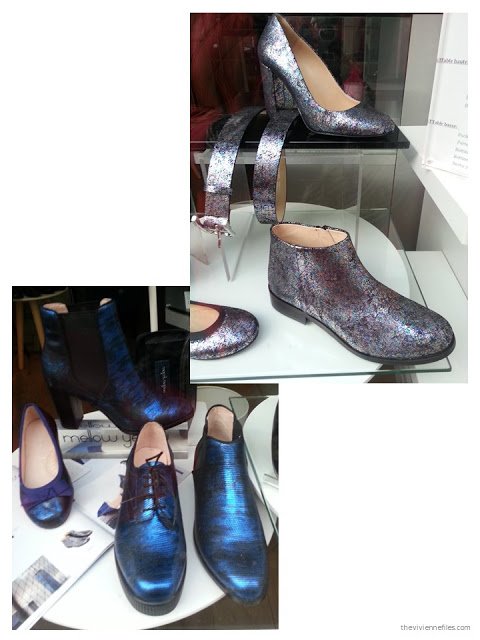 We talk a lot here on The Vivienne Files about combining neutral colors in new ways, and all of these images show possibilities. The first is black and white with a black, white and brown tweed coat. (I felt a strong kinship with this look!) The second is that mustard yellow, with brown pants, and a multi-colored knit jacket on a ground of grey. I struggled on that one!
Below that is the most classic: grey pants, navy sweater, camel coat and belt. Timeless… And the final picture shows a grey sweater, jeans, a camel coat, with a brown belt. Talk about being able to use brown leather accessories anywhere!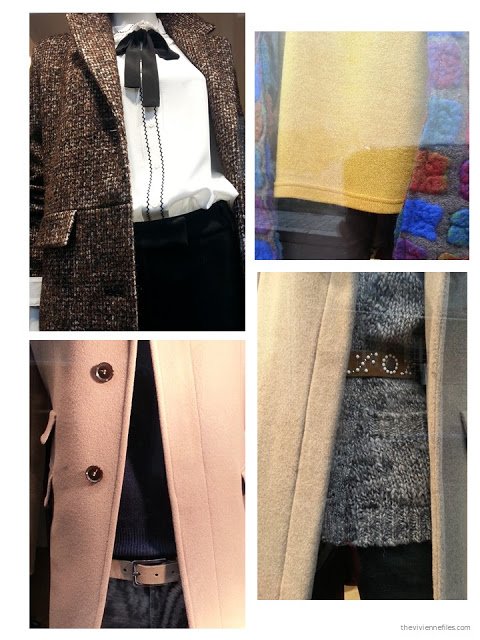 It's a real cliché that French women wear a wardrobe of classic clothes with distinctive accessories, but it's a cliché for a reason! I joke that you can find any jewelry you can imagine in Paris, and I don't think that's too much of an exaggeration. My love for red as an accent color was delighted to see the window at the top. And the window at the bottom shows more mustardy yellow…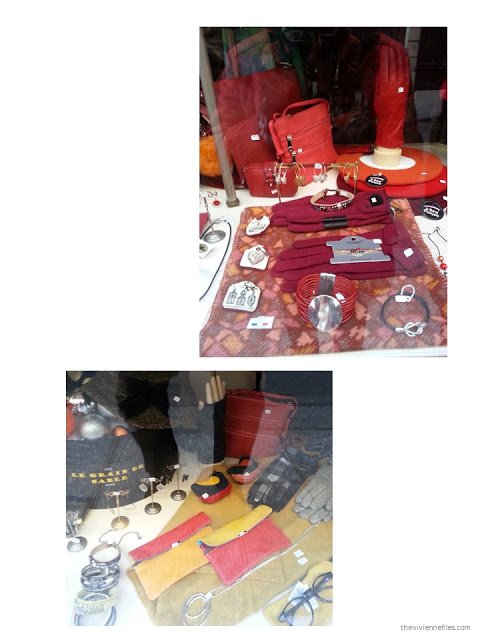 My favorite windows are always at the Diwali stores – they do SUCH an amazing job. I can't encourage you enough to look for these stores if you visit Paris; they're not expensive, the staff are often very friendly and helpful, and they are a true Alladin's cafe of beauty…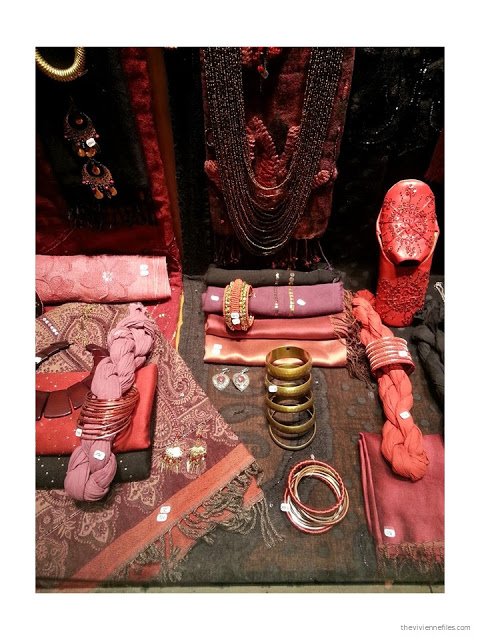 Pink, darker reds, and brown… these would be such glorious signature colors, wouldn't they?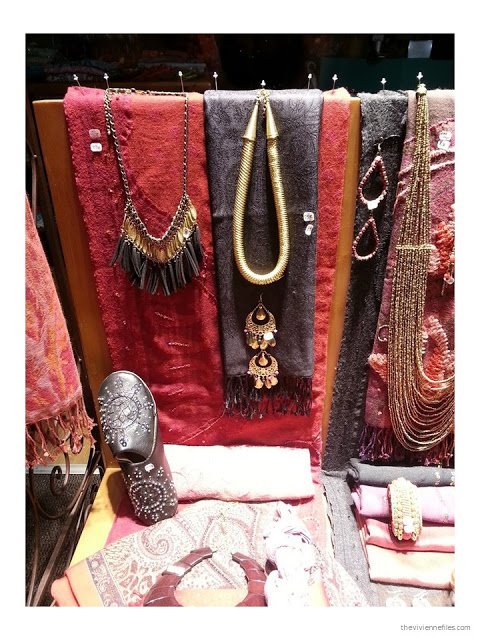 And brown with turquoise… classic, and always so lovely: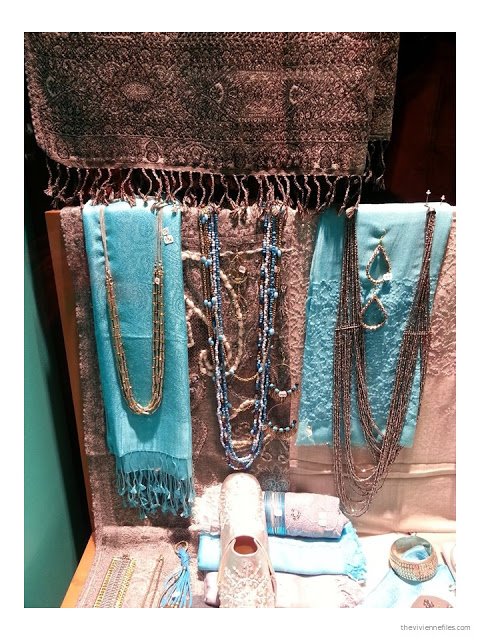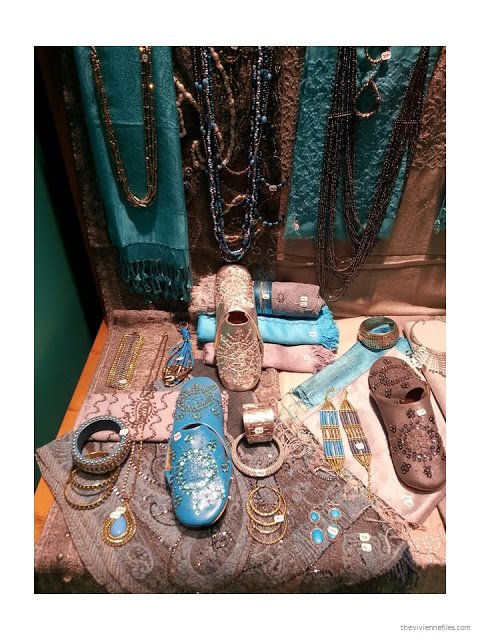 If you're looking for a signature accessory, Paris is the place! A brooch that looks like a flamenco dancer? A one-of-a-kind ring or brooch in wood? A multi-stone ring that includes ALL of your accent colors? Someone will have it…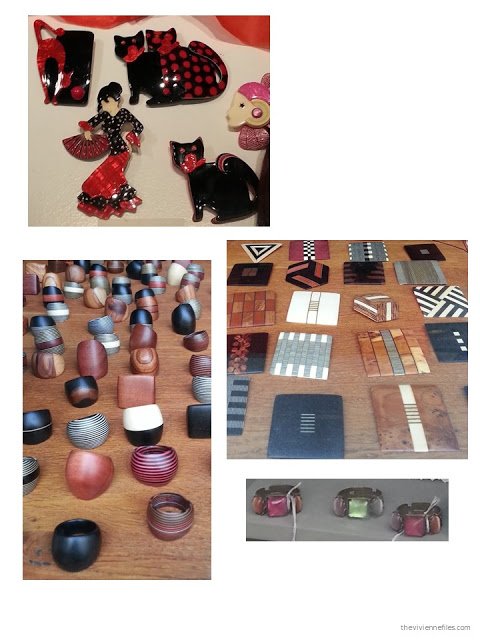 This window speaks to me…. black and white….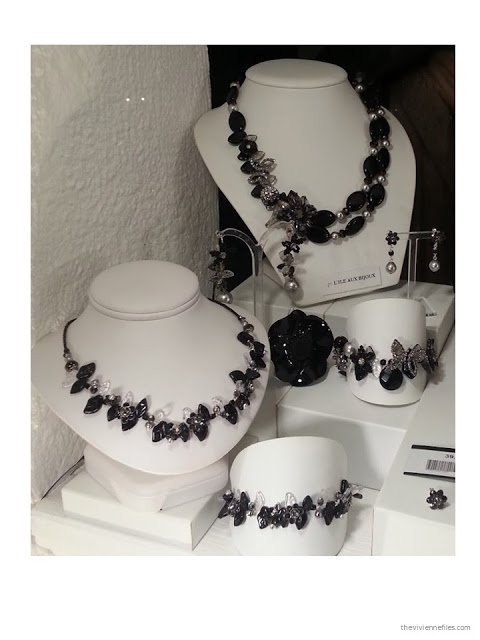 Or maybe red and black? What woman doesn't need an enormous poppy brooch?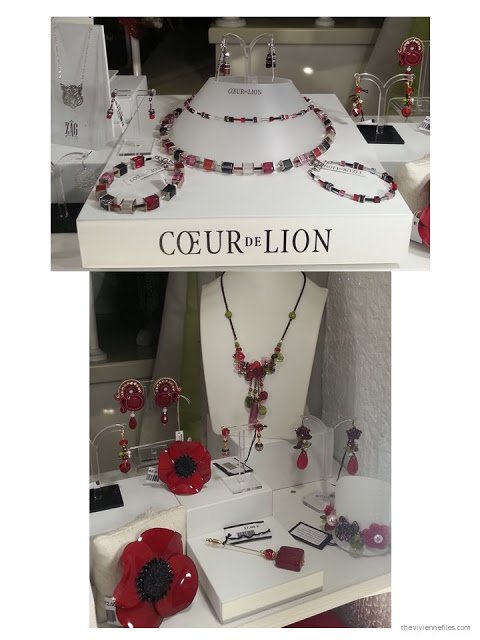 Does anyone else enjoy window shopping as much as I do?
love,
Janice