The last two wardrobes! These were the most difficult – no question. And I made a couple of early strategic mistakes that I would re-do…
First up, this excellent scarf!
I should NOT have tried to make white one of the neutral colors. White as a neutral really only works well if you live in a hot place and don't mind laundry…
A smarter move would have been to use brown and navy as "co-neutrals" and then white, red, turquoise and orange as accents. This would still have been a big stack of colors with which to work, but it might have been a better balance. It's always easy to look back and say what I might have done differently, isn't it?
I went off the rails in a big way in February – I had designated navy as an accent color (sort of by virtue of the smaller wedge in the palette pie!), and then I go and get navy shoes, and a navy bag, and a navy dress. All of these pieces are great, but they really don't anchor a wardrobe that's supposed to be based on brown and white!
How was I going to resist that dress though? We're all going to do these kinds of things…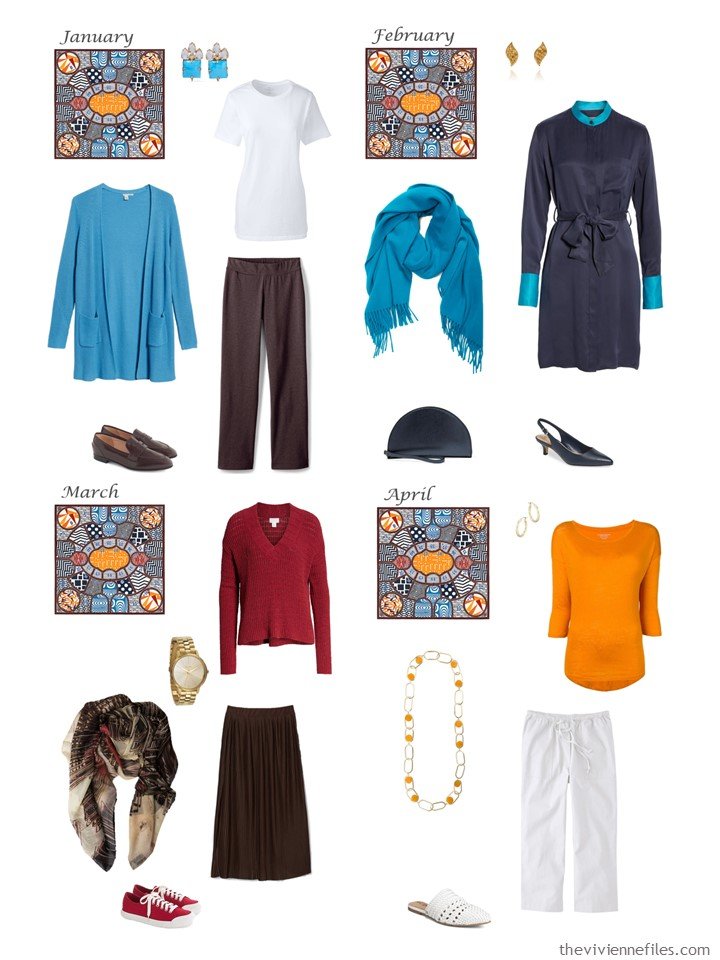 There next 4 months are pretty good; I struggled in July to really get a coherent little grouping. Each of those garments works nicely within the wardrobe, but it's not exactly a couple of outfits that most of us would wear.
However, I'm still stupidly happy with that June handbag, earring and bracelet! Great accessories delight me…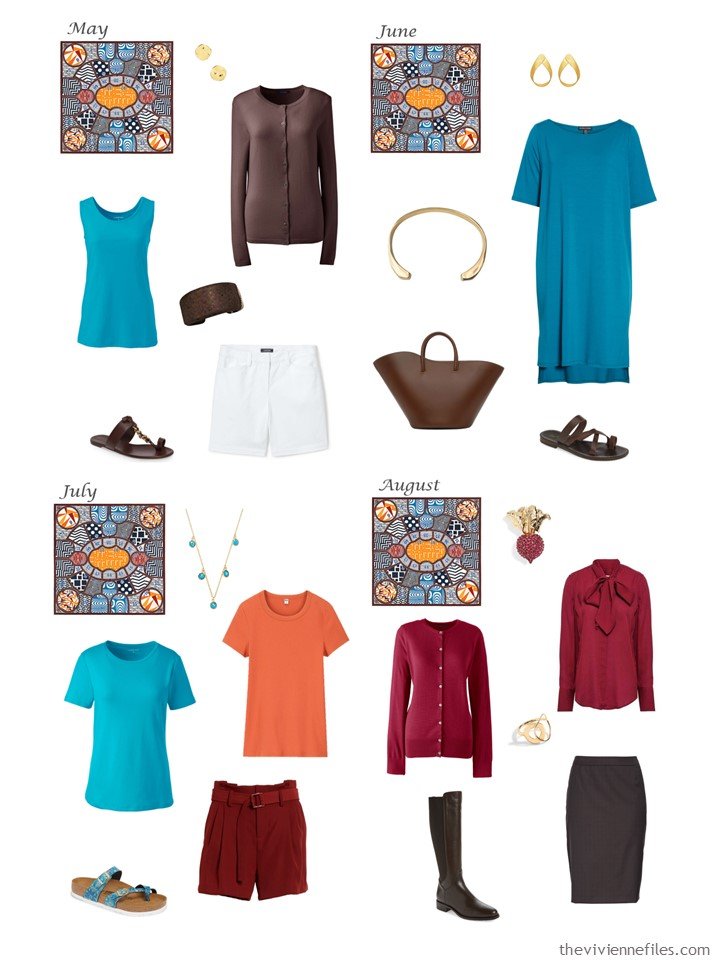 These last 4 outfits are all just fine; who wouldn't wear red pants? And an orange vest? But in all fairness, the color palette that I started with strongly suggested that we were going to see some pretty bright garments.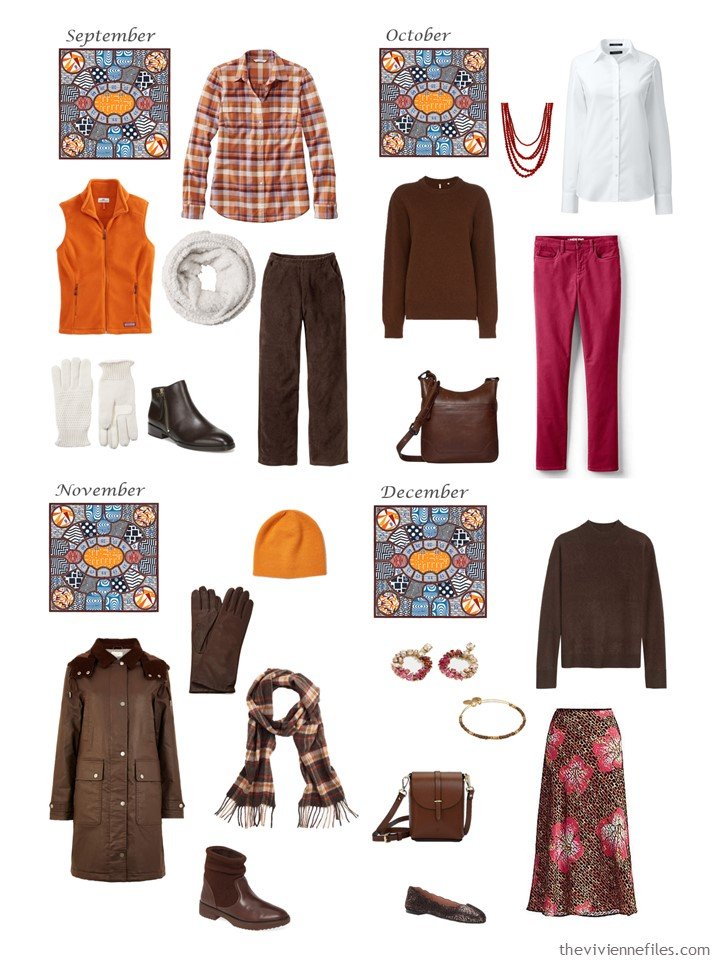 Even though I made a big strategic mistake with the colors, and went daft on that navy dress, this is still a coherent and versatile wardrobe: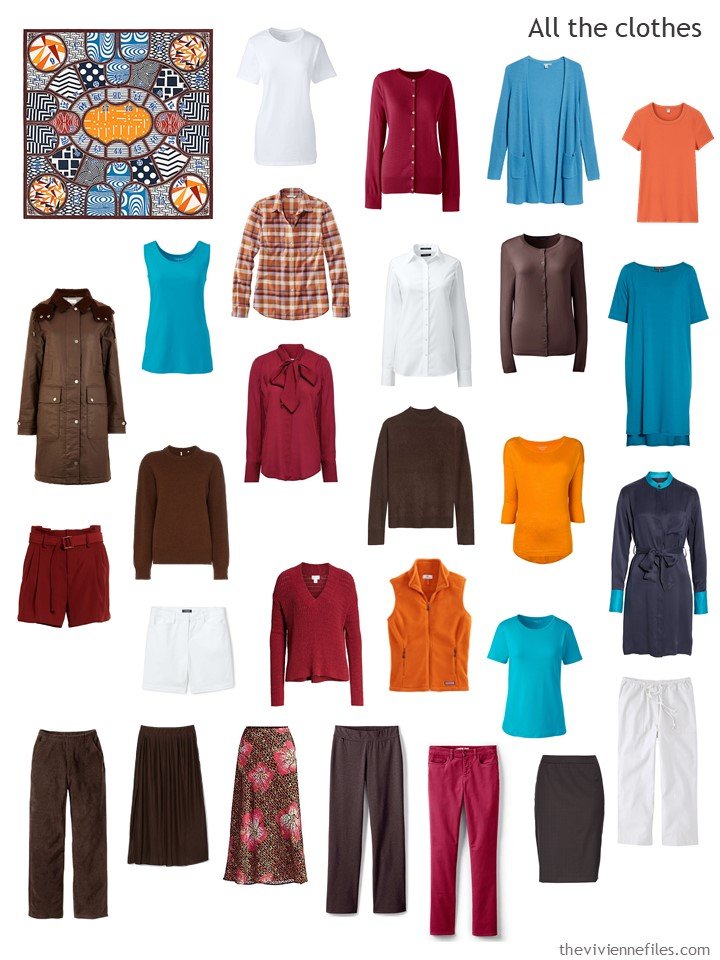 The biggest impression that I get when I look at this wardrobe sorted like this is that it's very dark. And that I should ALWAYS include the "shell" sweater that goes under a cardigan, when I put a cardigan in a wardrobe. Even if you never wear twinsets, having the 2 pieces makes sense…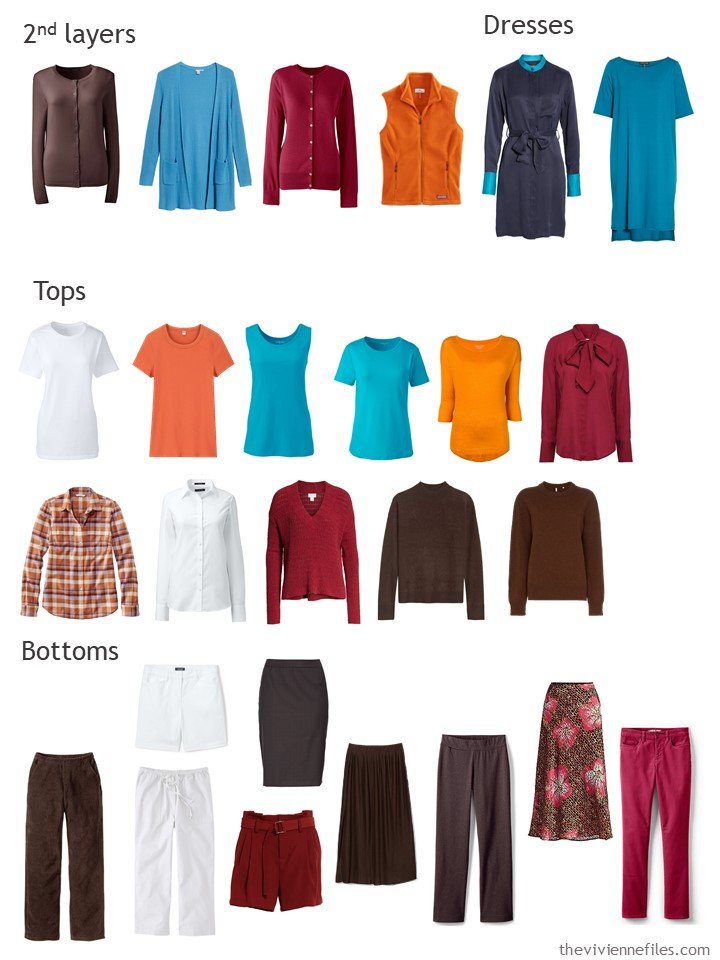 The most difficult thing about choosing additions for this wardrobe was FINDING things that would go with the rest of the clothes! I need to be better about looking at Marks & Spencer; they always have colors that the normal world ignores…
Why did I pick these?
I love these accessories. Our heroine's collection of necklaces in red, orange and turquoise is just plain fun, and there's nothing more luscious than good brown leather…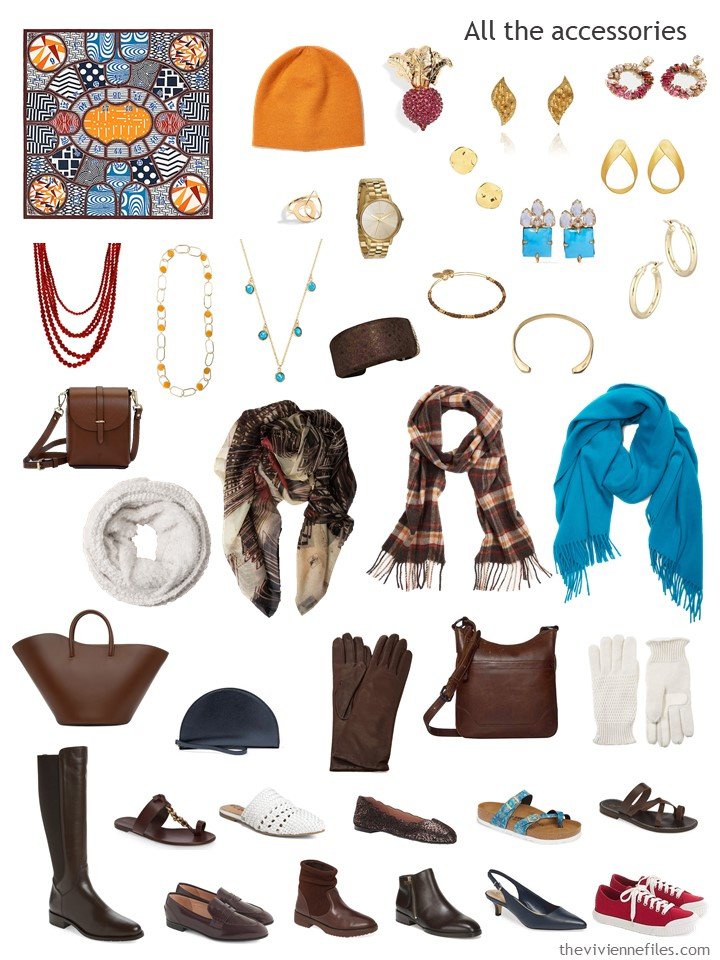 Why these pieces?
All of her new pieces fit right it…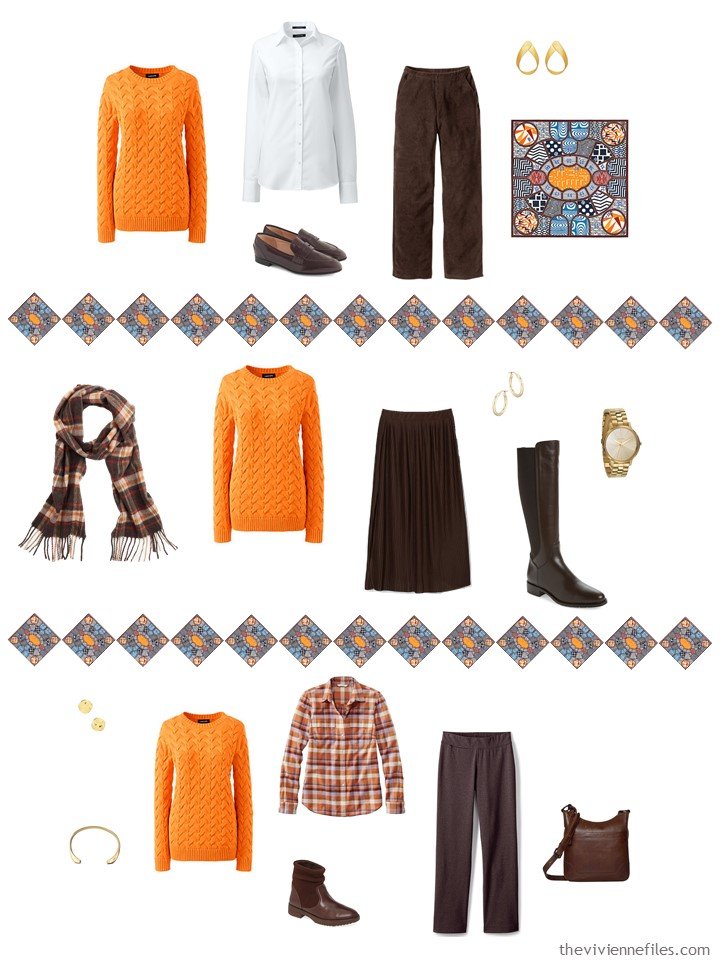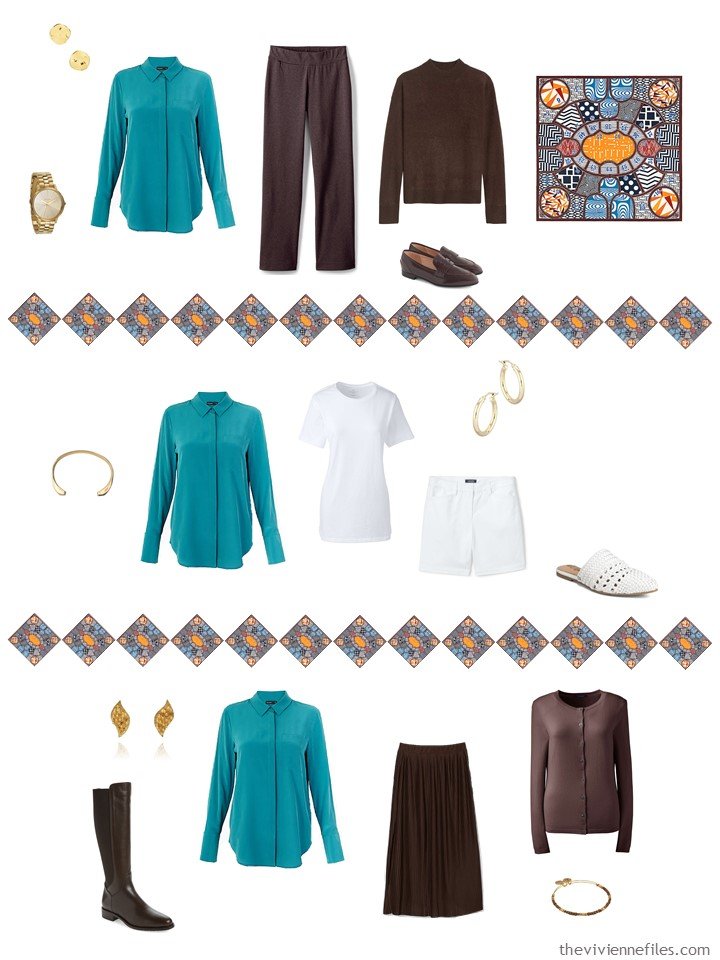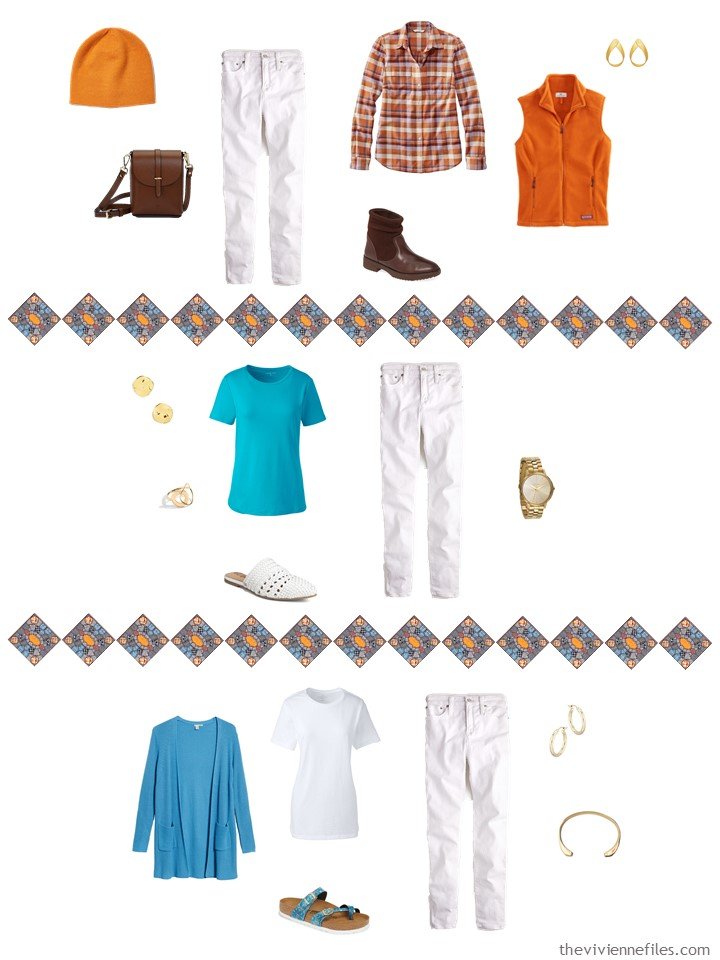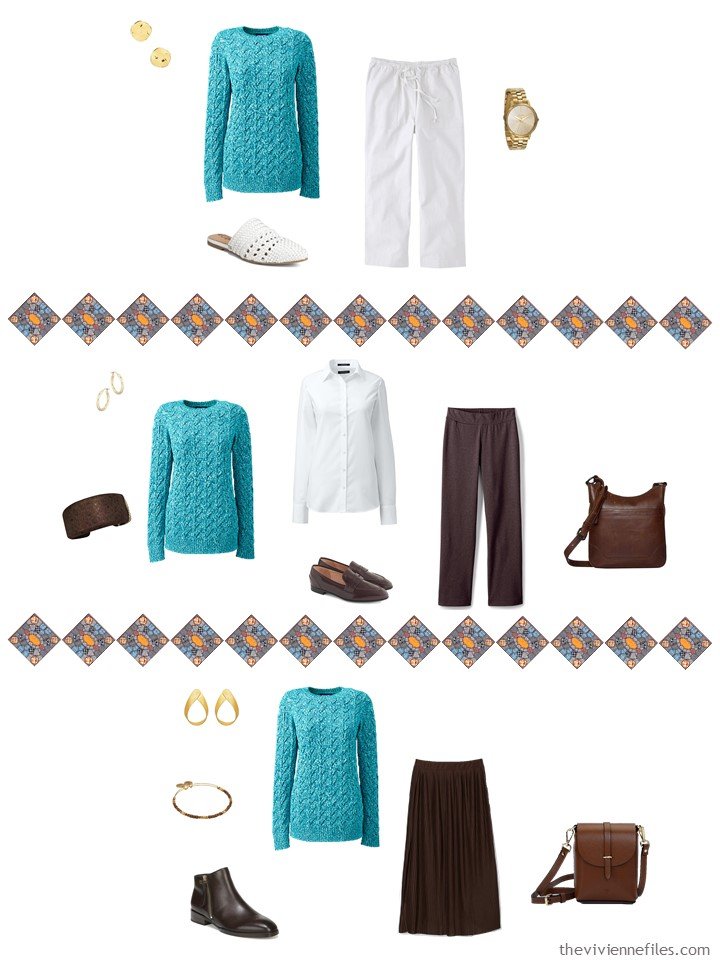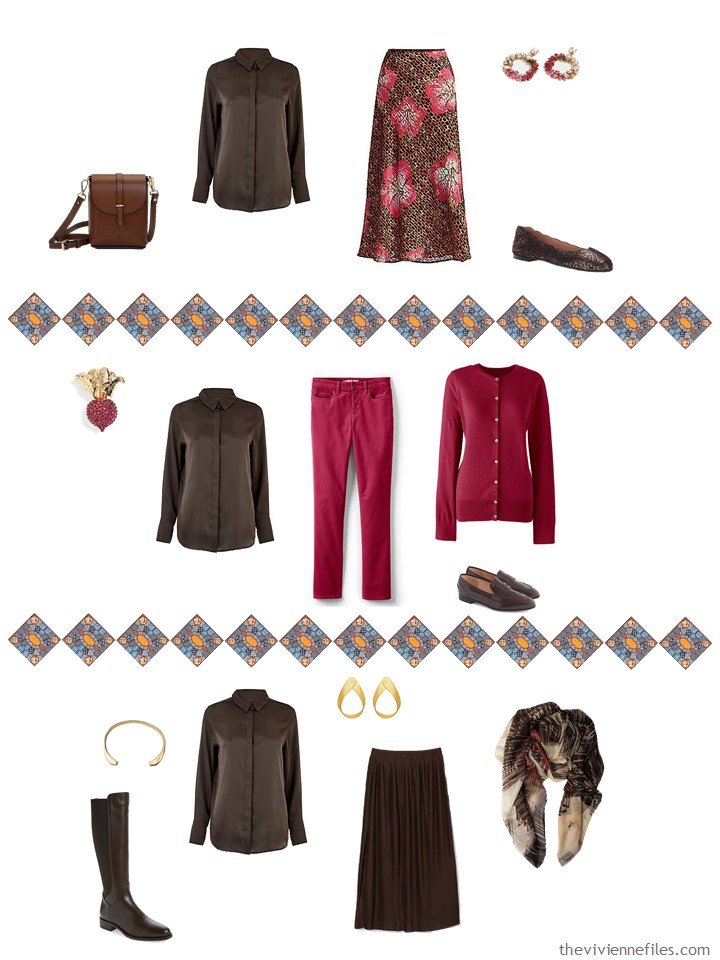 And finally, we come to my most… audacious… effort for the year!
First up, WHY did I not notice that there's a pronounced element of camel in this scarf? Camel would have been glorious here…
Secondly, WHAT is that weird yellow that I included? Why did nobody point out that I had been running with scissors on that one?
However, I'm still okay with my completely off the wall addition of green to this wardrobe!
I should have made the decision to stick with just ONE shade of green for this wardrobe. Green is difficult to find in nice garments – but that's no excuse. This dusty sage color that I started with in January is nice… Patience, and discipline!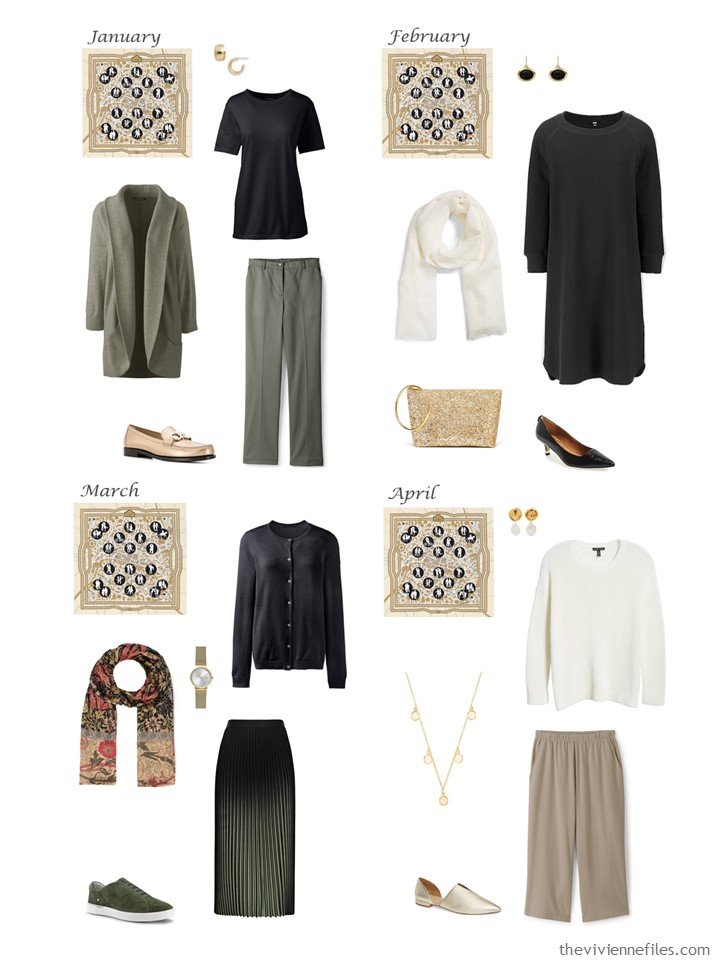 I love all of this! I could have found a more timelessly style dress for June, but that's a small quibble. And I have to pat myself on the back for the consistency with which I found our heroine jewelry that echoed the circle theme in the scarf!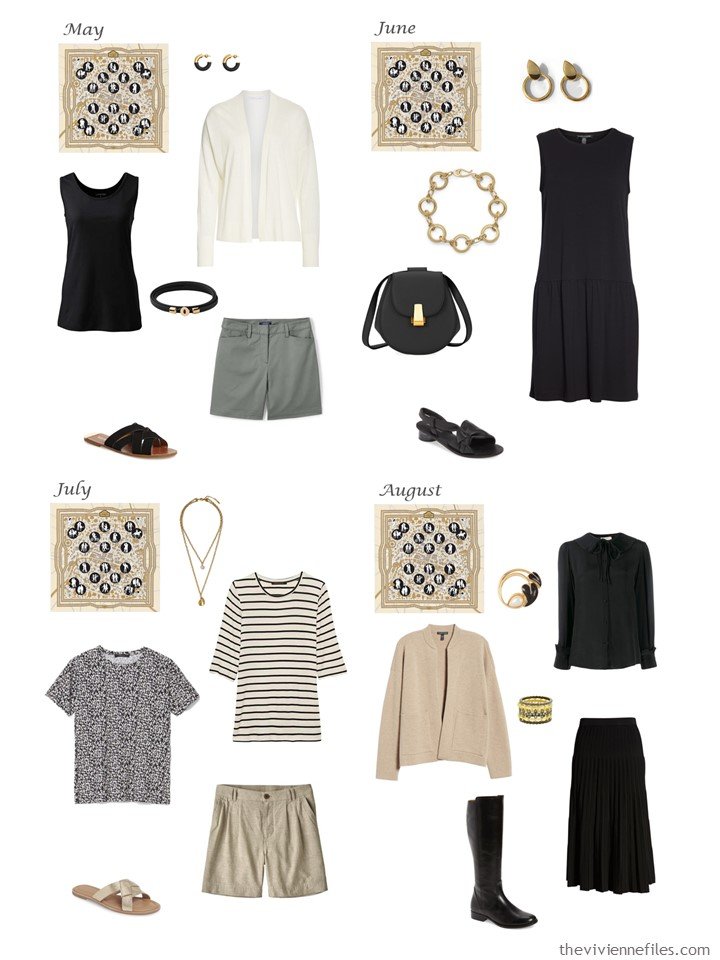 These last 4 ensembles are all good – I might wish for a more dusty shade of green in September and October. But you know, sometimes you have to compromise. It's not optimal, but you have to be realistic about how far and wide you're willing to search for the perfect piece!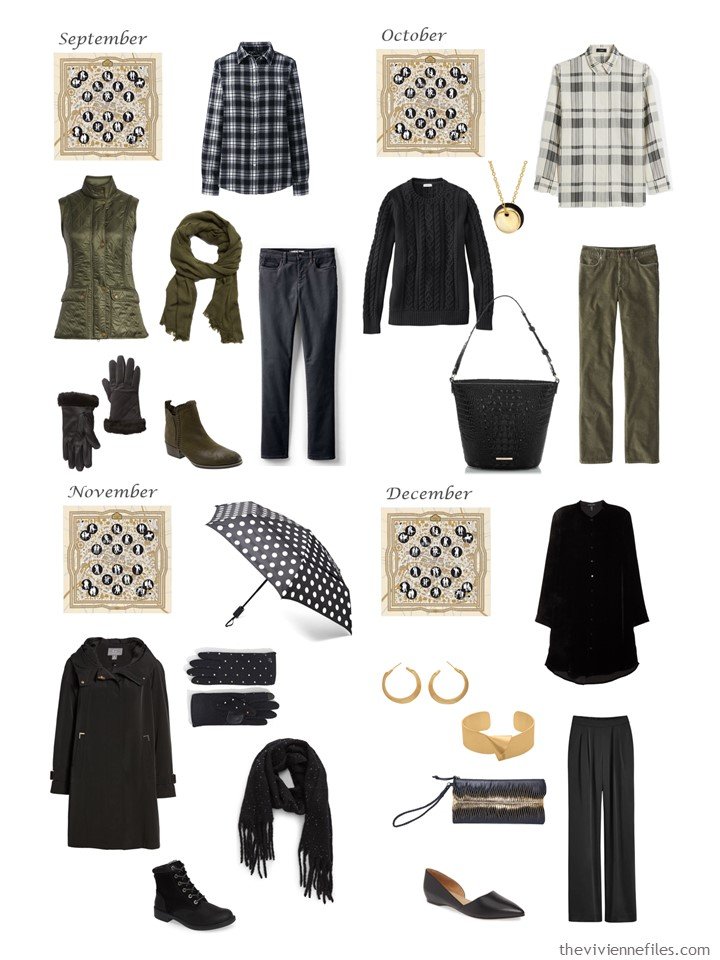 Oddly, even though some of these colors might make me look 3 days dead, I still love this wardrobe! Maybe that's a reminder that I'm a muted sort of dresser. (at least I'm muted in some aspect of my life!)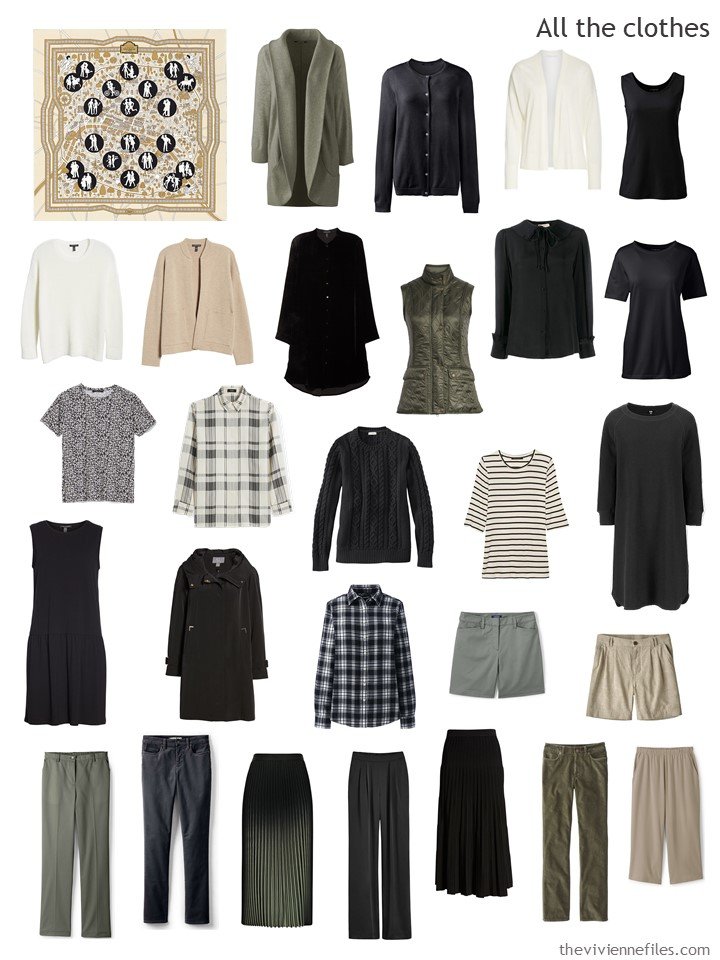 Sorted, the balance is good. Lots of black though…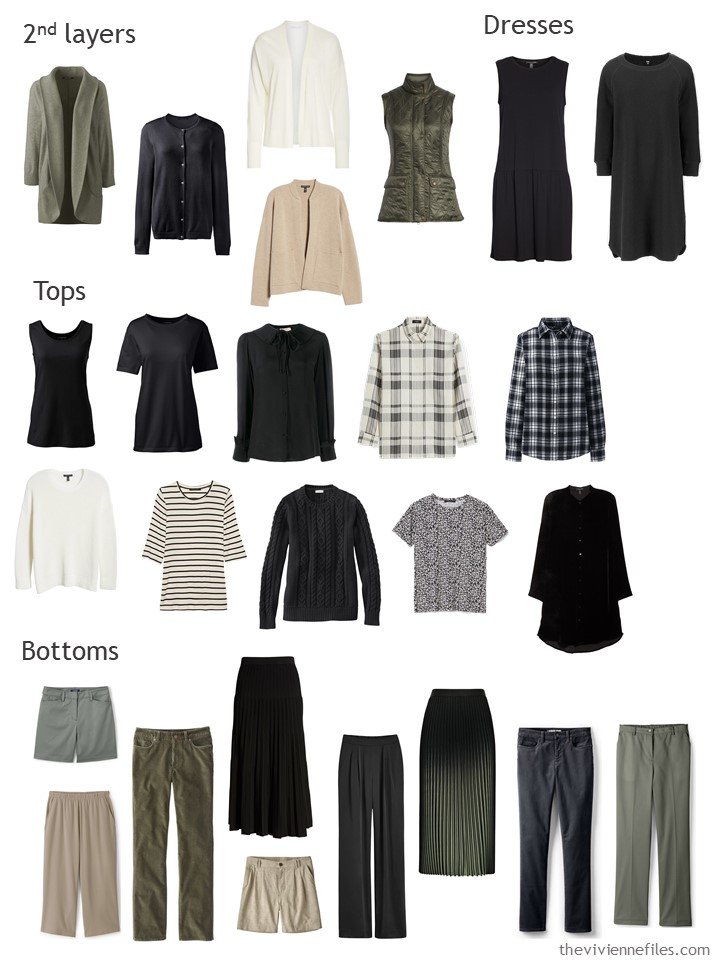 You can easily guess that I'm going to add things that will lighten and brighten this wardrobe, right?
As for accessories – these might be my favorites of all that I've done! The juxtaposition of gold and black really appeals…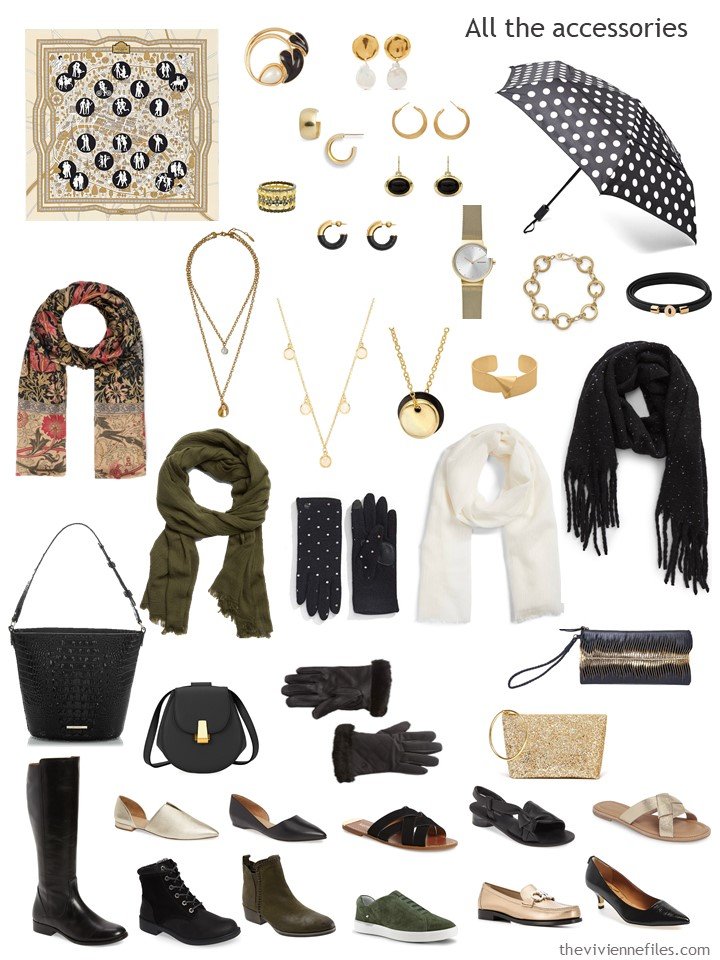 But there are always a few places where gaps can be filled…
Our heroine's new clothes give her all kinds of new outfits – always the most fun of bringing home something new!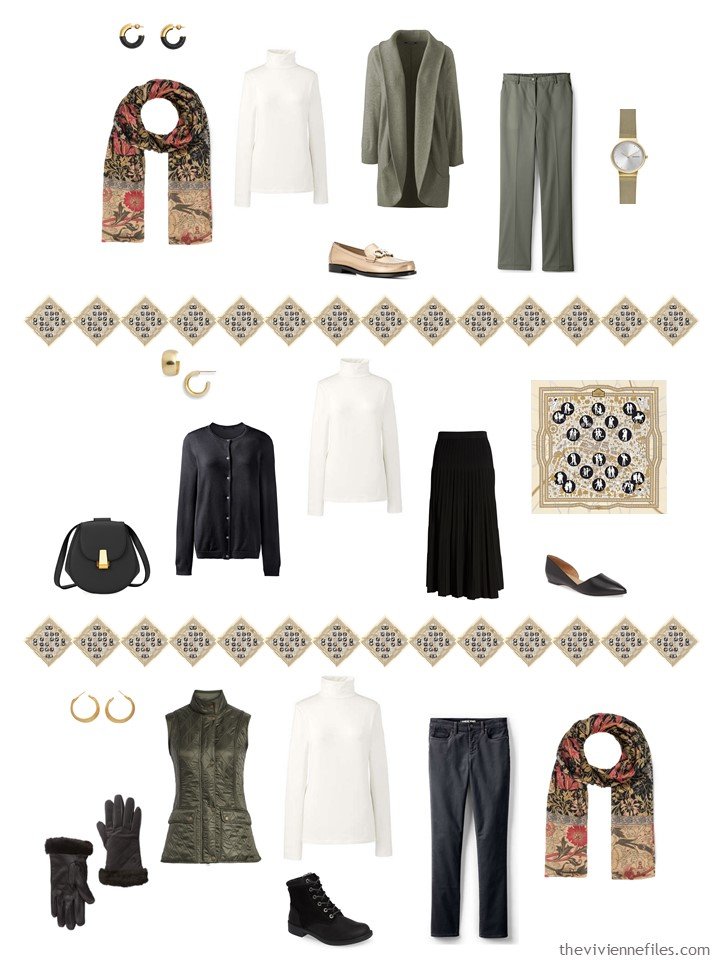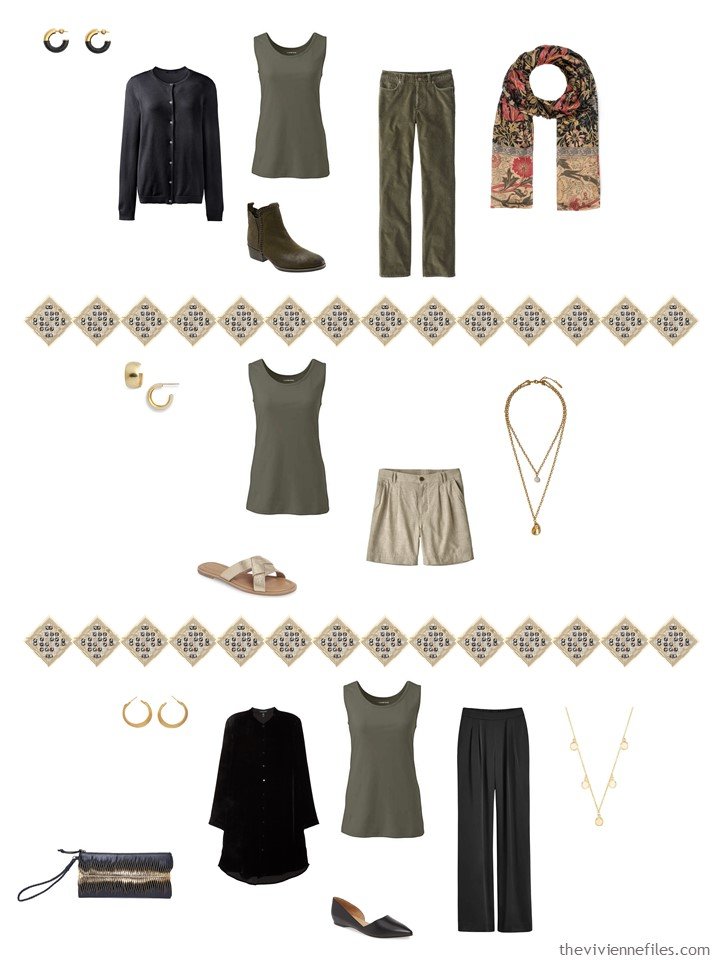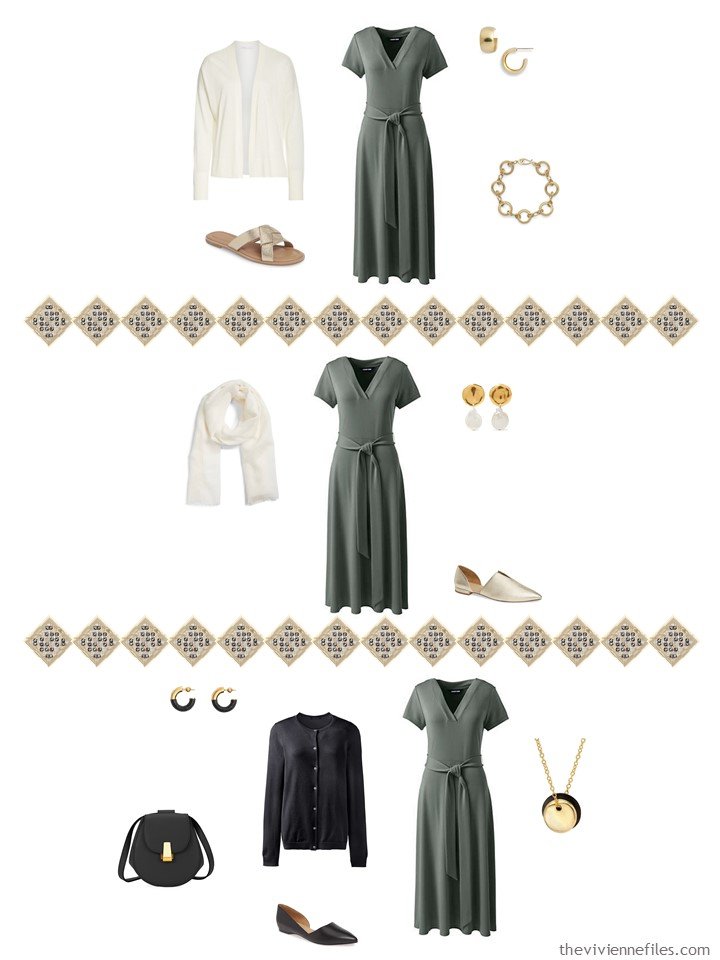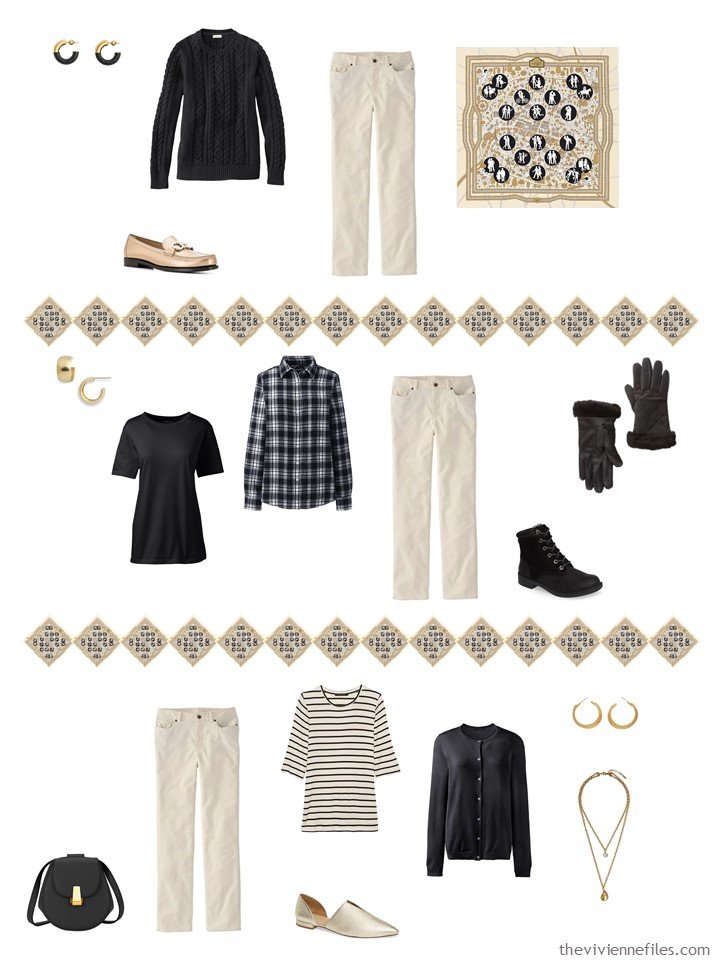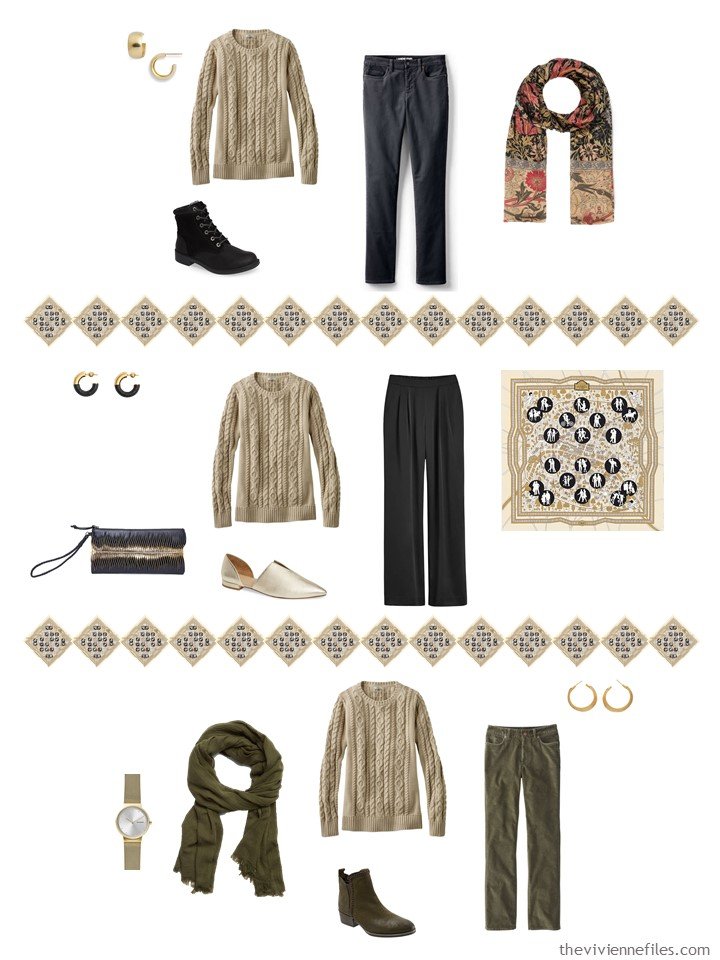 I've certainly learned a lot about how I will approach these wardrobes in the future – being more sensible about choosing the colors with which I'm going to work, and picking a "leather accessory" color from the beginning…
And you? Would you wear any of these?
love,
Janice
p.s. Five years ago, we looked at the possibilities of a tiny travel wardrobe in camel and emerald!