February 11, 2022
I've probably mentioned this before (20 times!), but since we've all moved into 1 apartment together, my ONLY real issue is that my closet isn't conveniently placed, nor organized.
And I, of course, really don't have buckets of time to work on it!
My plan is to get rid of things that are no longer appropriate for what I do every day, and to have a good plan for what I purchase.
I'm also moving more and more toward Urban Organic as a style mantra, so I'm trying to buy clothes with better fabric, with less synthetic content, and that are made somewhere humane…
Big goals!
Initially, what would be the most help to me is to have a solid Cluster of 9 garments (either 3 outfits, or 27, depending on how you look at it!). When I think of "uniform," I'm NOT thinking of something that you wear 365 days a year. This is more like a uniform that you have to wear to work…
So, I started by thinking about what I wear the most – my favorite outfit, that I grab and put back on as soon as all elements are laundered…
The black shirt is key here – the quality of it, the story behind the company 4, and the way I feel when I wear it. Everything else in my closet is now measured against the quality of this shirt!
So, after quite a bit of pondering, and some serious budget study, I chose to buy the same shirt in the other 2 available fabrics; this is where my uniform for the next 3 or 4 months begins:
From here, I'm in good shape – I shopped my closet and found the perfect things to wear with these shirts:
Now one would logically choose their accessories for this little Uniform Cluster, depending on how much time one has to get dressed each morning, how much one enjoys playing with accessories, and how much variety one needs or desires within the confines of a uniform.
My accessories are more or less like these:
I wear 4 earrings at a time – I have a collection of small black star earrings that I accent from time to time with a dangling star earring. Or 2…
But the idea is much like what I show here – earrings that go with all of the clothes, and with each other. A woman who only wears 2 earrings could easily wear 1 of the studs and 1 of the hoops, right?
When I assemble all of this together, a feeling of peace comes near to me. Within my line of sight, at least…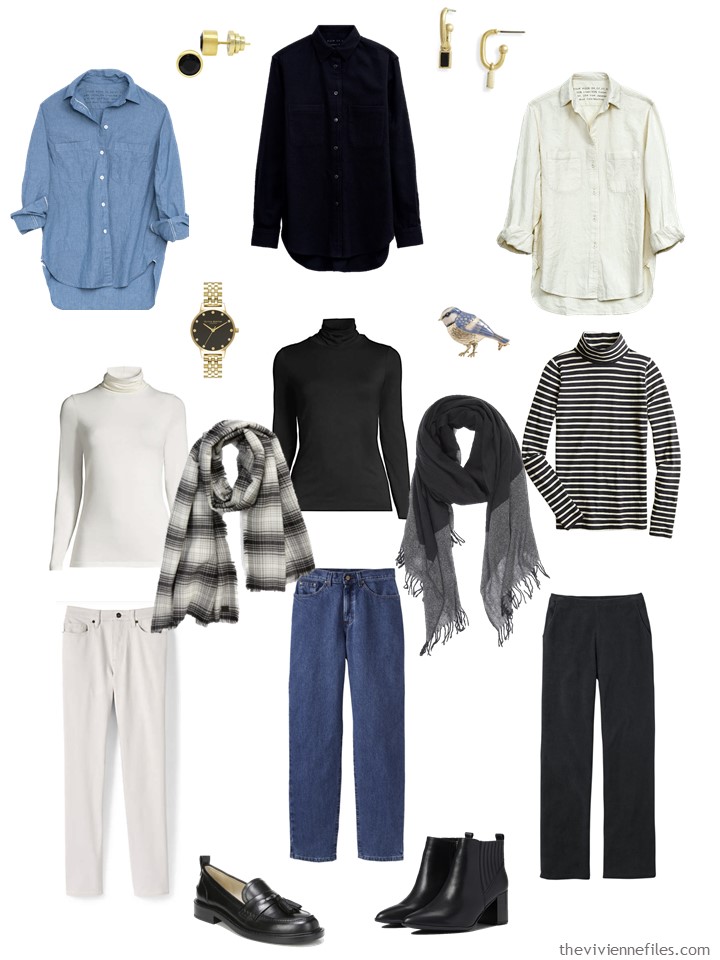 On other days, I might wear things from another Uniform Cluster, of tee shirts, cardigans and pants. Having these 2 silhouettes in mind, and having 2 Uniform Clusters sorted out in my closet, makes life just a bit easier!
What might another Uniform Cluster look like?
How about a woman who has to go into her office once or twice a week, and who has decided to send HER dress shirts to the cleaners, just as a man would do?
She's also going to wear grey pants and skirts, much as a man might do…
But THEN… pretty cashmere sweaters! She's sufficiently successful that she needn't worry that someone will treat her like a little girl, or like a "sweater girl."
Some floral scarves, lovely earrings, a watch, brooch, and shoes – she's ready!
I really want to do more of these – I see this idea as quite helpful for packing, shopping, closet sorting…
Wardrobes are, indeed, a process!
love,
Janice
p.s. Nine years ago, I was getting dressed from my Project 333. That's still a GREAT project for looking at what's in your wardrobe in a fresh way… I have a worksheet available to help you sort your 33 items – send me a note!