April 7, 2015
Here's where the fun starts, for me! As an avowed fan of scarves and what they can accomplish to balance, accent, and just generally jazz up, I was happy when we get to the patterned scarf part of our experiment..
I've owned these black and white loafers a COUPLE of times in the past (literally, I believe they've been making these since the '80's) and I always wear them to death. And I'm embarrassed to confess that the Trotters loafers are, in fact, beige and dark brown. On my monitor, the trim looks black! I truly didn't know the "real" colors until I was almost finished…. sigh…
And you can always find deck shoes in a ton of color combinations…
I personally now really like the first two outfits, but just still can't make #3 work for me… I think the white really needs a capri pant and some sandals in order to have the right "feel". This much white just screams hot weather and bare skin, to me.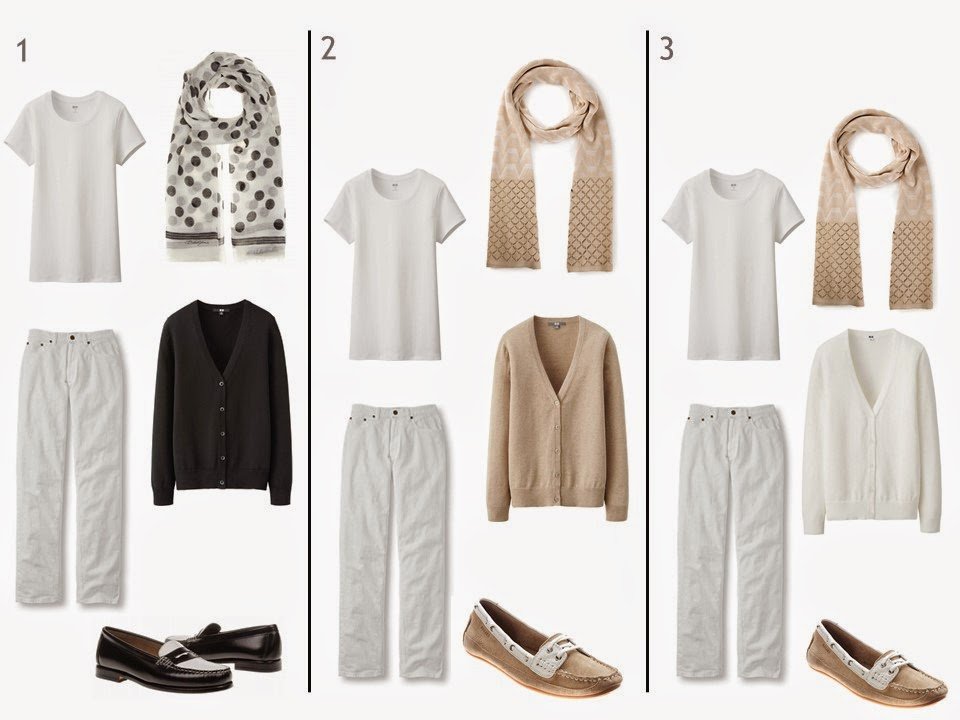 But, if I were a beige person, all three of these would be fine for me; the touch of white in the shoes and the scarf make #6 finally feel planned and… symmetric, I think is the word I want.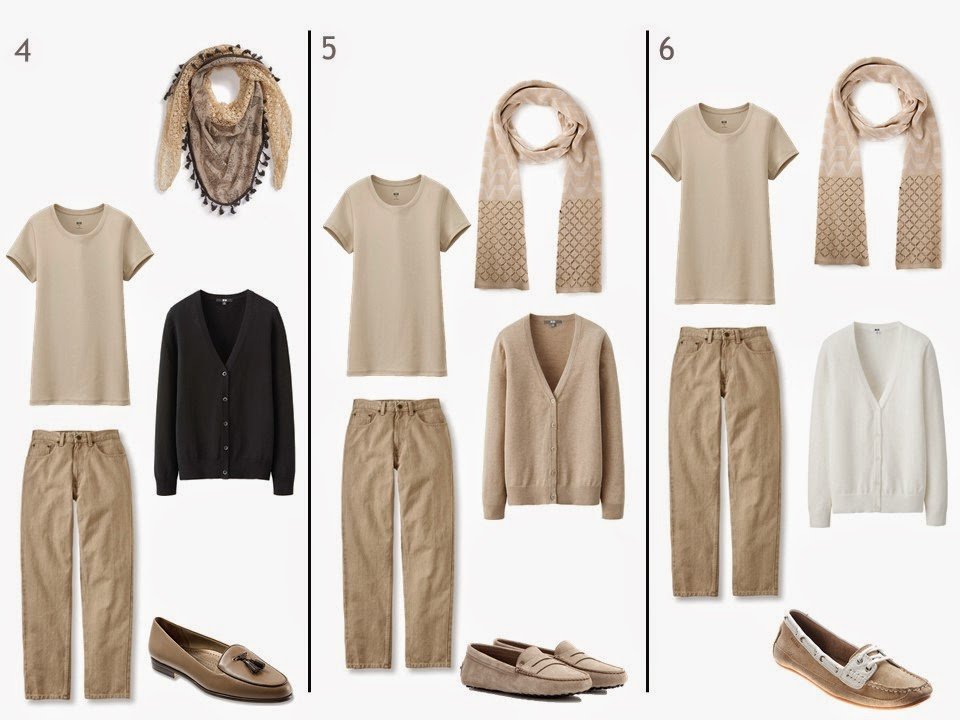 I know you're all shocked that I love both #7 and #9! And if I wore beige, even #8 would appeal. To my eye, the touch of a color in the shoe that is echoed in the upper part of the outfit makes everything hang together…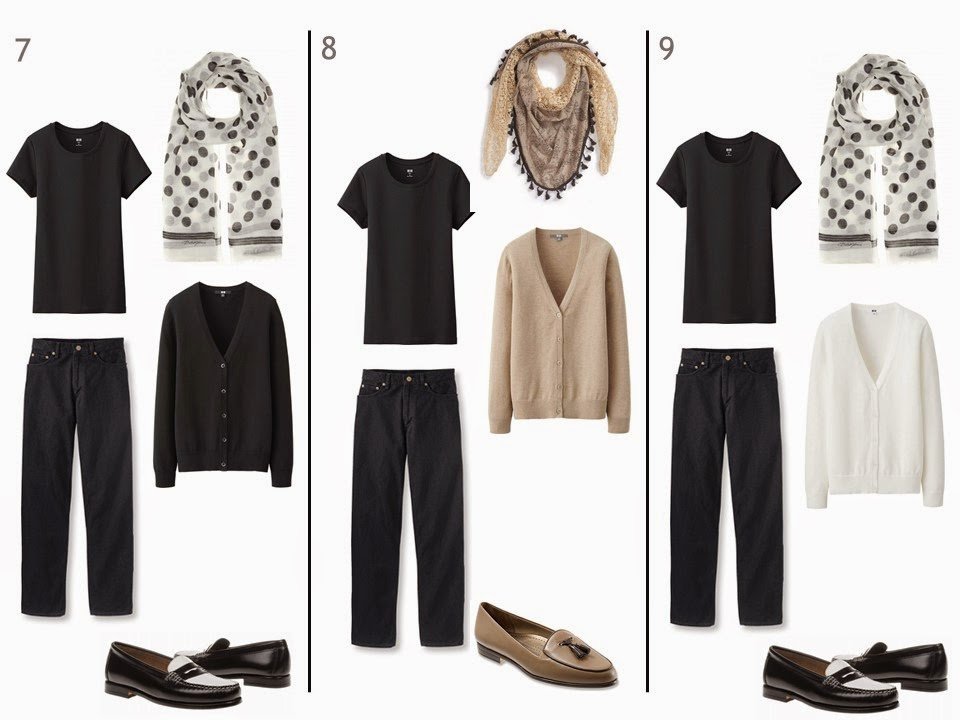 I'm still not entirely sure about a white cardigan over a darker tee shirt; someone mentioned last week that the "show through" factor can be off-putting. But I'd at least be willing to try these outfits…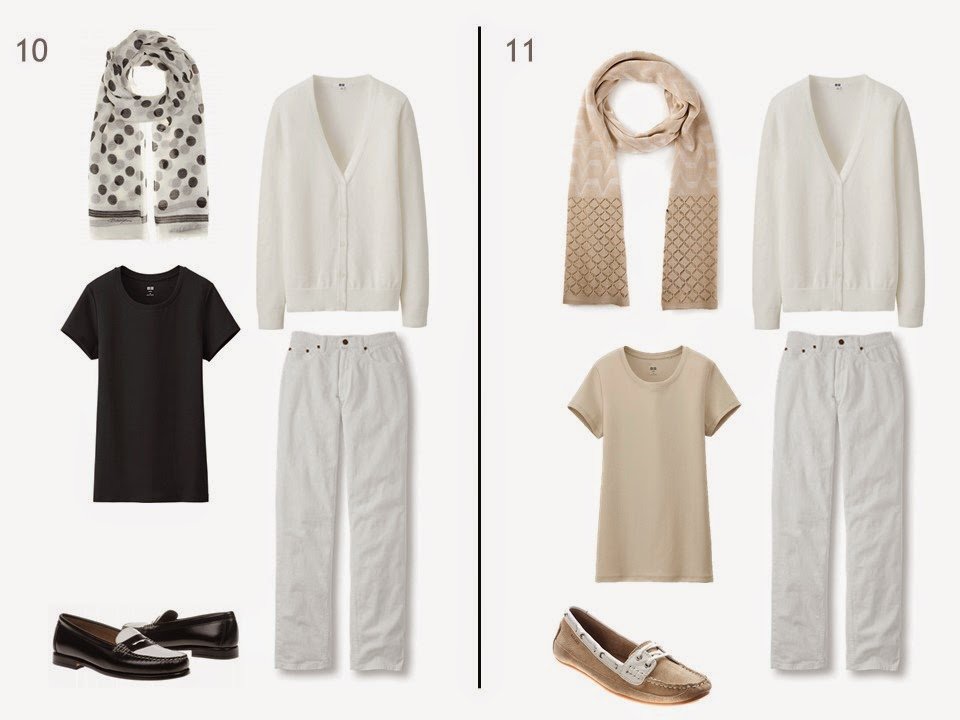 Both of these are great; if I didn't look ghastly in beige, I'd be all over both of these variations!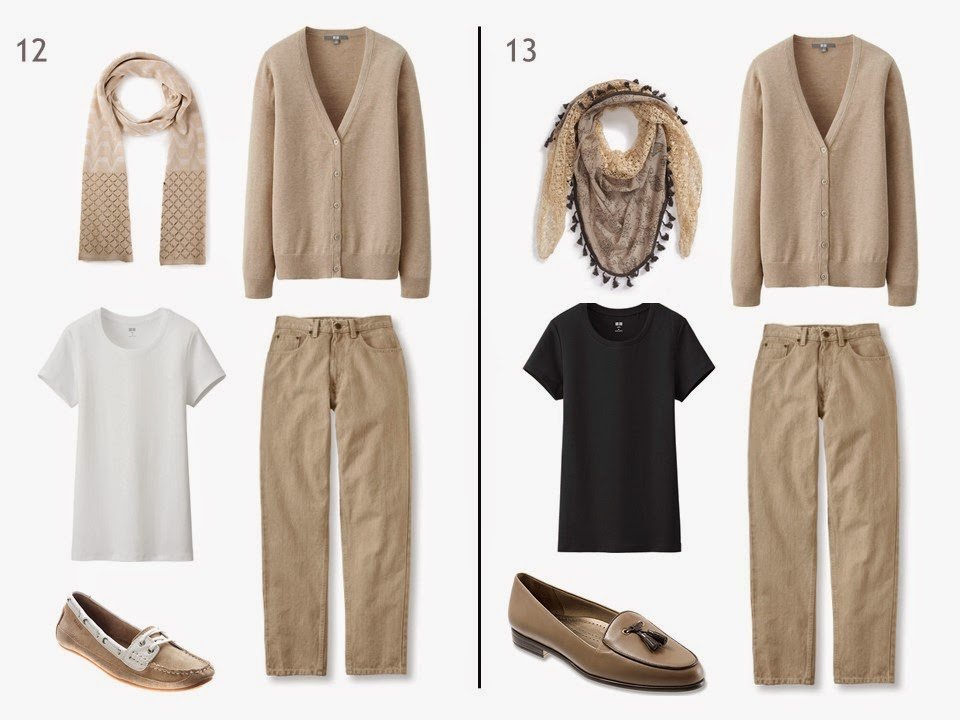 #14 is ripped straight from my closet – this variation of a "suit and white shirt" has tons of possibilities! And #15 is great for someone who doesn't favor stark white…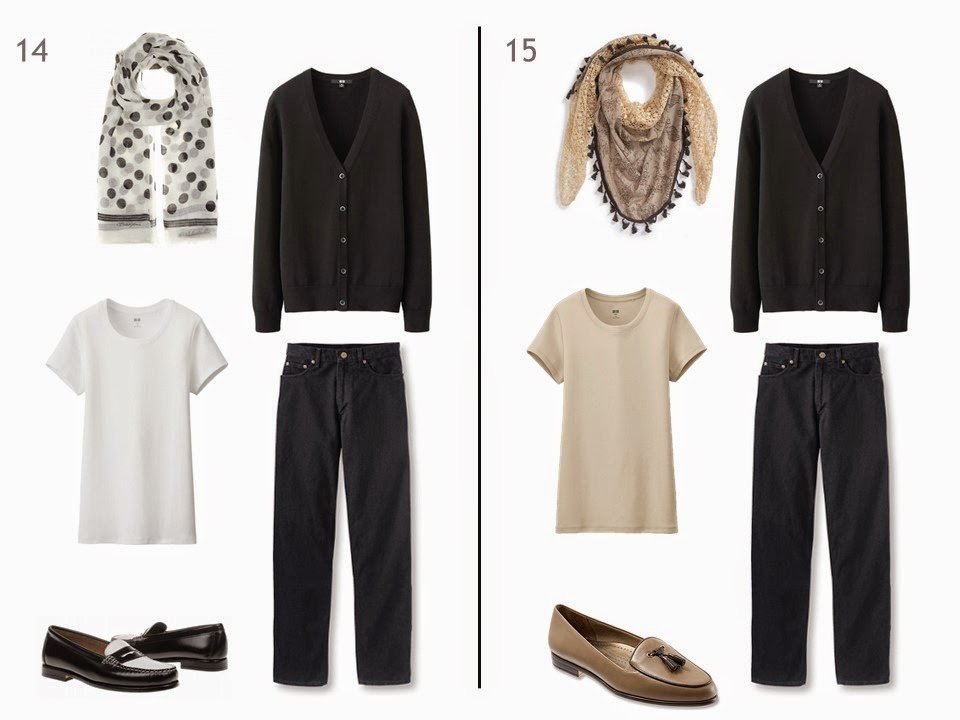 The idea of a white shirt as a neutral base garment is something to which all of our eyes are accustomed, and so I think #16 works pretty well. And the scarf in #17 keeps the black tops from dominating the outfit as much. But if you don't like the "twin set" look, nothing will redeem a matching shirt and cardigan!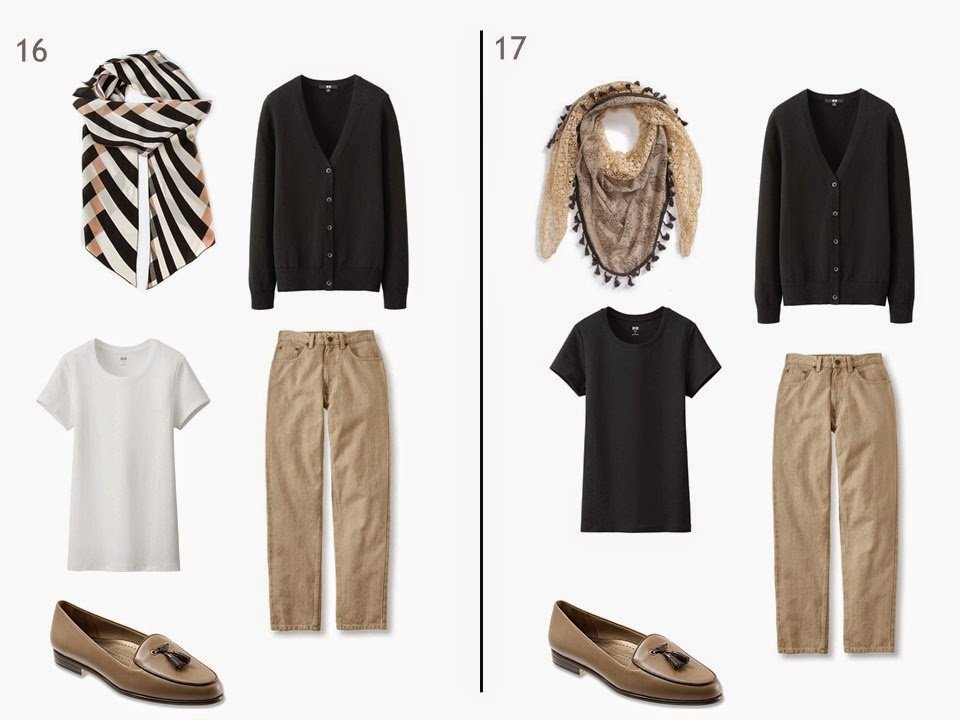 I think the hardest "twin set" to wear is the all white one! But the beige scarf does keep the white from being too overwhelming, so it's got potential.
And here we see the three colors with a scarf that ties them all together. I still hesitate over this particular ensemble, because the white cardigan over the black tee shirt feel awkward. It's hard to put my finger on what bothers me about it, but it doesn't quite flow. Hmmm….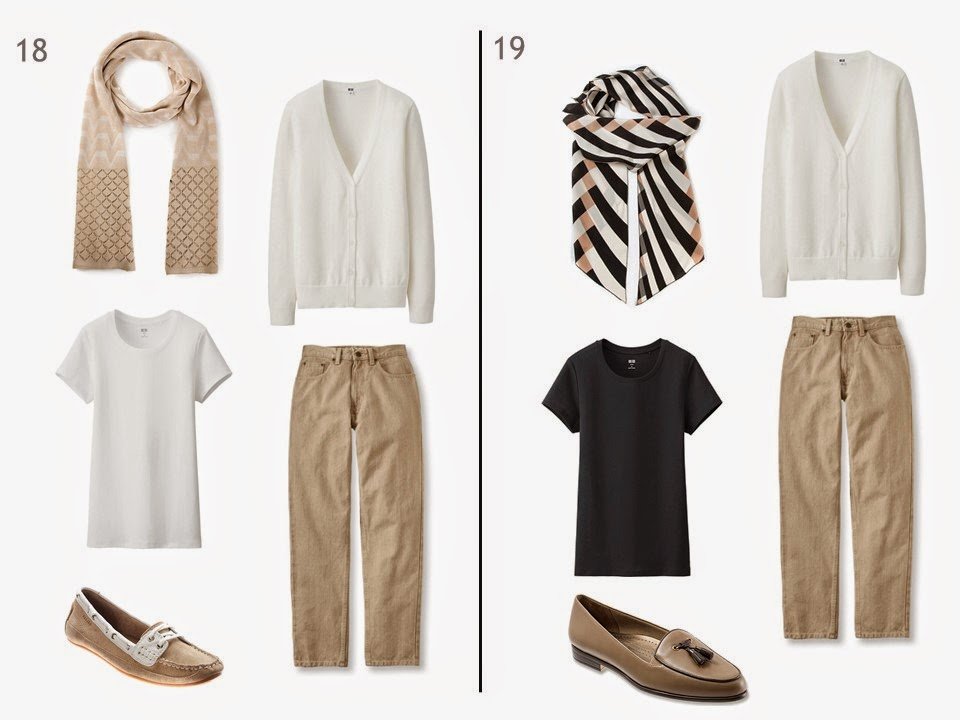 #20 might be a possible combination for someone who's top-heavy and who wants to downplay their… ahem… upper torso. I feel a lot more comfortable with the beige cardigan over the black tee shirt, rather than the white cardigan up in #19. It's an odd subtlety, but it's there!
And #21 is fine, unless you abhor the "twin set" idea…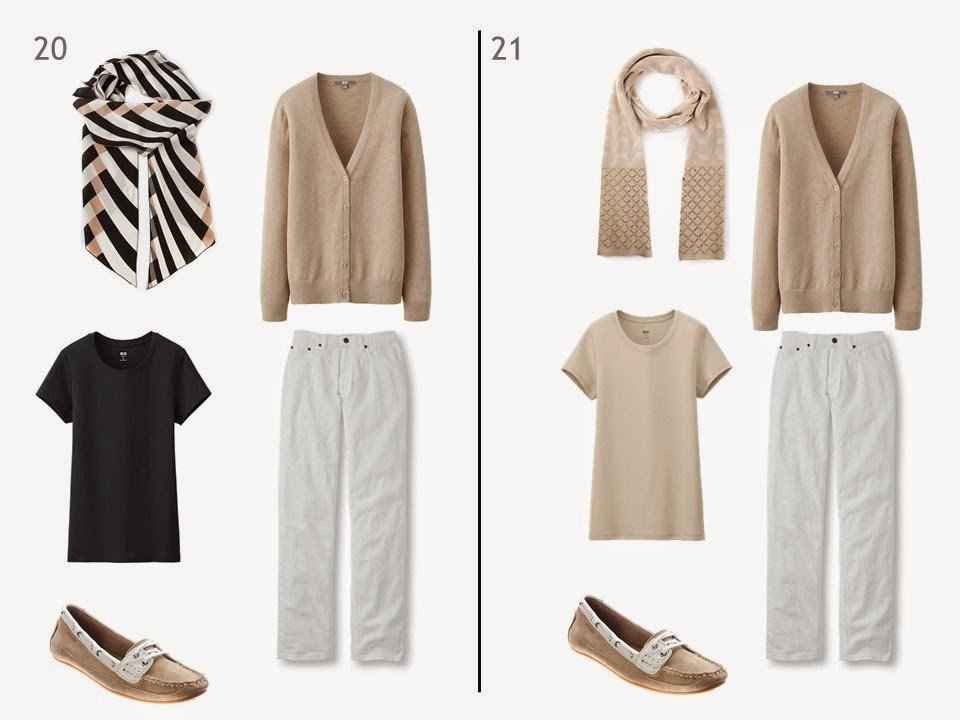 I would cheerfully wear #22, because I'm all about long legs, exposed ankles in the warm weather, and downplaying the degree of crowding on the balcony! #23 can accomplish the same goal of minimizing the top and accenting the bottom for those who don't care for solid black above the waist…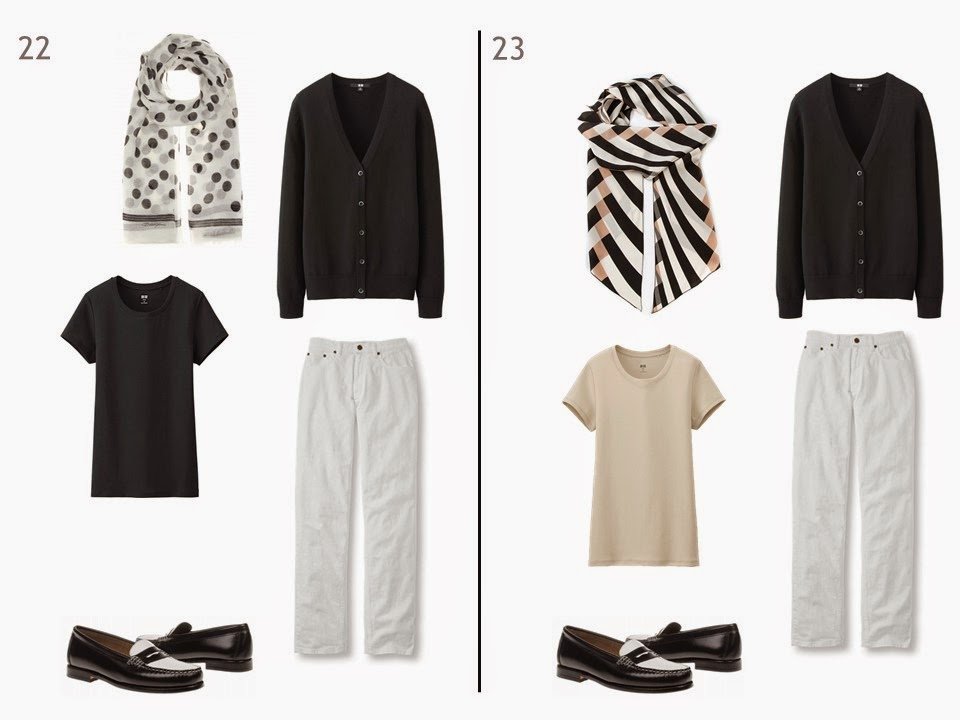 To my eye, the black and white scarf in #24 helps A TON in balancing out the all-white tops – it just pays sufficient reference to the jeans and loafers without being heavy or weighing down the entire outfit.
And for no good reason I can pinpoint, I think #25 isn't bad. Maybe the beige and the white are close enough in color? What a learning experience this is!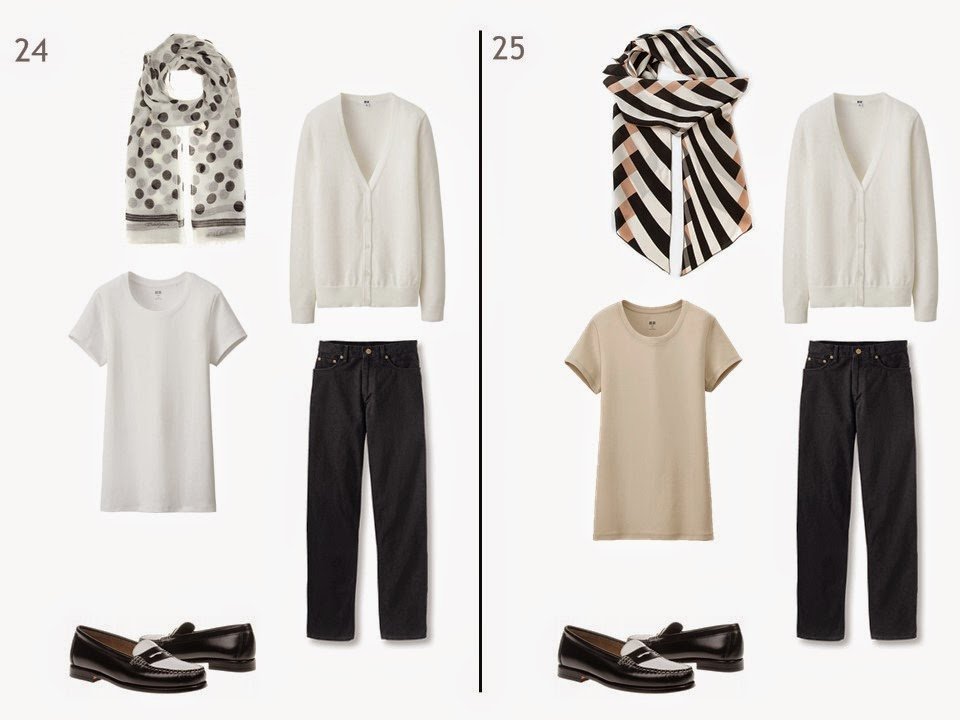 #26 looks balanced now, to me; it's interesting how well a white tee shirt can function where any other top makes too much of a "statement" in the outfit equation. I must remember to keep my white tee shirt stash fresh and tidy…
And #27 works well for those who can bear a matching tee and cardigan. The touch of black in the scarf is all that's needed to give the eye a sense of connection throughout the outfit.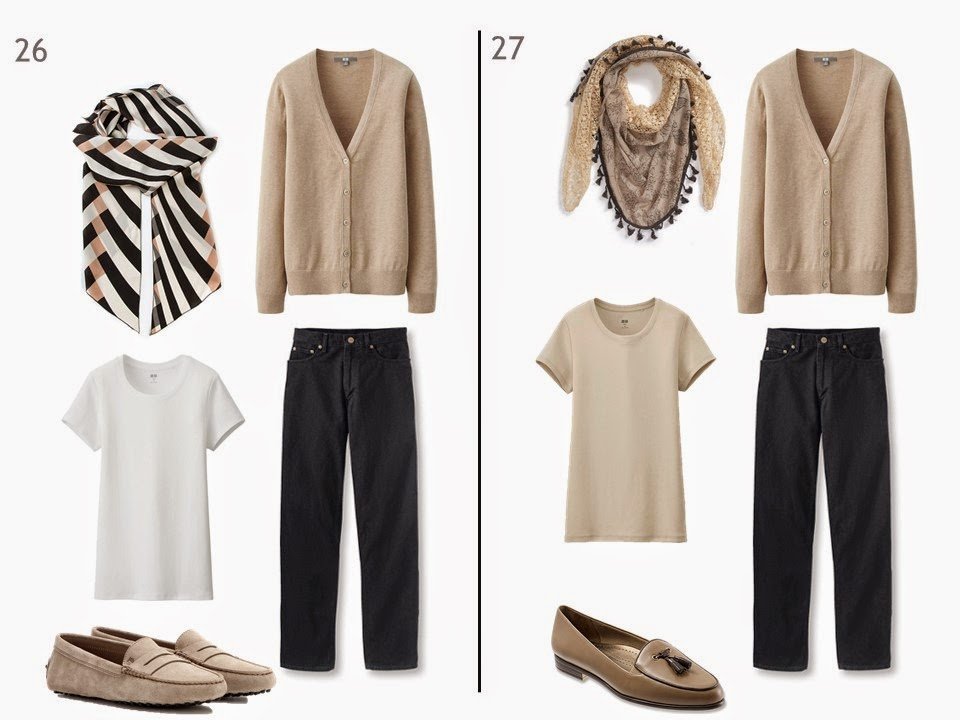 Just for reference purposes, these are the original garments…
I'm thinking of taking one more pass through this idea, with tee shirts in stripes or other prints that combine two or more of our neutrals. What do you think?
love,
Janice
PS – For those of you who like to read ahead, here are all the articles in this "Color and Proportion" series:
Step 3: Adding Print Scarves and 2-Tone Shoes to Solid Garments