February 9, 2022
After working on this post, I saw green every time I closed my eyes for HOURS… seriously!
Lots of questions have been posed lately about wearing green. At least in theory, every person should be able to find a shade of green that is flattering to them. Green is poised between blue (which defines "cool" colors) and yellow (which defines "warm" colors) on the color wheel. If you don't want to wear "right down the middle" true green, you can just slide off toward blue, or toward yellow…
These are some of the shades of green that I found readily available right now: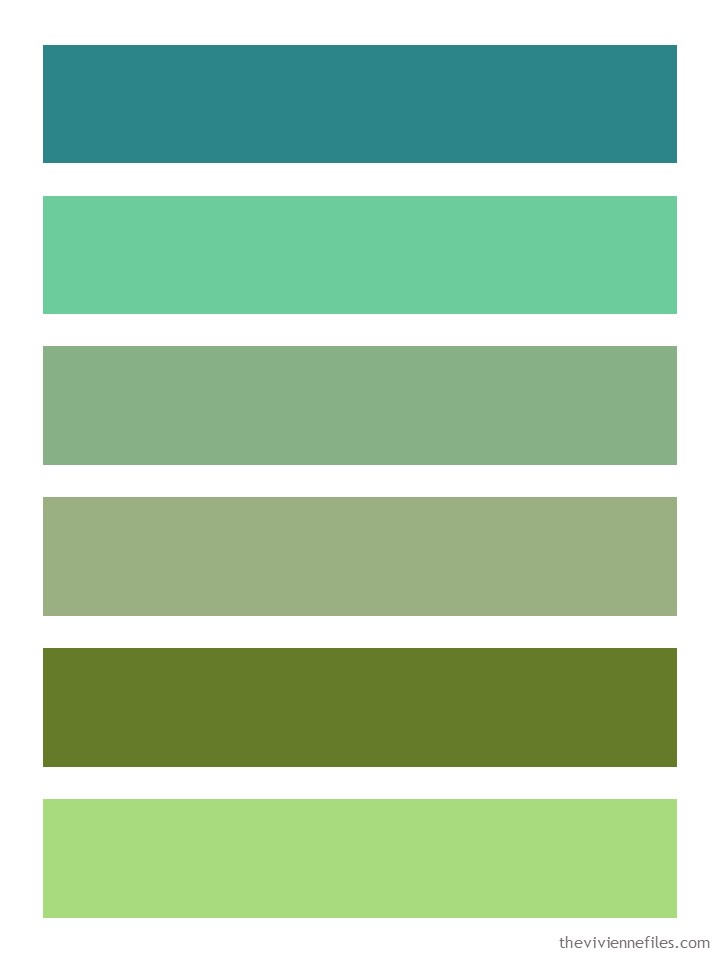 If you want to dabble in the possibility of green, but don't want to go completely nuts, you really only need to get 2 or 3 things in order to really establish green in your wardrobe – at least for a few months.
For example, if you love grey, and want to test-drive something green-ish, consider teal!
Yes, many people would consider this blue. I try to be open-minded when it comes to colors…
I think green with navy is VERY easy… And if you love stripes, this little cluster is perfect for you!
Imagine how easy it would be to pack these 6 garments (or wear 3 and pack 3?) for a weekend away…
If you live in beige and ivory in warm weather, the addition of a twinset and a gorgeous (not cheap!) skirt can change the look and feel of your current wardrobe:
Maybe your favorite warm colors are camel and ivory, and you like the juxtaposition of silk and denim…
Are you the woman who can really rock a strong shade of laurel green? Three really beautiful garments can change the look of your navy core wardrobe…
Maybe you want to wear a bit of green on your mid-winter getaway to warmer climes? A cashmere twinset and a REALLY pretty dress (which actually IS the same shade of green…) will take simple white garments in a new direction…
I only wear green when I'm going to an Ireland rugby match, or watching one at home! But I would never rule it out; I'm just waiting for the green that has whappage!
love,
Janice
p.s, Seven years ago, I pondered the beauties of a painting by Esias van de Veldt, and of traveling with only 6 garments – camel, brown, beige and LIGHT BLUE. All sorts of things are possible…