February 14, 2022
Remember, we are evolved enough as humans that we can buy our own Valentine's Day gifts… Do something beautiful for yourself today (and every day, frankly!).
Today, I'm pondering the role of a plaid, striped or printed shirt in one's wardrobe…
This little teal and navy cluster is a perfect example of the Triple Top Secret! You can – obviously – wear this outfit just as it's show above; in bitter cold weather, 2 shirts and a sweater isn't excessive. Add a pair of long underwear pants, boots in place of loafers, and some hard-core outerwear, and you'd be fine in Chicago in single-digit temperatures!
But if you own these 4 garments, you have SEVEN outfit possibilities!
depending on the style of your cardigan or sweater, your mileage may vary – a ruana or open cardigan should NOT be worn with nothing under it!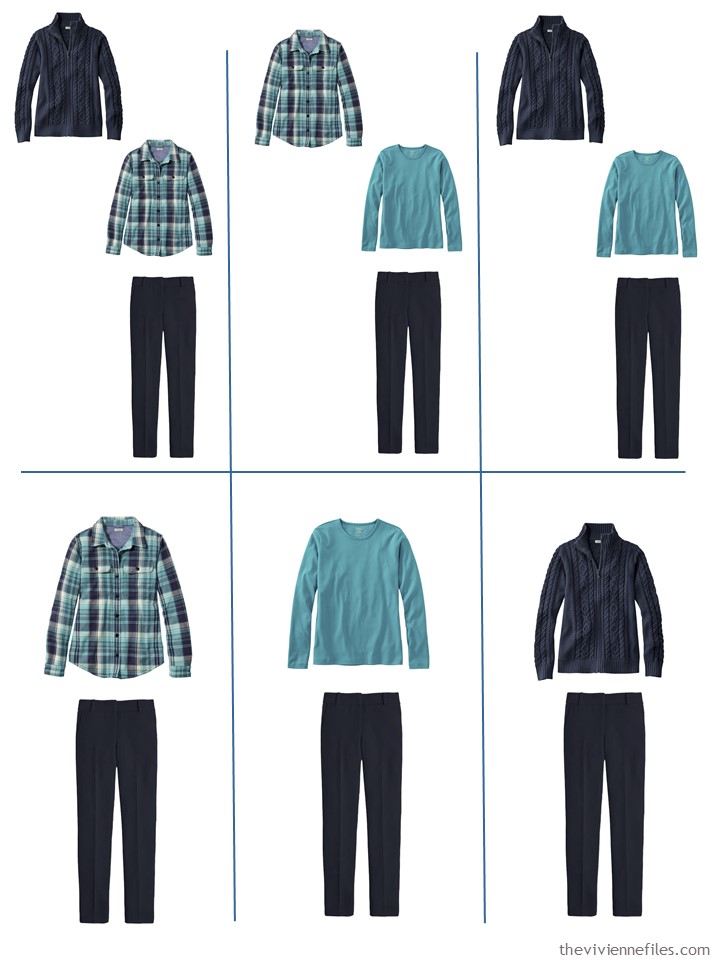 Your colors don't have to match exactly – it wasn't at all easy to find a shirt with brown in it! But this Sienna brick plaid shirt looks just right with brown pants and loafers…
Even if you live in black and white, the right shirt and scarf can break you out of a mid-winter wardrobe rut:
Maybe you're in the mood for truly spring colors?
If you find someone selling a color that you REALLY love, you'd be smart to pick up at least 2 or 3 garments in that color. Trying to match things later is ridiculous when you could just scoop up a beautiful spring green cluster at one time!
I know that at least a few among us don't like to wear printed shirts – but how about a tee shirt and a button-front shirt in 2 different shades, with a print scarf?
I wear my black and white flannel shirts as the "filling in the sandwich" layer under a black cardigan, and over a black or white tee shirt…
My long underwear is printed with MOOSE!!!
love,
Janice
p.s. Four years ago, I was ill on Valentine's Day! So I wrote a 2 paragraph blog post that referred everybody back to THIS post, which was all about the wonders of a petrol blue sweater.
It's all still relevant! I work so hard to make my advice as timeless as possible…