August 4, 2020
Let's see what kind of fun we can have, now that the Weekly Timeless Wardrobes are finished!
It seems to me that during the Spring and Summer, you might just as well keep both seasonal 13-piece Wardrobes in your closet – 26 garments isn't going to fill any but the tiniest of closets. (I had a closet in Dublin that was pretty full when you got above 30….)
Of course, in the earliest months of Spring, you're probably going to want some Winter clothes still! But let's assume for our purposes that the following plan is for all of the warm weather months, no matter when they fall!
Remember, we had complete, if somewhat monochromatic, Spring and Summer wardrobes from earlier:
Let's put everything from these 2 seasons together, and see what we have and thus what might be useful: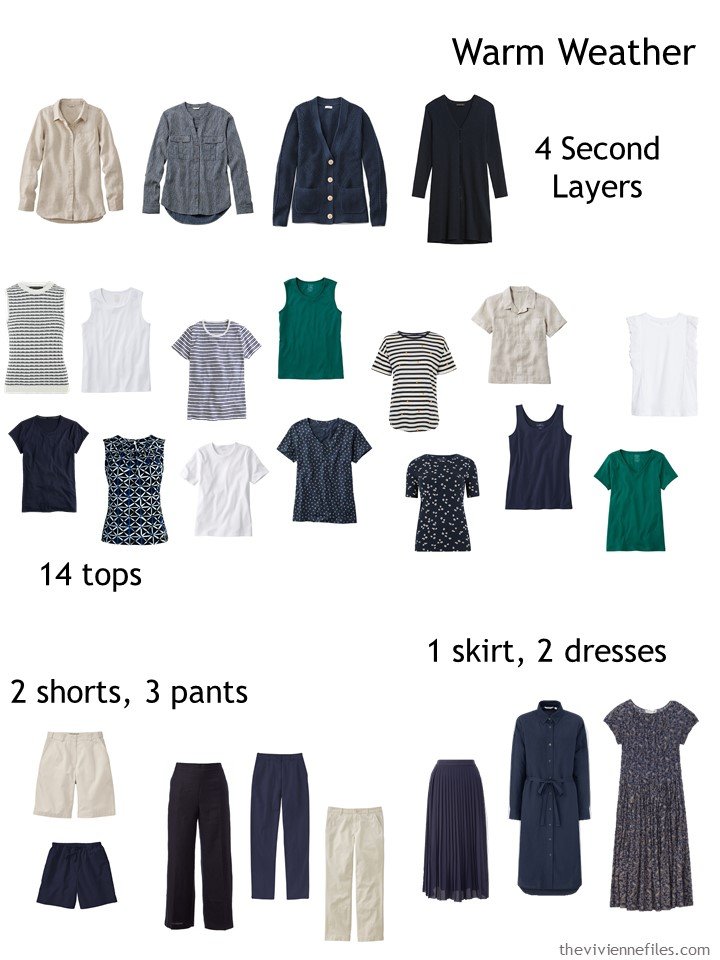 I know that there's a groundswell of calls for accent colors! And I personally could not make it through the summer with 2 dresses and 1 skirt. (your mileage may vary, of course!)
And more than 2 pairs of shorts? If you wear shorts regularly, 2 won't do!
And how many garments to add? I've been pondering this, and I think that each season might benefit from adding 7 pieces, to give us a total of 20 garments per season.
Here's where it gets really fun – add 13 accessories (i.e. 1 for each week of the 3 month season) and you will then have 33 things total. As in project 333. I did NOT target this – it was entirely by accident. But I'm going to send Courtney Carver a note to share this with her – she's so lovely, and her books (Soulful Simplicity and Project 333) and blog are well worth our loyalty.
Now that you're back from falling into the Courtney Carver rabbit hole of great things to read, let's add some accents!
Shorts aren't in stores in huge numbers, but when I saw these, I had to choose them – yes, we've seen them before but they ARE timeless…
And I love the brighter blue accent.
A SKORT? I'm sitting here right now in a skort, getting ready to go to the gym (I could cry with happiness, seriously). They're great for working out – they're modest, and they don't ride up… I'm a fan. For tennis, if you're not in an "all white clothes" club, this work really well, too.
And this light green (named beach glass, faded spearmint, just plain mint, or even light green!) is perfect with these medallion-print shorts. Some navy and white prints, and a simple white linen shirt give any heroine with this wardrobe lots of possibilities:
I'm NOT going to go through all 14 new garments to see if they will work in our wardrobe! But I do want to make certain that the shorts, skort and skirt will be useful – let's take a look: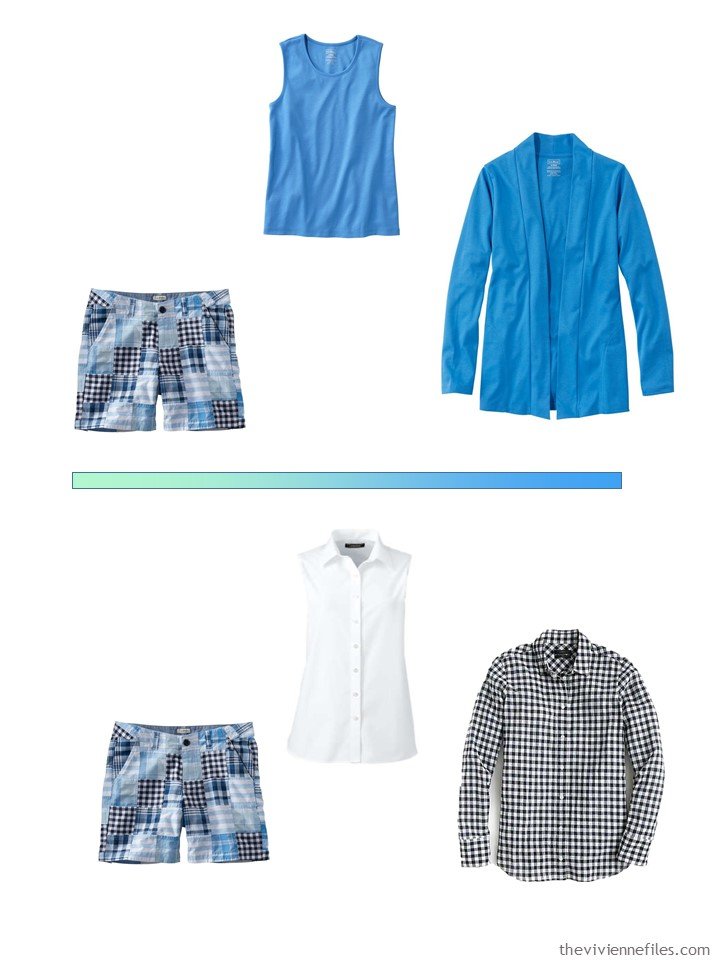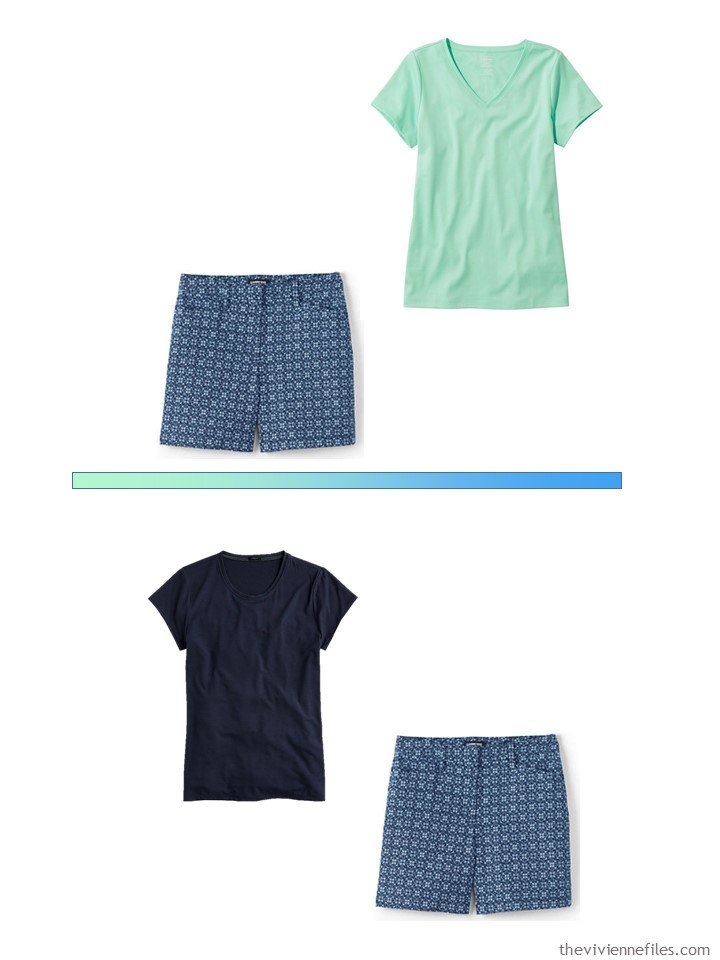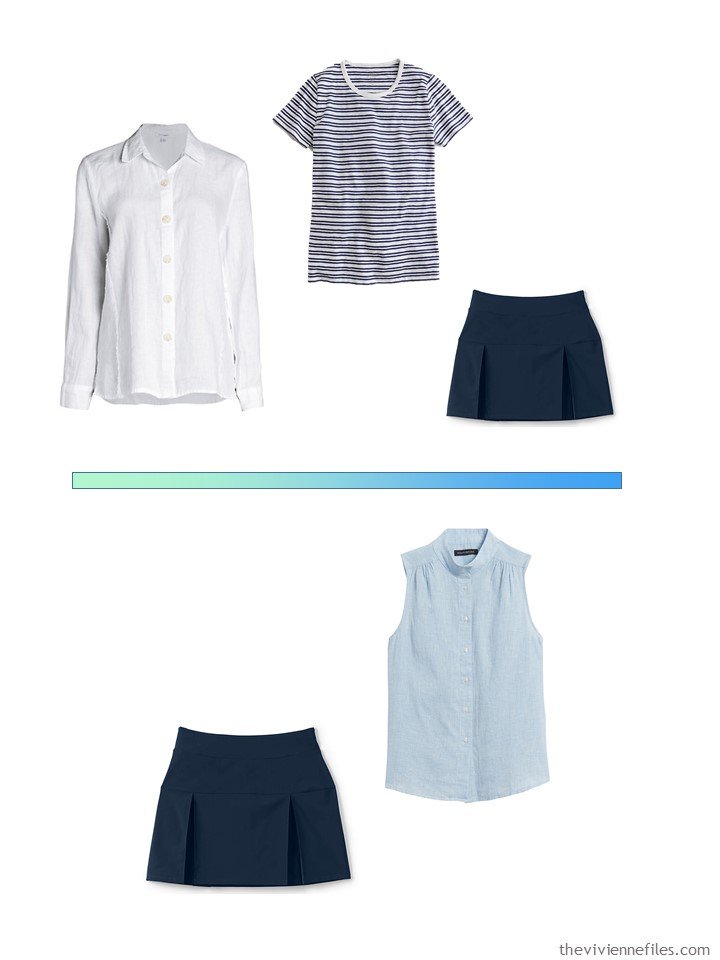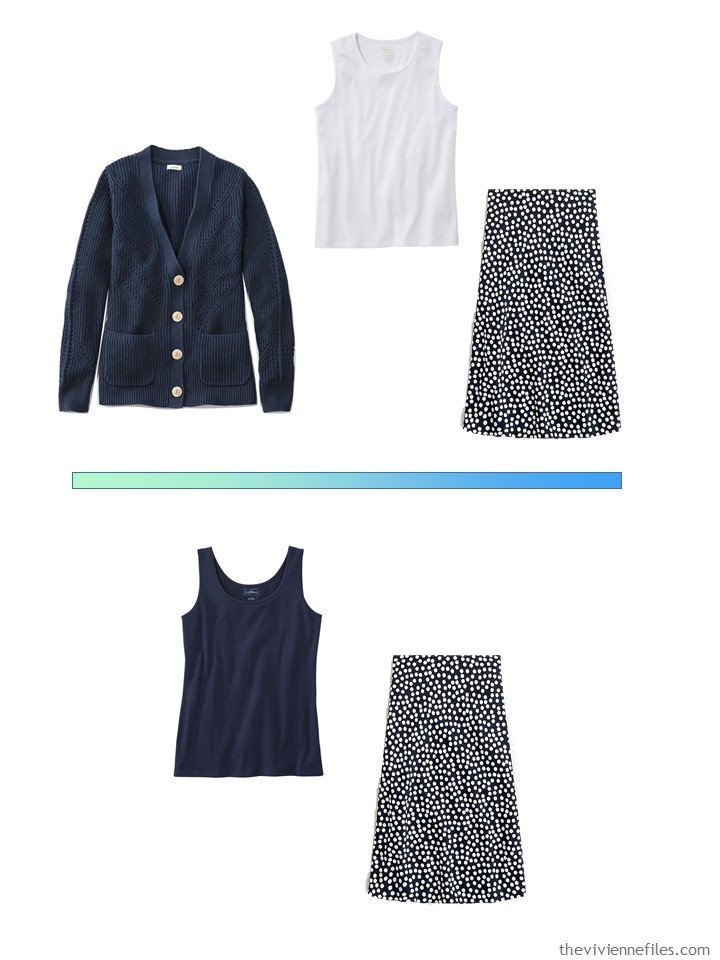 OKAY! We've got possibilities to spare…
The final "warm weather" wardrobe looks like this – to my mind, 40 garments for warm weather might be plenty; what do you think?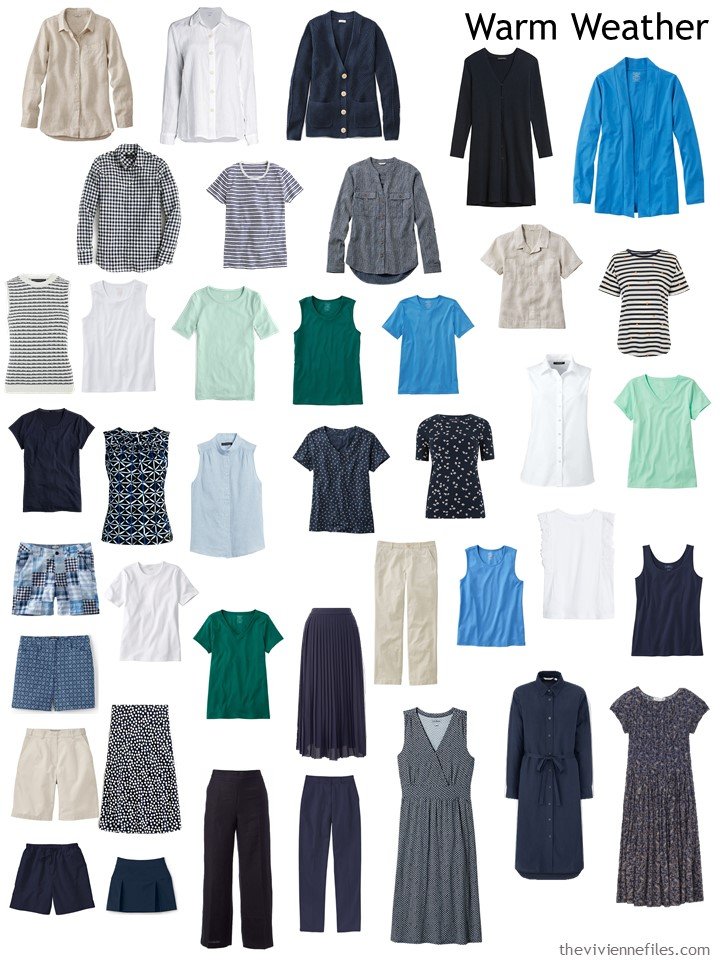 I'm going to go count how many pieces are currently in my warm weather wardrobe – I have a weird hunch that it's very close to this number!
Enough for you? Too much? I know that at least a few of you are still hankering for more colors, and more prints; it's wonderful that we're all SO different…
love,
Janice
p.s. Five years ago, I struggled and STRUGGLED to assemble a wardrobe based upon a photograph of a Northern Flicker. ANYTHING can be an inspiration…
p.p.s. What accent colors should I use tomorrow for the cool weather version of this?