August 4, 2015
When your wardrobe plan gets difficult
When I received a note about building a wardrobe around the coloring of a Northern Flicker, I was really excited; taupe and black, with accents of orange? What's not to love?
But as most of us have found, it's one thing to choose and truly commit to a color scheme, and quite another to actually FIND the items that you envision. These beautiful shades of taupe are pretty straightforward to find in winter clothing, but to find them for summer was quite another story!
I specifically chose this photograph because it gives us two really great, and complementary, accent colors to mix in with the taupe and black. At this point in this project, I was filled with enthusiasm, and thought that this was really lovely: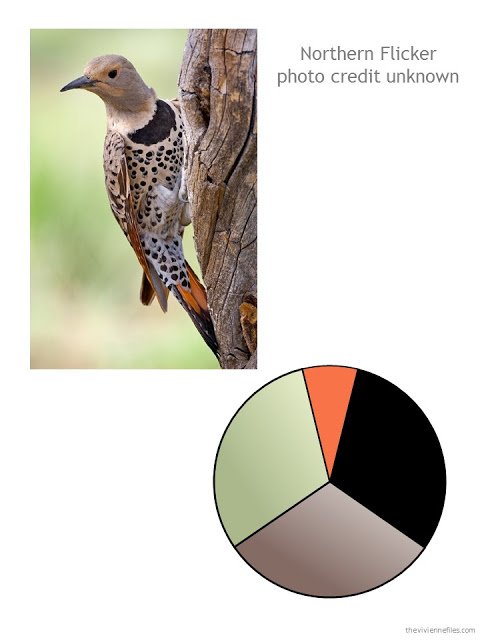 The first core is always pretty simple – black summer clothes are everywhere. I tried not to be overly influenced by the presence of Lollapalooza in my front yard; never have I see quite so many skimpy clothes…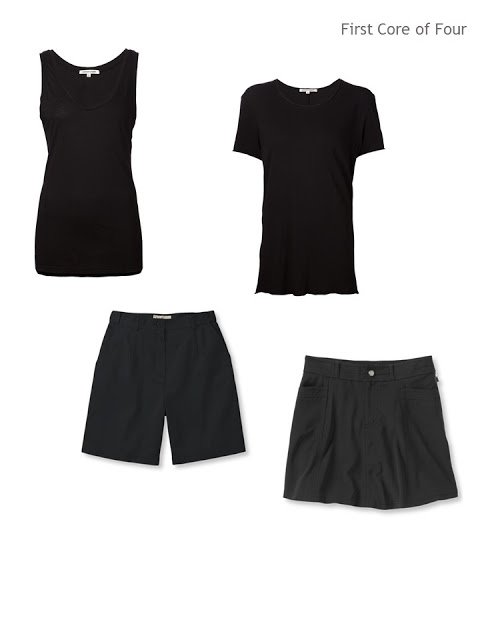 Tank top – Cotton Citizen; shorts – L.L.Bean; tee shirt – Cotton Citizen; skort – L.L.Bean
But here's where wardrobe building got a whole lot more difficult! This is a subtle color that's not easily found – most browns are yellower, or oranger, or just different. A soft, dusty taupe like this abounds in cashmere sweaters, but not in tee shirts or shorts!So what to do if this happens to you?
Be patient, and keep looking. There's more clothing in our world now than there has ever been before. More than you can imagine. More than we all need, times 10. Look at sites you've never before considered, and at store websites that you usually disregard. Definitely consider looking at sites from other countries – colors that are out of favor in one place might be popular elsewhere.
Concentrate on more easily-accessible parts of your wardrobe. It wouldn't be wrong to buy 2 "Cores of 4" in black, while you were waiting for taupe to finally make it to the summer wardrobe world.
Stash some spending money to have readily available when you see something that's perfect. There's nothing worse than seeing the ideal item and not having cash to pay for it!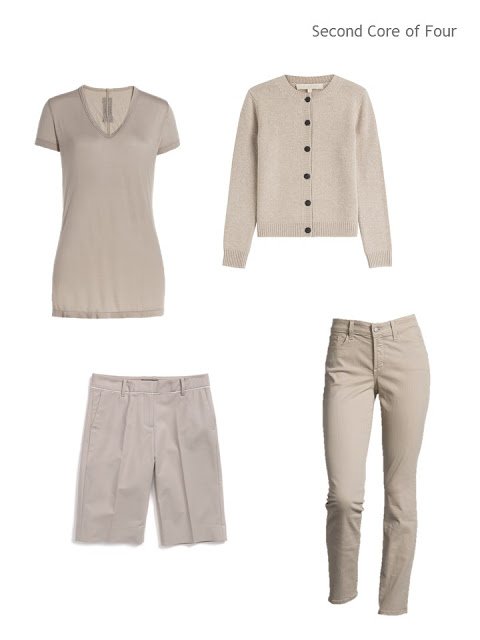 Tee shirt – Rick Owens; taupe shorts – Tommy
Hilfiger
; cardigan
– Vanessa Bruno; jeans – NYDJ
These colors weren't profoundly easier to find either! The green that I wanted was warm and sunny, not cool and ocean-like. And I never want vivid neon orange – this orange needed to be bright and strong, but still wearable. Happily, J. Crew has tee shirts in almost any color imaginable, and the endlessly wonderful Title 9 carries tops in some colors I don't see anywhere else.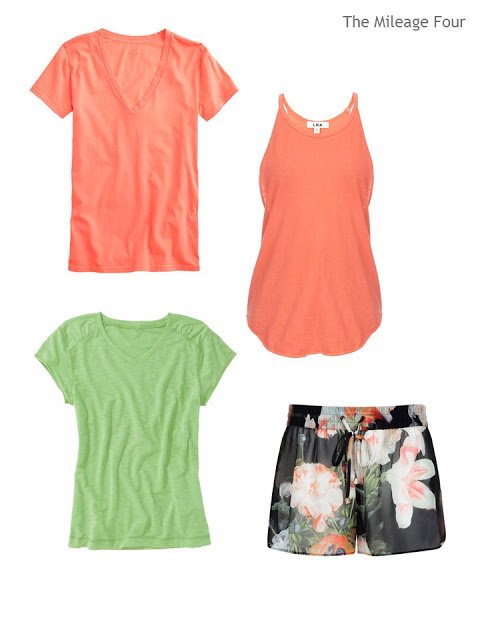 Orange tee shirt – J. Crew; green top – Title 9; orange tank – LnA; shorts – Ted Baker
This part was a little bit easier – when I realized that I needed a top with some coverage, I was fine; taupe is a popular color for fall and winter. And the dress has the "speckled" texture that I wanted to include as an homage to the marking of the northern flicker.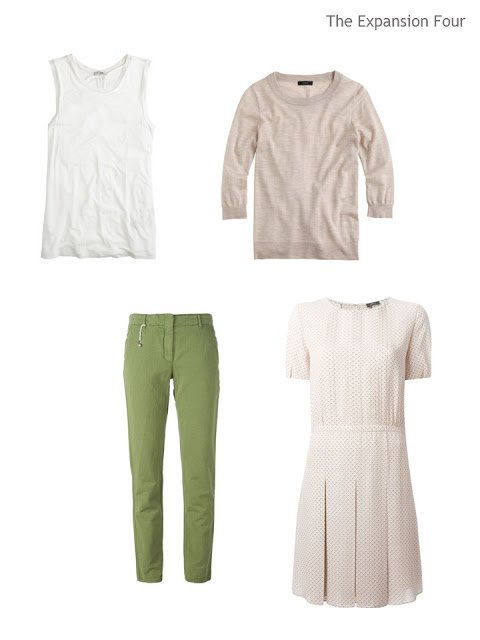 White tank- J.Crew; green pants – Incotex; sweater – J. Crew; dress – Joseph
Accessories were easier, hallelujah! I was looking for mostly taupe pieces, in textures that were natural, and has some dotted, spotted, or speckled feeling if possible. And while you may not love Birkenstock sandals, rest assured that there are plenty of other taupe flat sandals available!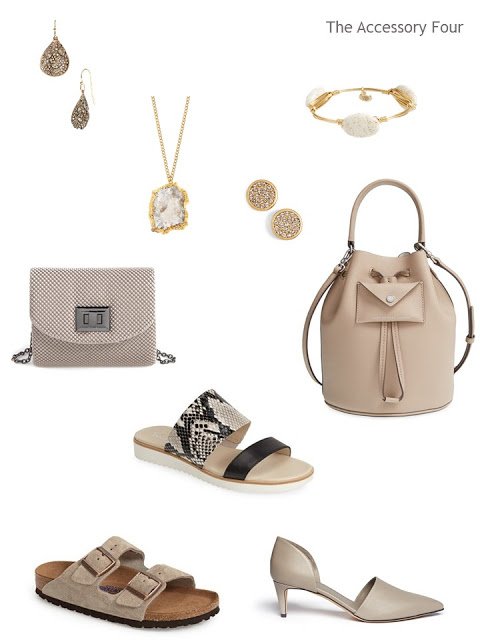 Teardrop earrings – Alexis Bittar; drusy pendant – Nordstrom; stone bracelet – Bourbon and Boweties; round earrings – Lonna & Lilly; cross body bag – La Regale; bucket bag – Marc by Marc Jacobs; black and beige sandals – Franco Sarto; beige sandals – Birkenstock; D'Orsay pumps – Vince
Overall, I'm not unhappy with the way this turned out. Patience was the key quality I really needed to make this come together! And you can clearly see that if I had chosen to lean more toward the black neutrals, away from the taupe, I would have had plenty of opportunity to do so!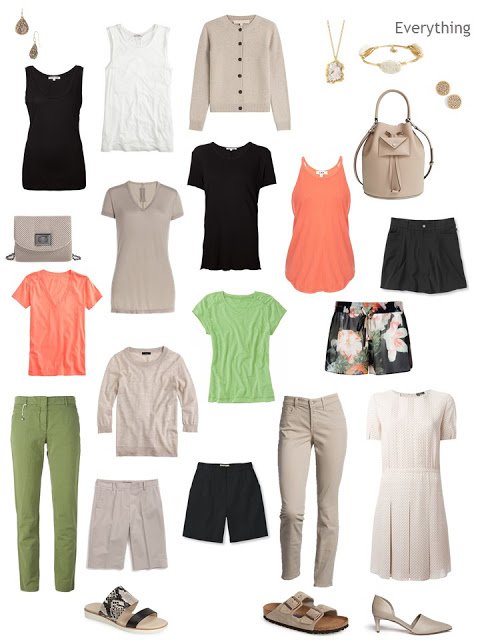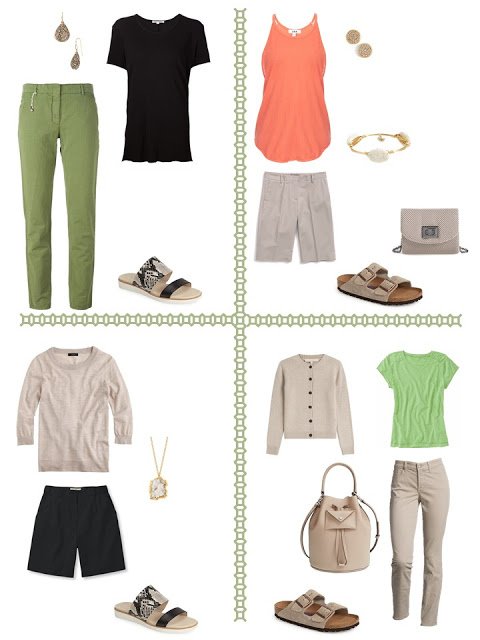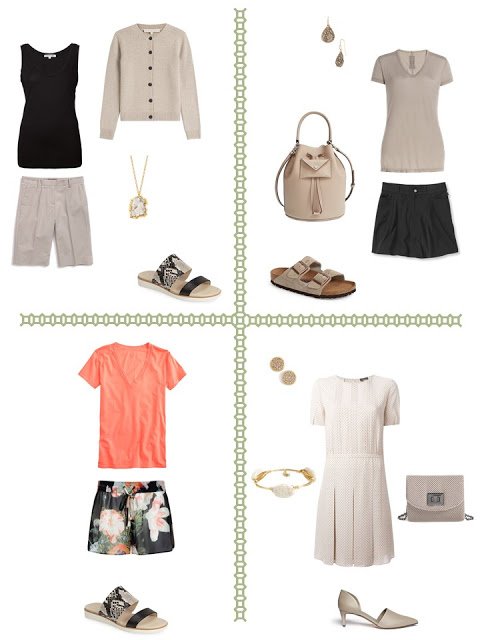 As always, I try to use the 4 by 4 Wardrobe template to keep myself honest – although I tossed in 1 extra pair of shorts into the Mileage 4 just because they appealed to me so much! You don't have to be handcuffed to any template, but the overall principles built into the guidelines should always be kept in mine!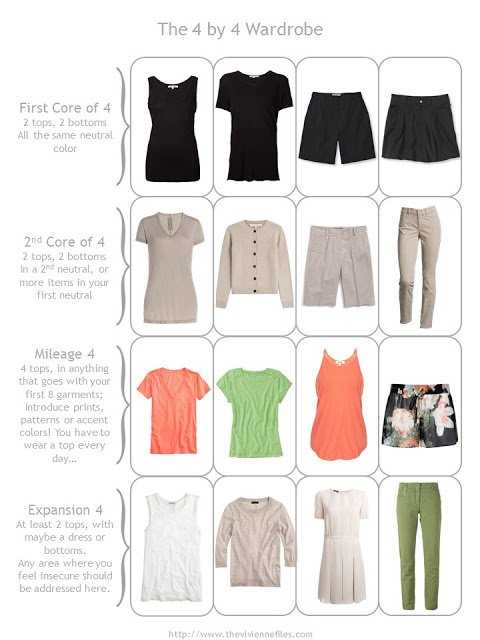 Does this work for you?
love,
Janice