July 28, 2020
Yes, the series ended yesterday, but my ideas about it could go on for a long time…
The world's easiest flashback – remember these 13 garments from yesterday's post?
It's been pretty evident to me for a while that these 13 garments arranged themselves into 3 clusters pretty neatly. Actually, you could arrange these pieces in at least a few different ways, but for now I'm looking at this: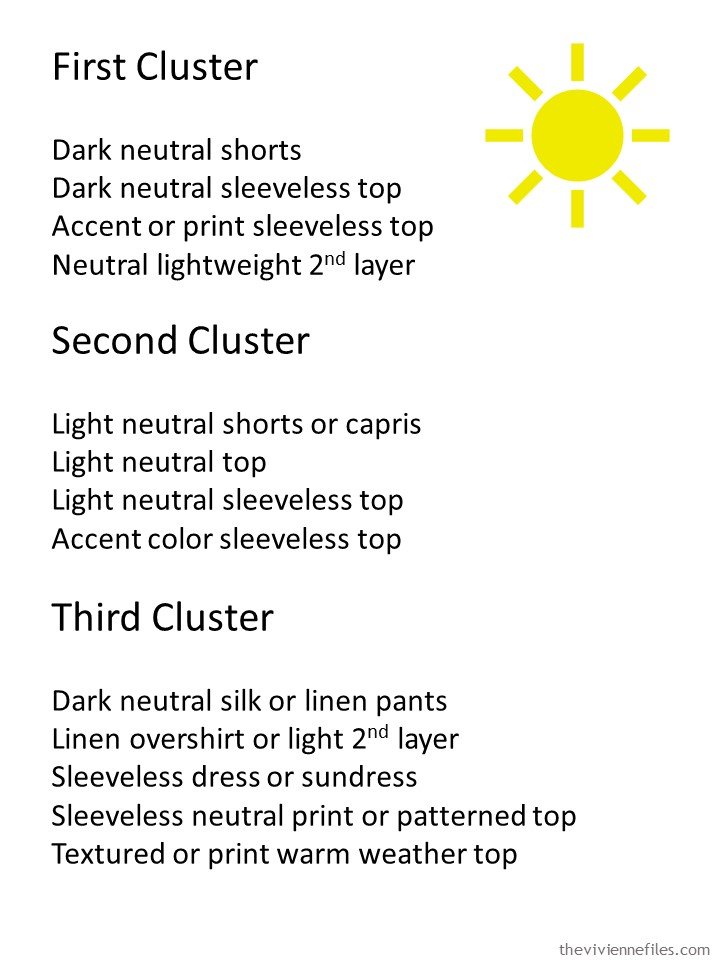 If you're not inclined to want to analyze your wardrobe on a weekly basis, maybe shift to a monthly basis, and look at clusters rather than individual garments!
Plus, this is a really easy way to pack – if you pack clusters, you know for a fact that you have garments that go together! (you do of course have to be sure of having shoes, sunglasses etc…)
For example, let's look at the 13 black, white and pink garments that are in the Weekly Timeless Wardrobe at the top:
Easy peasy, right?
Starting today, I'm going to assemble a Weekly Timeless Wardrobe in navy, beige, forest green and white for all 4 seasons. Today we're going to look at summer clothes, then tomorrow I'll see what I can find for Autumn, then Winter and Spring to end the week!
Since nobody has a ton of clothes in stock, this should be… interesting…
A dark-neutral based Cluster, for summer, in navy, is truly a wardrobe classic:
Here's an example of the kinds of liberties that you can take with this wardrobe – our heroine loves beige as her 2nd, light, neutral, but won't wear beige near her face. So she uses white for some of her tops. Everything still goes together, looks great, and our heroine feels that she looks better!
More rule-breaking here – her tee shirt should almost certainly be solid navy, if you're going to be really strict… But it's clothing – there's no need to go nuts following rules! Just be certain that you're not buying things that don't work for you…
Here's all 13 of our heroine's Weekly Timeless Wardrobe garments for summer. If someone handed me this suitcase right now, I'd be gone! (and I don't wear navy, so that's saying something…)
Our heroine's reckless addition of just 1 printed tee shirt makes this entire wardrobe seem less staid, while not really interfering with her outfit options at all. Some day I'm going to figure out just exactly how many possibilities she might have, but for today I think that having a dozen ideas is a good start: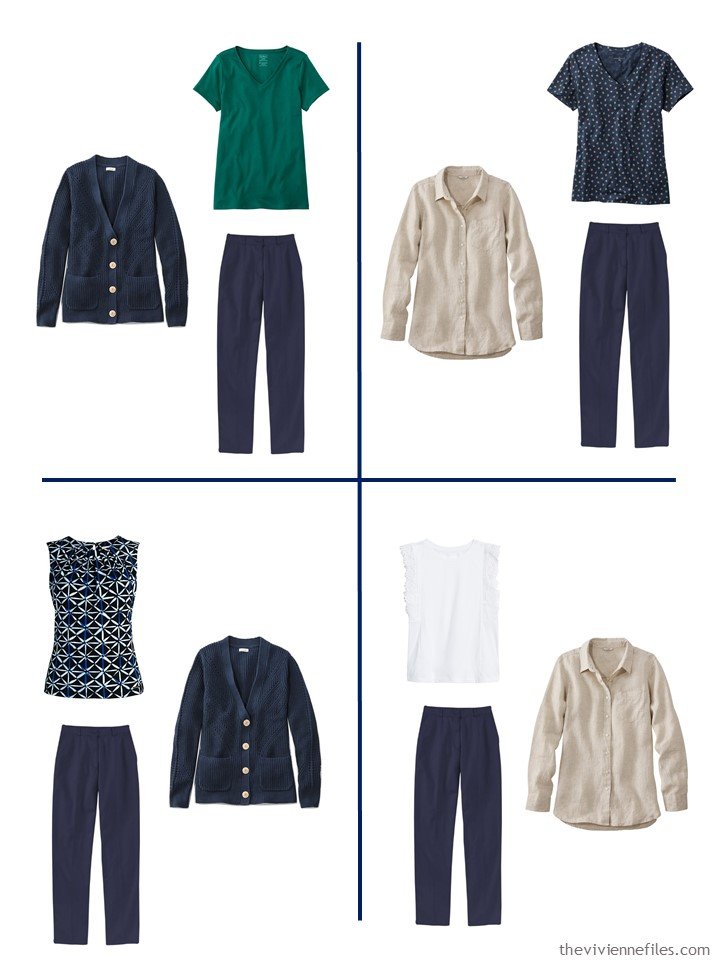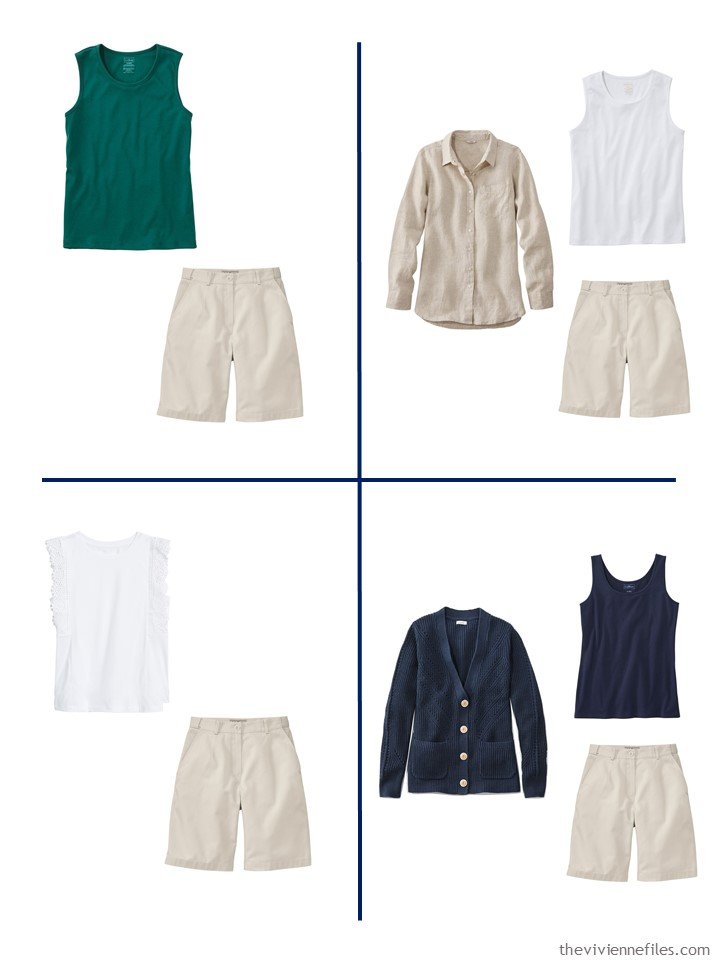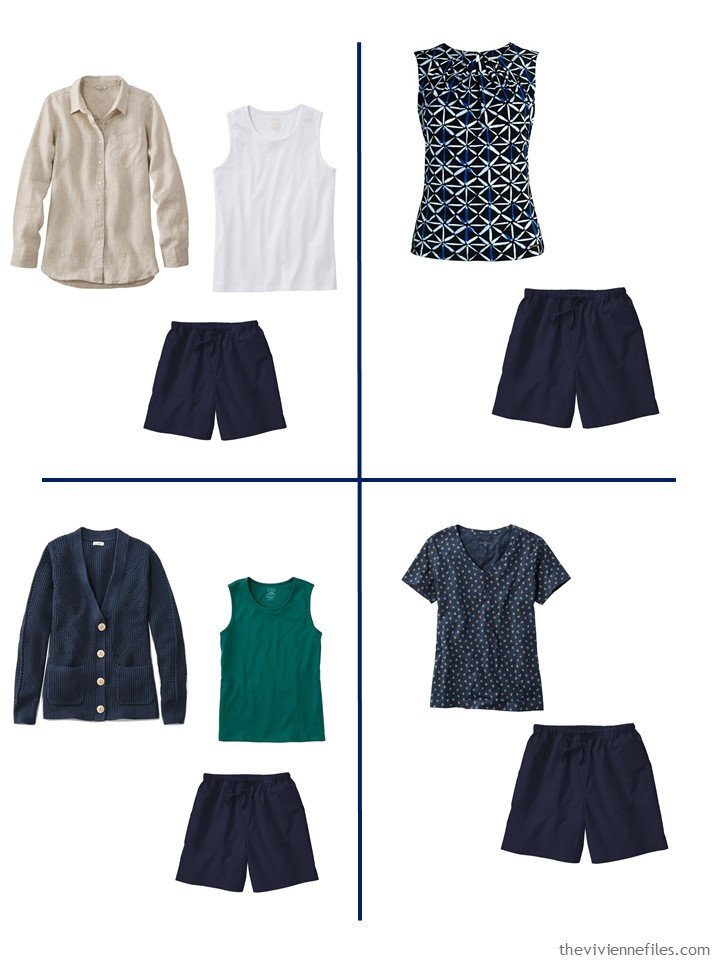 Especially for those among us who wear uniforms a lot, or who spend a big chunk of their time in gym clothes, a summer wardrobe like this might be almost all you need. Add in a French 5-Piece Wardrobe of accent and supplemental garments, and many heroines would have everything that they need!
Friday, I cleaned out my closet. I mean EVERYTHING OUT, piled on the bed and sorted. I didn't get rid of all that much, but I feel sort of… relieved, and like I've accomplished something. A little bit of tidiness and clarity in a confused world is important!
What I realized, in the middle of piles of stuff, is that I can easily live with a small wardrobe. And I am gradually getting there! It will probably still take years, but if I'm on the right path, I'm happy…
love,
Janice
p.s. FIVE years ago, we met the couple that were inspired by the painting Edith and the Kingpin, by Jack Vettriano. Memories…