August 3, 2020
Grab your beverage of choice and make yourself comfortable; this is a BIG post! From here on, every "first of the month" post will have 42 images… My computer whimpers at the very sight of this file…
Normally, August has been a month in which we started preparing to get back to work, and savor the beauty of fall clothing. Many years, this has meant a blouse, cardigan and skirt, with appropriate accessories.
But this year, I'm going to be realistic, and address the life that most of us are living, and will be living probably until next Spring. This, to me, means jeans, a sweatshirt, and something to wear under the sweatshirt! And a mask…
If you question your ability to wear a sweatshirt with a scarf, or with a skirt, I call this most elegant gentleman to our attention. He's an inspiration!
I believe, as intelligent, mature women, it's our responsibility to call into question all sorts of "rules" that don't have a real grounding in honesty, goodness or kindness. Arbitrary fashion rules are always subject to reexamination…
/soapbox
Let's get started!
I love this striped sweatshirt! Maybe they could do one in black with pink and white stripes?
We're at that point with these wardrobes that requires 2 pages – one for garments, 1 for accessories: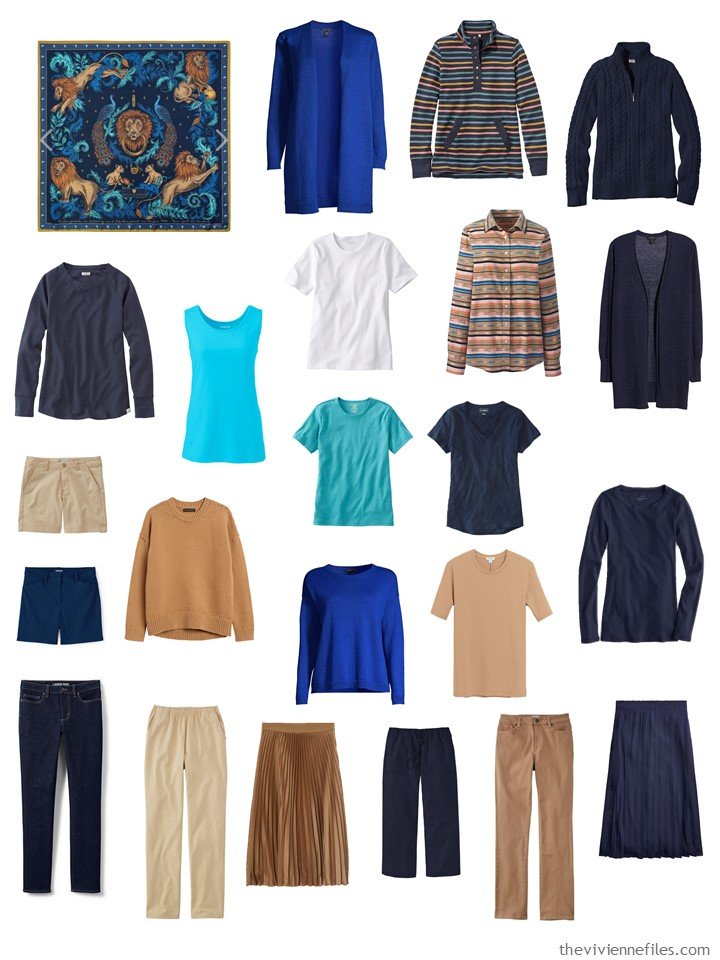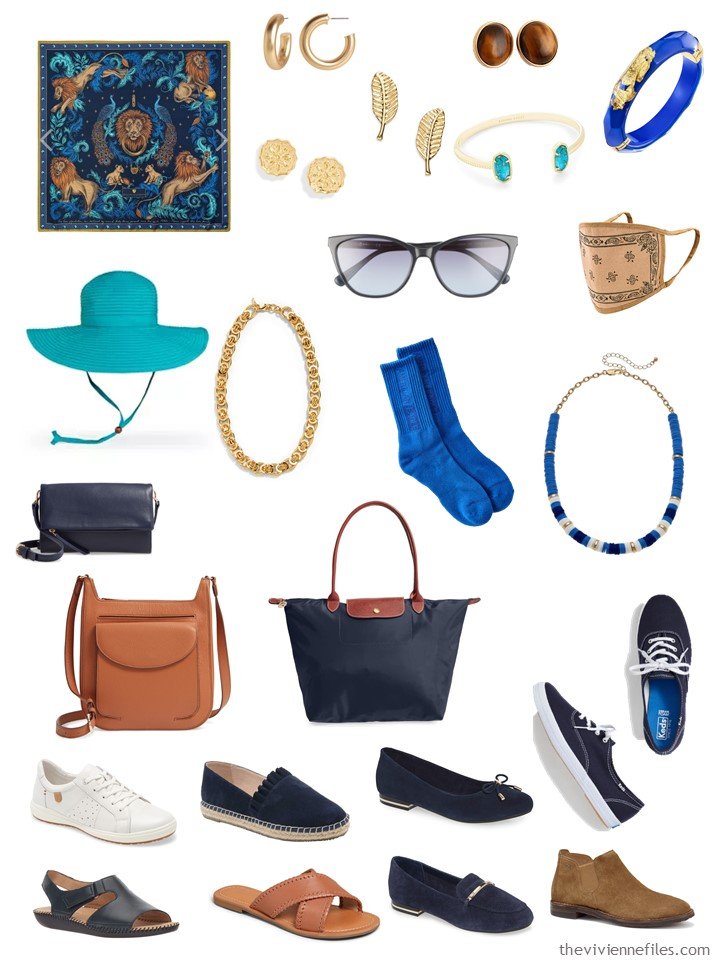 As always, it's important to be certain that our new garments can be worn in at least a couple MORE ways, in addition to the outfit that we're adding to each wardrobe.
I've deliberately shown each new sweatshirt with a skirt, just to jolt us all out of our "normal" habits of getting dressed…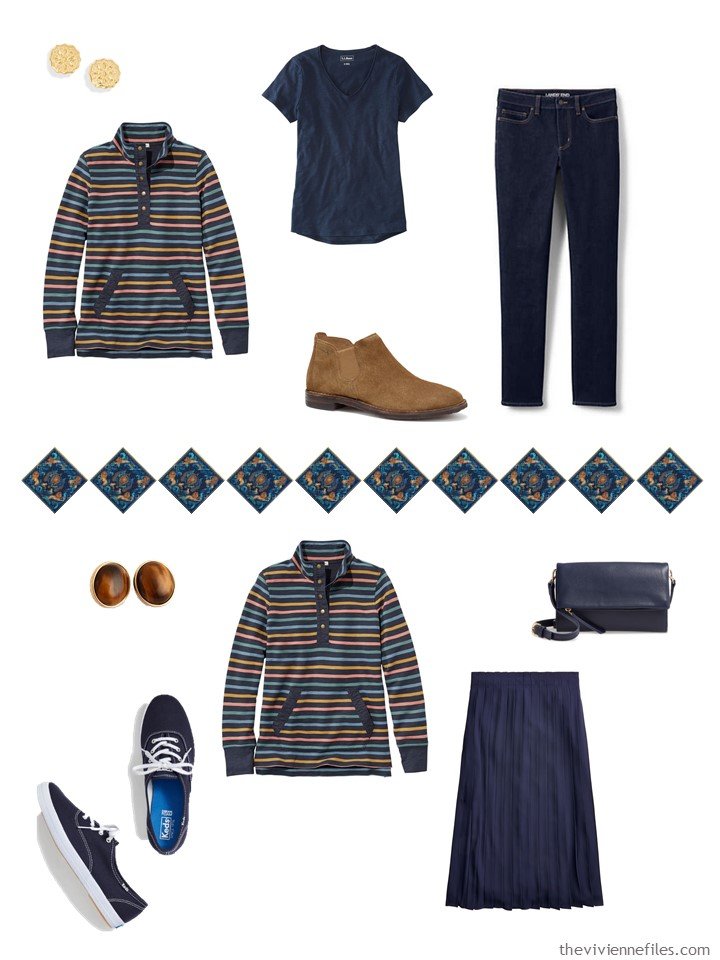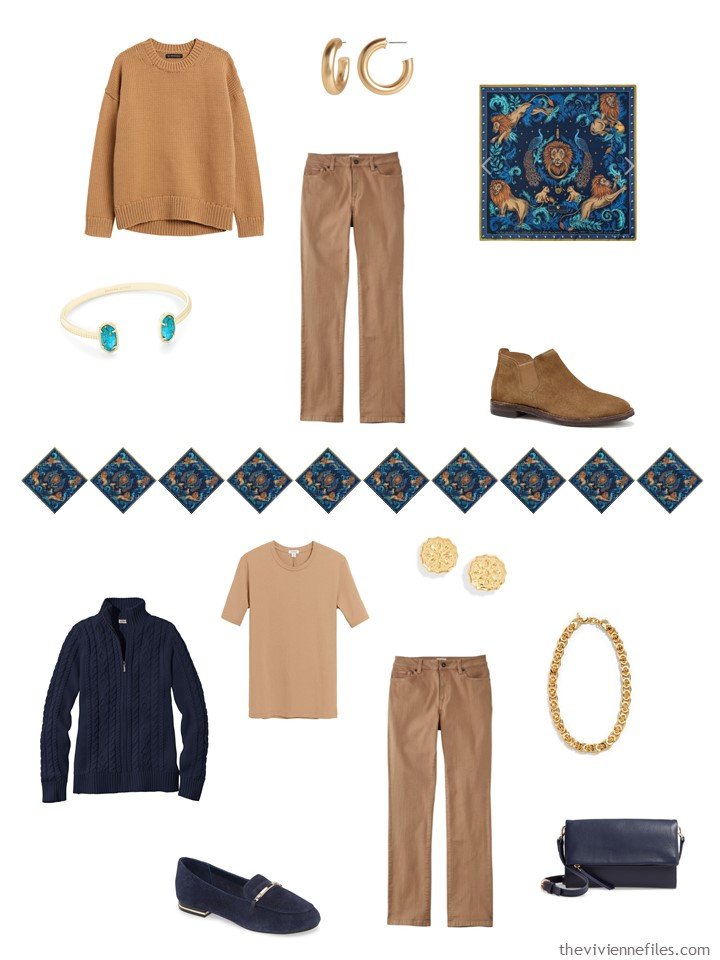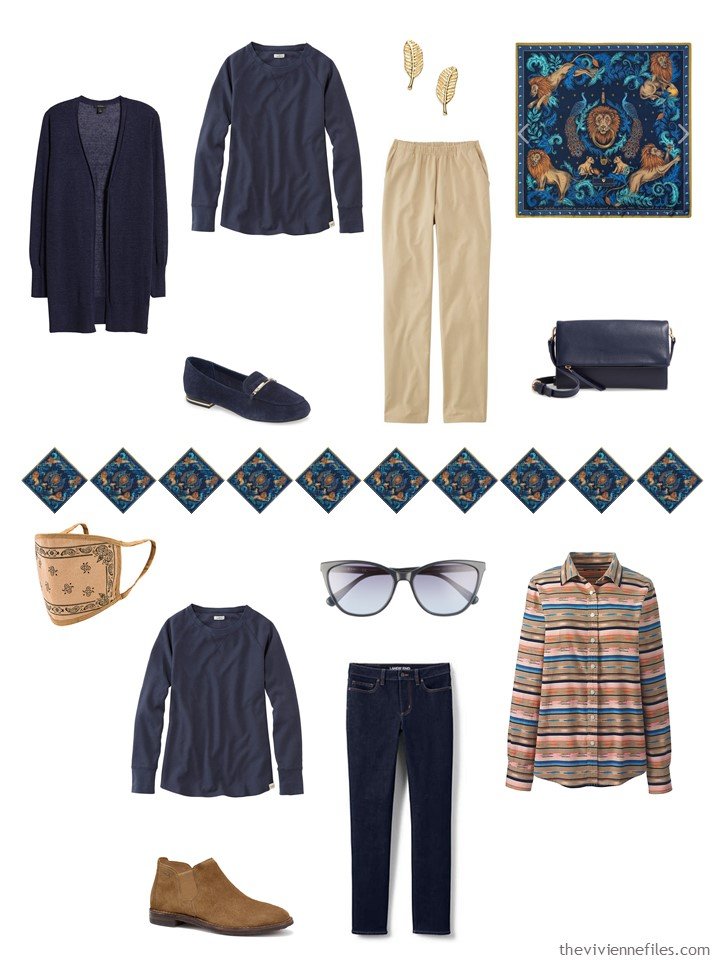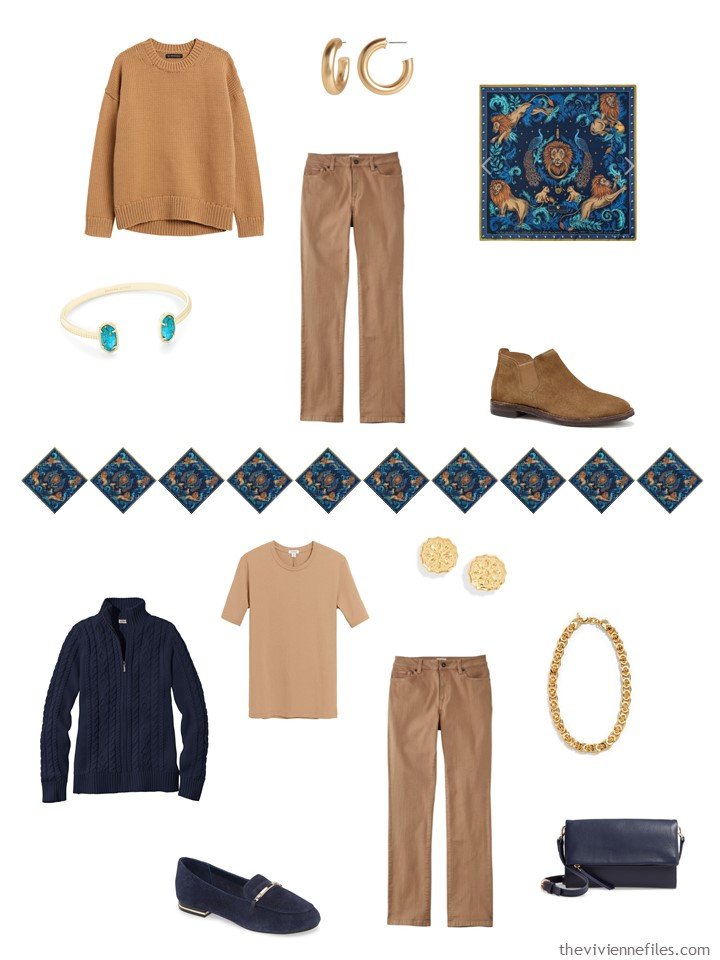 If you're interested in jeans that aren't blue, I found GLORIA VANDERBILT jeans available in SIXTEEN colors. I remember my first jeans from GV – I felt like a movie star…
Speaking of LOTS of colors, this unisex hooded sweatshirt comes in a stack of colors…
And why NOT wear a lace mask with a sweatshirt?
Why yes, there ARE the same jeans as above; don't they look different with mint green?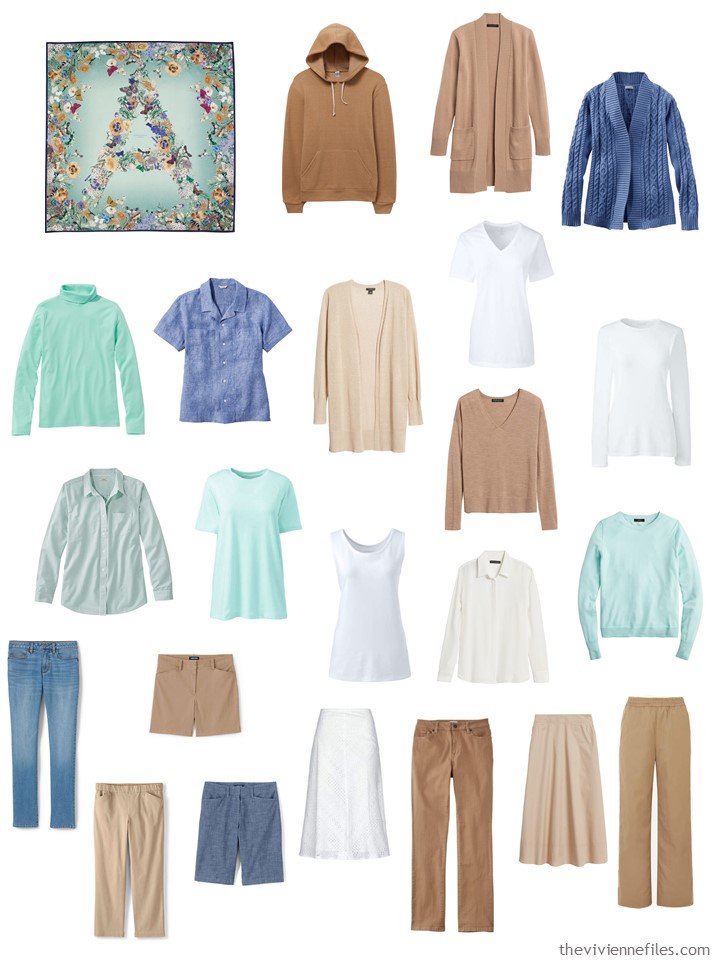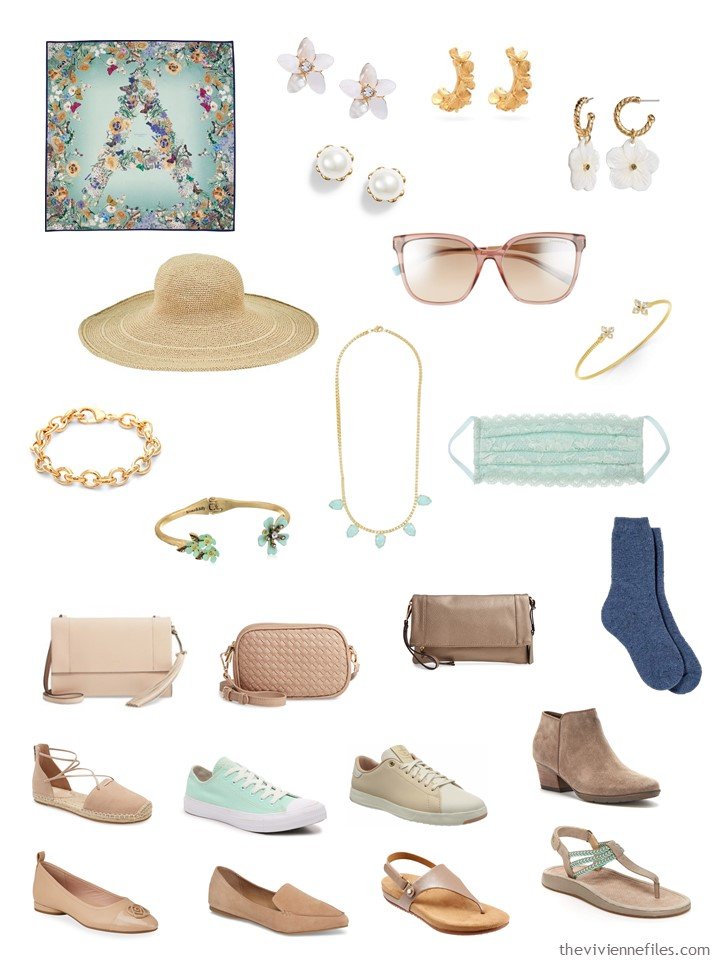 I'm personally kind of thrilled to find a camel sweatshirt…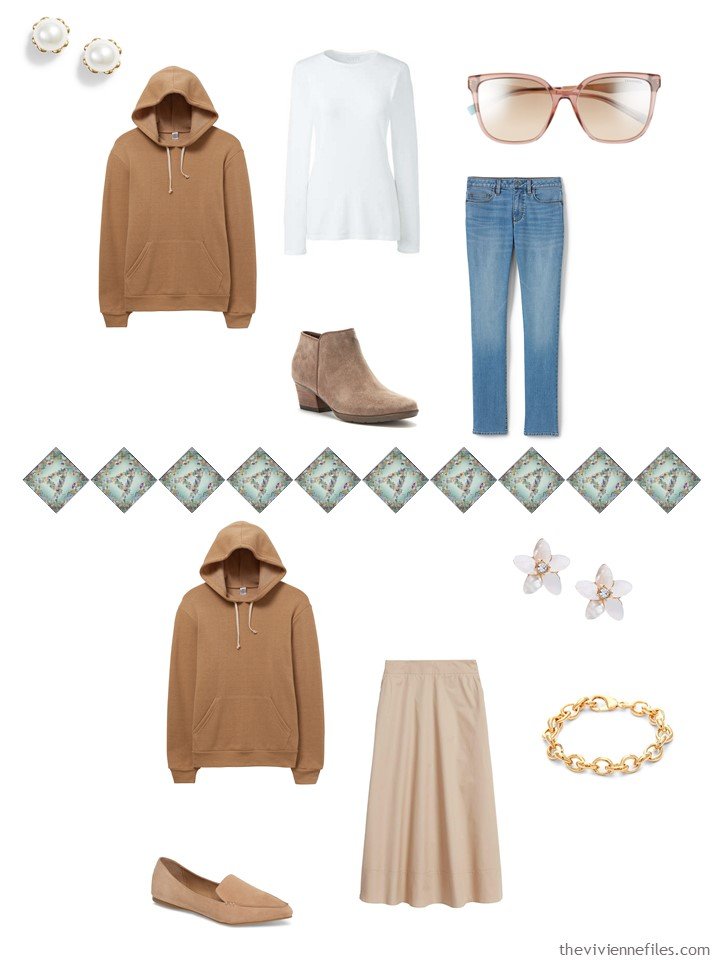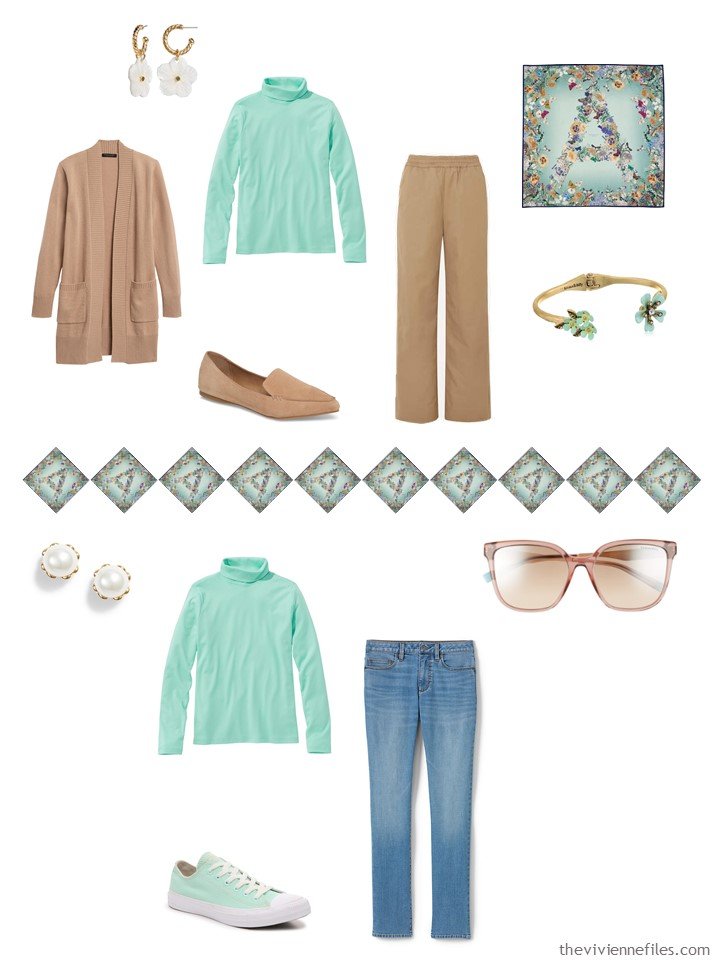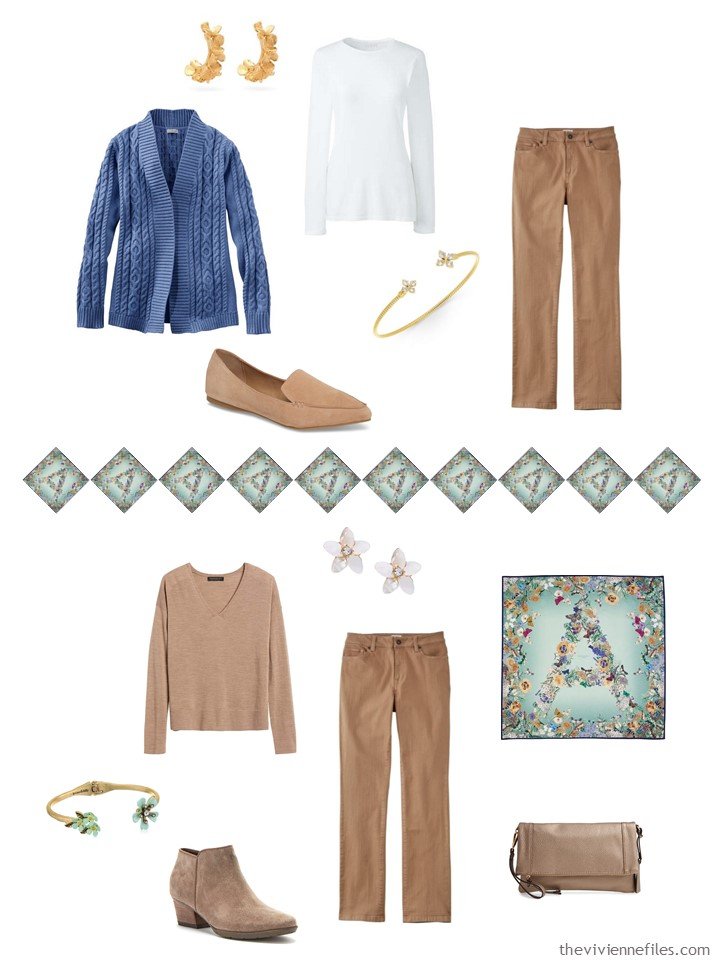 I keep forgetting to change the color palette here – I mean to add pink, since it's been so successful…
Why yes, it will have to be pretty cold to wear both a turtleneck and a funnel neck sweatshirt. But that little glimpse of pink sticking out of the grey top will be lovely…
This might be the most unusual combination of colors I've ever seen in a Vivienne Files wardrobe!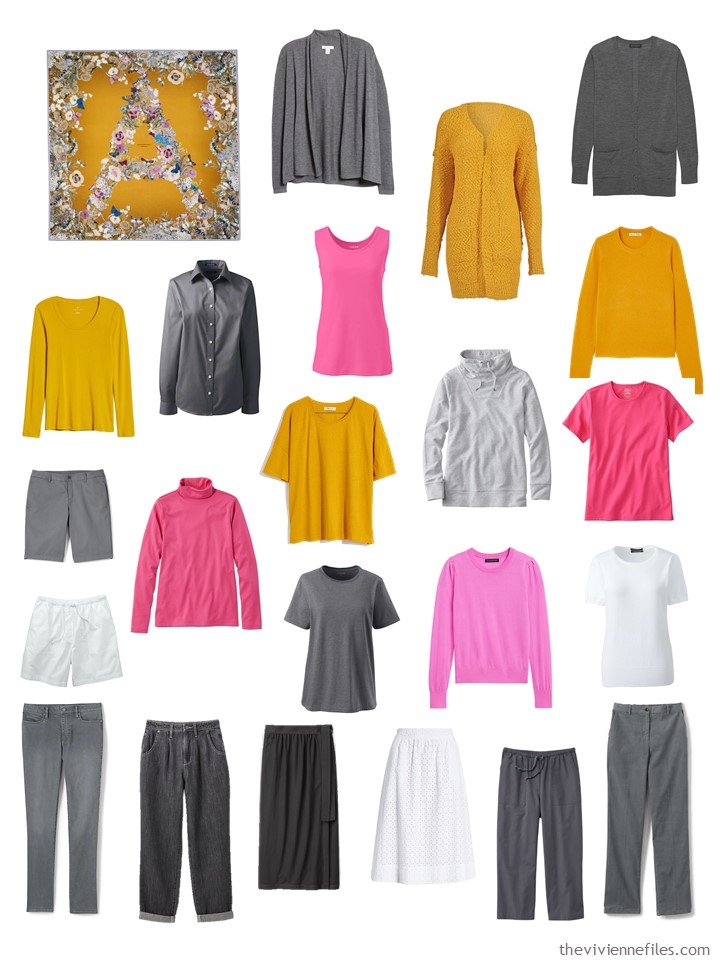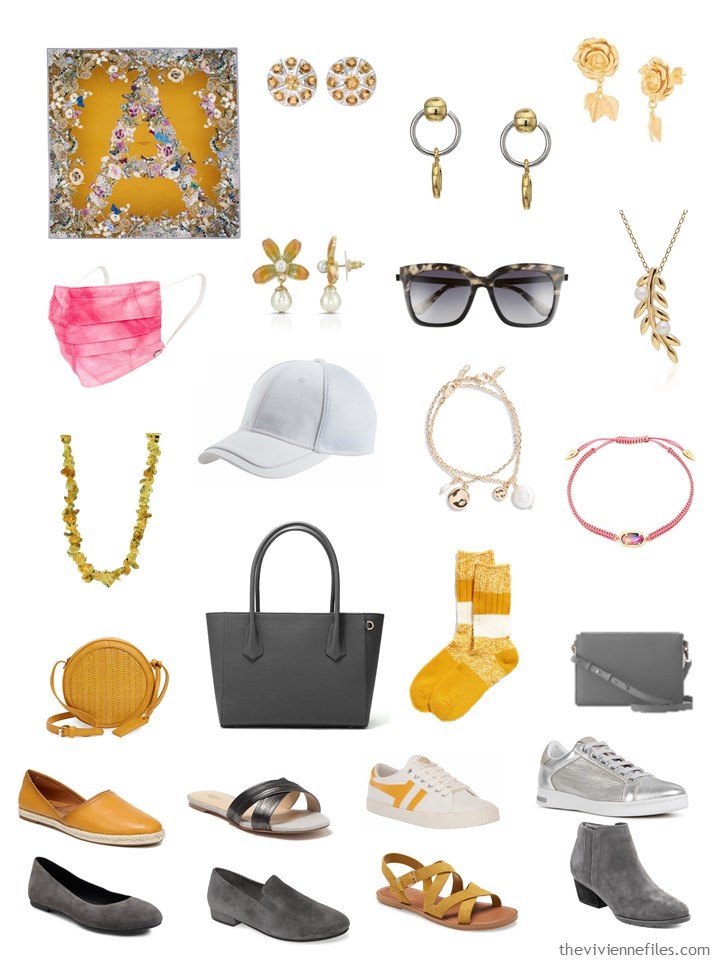 I struggle to remember that I don't have to wear something over a cotton turtleneck – if I'm wearing a jacket, and just going to a store or someplace where I'll have my coat on the whole time, wearing the turtleneck alone is just fine. This, of course, depends on how substantial your turtleneck is; some of them are pretty thin/sheer, designed for layering, and look flimsy worn on their own…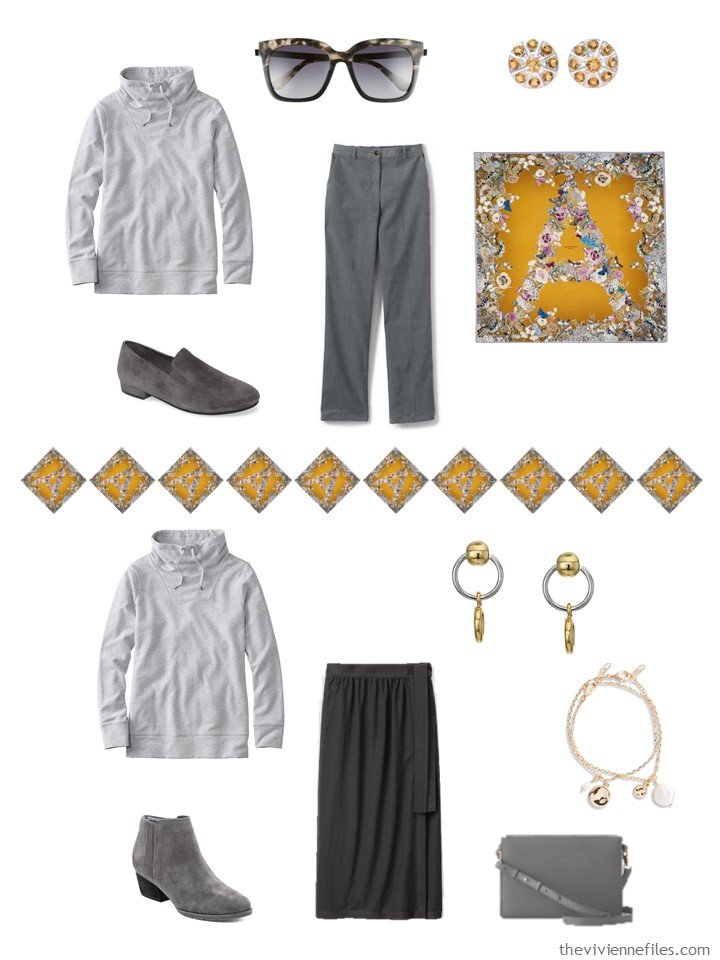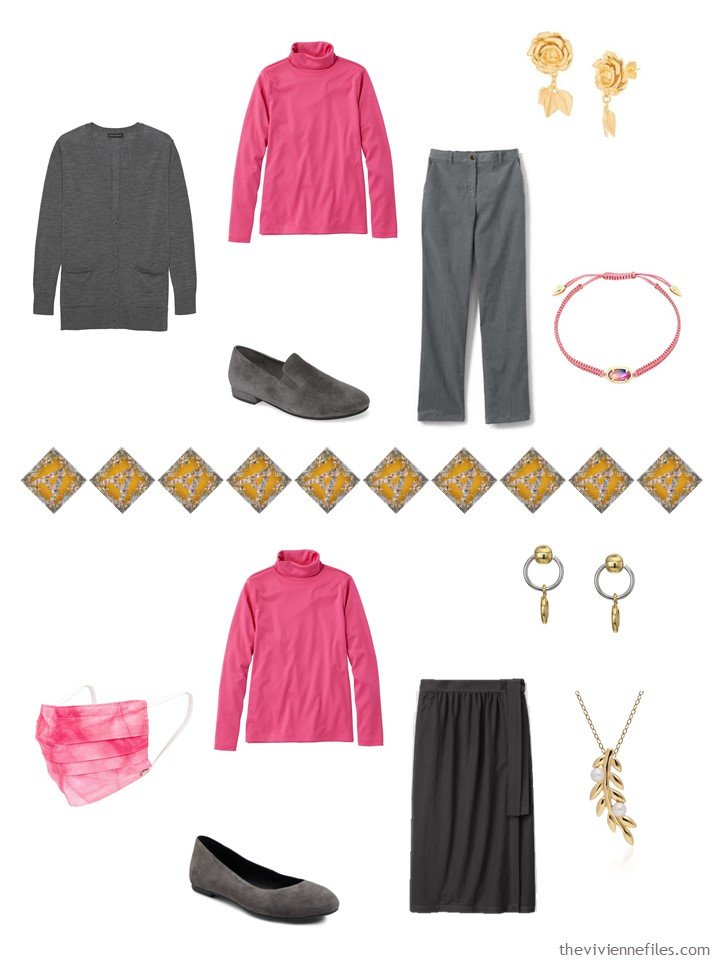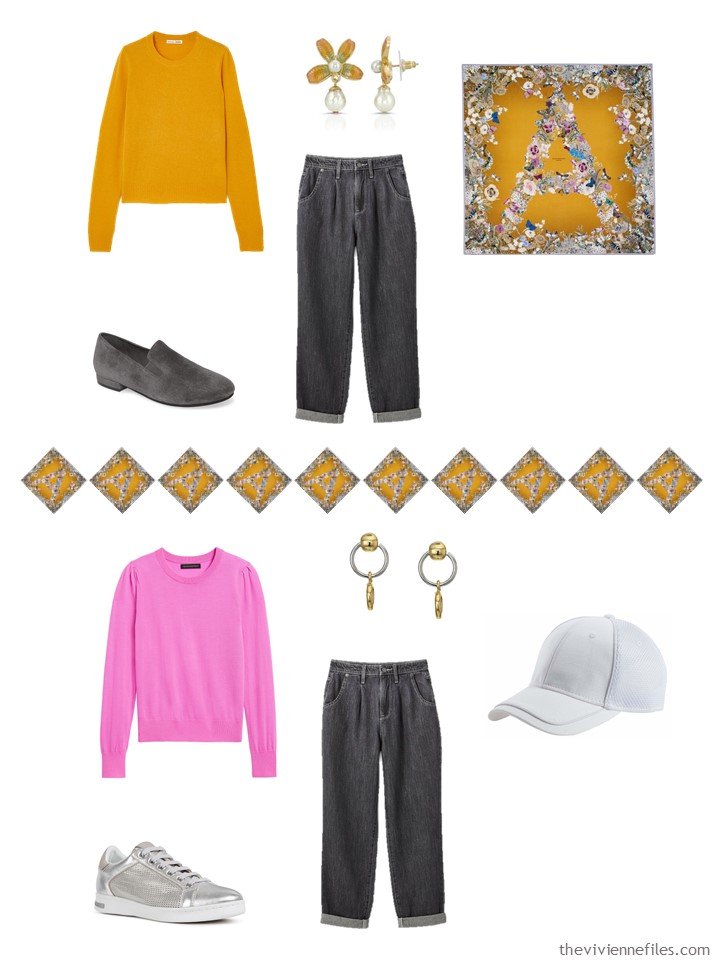 Green can be hard to find in clothing – but jeans and a sweatshirt were pretty easy!
This wardrobe is nicely balanced…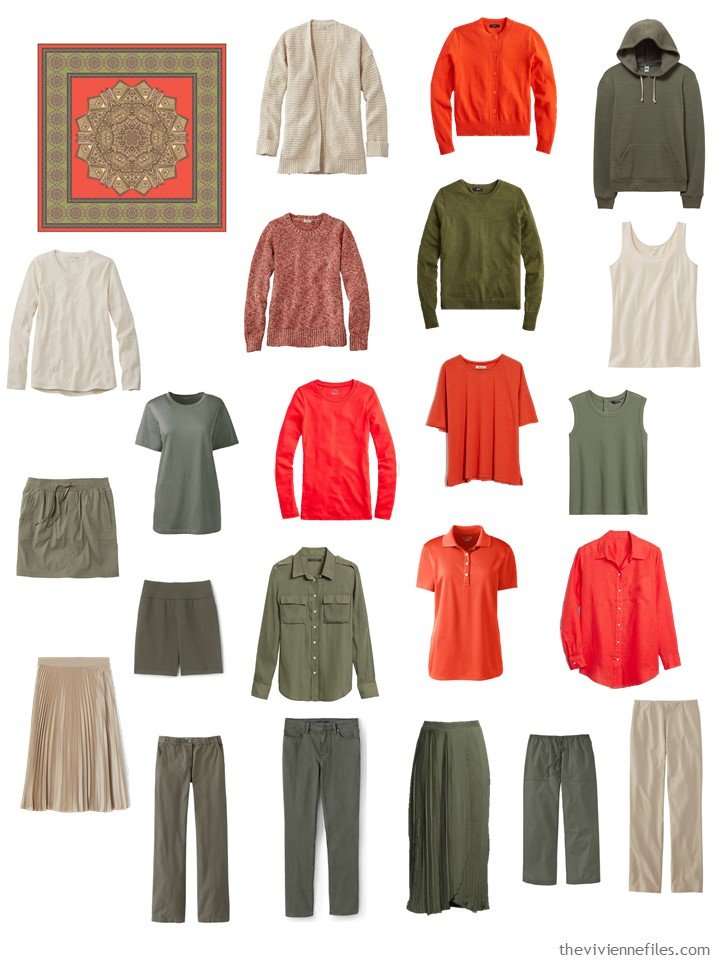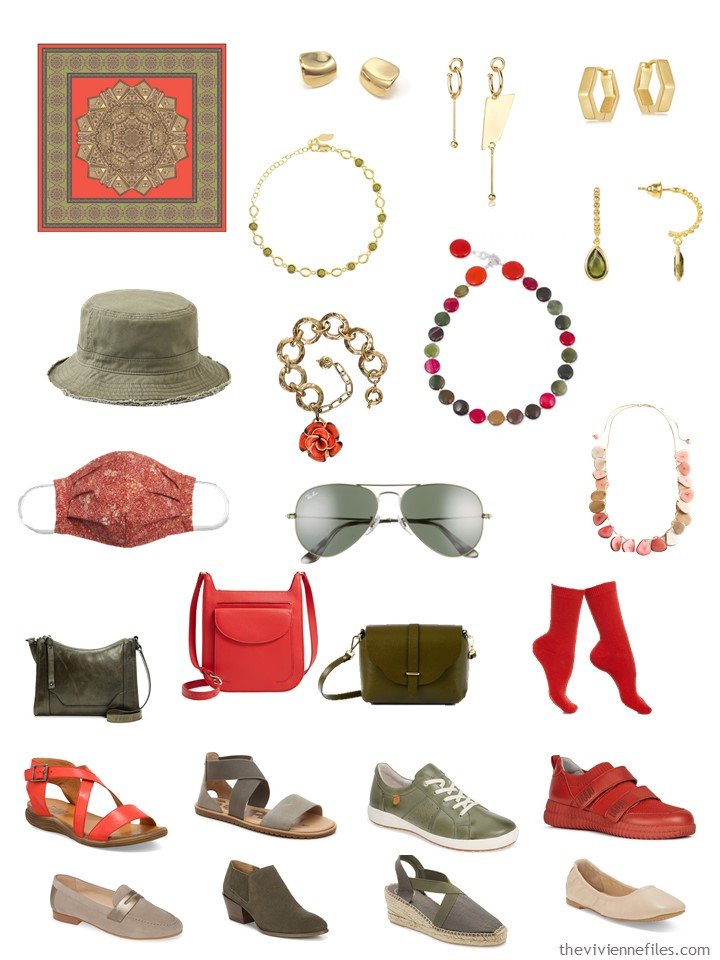 It's good to remember that you don't have to wear anything under a sweatshirt… Sometimes I feel like EVERYTHING has to be layered, and that's just silly!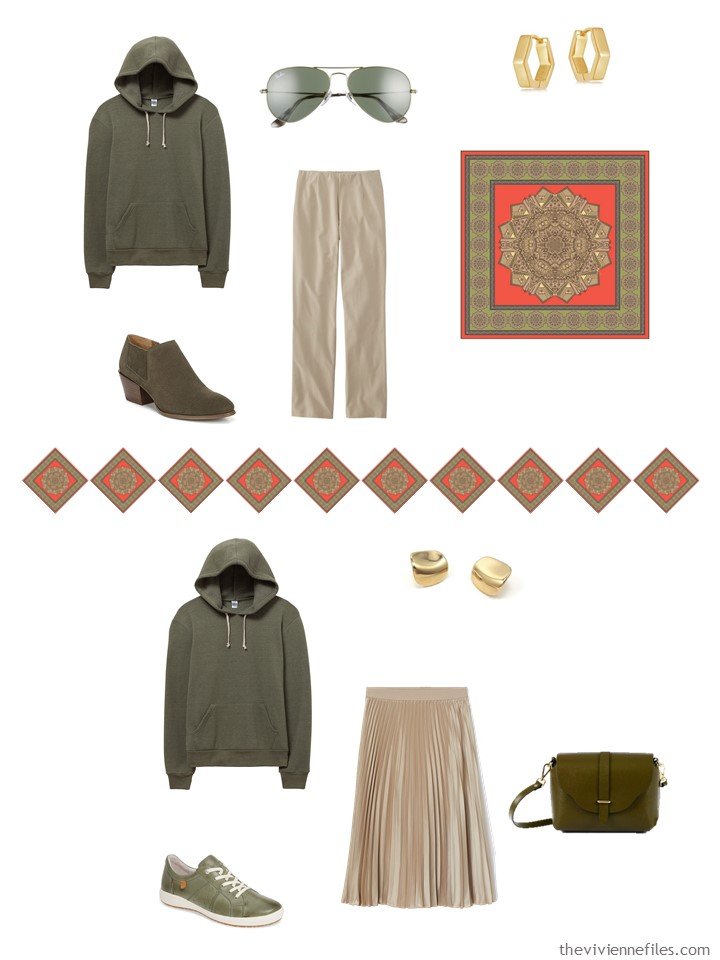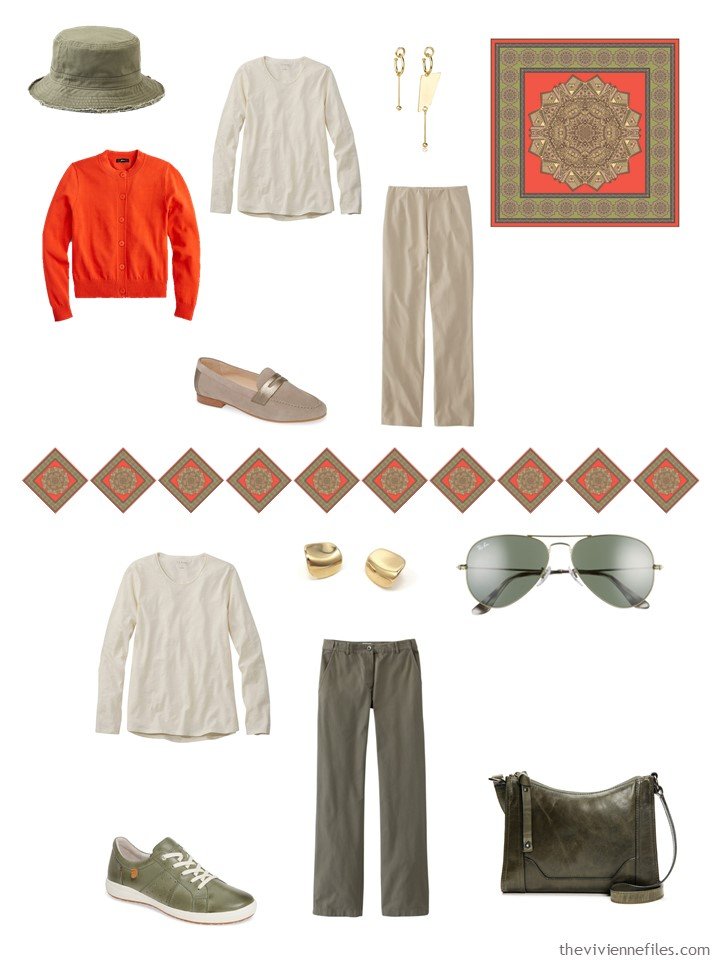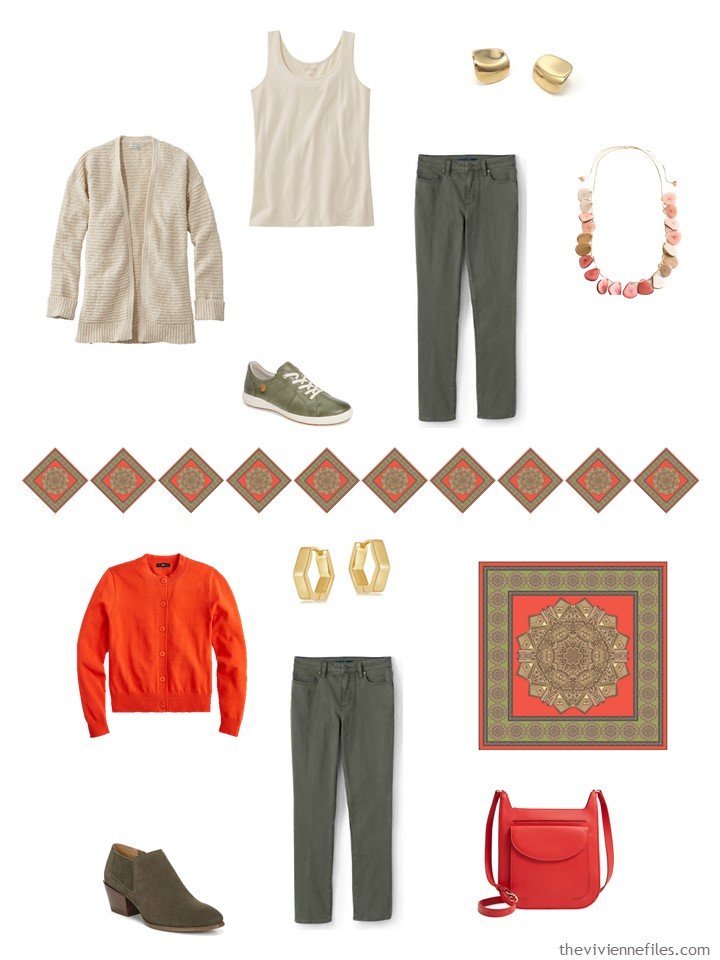 I still love this scarf; I think it's a long-term relationship now!
Happily, I already HAVE a pink sweatshirt! Of COURSE I do!
Give me this suitcase; I will be back in a year or two…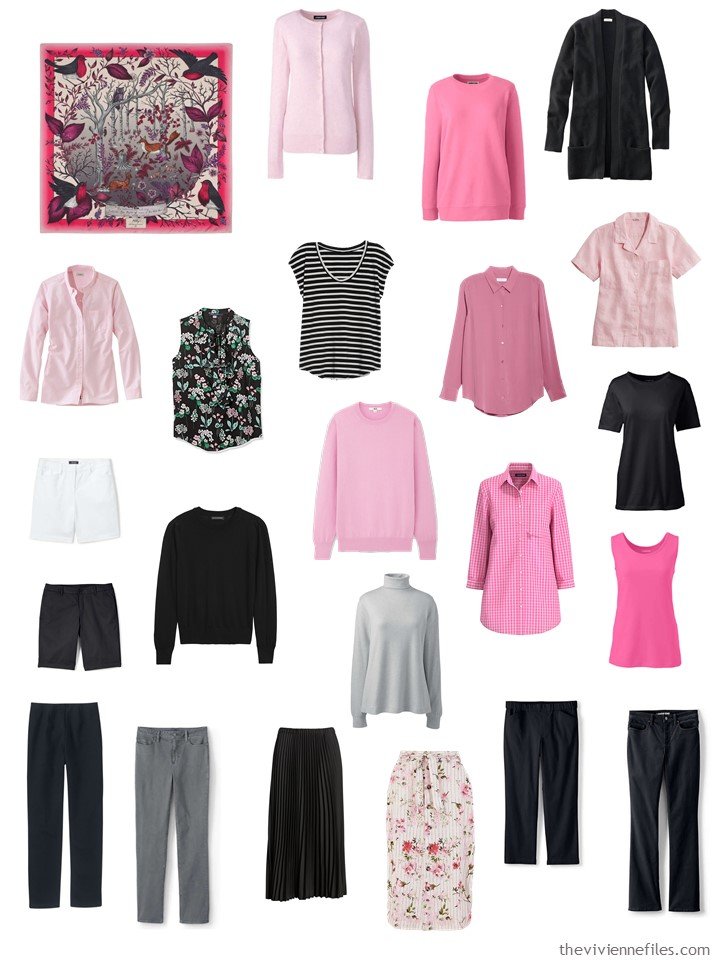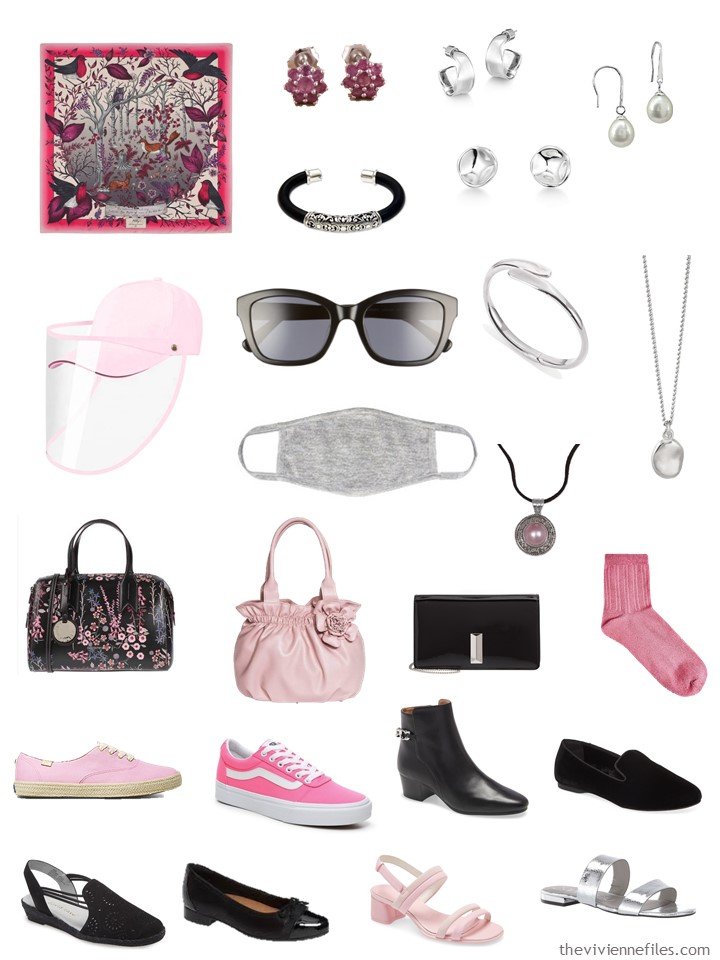 I would absolutely wear the pink sweatshirt with the floral skirt! Think of it as a really relaxed sweater, and think of the skirt as a kilt….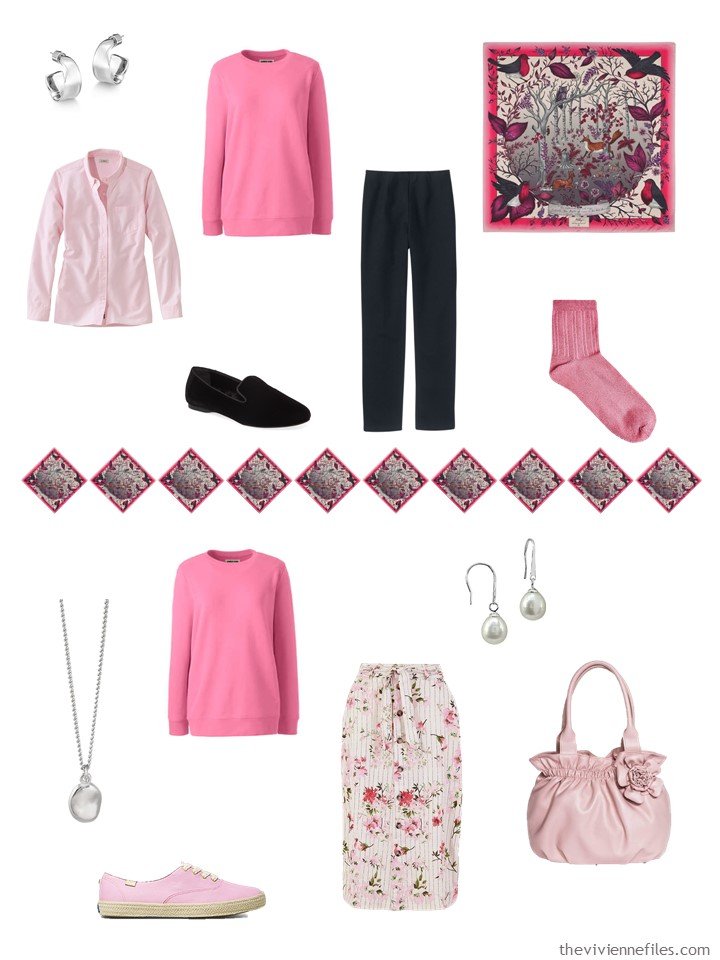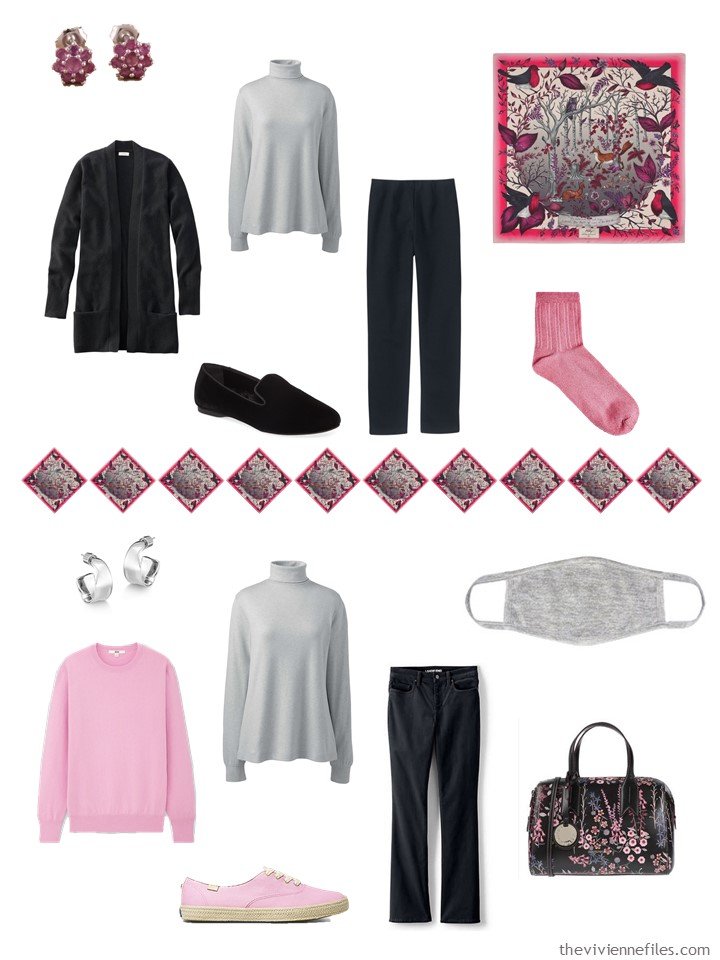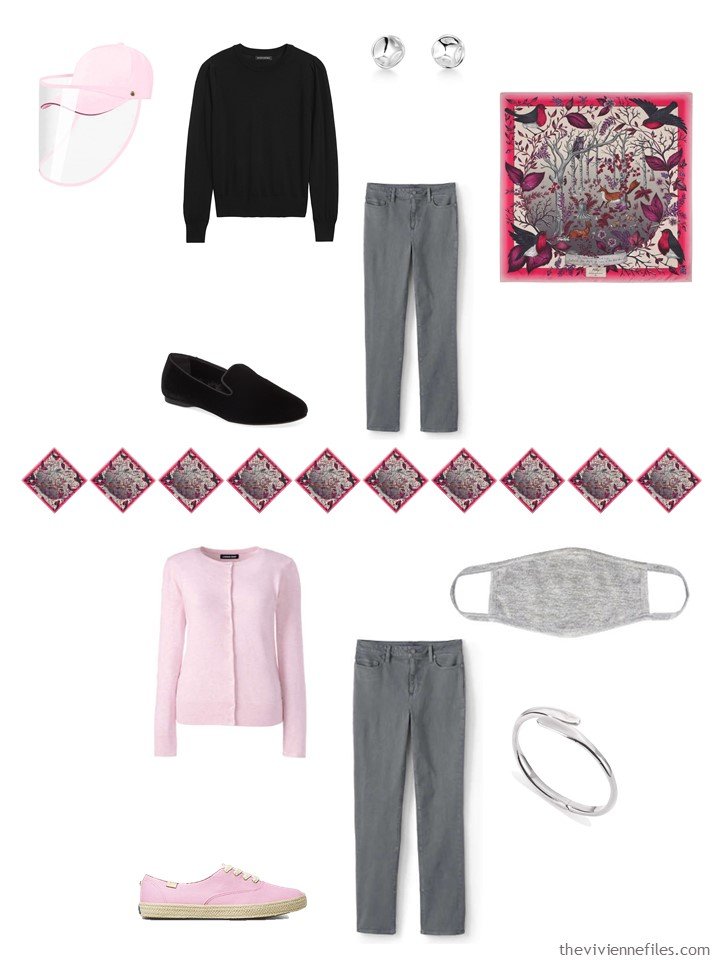 This scarf, and the wardrobe it inspires have the most interesting mix of light and dark neutrals…
I'm not going to lie to you – I'm really smitten with these sneakers. If we're not going to get really dressy for a few more months, having some great casual shoes is NOT a bad idea.
These aren't colors that would look amazingly good on me, but I could still enjoy this wardrobe: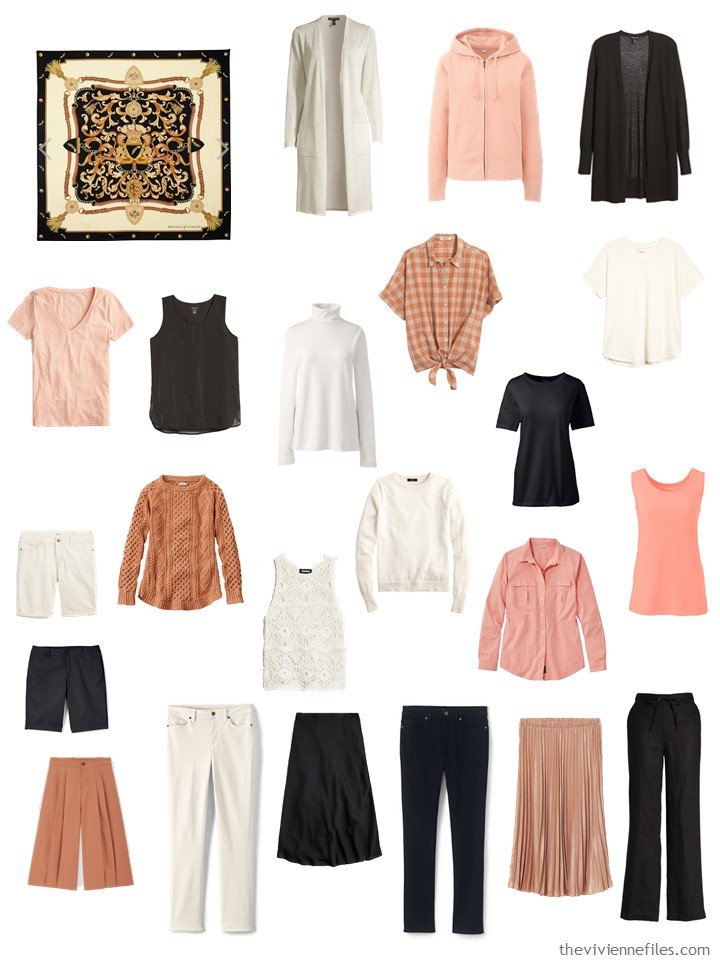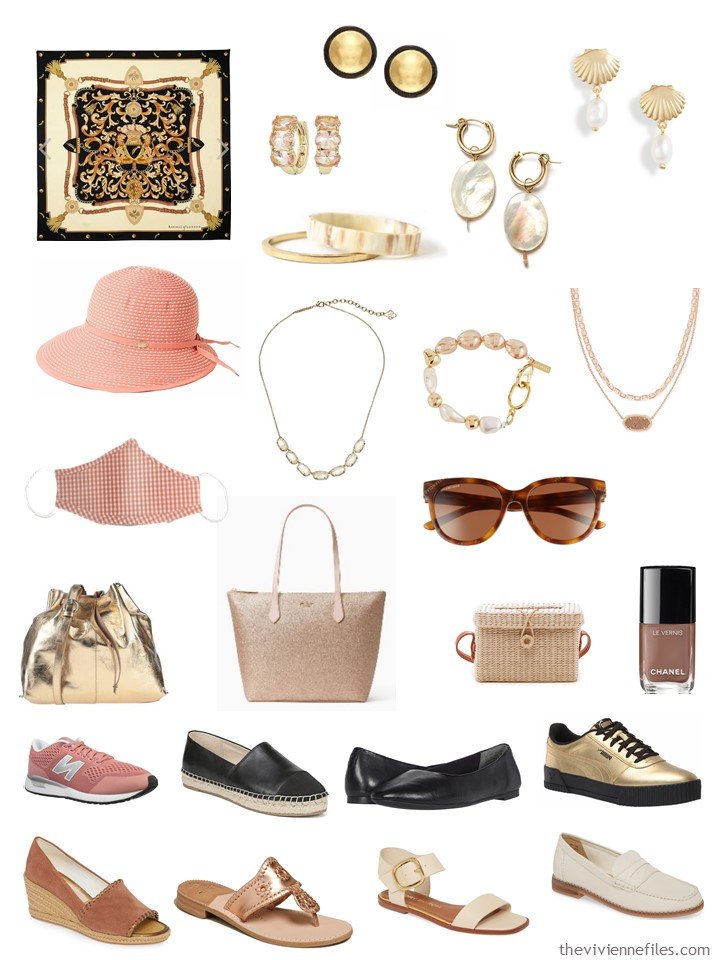 And yes, anytime I wore those awesome sneakers, I would also wear the gold and black earrings! Maybe nobody notices, but I would be happy…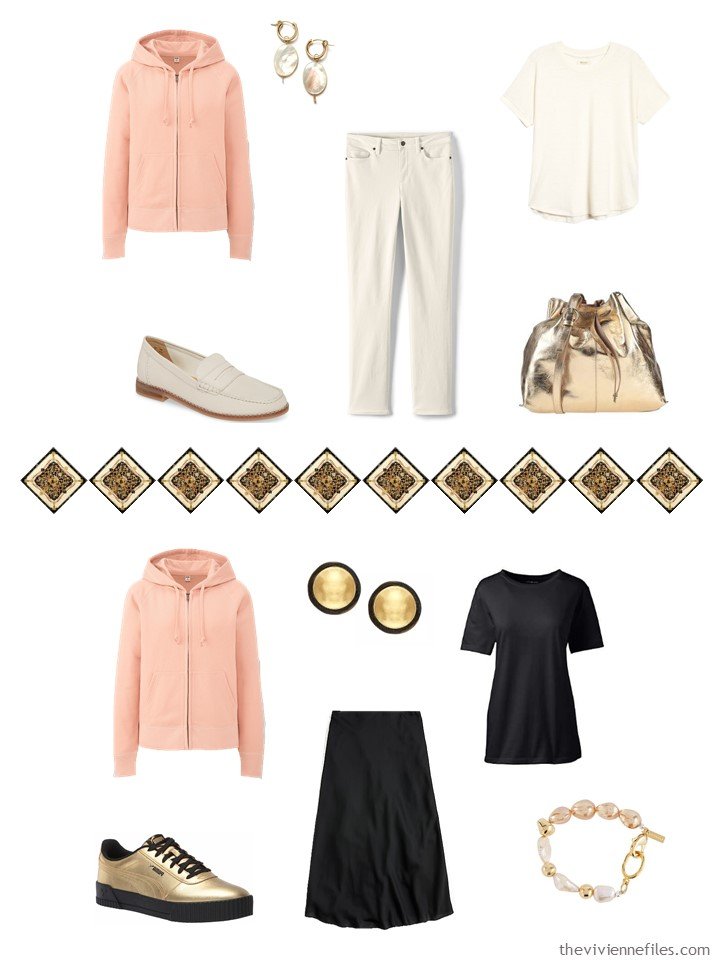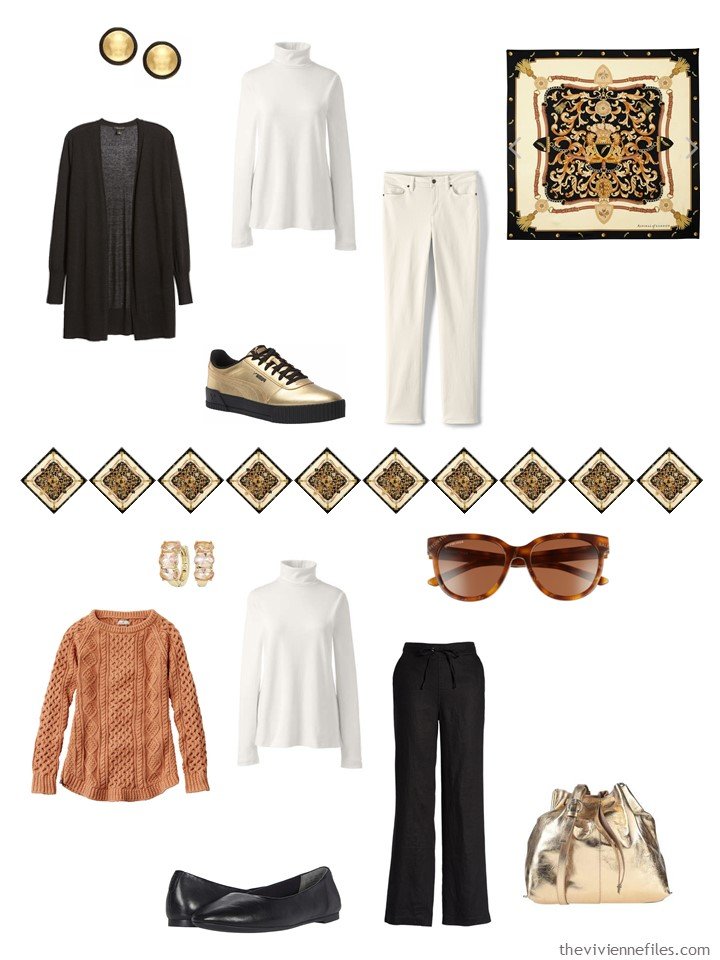 Whew! I think it's nap time!
love,
Janice
p.s. Yes, a few things sold out OVERNIGHT FRIDAY NIGHT! I put together all of these images on Friday, and then put the post "up" on Saturday morning… I think the lesson is that if we have "whappage" for something, it might be wise to grab it…
p.p.s. Four years ago, our heroine was the iron fist in the velvet glove…