March 4, 2020
I don't know about you, but I'm ready to wear a skirt! As the weather begins to flirt with spring, I become more and more eager to take my knees out for an airing…
So for March, I thought I would add skirts to these gradually growing wardrobes. Of course, if you don't wear skirts, you could easily substitute pants, shorts, capris, clam-diggers, etc etc…
Let's get started!
Most of the wardrobes this month are going to see a new neutral skirt and an accent sweater!
Adding an accent sweater to a growing wardrobe gives a fresh new look: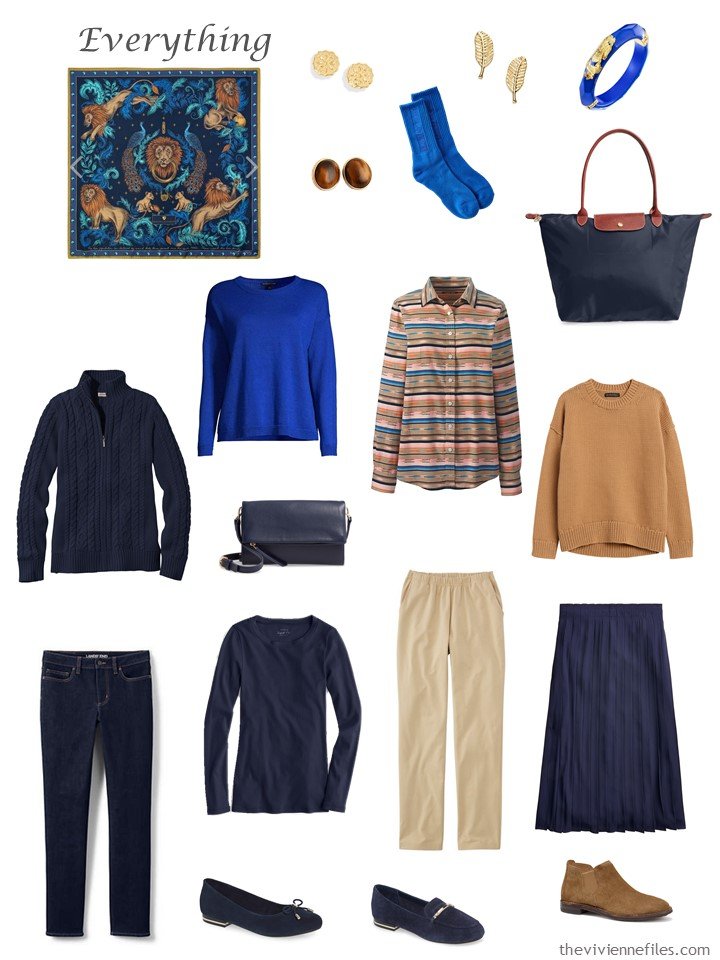 The 2 new garments this month blend in seamlessly, to give our heroine some fresh options: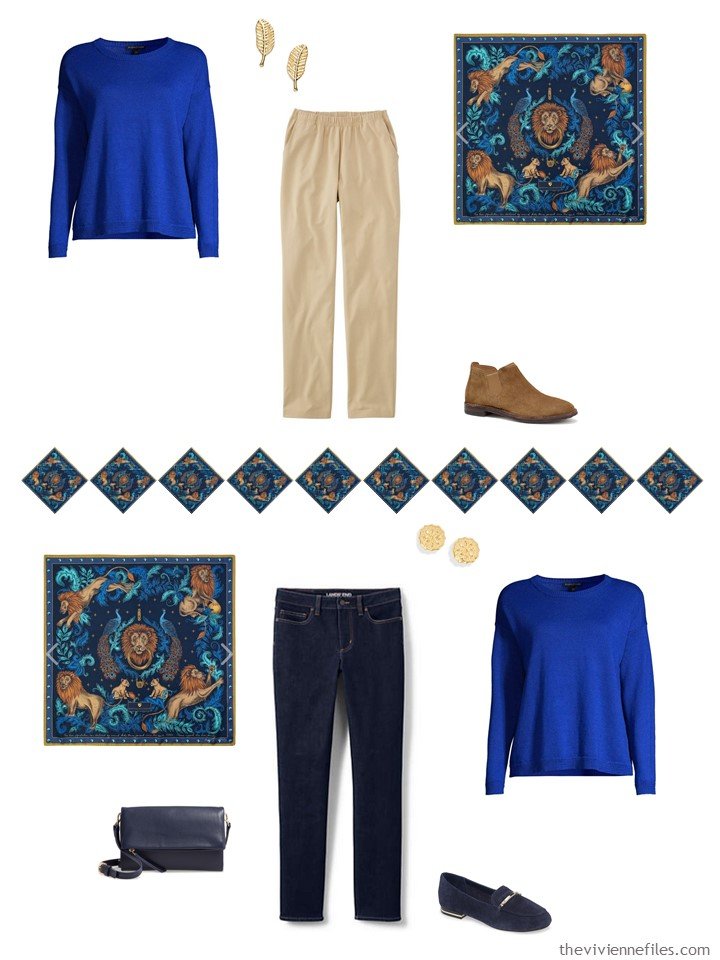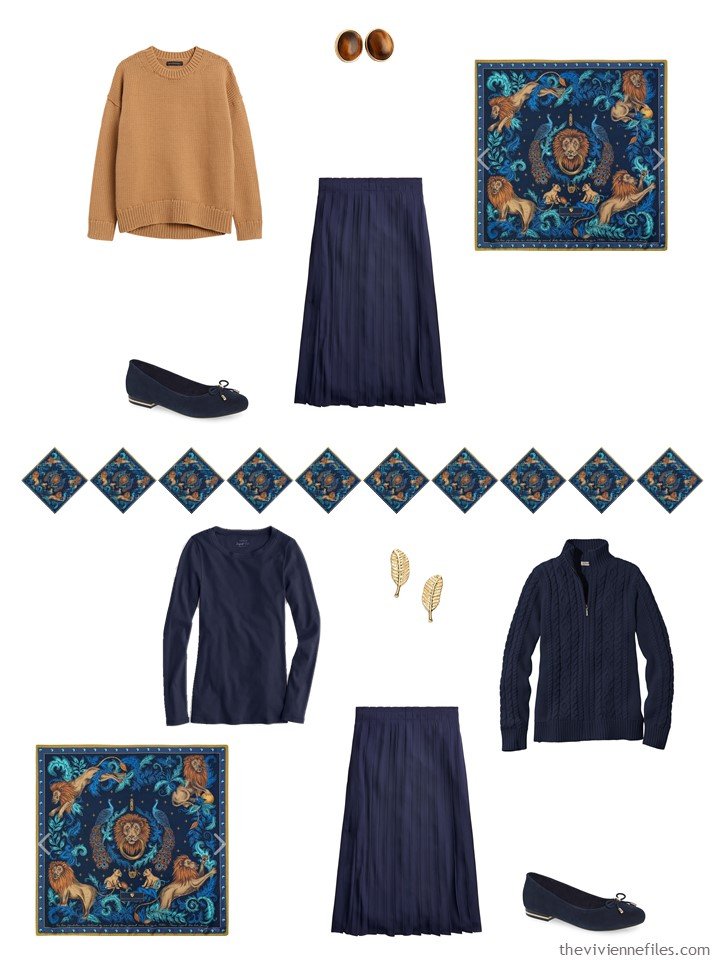 Ah, THIS scarf screams spring to me…
And I'm finally finding pretty mint-color clothing everywhere!
These are such pretty colors: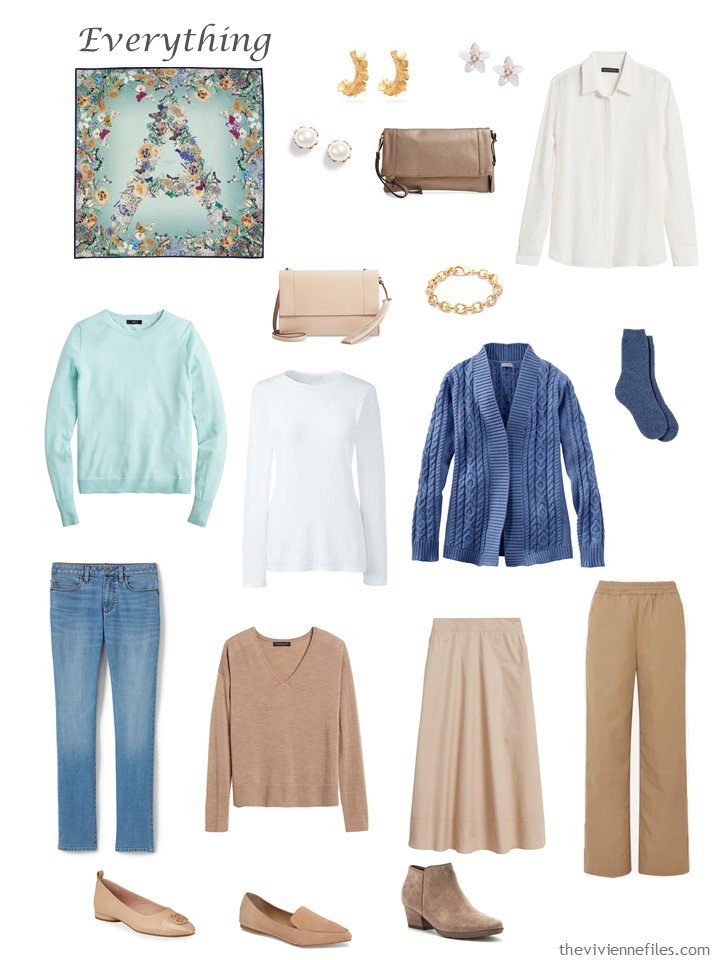 As the weather warms up, this soft pastel heroine will have some nice new outfits: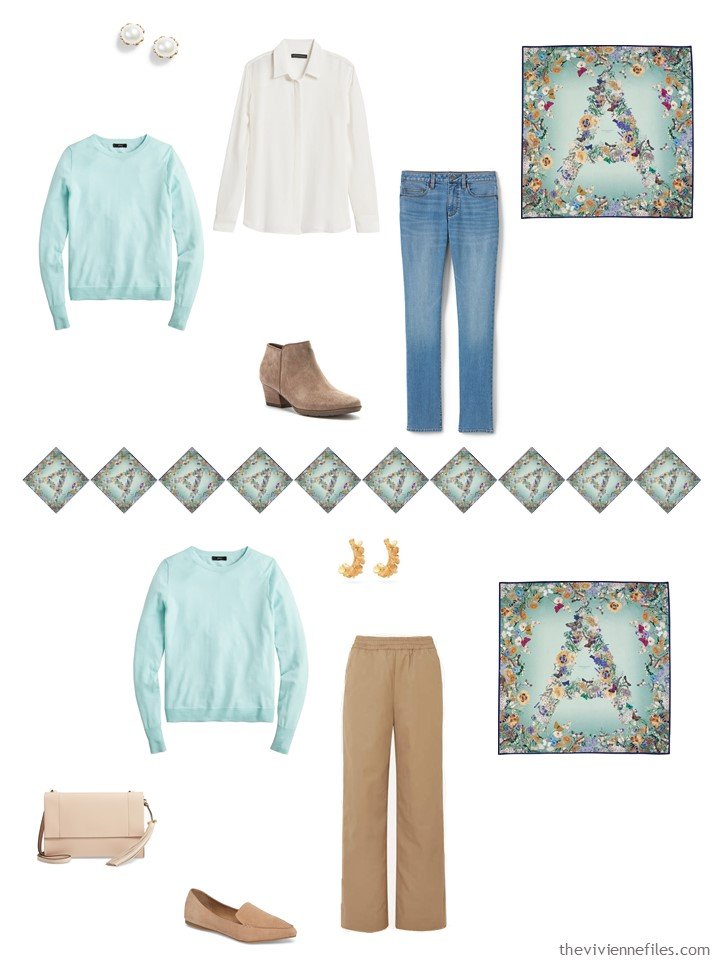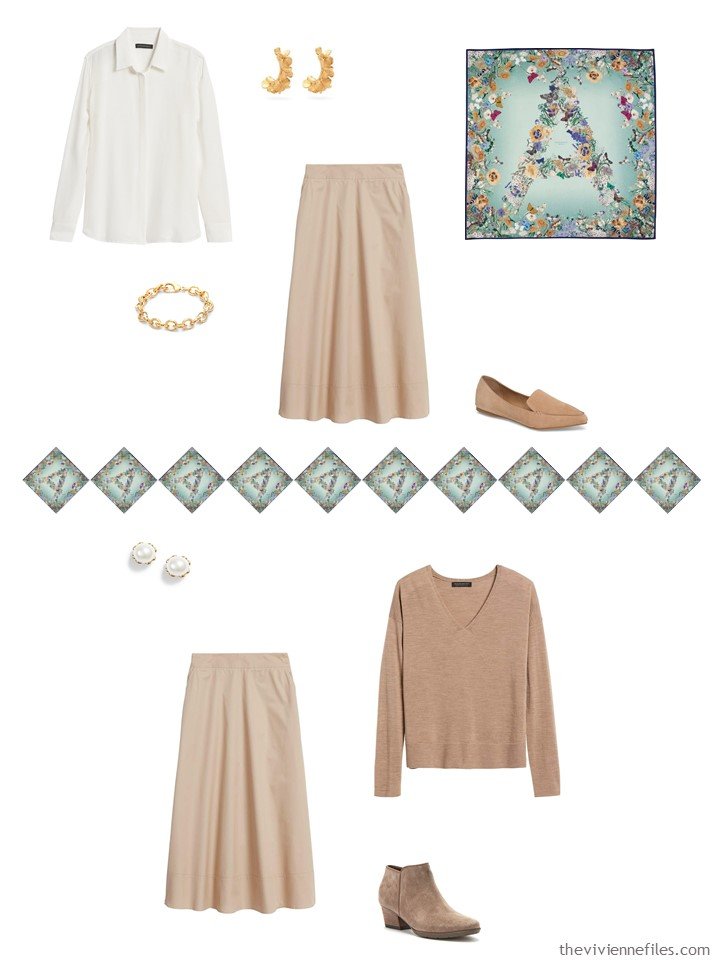 For this next wardrobe, I decided to get wild and find a completely unexpected accent color. This scarf has a few colors hidden within it – there's a lovely blue here too, just waiting for us…
Nothing in the world might be further from mustard that this lovely pink! But both colors go beautifully with the neutral grey…
This does NOT all blend together, but it really doesn't need to; everything goes with the "keynote" scarf…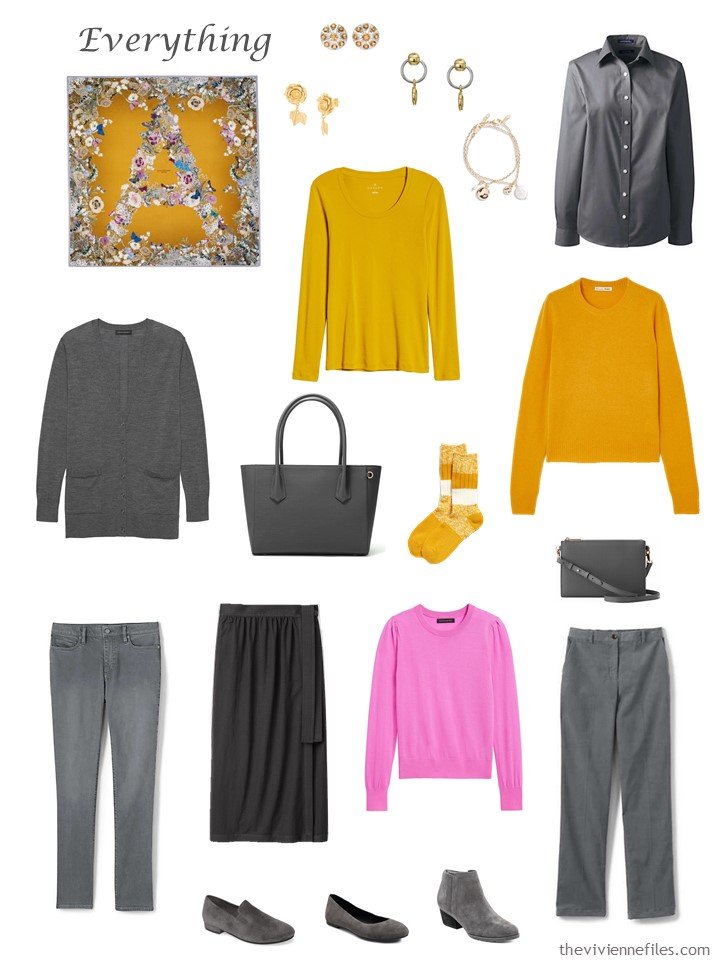 Both new garments fit in as if they were always meant to be here: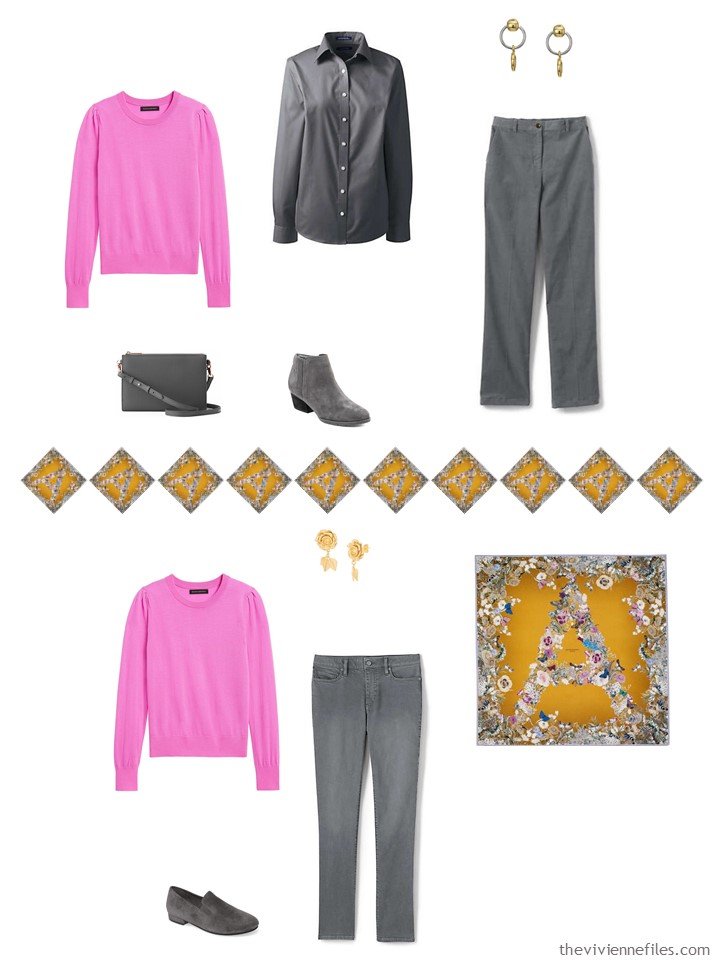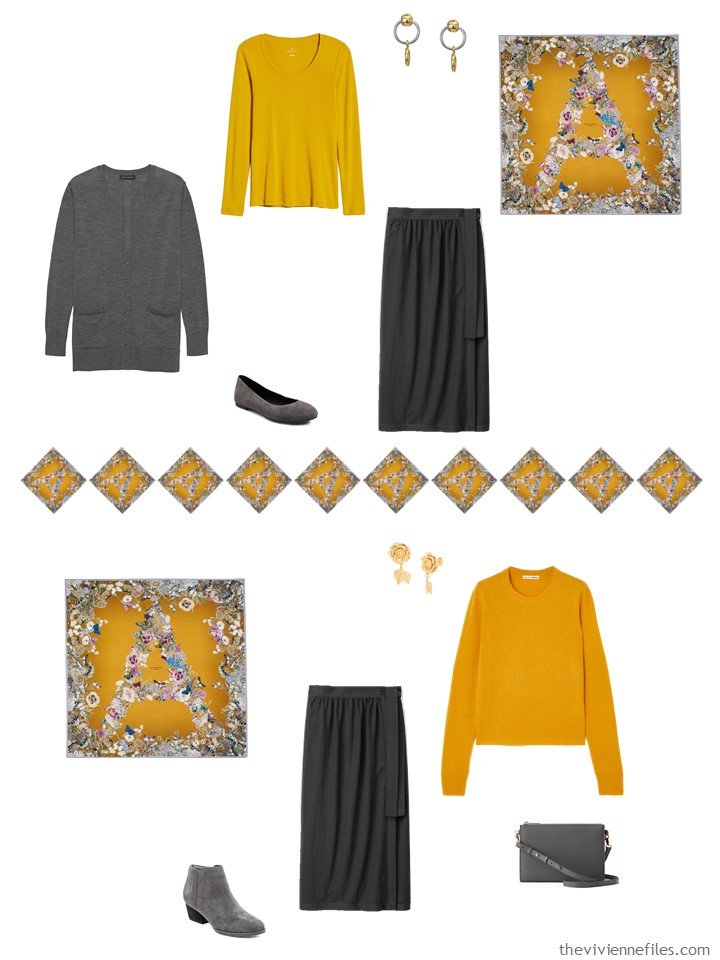 This scarf is unavailable sometimes, and then it seems to come back in stock; if you are trying to buy this one, just be patient!
Simple neutrals, in timeless garments, turn into an outfit that you could wear LOTS of places:
This wardrobe grows beautifully…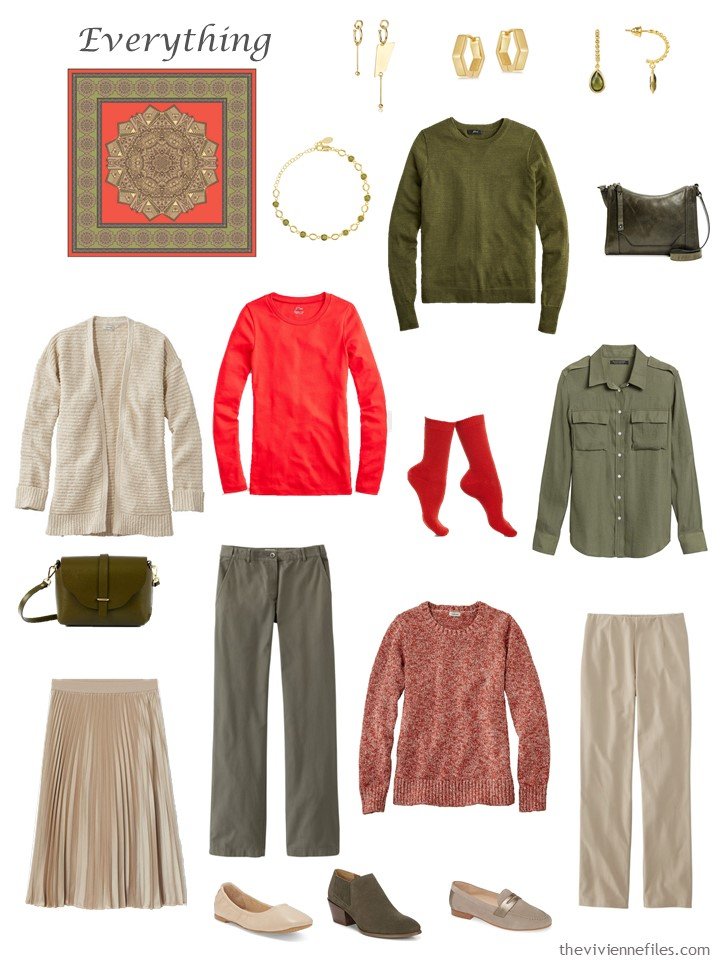 Finding ways to wear the newest garments in these wardrobes is always my favorite project; I know that if I can't build at least 2 or 3 new outfits with each piece, SOMETHING has gone wrong…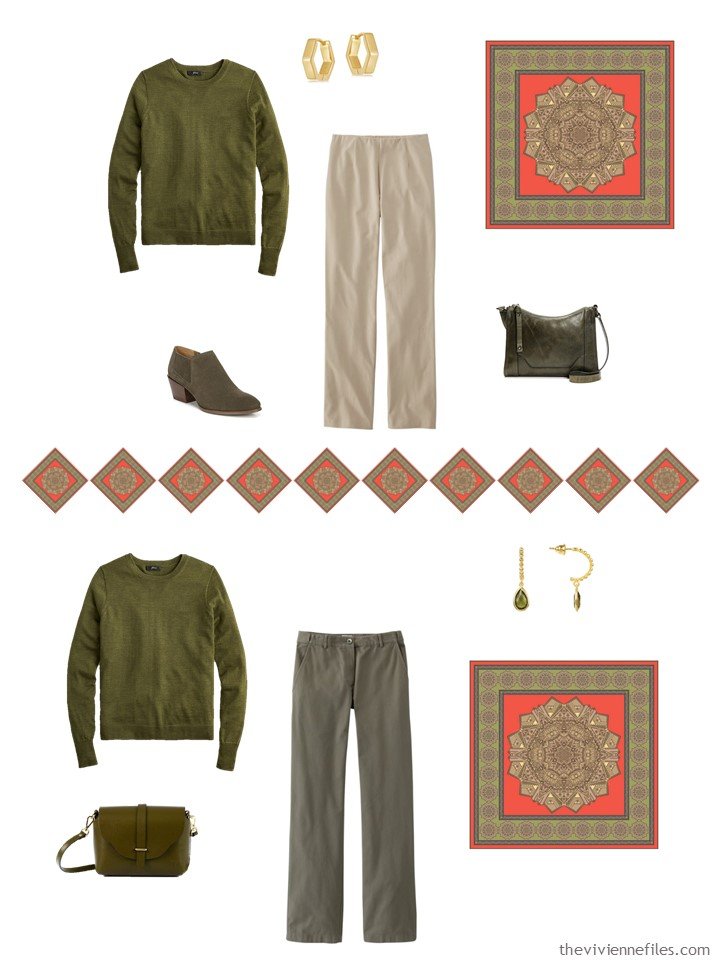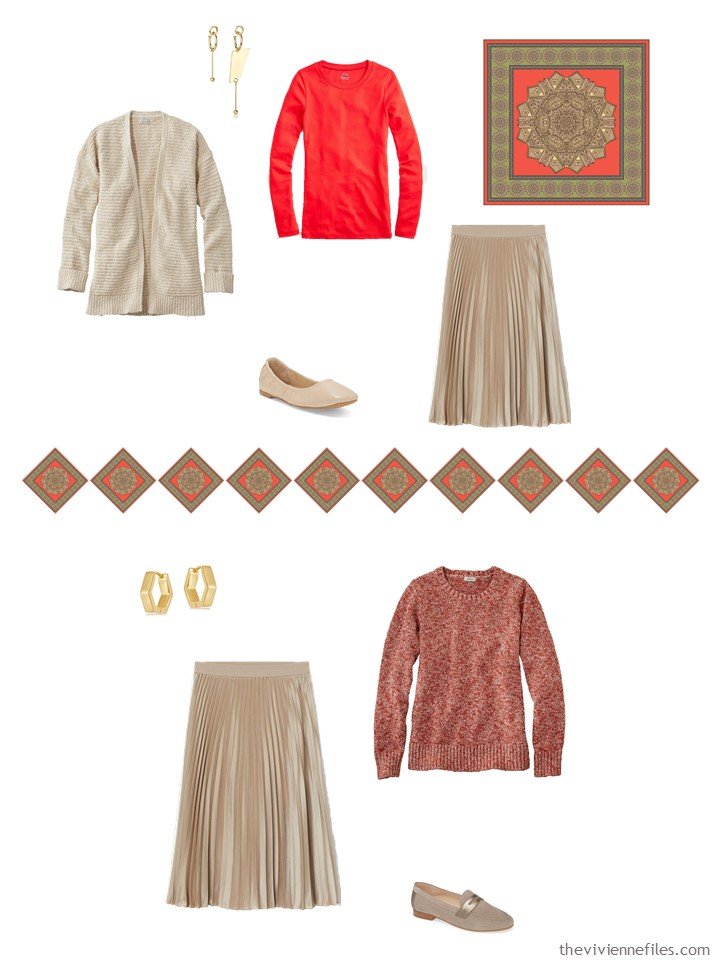 Yep, this is definitely turning into my favorite wardrobe! I've managed (so far) to avoid buying the scarf…
Because this particular heroine already has a pink sweater, pink blouse, and pink shirt, I thought it was overdue to add a simple black sweater to her wardrobe. And yes, you've seen this skirt before – this is the one that I bought for myself. I'm still loving it…
And the handbag… dear oh dear… I do NOT need a handbag…
The black sweater gives this overall wardrobe some good balance. As much as pink is my new favorite, too much of any accent in a wardrobe can leave you in a pickle trying to figure out what to wear!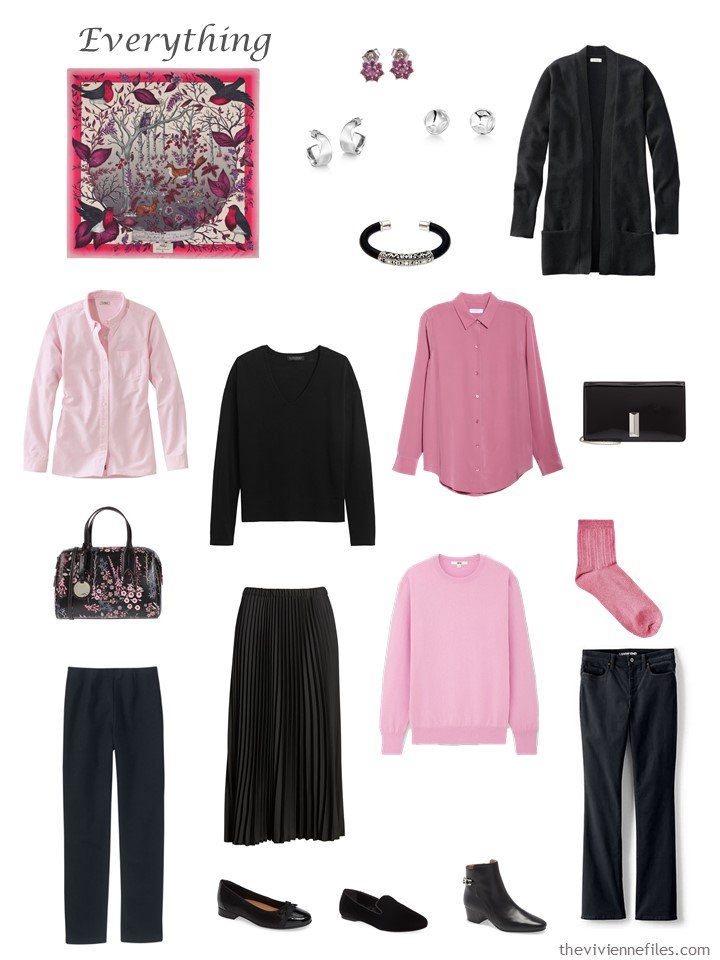 As usual, the new clothes are immediately useful!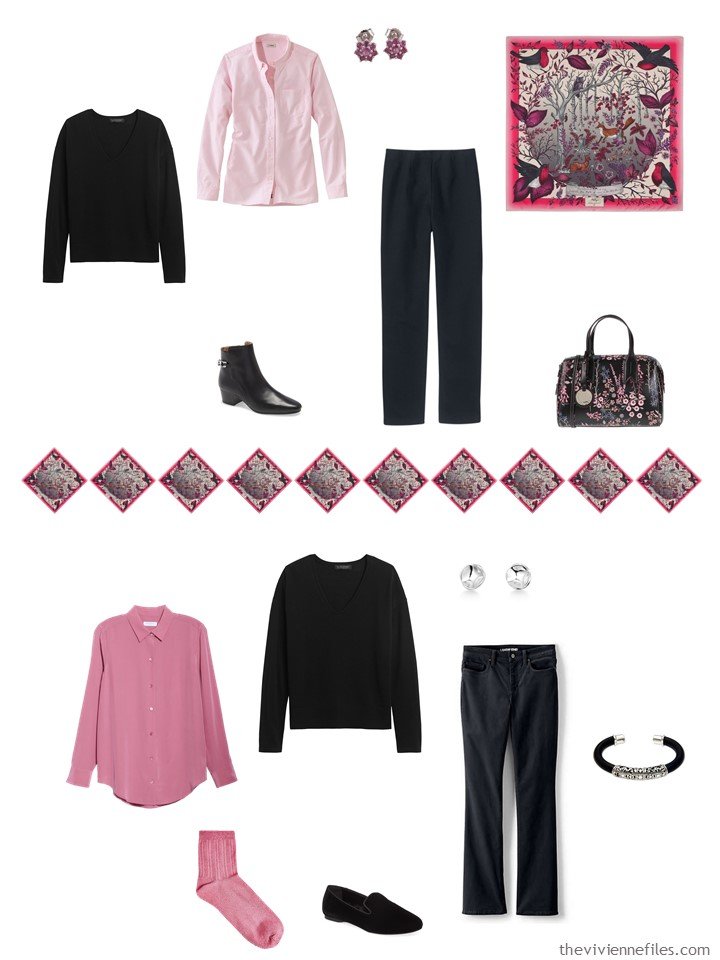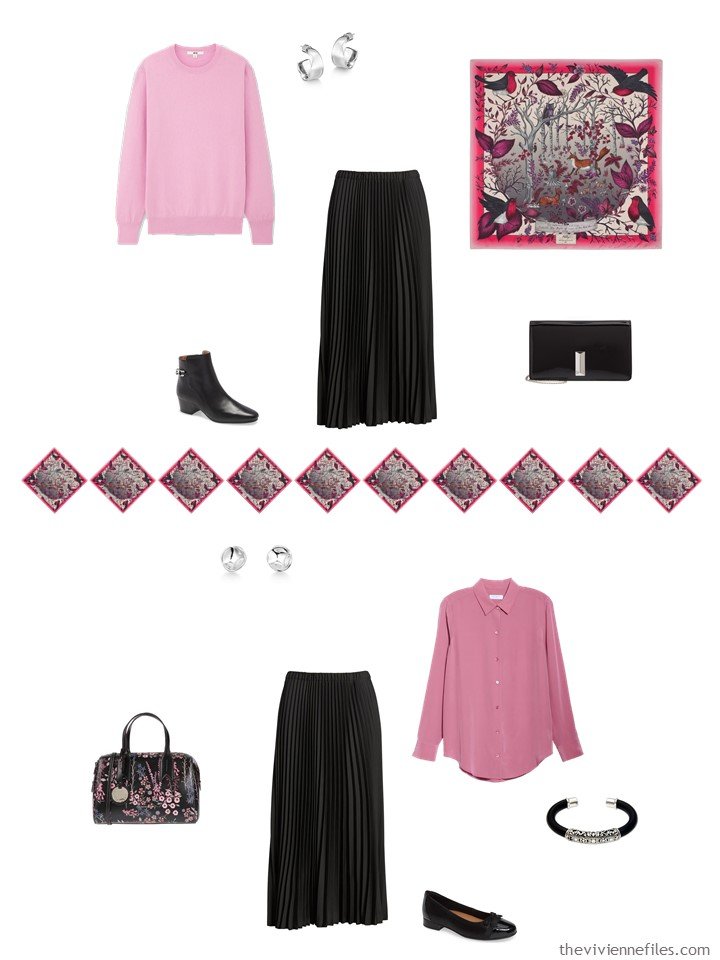 I really admire the traditional motif of this scarf, and the colors…
Since this wardrobe ALSO already has an accent sweater, I thought that a simple neutral sweater (in washable wool!) would be a good choice. The scarf, a gold bag, and some snazzy jewelry, turn the 2 pieces into something more than the sum of the parts:
One could easily pack this for a long weekend: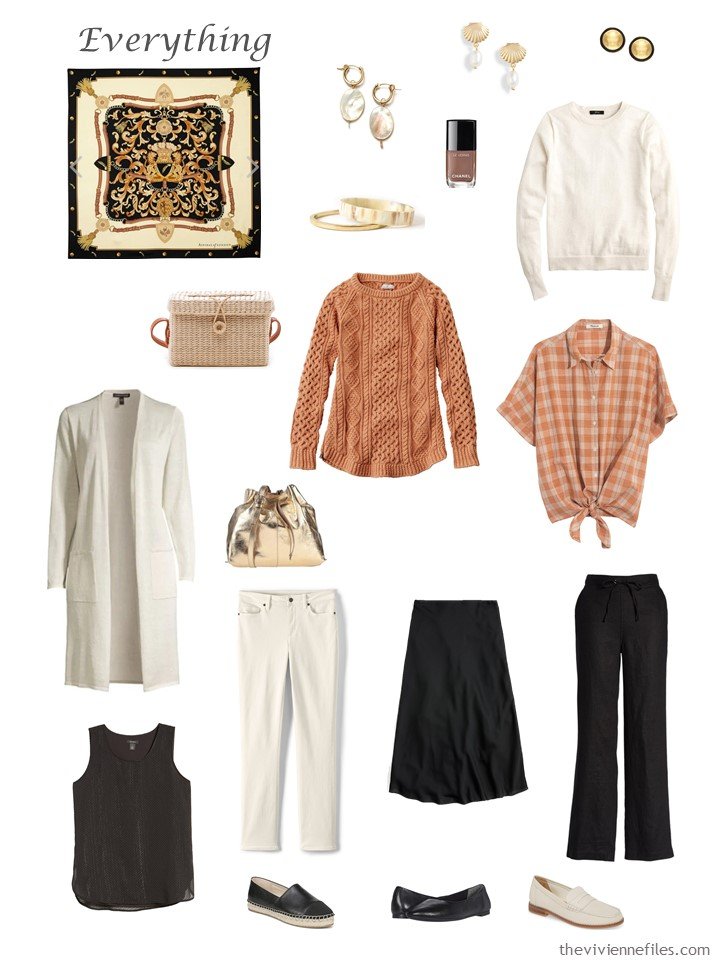 A few more new outfits…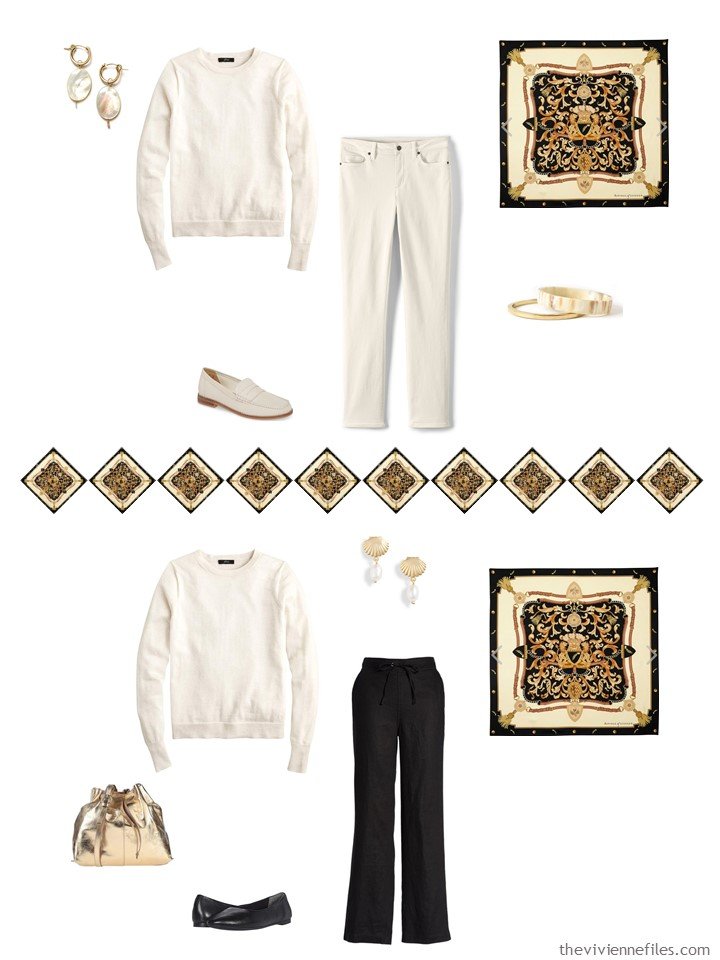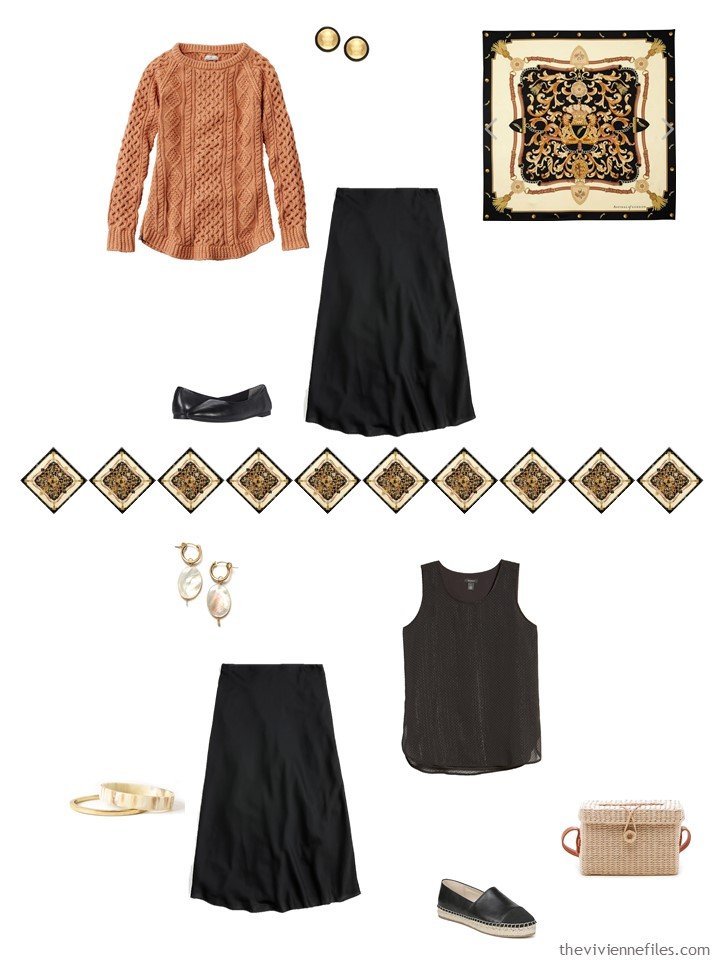 Most years, as I gradually assemble these wardrobes, I am never quite sure which is my favorite. Given my new crush on pink, I'm pretty sure of my favorite right now! But I could easily see tearing off for 3 or 4 days with ANY of these wardrobes in a carry-on bag…
Which would you take with?
love,
Janice
p.s. Four years ago, I was doing this same exercise with six different scarves! It's interesting to see how different wardrobes grew and developed over time…