December 29, 2016
We're up to a 15-piece capsule wardrobe, all based on this truly amazing photograph: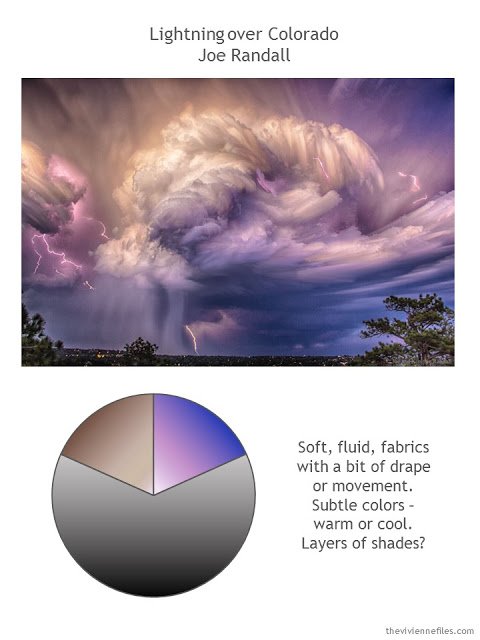 I'm still not tired of the photograph…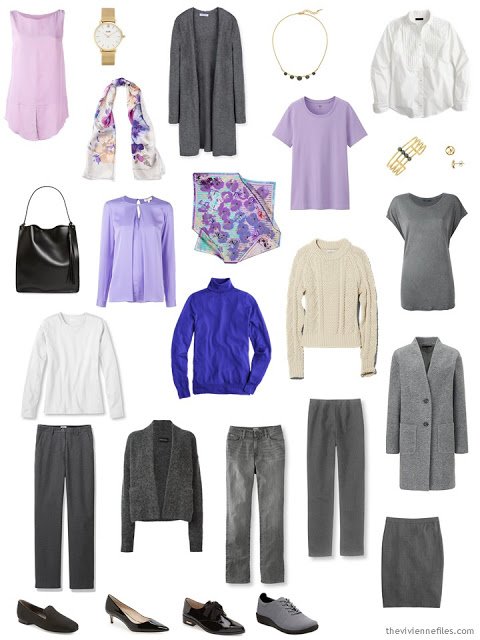 You can see how we got this far by looking back to Monday, Tuesday and Wednesday.
Here's another… color scheme hurdle? I'm not sure what to call it… but I'm still struggling with the inclusion of the warm tan/camel/brown color family in this wardrobe, and I'm not quite sure why…
But one of the easiest ways to incorporate these colors into a wardrobe is through camel – specifically, a camel sweater. And just in case you were wondering, these sweaters from Uniqlo (like the turtleneck shown here) are very nice quality, and very affordable. They're not life-investments, but if you've always wanted to own cashmere and been reluctant to spend three buckets of money on one, consider looking at Uniqlo's offerings…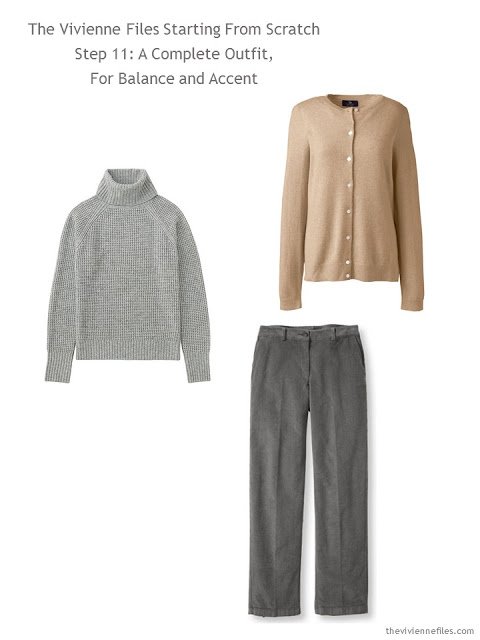 Cashmere-blend turtleneck – Uniqlo; cashmere cardigan – Lands' End; corduroy pants – L.L.Bean
For a winter coat, I wanted to get a color from somewhere in that purple/pink melange, and BOY did I find the perfect thing! A scarf that pulls the grey together with the amazing coat, and some toasty boots, and you're ready to go. (okay, gloves would be handy!)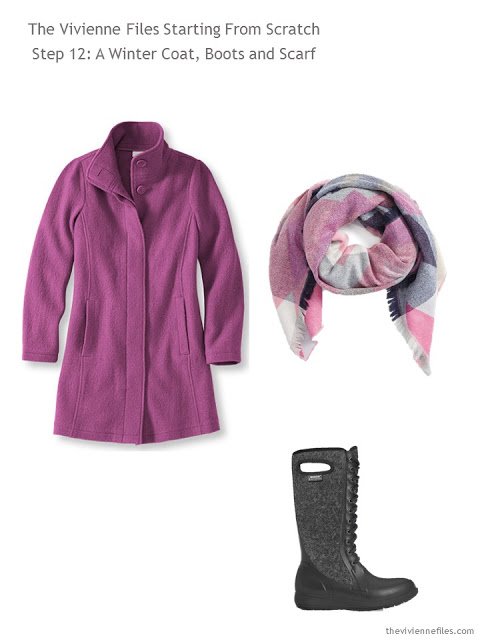 Coat – L.L.Bean; scarf – Shiraleah; boots – Bogs
We're overdue for some more accessories! I've tried here to focus on 2 ideas – the grey with gold concept, and the feeling of cloudiness. Having these sorts of focal ideas in mind when you're shopping can keep you from making some expensive, or just plain wasteful, mistakes.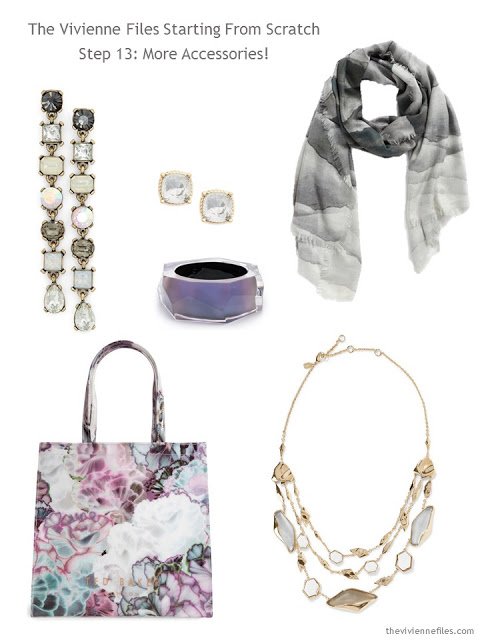 drop earrings – BP.; stud earrings – BP.; scarf – Nordstrom; bracelet – Alexis Bittar; bag – Ted Baker London; necklace – Alexis Bittar
I'm a firm believer that you shown own some lounging clothes – that soft, comfy stuff – that coordinates with the rest of your wardrobe. Sometimes, the tee shirts could come in handy in the rest of your wardrobe. And if you're wearing some combination of these pieces, and you suddenly have to dash out to get… the mail? firewood? eggnog? you just put on the coat, scarf, and boots from above, and you look WONDERFUL. Not bad, for looking beautiful when you're with the ones you love the most, eh?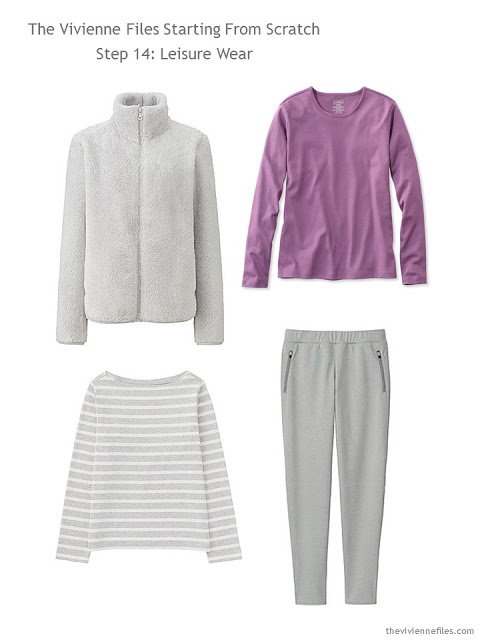 Jacket – Uniqlo; tee – L.L.Bean; striped tee – Uniqlo; fleece pants – Uniqlo
One last step to fill in today – a dress and cardigan. This is a step that could include dressy pants and a top, or a skirt and top, if that's more the way you "get dressy." But we're looking for something relatively simple and uncomplicated, so that you'll have more options for how to accessorize. And an accent color cardigan in a glorious orchid? Why not?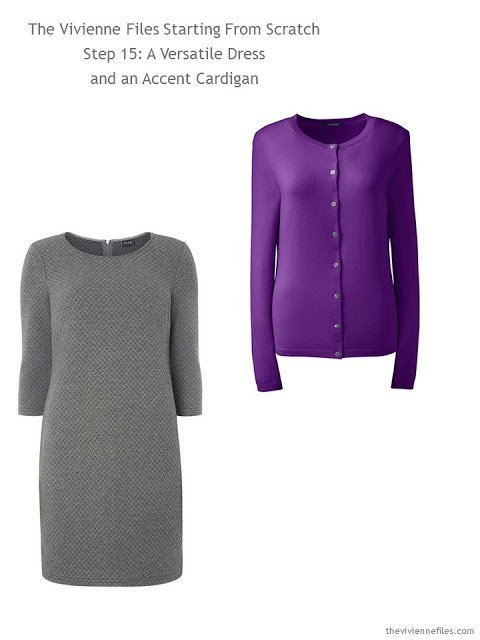 Dress – Vila; cardigan – Lands' End
This is now a very complete, and pretty sizeable, capsule wardrobe! I don't know of too many activities through the colder months of the year that would leave you stumped for what to wear: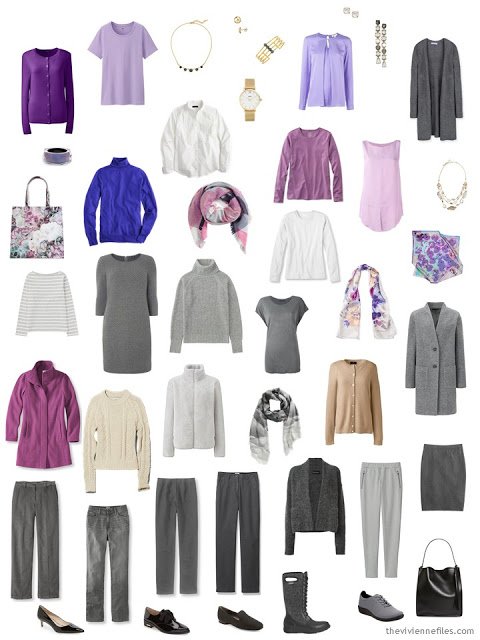 Just for the fun of visualizing all of the possibilities, I pulled together 9 outfits – a wide variety of combinations, and levels of dressiness – to give us a sense of the possibilities.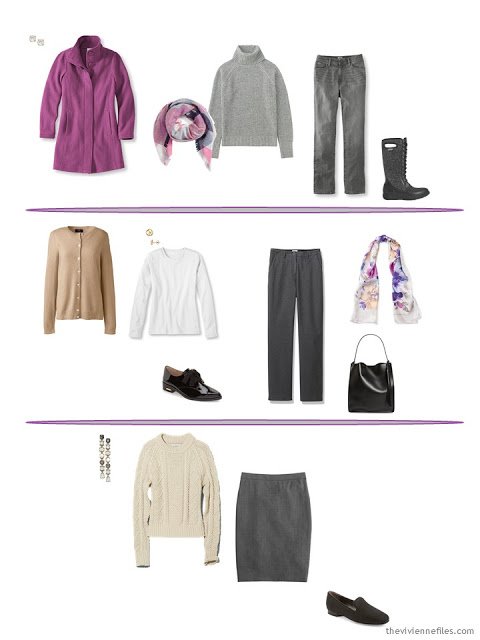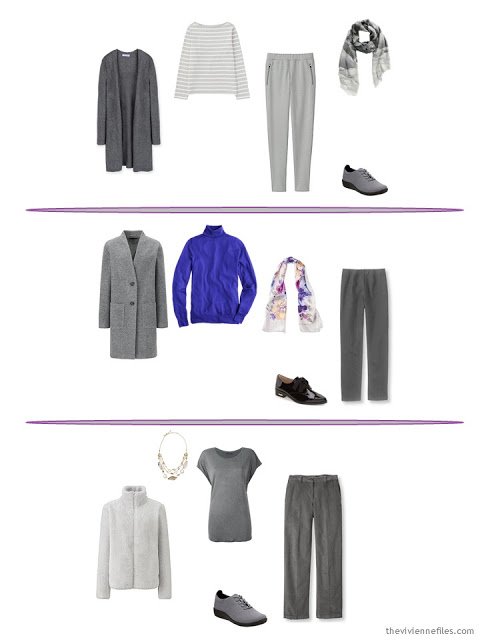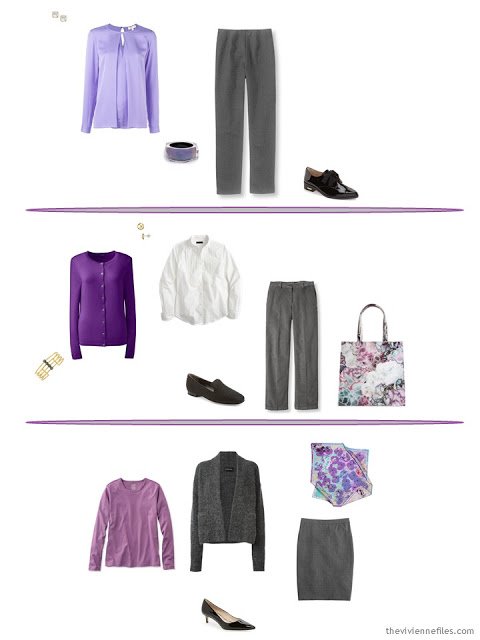 Tomorrow, I evaluate where we are, make 3 additions, and try to sum up how successful this experiment has been.
love,
Janice