December 30, 2016
One last time: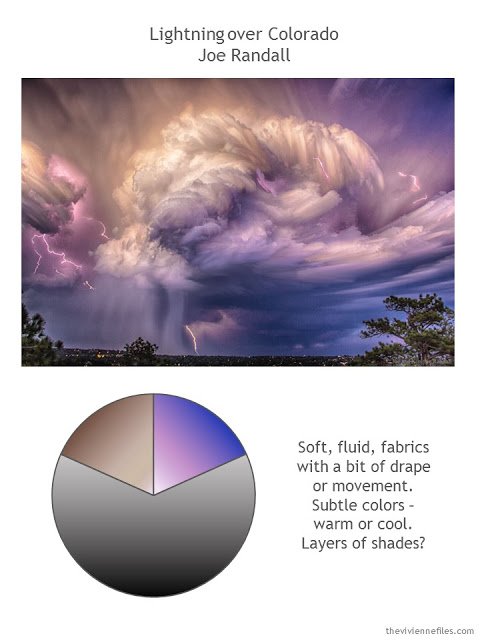 Mr. Randall has a great eye, doesn't he?
When we left our wardrobe at the end of the day yesterday, this is where we were – 25 pieces, lots and lots of ways to wear them, a good balance of colors EXCEPT those 2 beige/brown pieces. I'm still not feeling comfortable with them…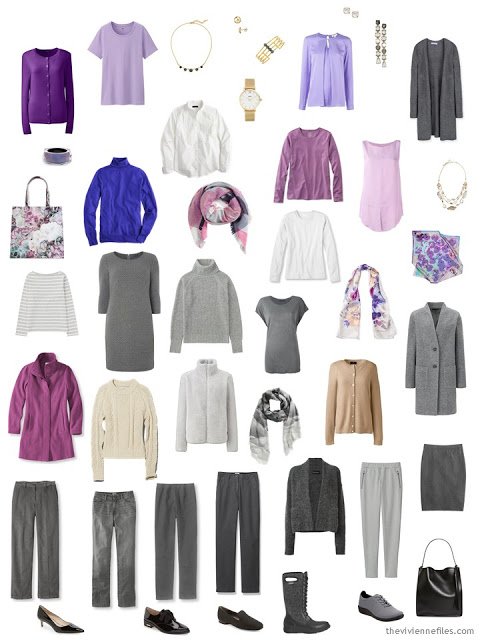 If you need to catch up to where we are, check Monday, Tuesday, Wednesday, and yesterday's posts.
In order to evaluate this wardrobe, there are lots of options (see the various ways that I reviewed the "12 Months, 12 Outfits" wardrobes for some ideas), but I like to just sort by color and see what seems obvious.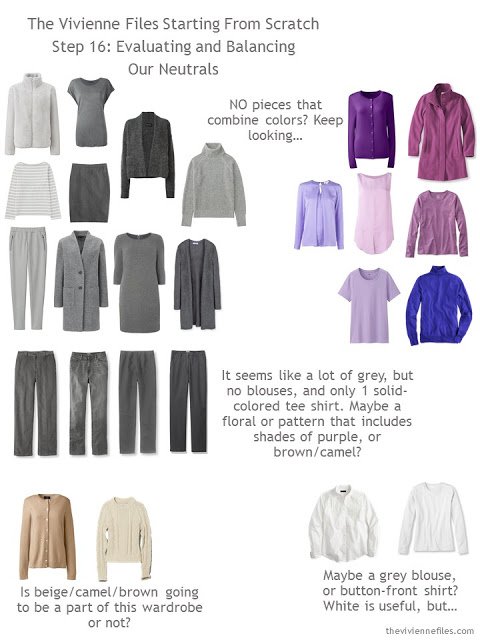 The grey items look great – a little heavy on outerwear and sweaters, which suggests a blouse, shirt or tee shirt might be a good idea… The purple/pink accents are great, and I'm perfectly happy with them as they are.
But the beige/camel/brown? Sigh…. I'm not saying that they won't be worn, or that they aren't lovely. My final thought is that maybe this heroine wants a change of pace, every now and then, into something warmer in color. It could be an occasion during which she anticipates some spiky personalities and conversations, and she wants to be a soothing influence. Maybe it's for those autumn days when everything in the world seems to be warm russets and browns, and she wants to be a part of that. Maybe she's a true "Winter" but has warm brown eyes (as I do…) and every now and then she wants to highlight her eyes.
The bottom line: you can wear whatever colors you want. As many or as few of them as you want. In color combinations that are classically harmonious, or as challenging and unusual as you can imagine. You answer to no one, except your heart…
So my last additions to this wardrobe address the usefulness of a grey blouse, the color option of a warm beige sweater, and the amazing oversight of NOTHING that combines colors from this palette. (in all fairness, finding these colors combined in a garment is pretty challenging!)
This is the final 28-piece wardrobe: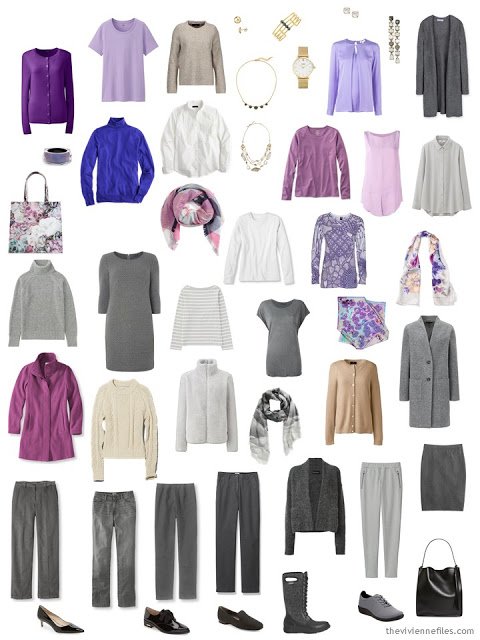 Just looking over the pieces here and thinking about my life, and the lives of my friends, I don't see any gaping holes or obvious omissions. But just in case, I like to make sure that I can easily assemble both a "Whatever's Clean 13" wardrobe (the things that you pack when you know you will be frantic, and you don't want to worry about assembling your outfit everyday – this is as close to foolproof as getting dressed can be):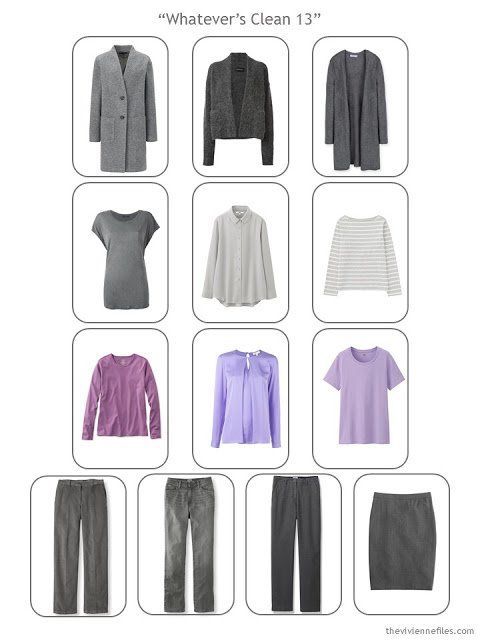 And I like to also build a "4 by 4 Wardrobe" – which is designed to give you at least a week's worth of outfits, in a range of possibilities: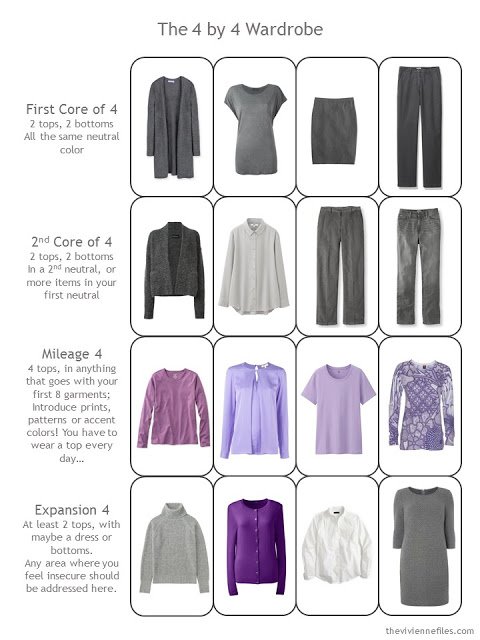 I've reconciled myself to the interesting color options here, and I'm pretty pleased with the final wardrobe. But what do YOU think?
love,
Janice