December 27, 2016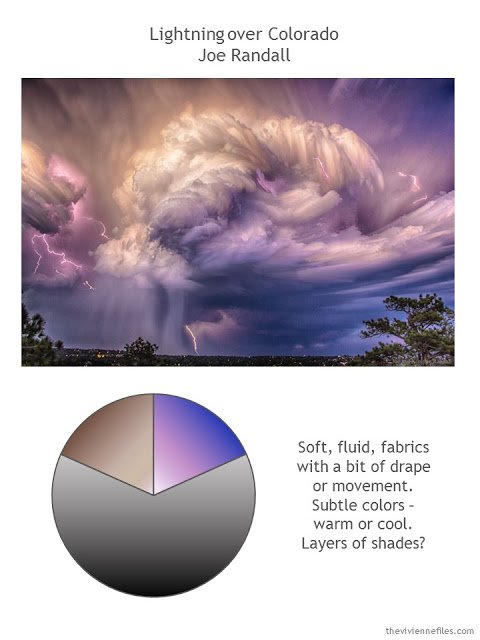 When we left this wardrobe, it was very neutral, and very simple – but this is the way to start a really functional wardrobe! If you get these building blocks in place early, your later additions will be effortless to wear, and you'll have lots of options…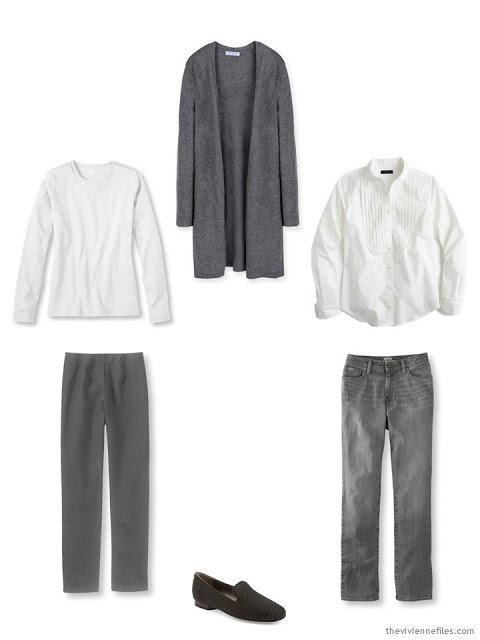 Cardigan – Pure Cashmere; tee shirt – L.L.Bean; shirt– J.Crew; pants – L.L.Bean; Jeans – L.L.Bean; loafers – Donald J. Pliner
One of the joys of working with this photograph is the wide range of accent colors available. All sorts of pink, lavender, lilac and deep purple colors can be taken from this image. It's so beautiful…And in observance of the strong warm coloring in the top left color of the photo, I'm going to see if we can make gold jewelry work here. The Botkier bracelet has grey stones, which feels very much like it will help tie the gold and the greys together. We shall see!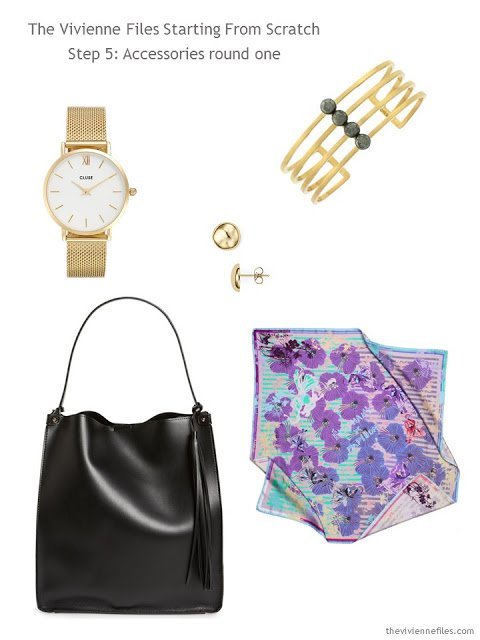 Watch – Cluse; bracelet – Botkier; earrings – Argentovivo; scarf – Irene Paris; bag – Sole Society
And FINALLY we get some pretty tops… I really tried here to pick up on the fluidity and sense of movement in the clouds.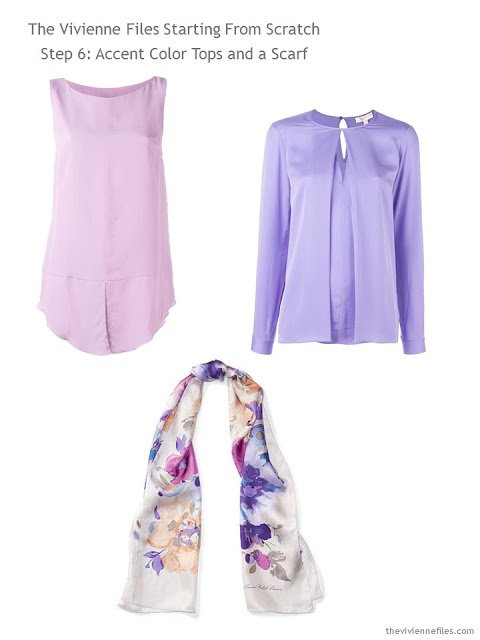 Sleeveless top – Dondup; blouse – MICHAEL Michael Kors; scarf – Ralph Lauren
Here's where the wrestling with the photograph begins, for me. I seriously considered bringing in a brown or beige ensemble here, but then I was looking at brown shoes, and then I realized that I was hardly started on this wardrobe and I'd gone two different directions for essential leather accessories…
And I just STOPPED. And thought. And realized that the brown, gold, tan elements in this photograph were going to be better-suited to be accents, rather than core elements. Maybe much later, brown trousers, or a pair of tan loafers, wouldn't go amiss. (gold loafers???) Right now, however, we need to stay focused in order to make this wardrobe truly functional.
So more grey, but a very different cardigan, and a pair of trousers that are cut differently, and of a new fabric:
Note the wee touch of gold on the oxfords?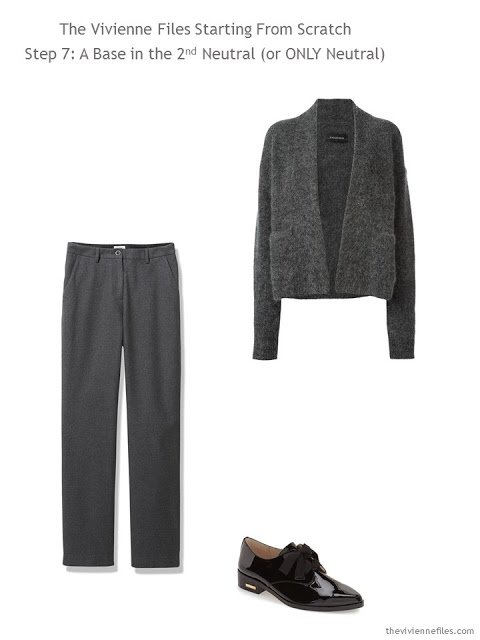 Pants – L.L.Bean; cardigan – By Malene Birger; oxfords – Louise et Cie
After the first 7 steps, this is a nice, tidy ensemble. For a long weekend, or a four-day work week, this would be a great travel capsule wardrobe: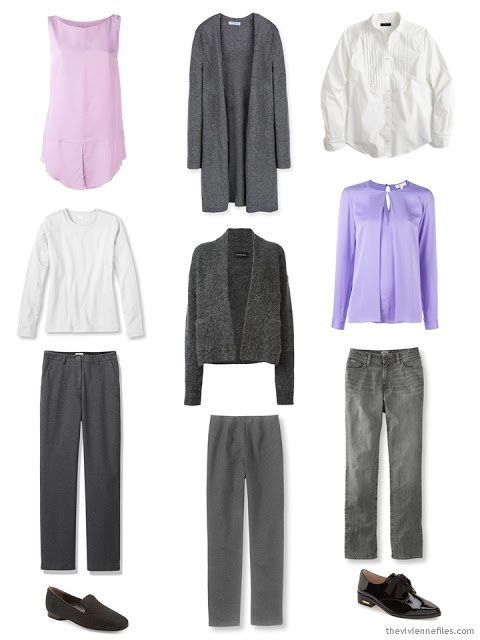 In case you're struggling to visualize how these pieces could play out, here are 2 dozen possible outfits. For one of those trips where you fly out on Sunday evening, and return Friday afternoon (are you an auditor?) this might be everything you would need!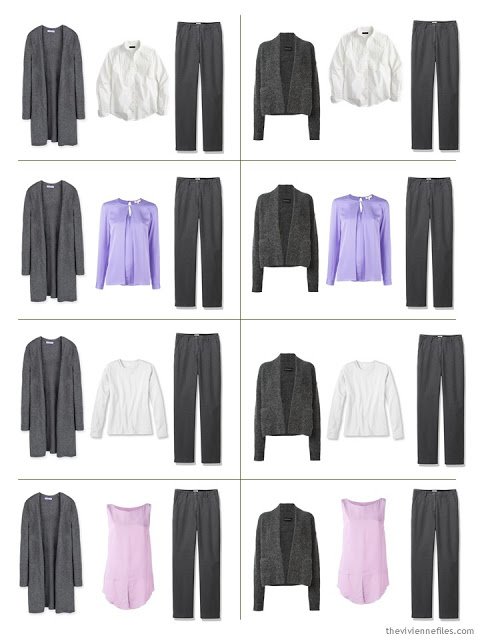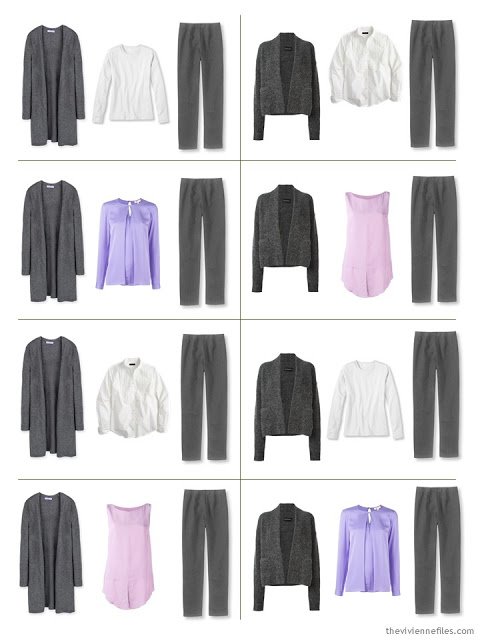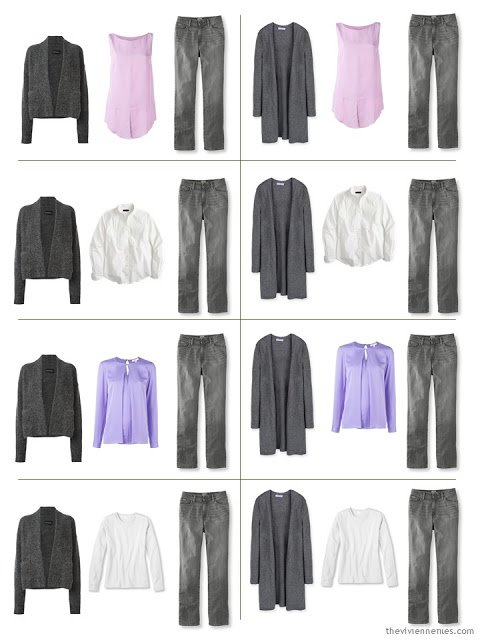 Tomorrow, more color, and more accessories; the wardrobe begins to take on a real personality!
love,
Janice