November 5, 2021
Remember this lovely wardrobe from last week? I could be so tempted to just chuck everything I own and wear these colors, if I was feeling crazy and reckless…
I thought that I would try to start with 4 pairs of shoes – as I have done before. Simple flats can be worn with your skirt, or in somewhat warmer weather with pants. Loafers go with everything; leather athletic shoes are GORGEOUS and look lovely with pants, and of course short boots can be worn with everything…
Does anybody else remember back in the day when we would NEVER have worn boots that didn't come up to meet the hem of our skirt? That gap was SO off limits… Things have changed!
For my view of life, a small clutch, a cross-body bag, and a tote will get you through most events… And who couldn't use a velvet camera bag? Sigh…
For this first outfit, I love this scarf that brings a bit of ivory up near your face; pearl earrings compliment the scarf well…
The dark shirt is balanced by dark shoes, and by the touch of color and darkness from the bracelet. Simple gold earrings could be worn every day, with every outfit in the wardrobe!
This sweater brings enough pattern to this outfit, so either a nice necklace (simple gold chains wouldn't be a bad idea!) or a solid scarf is just right. The range of colors in the earrings echo the range of colors in the sweater…
This lighter-weight scarf has a decided pink feeling to it, but it still looks lovely with the simple, casual top and skirt. I opted for rose gold earrings for this outfit, to pick up that pink tone in the scarf:
Yes, lapels are perfect for a brooch! And feather earrings with a bird brooch just seem to feel right…
Just as with the pink-ish scarf above, your scarves don't have to be limited to JUST the colors in your outfit. I imagine that if we were going to expand this wardrobe (as a woman would probably do in real life!), forest green would be a great addition…
This wardrobe totaled out at 1.5 accessories per garment – a pretty good ratio. Imagine being able to travel with all of this!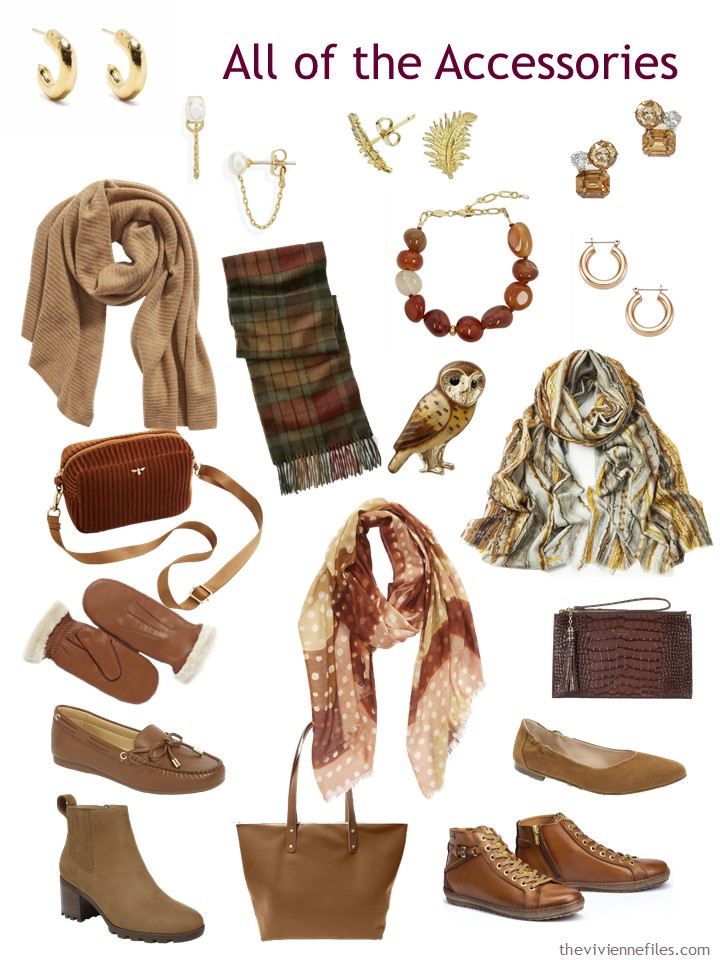 Brown is so lovely; I can't understand why it's such a struggle to find it, most of the time!
love,
Janice
p.s. Four years ago, I isolated my Autumn and Winter essentials; I still own most of them!