November 3, 2021
I'm sure we all have different experiences with this right now, but Chicago has finally gotten to cold weather. Real, honest to goodness "gloves and scarves" cold…
No need, quite yet, for waterproof boots, but that will be soon enough!
Even though the cold weather season gets shorter each year, it still arrives, and we either have to be prepared to dress for it, or prepared to stay in OUT of it…
So let's look at coats…
This first wardrobe has ZERO purple, so far. Purple is terribly hard to find – I look for it all the time, and one is more likely to find burgundy or maroon or lilac or almost anything but TRUE PURPLE.
Just sayin'…
But it's a coat – if you wear it fastened, it doesn't much matter what you're wearing under it, above the waist!
As a reminder, this is our inspiring color palette and scarf:
When we "hang" our new coat in this wardrobe, it definitely stands out. I'm not convinced that's a bad thing: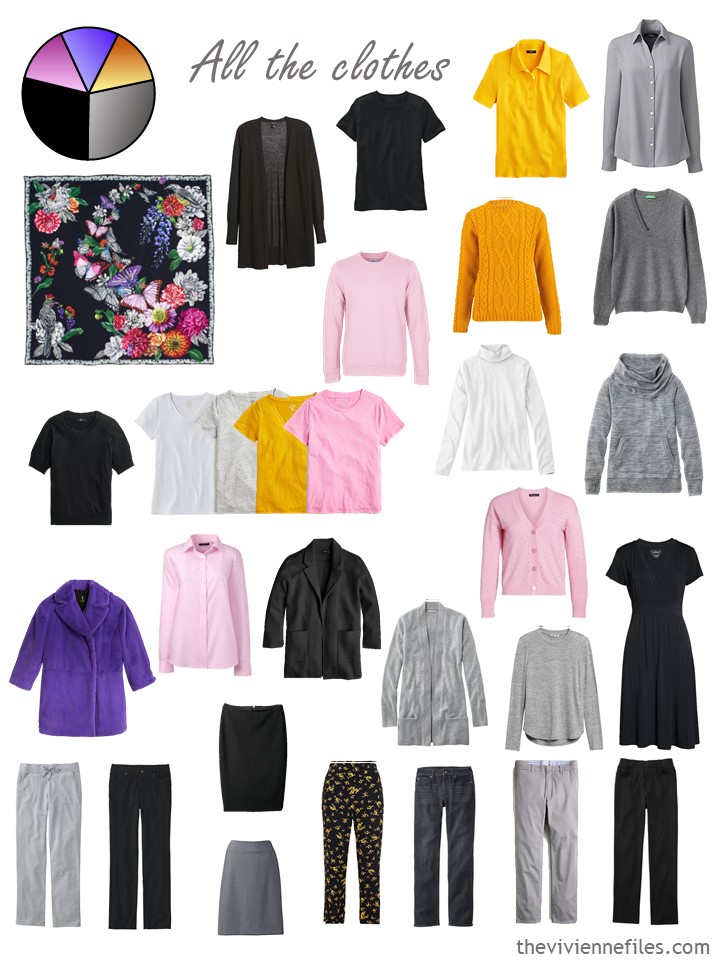 And her new accessories blend in as if they belong here!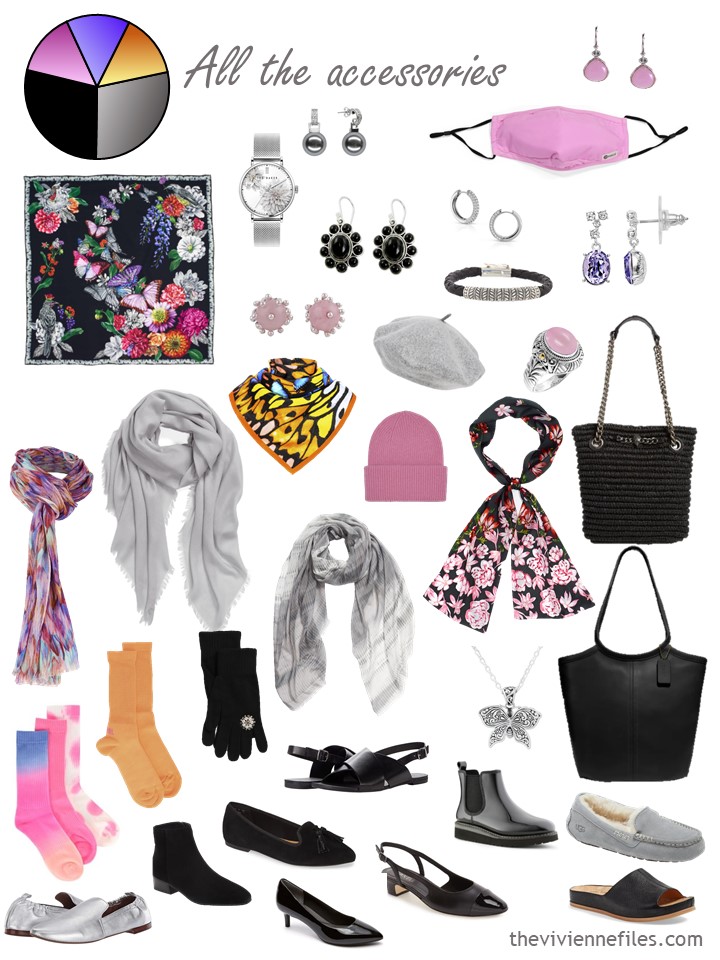 A new coat doesn't really add new outfits to your wardrobe, but at least the new scarf opens up a few possibilities: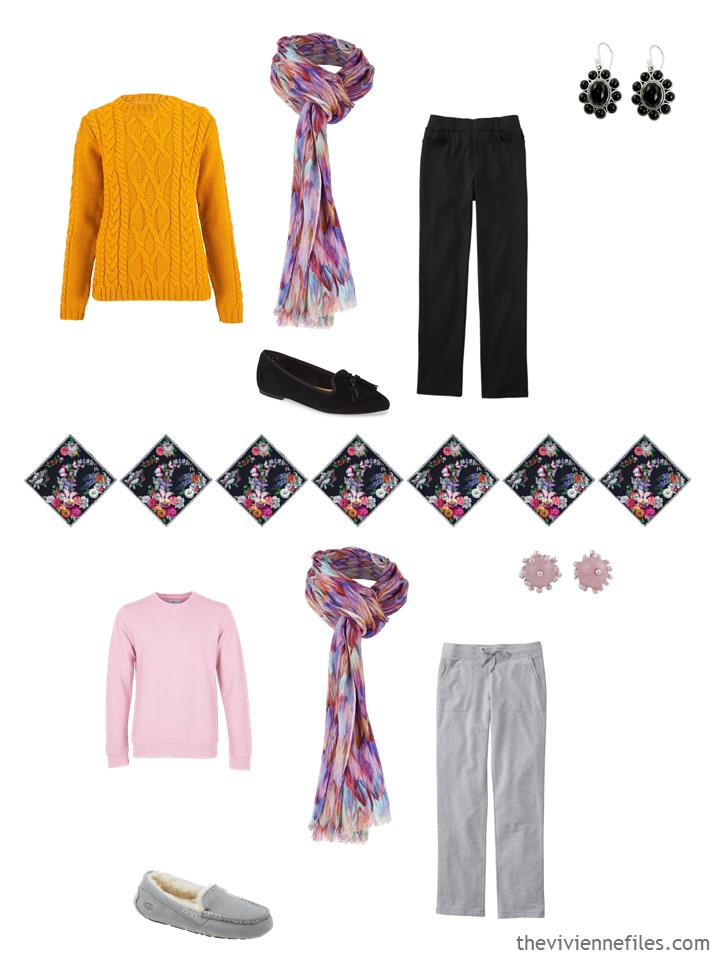 Depending on where you live, your winter coat may resemble a sleeping bag in many respects! This is good – being cold is never stylish!
And yes, many of us sacrifice our hair in order to save our ears, when the temperatures drop…
I love the spring color of this winter coat, and how true it is to our heroine's preferred color palette:
It looks right at home here!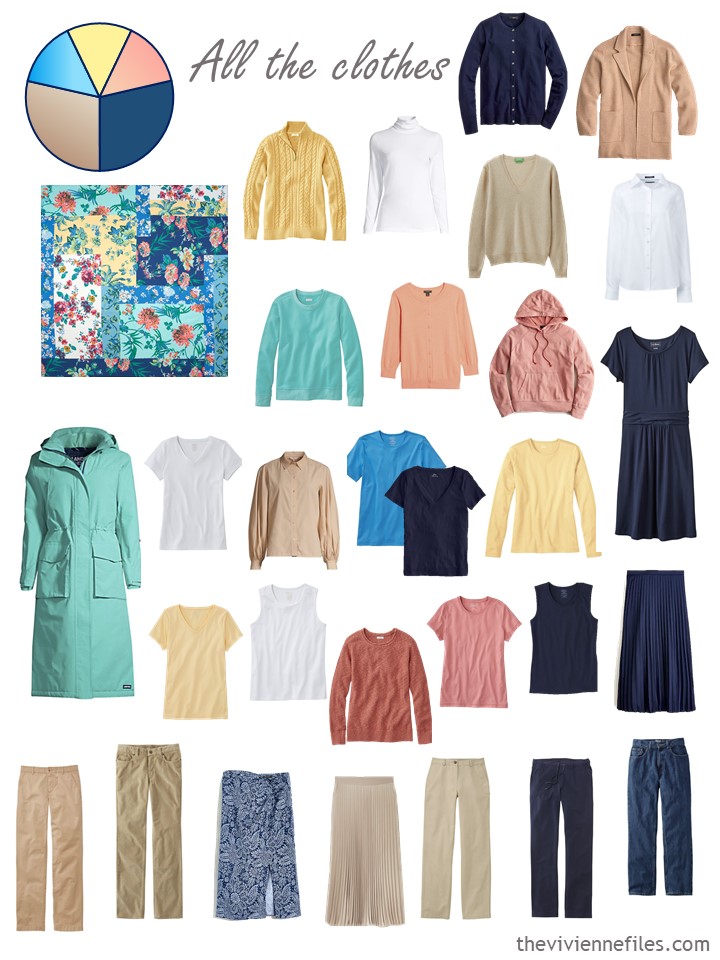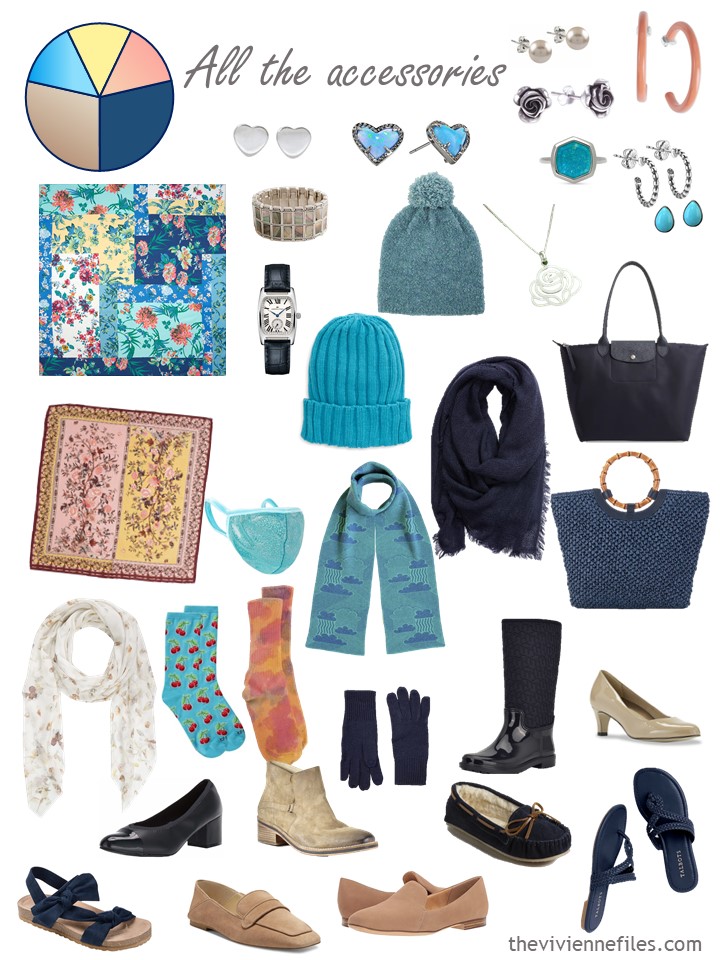 Even this scarf can bring a combination of warmth and color to your wardrobe! Wearing a warm scarf to a meeting might make it clear that the conference rooms are TOO COLD…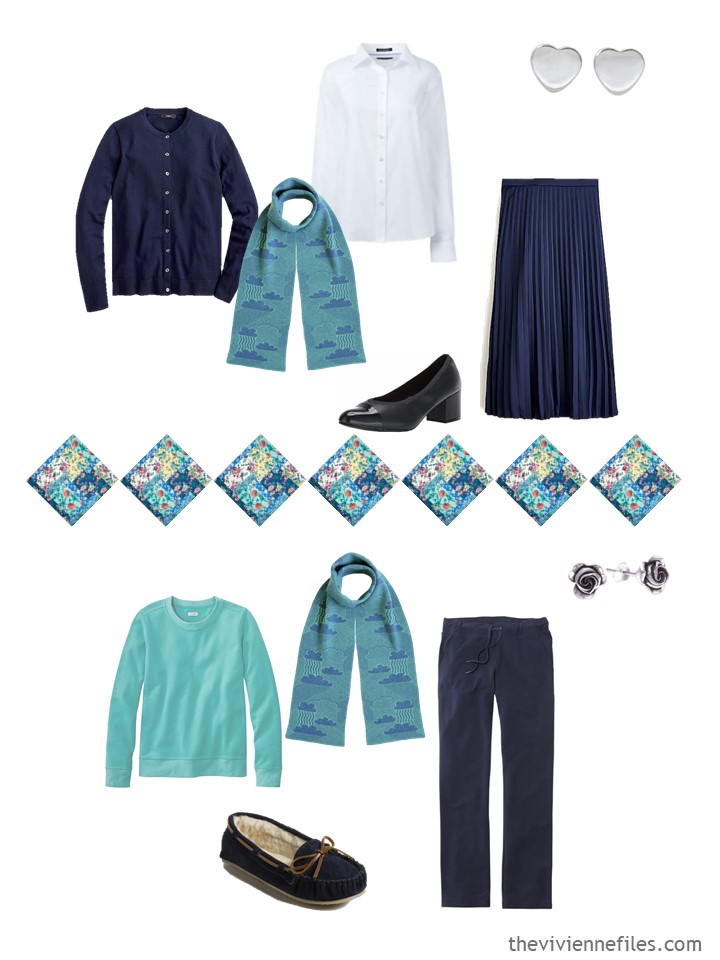 Of course, I found AMAZING purple boots AFTER I replaced my old snow boots. Rats…
I'm still loving this palette – I think more and more that this would be where I would migrate, if my entire wardrobe suddenly were… stolen? Vandalized? Vaporized by aliens who hate black sweaters?
Ah, the harmony of all of these purples, grounded in the most classic neutrals…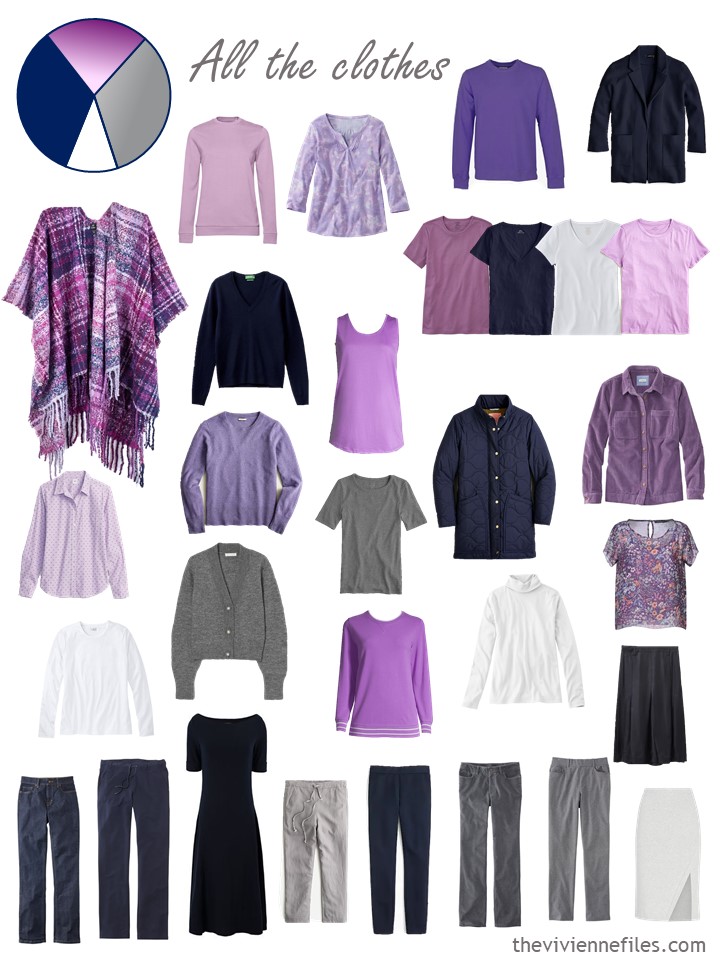 I would want this wardrobe if only to have all of these great scarves!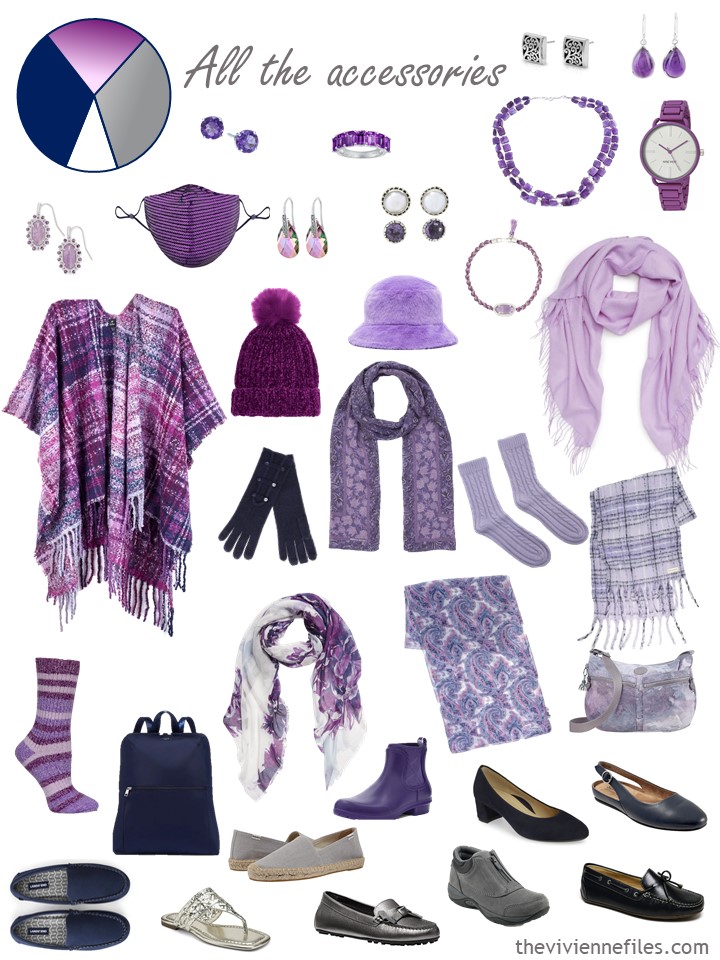 This scarf looks great will all kinds of purples…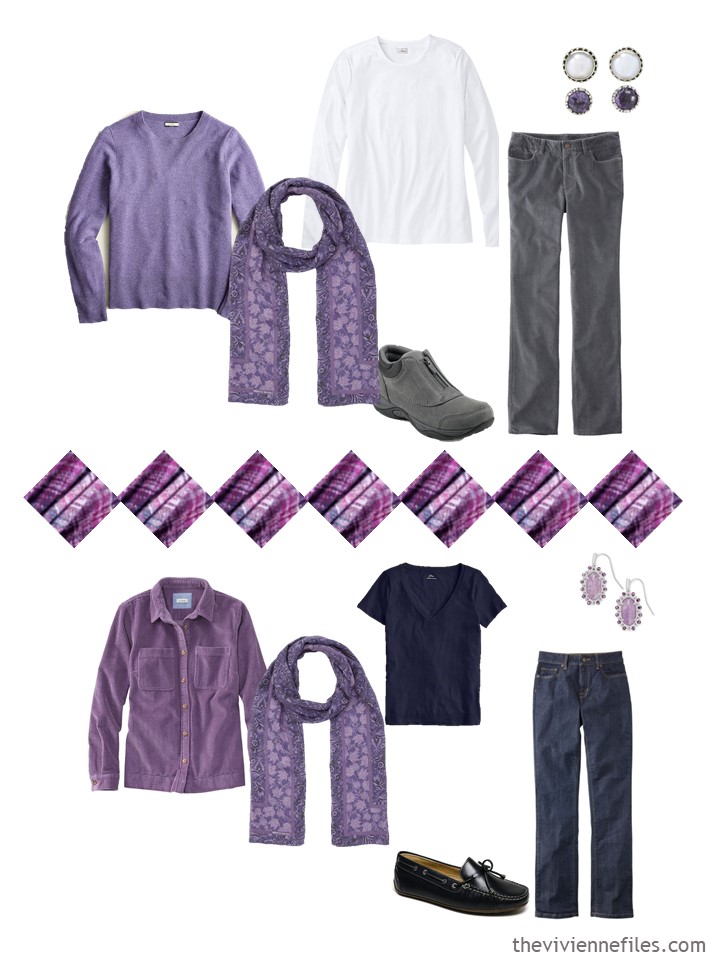 Mix those shades of green – pretend that you're Mother Nature!
This scarf doesn't have a ton of green in it, but it has enough for us to use olive as a key neutral!
This wardrobe is turning out well, I think…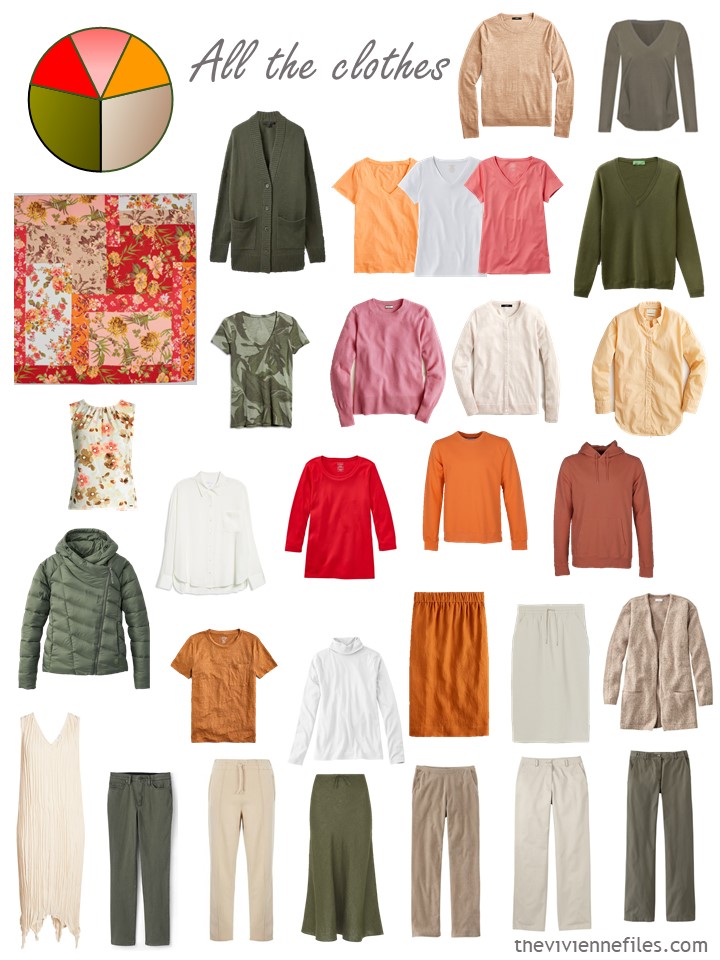 And the accessories! The scarves are delightful…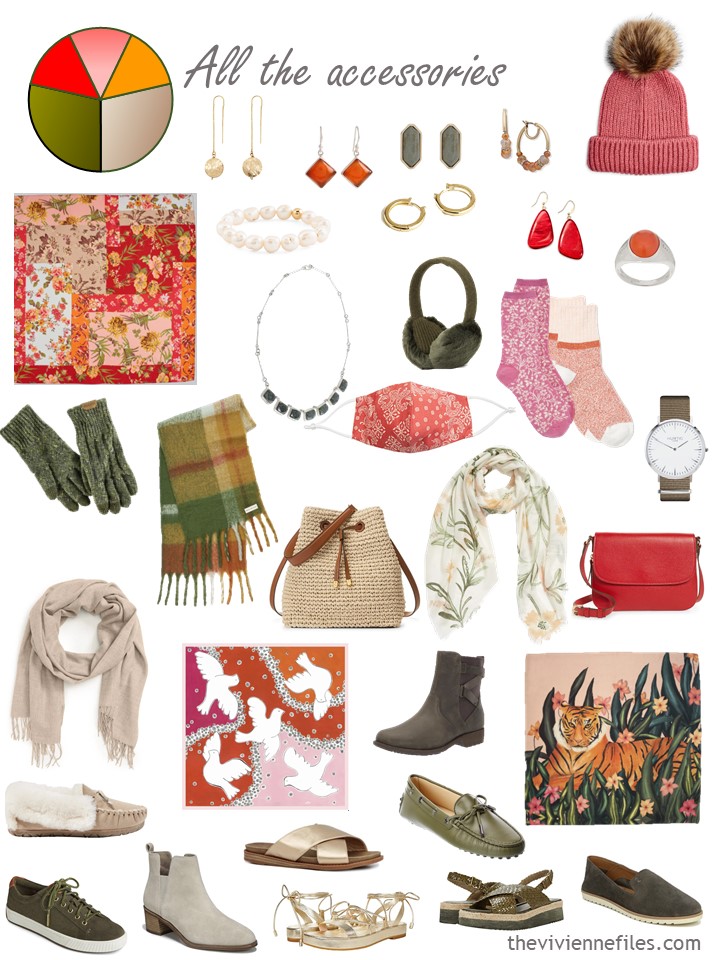 Our heroine's new plaid scarf is just the right touch with a variety of outfits: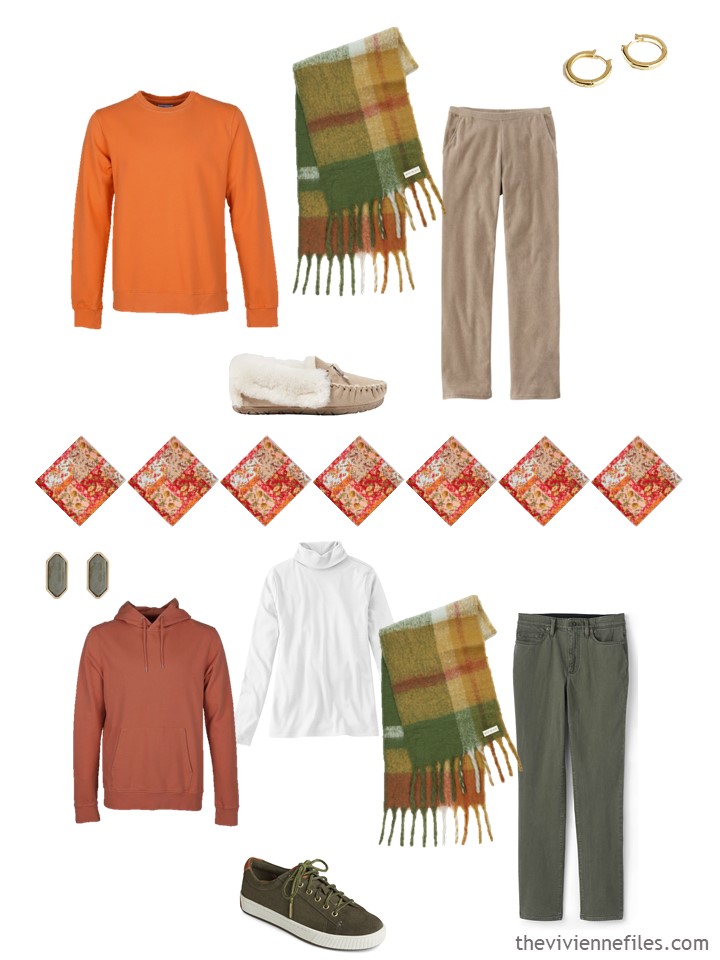 I love this jacket – there's nothing quite as durable as a waxed jacket…
This color palette continues to confound me, but maybe we just accept that some people like having a wardrobe with 2 distinct facets?
It's not like this wardrobe is completely unwearable, right?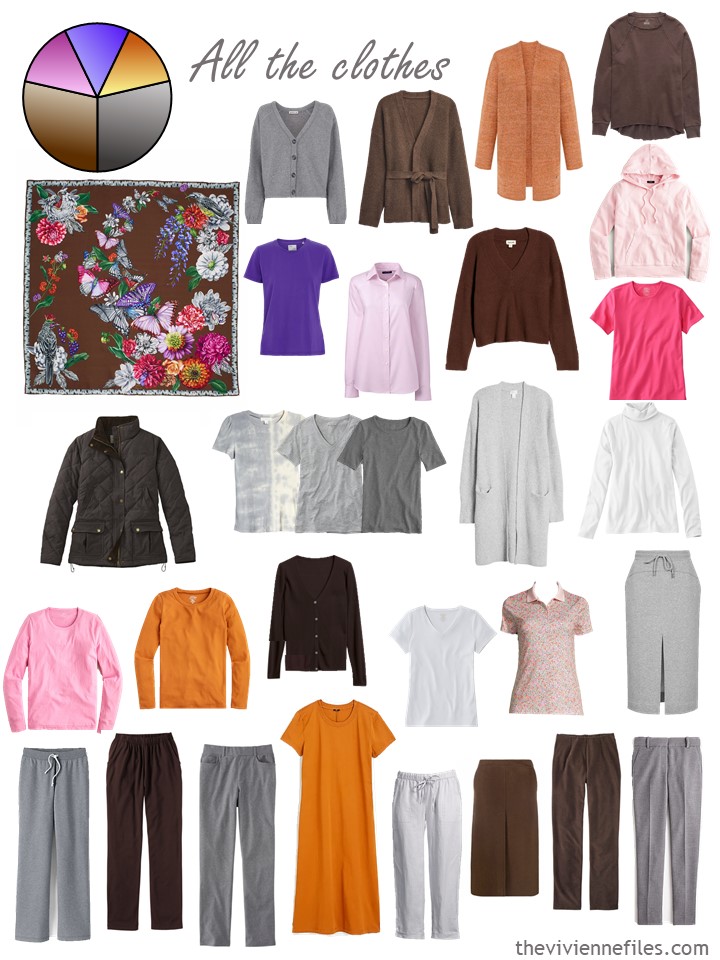 This heroine has a great excuse to own lots of accessories – she needs them to tie together her wide-ranging wardrobe!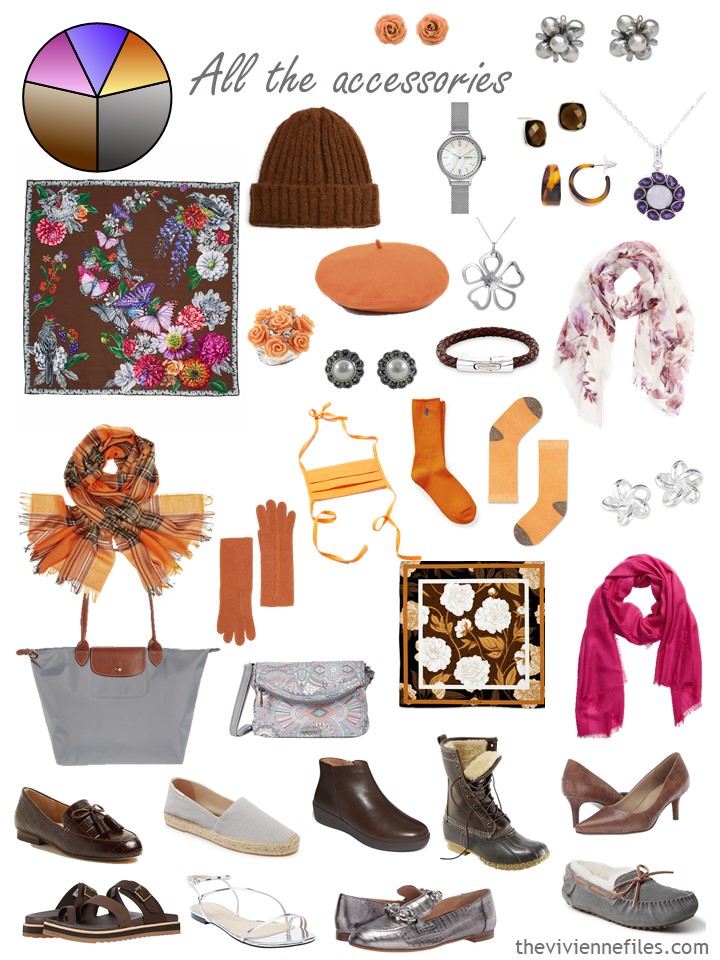 Her new scarf is such a lovely bright touch for autumn outfits: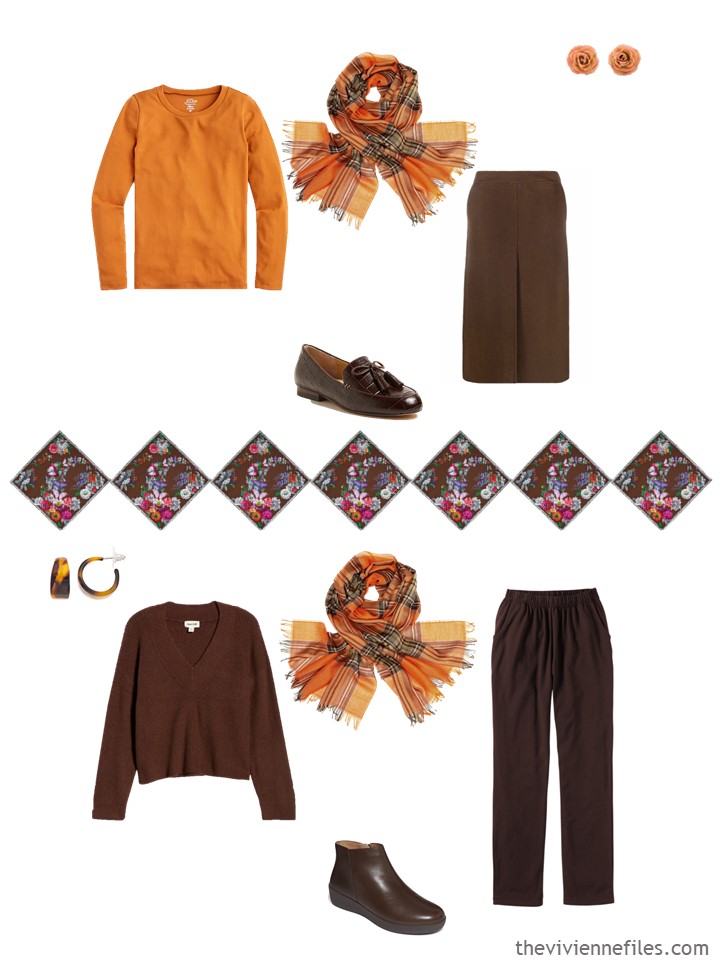 A traditional grey cocoon coat is the perfect base for a pretty plaid scarf that just happens to include a couple of our favorite colors in this wardrobe:
This palette continues to improve with our scrutiny:
I would wear all of this, and NONE of this is "my" colors! Flexibility is underrated…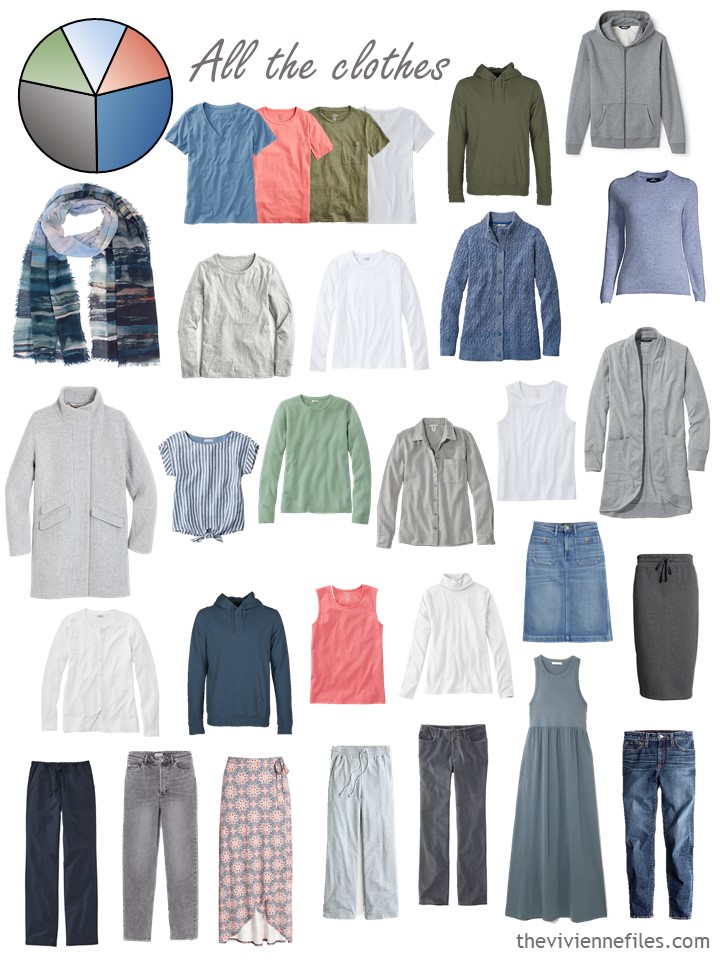 If you like blue, this is for you!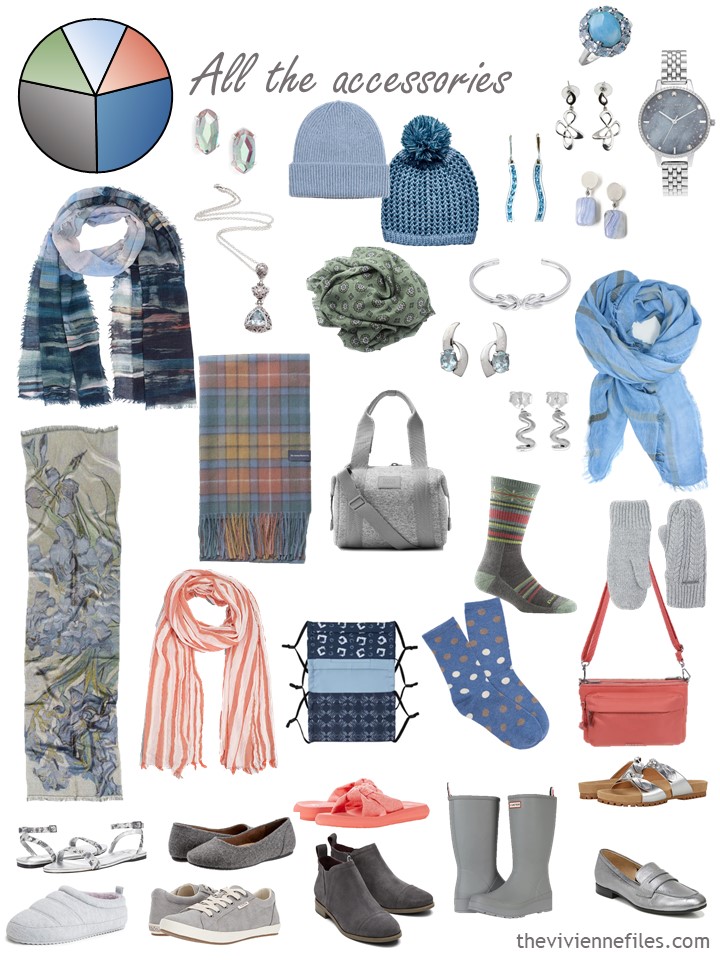 Those coral tops languishing in this closet can be very useful for layering with our heroine's new plaid scarf: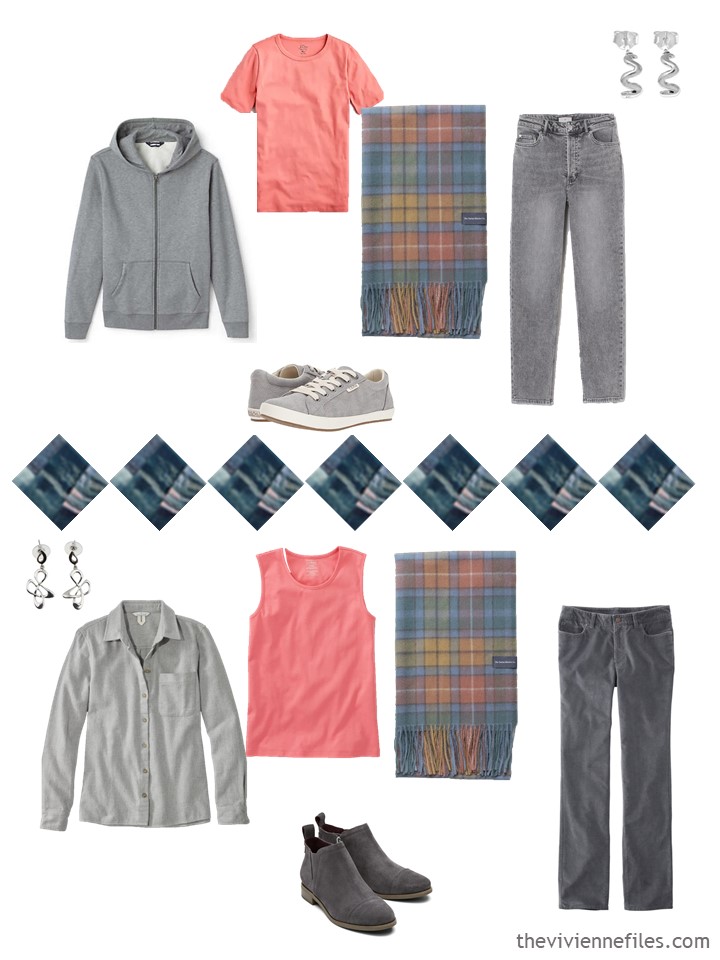 So next month is the last month for these wardrobes – should I analyze them and choose wardrobe additions that fill in gaps?
Or do you have something you would like to see?
love,
Janice
p.s. Three years ago, I added "chrysanthemum colors" to a range of outfits, to see how the deep red and radiant gold would work as accent colors…
p.p.s. Echo is having a sample sale – you MUST go visit…