December 28, 2020
She's quite smitten with this painting: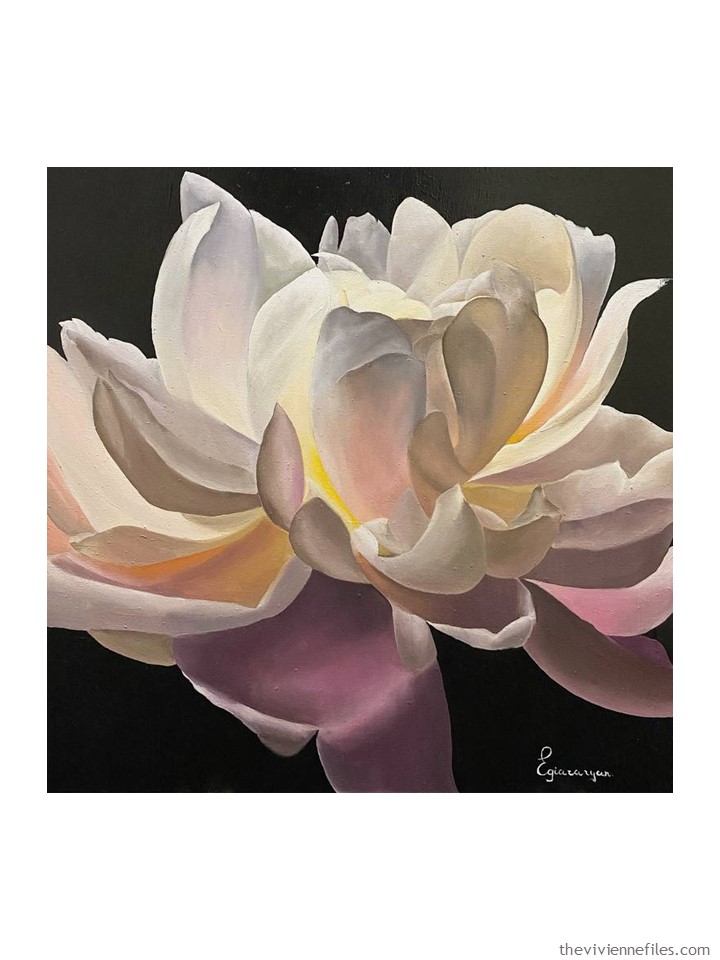 So when they decided, at their family meeting, that they MUST turn down the thermostat and try to cut back their energy consumption, she wondered if the warmth of her flower painting could be translated into real warmth…
Her normal wardrobe is very strictly black and white, and has been that way for quite a while. She really doesn't need a lot of clothing these days, so she's been managing pretty well with just this:
She went back to her current favorite painting, and studied it carefully. Black and white are certainly here, but what makes the painting feel warm to her is the more cream and beige tones. And the luscious pink helps too!
So she created a color palette for the winter – yes, having both white and beige in her wardrobe won't always be the most efficient choice, but she's prepared for that!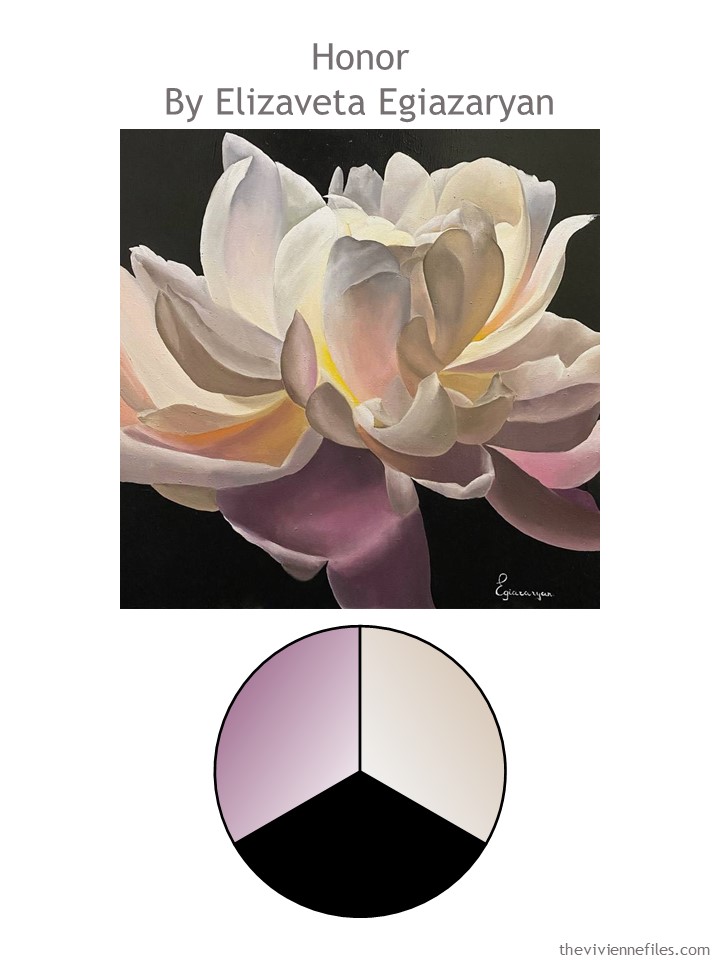 First, she addressed the beige – a cardigan seems an obvious choice when you're trying to stay warm! A simple "column" of pants and a top are versatile choices.
And THEN, she realized that this was the time to fulfill her longing for a ruana! They're warm, they're easy to wear, and something in a tweed that includes her core colors will pull together lots of outfits…
The pink proved to be more elusive. She found a top that resembled an elegant sweatshirt – that's a perfect start! And then she realized that her most versatile choice for pink might be a classic shirt and tee shirt – she already has lots of sweaters that will be perfect over these touches of pink.
She kept looking around for a while – pink pants seemed to be too much pink! She wasn't interested in sweatpants, particularly…
And so, finally, she indulged. A second ruana! Why not? We have to stay warm, and wrapping something around oneself is inherent a warming gesture…
She packed the rest of her clothes into bins, or canvas garment bags, and just hung these in her closet. A clear wardrobe focus will make getting dressed through the deep mid-winter much easier!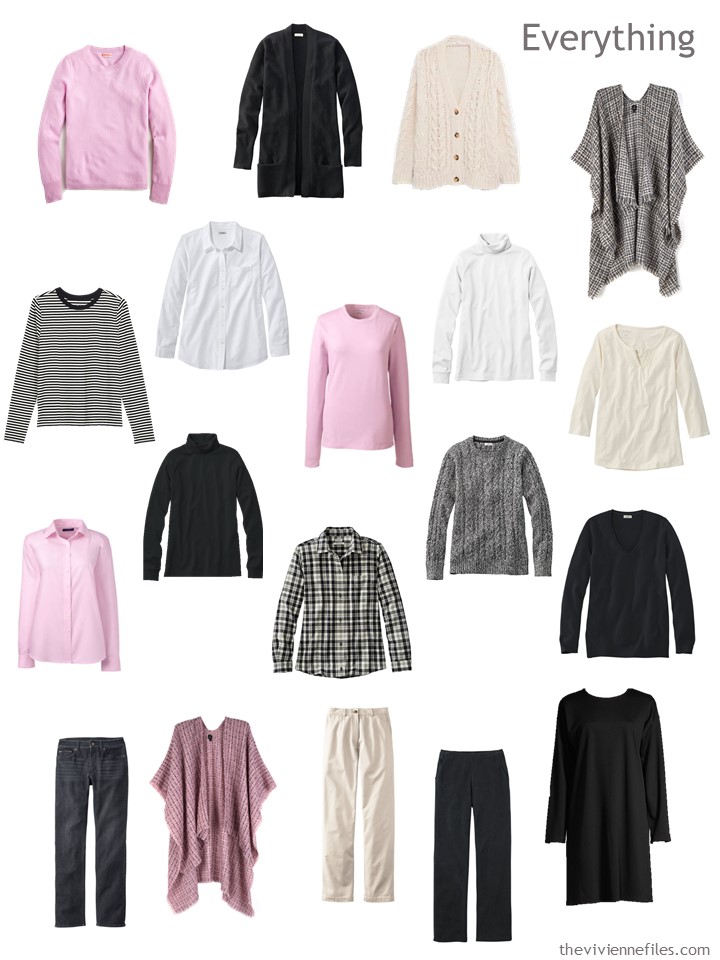 Before she zipped away the last of her other things into storage, she paused for a good long while and assembled a range of outfits, just to make certain that she wasn't going nuts with her limited wardrobe: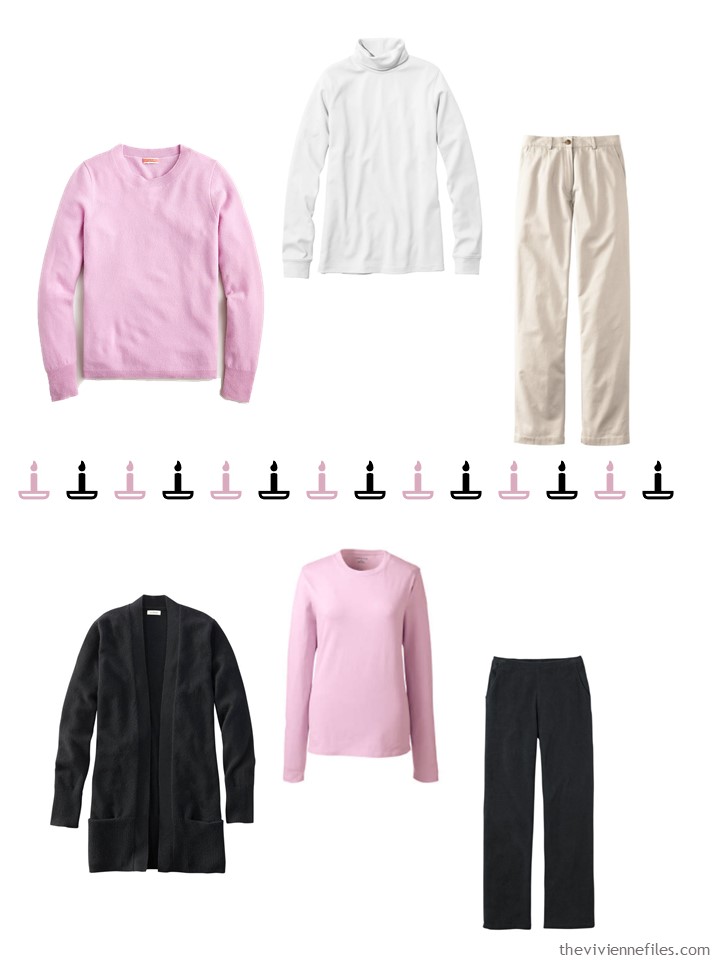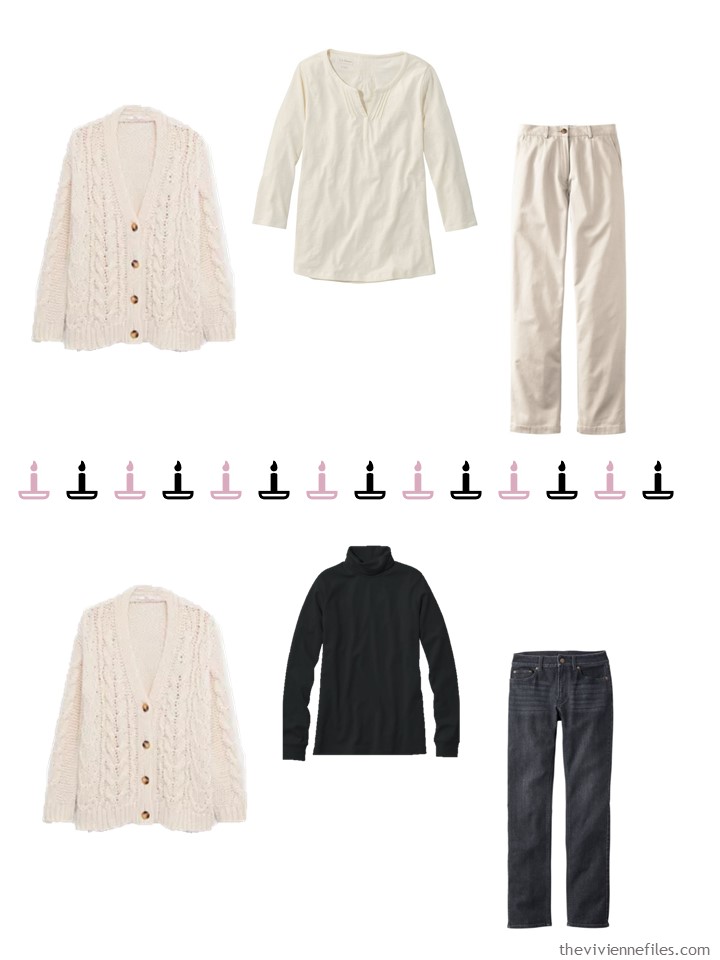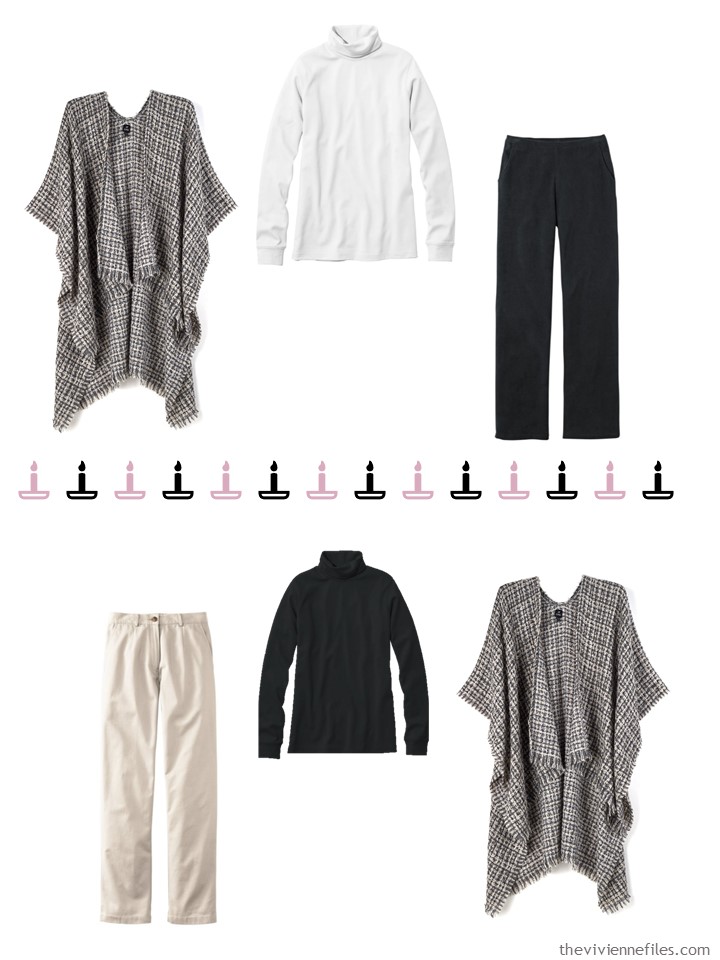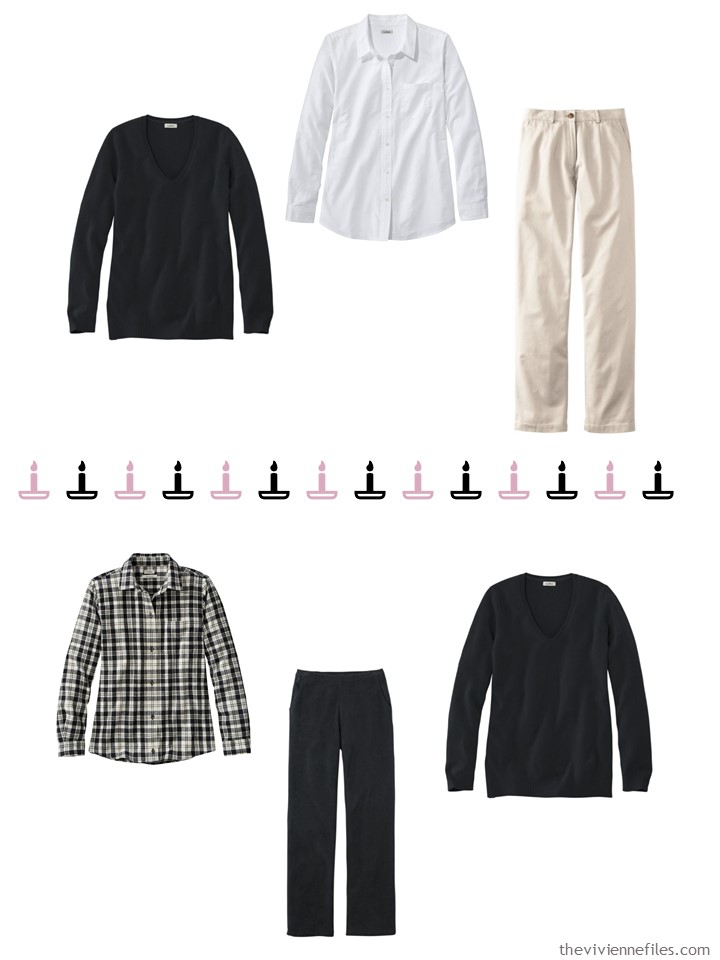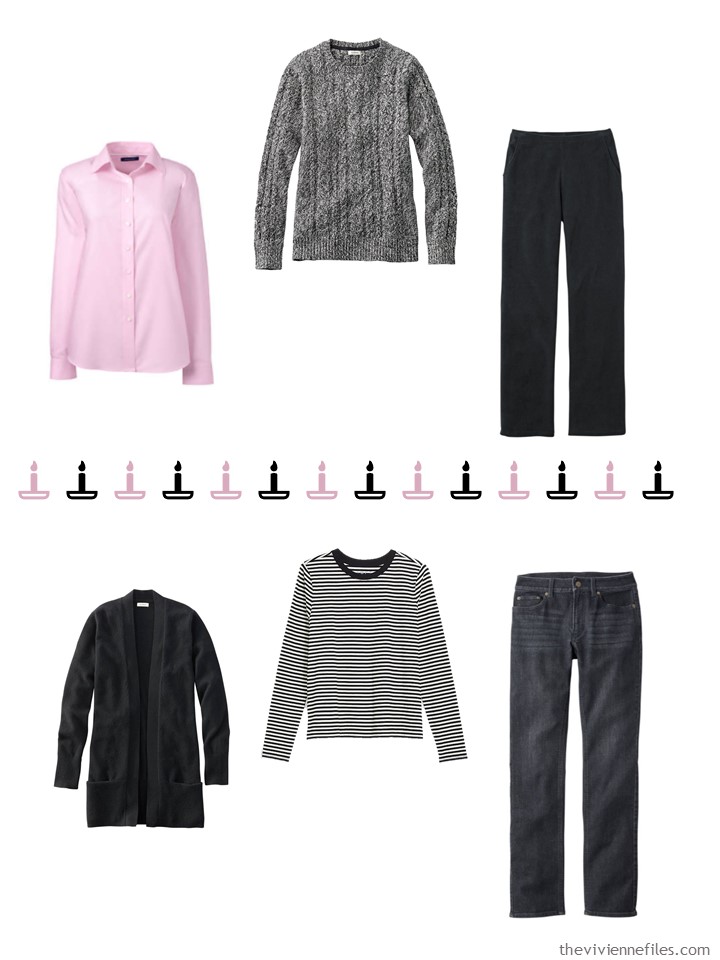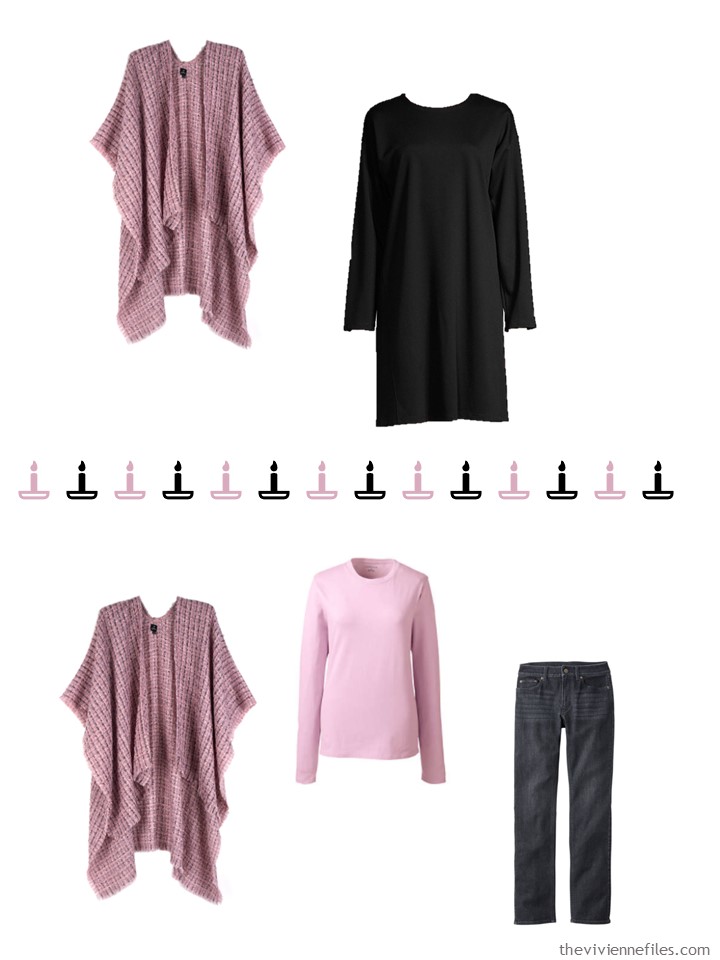 Pretty and practical!
Have you minimized your "visible" wardrobe (i.e. the things that you can easily see in your closet) in the last while? Mine is down to about 25 garments, mostly turtlenecks and tee shirts stacked on the shelf above my jeans and sweaters.
With everything else we have to think about, being able to get dressed without a lot of drama is a blessing…
love,
Janice
p.s. Back in the first year of The Vivienne Files, I pondered if we ever really wear clothes to the point of them being unwearable. I remember doing it as a child…