June 2, 2020
I think we could all use some peace, quiet, and timeless classic simplicity… Calm seems wise right now…
And now that the weather (at least in Chicago) has become legitimately summery, it's time to break out another skirt!
I firmly believe in the merits of skirts for warm weather – they're cool, they cover as much or as little as you want, and they are appropriate for a ton more places than any pair of pants or shorts! If you have that "thigh thing" that keeps your from wearing skirts, indulge in 1 or 2 pairs of these and you will find you might actually enjoy a skirt!
Our navy and camel heroine already has a navy skirt, but when she sees this copper-brown skirt, she realizes that owning more than 1 skirt is no more ridiculous than own 2 pairs of jeans…
Adding these 2 garments, along with luggage brown accessories, brings a lot of warmth and lightness to this wardrobe: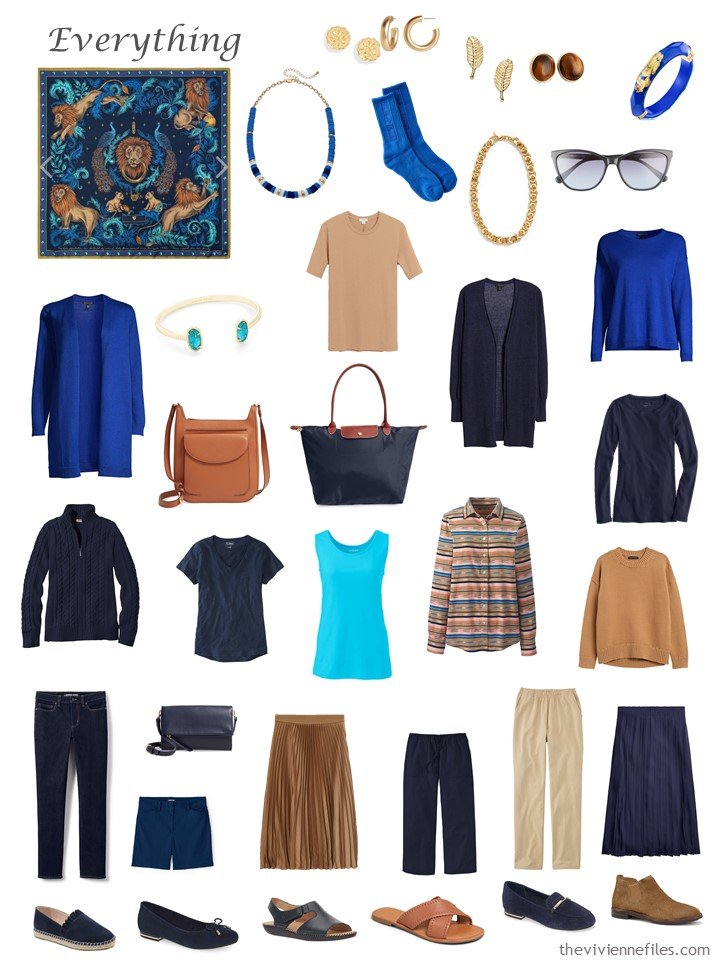 The camel tee shirt breaks up large portions of navy: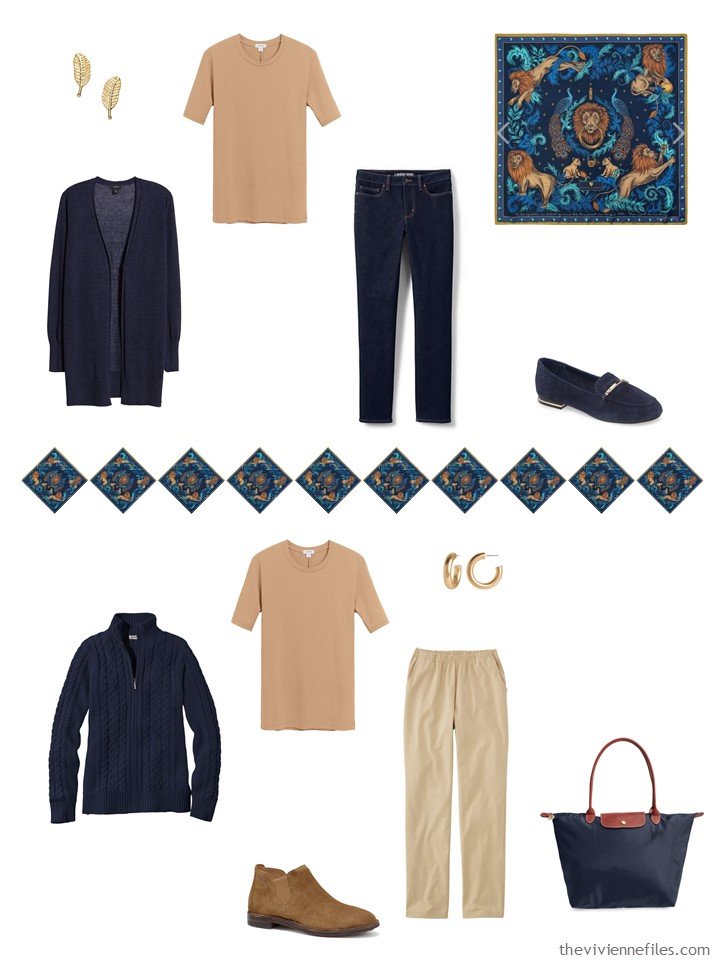 This is a great skirt – literally wearable for at least 9 months of the year, thanks to the dark color: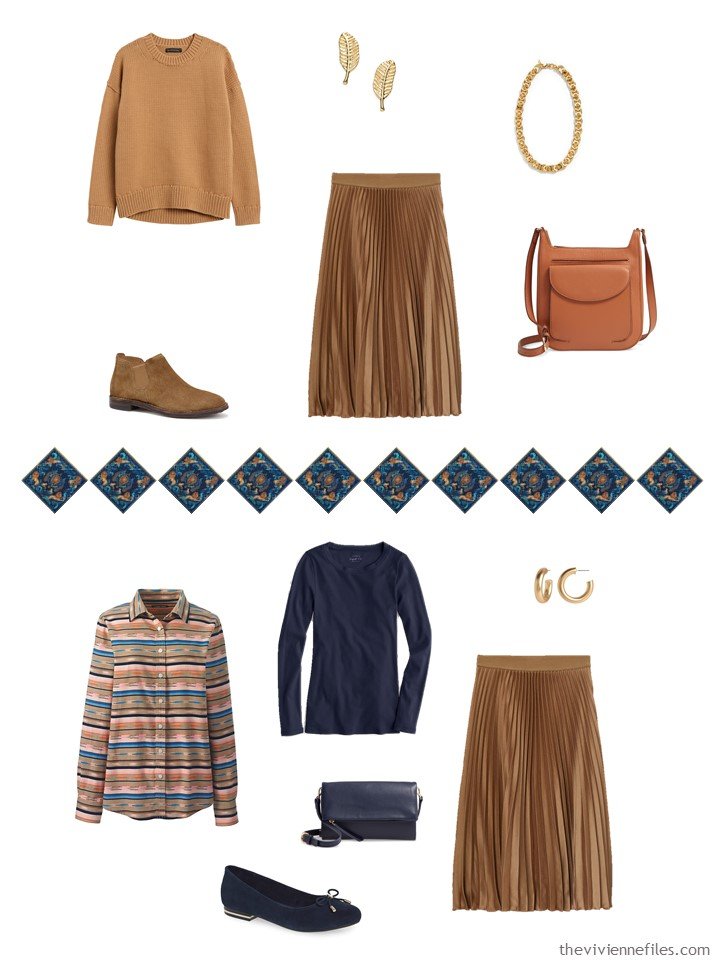 Ah, now this beautiful palette! I keep checking, because I'm feeling confident that this scarf will be reintroduced in this color combination. (fingers crossed…)
OH MY OH MY OH MY… 20 minutes after I typed that last sentence, THE SCARF WAS BACK!
This lovely pastel heroine has had a pair of blue jeans and a great blue cardigan for a few months – maybe she's ready for another touch of blue? And I love how her leather accessories are so easy – warm beige!
This wardrobe remains so well balanced…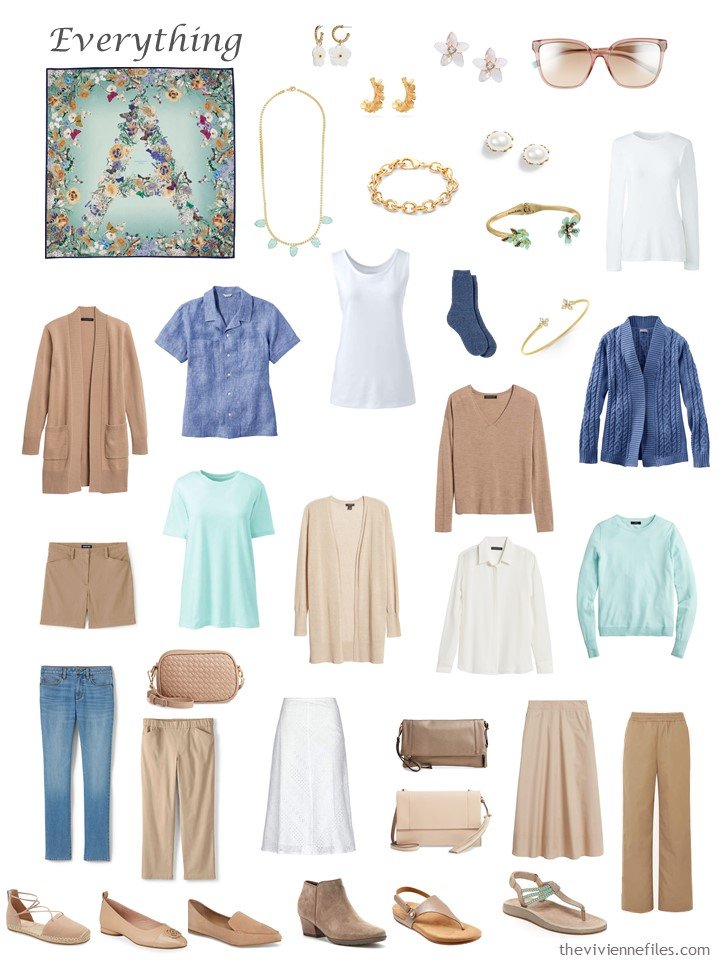 I love the idea of being able to wear a short-sleeved shirt under a sweater in cooler weather – this gets more mileage from a shirt than you might initially expect!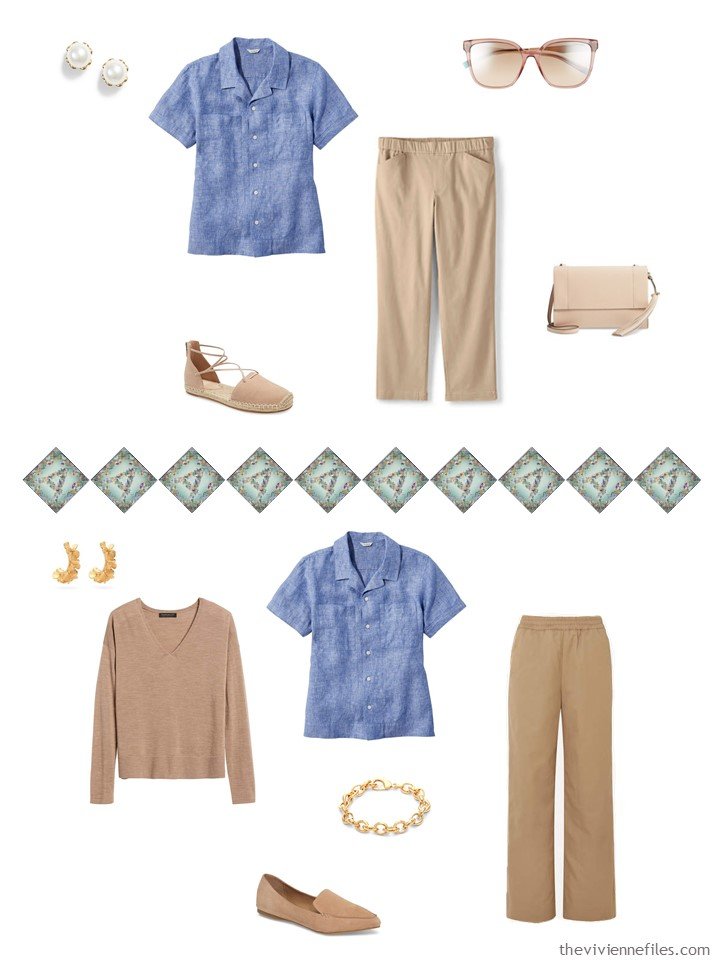 And of course the beautiful white skirt is perfect with mint green!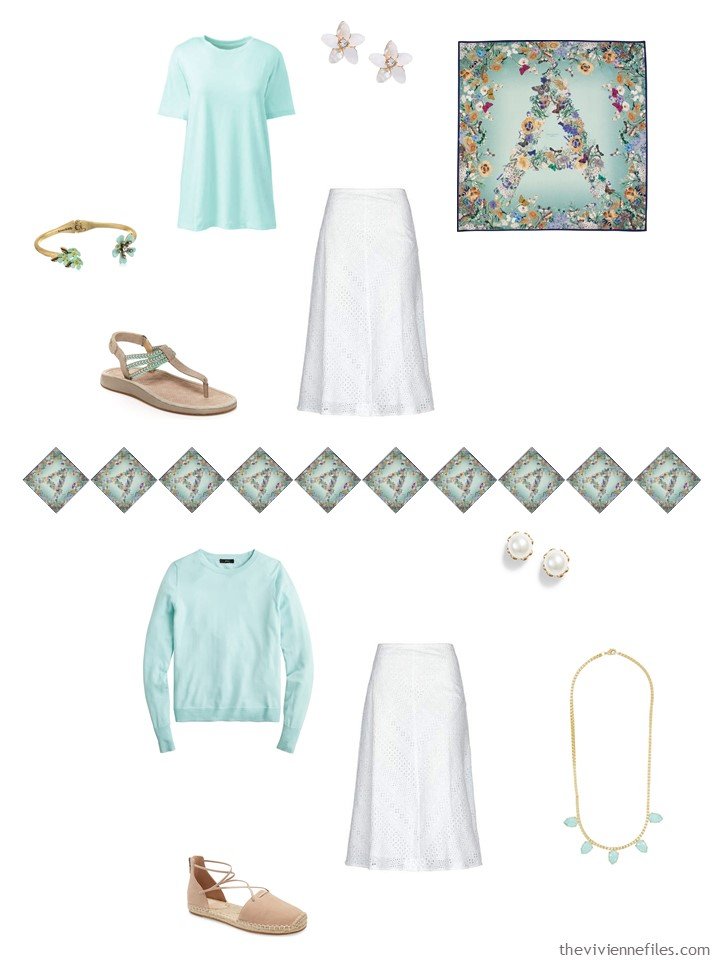 Should I update the color wheel for this heroine's wardrobe? Since I've added white and pink to the wardrobe, the colors feel inaccurate…
Maybe it's because the rest of the world is complicated and confusing, but a simple white outfit feels very… clarifying… and the mustard accessories keep you from looking like everyone else!
Maybe it's just me (I feel that a lot, today!), but I think white in this wardrobe makes a TON of difference… I suspect a trend…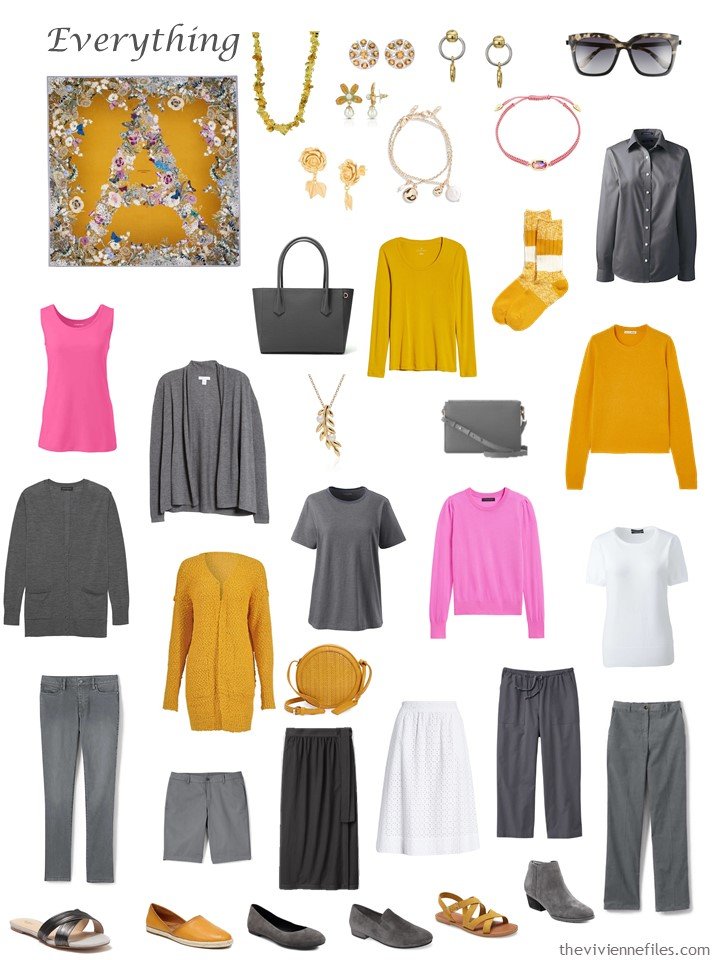 The white is particularly useful in the way that it sets a "base" upon which to wear her great scarf…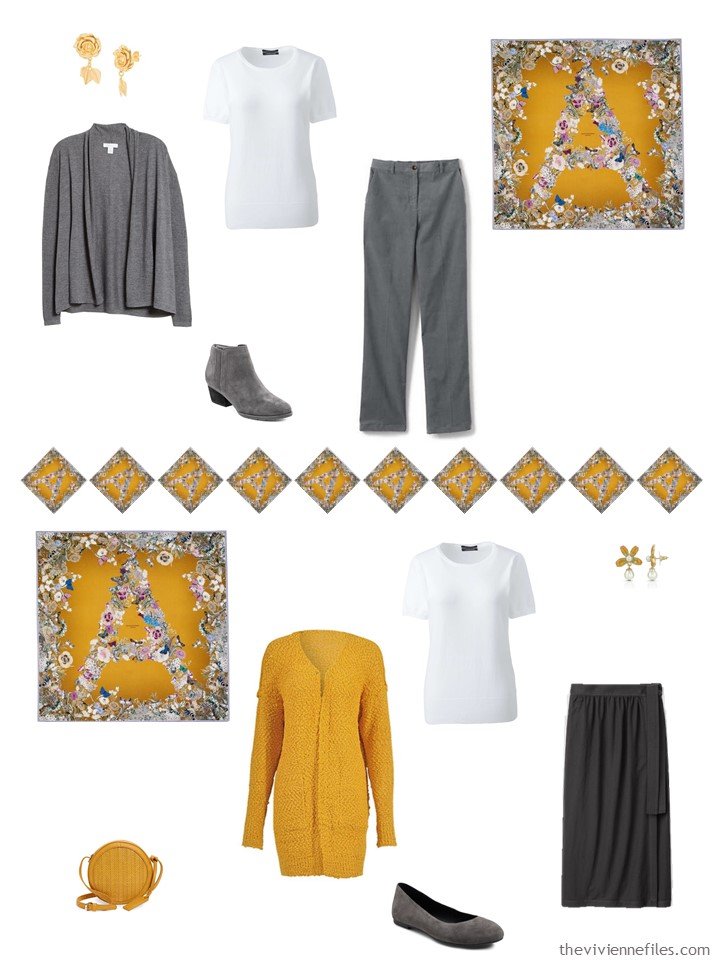 And her pink tops are perfect with this pretty lace skirt! I've had a black lace skirt for ages, and it's surprising how often it can be worn – it dresses up really casual tops, but isn't too "over the top…"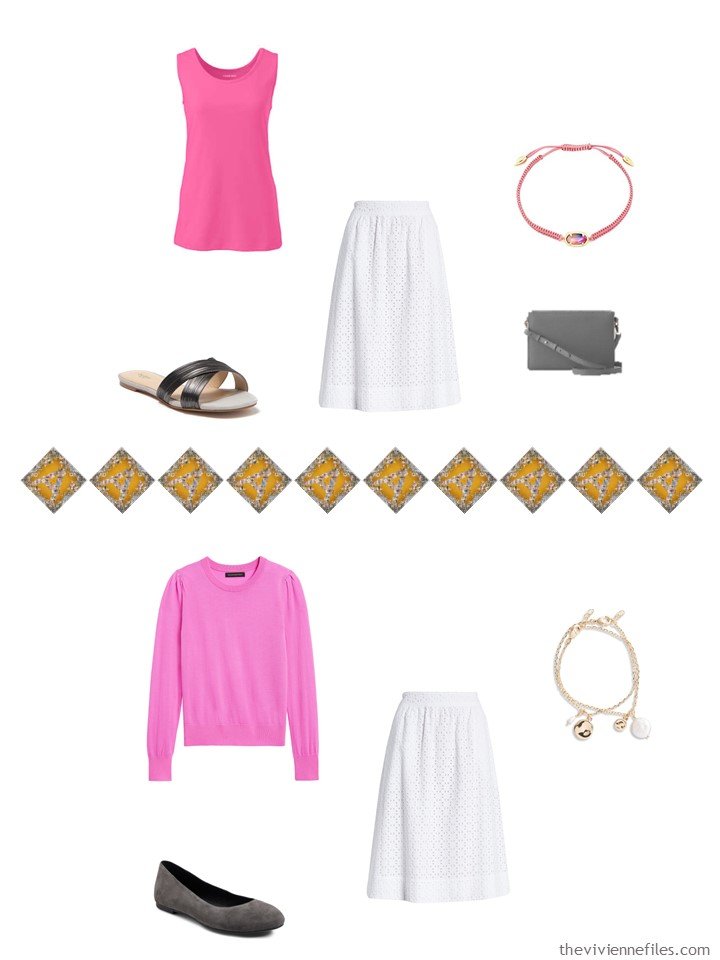 I often wonder if, in a different life, I might have ended up in a wardrobe like this next one… It's interesting to speculate about what could be different, had I made a few choices in a warmer and earthier direction, back in the day…
This heroine is having the BEST luck with necklaces…
There's still a powerful lot of green in this wardrobe, but the red bag and sandals, as well as the cool necklace, brighten things up quite a bit. Brightness is going to be an issue for the next few months, maybe?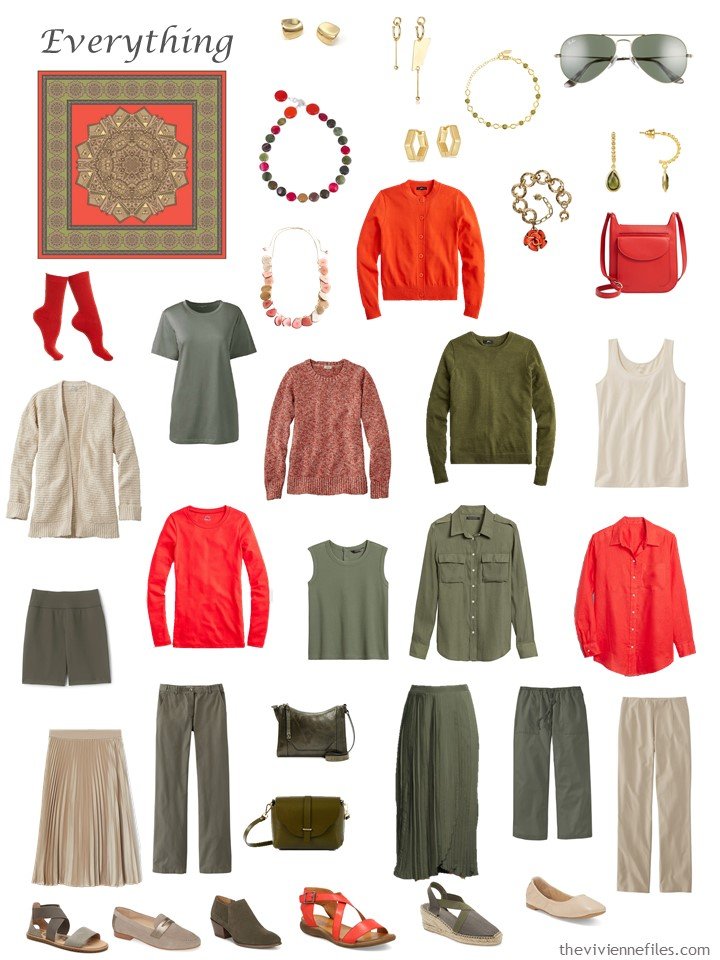 If you're determined to not invest in too many skirts, a medium-weight skirt in a darker fabric is pretty versatile – flowy and pleated enough to move in hotter weather, but dark enough to look right with dark tights and boots in the autumn…
Here again is an opportunity to use a sleeveless top in cooler weather. It's tempting to store away these "summer" tops when autumn arrives, but we might not really need to do that…. Something to consider…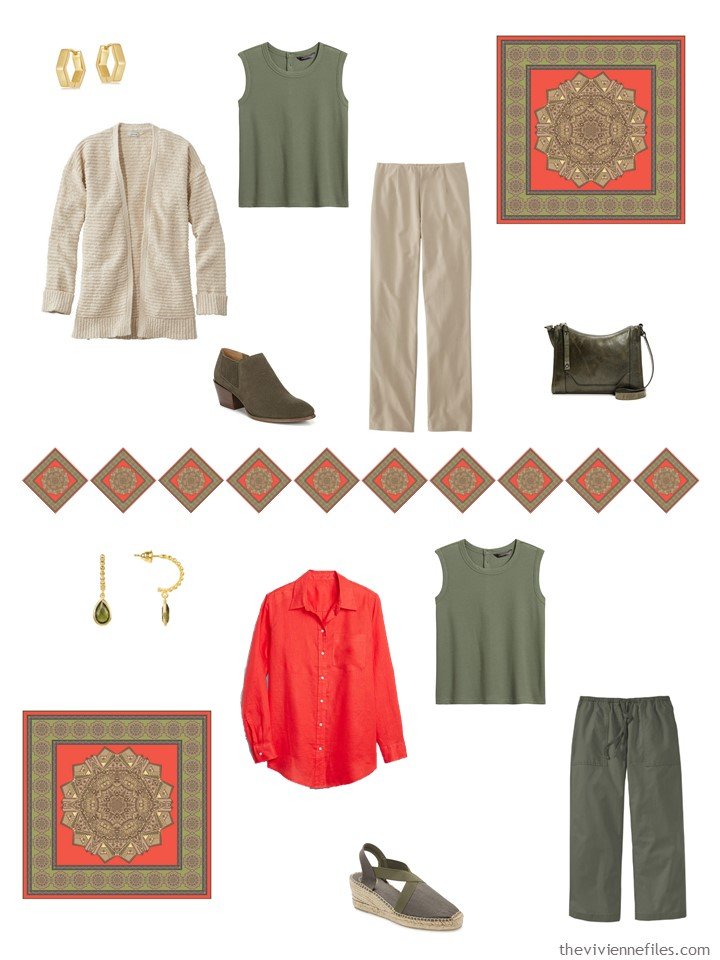 Dear oh dear…. my favorite…. not that I have a birthday coming up soon!
This heroine had, frankly, no real plan for what she would add to her wardrobe this month! When she saw the skirt, it all fell into place…
Great happiness, this wardrobe is going to need more neutrals! Next month might see an infusion of white, eh?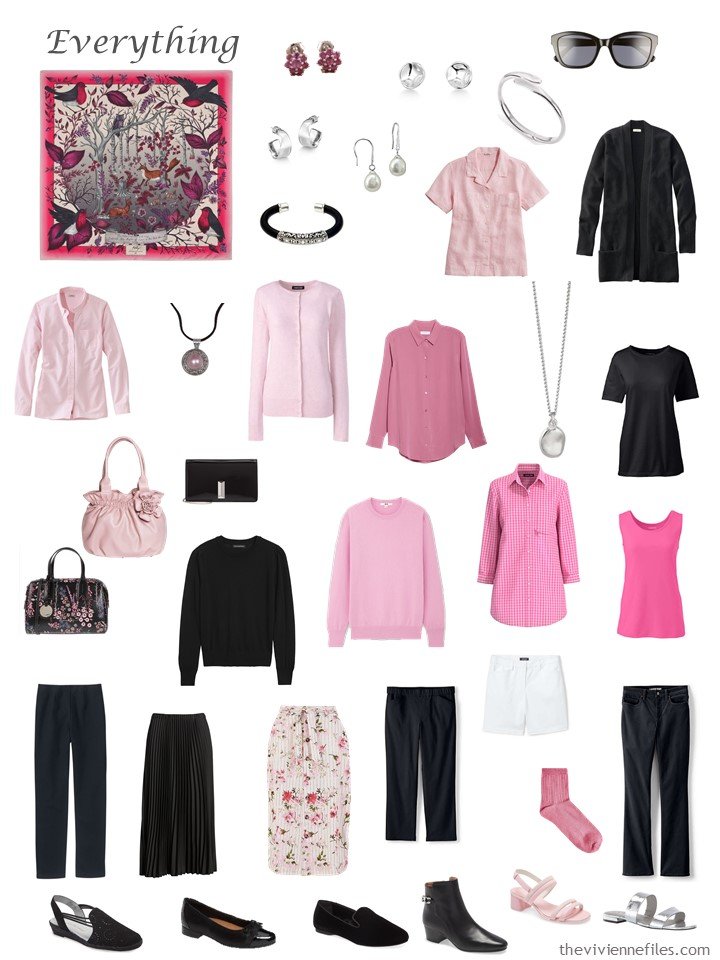 This is such a pretty shirt, and can easily be worn all year round…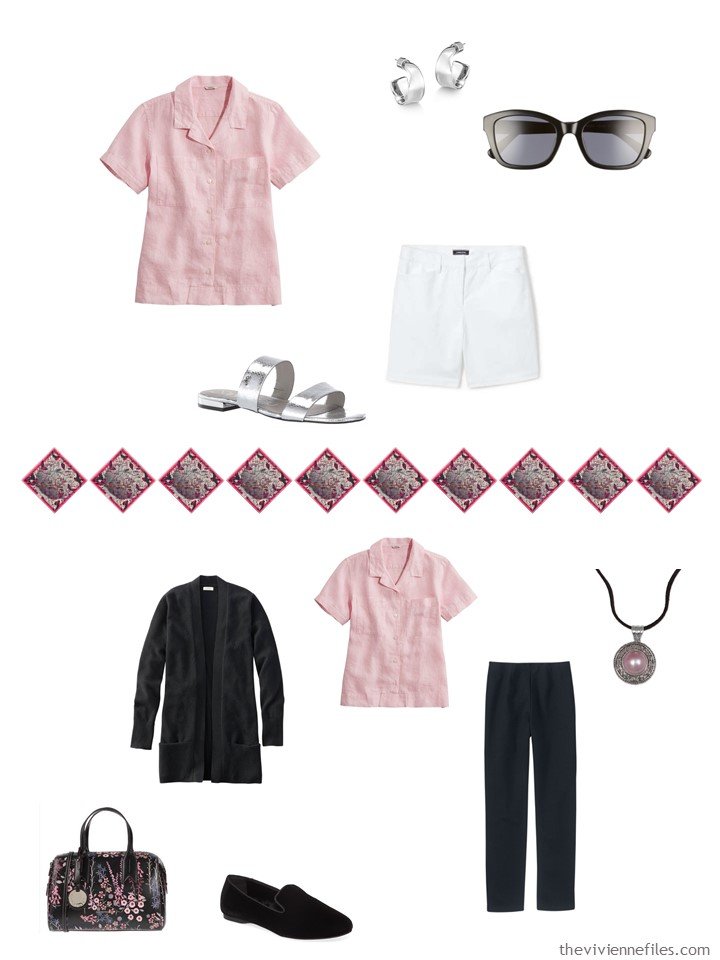 It's hard to tell from photographs, but I suspect that this skirt might work beautifully with a whole bunch of different shades of pink!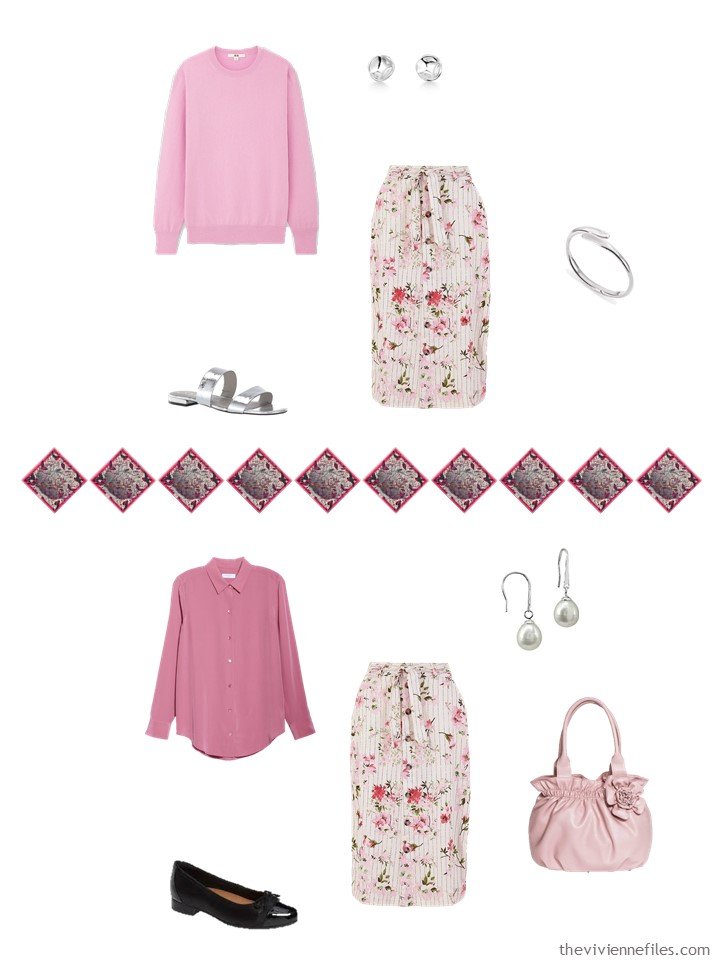 The most classic design of the scarves, and one of the most interesting color combinations!
One of the best things about these pleated skirts is that the pleats flatten out pretty much completely just below the elastic waist, so that you can wear untucked tops overs them and they are nice and smooth!
Here's another wardrobe in which I might need to reinforce the neutral colors!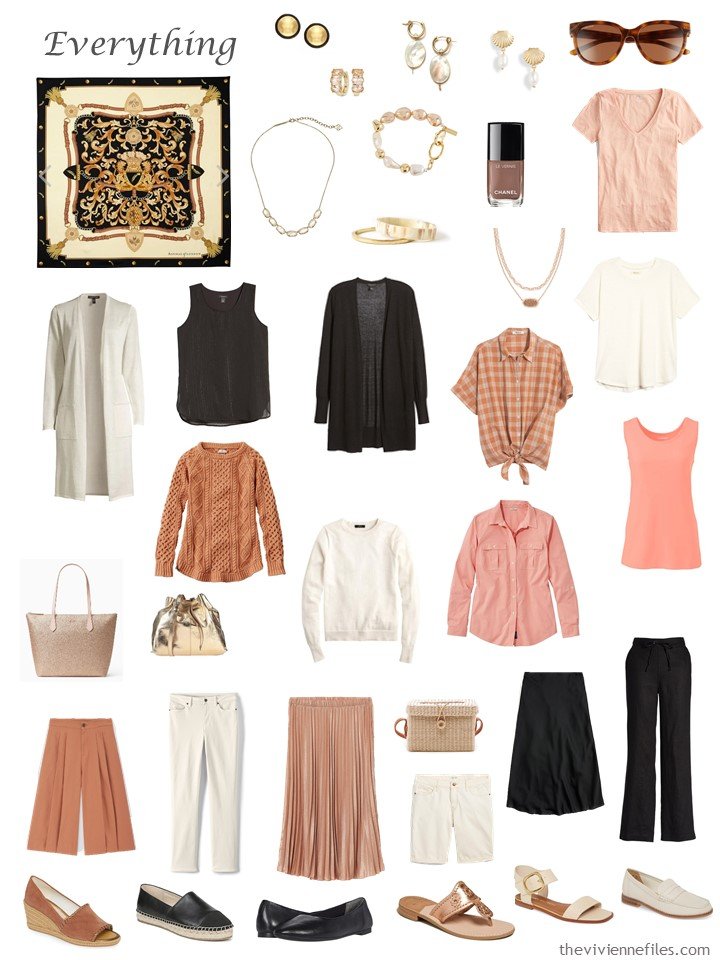 This tee shirt comes in FIFTEEN colors – and this "Flirty Peach" looks great with both of our heroine's neutral colors: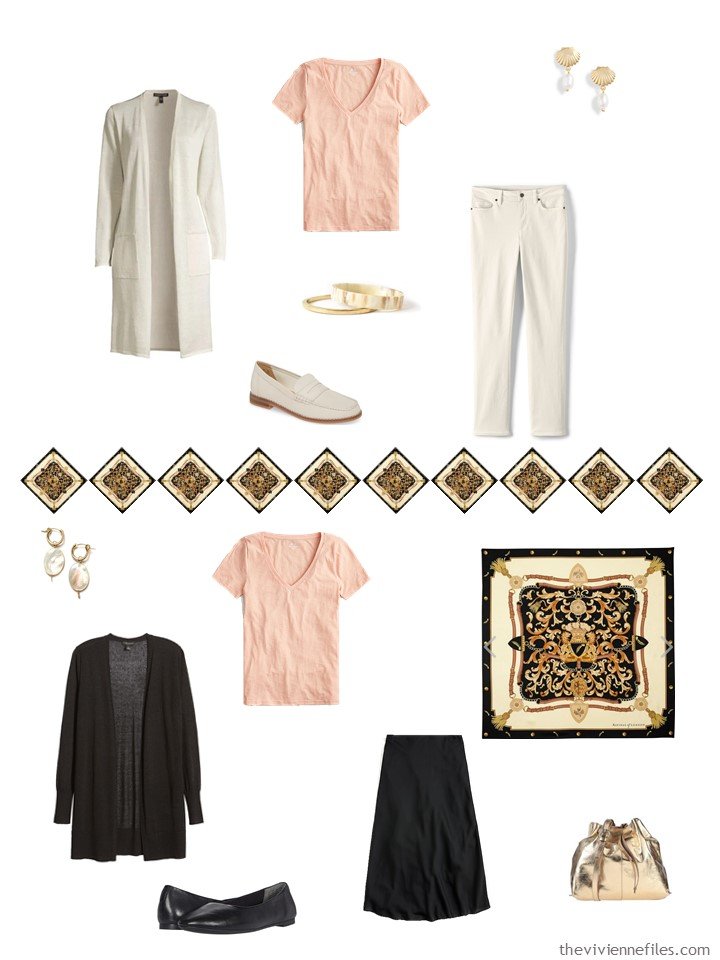 A swishy skirt in warm weather just feel pretty…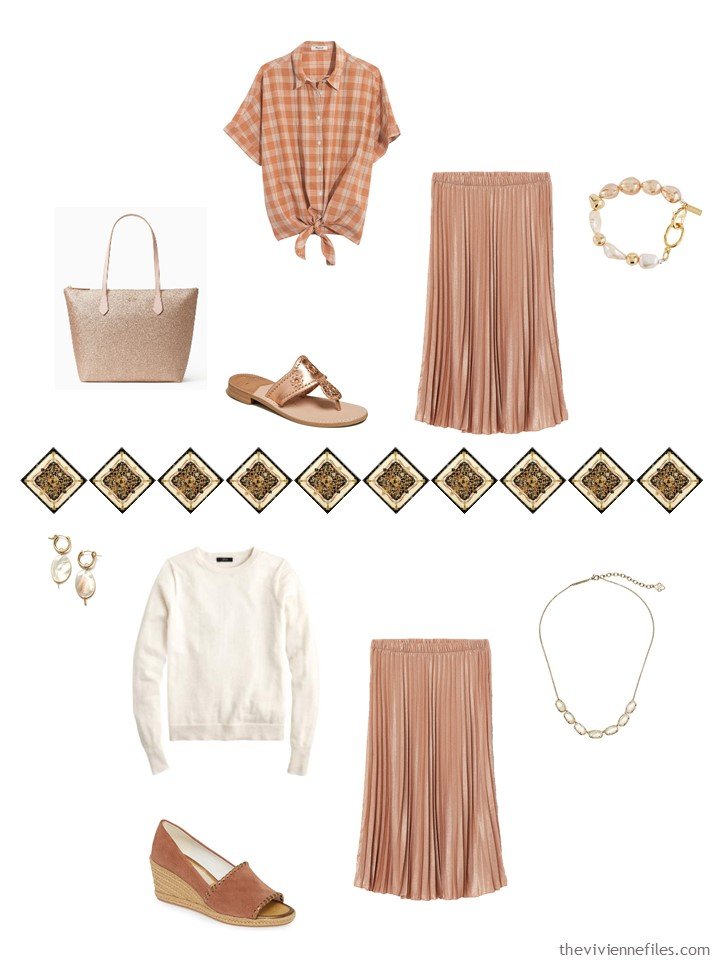 Favorite this month? I have to admit that I'm still smitten with the black and pink wardrobe, although I can't see myself wearing a pink floral skirt! Maybe I'm limiting myself…
love,
Janice
p.s. 2 years ago, we were engaged in this same exercise, with 6 different scarves! It's fascinating to see how these wardrobes evolve…