June 1, 2020
Now that it's warm enough to wear shorts in Chicago, this post feels timely! It's long overdue…
A note about linen shorts – yes, they wrinkle. Amazingly. And then… they soften up, and they're just sort of gently crumpled. I find them the most comfortable fabric for garments in the scorching weather, and I rather appreciate the natural look and feel of the wrinkling! Your mileage, as in all things, may vary…
It's pretty straightforward – for most colors – to find shorts that work well with our "Six Scarves, 12 Months" scarves:
I've ALWAYS got a few thoughts, and reminders of how flexible these suggestions are! Remember, nobody can tell you what clothes you need or should buy…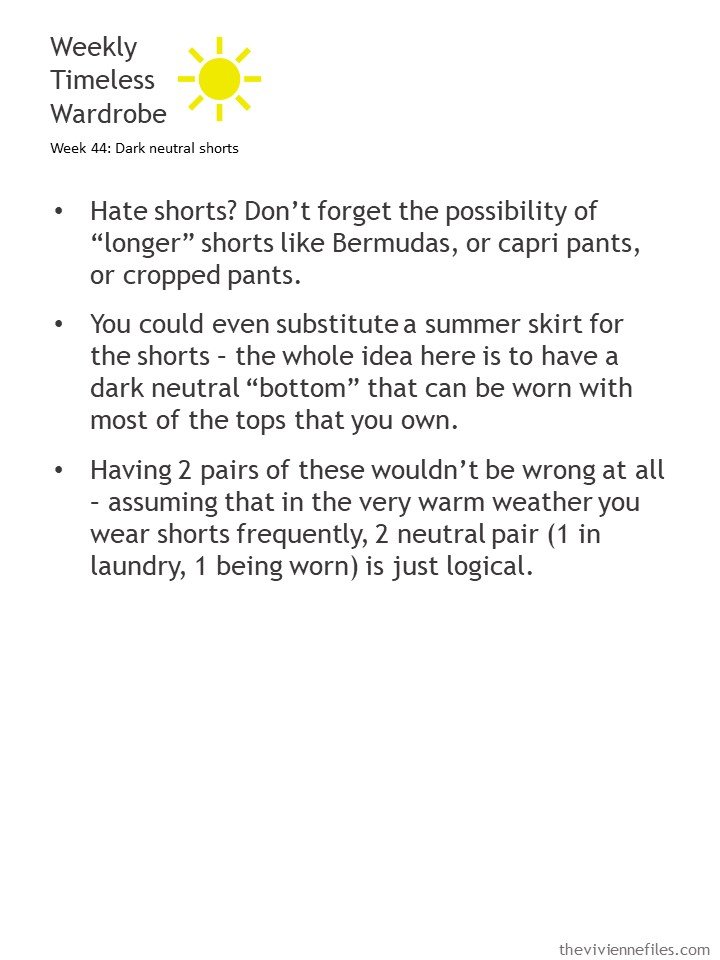 I love the look of a crisp, wrinkled linen shirt worn as a shirt/jacket. Roll the sleeves, and you're protected from a bit more sun, a lot of air conditioning, AND you can show off rings and bracelets!
Sometimes it just isn't worth hours of effort to find the perfect shirt or jacket – that's why we have white, in the summer! And a matching topper here might be just a bit TOO much mango…
Shorts and a top can be somewhat dressy – there are few places, even in Paris, where you couldn't be dressed like this for most activities. Nice earrings, a good quality cardigan and sandals, and a pretty top…
There should be more really pretty tee shirts in the world, and a LOT fewer tee shirts with silly slogans on them… Just my opinion!
It's not QUITE white, but this jacket is softly neutral enough to pull over just about any outfit. Going out for a walk but not quite sure if the evening is going to cool down? Now, you're all set!
Why not wear rose gold with black? If you like it, wear it!
This looks quite a bit like my current wardrobe, minus the 3 tops in the 2nd row. I have items in my closet that are VERY similar, so I don't feel ill-used. And I never struggle to get dressed – hallelujah for that!
Oh my…. this will get us through to the end of July, and then in August I'm going to build on some of these 13-piece summer wardrobes by adding accent colors to neutral core wardrobes. Any color requests will be entertained, if I can in fact make them happen without tearing out my (very overgrown) purple curly hair….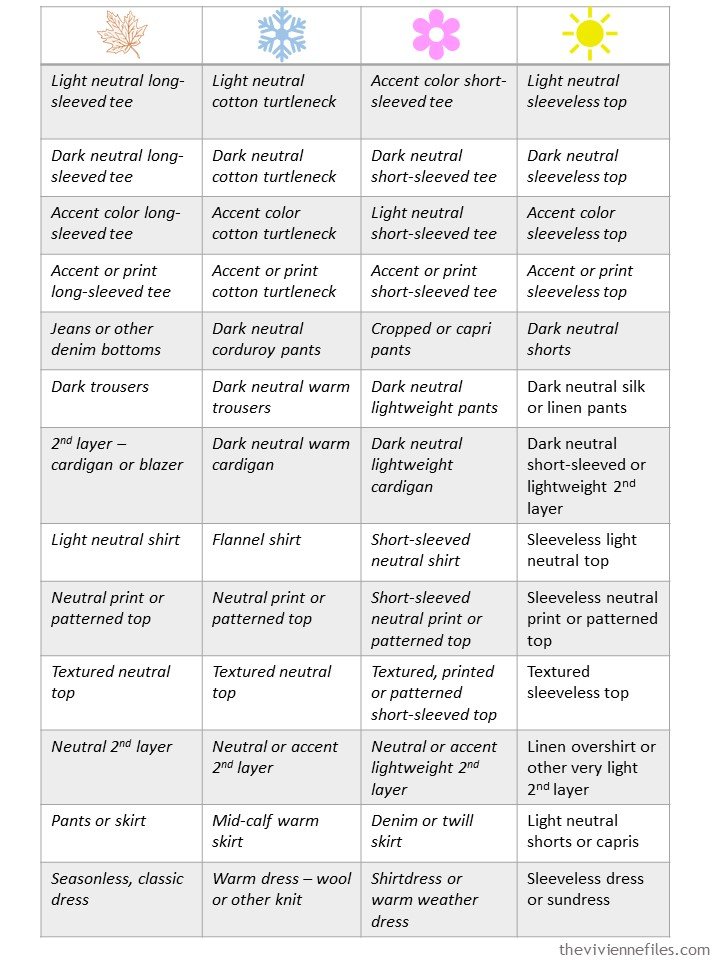 I like having a clear plan. If I had to start from ABSOLUTELY SCRATCH to build a wardrobe I like to think that I would turn to this list and make my personal adjustments, but stick pretty closet to the ideas here.
Not that I want to be doing that – could you IMAGINE?
love,
Janice
p.s. Four years ago, I was packing for a mad dash to the east coast for a massive college graduation celebration. What I packed was small, and perfect…