May 4, 2020
Holy handbags of Buddha, it feels like a MONTH since I've done a post like this! Give that it rained about 72 days in April, I'm ready to start thinking about the possibilities of warmer weather…
So today (and tomorrow!) I'm going to look at tank tops, which I think might be unsung heroes in some wardrobes. They add a dash of color, and a bit of coverage, when it's often needed…
Let's go!
Remember this timeless scarf, and palette?
For May, this heroine needs shorts! And the turquoise tank top and bracelet are perfect accents for an overall "navy suit-like" outfit. (yes, linen cardigans are insanely useful in warm weather – I have one at my mother's home, and one here!)
The turquoise is a new accent here! But since it doesn't need to match other blue tops, it's uniqueness here is a benefit, not a problem: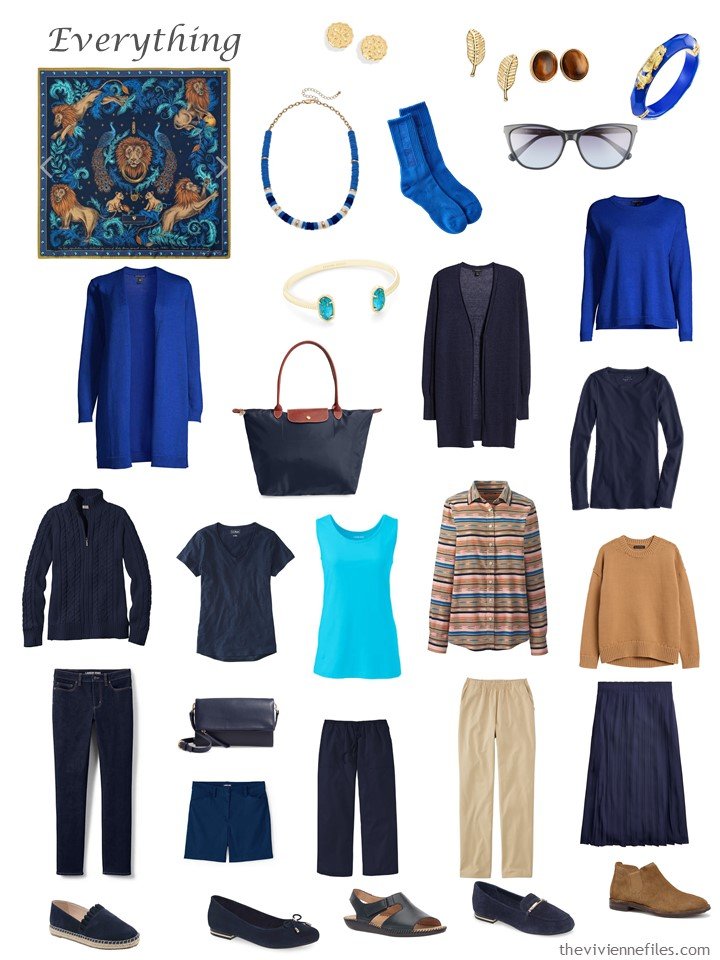 As always (if we're doing this properly!) there are lots of new outfits possible with the addition of 3 garments. The tank top here is particularly useful because it brings a new accent color into outfits that are for cooler weather. Think of them as long underwear?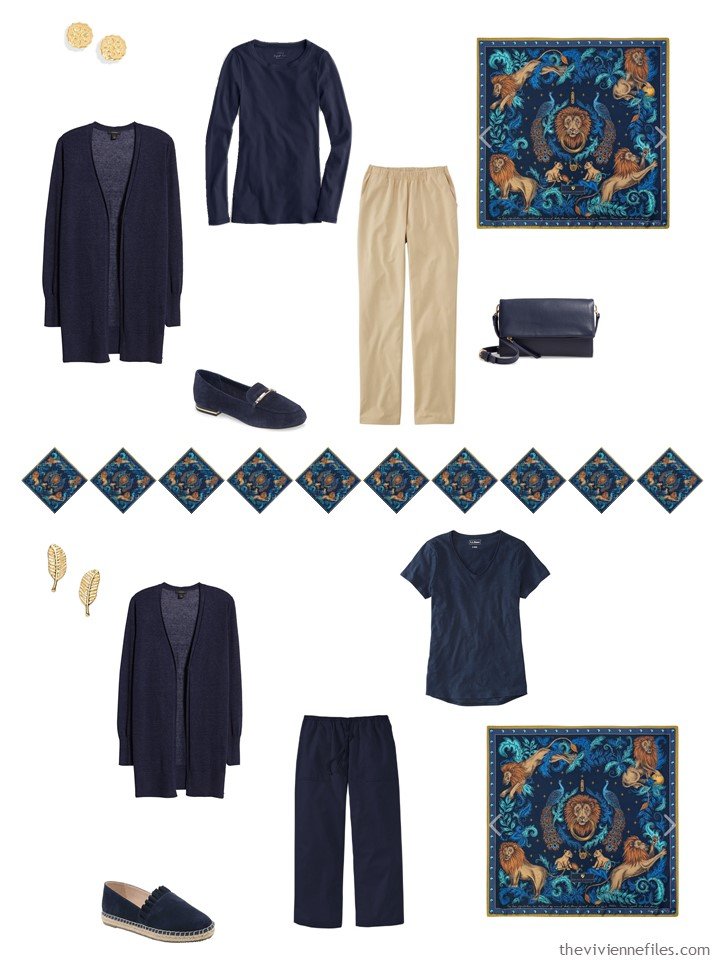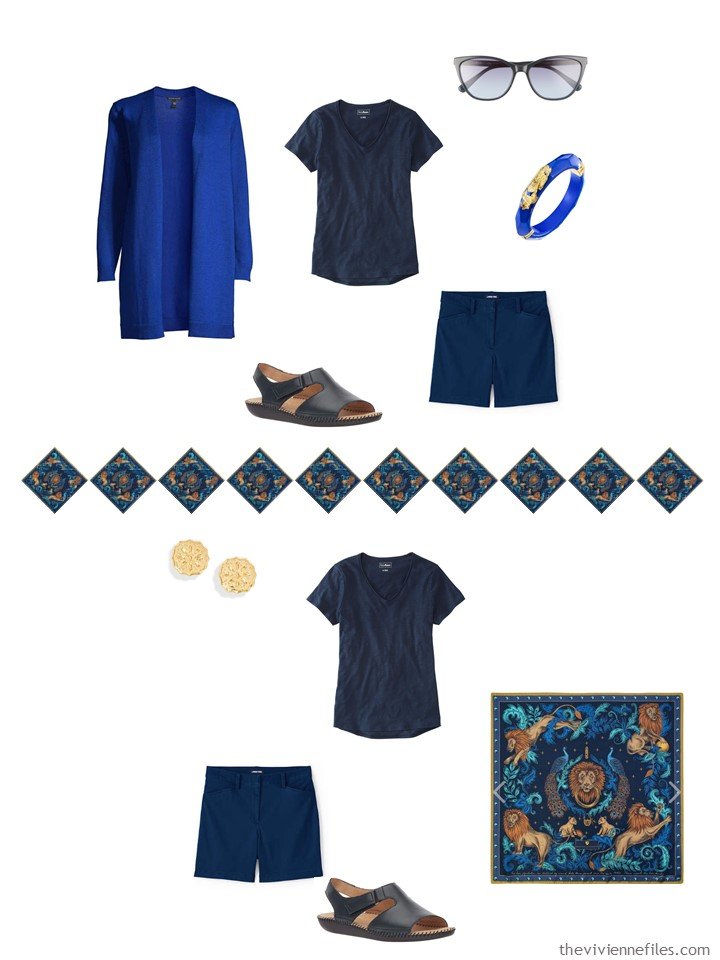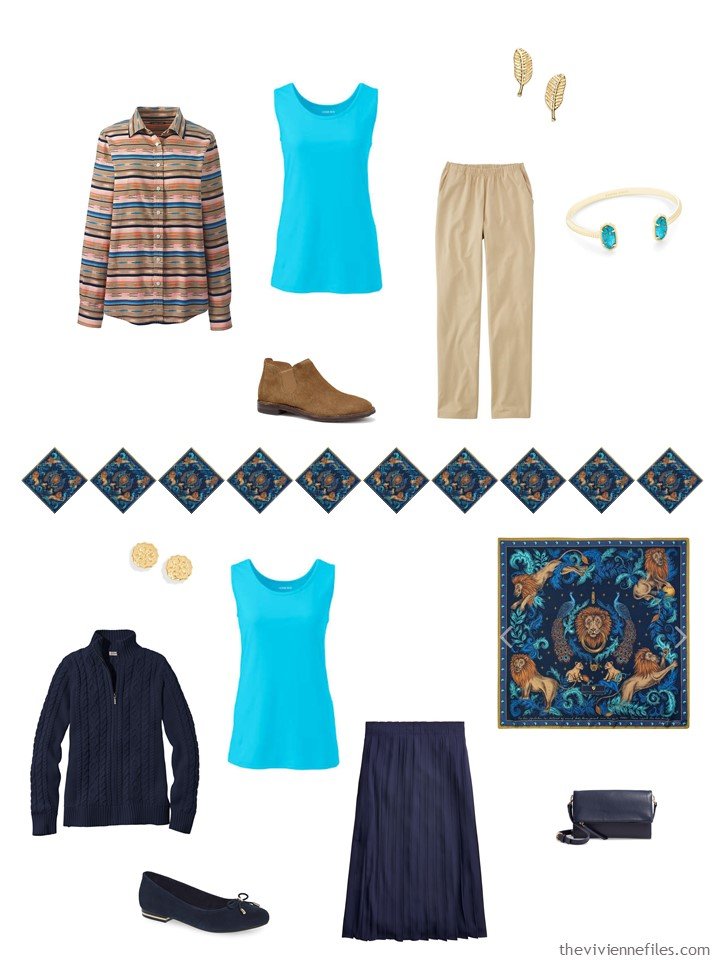 I still really love this soft color combination, although I already feel as if the mint green color has vanished from the marketplace!
I would have LOVED to include a mint cardigan, or linen shirt, here, but it wasn't to be. So instead, I managed to find mint-accented SANDALS!!!!! and a pretty bracelet…
I wonder how I would look in these colors? (just kidding, I think…)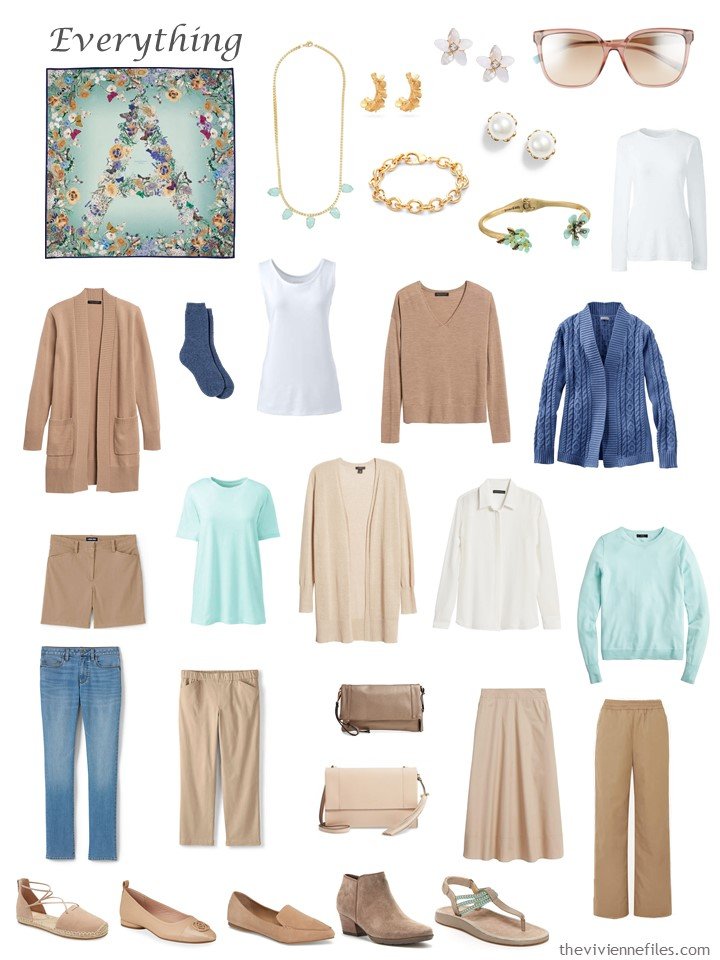 I love these; good thing I'm not completely starting from scratch…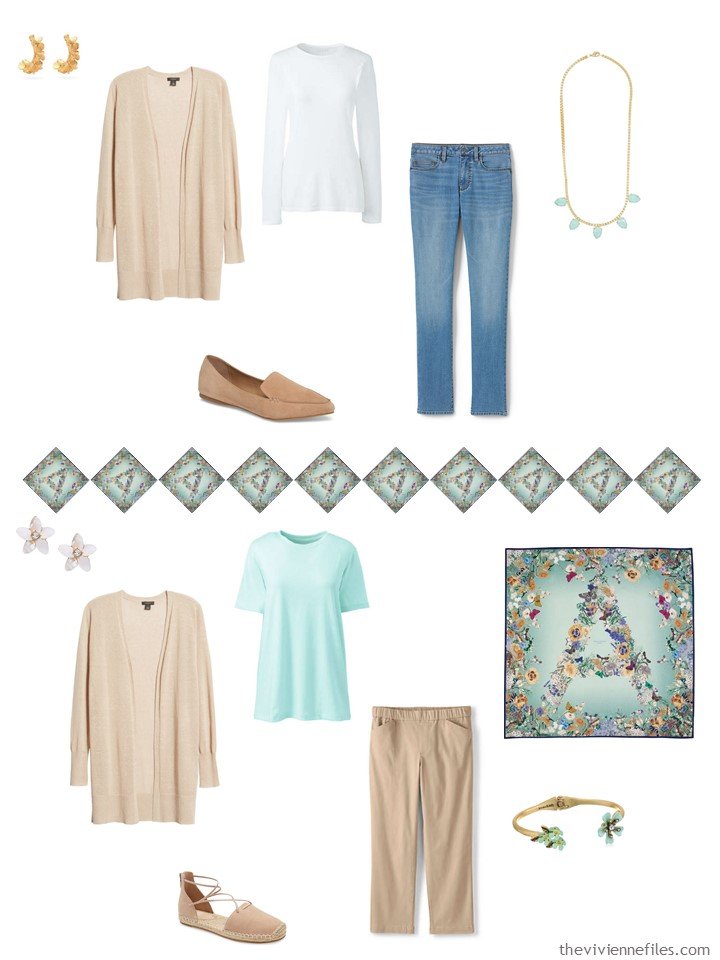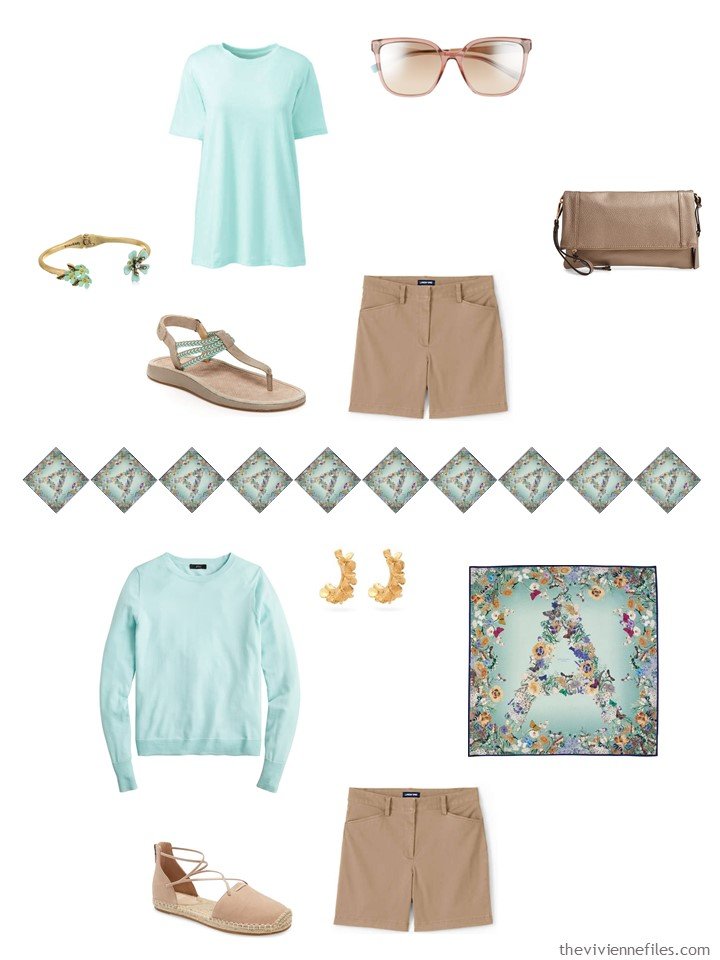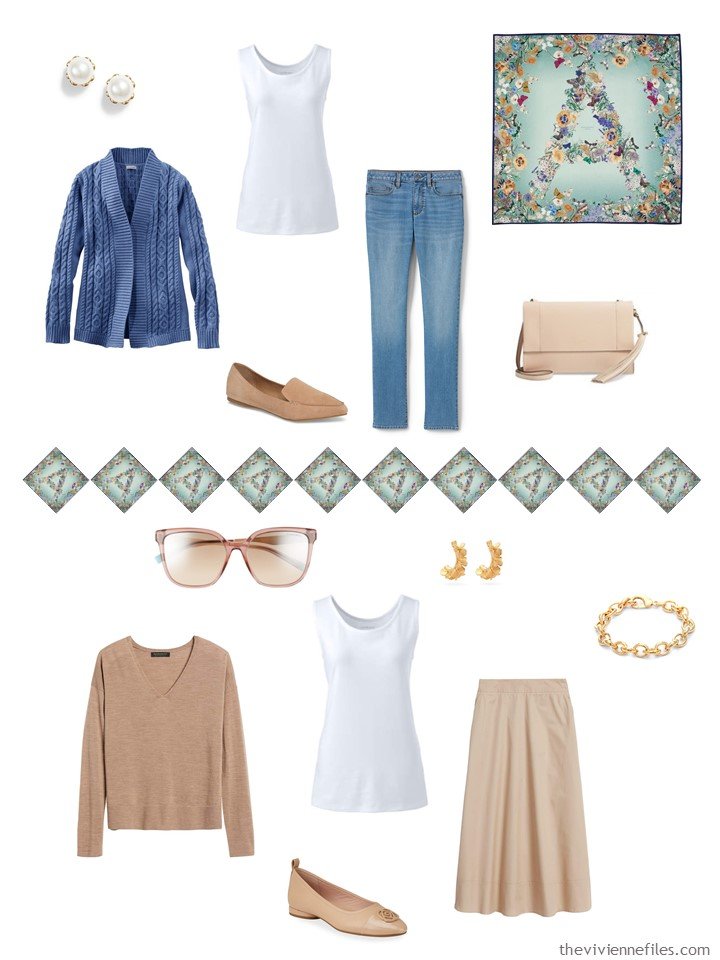 Ah, here's this somewhat… unusual scarf and color combination. This wardrobe continues to remind me that there are color combinations that we've never dreamed of, that will work well with a bit of thought and discipline!
There is, indeed, a bit of pink in this scarf, and a touch of blue too, but I'm going to stick with 2 accent colors, for now. I might even change this color palette wheel to include the pink and remove the tan that I don't appear to need! How things change… (there's an understatement, eh?)
This wardrobe gives a heroine 3 clear color scheme options:
all grey (or grey and white) for days when you're in a monochromatic mood, or when you want your accessories to get all of the attention;
mustard and grey, for when you're feeling bold! and
pink and grey, when you want to bring some prettiness into the picture…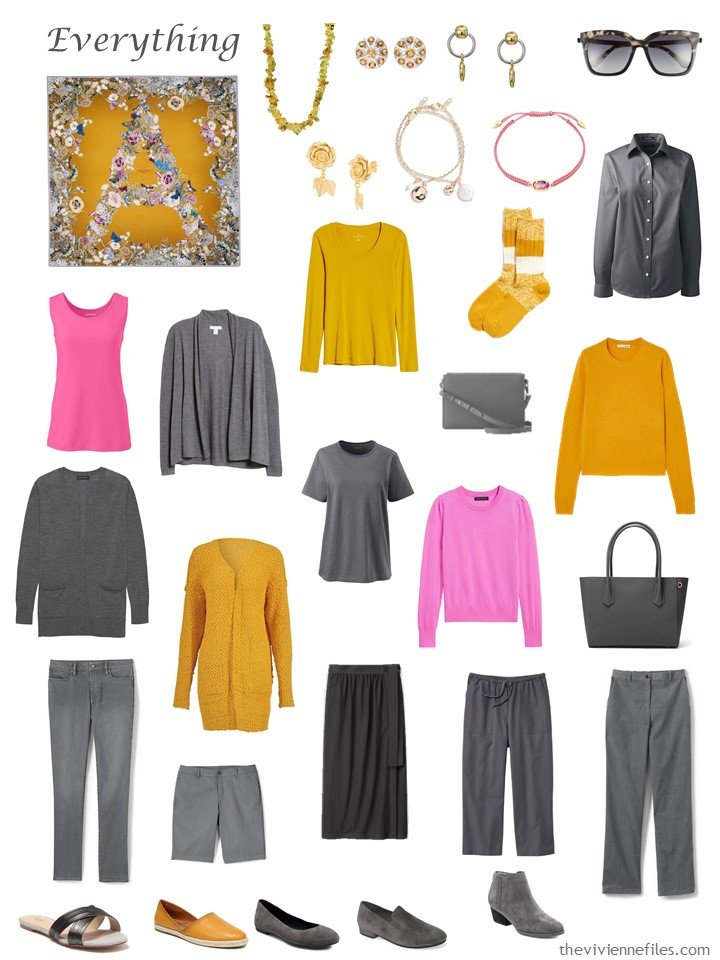 Here's a case in which the tank top can be worn into quite cold weather, on those days when you need some color in your cheeks!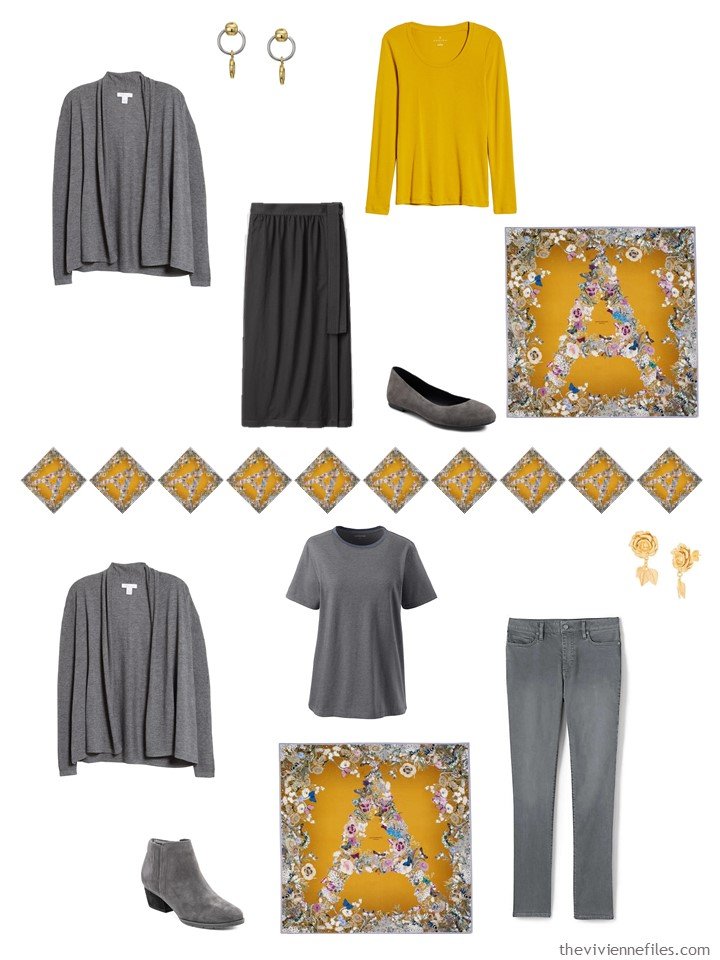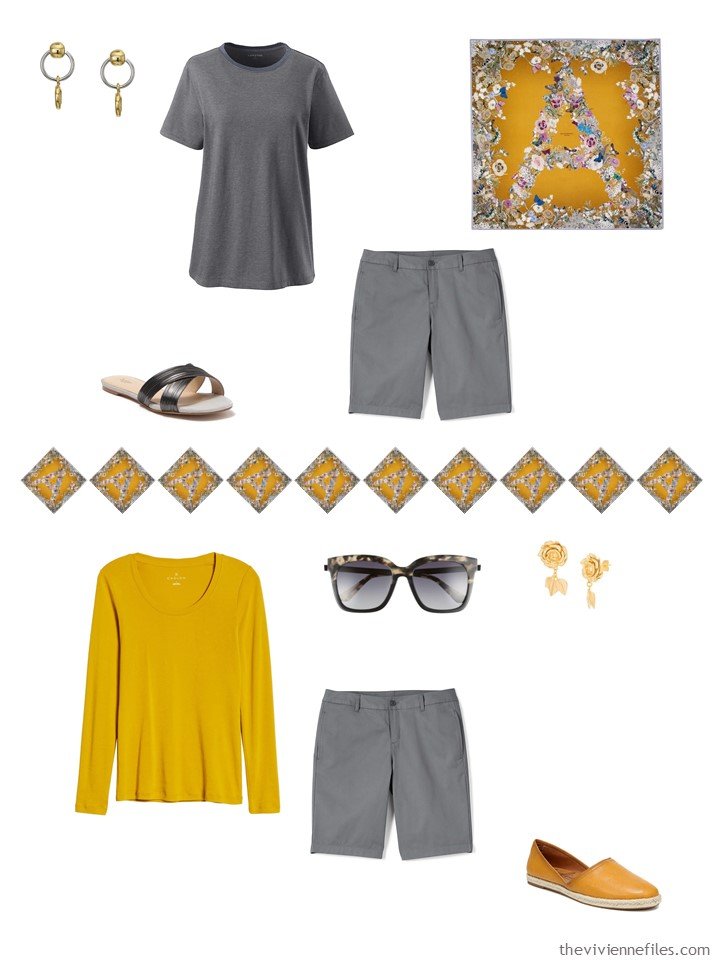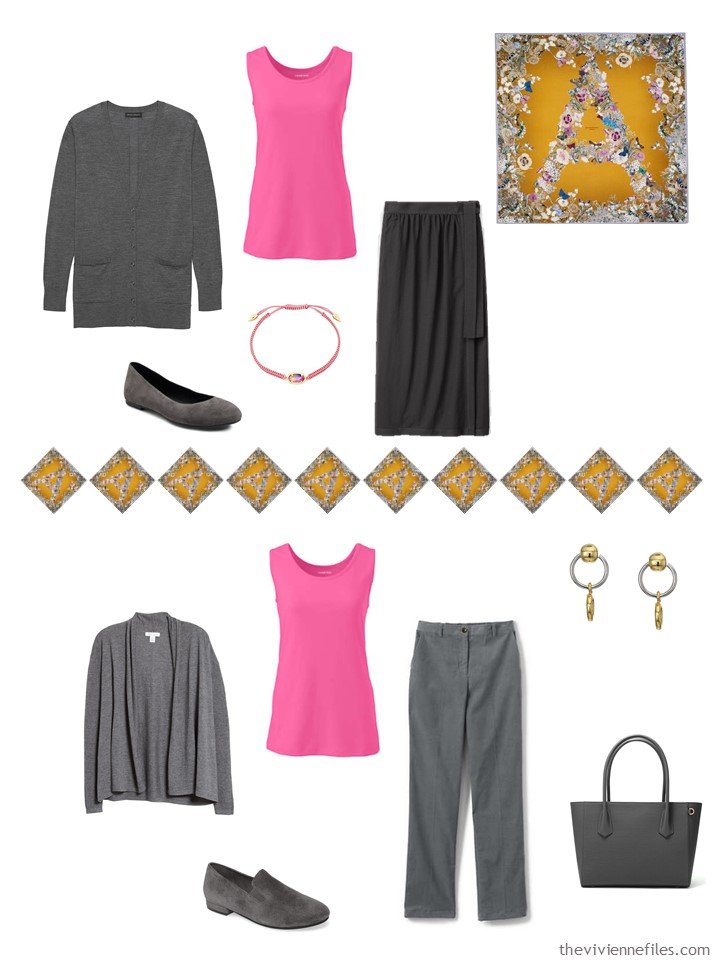 These colors are classic…
Oh this shirt is perfect! (some days, the small victories make it all worthwhile…)
The shirt offers so many new opportunities! Well, all 3 pieces are mighty useful, but the shirt just makes me smile…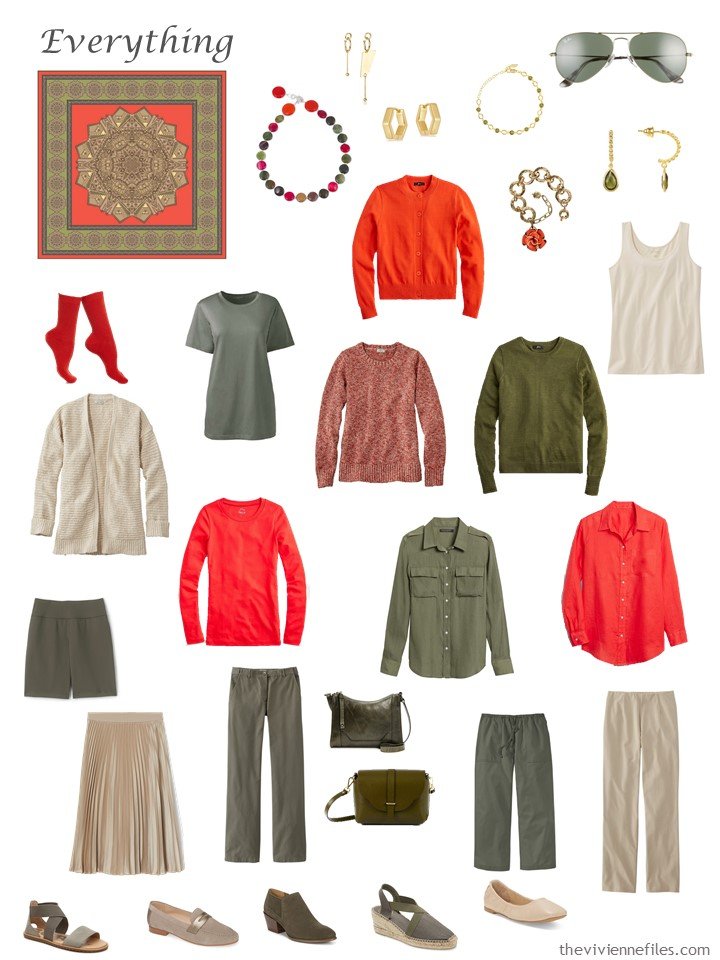 So many ways to get dressed – this would be so nice for travel – if you wore 3 garments to travel, you'd have 11 to pack…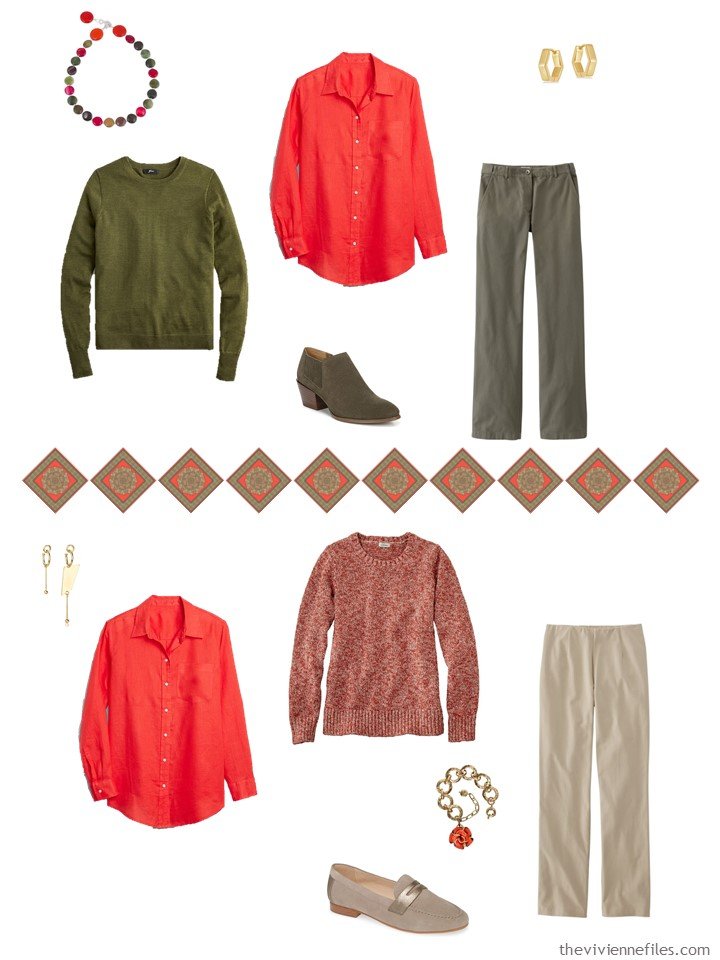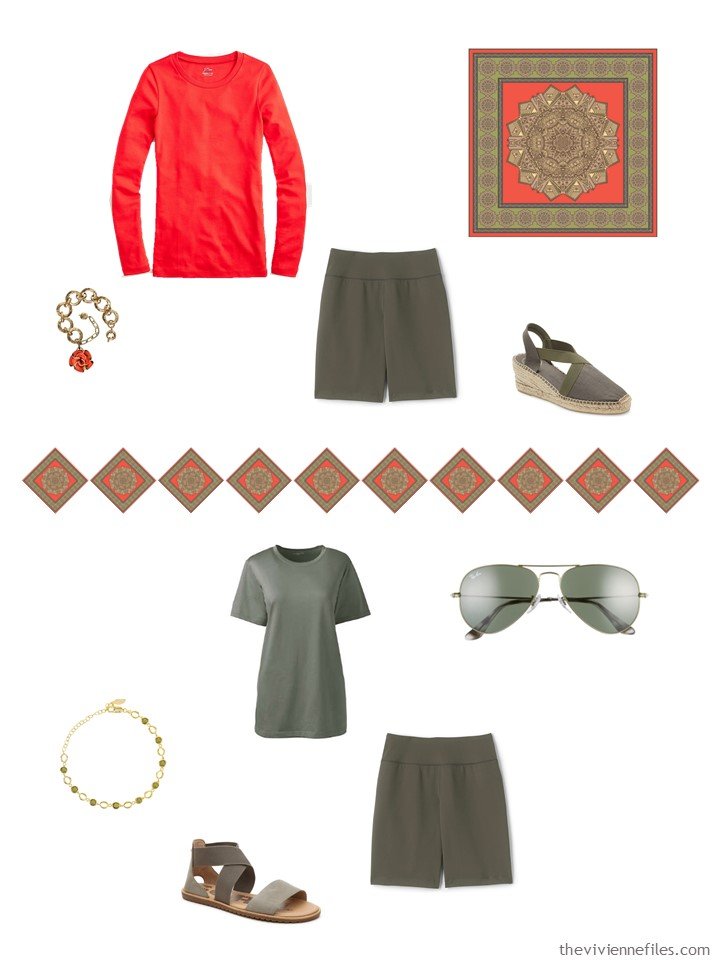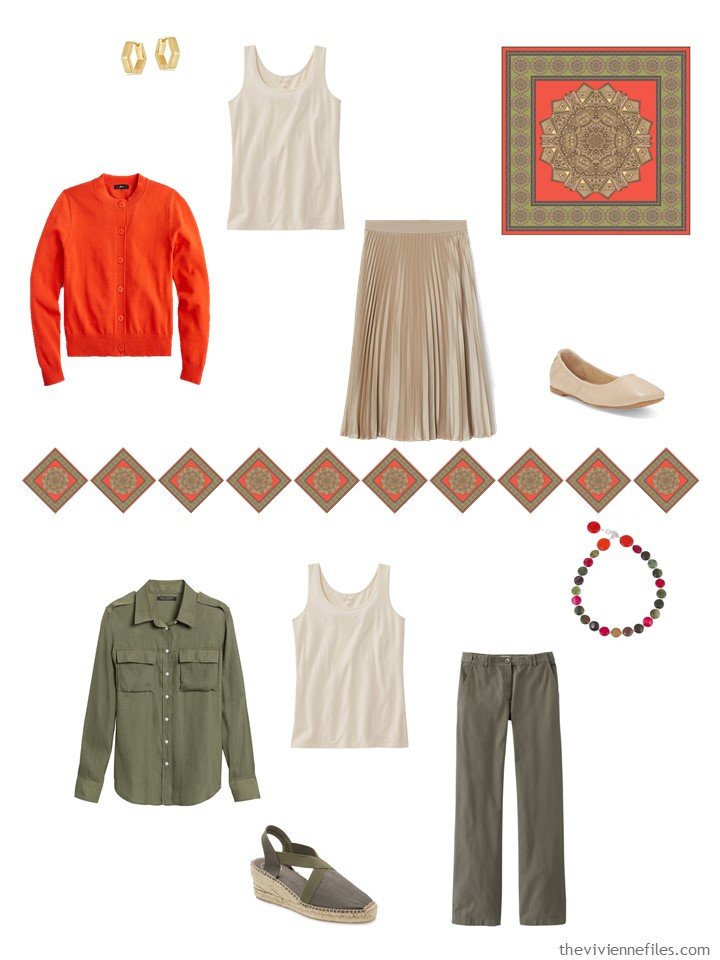 How about some pink and black and white???
Yes, the tank top and tunic are the same color; if you see a color you like on a website it's wise to search for that color on the site to see what else might be useful – you might find something you like better! Or just find another garment that makes your first choice a ton more useful…
These new shades of pink are brighter than the earlier garments in this wardrobe, but unless you plan to layer them all together they don't have to match. And you can always wear colors that tone together – look up the term "camaieu" in French. It means dressing in (or otherwise combining) shades of the same color…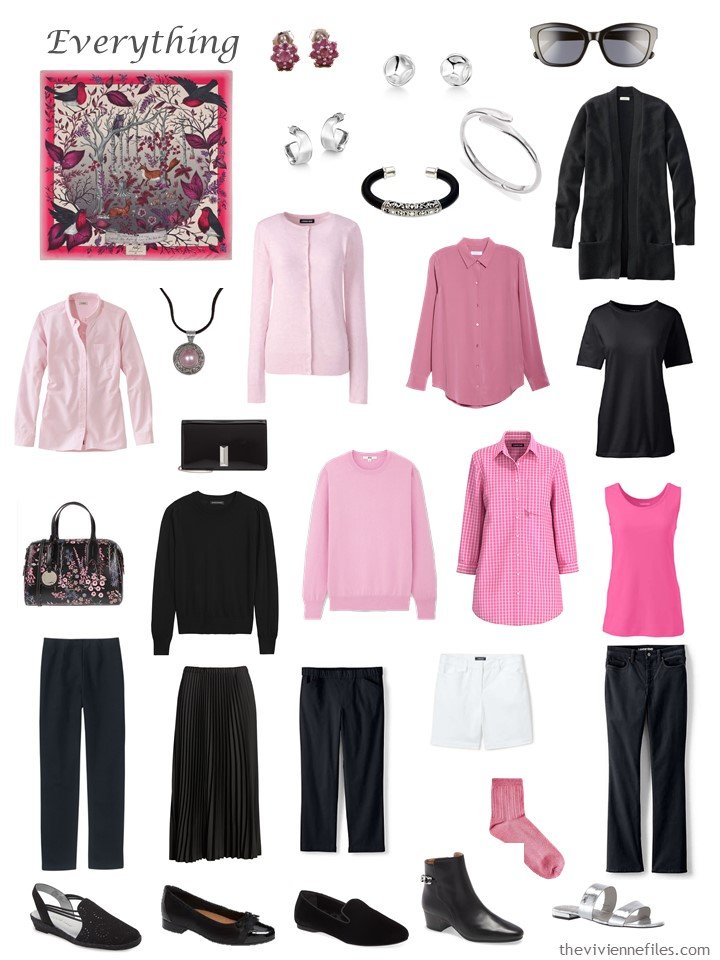 Give me this suitcase, and a wad of cash, and wave goodbye…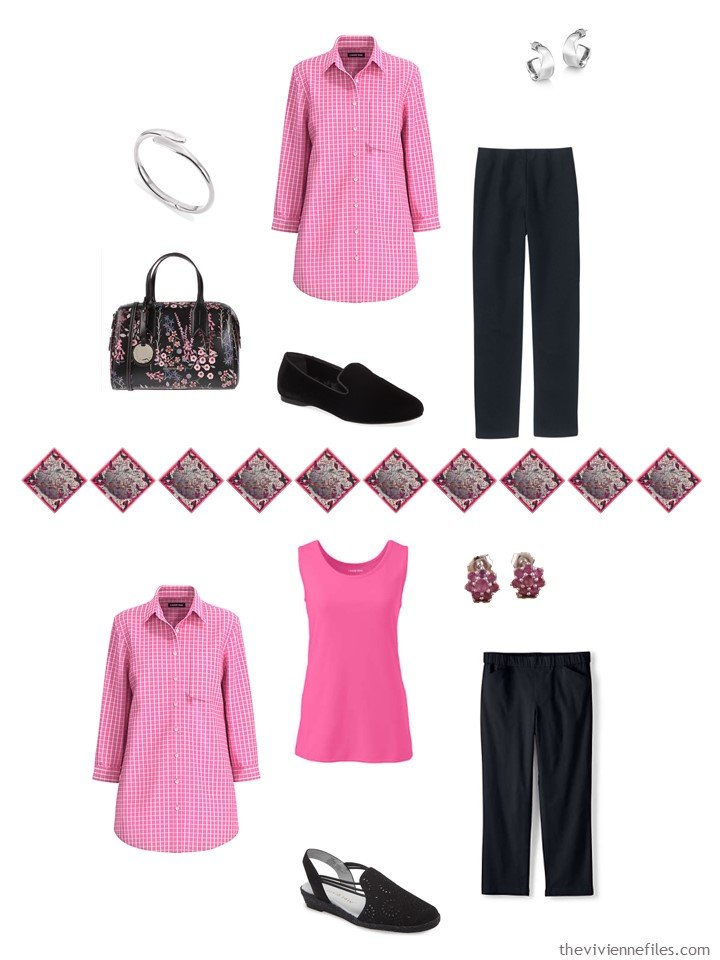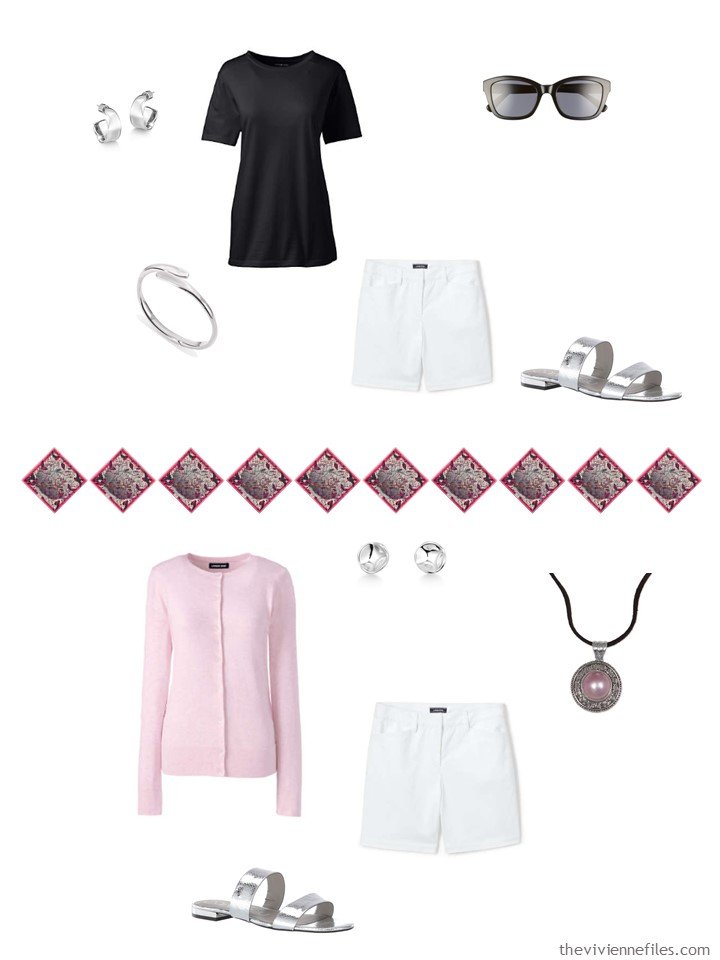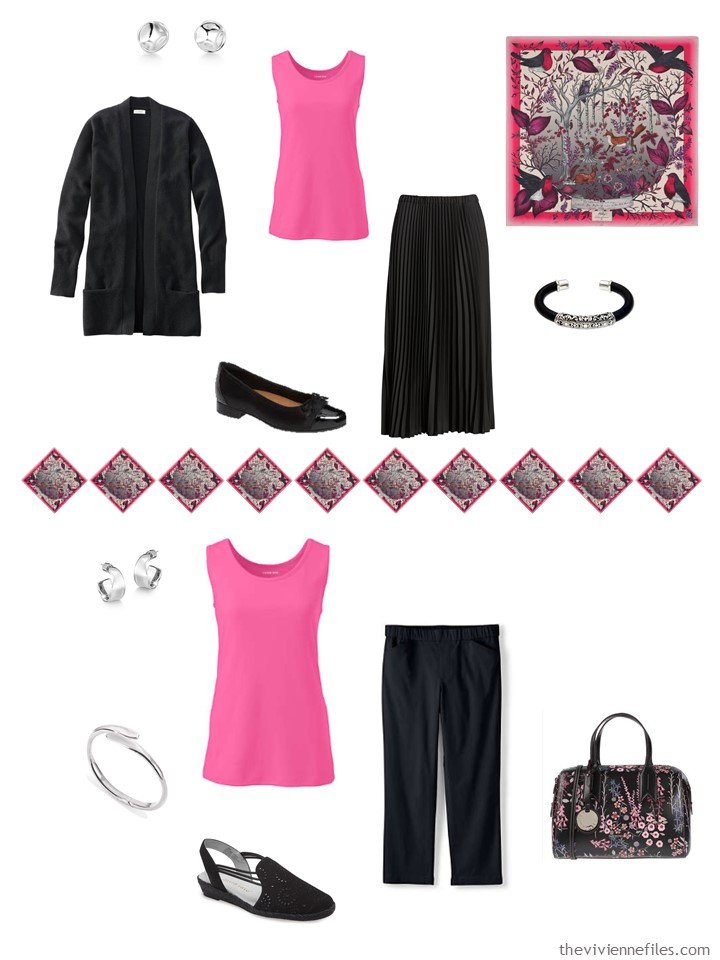 This last palette has gone through a bit of a change in emphasis – I could indeed build a wardrobe in bone and black, with tiny touches of rust or that other soft cocoa brown color. They would have to be tiny touches, because they're tough colors to find! But a shade of that rust – a bit softer – blends well and is readily available for warm weather.
Oddly enough, these 2 tops are NOT from the same place…
The new tops make this entire wardrobe feel softer and summer-ier. Is that a word?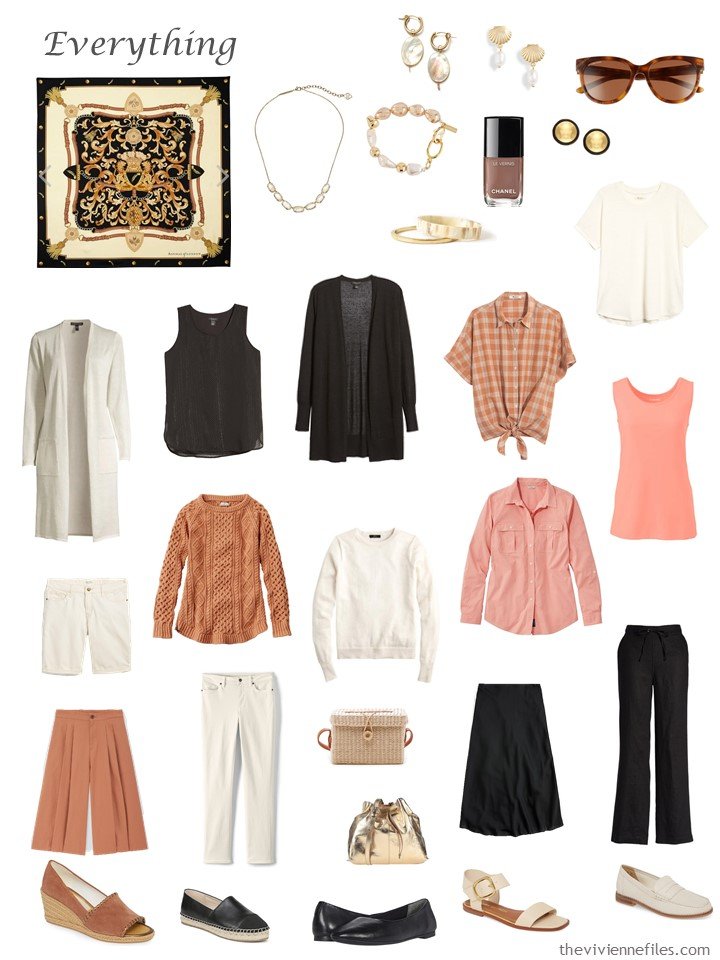 I love the way outfits come together: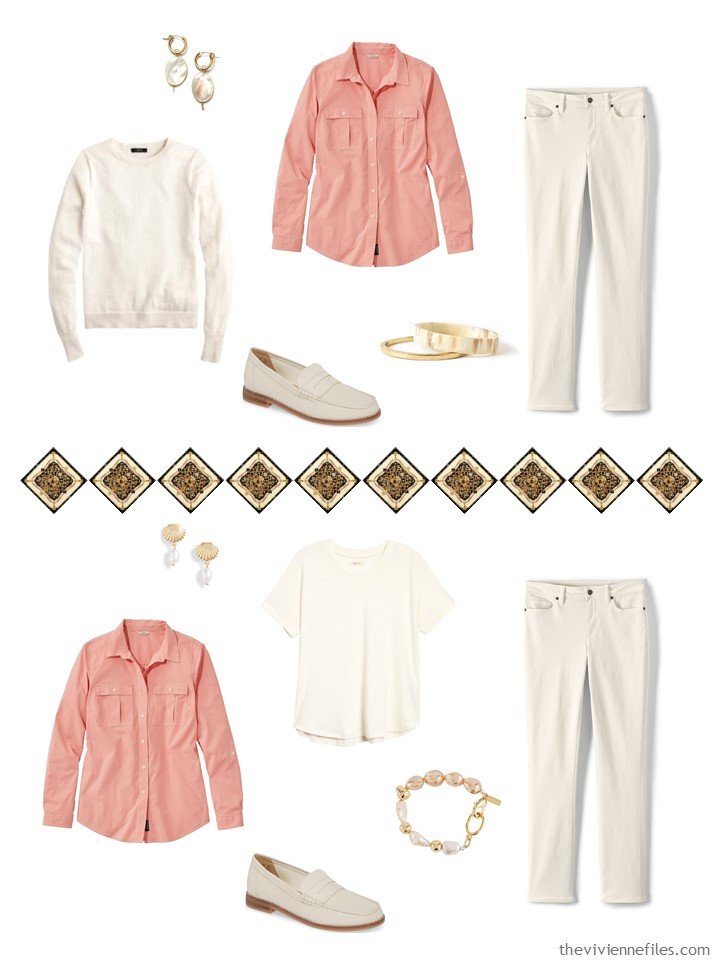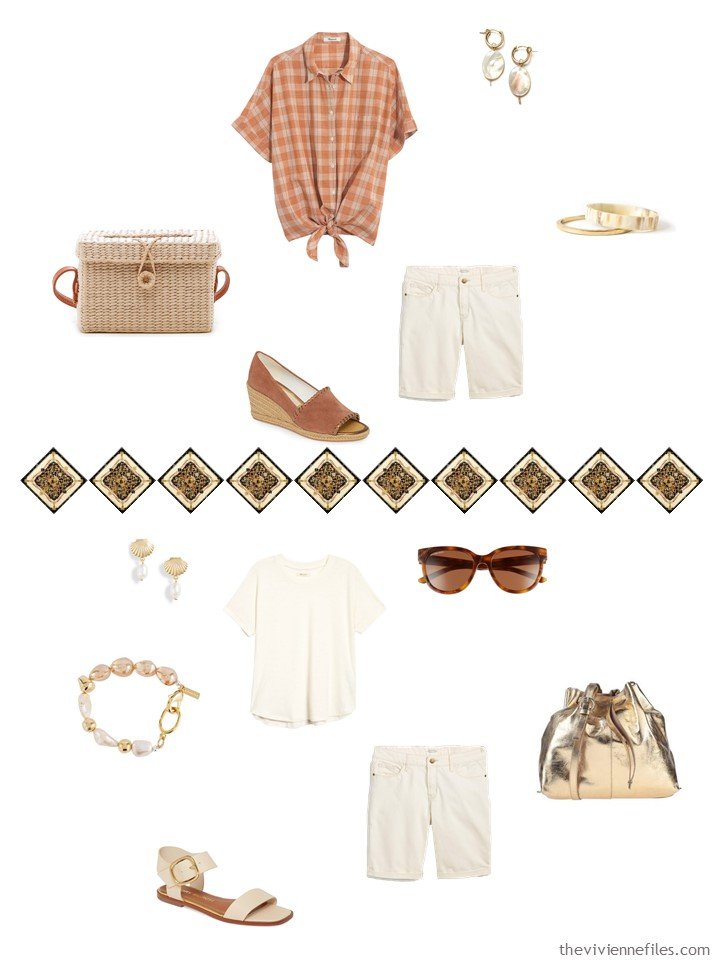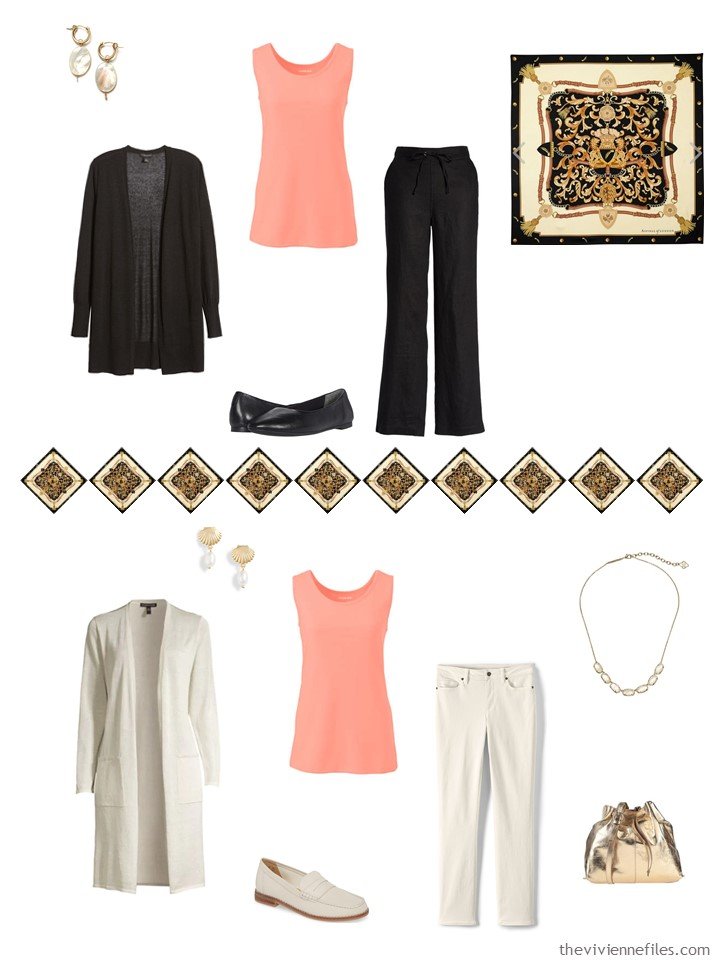 Now that the 18 month-long April is over, are you ready for warmer weather? I'm getting there…
And which wardrobe this month? I'm still smitten with pink and black, to nobody's surprise!
love,
Janice
p.s. Just last year, we were starting with Georgia O'Keeffe, and Starting from Scratch in black, brown, grey and pink. I'd completely forgotten this one!