May 5, 2020
Yesterday felt like summer; does that count?
Today feels like autumn… sigh…
But lets prepare for warm weather – we all know that it's going to get here eventually!
Every summer, I buy at least 1 or 2 of these, to take the place of the ones that I wore to PIECES the previous year; I keep these in my closet all year, because they are great under winter clothes too!
As always, I've thought of a few things to keep in mind as you consider your summer supply of tops: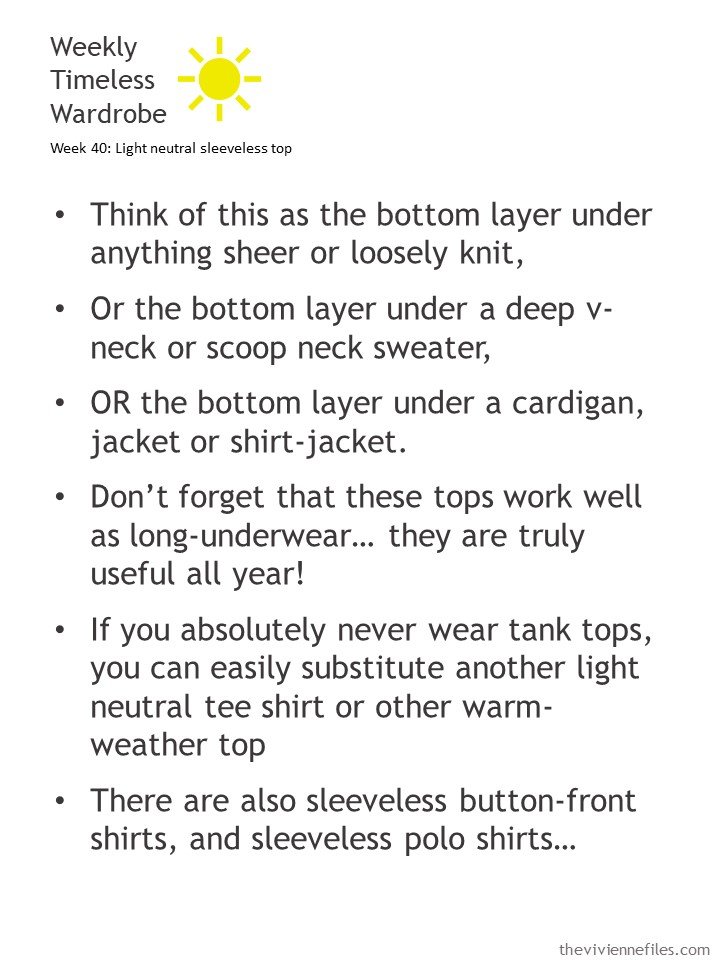 These outfits all appeal to me right now; maybe it's because I'm inside, and maybe it's because we've only had intermittent 1 day periods of nice weather!
And as always, accessories seem to make a LOT of difference! I know you're shocked…
Even though these are outfits for warm weather, the jewelry, the tank tops and the shirts or sweaters shown would all be extremely useful through the cooler weather. This makes it much easier to buy nicer things – you know you will get good value for your purchase!
Don't forget – when you're building a wardrobe around colors that are difficult to find, you can always blend colors rather than match them! It's hard to get away from that feeling that things must be perfect dye-lot companions, but it makes life much easier…
If blue was my neutral, I'd grab this scarf and shirt immediately! Imagine this shirt and scarf with a navy cashmere v-neck and dark-wash jeans…
For many of these outfits, you could substitute a long-sleeved tee shirt for the tank top, and pants for the shorts… And loafers for the sandals, of course!
Cardigans do NOT have to have long sleeves!
The 13-piece wardrobe looks only vaguely changed – I would of course hang onto that white tee shirt that was removed, if I were in fact going to pack this ensemble or wear it for the upcoming summer…
For your reference purposes, here's the list of all 52 garments; I'm thinking of using this as the framework for a book? Hmm….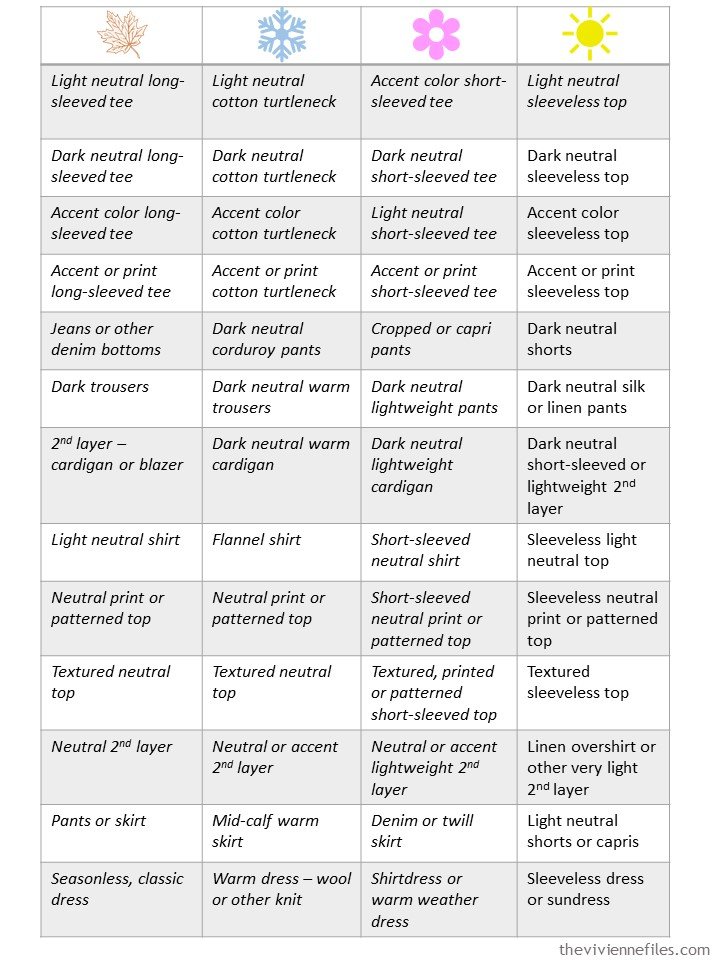 This morning, I got up and put on gym clothes. My trainer gave me an "at home" routine of exercises to do, which includes a half hour of dancing every other day! Is there any wonder I think he's brilliant?
love,
Janice
p.s. Seven years ago, someone asked me for a navy and hot pink wardrobe that wasn't "stodgy." She was pleased, would you have been?