May 6, 2020
The Need for Zest…
She's doing fine, really. But she does acknowledge that only being able to go outdoors every few days, in a mask, hurrying to get errands completely and back to the safety of her home, has caused her to feel… muted.
Not that she doesn't love her grey and white core wardrobe! But the need for a bit of zing, a touch of excitement, or the jolt of an unexpected color, is beginning to be felt in her heart.
So when she saw this, she was smitten!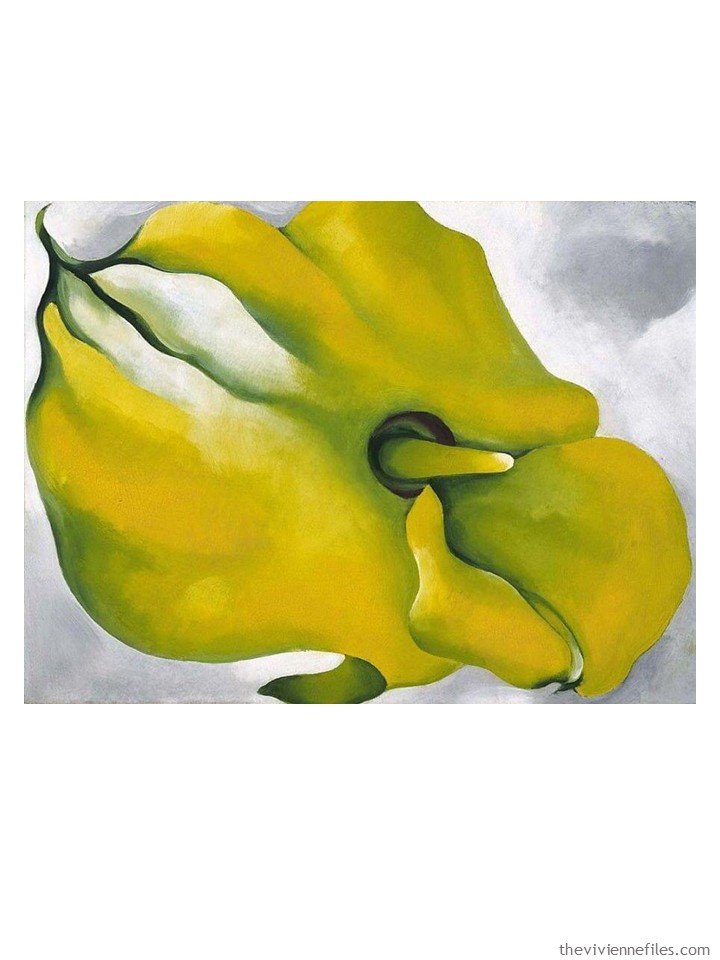 It wasn't too difficult to distill her spring and summer color palette from this gorgeous painting: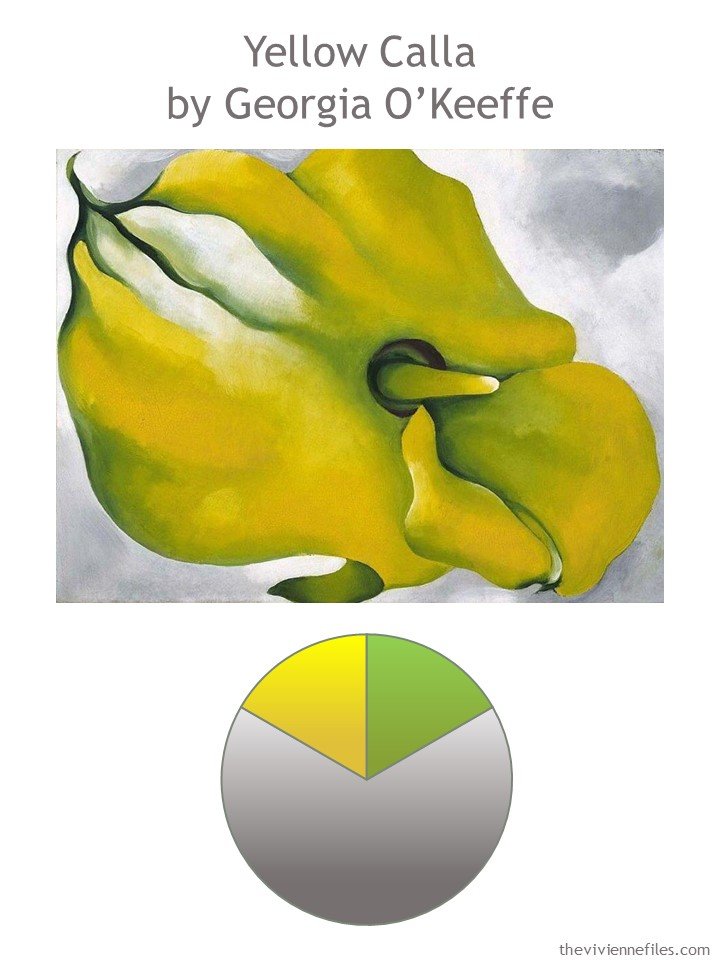 She's going to indulge for warm weather, this year. She still has to be on a camera conference call at least once a week, and she often has to stand up and present the status of different groups, on the huge project chart which now lives in her living room. (you'd have to work there to appreciate how nutty they really can be…)
But she is going to be smart, and anchor her "flight of color fancy" in a core of neutrals:
Of course, let's note that the yellows and greens don't have to match, if they're not going to be worn together. Matching would be great, but it's certainly not essential.
After much consideration, she treated herself to these cheery choices:
Yes, skirts! Since she discovered that she could wear something under her skirts to make them more comfortable, she's learned that they're every bit as comfortable as shorts or cropped pants.
And since she's going to be on screen in front of her entire department, she's going to dress us sometimes; let them think that she's dressing up every day for work!
When everything was hung together, it felt as if the sun was shining in her closet! She could have sworn that it smelled faintly of lemons…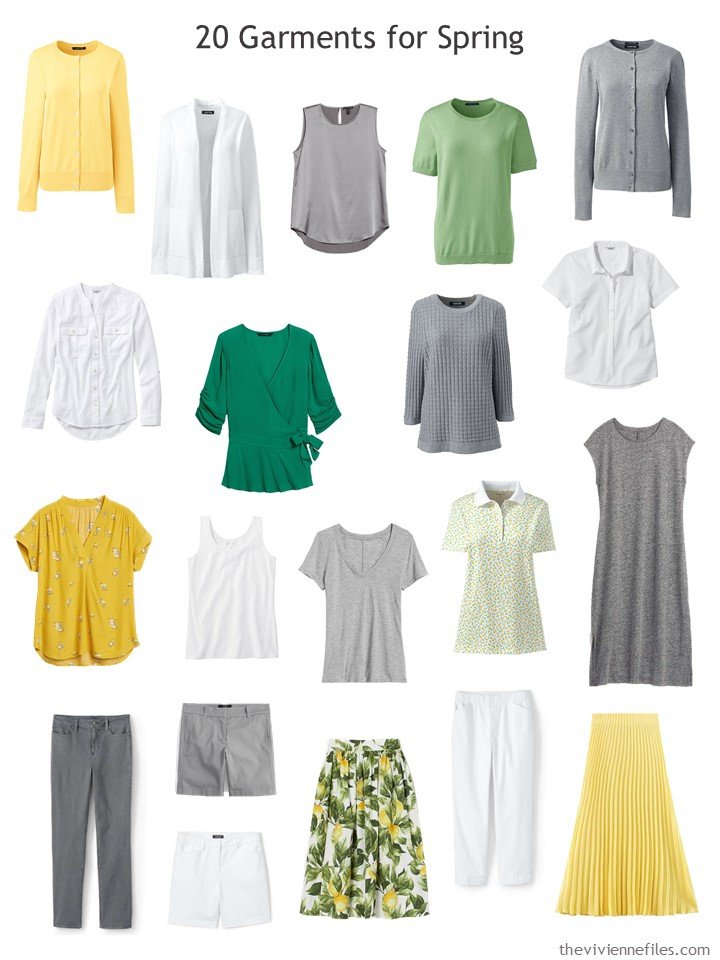 SO MANY POSSIBILITIES! She was excited. Invigorated, even. It's not something that one usually asks from a wardrobe, but in this case it worked out beautifully…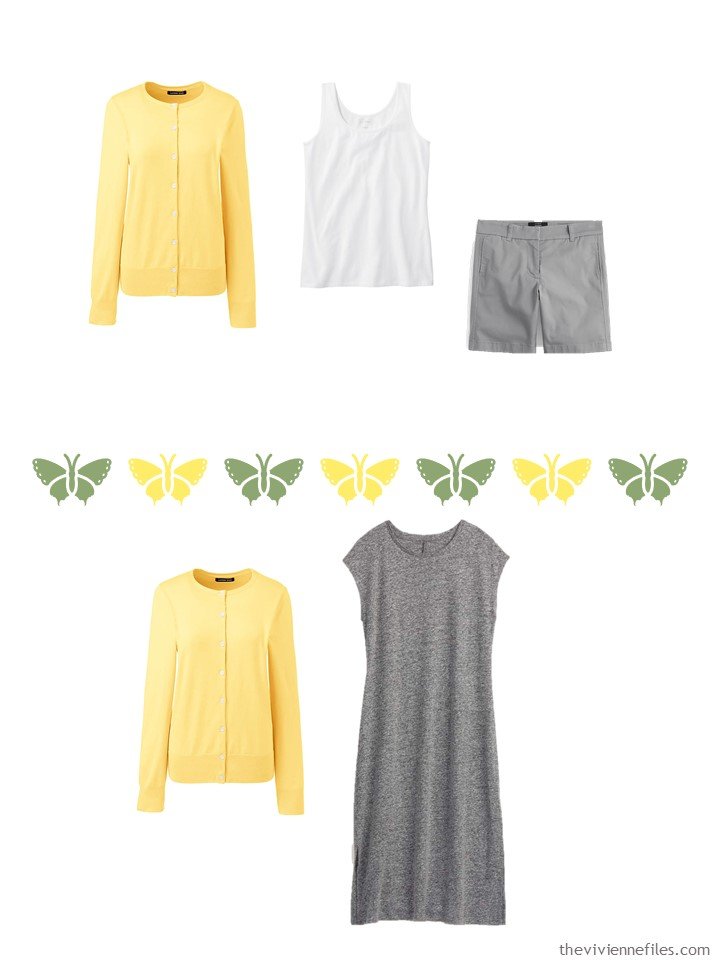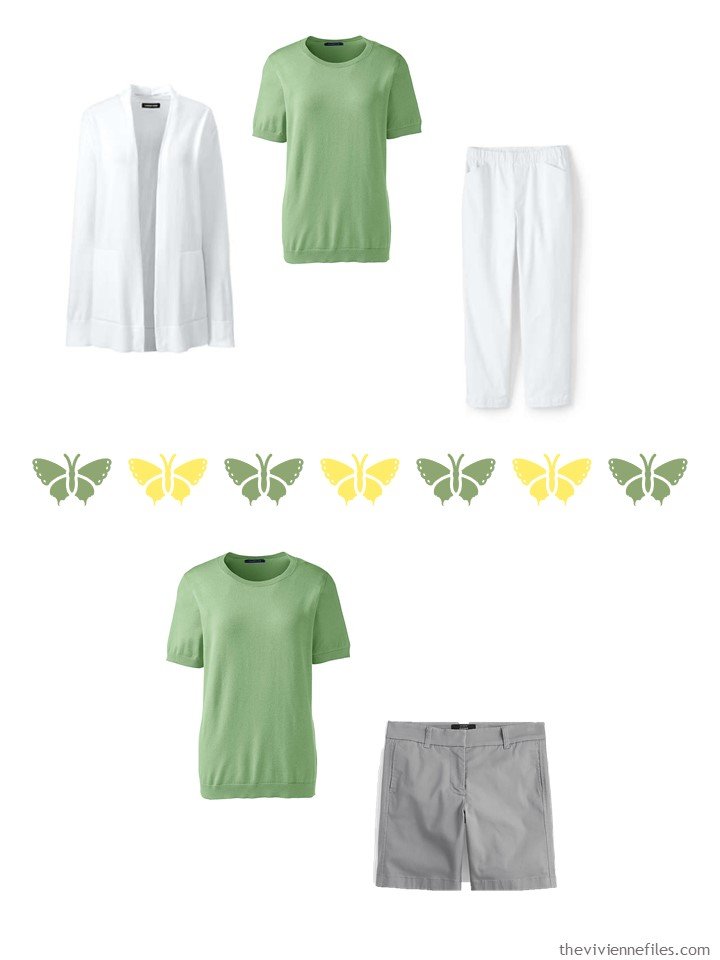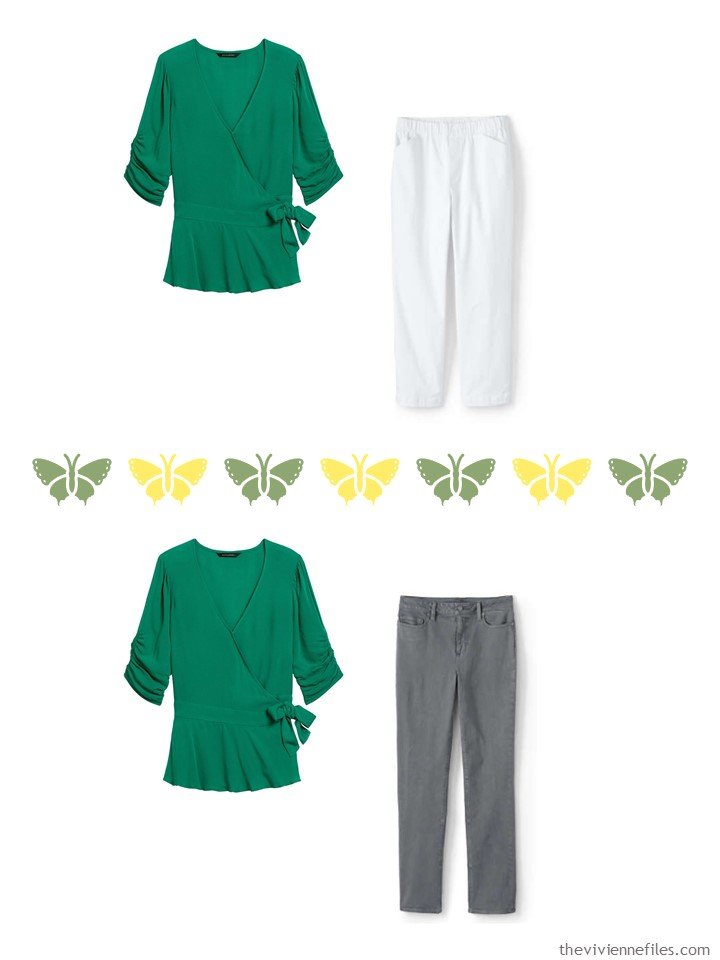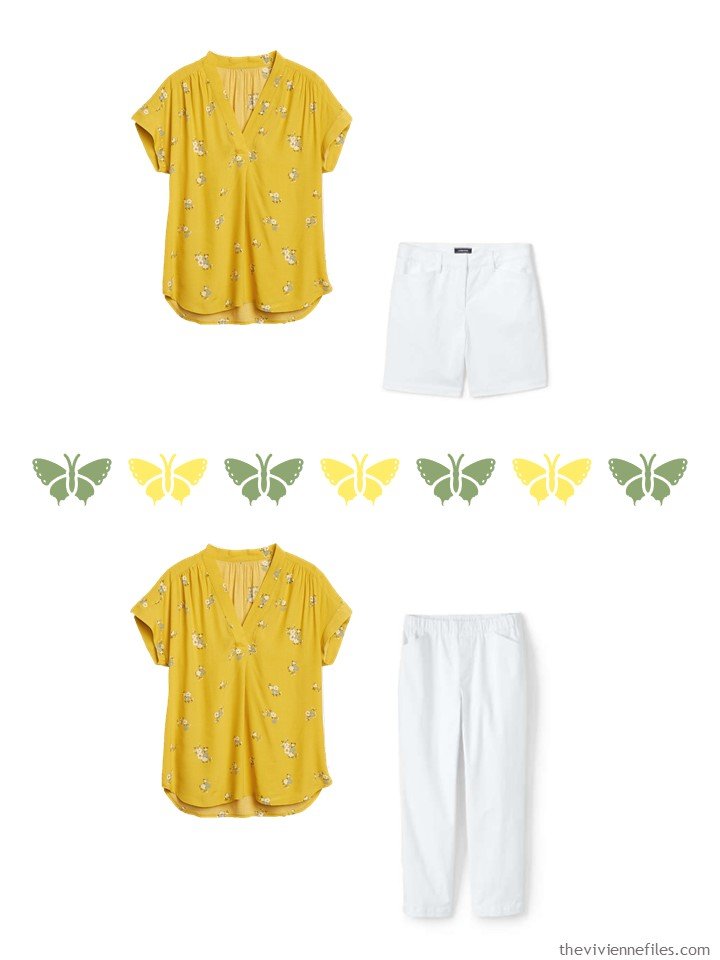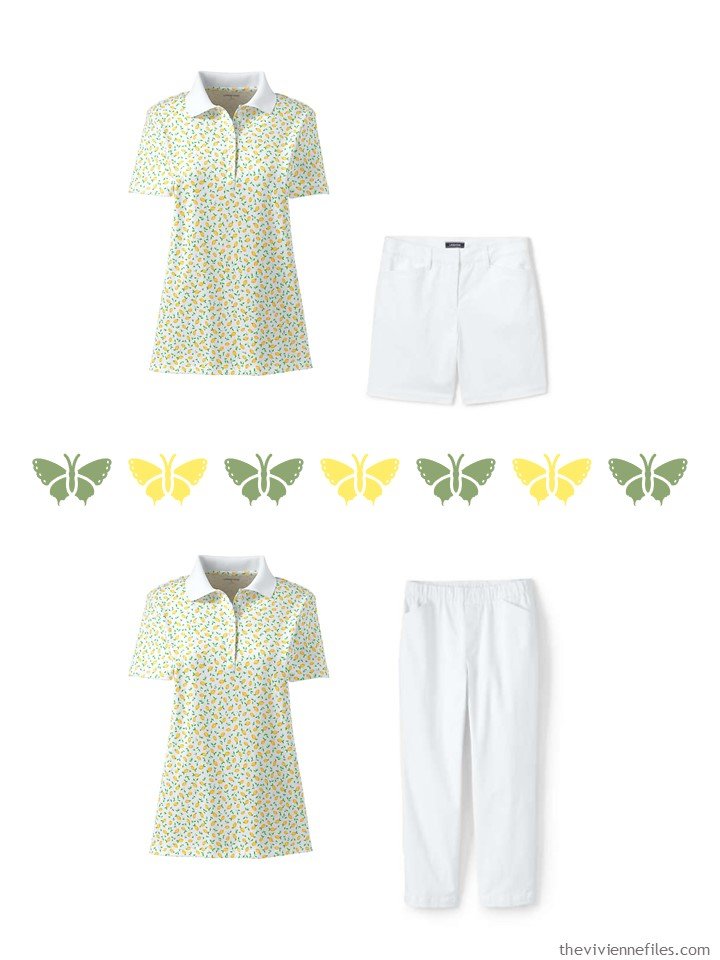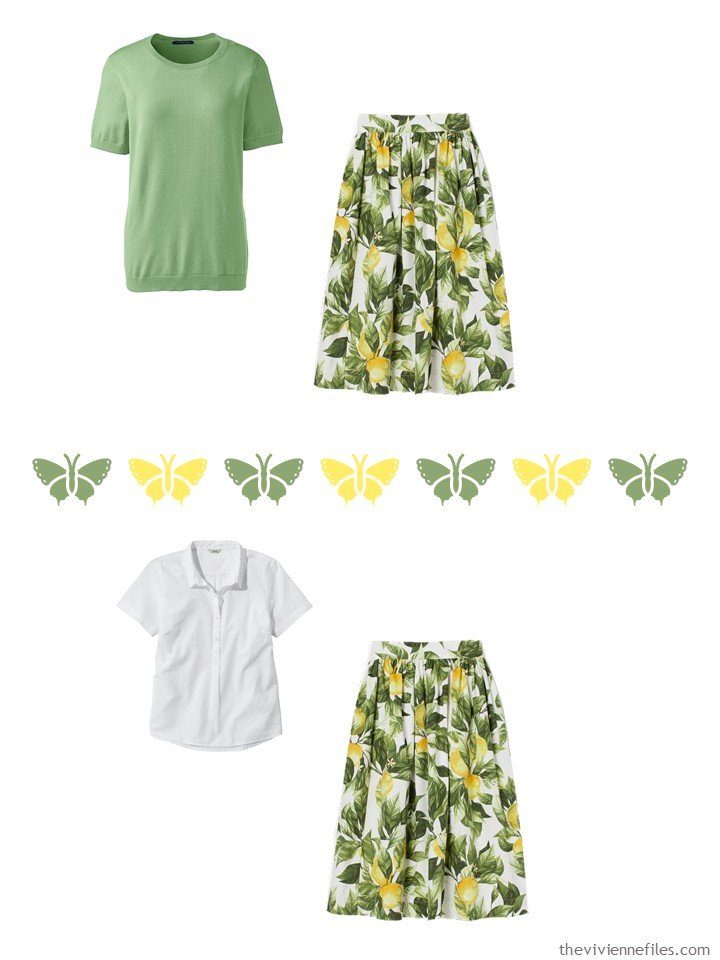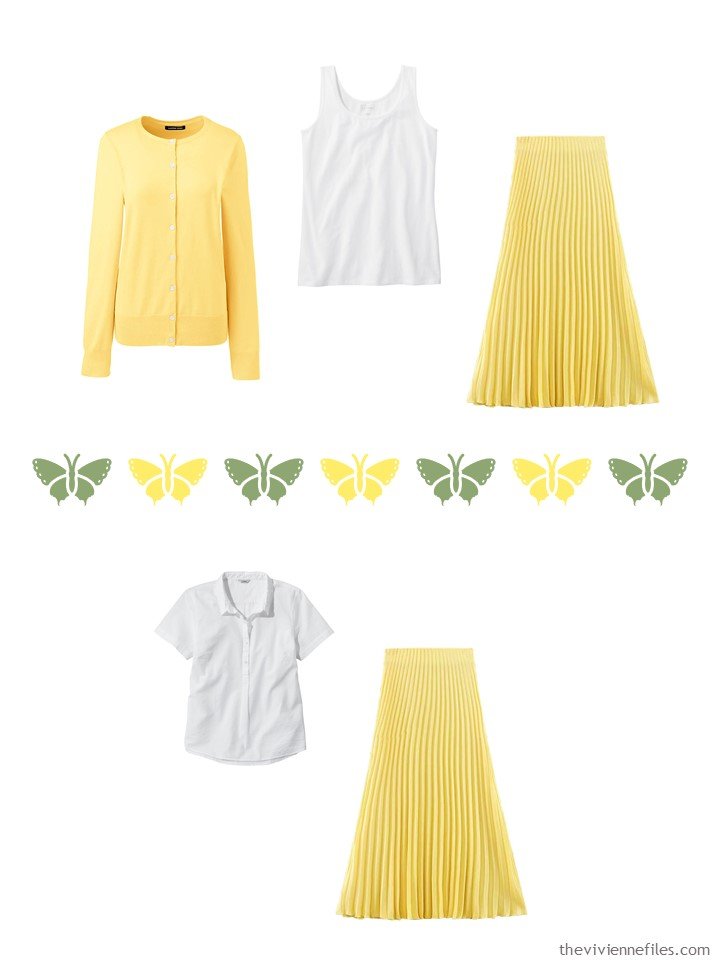 I've got to admit, when I had these garments all over my computer desktop, it seemed to make our entire bedroom brighter! (yes, I'm sitting at our dining table, which is NOW in our bedroom…)
What brightens up your life right now? For me, it's both having Belovedest here in the apartment ALL DAY EVERY DAY (seriously, I love it), and the new pink fun pieces I'm now wearing. It doesn't take much, does it?
love,
Janice
p.s. 3 years ago, my dear friend La Photographe and I went to New York – I have some packing philosophy in this post, as well as my favorite "what did I pack" images.
p.p.s. Lands' End has shorts in the same "tossed lemon" print as the polo shirt that I've included. I was within INCHES of putting it in this wardrobe too, but I can only find them in Petite sizes and Plus sizes…