May 3, 2019
I've been asked this a couple of times in the last few days – what do I do when I really have no idea where to start with my wardrobe?
Years ago I tried to think of how one could start a wardrobe from scratch; I think that my ideas might still be useful…
First up, I want our heroine to have some unifying inspiration to get her started; she's not stuck with this for the rest of her life, but it will at least help her focus her initial choices: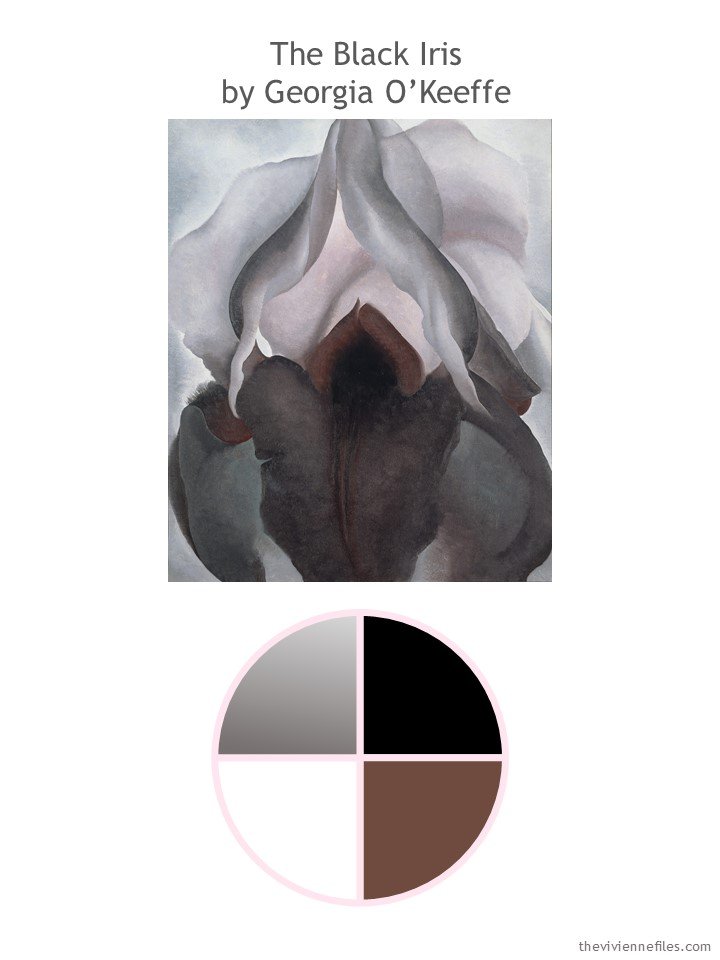 I can't emphasize this idea of mine enough – if you struggle to get dressed, make certain that you have a really GOOD, basic, neutral pair of pants. No studs, no embroidery, nothing that will make it difficult to wear your pants with all kinds of things…
And shoes. She needs good shoes!
So with warm weather coming on (in theory, in the Northern Hemisphere), a lovely pair of fluid, below-the-knee pants with nice ballet flats will make a good start:
Adding in a cardigan and top gets our heroine to one outfit that she can absolutely count on…
If your dressy pants are TOO dressy, or your tank top is too "cool," jeans and a long-sleeved shirt are what you need…
Five pieces of clothing doesn't seem like much, but if our heroine is really struggling to get dressed, this might help her a lot!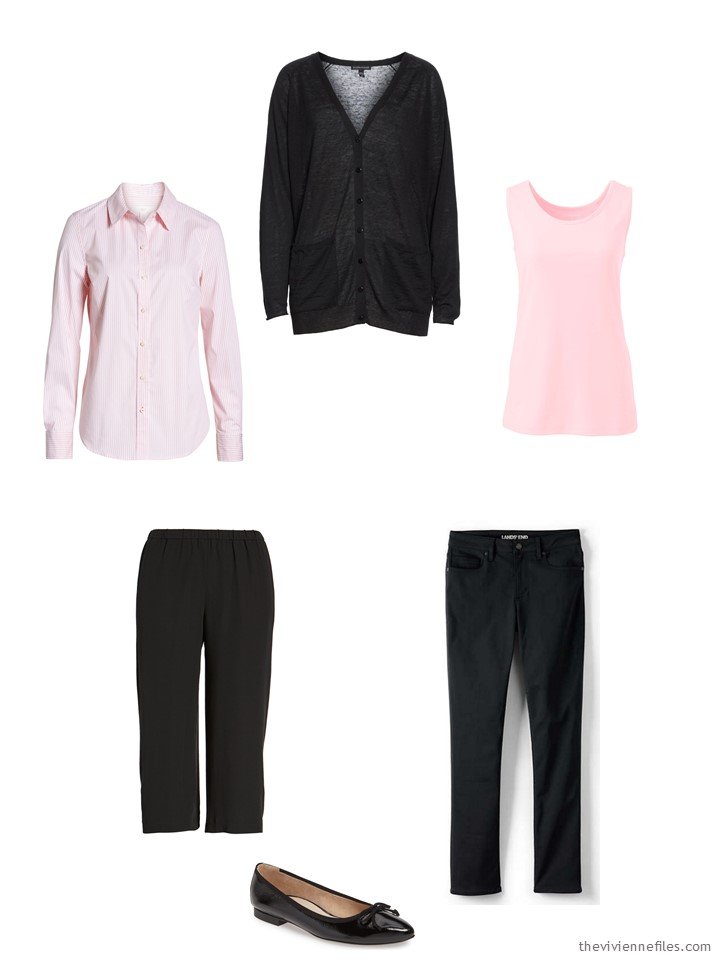 When you're a heroine struggling with your wardrobe, it might seems that you want to buy more clothing… But I'm going to lobby for the efficacy of getting some beautiful accessories in hand, in order to bring some life to your core wardrobe:
It could take quite a while to get all of these pieces together, but even just this small wardrobe will give our heroine enough options to quit struggling when she wants to dress nicely…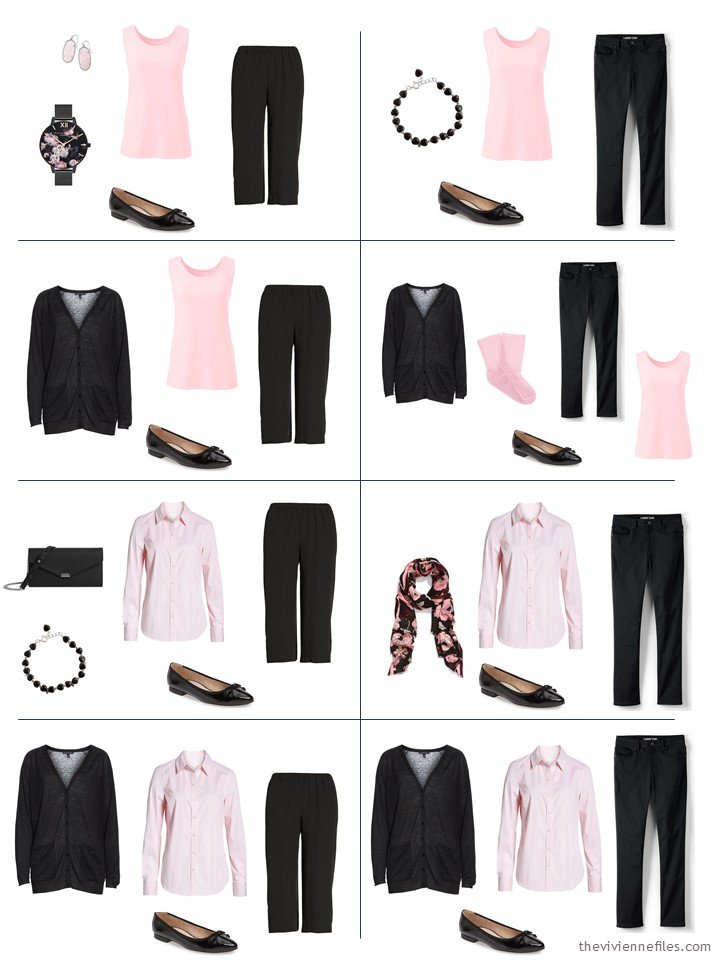 When time and finances permit, our heroine is going to branch out to her 2nd neutral – dark grey. Her new grey pieces can, of course, be worn with the black things she already owns:
Depending on what her life requires, our heroine could replace these pants with a skirt…
deep breath…
Now, our heroine might be able to use a couple more tops, in a new accent color, and even (holy moley!) a print!
Even if our heroine never went past these 11 garments, and assorted accessories, she has assembled for herself a nice core wardrobe for business and social activities: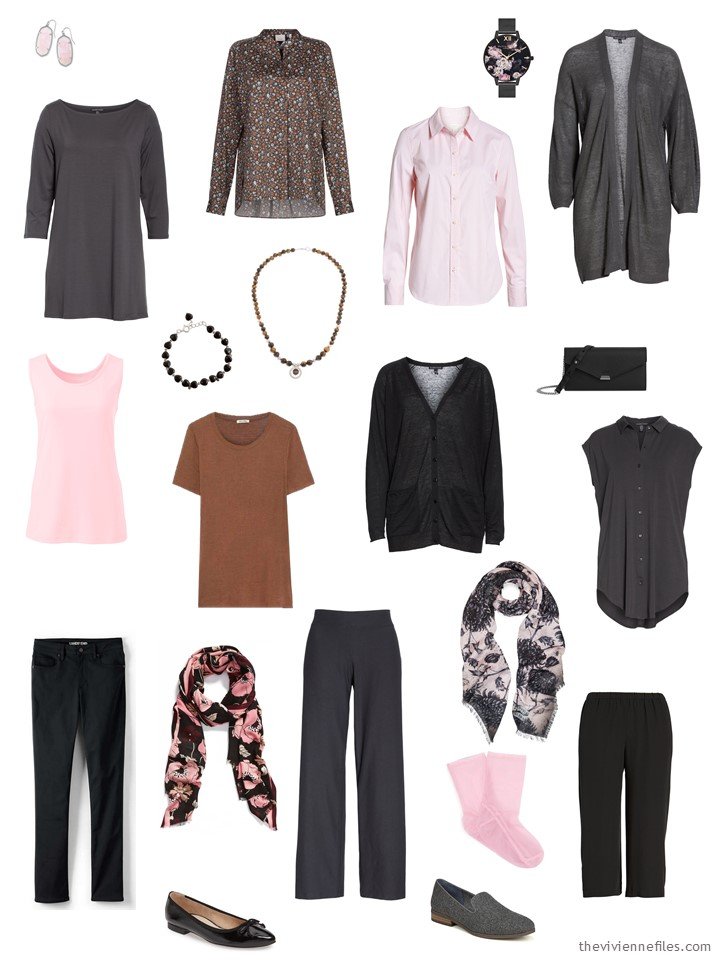 That said, I'm going to add onto this wardrobe on Monday!
love,
Janice