May 6, 2019
When we left our heroine on Friday, she had assembled a small, but quite versatile, core wardrobe with 11 garments:
From here, our heroine's choices will depend on what she most needs for her day-to-day life, as well as making certain that she's prepared for those dressy occasions that catch one off guard. It is for the latter that I always suggest that ALL of us have a "nice" outfit in reserve. While you certainly can substitute pants for this skirt, if you're absolutely NEVER going to wear a skirt, for most of us this next outfit will come in handy more often than we might expect…
And we are kind of long overdue for getting this heroine a good jacket! The nice thing with this length of trench coat is that it can be worn with skirts or pants; but you might prefer a longer one. If you live somewhere that gets bucketing rain, longer is better protection, too!
While it might take our heroine a few months to find just the right brown sweater, it's worth waiting for…
This is where our heroine finds her wardrobe. This might have taken a few months to assemble, so it's smart to stop and really admire what has been accomplished. Patience should be appreciated and rewarded, right?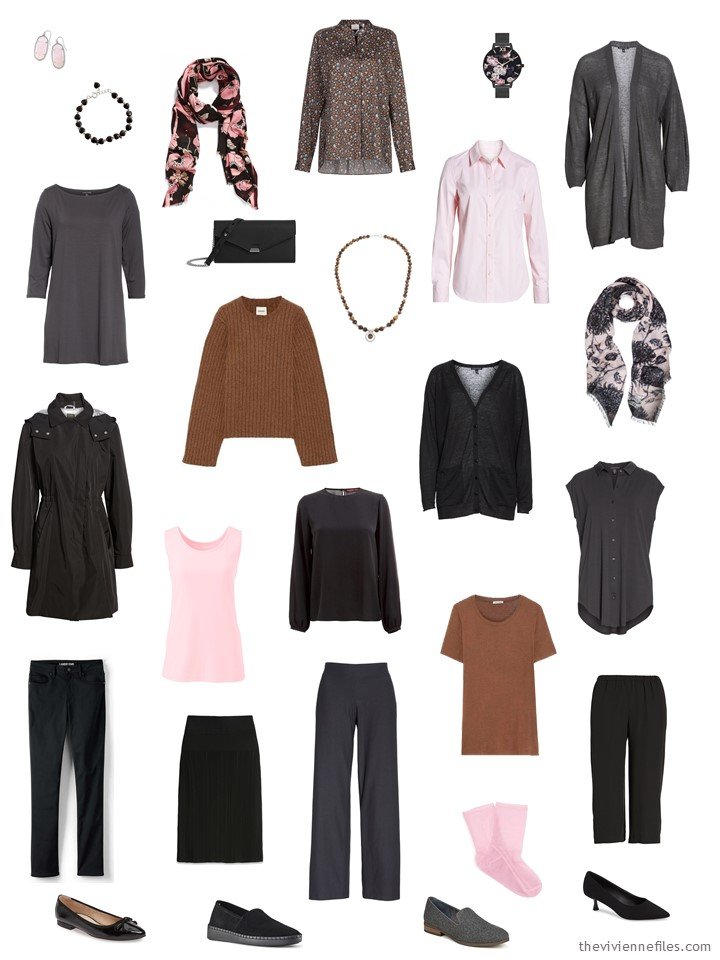 At this stage, it's easy to slow down and be really deliberate in shopping. Our heroine should think about having a shopping list to which she refers when she's tempted to buy something; it would be a pity to lose discipline and focus now!
After a month or 2, it might be time to buy an entire outfit, all at once! What a treat…
If our heroine is in a cold climate, she needs to be ready the MINUTE coats become available, so she can find her winter coat. While those of us who live downtown might NEVER wear a pink coat (it would be filthy in about 9 seconds…), the right woman could absolutely luxuriate in something this pretty!
Accessories can be purchased gradually… Pink pearls seem like such a nice choice for this heroine, don't they?
How about casual clothes? I'm afraid that many of us aren't good about having a few "nice" things to wear around the house, or when we have to dash out for an errand. There's no reason that our family shouldn't see us at our best, right?
Maybe this heroine is good with just owning a black skirt, but maybe she has decided that a dress would be useful too… The contrast of this brown cardigan is so nice:
By now, our heroine realistically might not need more clothes! (what a luxury that is, eh?) But let's take a look at where we are…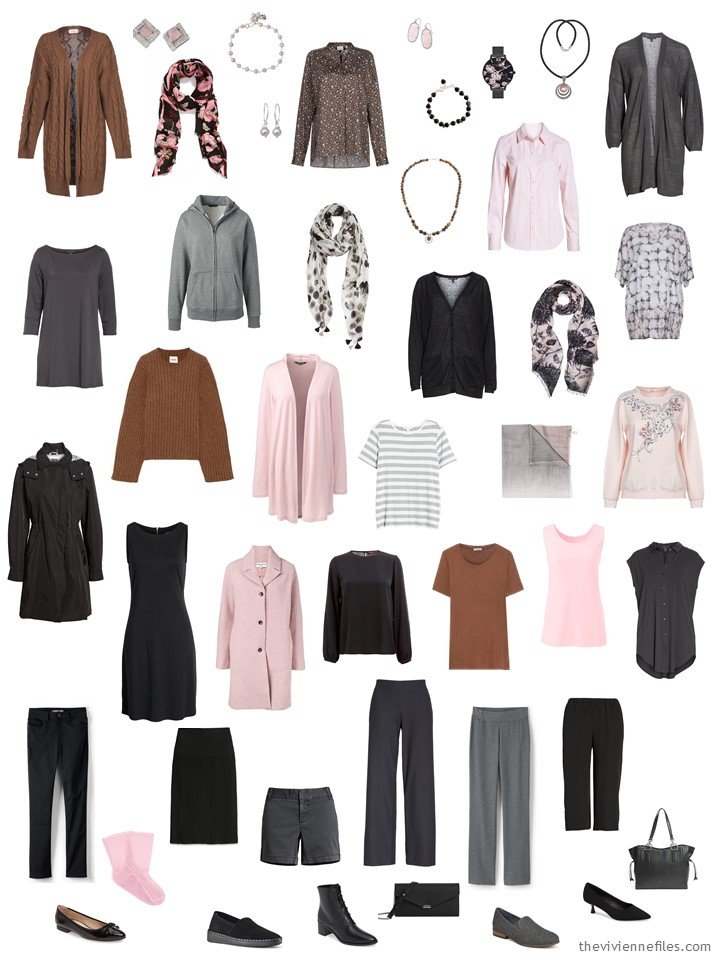 It feels right, but is it balanced?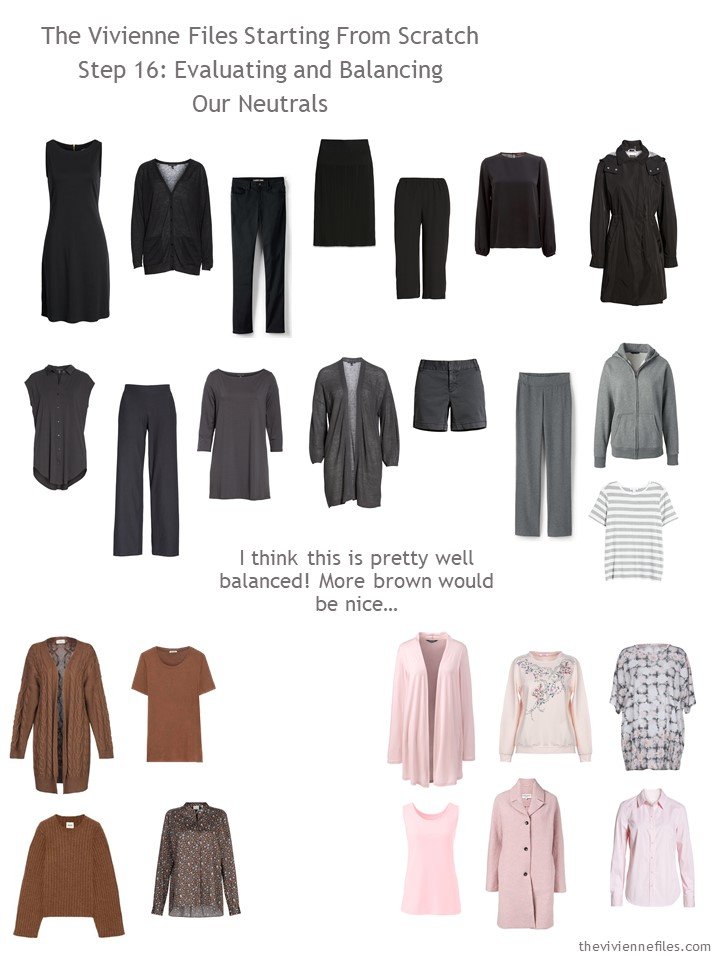 2 notes:
When you choose an accent color like this rich brown, you have to be PATIENT… this color should be one of those things that is always in the back of your mind if you're forced to walk through a mall… (wouldn't corduroy pants in this brown be wonderful?)
Because the pink tops won't all be worn together, they can vary somewhat in shade; you don't want to go really nuts with something hot pink or fuchsia, but shades of soft pink can happily co-exist in our heroine's wardrobe…
When I looked at this wardrobe for a while, I could see that a pink "pull-over" sweater that could be worn alone or over her brown flowered blouse might be handy. And I can't believe I've made it this far into this wardrobe without a simple black tee shirt for her! (I'm wearing a black tee shirt right now; this is true about 2/3 of the time for me!)
And the print blouse? Just a serendipitous little wonder I found…
From here, our heroine doesn't really need to actively LOOK for anything. Brown corduroy pants would be grand, as would a lovely warm turtleneck (in any of "her" colors) for the cooler weather. Of course, shorts, tank tops, and maybe a sundress are possibilities too, depending on the upcoming weather. But this, as it stands, is a very versatile wardrobe.
Imagine being in… London? for the fall semester with this to keep you for 3 months: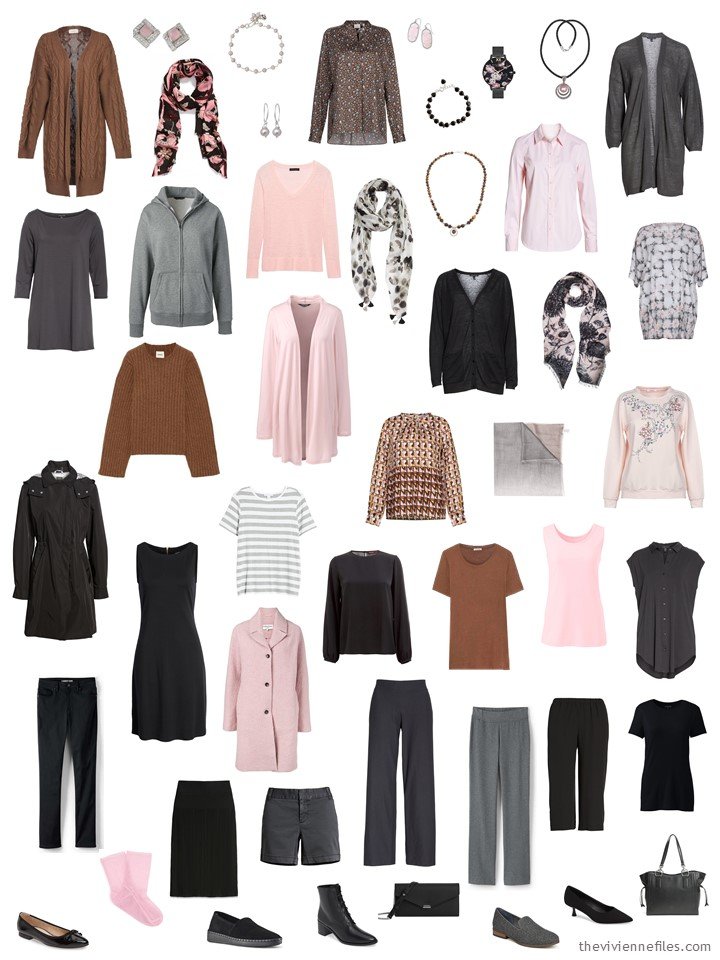 Just to be sure that this is as versatile as our heroine and I believe it to be, my last double-check is to make certain that I can "Whatever's Clean" a baker's dozen of garments (that meeting for which you take the train to Edinburgh?), as well as a 4 by 4 Wardrobe… (Eurostar to Paris for a week at term break?)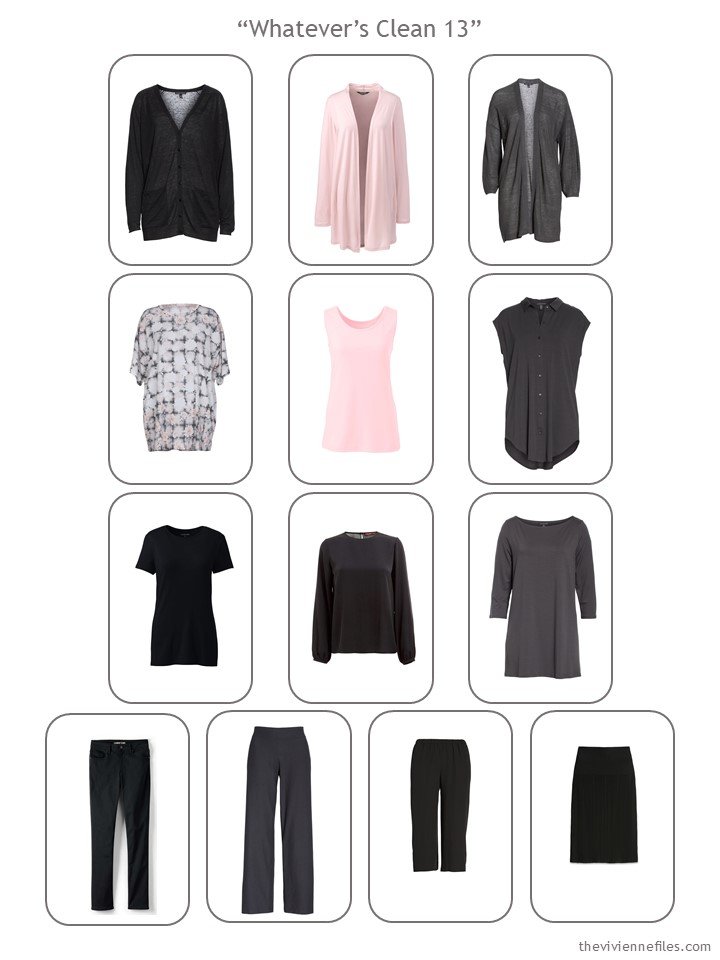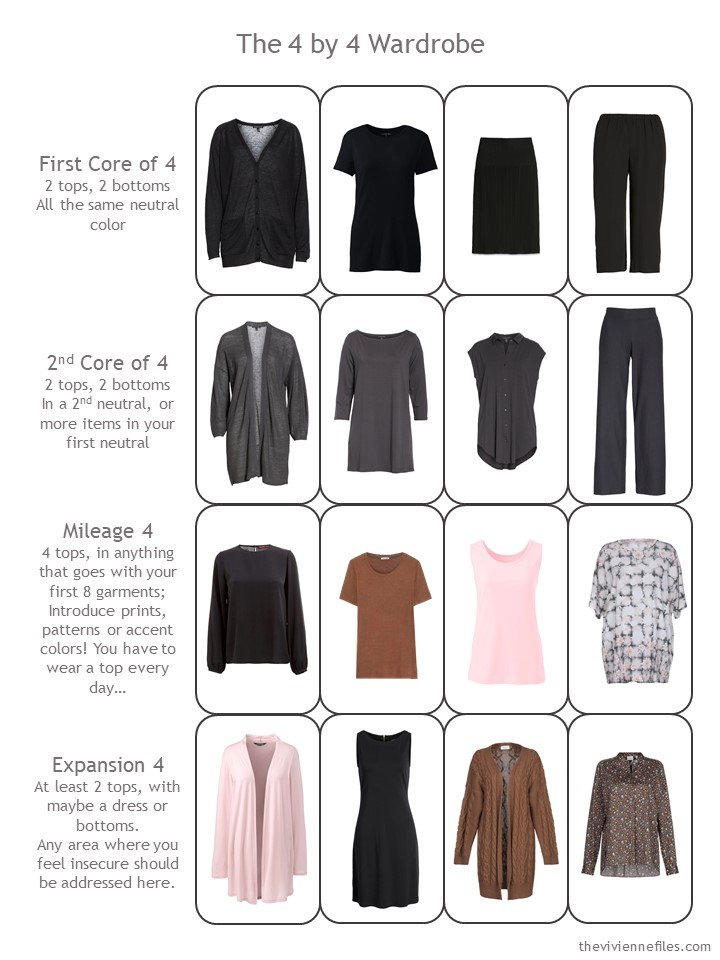 Get your wardrobe sorted, and you are free to get on with the important stuff!
love,
Janice
p.s. We do all understand that this is a good guideline for cleaning out a closet, right?