May 29, 2020
Another book! I actually have a handful of them – some really fun and interesting, some… not so much…
This one is in English, and the author is witty and self-deprecation; she swears that one of the reasons that French women have such relaxed and unstructured hair styles is because they're inherently too lazy to style their hair! Hmm…
This is one of the few books that I would recommend, if only for her sense of humor!
She starts this book with the same general advice almost every wardrobe or style books gives – start with THIS list of garments. Everybody, even if they've never met you, knows what you need…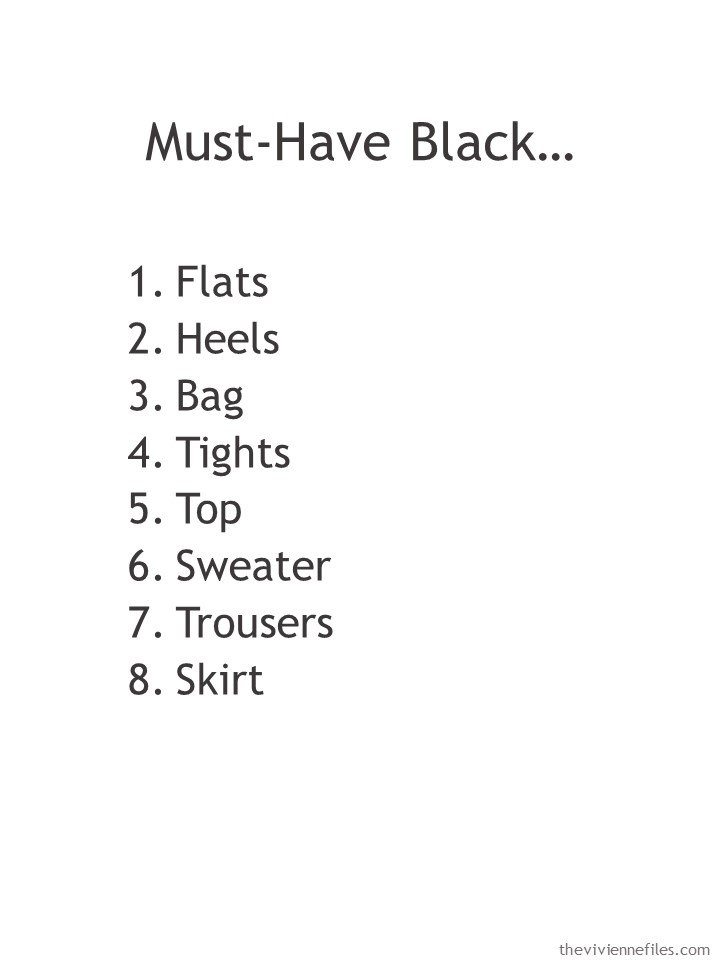 This, of course, isn't at all true, and is really nonsense, and will serve to keep you from finding your own style! But in all fairness, this book never claims that you will find YOUR personal style – it promises to dress you like a Parisian! Not sure why you would want to do that – if you actually LIVE in Paris, you already dress like a Parisian (by definition). If you don't live there, I'm not sure why you'd want to dress as if you were from another city. Paris women can be lovely, but they don't necessarily need to be imitated by all of us!
That said, there is always something to be learned from these books, if you look at the advice with your personal preferences and lifestyle uppper-most in your mind…
The author's advice is pretty much spot on for my life – I could easily see these 8 pieces serve as a core for a travel wardrobe, or a cool weather capsule wardrobe:
That square buckle on the ballet flats reminds me of Roger Vivier shoes, at about 10% of the price!
But this goes awry from the very beginning – despite what we're all told to the contrary, every woman in the world does NOT wear black (nor should they!). What if you wanted to base your wardrobe on navy?
That's an easy accommodation – one wouldn't have to really alter too much of the advice to make this work:
But let's look at this advice to figure out what the real essence of her thinking is…
When you look at the 8 items arranged in an image, you can immediately see that it's 2 outfits – one with pants, one with a skirt. The appropriate shoes are included, as well as hosiery and a bag.
So…
2 tops – 1 more a true "top" and 1 a sweater;
2 bottoms – a skirt and a pair of pants;
2 shoes – flats to wear with pants, and pumps to wear with a skirt;
2 additional accessories – a bag and hosiery.
How might this work for a former blonde, lover of beige, heading to the beach for the next 3 months. What might her "Must-Have" 8 items be?
This looks so delicious; I look dead in beige, but if I could be at the beach for the next 100 days I'd try to make it work!
Maybe you never wear skirts, and spend most of your leisure time hiking, or traveling casually with just a backpack for the weekend. Further, let's also imagine that your favorite neutral color is GREEN!!!!
Here again, this would be a great starting point for a vacation wardrobe! Toss in another pair of shorts, a few more tee shirts, and you would be all set for your hiking and sight-seeing.
So what do we learn from this? That all wardrobe advice is wrong, on the surface, for most women. But that there is probably a core of truth in all wardrobe advice that might be useful for most women.
How can you get down to (what we used to call, in advertising) "the nub of the gist"? If this advice is in a book, the best approach might be to keep reading, and see what the author actually recommends that you do with the items the insist are essential. I haven't made it much further into Dress Like a Parisian yet, but I'm quite confident that Ms. Guinut is going to suggest that these garments can be work in all sorts of combinations with other garments. Sort of a "Core of Four," don't you think?
Most of us can make very good use of a couple of neutral tops, as well as bottoms. Having shoes that look good with our clothes is just basic as heck, as well as making certain to get a good bag and some tights or socks! (if you wear tights, having enough of them in house is very important)
As I read my books and look for things to share, I'm not deluded by the thought that all of you can wear EXACTLY what's suggested. But I do believe that many of us might learn something, or at least think of our current wardrobes in a slightly different way.
I personally am impressed that this author placed so much emphasis on tights!
love,
Janice
p.s. SEVEN YEARS AGO (I'm gobsmacked) we helped a friend figure out a multi-country travel capsule wardrobe in navy, khaki, red and turquoise. I still find this wardrobe quite appealing!