May 29, 2013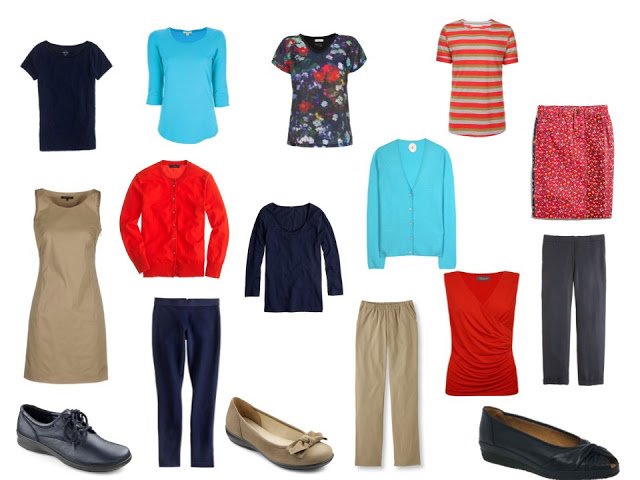 I get some amazing questions, with descriptions of trips that make me absolutely green with envy! One of my friends recently shared that she's going to be in Belfast, London, and Paris – what a dream trip for me…
She had isolated two jackets that she wants to take, and around which she would like to build her travel capsule wardrobe.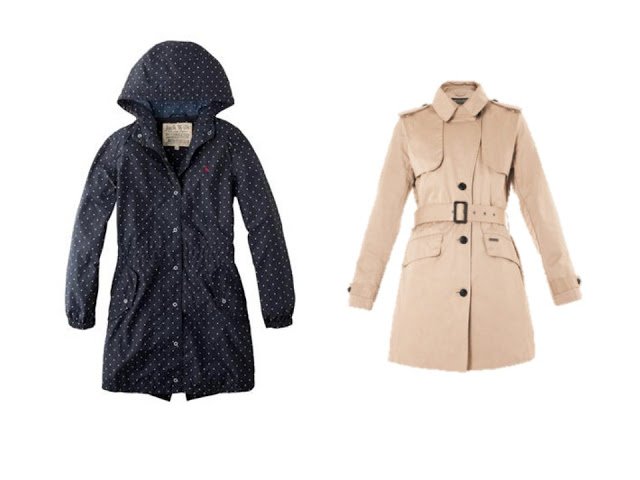 navy rain jacket – Jack Wills, short trench coat – Woolrich
These are great choices – something waterproof is ALWAYS essential in Ireland, and it's wise to have a lightweight jacket even in the middle of the summer.
So my thinking: you need to start with a dark neutral color; navy is the obvious choice in this case. I always start with a "core of four" in the dark neutral, but in this case, I'm not going to include a skirt, because these garments are going to be worn a LOT, and linen capris could be very useful if the weather gets hot… Two navy tops – short sleeved and 3/4 sleeve, navy pants, and navy capris.
And at this point, I include two pair of navy shoes, chosen primarily for their classic simplicity and their extraordinary comfort. Vacations are all about walking…
Yes, I chose all four navy garments from J. Crew; if you don't already have your core of four, it is easy to purchase them all from one company, and this also increases the chances that the colors will blend nicely.
Next, we need to bring in the other neutral – khaki. AND, we need more pants and/or skirts. So… a simply khaki dress, khaki pants, a pair of pretty but comfortable khaki ballet flats, and our first accent piece – a skirt that includes all of the colors in our palette. With both a dress and a skirt, you will be prepared for all but the most dressy of occasions. If you get invited to a formal ball, you'll just have to go shopping…
Now some red! I always think everyone should travel with a cardigan – it's a great layer over sleeveless tops on cool days, or in harsh air-conditioning. A red top that works with the cardigan gives you a twin-set like look, or a pretty dressy top for hot weather. And a great printed tee shirt that combines your neutrals and accent colors…
And finally, we need to consider a second accent color, and some more tops. A second cardigan, and two more tee shirts… Always remember that a cardigan can be worn buttoned up, on it's own,as a sweater. It's easy to forget that…
Tomorrow I'll show some accessories, and how these garments come together in a lot of outfits…
love,
Janice